Federal Health Agency Releases List Of Marijuana Research Priorities
In one of the latest signs that the federal government is recognizing the reality of the marijuana legalization movement's continued success, a top health agency released an extensive list of cannabis-related research objectives it hopes to fund.
The notice, published on Wednesday, notes the rapid evolution of marijuana policies in the U.S. and globally, which is "far outpacing the knowledge needed to determine and minimize the public health impacts of these changes."
"A growing number of states have loosened restrictions on cannabis, including those on sales and use, by passing medical marijuana laws or by making cannabis legal for adult recreational use, and in some cases, states have done both," the National Institute on Drug Abuse (NIDA) wrote.
It also referenced a 2018 report from a cannabis policy working group that was tasked with identifying "cannabis policy research areas with the greatest urgency and potential for impact."
Evidently, there are quite a few areas that fit that description, as NIDA listed 13 research objectives of "programmatic interest." And while the agency has previously called for studies into several areas that are featured on the notice, there are others that signal NIDA is evolving in its understanding of research needs as more states opt to legalize.
For example, NIDA is not simply focusing on providing grants to explore the health risks of cannabis use, it's also interested in learning about "reasons for initiation and continued use of marijuana for therapeutic purposes" as well as investigating "how cannabis industry practices, including research on marketing, taxes, and prices, impact use and health outcomes."
Notice of Special Interest (NOSI): Public Health Research on Cannabis https://t.co/c04DIcmdAI

— NIH Funding (@NIHFunding) August 14, 2019
The agency also wants to fund studies that look at the differences in legal marijuana regulatory schemes in various jurisdictions to "understand which combinations or components minimize harm to public health."
Other research goals NIDA described include exploring the impact of cannabis use during pregnancy and developing roadside testing instruments to identify THC impaired drivers as well as standards to measure marijuana dosing.
Here's the full list of research objectives: 
—Develop standards for measuring cannabis (including hemp and hemp product) dose, intoxication, and impairment.
—Enhance existing epidemiology research to study trends for cannabis use and CUD; including new products, patterns of use, and reasons for use in different populations.
—Characterize the composition/potency of cannabis, methods of administration, cannabis extracts/concentrates, and cannabis of varying constituents (e.g. cannabinoid or terpene content), as well as how those factors impact physical and mental health.
—Determine the physical and mental health antecedents of use, as well as outcomes of use.
—Explore the impact of polysubstance use on health outcomes, including interactions (substitution/complementation) with alcohol, tobacco, and prescription and nonprescription opioids.
—Examine reasons for initiation and continued use of marijuana for therapeutic purposes.
—Investigate the effects of different patterns of cannabis use on brain development, educational attainment, and transition to work and adult roles.
—Identify the effects of maternal cannabis consumption during pregnancy and breastfeeding.
—Develop effective roadside tests for cannabis impairment that can be practically deployed by law enforcement.
—Determine the prevalence of cannabis-involved vehicular crashes and other types of injury or property damage.
—Investigate how cannabis industry practices, including research on marketing, taxes, and prices, impact use and health outcomes (e.g. how different price points impact consumption patterns across different levels of use).
—Determine the impact of federal, state, and local marijuana policies and their implementation on use and health outcomes.
—Explore the heterogeneity of regulatory schemes (e.g. models for retail distribution of cannabis) to understand which combinations or components minimize harm to public health.
A number of federal health agencies have issued several notices for marijuana-related research opportunities in recent months. One that received particular attention came from NIDA in May, when it said applications were open for what is essentially a professional research-grade marijuana joint roller and analyst position.
While NIDA said that research isn't keeping up with the rapid reform movement, its director also acknowledged in April that the federal drug scheduling system—which regards cannabis as a tightly restricted Schedule I drug—has inhibited such research by making it difficult for scientists to access marijuana.
Women Lawmakers From Across U.S. Hold Marijuana Conference And Tour Dispensary
Photo by Aphiwat chuangchoem.
Minnesota Marijuana Legalization Bill Clears 12th And Final House Committee, Advancing To The Floor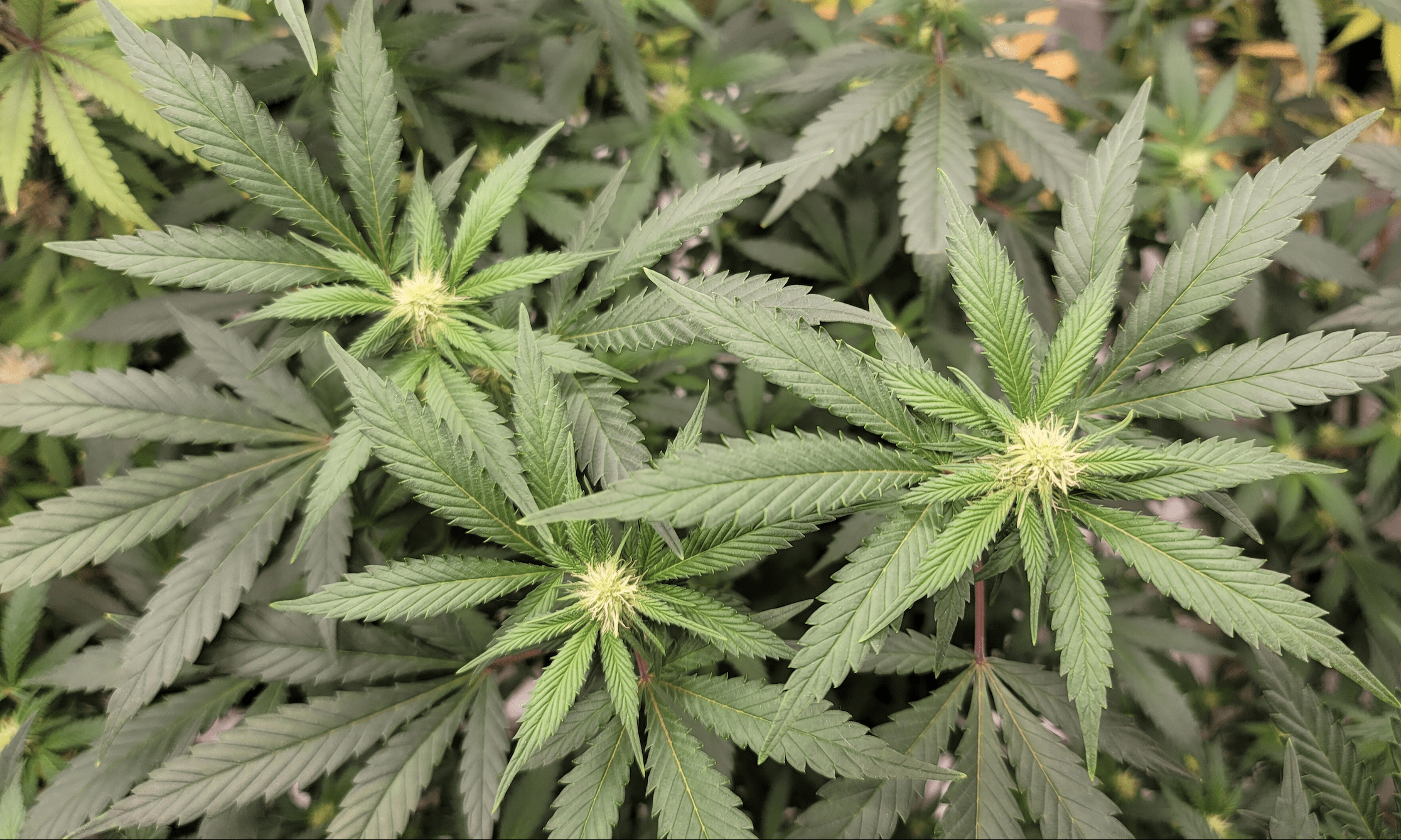 A bill to legalize marijuana in Minnesota has been approved by its final House committee and will now advance to the floor.
The road to get to this position has been long and winding, with 12 panels hearing and voting on the measure since it was introduced in February.
House Majority Leader Ryan Winkler (D), Speaker Melissa Hortman (D) and other lawmakers filed the proposal, which would allow adults 21 and older to purchase and possess up to 1.5 ounces of cannabis and cultivate up to eight plants, four of which could be mature.
Members of the House Ways & Means Committee approved the legislation in a 16-10 vote on Friday.
Winkler previously said that he expects a floor vote this month, though that has yet to be scheduled. The legislature is slated to adjourn on May 17.
The bill "helps to correct wrongs that have been done for too long in Minnesota to communities who've been over-policed who have been targeted for cannabis enforcement to further a prohibition of cannabis that does not work," the majority leader said in opening remarks.
Winkler said that "legalizing and creating a safe marketplace by taxing cannabis and using the proceeds from those taxes to pay for cannabis regulation to help invest in a cannabis industry" would reflect "the values of Minnesotans and help to address the harm that is caused by cannabis prohibition on our black and brown communities."
The panel adopted an amendment from Winkler that expands the definition of social equity applicants to include those from communities disproportionately impacted by prohibition and makes changes to how regulators would address rules violations by businesses. It would also revise the amount of funding for various state agencies, including a reduction in appropriations for the Department of Corrections.

A proposal to require that the label on marijuana products include information about the maximum dose that is considered safe within a 24-hour period was also approved.
An additional amendment that would have required marijuana products to be labeled with a warning that cannabis remains illegal under federal law was rejected.
Prior to taking up the legalization bill, members adopted an amendment to separate budget legislation that would provide funding for the implementation of the cannabis program for the first biennium, after which time marijuana tax revenue would more than cover costs.
It the measure does clear the full House chamber, it's still expected to face a significant challenge in the Republican-controlled Senate, where lawmakers have signaled that they're more interested in revising the state's existing medical cannabis program than enacting legalization of adult use.
That said, a GOP member of the Taxes Committee, which approved the legalization bill on Wednesday, indicated that he felt an amendment he introduced and that was adopted could bolster Republican support.
That revision from Rep. Pat Garofolo (R) directs remaining cannabis revenue to a tax relief account after implementation costs are covered and substance misuse treatment and prevention programs are funded.
"The adoption of this amendment is a gamechanger," Garofalo said in a press release. "The Democrat majority accepting this amendment means that if signed into law, this bill will result in lowering taxes Minnesotans are FORCED to pay, financed with the revenue generated from taxes that people are CHOOSING to pay."
Before the Taxes Committee, the bill passed the Health Finance and Policy Committee, Public Safety and Criminal Justice Reform Finance and Policy Committee, Education Finance Committee, State Government Finance and Elections Committee, Judiciary Finance and Civil Law Committee, Environment and Natural Resources Finance and Policy Committee, Agriculture Finance and Policy Committee, Workforce and Business Development Finance and Policy Committee, Labor, Industry, Veterans and Military Affairs Finance and Policy Committee and Commerce Finance and Policy Committee.
It's official: for the first time in Minnesota history, the full House will vote on cannabis legalization & expungement.

The House *will* pass this bill — but we're going to need all of you to get it through the full #mnleg.https://t.co/ZZ80kBvee0

— Ryan Winkler (@_RyanWinkler) May 7, 2021
"At the beginning of the year, a House committee had never passed a legalization bill. Now, we're on the verge of passing a bill off the House floor," Winkler said in an email to supporters on Friday. "We have the ability to change laws in a way that improves people's lives, whether it's expunging cannabis-related records, targeting economic opportunity for those impacted most by the war on drugs, providing relief for veterans suffering from PTSD and serious health conditions, and more."
—
Marijuana Moment is already tracking more than 1,100 cannabis, psychedelics and drug policy bills in state legislatures and Congress this year. Patreon supporters pledging at least $25/month get access to our interactive maps, charts and hearing calendar so they don't miss any developments.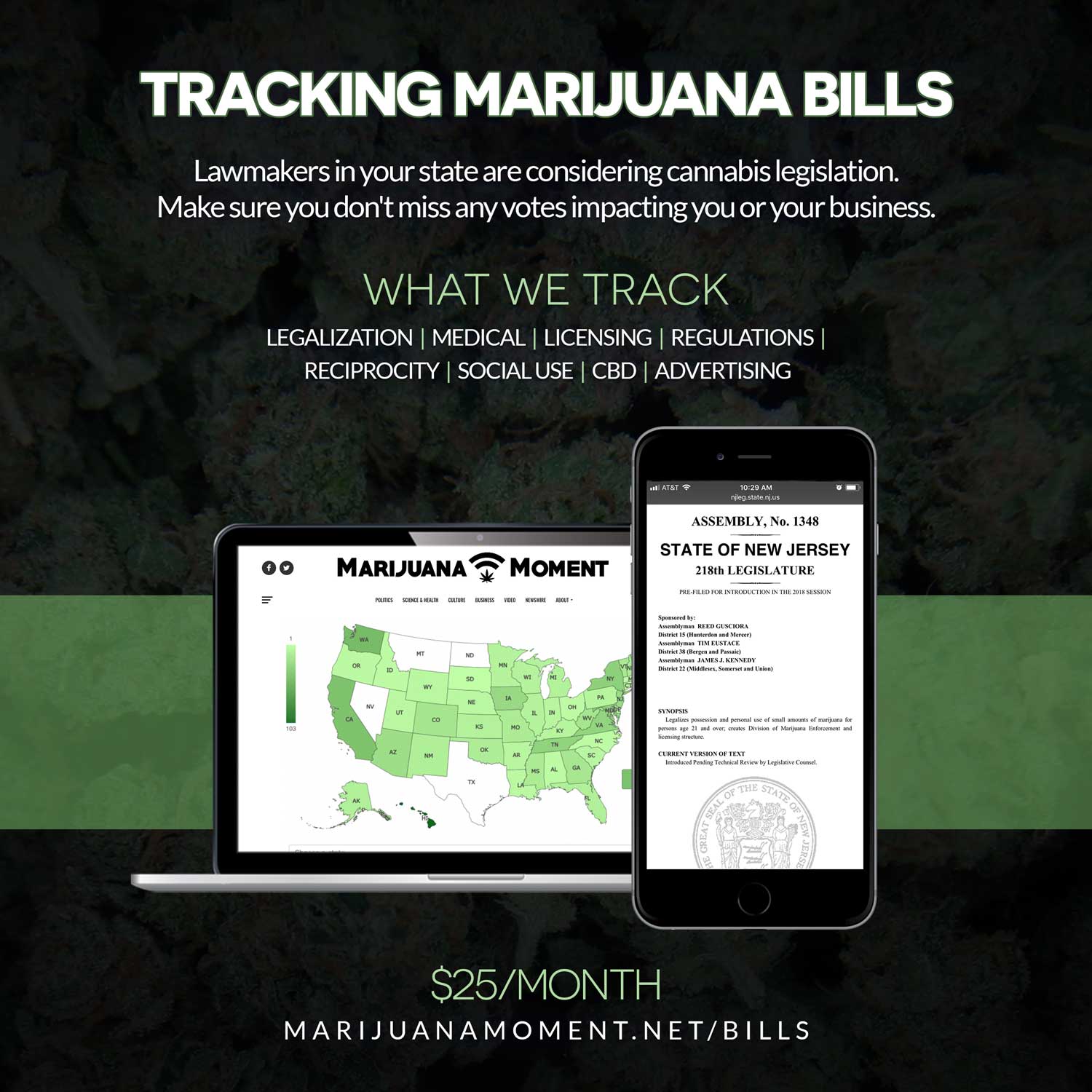 Learn more about our marijuana bill tracker and become a supporter on Patreon to get access.
—
The litany of committees the bill has gone through makes it perhaps the most thoroughly vetted legalization measure to move through a state legislature—and it means that a solid portion of the House has already had the chance to review, propose amendments to and vote on the legislation it as it advances to the floor, presumably increasing its chances of passage in the chamber.
The majority leader's bill as introduced was identical to a proposal he filed last year, with some minor technical changes. Winkler, who led a statewide listening to gather public input ahead of the measure's introduction, called it the "best legalization bill in the country" at the time. It did not advance in that session, however.
Under the legislation, social equity would be prioritized, in part by ensuring diverse licensing and preventing the market from being monopolized by corporate players. Prior marijuana records would also be automatically expunged.
On-site consumption and cannabis delivery services would be permitted under the bill. And unlike in many legal states, local municipalities would be banned from prohibiting marijuana businesses from operating in their areas.
Retail cannabis sales would be taxed at 10 percent. Part of that revenue would fund a grant program designed to promote economic development and community stability.
The bill calls for the establishment of a seven-person Cannabis Management Board, which would be responsible for regulating the market and issuing cannabis business licenses. It was amended in committee month to add members to that board who have a social justice background.
People living in low-income neighborhoods and military veterans who lost honorable status due to a cannabis-related offense would be considered social equity applicants eligible for priority licensing.
Cannabis retails sales would launch on December 31, 2022.
Gov. Tim Walz (D) is also in favor of ending marijuana prohibition, and in January he called on lawmakers to pursue the reform as a means to boost the economy and promote racial justice. He did not include a request to legalize through his budget proposal, however.
Walz did say in 2019 that he was directing state agencies to prepare to implement reform in anticipation of legalization passing.
Winkler, meanwhile, said in December that if Senate Republicans don't go along with the policy change legislatively, he said he hopes they will at least let voters decide on cannabis as a 2022 ballot measure.
Heading into the 2020 election, Democrats believed they had a shot of taking control of the Senate, but that didn't happen. The result appears to be partly due to the fact that candidates from marijuana-focused parties in the state earned a sizable share of votes that may have otherwise gone to Democrats, perhaps inadvertently hurting the chances of reform passing.
In December, the Minnesota House Select Committee On Racial Justice adopted a report that broadly details race-based disparities in criminal enforcement and recommends a series of policy changes, including marijuana decriminalization and expungements.
Wisconsin Governor's Marijuana Legalization Proposal Stripped From Budget By GOP-Led Committee
Photo courtesy of Mike Latimer.
Feds Announce New Standard THC Dose To Be Used In Marijuana Research, Effective Immediately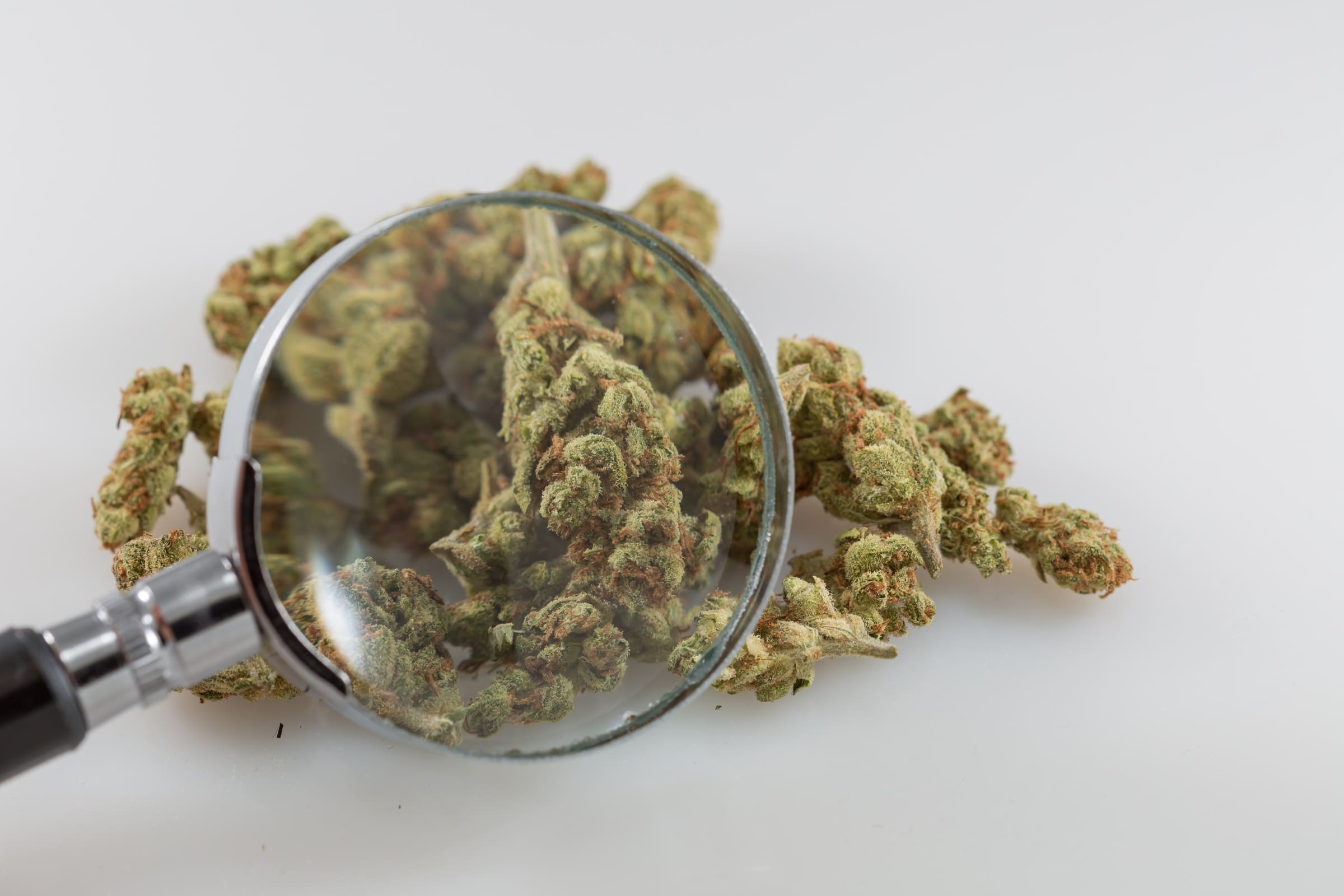 A top federal health agency announced on Friday that it has determined the standard dose of THC that should be used for marijuana studies moving forward.
The National Institute on Drug Abuse (NIDA) said in a notice to researchers that there is a "new requirement to measure and report results using a standard THC unit in all applicable human subjects' research," which is effective immediately. That standard unit is five milligrams of THC.
NIDA said that inconsistencies in measuring and reporting THC exposure "has been a major limitation in studies of cannabis use, making it difficult to compare findings among studies." Therefore, a "standardized measure of THC in cannabis products is necessary to advance research by providing greater comparability across studies of both its adverse effects and potential medical uses."
The agency recognized, however, that "the same quantity of THC may have different effects based on route of administration, other product constituents, an individual's genetic make-up and metabolic factors, prior exposure to cannabis, and other factors."
But by creating a standard THC dose, it will nonetheless be easier to compare studies that involve THC exposure, which is a "high priority" of NIDA and the National Advisory Council on Drug Abuse.
"It is not the intent of this Notice to prescribe the quantity of THC that is permissible for use in research projects. Indeed, investigators are free to use more or less than 5mg of THC as appropriate for their study," the notice states. "However, for applicable studies, investigators will be required to report the quantity of THC using the standard unit. Investigators may also report the quantity of THC in other units (e.g., milligrams) as appropriate."
This comes one year after NIDA, which is part of the National Institutes of Health, first solicited feedback on a proposal to standardize THC content in cannabis research.
The agency said that it carried out "extensive stakeholder input," along with "consultation with experts in the field," to arrive at the decision to set the standard unit at 5 mg.
"This guidance will apply to applications where THC is a focus of the research," the new notice continues. "Applicants are responsible for determining whether use of this standard unit is applicable to their research and for determining best approach to applying it in their research applications. A justification should be provided for research that does not propose to use the standard unit."
NIDA Director Nora Volkow discussed the importance of establishing a standard THC unit in commentary published in the journal Addiction last year.
Citing research that calls for a five milligram THC standard, Volkow said she agreed with the study's conclusion despite complicating factors. Those factors include potential issues related to the effect of having cannabis products with the same THC level but different concentrations of other cannabinoids such as CBD.
The complexities in research beyond having a standardized measure of THC "hardly negate the value" of setting one, Volkow said in her commentary. "In fact, having and using such a standard is a prerequisite for comparing the effects of various cannabis products on THC bioavailability, pharmacokinetics and pharmacological effects, which is knowledge fundamental to studies pertaining to medical use of cannabis."
"Although cannabis remains an illicit substance in the United States, the expanded legalization by states requires us to develop the knowledge base that can help states develop policies to minimize risk from cannabis exposures, such as limits on the THC content of cannabis products," she said.
Volkow has been vocal about the importance of streamlining and improving research into cannabis, and she's laid partial blame for the the lack of studies on marijuana's restrictive federal classification.
Kansas Senate Running Out Of Time To Pass Medical Marijuana Legalization Bill That Cleared House
Kansas Senate Running Out Of Time To Pass Medical Marijuana Legalization Bill That Cleared House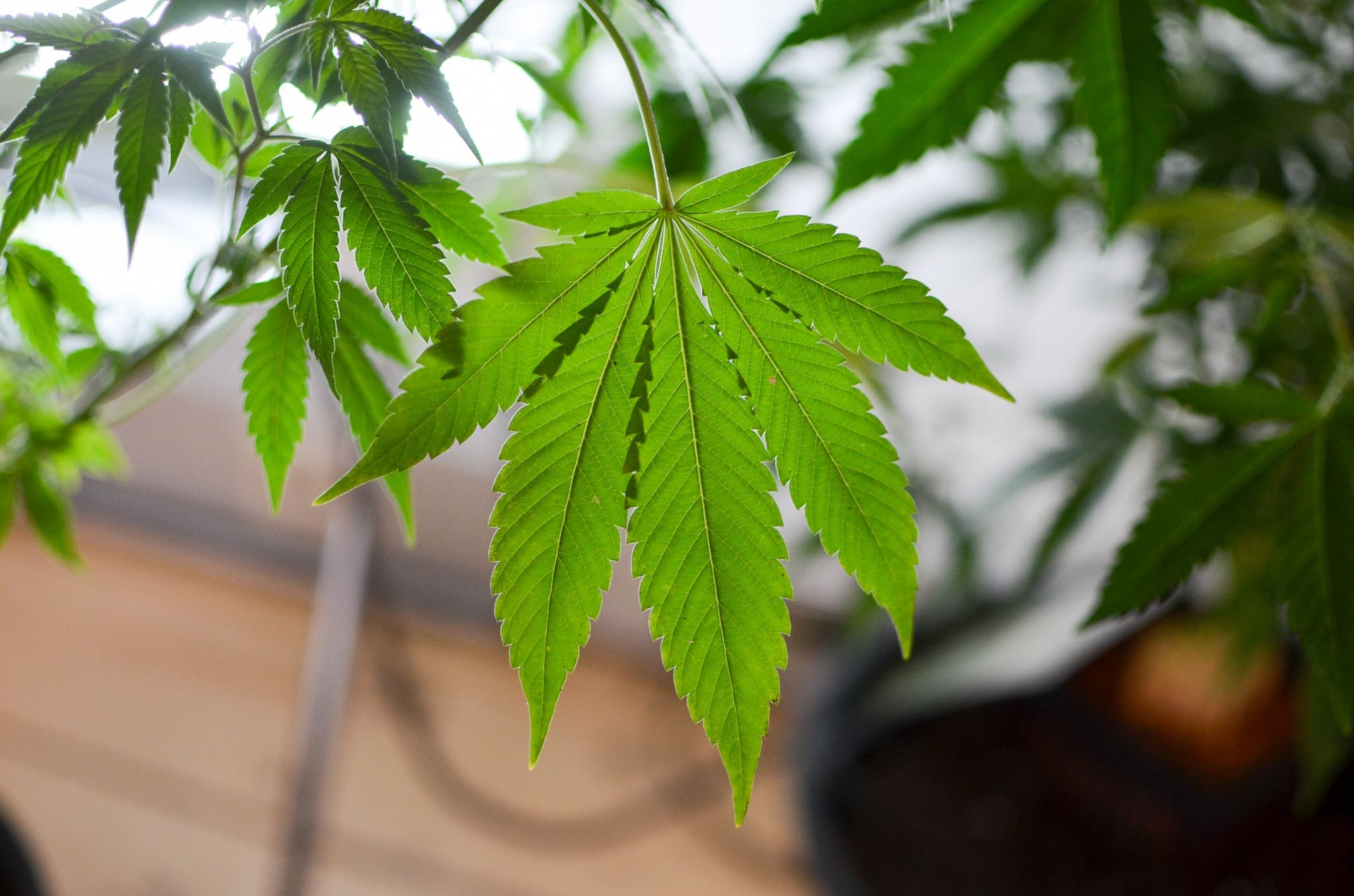 As advocates applaud the passage of a medical marijuana legalization bill in the Kansas House of Representatives, anxieties remain high over its prospects in the GOP-controlled Senate.
The chamber has days left being the end of the legislative veto session, and Senate leadership has signaled that they do not view the reform legislation as a priority.
"The Senate is not real high on the issue at this point" Senate President Ty Masterson (R) told an Associated Press reporter in a pun-filled text message on Thursday, adding that "we may roll it into a joint committee and see if we can weed out the issues."
A texted statement from @sentymasterson: "The Senate is not real high on the issue (medical marijuana) at this point iun the session, we may roll it into a joint committee and see if we can weed out the issues." #ksleg pic.twitter.com/2Ruu5VYtxC

— John Hanna (@APjdhanna) May 7, 2021
Whether he was serious about the joint committee or simply making an attempt at cannabis-related humor is unclear. A spokesperson for his office separately said that the chamber is focused on passing a budget bill and a school funding measure in the final days of the session.
"I can't imagine we'd take the subject matter up this year," Masterson said earlier this week ahead of the House vote.
If the Senate doesn't take up the medical marijuana bill by May 11, it would still be alive for the second half of the legislative biennium that starts early in 2022 and could be acted upon then.
But even if senators do make time to establish a bicameral conference committee to consider the proposal, there are still serious doubts about whether the body would approve the resulting negotiated legislation. And defeat in the Senate this year would mean lawmakers would have to start the process all over again if they wanted to pursue the reform again next year.
Getting the bill to this stage alone has proved challenging.
It moved through the House Federal and State Affairs Committee after a series of hearings and onto the floor in March, but then it was rereferred to the panel for further consideration. Members then adopted several additional amendments before sending it back on the floor.
The legislation would establish a medical marijuana program for qualified patients. It lists about two dozen conditions that make a person eligible for cannabis, including Alzheimer's disease, cancer, Crohn's disease, glaucoma, multiple sclerosis, post-traumatic stress disorder and traumatic brain injury.
—
Marijuana Moment is already tracking more than 1,100 cannabis, psychedelics and drug policy bills in state legislatures and Congress this year. Patreon supporters pledging at least $25/month get access to our interactive maps, charts and hearing calendar so they don't miss any developments.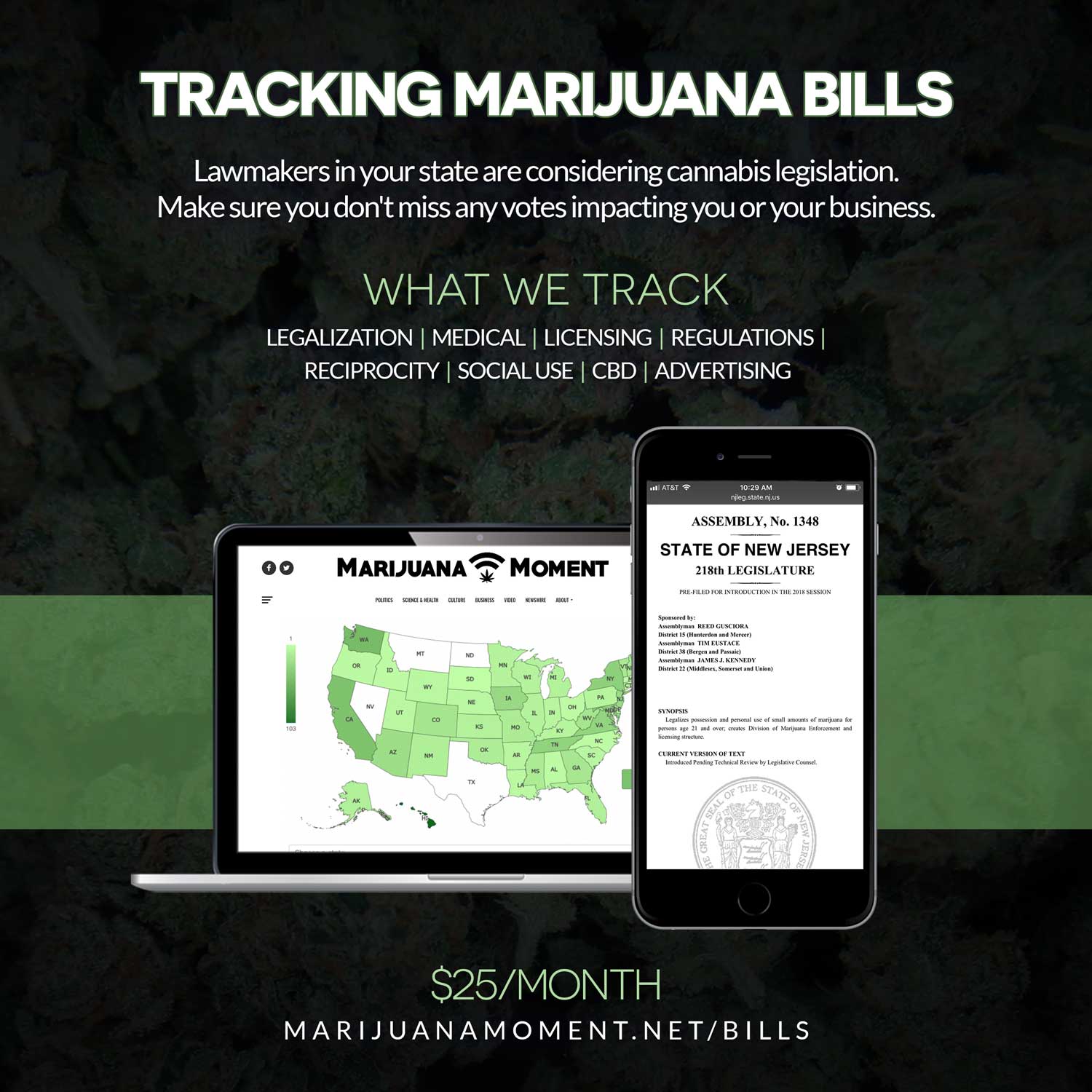 Learn more about our marijuana bill tracker and become a supporter on Patreon to get access.
—
Smoking and vaping products would be prohibited. The bill would also not provide for home growing.
The state would license medical cannabis growers, testing labs, processors distributors and retailers, and counties would be able to opt out of allowing marijuana businesses to operate in their jurisdiction.
Patients would be able to purchase up to a 90 day supply of cannabis from licensed dispensaries, which would be regulated by the state Department of Alcoholic Beverage Control (ABC). That department would also be renamed the Division of Alcohol and Cannabis Control.
The secretary of the Department of Health and Environment would have to develop regulations to administer the medical cannabis program by July 1, 2023.
Gov. Laura Kelly (D), for her part, supports medical cannabis and would be expected to sign a bill if it arrived on her desk.
She pushed a separate proposal that would legalize medical cannabis and use the resulting revenue to support Medicaid expansion, with Rep. Brandon Woodard (D) filing the measure on the governor's behalf.
Kelly has she said she wants voters to put pressure on their representatives to get the reform passed. And with the small timeline before the session's end, the time to apply that pressure would be now.
While both pieces of legislation would make it so Kansas would join the vast majority of states that have legal medical marijuana markets, advocates view them as restrictive, particularly as it concerns the limited methods of consumption that would be permitted.
A separate medical cannabis legalization bill was introduced by the Senate Commerce Commerce in February, though it has not seen action beyond being referred to another panel.
Alabama Governor Will Give Medical Marijuana Bill A 'Thorough' Review, Spokesperson Says
Photo courtesy of Philip Steffan.