DEA Wants Feds To Grow Almost 1,000 Pounds Of Marijuana Next Year
443,680 grams.
That's how much marijuana the U.S. Drug Enforcement Administration (DEA) wants federally-licensed researchers to grow for use in scientific studies in 2018.
That amounts to a little more than 978 pounds of government-cultivated cannabis.
While that may sound like a lot, it's actually a slight decrease from this year's level.
The 2018 aggregate production quotas that DEA laid out in a Federal Register filing slated for publication on Wednesday are amounts the agency thinks will "provide for the estimated medical, scientific, research [and] industrial needs of the United States, lawful export requirements, and the establishment and maintenance of reserve stocks."
In addition to establishing the quota of nearly 1,000 pounds of marijuana, DEA will allow the production of 384,460 grams of tetrahydrocannabinols (THC) in 2018.
The order, signed by Acting DEA Administrator Robert W. Patterson, also allocates quotas of 92,120 grams of cocaine, 40 grams of LSD, 45 grams of heroin, 30 grams of psilocybin, 30 grams of ibogaine and varying levels of many other substances.
The filing comes just a few days after DEA finalized 2017 drug production quotas, establishing a limit of 472,000 grams of marijuana and 409,000 grams of THC.
In comparison, the proposed reduction for 2018 seems to run counter to DEA's stated goal of expanding marijuana research. If there are to be more studies, it would probably make sense to allow for an increased supply of cannabis.
But the reduction could also reflect the fact that the Trump administration's U.S. Department of Justice, of which DEA is a part, doesn't appear especially interested in additional studies on marijuana.
Since 1968, the only legal source of cannabis for researchers is a farm that the University of Mississippi operates under a license from the National Institute on Drug Abuse. Scientists have complained that it is difficult to obtain product from the facility and that it is often of low quality.
Last year, however, DEA moved to end the monopoly by creating a process to license additional cultivators.
But although the agency reportedly received at least 25 applications from would-be legal marijuana growers, higher-level Justice Department officials have blocked action on the proposals.
Members of Congress have pushed U.S. Attorney General Jeff Sessions to allow DEA to process the applications, but he hasn't yet responded to a bipartisan letter about the issue.
However, Sessions said in a Senate Judiciary Committee hearing last month that allowing more research cultivation would be "healthy."
For now, DEA seems to be operating under the assumption that researchers won't need more than 1,000 pounds of marijuana for next year. However, that could change, as the agency often adjusts its quotas throughout the year as its assessment of needs changes.
Federal Medical Marijuana Amendment Author Dies At 79
If you've only been paying close attention to marijuana policy for a few years, Maurice Hinchey's name is one you may not recognize.
But if you are a patient who relies on medical cannabis or an entrepreneur in the legal marijuana industry, you owe Hinchey, who died this week, a debt of gratitude.
As a Democratic congressman from New York, Hinchey was the original sponsor of the federal spending provision that now protects state medical cannabis laws from Department of Justice interference.
First introduced in 2001 and then periodically after that, the measure wasn't even enacted until after Hinchey retired from Congress in 2013.
The next year, after repeatedly failing on the floor of the House of Representatives, the measure was finally approved with a bipartisan vote and was included in a Fiscal Year 2015 spending bill signed into law by then-President Obama in late 2014.
Here's a video of Hinchey introducing and debating the measure for the first time, in July 2001:
(Scroll to 10:08:20.)
In 2001, only eight states had legalized medical cannabis, a far cry from the 29 state laws that are now on the books.
Instead of insisting on a vote that would almost certainly have lost, Hinchey withdrew the amendment following a passionate debate.
Two years later, Republican Congressman Dana Rohrabacher of California teamed up with the Democrat on the officially rebranded Hinchey-Rohrabacher measure.
That lost, by a vote of 152 to 273:
(Scroll to 10:14:05.)
The bipartisan duo teamed up on the amendment several more times in subsequent years, losing each time.
(Scroll to 2:56:05.)
(Scroll to 6:36:00.)
(Scroll to 10:31:25.)
(Scroll to 7:24:25.)
Then, in 2014, after Hinchey retired, Democrat Sam Farr of California joined with Rohrabacher in sponsoring the measure. By that time, many more members of Congress represented places where constituents were using medical cannabis in accordance with state law.
Finally, the dam had broken. The Rohrabacher-Farr measure passed the House by a vote of 219 to 189. It got included in the final spending bill that year, and it was approved the next year, as well, by an increased tally of 242 to 186.
While House Republican leadership has since blocked floor votes on the measure and other cannabis amendments, it remains current law thanks to victories in the Senate Appropriations Committee and its language not being deleted from short-term federal funding extension bills to keep the government operating.
That's the case at least until December 8, when current federal funding — along with policy riders like the medical cannabis protections — are set to expire.
In the meantime, advocates working to convince Congress to include the provision in Fiscal Year 2018 legislation should take a moment to consider the efforts of the late congressman whose work more than a decade and a half ago began to make the federal government take medical marijuana seriously.
Photo courtesy of the Hinchey Family.
Former Republican A.G. Warns Sessions Against Marijuana Crackdown
Current U.S. Attorney General Jeff Sessions would be wrong to crack down on state marijuana laws, one of his Republican predecessors says.
"To prosecute an act that is otherwise lawful under state law, one could make the argument [that] as a matter of policy, we've got other priorities we ought to be spending our resources on," Alberto Gonzales, who served as attorney general during President George W. Bush's administration, said in an interview with Newsweek.
"With respect to everything else going on in the U.S., this is pretty low priority," he added.
And what's more, cracking down on seriously ill people who rely on medical cannabis and their providers who are following state laws would look bad, Gonzales warned his successor.
"The optics just aren't very good, quite frankly," he said.
As a U.S. senator, Sessions was long one of Congress's most vocal opponents of legalization, saying last year that "good people don't smoke marijuana."
But while deploying threatening and concerning comments about cannabis policy from time to time as attorney general, he hasn't moved to rescind Obama-era guidance that generally allows states to implement their own marijuana laws without federal interference. At least not yet.
Last week, at a House hearing, Sessions testified that the previous administration's approach remains in effect for now.
Gonzales, in the Newsweek interview, said that Sessions would probably clear any big cannabis moves with the White House first.
"What people often fail to understand or appreciate, is that the attorney general works for the president," he said. "While the attorney general has a great deal of say about law enforcement policy, so does the White House. When Jeff Sessions makes something, he responds to the White House."
On the campaign trail, President Trump repeatedly pledged to respect state marijuana laws, going so far as to say he personally knows people who benefit from medical cannabis.
Despite Gonzales's apparent supporting for letting states enact their own marijuana polices today, his Justice Department argued before the U.S. Supreme Court in 2004 that it had the right to punish medical cannabis patients who were following local policies.
Top GOP Senator's Bill Lets DC Legalize Marijuana Sales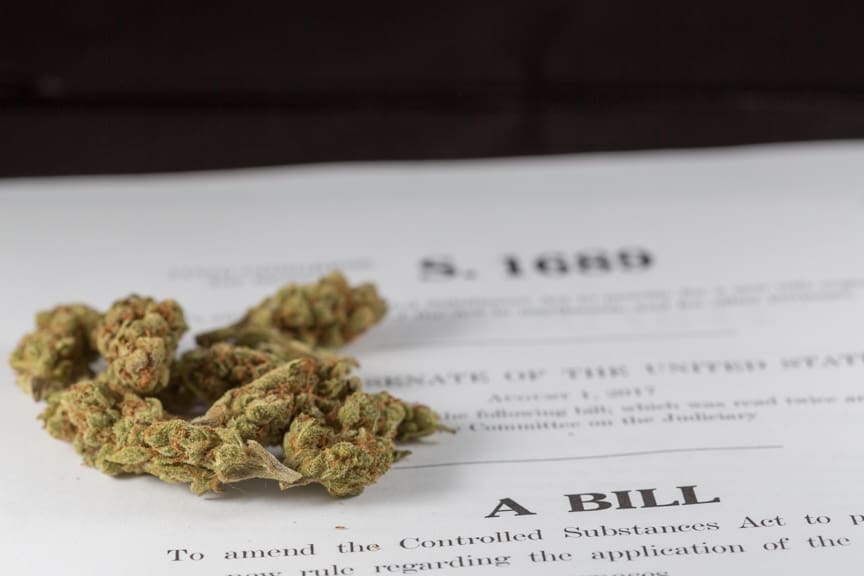 Washington, D.C. would finally be allowed to legalize marijuana sales under a new bill authored by a powerful Republican senator.
Voters in the nation's capital approved a ballot initiative that legalized cannabis possession and home cultivation in 2014. But under a current annual budget rider, the city is not allowed to spend its own money setting up a legal regulatory system for marijuana sales. As such, the city can't earn tax revenue on recreational marijuana like Colorado and seven other states that have ended prohibition are.
That would change under legislation released on Monday by Sen. Thad Cochran (R-MS), chairman of the powerful Appropriations Committee.
The new bill, which funds various federal agencies and concerns appropriations covering the District of Columbia government, is totally silent on the matter of D.C. marijuana sales. That means that if its language is enacted as part of a Fiscal Year 2018 spending agreement, the ban in current law will disappear.
But, unfortunately for marijuana legalization advocates, it's not that easy. The version of 2018 spending legislation approved by the House in September not only continues the current ban but actually broadens its language to close a potential loophole that advocates had urged D.C. officials to pursue in order to fund regulation of legal cannabis sales.
As a result, if the language in the new bill released by Cochran on Monday is approved by the Senate, the differences will need to be reconciled by a conference committee made up of a handful of members from either chamber. And at that stage, behind closed doors, anything could happen.
In 2015, Cochran made a similar move by excluding the D.C marijuana sales ban language in a chairman's mark. But the House-passed ban was included in that year's version of final spending legislation anyway.