Cypress Hill Rapper Who Opposed California Legalization Opens A Marijuana Store
On Wednesday, rapper B-Real of Cypress Hill and Prophets of Rage will celebrate the grand opening of his new "Dr. Greenthumb" recreational marijuana dispensary in southern California.
It's the latest stage in what's been a significant evolution for the prominent cannabis-friendly musician, who less than two years ago declared himself opposed to the state's marijuana legalization ballot measure that is making his new venture possible.
In a press release issued Friday advertising "an all day blowout" at Dr. Greenthumb in Sylmar, California, B-Real is described as "a prominent figure at the forefront of cannabis legalization for over two decades."
"We have a lot of history behind us as it relates to music and the pro-legalization movement," B-Real said, according to the statement.
That history includes opposing Proposition 64, which legalized marijuana for adults 21 and over and also paved the way for regulated commercial storefronts like the one B-Real is opening.
In the run-up to the November 2016 election, where Prop. 64—also known as the Adult Use of Marijuana Act—passed with more than 57 percent of the vote, the rapper used social media to agitate against its passage.
These are the lines in between the lines. Read up Cali! People from out of our state have no clue but people in Washington can relate pic.twitter.com/v4rWHLsLLb

— B Real ™ (@B_Real) October 11, 2016

On October 10, 2016, less than a month before Election Day, the rapper shared an image on social media that claimed Prop. 64 "helps keep the drug cartels in business," "sets up HUGE growing operations for rich white people, destroying small businesses" and "turns rights into priviledges" [sic].
"Read up Cali!" B-Real wrote on Twitter, where he posted the image that claimed "This is NOT Legalization. VOTE NO."
B-Real's opposition was similar to anti-legalization messaging coming from other marijuana advocates, many of whom claimed that the measure was a corporate giveaway that would harm small-and-medium producers. At least some of that has come to pass as the cannabis economy adapts in response to the new reality of broader legalization.
But B-Real seems to have adjusted to the new reality almost immediately.
On Election Night, after cannabis ballot measures won in California, Maine, Massachusetts and Nevada, he posted a message of congratulations.
"Although I'm someone that was and is concerned about prop 64, California made history tonight and to that I tip my hat," he wrote.
In an e-mail sent via a spokeswoman in response to Marijuana Moment's questions about B-Real's evolution on California legalization, the rapper took a free-market approach. He opposed Prop. 64 because of legalization's regulations and taxes, he explained.
"I was opposed to it at the time because some of the new regulations and penalties along with overwhelming taxation which seemed to be unfair to smaller businesses," he wrote. "Additionally, a number of other complicated issues that are just now being addressed with new and changing policies. I still think there are things that need further due diligence to give the small business owner a chance at succeeding before the big businesses start to come into play."
A week after the election, B-Real released a record that, according to a press release, "passionately advocates for marijuana legalization across all 50 states."
In promotional material for "Prohibition Part 3," B-Real appeared in a photoshopped image smoking marijuana in public—an act that, were he to do it in real life, is punishable only by a $100 citation thanks to Prop. 64.
And earlier this year, B-Real gave an interview to a New Zealand-based website in which he declared that legalization has "been great."
"For most of us that have been in the culture for a long time, we're just seeing and waiting for more of the regulations to happen to know how it's going to operate officially," he told Under the Radar. "Right now all the rules and regulation aren't implemented and in place so we're just taking it as each day comes and try to be informed and being a step ahead. But it's been great, a lot of people are happier."
Regulated and taxed commercial sales of marijuana began in California on January 1.
B-Real, whose musical repertoire with Cypress Hill includes "Hits from the Bong," "Dr. Greenthumb" has been trying to enter the marijuana-dispensary business since 2015.
In February of that year, he won a lottery drawing to open one of the first medical-cannabis dispensaries in Santa Ana, in Orange County, California.
But by September 2016, shortly before B-Real's public disavowal of marijuana legalization, the dispensary had still yet to open.
Now, thanks to the passage of Amendment 64 over his own objections, B-Real will be able to sell cannabis to adults over 21 years of age regardless of whether they have a doctor's recommendation.
"I never changed that stance, but I do have a brand that myself and my partners have been building for a number years in the cannabis industry aside from my over 20 years of advocacy," B-Real said in his statement to Marijuana Moment about his concerns with the measure. "My intention was always open a shop when the right opportunity presented itself and that we could be fully compilant [sic]. This would ultimately allow me to have a landing place for our brands in the cannabis community for recreation and medicinal consumers."
The rapper also said that he plans to use some of the proceeds from the new retail operation to "give back to the community and create programs for the youth and show the positive impact from the cannabis community and break some of the still existing opposition."
"Good can come from this community and we plan to educate through our example," he said.
Photo courtesy of Festivalsommer // Biha.
Businesses Are More Profitable And Innovative In States With Legal Marijuana, Study Finds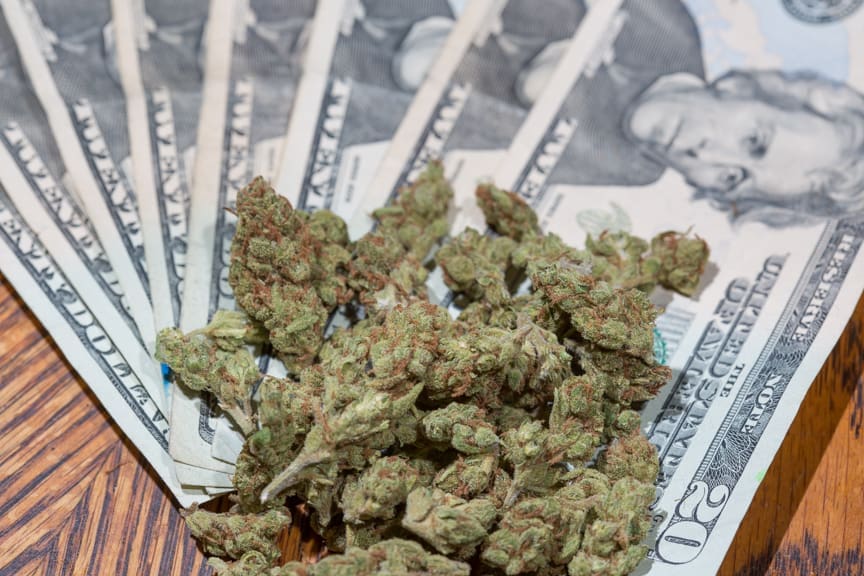 States have been experimenting with various forms of marijuana legalization for years and, according to new research, business is better where cannabis is legal.
To investigate the impact legalization has on the economy, researchers at the University of Iowa analyzed 9,810 corporations between 1991 and 2017, finding "a multitude of positive effects" after a state enacts medical marijuana laws.
"Firms headquartered in marijuana-legalizing states receive higher market valuations, earn higher abnormal stock returns, improve employee productivity, and increase innovation," the authors said.
The study, which was reviewed by Marijuana Moment but has yet to be published, found that having cannabis laws on the books can unleash the previously untapped potential of employees and helps companies attract new talent.
Corporations "become more productive and hire more productive human capital from out of state after the passage of the law," the authors wrote.
They also report that "firms earn higher net income per employee" after a medical cannabis law is passed, and "the positive impact is sustained over the next two years."
Additionally, the study found a 4.2 percent increase in company value, which translates into an average increase of the market-value of corporations by $166 million after a medical marijuana law is enacted.
"Firms experience an increase in profitability likely due to the positive shock to the human capital post-legalization," the study finds.
"State-level medical marijuana laws have a considerable positive impact on firms in the state, likely by having a positive impact on the human capital of firms."
Higher profits and more productivity aren't the only benefits a company sees after marijuana is legalized. When it comes to stock prices, companies located in states with medical cannabis fare better than those in jurisdictions where the plant is prohibited.
Additionally, the stock value of corporations in medical marijuana states increased by 4.56 percent. An "equal-weighted portfolio" composed of similar stocks located in states without a medical marijuana program showed a loss of about two percent annually.
Returns on stocks were also 4.44 percent higher per year for companies in states that have legalized.
What's the source of such financial benefits? The authors suggested that companies will ramp up innovation after marijuana laws are passed, making the company more profitable over time, compared to their counterparts in areas that don't permit cannabis at all.
"Our results imply that after marijuana legalization, firms not only apply for more patents and receive more citations on those patents, but also are more productive and efficient in generation innovation output from labor and [research and development] input," the study determined.
"We also find an increase in both entrepreneurial activity and venture capital funding in states that legalize marijuana."
Finally, the study measures the "innovation productivity" of those working, living and moving to the state, following the passage of a medical marijuana law.
"The inventors that are in the state both before and after legalization become more creative" post-legalization, the authors found.
And when it comes to attracting new talent from other states, "more inventors relocate to states after medical marijuana legalization than before passage of the law."
The benefit is two-fold for such corporations. In addition to being "able to attract more productive inventors" in states with medical marijuana "relative to states that do not legalize," existing employees also see an uptick in innovation after a cannabis law is passed, the study concluded.
House Lawmakers Caution Key Senate Chairman Not To Overhaul Marijuana Banking Bill
Company Gets Trademark For The Word 'Psilocybin,' Frustrating Decriminalization Advocates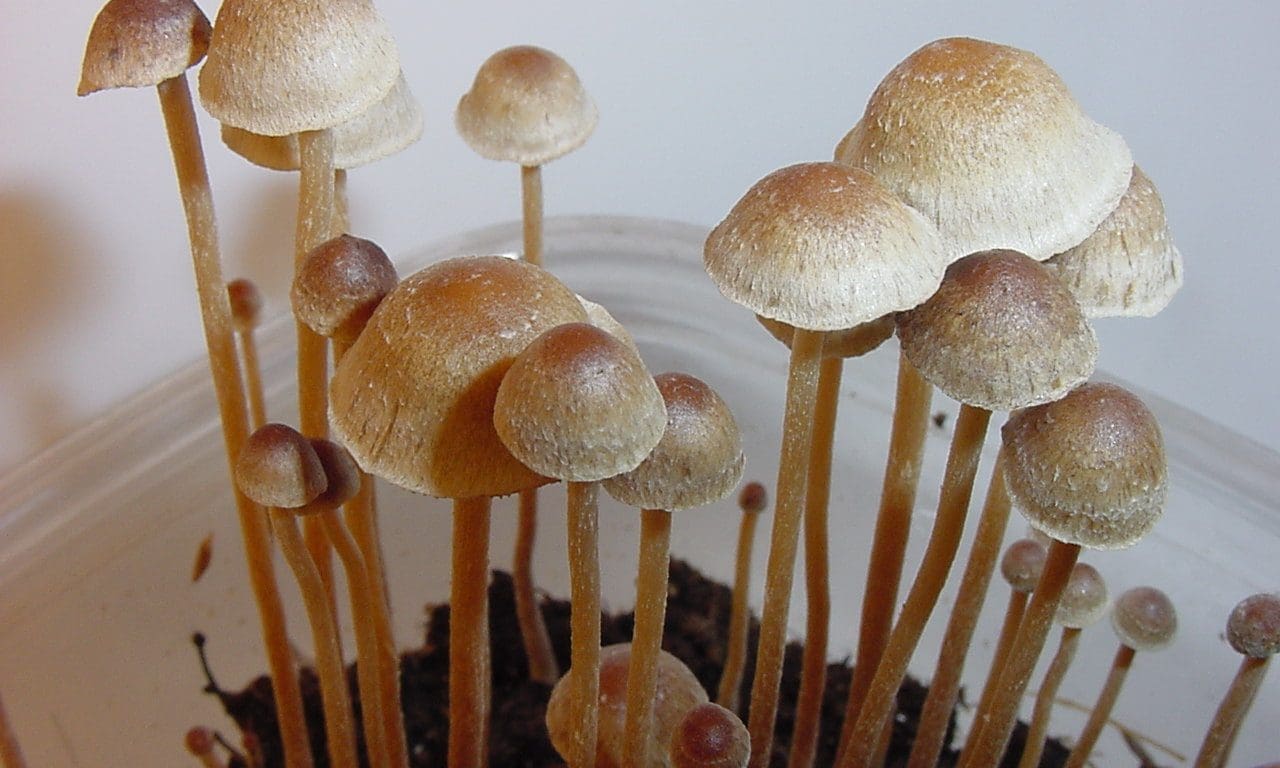 As psychedelics reform efforts pick up across the U.S., there's an increasing weariness among advocates about the potential corporatization that may follow.
That's why many found it alarming when a California-based company announced on Thursday that it had successfully trademarked the word "psilocybin," the main psychoactive constituent of so-called magic mushrooms.
Psilocybin™ is a brand of chocolates that do not contain the psychedelic itself but are meant to "begin educating, enlightening and supporting the community in upgrading their inner vibrations in order to get everything they want of their time here on earth," according to a mission statement.
Soon after founder Scarlet Ravin shared news of the trademark on LinkedIn, advocates raised questions and concerns: What does that mean on a practical level for other psilocybin organizations? Why should one brand get exclusive rights (to a certain legal extent) to the scientific name of a natural substance?
The reality of this particular trademark is more nuanced than it might appear at first glance. While it's true that the company was granted the distinction by the U.S. Patent and Trademark Office, it's specifically for educational materials and it's listed on the supplemental register, rather than the principal register, which means it would be incumbent upon the brand to prove that it has earned distinctiveness of the mark if the issue went to court.
"It's certainly good for her business to have that mark, but I think at the end of the day, it's going to be somewhat weak," Larry Sandell, an intellectual property attorney at Mei & Mark LLP, told Marijuana Moment. He added that this example is "indicative that people are trying to stake early claims to IP."
"Even if they might be somewhat overreaching, people see a potential new market here and they want to stake out their ground," he said. "It's a big next space that people are anticipating a legal market. Maybe it's where cannabis was five to 10 years ago."
Despite those legal limitations, reform advocates view the trademark as emblematic of a bigger issue—that someone would presume to take ownership of a substance that's at the center of a national debate on whether or not to criminalize individuals for using it.
Kevin Matthews, who led the successful campaign to decriminalize psilocybin mushrooms in Denver last year and is the founder of the national psychedelics advocacy group SPORE, told Marijuana Moment that he didn't doubt Ravin had the right intentions—to promote education into the substance—but he said the decision to trademark is nonetheless questionable.
"This being an open-source movement, trademarking the word psilocybin, in some ways it feels like—although I don't think this is her intention—it's lacking perspective," he said. "Does that mean we can't use psilocybin as SPORE because we're an educational non-profit and she's a for-profit branded company? It doesn't make a lot of sense to me. She needs to let go of the trademark."
Ravin said that her goal in trademarking psilocybin was to prevent the substance from being becoming the next cannabis, which she said has been corrupted from its "true spiritual, medicinal benefit" and turned into a corporate commodity.
"Knowing that psilocybin is going to be next [to be legalized] I feel strongly guided by the deepest part of my heart to really offer a sense of education of what could be when you take such a strong, beautiful medicine and to give people an education platform here and now to let them know what's coming, how to receive it, how to get the most benefit from," she told Marijuana Moment in a phone interview.
"We paved the way for this being a medicinal offering and not a consumer, recreational shitshow. That was our intention," Ravin said. "The only way that we are going to have access to mainstream consumers is by having some sort of trademark on the word so that we can use it for something that's not what it actually is."
"With this being something that we can now put into market with a box of chocolates that has no psilocybin in it, but as you can already see, it creates a platform for discussion of what the beauty of this plant can do," she said. "Me and my movement and my team, we don't own the word. We're not going to ever sue anyone who also uses the word—we're opening a doorway for ourselves and anyone that wants to see this educated upon so that we can hit people who are unfamiliar with it now with downloads to actually have this be a safe, successful psychedelic transition."
Asked to react to criticism about the trademark from advocates, Ravin said "we're all here to follow spirit guidance to show love and light, and the visions I had of doing what we're doing now was based upon breaking boundaries and breaking perceptions and allowing people to have an opportunity to sink into being one unit."
"Yeah, it might be coming out, we might be using the platform of psilocybin. We can use any platform to do this," she said. "We can use any platform to come together as a whole, and the longer that people sit in duality and say, 'oh now she's going to have a stronger voice than me is just looking at something not through their heart,' it's looking at it through ego and judgement."
"The more that we describe what we're doing, the more people I think will start to feel our unity and we'll be able to move together as a stronger force than pointing fingers and trying to separate one another," she said. "Those days are done."
Ravin said that once the Psilocybin™ chocolates are ready for market, she plans to contribute 10 percent of profits to the Multidisciplinary Association for Psychedelic Studies (MAPS), which is involved in researching therapeutic benefits of psychedelic substances.
Congressman Backs Ballot Measure To Legalize Psychedelic Mushrooms For Therapeutic Use
Photo courtesy of Wikimedia/Workman.
China Must Import More Hemp From U.S. Under New Trade Deal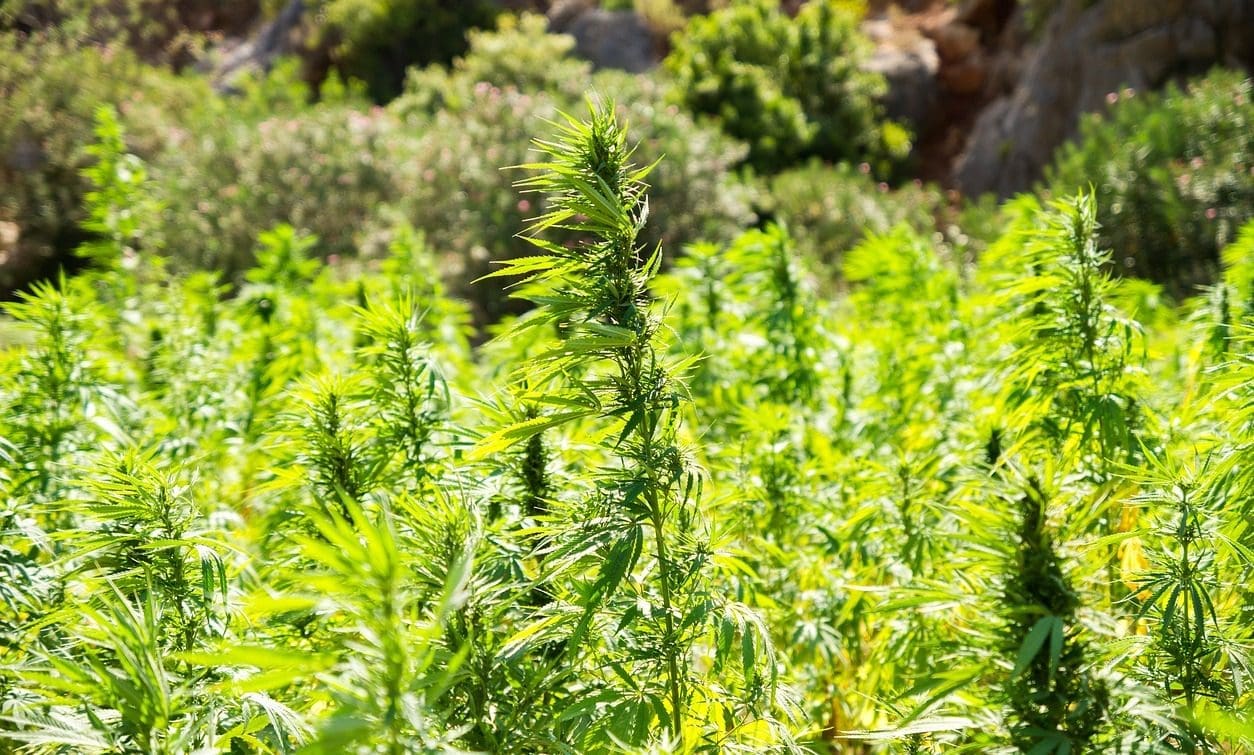 After years of being one of the United States's main sources of hemp imports, China will now be required to buy a lot more of the non-intoxicating cannabis crop from the U.S. under a new trade deal.
Hemp, which was federally legalized under the 2018 Farm Bill, is one of a long list of agricultural products that China agreed to import on a larger scale over the next two years as part of an international trade agreement that was signed on Wednesday.
"The Parties acknowledge that trade and economic structural changes resulting from this Agreement and from other actions being taken by China to open up its economy and improve its trade regime should lead to improved trade flows, including significant increases in exports of goods and services to China by the United States and other countries," the accord says.
"The Parties believe that expanding trade is conducive to the improvement of their bilateral trade relationship, the optimal allocation of resources, economic restructuring, and sustainable economic development, given the high degree of complementarity in trade between them. The Parties recognize that the United States produces and can supply high-quality, competitively priced goods and services, while China needs to increase the importation of quality and affordable goods and services to satisfy the increasing demand from Chinese consumers."
While the deal didn't specify just how much more hemp China will be importing, the document states that the country must spend at least $12.5 billion more than it did in 2017 on more than 200 agricultural commodities, including the cannabis plant, for calendar year 2020. The following year, it must spend at least $19.5 billion more.
Included in the deal is a particular form of cannabis, which is referred to as "true hemp" in the document.
"True hemp (cannabis sativa l.), raw or processed but not spun; tow and waste of true hemp (including yarn waste and garnetted stock)," the description of the item states.
Jonathan Miller, general counsel for the U.S. Hemp Roundtable, told Marijuana Moment that hemp's inclusion in the trade deal is a "really good development."
"The fact that China would be importing our hemp and would be giving a new market for American farmers is pretty exciting," he said, referring to the fact that the U.S. has historically imported the crop from China and that it has sometimes been criticized as being of inferior quality.
While cannabis has been cultivated in China for thousands of years, the country has only recently begun expanding the industry domestically. Part of the delay has to do with strict anti-drug laws, but as the legalization has spread internationally, more businesses are getting into the hemp, and particularly CBD, market.
Meanwhile, in the U.S., the hemp industry has exploded, with bipartisan lawmakers working with regulators to ensure that hemp farmers have access to the resources they need to expand and meet booming consumer demand for CBD products. The U.S. Department of Agriculture (USDA) is currently finalizing its regulations for the crop after releasing an interim final rule last year.
USDA clarified in guidance last year that hemp plants and seeds are able to be imported from other countries. In 2018, the U.S. imported about $3.3 million in hemp from China, according to Hemp Industry Daily.
Congressional Hearing Exposes Marijuana Research Limitations Imposed By Federal Law
Photo courtesy of Pixabay.