Cypress Hill Rapper Who Opposed California Legalization Opens A Marijuana Store
On Wednesday, rapper B-Real of Cypress Hill and Prophets of Rage will celebrate the grand opening of his new "Dr. Greenthumb" recreational marijuana dispensary in southern California.
It's the latest stage in what's been a significant evolution for the prominent cannabis-friendly musician, who less than two years ago declared himself opposed to the state's marijuana legalization ballot measure that is making his new venture possible.
In a press release issued Friday advertising "an all day blowout" at Dr. Greenthumb in Sylmar, California, B-Real is described as "a prominent figure at the forefront of cannabis legalization for over two decades."
"We have a lot of history behind us as it relates to music and the pro-legalization movement," B-Real said, according to the statement.
That history includes opposing Proposition 64, which legalized marijuana for adults 21 and over and also paved the way for regulated commercial storefronts like the one B-Real is opening.
In the run-up to the November 2016 election, where Prop. 64—also known as the Adult Use of Marijuana Act—passed with more than 57 percent of the vote, the rapper used social media to agitate against its passage.
These are the lines in between the lines. Read up Cali! People from out of our state have no clue but people in Washington can relate pic.twitter.com/v4rWHLsLLb

— B Real ™ (@B_Real) October 11, 2016

On October 10, 2016, less than a month before Election Day, the rapper shared an image on social media that claimed Prop. 64 "helps keep the drug cartels in business," "sets up HUGE growing operations for rich white people, destroying small businesses" and "turns rights into priviledges" [sic].
"Read up Cali!" B-Real wrote on Twitter, where he posted the image that claimed "This is NOT Legalization. VOTE NO."
B-Real's opposition was similar to anti-legalization messaging coming from other marijuana advocates, many of whom claimed that the measure was a corporate giveaway that would harm small-and-medium producers. At least some of that has come to pass as the cannabis economy adapts in response to the new reality of broader legalization.
But B-Real seems to have adjusted to the new reality almost immediately.
On Election Night, after cannabis ballot measures won in California, Maine, Massachusetts and Nevada, he posted a message of congratulations.
"Although I'm someone that was and is concerned about prop 64, California made history tonight and to that I tip my hat," he wrote.
In an e-mail sent via a spokeswoman in response to Marijuana Moment's questions about B-Real's evolution on California legalization, the rapper took a free-market approach. He opposed Prop. 64 because of legalization's regulations and taxes, he explained.
"I was opposed to it at the time because some of the new regulations and penalties along with overwhelming taxation which seemed to be unfair to smaller businesses," he wrote. "Additionally, a number of other complicated issues that are just now being addressed with new and changing policies. I still think there are things that need further due diligence to give the small business owner a chance at succeeding before the big businesses start to come into play."
A week after the election, B-Real released a record that, according to a press release, "passionately advocates for marijuana legalization across all 50 states."
In promotional material for "Prohibition Part 3," B-Real appeared in a photoshopped image smoking marijuana in public—an act that, were he to do it in real life, is punishable only by a $100 citation thanks to Prop. 64.
And earlier this year, B-Real gave an interview to a New Zealand-based website in which he declared that legalization has "been great."
"For most of us that have been in the culture for a long time, we're just seeing and waiting for more of the regulations to happen to know how it's going to operate officially," he told Under the Radar. "Right now all the rules and regulation aren't implemented and in place so we're just taking it as each day comes and try to be informed and being a step ahead. But it's been great, a lot of people are happier."
Regulated and taxed commercial sales of marijuana began in California on January 1.
B-Real, whose musical repertoire with Cypress Hill includes "Hits from the Bong," "Dr. Greenthumb" has been trying to enter the marijuana-dispensary business since 2015.
In February of that year, he won a lottery drawing to open one of the first medical-cannabis dispensaries in Santa Ana, in Orange County, California.
But by September 2016, shortly before B-Real's public disavowal of marijuana legalization, the dispensary had still yet to open.
Now, thanks to the passage of Amendment 64 over his own objections, B-Real will be able to sell cannabis to adults over 21 years of age regardless of whether they have a doctor's recommendation.
"I never changed that stance, but I do have a brand that myself and my partners have been building for a number years in the cannabis industry aside from my over 20 years of advocacy," B-Real said in his statement to Marijuana Moment about his concerns with the measure. "My intention was always open a shop when the right opportunity presented itself and that we could be fully compilant [sic]. This would ultimately allow me to have a landing place for our brands in the cannabis community for recreation and medicinal consumers."
The rapper also said that he plans to use some of the proceeds from the new retail operation to "give back to the community and create programs for the youth and show the positive impact from the cannabis community and break some of the still existing opposition."
"Good can come from this community and we plan to educate through our example," he said.
Photo courtesy of Festivalsommer // Biha.
California Governor Approves Changes To Marijuana Banking And Labeling Laws
California Gov. Gavin Newsom (D) signed a handful of marijuana bills into law on Tuesday, making a series of small adjustments to the nation's largest legal cannabis system. More sweeping proposals such as overhauling the state's marijuana regulatory structure will have to wait until next year, the governor said.
Among the biggest of the new changes are revisions to banking and advertising laws. With many legal marijuana businesses are still unable to access financial services, Newsom signed a bill (AB 1525) to remove state penalties against banks that work with cannabis clients.
"This bill has the potential to increase the provisions of financial services to the legal cannabis industry," Newsom wrote in a signing statement, "and for that reason, I support it."
Democrats in Congress, meanwhile, have been working for months to remove obstacles to these businesses' access to financial services at the federal level. A coronavirus relief bill released by House Democratic leaders on Monday is the latest piece of legislation to include marijuana banking protections. Past efforts to include such provisions have been scuttled by Senate Republicans.
In his signing statement on the banking bill, Newsom directed state cannabis regulators to establish rules meant to protect the privacy of marijuana businesses that seek financial services, urging that data be kept confidential and is used only "for the provision of financial services to support licensees."
Another bill (SB 67) the governor signed on Tuesday will finally establish a cannabis appellation program, meant to indicate where marijuana is grown and how that might influence its character. The system is similar to how wine regions are regulated.
Under the new law, growers and processors under the new law will be forbidden from using the name of a city or other designated region in product marketing unless all of that product's cannabis is grown in that region. Similar protections already apply at the county level.
For outdoor growers, the new law recognizes the importance of terrior—the unique combination of soil, sun and other environmental factors that can influence the character of a cannabis plant. For indoor growers, it provides a way to represent a hometown or cash in on regional cachet.
Most of the other new changes that the governor signed into law are relatively minor and will likely go unnoticed by consumers. One, for example, builds in more wiggle room on the amount of THC in edibles (AB 1458), while another would allow state-licensed cannabis testing labs to provide services to law enforcement (SB 1244).
The bills were approved by state lawmakers earlier this month, as the state's legislative session drew to a close.
Other pieces of cannabis legislation passed by the legislature this session were met with the governor's veto. On Tuesday, Newsom rejected a proposal (AB 1470) that would have allowed processors to submit unpackaged products to testing labs, which industry lobbyists said would reduce costs. Currently products must be submitted in their final form, complete with retail packaging. Newsom said the proposal "conflicts with current regulations…that prevent contaminated and unsafe products from entering the retail market."
"While I support reducing packaging waste, allowing products to be tested not in their final form could result in consumer harm and have a disproportionate impact on small operators," Newsom said in a veto statement.
Those changes to testing procedures should instead be considered next year, Newsom said, as part of a pending plan to streamline California's cannabis licensing and regulatory agencies.
"I have directed my administration to consolidate the state regulatory agencies that currently enforce cannabis health and safety standards to pursue all appropriate measures to ease costs and reduce unnecessary packaging," he wrote. "This proposal should be considered as part of that process."
Newsom also last week vetoed a bill (AB 545) that would have begun to dissolve the state Bureau of Cannabis Control, which oversees the legal industry. In a statement, the governor called that legislation "premature" given his plans for broader reform.
"My Administration has proposed consolidating the regulatory authority currently divided between three state entities into one single department," Newsom wrote, "which we hope to achieve next year in partnership with the Legislature."
Earlier this month, the governor signed into law one of the industry's top priorities for the year—a measure (AB 1872) that freezes state cannabis cultivation and excise taxes for the entirety of 2021. The law is intended to provide financial stability for cannabis businesses in California, where taxes on marijuana are among the highest in the nation.
The state's leading marijuana trade group, the California Cannabis Industry Association (CCIA), applauded the governor's moves. All the bills approved by Newsom this week had the industry group's support.
"We thank Governor Newsom for prioritizing these bills, which seek to reduce regulatory burdens, improve enforcement, expand financial services and enhance the state's cannabis appellation's program," CCIA Executive Director Lindsay Robinson said in a message to supporters on Wednesday. "Like so many, the cannabis industry has faced a series of unexpected challenges and setbacks in 2020. We look forward to continuing to work with the Newsom Administration, and the Legislature, as we pursue a robust policy agenda in 2021."
New Jersey Governor Works To Get Out The Vote For Marijuana Legalization Referendum
Image element courtesy of Gage Skidmore
Oregon Marijuana Sales Spike Could Continue As Consumers 'Permanently Adjust Their Behavior' Following COVID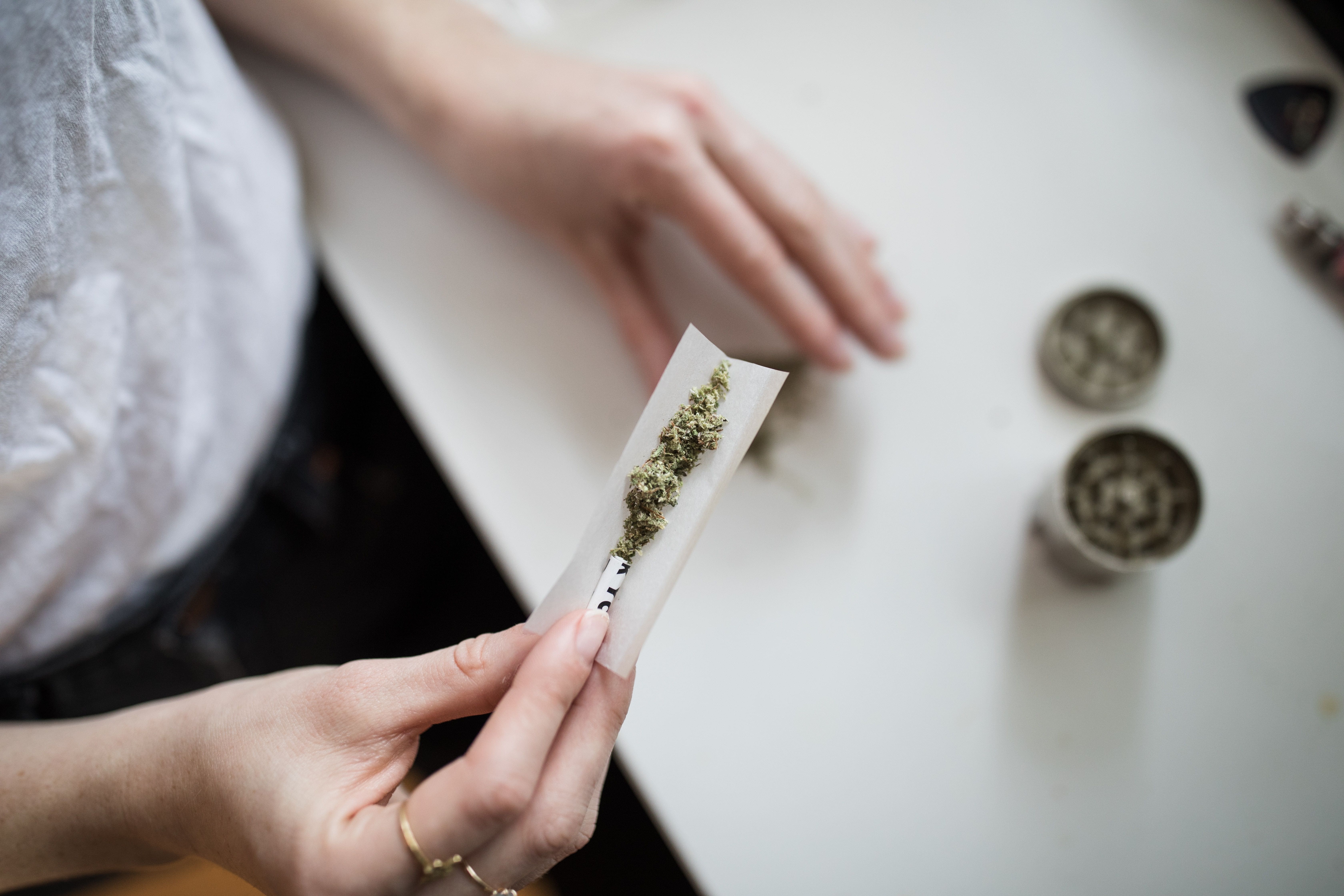 Record-setting Oregon marijuana sales continue to be a bright spot in the state's coronavirus-slowed economy, state analysts reported this week, but a convergence of unknowns—including the end of federal coronavirus relief and a possible rise in cannabis prices due to devastating wildfires—could still mean a rocky road ahead for consumers.
"Marijuana sales continue to be strong," Oregon's Office of Economic Analysis wrote in a quarterly revenue forecast published on Wednesday. "Since the pandemic began, the increase in recreational sales have been more than 30 percent above forecast."
The increase tracks with other more established cannabis markets, such as those in Colorado, Washington and Nevada, which have also seen "strong gains" since the pandemic, the office said. "There are a number of likely reasons for these higher level of sales and expectations are that some of these increases will be permanent."
Analysts also expressed a rosier outlook on the future of the state's marijuana market than they did in last quarter's report, which acknowledged a spike in sales since the pandemic began but concluded that business was eventually "expected to mellow" as incomes fell and bars reopened. Officials now forecast Oregon will see "somewhat more" in sales than previously projected.
The state has recently seen a string of record-setting months for cannabis sales. Over the summer, monthly cannabis sales had averaged more than $100 million, according to an Oregon Liquor Control Commission (OLCC) report.
The projected uptick in sales will mean an extra $30 million in marijuana tax revenue for the state during its two-year budget period ending in 2021. Total adult-use cannabis taxes for that period are now forecast to end up at more than $276 million.
"Factors leading to increases in sales include higher incomes due to federal support, increased stressors in everyday life, reductions in other forms of entertainment or recreational opportunities, and simply more time on one's hand be it due to a COVID-related layoff, or increased working from home," the report said.
"A key question is now that the federal aid is gone and other entertainment options return in the months ahead, will some of this increase in sales in recent months subside?" the Office of Economic Analysis wrote in the new report. "In a recent meeting of our office's marijuana forecast advisory group, the broad consensus was that yes, some of these sales will come off, but not entirely so. And the longer the pandemic lasts, the more likely customers will permanently adjust their behavior as they become accustomed to their new routines and buying patterns."
For now, the bulk of the increases appear to be driven by existing consumers. While "indications are that the customer base is broadening some as the market grows due to more users trying an increasingly socially acceptable product and ongoing converts from the black market to the legal market," the report said, the increase "is more likely to be due to larger or more frequent sales to existing consumers than due to more consumers alone."
"One item to watch moving forward are prices," analysts wrote. "In recent years the supply of marijuana has greatly outstripped the demand, leading to lower prices. This is great news for consumers. Given that marijuana is a normal good, lower prices have led to larger quantities sold. But now that demand has increased, while supply has held steady, and with the potential impact of the wildfires right as growers are prepping for harvest, this balance in the market may shift… As such, it may be that prices rise, or at least not decline like they have in recent years."
As far as tax revenue goes, any price increase would likely lead to more money for the state, "as the decline in quantity sold is not large enough to outweigh the price impact," the report said.
How cannabis revenue is spent would also be affected by a drug decriminalization ballot proposition, Measure 110, that voters will decide in November. While the initiative isn't expected to change the amount of taxes collected, it would redirect marijuana tax funds to expand drug treatment programs. "Whether current programs receiving marijuana tax revenue would ultimately see budgetary impacts," analysts said, "would remain up to the Legislature should voters approve the measure this fall."
Measure 110, which broadly seeks to reframe problem drug use in medical rather than criminal terms, is one of two key drug-reform measures on Oregon's ballot in less than six weeks. The other would legalize the therapeutic use of psilocybin, the main psychoactive ingredient in psychedelic mushrooms. That measure would be the first of its kind in the U.S., although Canada has recently granted some patients immunity from that country's prohibition on psilocybin.
Oregon Marijuana Businesses Impacted By Wildfires Are Ineligible For Federal Relief, Agency Confirms
Texas Ban On Smokable Hemp Lifted Until 2021, Judge Rules
A Texas ban on smokable hemp products hit another roadblock in court last week when a state judge barred officials from enforcing the prohibition until an industry challenge can be heard in court.
A group of four hemp producers sued the state last month over the ban, which began when lawmakers passed a hemp legalization bill last year that explicitly forbade the production of products intended for smoking or vaporization. State health authorities extended its reach earlier this year to prohibit the sale and distribution of such products made outside Texas, a move the hemp companies claim was an unconstitutional overreach of their authorities.
In a ruling issued Thursday, Travis County Judge Lora Livingston wrote that the hemp companies may have a point. Writing that the plaintiffs "have demonstrated a probable right to relief," Livingston granted a temporary injunction that effectively voids the ban on production, distribution and sale of the products until the conclusion of a trial set to begin in February.
Livingston had previously issued a temporary restraining order in the case last month that had a similar but shorter effect, preventing the state from enforcing the ban for a matter of weeks. The new ruling freezes the ban for at least four months, and potentially longer.
Opponents of the ban said that while the issue is far from over, Livingston's recent decisions are a sign the challenge could ultimately succeed.
"So far, the rulings relating to this lawsuit are very encouraging," said Heather Fazio, director of Texans for Responsible Marijuana Policy, which opposes the ban and has organized hundreds of supporters to submit comments to regulators.
"Advocates in Texas have remained vigilant, with both legislative engagement and regulatory oversight," Fazio said in an email to Marijuana Moment. "Now, Texas businesses are challenging our state's poorly designed policies in the courts. And they're winning!"
Plaintiffs are challenging both the legislature's initial ban on production and processing of smokable hemp as well as the Department of State Health Services (DSHS) added ban on distribution and sale, which they claim violate the state constitution's protections for economic freedom. They also maintain that DSHS lacked the authority to extend the production ban to retail sales.
The companies also point to logistical problems caused by the ban. Because smokable hemp flower is indistinguishable from hemp grown for other purposes, they argue, the ban will encourage bad actors to mislabel products in order to avoid the prohibition. That could put consumers at risk by exposing them to chemicals and other adulterants not intended for consumption.
Banning smokable hemp would also hurt the state economically, the producers claim, as Texas hemp companies wouldn't be able to compete with out-of-state producers that can already make and sell anything from hemp joints to CBD vape cartridges.
"The law does not ban the use or consumption of smokable hemp products. As such, Texas consumers will simply buy smokable products made out-of-state," the lawsuit says. "If Texas had banned the processing and manufacture of cheese in Texas, Texans wouldn't stop eating cheese."
Meanwhile, the state's legalization of hemp for other purposes has caused headaches in the criminal justice community. Because hemp looks and smells similar to marijuana, law enforcement agencies have struggled to know whether individuals have a banned substance until they can chemically analyze a seized product. But state testing labs are overburdened, and in February the state Department of Public Safety said it would "not have the capacity" to perform testing in misdemeanor cases. Prosecutors as a result have dismissed hundreds of low-level cannabis cases.
Marijuana possession arrests fell almost 30 percent in Texas from 2018 to 2019, recently released state data shows, and that trend seems connected to hemp legalization.
Medical Marijuana Should Be Legal For Toothaches, Texas Agriculture Commissioner Says
Image by Lindsay Fox from Pixabay