South By Southwest Fans Choose From Dozens Of Marijuana-Themed Panels For 2019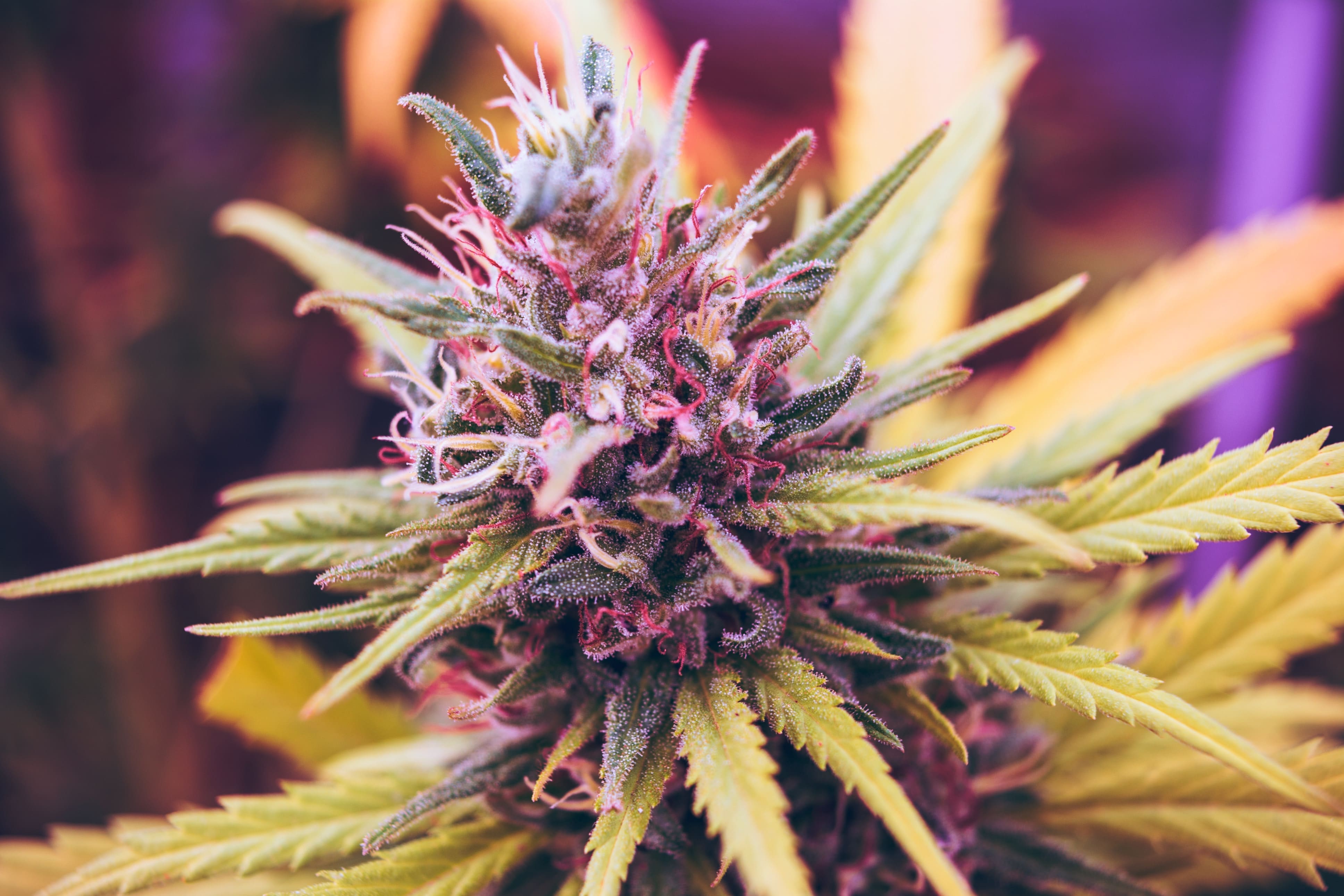 No longer just something smuggled past security on the way in, festival organizers are now actively trying to cash in on growing cultural (and perhaps financial) interest in marijuana.
In Austin, that liberal refuge surrounded by the rest of Texas, the industry will be officially in attendance for the second year in a row at South By Southwest 2019.
Voting is currently open for choosing panels at next year's bacchanal of tech, art and industry. Tracks for next year range from blockchain and cryptocurrency to virtual and augmented reality.
And right now, the SXSW Cannabusiness track has 62 submitted panels to vote on, with such topics as:
Cannabis Research Shackled by Politics Since 1968, organized by noted marijuana researcher Dr. Sue Sisley, will focus on "the abuses of the DEA / NIDA cannabis monopoly."
Breaking the Grass Ceiling: Women, Weed, and Tech will discuss the opportunity for women to lead, and launch companies in, the cross section of marijuana and technology.
Legal Cannabis & Black Male Entrepreneurship lays out the case for why "Black men should be an integral part of the industry to rectify the damage from the drug war."
When Can We All Get High Together? (Legally) features Denver mayoral candidate and cannabis entrepreneur Kayvan Khalatbari and Vicente-Sederberg partner Josh Kappel talking about social use.
There's also a few about repairing the harms caused by the war on drugs, several Texas-specific panels and one more focused on women. There's even Parenting and Cannabis, an expanding issue as more marijuana reform takes place and social attitudes shift. The large majority of proposals, as to be expected, are about starting and running cannabis businesses.
In addition to the 62 categorized under the Cannabusiness track, several other proposed panels in other tracks seem to focus at least partially on marijuana issues. One such panel in the Brands & Marketing track, is about cannabis-based beauty products. Another categorized under Food highlights the flavors and effects of terpenes. And one under Design focuses on the "changing aesthetics of pot."
At this year's SXSW event, in March, there were two panels on cannabis tech, one on the Future of Cannabis, a cannabis health meet up and a panel on the role of marijuana in pro sports led by former NFL player Eben Britton. (Noticeably absent? A social-justice-focused topic.) But considering the 62 panel topics submitted for next year, it seems likely there will be more expansive marijuana discourse at the 2019 event.
The number of contenders to talk pot at next year's SXSW isn't the only sign of rising interest in formal marijuana programming at prominent cultural events. Last weekend in San Francisco, Outside Lands debuted Grass Lands, a "curated cannabis experience" at the 10-year-old music fest in Golden Gate Park. They're "the first major U.S. music festival" to do so, according to an announcement by organizers.
For all its popularity, though, the 2019 SXSW cannabiz track doesn't have nearly as many entries as, say, Intelligent Future (374) or Tech Industry and Expertise (251). But it has considerably more than Touring & Live Experience (25) or Esports Industry (28). Nearly tied is Coding and Development with 61 options.
Through the Community Voting system, participants make a profile so they can cast votes on which panels they want to see next year. Public support only makes up 30 percent of the total programming decision, however, with input from SXSW Staff and the Advisory Board making up the other 30 percent and 40 percent respectively.
Voting on SXSW 2019 panels is open until August 30. SXSW descends on Austin March 8 – 17, 2019.
NFL Would End Marijuana Suspensions In Deal Approved By Team Owners
National Football League players would no longer face the possibility of being suspended from games just for testing positive for marijuana under a proposed collective bargaining agreement approved by team owners and circulated to players on Thursday.
The new policy being floated for approval by the the NFL Players Association would also reduce the number of players subject to testing for cannabis and narrow the window when tests can be administered from the current four months to just two weeks at the start of training camp.
The three-page summary of key terms of the union deal also includes an increase in the threshold for positive THC metabolite tests from 35 to 150 nanograms.
The document was first posted on Twitter by sports lawyer Darren Heitner
The NFLPA has sent all players a fact sheet that covers the highlights on the current proposal for a new Collective Bargaining Agreement. A lot to go through here.. pic.twitter.com/tzOhyLOmhY

— Darren Heitner (@DarrenHeitner) February 21, 2020
Initial details of potentially "dramatically reduced penalties" for cannabis in the NFL first began to surface in press reports earlier this month.
If the deal is ratified, the NFL would become the latest major sports league to loosen restrictions for cannabis as a growing number of states enact legalization policies.
Major League Baseball announced in December that it will remove marijuana from its list of banned substances.
After the MLB cannabis change was revealed, Dallas Cowboys owner Jerry Jones and New England Patriots quarterback Tom Brady said in interviews that the NFL would likely soon be forced to modernize its approach to marijuana.
NFL team owners approved the terms of the deal on Thursday, with player representatives set to consider it on Friday.
This piece was first published by Forbes.
Image element courtesy of Marco Verch.
NFL Marijuana Penalties Will Be 'Dramatically Reduced' Under Deal Being Weighed By Players Union
The NFL Players Association could soon vote on an agreement with the league that includes sharply reduced penalties for marijuana use by football players and dramatically shortens the annual window during which they may be tested for cannabis and other drugs.
While the proposed changes haven't been publicly released, the collective bargaining agreement that's circulating among officials would reportedly make it so players would only be subject to a two-week testing period, instead of the current four-month window that now begins on the unofficial marijuana holiday April 20 (4/20) and ends in August.
Additionally, severe penalties for cannabis offenses would reportedly be lifted. The agreement "would include dramatically reduced penalties, with suspensions happening only in the event of extreme and repeated disregard of the policy or significant violations of applicable law regarding the possession and use of marijuana," NBC Sports's ProFootballTalk reported.
The players union has been holding conference calls in recent weeks as representatives decide whether to proceed with the agreement, but if they don't act soon, it could mean another year of strict cannabis policies within the NFL. Two-thirds of the group must agree to the proposal prior to the start of the new league year on March 18 if they want the policies to take effect for the 2020-2021 season.
If the new collective bargaining agreement isn't ratified by that time, players would undergo another season where testing positive for marijuana can result in fines, suspension and rehabilitation.
It's not clear when the revised testing period would begin under the agreement, but it'd generally be more beneficial for players to schedule that window during the offseason.
While the NFL has been slow to back reform, Dallas Cowboys owner Jerry Jones and New England Patriots quarterback Tom Brady said in December that they see the writing on the wall and predicted that cannabis policy changes were imminent.
"I think you should expect and will expect an adjustment of the contemporary way or the present way that marijuana is being thought about," Jones said.
Cannabis policy changes have already been integrated by the Major League Baseball, which announced in December that it was removing marijuana from its list of banned substances. That also followed negotiations between the MLB and its players union.
Meanwhile, a panel created by the NFL and the union said last month that players should be wary of CBD, with members arguing that more research is needed to determine whether the non-intoxicating marijuana compound is safe and effective.
Netflix Blocks Marijuana Shows And Films In Response To Government Demands
Image element courtesy of Marco Verch.
Netflix Blocks Marijuana Shows And Films In Response To Government Demands
Film and television, for many of us, were the first places we saw cannabis users humanized.
In a society where we were raised to "Just Say No," who can forget the positive impact when we saw the joyous, peaceful festivities depicted in Woodstock? Who didn't laugh at rather than scorn classic pot-smoking teenage comedies like Dazed and Confused or Superbad? Who didn't abandon their own 'Reefer Madness' stereotypes after getting schooled on medical cannabis by Sanjay Gupta's Weed?
But across the Pacific, one country is working to make sure its citizens see no marijuana in moving pictures. According to a new report released by digital streaming giant Netflix, the company complied with several demands from Singapore's government that they remove content from their service. That includes three pieces of cannabis-themed programming: Cooking on High, The Legend of 420 and Disjointed.
The other two films were Martin Scorsese's The Last Temptation of Christ and Brazilian comedy The Last Hangover, which also includes overt drug-use and partying themes. Overall, the company disclosed it has received nine take-down requests worldwide since 2015. As first reported on Friday by Axios, Netflix promised that it will continue making these requests public on an annual basis. The content removed only applies to the country that requested the ban, and it can still be accessed in other markets.
Singapore is notorious for having some of the harshest drug control laws in the world. Possession of small amounts of drugs is punished severely with up to ten years in prison, a $20,000 fine or both. Trafficking, which differs by quantity based on the substance, is punishable by execution. You can be put to death for having less than a pound of marijuana, for example.
Singapore's government doesn't seem to be interested in global trends towards decriminalization and legalization of cannabis or other drugs. "Examples of other countries have clearly shown that a permissive attitude towards the use of cannabis exacts a high cost on society," says the national Central Narcotics Bureau (CNB). "Therefore, we have strict laws against the trafficking, possession, consumption, and import or export of illicit drugs, including cannabis and cannabis products."
Officials have argued that harsh policies coincide with reductions in rates of drug use and substance use disorder. By the CNB's estimates, "the number of drug abusers arrested each year has declined by two-thirds, from over 6,000 in the early 1990s to about 2,000 last year [2010]." But as to the agency's claim that marijuana use causes damage to society, available research on the effect of medical cannabis legalization in the U.S. suggests that it does not lead to increased youth use and has a negligible if any effect on people engaging in more risky behaviors such as consuming alcohol or tobacco.
Meanwhile, Singapore's northern neighbor Malaysia has considered decriminalizing small amounts of all drugs in an attempt to treat substance use disorder as a public health rather than criminal issue. Farther north, Thailand has made progress by legalizing medical marijuana last year.
Read Netflix's full Environmental Social Governance report below:
Netflix report by Marijuana Moment on Scribd
Photo courtesy of freestocks.org.