More Crime Near Alcohol And Tobacco Shops Than Marijuana Dispensaries, Study Finds
Medical marijuana dispensaries seem to attract much lower neighborhood crime rates than stores dedicated to selling alcohol and tobacco products.
That's the conclusion suggested by the results of a new study published this week.
"At 100 feet, tobacco shops and off-sale alcohol outlets—but not MMDs [medical marijuana dispensaries]—experienced significantly higher property and violent crime rates than grocery/convenience stores," researchers from four universities in California and Kansas, funded in part by the Centers for Disease Control and Prevention, wrote in the study.
"Our data suggest tobacco shops may constitute nuisance properties associated with dangerous neighborhood conditions for crime and violence in South LA, and perhaps similar low-income urban communities of color," the study, published online this week and scheduled to run in the March 2018 edition the journal Preventive Medicine, found.
In contrast, the authors suggested that several factors might account for lower crime rates found near medical cannabis dispensaries:
"(1) presence of visible property safeguards (e.g., security cameras), which may lower dispensary-related violence, (2) visual anonymity of many MMDs to passers-by including potential offenders, and (3) MMDs' tendency to close or relocate quickly—e.g., by June 2015, few MMDs operated at their 2014 locations."
The study analyzed 2014 crime data to examine the geography of all felony property and violent crimes occurring within 100, 200, 500, and 1,000-foot buffers of the three legal drug outlet types across South Los Angeles.
The researchers also looked at grocery and convenience stores that sell alcohol and tobacco, finding that those places had much lower nearby crime rates than the dedicated alcohol- and tobacco-specific retail outlets.
That result suggests that crime rates surrounding cannabis sales locations could be even lower if adults were able to purchase the drug at regular retail stores instead of having to go to marijuana-only dispensaries that are often forced to operate on a cash-only basis due to ongoing federal prohibition.
Bill Nye: Marijuana's Federal Status 'Not Based In Science'
One of the world's most famous scientists says that the U.S. government's classification of marijuana has absolutely nothing to do with science.
"Nobody's really sure how it works, marijuana. Nobody's exactly sure what it does," he said in a new interview released on Tuesday. "And so there's a very strong argument that keeping it as a Schedule I drug is not based in any science."
Schedule I — most restrictive category under federal law — is supposed to be reserved for drugs with a high potential for abuse and no medical value.
"But people use marijuana and marijuana extracts for all sorts of medical applications, so you've got to think there's something to it," Nye said.
Researchers have often complained that keeping marijuana in Schedule I perpetuates extra hurdles that studies on other drugs don't need to overcome.
In the new season of "Bill Nye Saves the World," premiering December 29 on Netflix, the scientist is seen getting a medical cannabis recommendation and visiting a California dispensary.
But Nye doesn't consume marijuana on camera. He does, however, play ultimate frisbee with teammates who are under the influence of cannabis, he said in the new interview with CNET.
In a separate interview released last month, Nye touted the benefits of legalization.
"I lived in Washington State for a long time, and Washington State legalized it in 2012. We legalized marijuana, we tax it," he said. "We have a lot of tax revenue. It's no longer criminalized. We don't spend money on the police department. We spend money regulating the industry in the same way we regulate other substances."
Photo courtesy of Gage Skidmore.
V.A. Issues New Medical Marijuana Policy For Military Veterans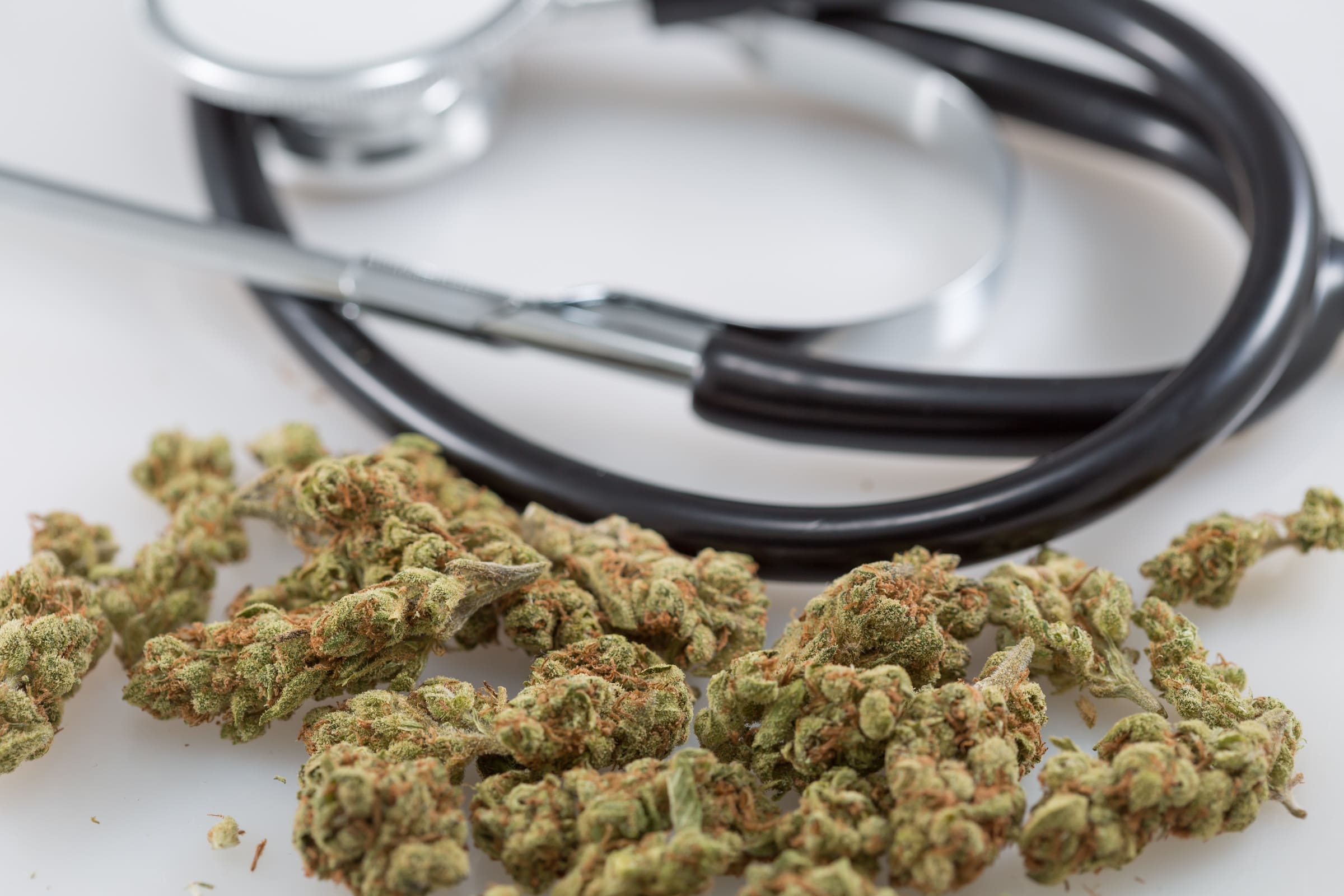 Doctors with the U.S. Department of Veterans Affairs still can't recommend medical marijuana, but they are being encouraged to talk more about it with military veterans.
That's what a new V.A. policy being rolled out this month says.
The directive urges government doctors to "discuss with the Veteran marijuana use, due to its clinical relevance to patient care, and discuss marijuana use with any Veterans requesting information about marijuana."
However, the policy reiterates the department's long-held position that "to comply with Federal laws such as the Controlled Substances Act…providers are prohibited from completing forms or registering Veterans for participation in a State-approved marijuana program."
V.A. Misstates Federal Law
In fact, no provision of federal law blocks the department from allowing its doctors to fill out medical cannabis recommendation forms in states where it is legal, even under continued federal prohibition.
In 2003, the U.S. Supreme Court let stand a federal ruling finding that doctors have a First Amendment right to recommend medical cannabis to patients, as long as they don't actually provide marijuana.
The only thing standing in the way of government doctors recommending medical cannabis to veterans is the V.A.'s own internal policy, which the the department's Veterans Health Administration just extended with the new directive.
V.A. Sec. David Shulkin has repeatedly tried to pass the buck to Congress when asked about the issue in interviews.
During a White House briefing earlier this year, he said that state medical cannabis laws may be providing "some evidence that this is beginning to be helpful, and we're interested in looking at that and learning from that." But he added that "until time the federal law changes, we are not able to be able to prescribe medical marijuana for conditions that may be helpful."
Shulkin has even gone so far as to allege that the agency can't even participate in research on medical cannabis.
From the federal government point of view, right now we are prohibited by law from doing research on it or prescribing it," he said in one interview. "We are not going to be out there doing that research or prescribing these different medicinal preparations unless the law is changed."
In another interview, Shulkin said that it is "not within our legal scope to study that in formal research programs or to prescribe medical marijuana, even in states where it's legal." He added, "if a law change at the federal level is appropriate, that could happen."
Medical Marijuana Recommendations Vs. Prescriptions
The distinction between recommendation and prescription is an important one.
No physician in the U.S. — government or private — can prescribe marijuana, because prescription is a federally-regulated process and cannabis currently falls under the Controlled Substances Act's restrictive Schedule I, a category that is supposed to be reserved for drugs with a high potential for abuse and no medical value.
That's why the 29 states with medical cannabis access allow doctors to simply recommend the drug, circumventing the prescription process, within the scope of the protections of the 2003 federal case mentioned above.
Other Details Of New V.A. Policy
In addition to the "prohibition on recommending, making referrals to or completing forms and registering Veterans for participation in State-approved marijuana programs," the new V.A. directive continues a policy that the government won't pay for veterans' medical cannabis.
It also specifies that the directive only prohibits use of medical marijuana by V.A. employees, not patients who don't work for the department.
"Veterans must not be denied VHA services solely because they are participating in State-approved marijuana programs," it says.
Those patients just have to get their cannabis recommendations from physicians outside the V.A., which can be costly and confusing for some veterans.
The new policy also seems to further encourage government doctors to more closely track and record information about veterans' use of medical marijuana.
"Clinical staff may discuss with Veterans relevant clinical information regarding marijuana and when this is discussed it must be documented in the Veteran's medical record," it says. "Providers need to make decisions to modify treatment plans based on marijuana use on a case-by-case basis, such decisions need to be made in partnership with the Veteran and must be based on concerns regarding Veteran health and safety."
The V.A.'s previous medical cannabis policy, enacted in 2011, technically expired on January 31, 2016, but remained in place until the enactment of the new directive, effective this month. The new policy is set to expire at the end of 2022.
Read the full new V.A. policy below:
Veterans Affairs Medical Marijuana Policy by tomangell on Scribd
Teen Marijuana Use Not Up Since Legalization, Another Federal Study Finds
A new federally-funded survey finds that marijuana use by 8th, 10th and 12th graders has increased slightly over the course of the past year but is generally lower than levels seen prior to when states began legalizing cannabis in 2012.
While measures of lifetime, annual, monthly and daily consumption of cannabis across the grade levels have variously gone up and down over the years, the new national data indicate that legalization of marijuana in certain states has not led to the skyrocketing of youth use that opponents predicted would occur.
The findings, from the annual Monitoring the Future survey, represent the second federal report released in the past week to indicate that prohibitionists' fears were overblown.
A separate study looking specifically at state-by-state numbers showed that teen marijuana use is generally lower now in places with legalization as compared to when the prohibition on adult cannabis consumption was still in place.
8th Grade Marijuana Use By Year, In Percentages:
10th Grade Marijuana Use By Year, In Percentages:
12th Grade Marijuana Use By Year, In Percentages:
The data is part of the annual Monitoring the Future survey, conducted by researchers at the University of Michigan. The survey is now in its 43rd year, and includes responses from 45,000 students in 380 public and private secondary schools across the U.S.
The new numbers are scheduled to be published on Thursday, but Marijuana Moment was able to obtain them early.
Marijuana Moment takes seriously its obligation to respect embargoes to which it has agreed. In this case, however, no such agreement was made. Rather, the data was found on a publicly available website and is thus fair game for publication.
The study also found that use of drugs other than marijuana is on the decline among 10th and 12th graders. Use of cigarettes, which are legally available to adults, is at historic lows across all grade levels surveyed.
Raw Data: Marijuana Use, By Grade And By Year, In Percentages