Chris Christie's Supreme Court Gambling Case Could Impact Marijuana Laws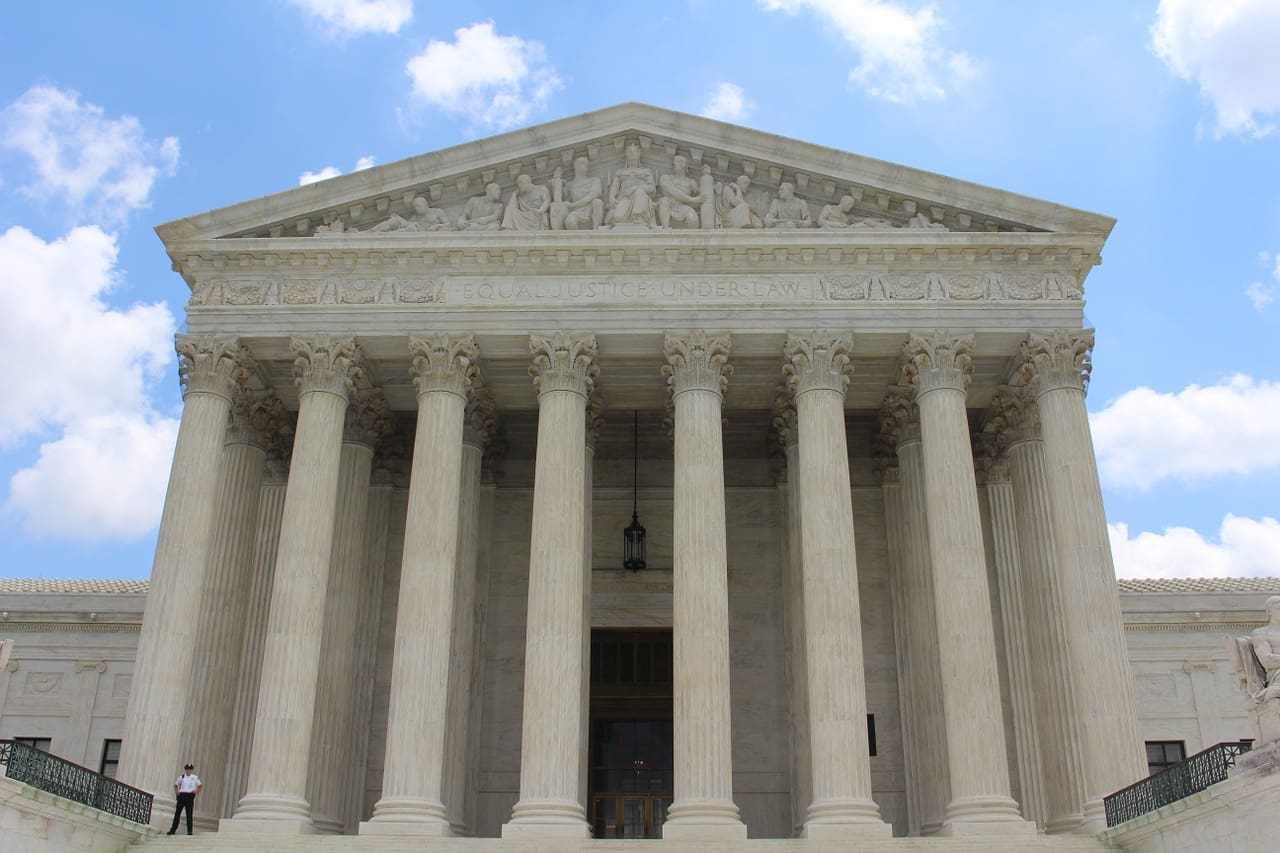 A case being heard by the U.S. Supreme Court on Monday could have huge implications for the ability of states to legalize marijuana.
The case, Christie v. NCAA, centers on whether the Constitution's anti-commandeering doctrine prevents the federal government from forcing states to keep prohibitions of certain federally- proscribed activities on their own lawbooks.
It began when New Jersey voters approved a 2011 ballot measure to legalize sports gambling. The following year, state lawmakers enacted legislation to regulate and license sports wagering at casinos and racetracks.
But the National Collegiate Athletic Association (NCAA) and four professional sports leagues sued, alleging that the state law violated a federal statute, the Professional and Amateur Sports Protection Act (PASPA). That law, enacted by Congress in 1992, prohibits states and local governments from licensing or otherwise authorizing betting on amateur or professional team sports. (It exempted prior state gambling schemes, namely the one that exists in Nevada.)
The U.S. Court of Appeals for the Third Circuit ruled for the sports leagues in 2013, interpreting PASPA to bar states from affirmatively licensing or permitting sports betting but not necessarily from merely repealing their own state prohibitions on gambling.
The Supreme Court rejected New Jersey's request to hear the case on appeal, so the state enacted a new law that deleted its own prohibitions on certain gambling activities without enacting a new authorization or licensing scheme to regulate betting.
The leagues filed suit again, against the narrower revised law. Once more, the Third Circuit agreed, ruling in 2016 that PASPA prevents states from repealing their own sports gambling prohibitions in addition to blocking them from affirmatively licensing the activity.
The court essentially ruled that the Constitution's anti-commandeering doctrine only prohibits the federal government from compelling states to adopt and enforce new policies and "does not command states to take any affirmative actions." In this way, the court reasoned, it's constitutional for the federal government to block states from amending policies they had previously adopted.
New Jersey appealed the case again, and this time the Supreme Court agreed to hear it. Oral arguments are scheduled for Monday morning and, although the statute in question concerns gambling, the outcome of the case could potentially throw up a huge roadblock to future state marijuana legalization efforts.
If the high court agrees with the Third Circuit, "the federal government may be able to regulate other areas like recreational marijuana…by freezing existing state laws in place, instead of through direct federal regulation," according to the Congressional Research Service.
Sam Kamin, who serves as the Vicente Sederberg Professor of Marijuana Law and Policy at the University of Denver's Sturm College of Law, filed an amicus brief in the case along with other law professors, arguing that the Supreme Court should rule in favor of New Jersey. He told Marijuana Moment that the Third Circuit's ruling is "shockingly wrong."
"If the federal government can make the states pass laws, or keep laws that its citizens hate on the books, the core promise of anti-commandeering is a lie," he said. "The point is that the citizens should be able to express their views through their state governments and should be able to remove those elected officials who are not working on their behalf. When the federal government meddles in this process, it muddies the waters and stifles the will of the voters."
That said, if the Supreme Court rules for the sports leagues in favor of the federal gambling law's broad reach, it wouldn't automatically invalidate state marijuana laws. Rather, Congress would then be empowered to pass a new law, broader than the current Controlled Substances Act (CSA), that requires states to keep cannabis prohibitions on the books.
Under the CSA as currently written, Congress specifically says it doesn't intend to "occupy the field" when it comes to drug policies, "including criminal penalties, to the exclusion of any State law on the same subject matter which would otherwise be within the authority of the State…" Instead, the CSA only seeks to preempt state laws that are so inconsistent with its provisions that the two cannot stand together.
Legalization supporters will likely take comfort that in the current political climate — in which a growing number of states are ending prohibition and polls continue to show growing bipartisan voter support for reform — it would be difficult for congressional marijuana opponents to form a majority of lawmakers in support of a new affirmative prohibition to punish states that dare to enact popular cannabis laws.
(That's of course separate from the issue of congressional leadership blocking measures to reform current federal marijuana laws, an issue which has become more prominent as the House Rules Committee, for example, has repeatedly prevented cannabis amendments from being considered on the floor over the course of the past year.)
It is more than a little ironic that New Jersey Gov. Chris Christie (R), an ardent and vocal legalization opponent, is bringing a case in defense of states' rights to enact their own laws which could have implications for cannabis policy.
During the course of his failed presidential campaign last year, Christie consistently pledged that if elected he would enforce federal marijuana prohibition even in states that have opted to legalize the drugs.
But in New Jersey's petition asking the Supreme Court to take up the case, the state makes a point to raise concern about the case's potential to block state marijuana reforms.
"If Congress can freeze in place existing state laws by prohibiting contrary state-law 'authorizations,' then the federal government can effectively force States to enact federal policies and thus will have greatly aggrandized its own power while foisting accountability for those policies entirely onto the States. Future efforts by States to legalize private conduct currently prohibited by state law—anything from recreational use of marijuana, to carrying concealed firearms, to working on Sundays—can be thwarted not just by a direct federally enforced prohibition of that conduct, but now also by a federal ban on state legislation that 'authorizes' such conduct. This is not a minor intrusion on state sovereignty. It is a sea change to our system of federalism. This Court should grant the petition to protect the Constitution's carefully calibrated federal-state design and restore the balance between state and federal power that the Third Circuit's decision has so thoroughly upended."
…
"If the Third Circuit's construction of 'authoriz[ation] by law' in PASPA as forbidding an undefined array of repeals is upheld, it is not difficult to imagine other examples in which Congress could dictate policy outcomes in States without ever having to legislate directly. Rather than enact gun control measures of its own, for example, Congress could prohibit States from relaxing existing restrictions on the purchase of firearms by particular persons. Or, no longer willing to expend the resources to police limitations on the usage of marijuana, Congress could repeal its own prohibitions on the use and sale of marijuana and instead prohibit States from repealing their own restrictions by enacting a PASPA-like law that prohibits States from authorizing the sale or use of marijuana 'by law.' Because few States would accept the choice of having totally unregulated gun possession or marijuana usage, Congress could achieve its policy objectives of stopping the spread of firearms or marijuana use even as it sets up the federal government's own exit from those fields of regulation."
The Trump administration, in a brief from its acting solicitor general filed in May, urged the Supreme Court not to take up the case.
A decision is expected sometime before next summer.
North Dakota Marijuana Activists Turn Hopes To 2020 Ballot Measure Following Legislative Defeat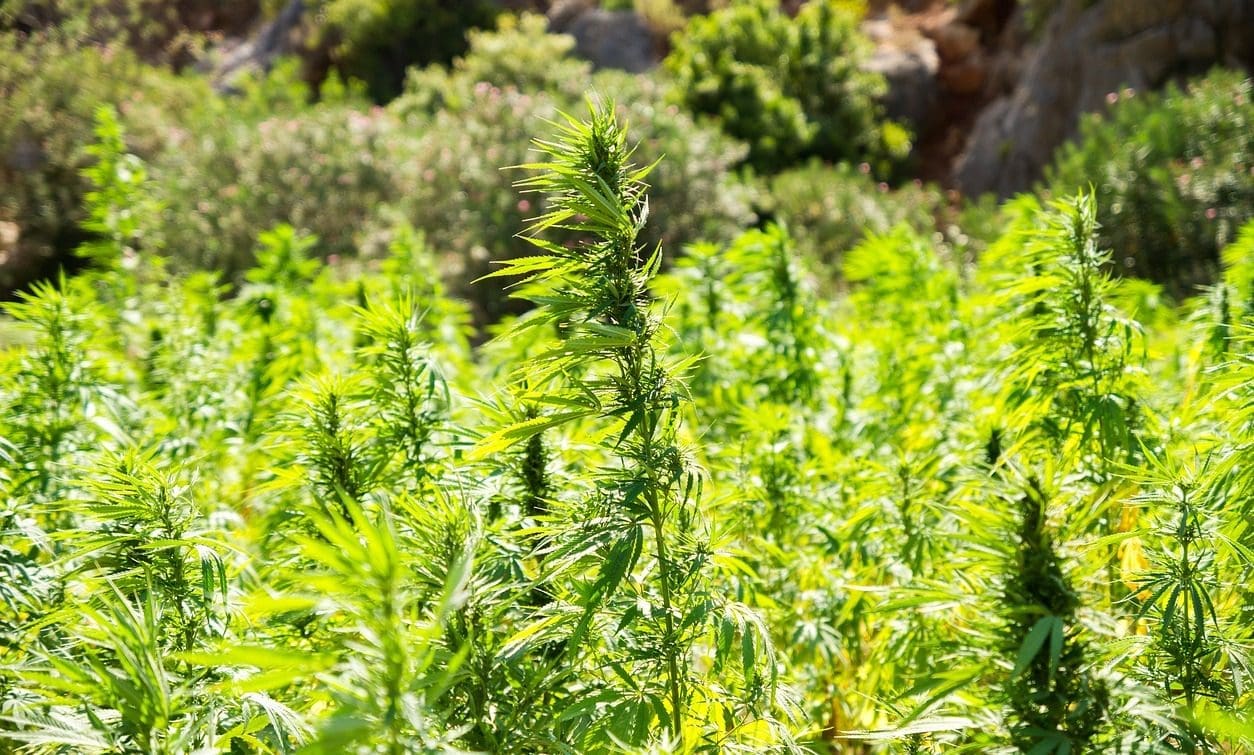 Despite the narrow defeat on Wednesday of a bill that would have decriminalized possession of small amounts of marijuana, activists in North Dakota say they are looking ahead to 2020, when they'll try to push for broader cannabis legalization through a ballot measure.
The activist group Legalize ND stated their intentions to take the issue to voters in the upcoming general election in a Facebook post following the legislation's failure.
"The legislature has proven they have 0 interest in reform, and that they are unwilling to live by their pledge to pass decriminalization as an alternative to full legalization," the post said.
The legislation, supported by Gov. Doug Burgum (R), would have removed criminal penalties for possession of up to an ounce or two mature plants. The current misdemeanor offense that carries a penalty of 30 days in jail and a $1,500 fine would have been replaced with a non-criminal offense that carried a $200 fine. The bill also set new penalties for possession of paraphernalia including pipes, containers or growing tools as a non-criminal offense with a $100 fine.
Instead, members of the House voted the measure down 43-47, with four abstentions.
Activists with Legalize ND and Rep. Shannon Roers Jones, who introduced the failed decriminalization bill, did not return calls from from Marijuana Moment seeking comment.
Meanwhile, the House approved separate legislation Monday that would add new conditions for which residents can use medical cannabis, increase the number of professionals who can recommend its use and expand the allowed methods of consumption. The House also voted to allow cancer patients to have higher amounts of medical marijuana.
North Dakota's first medical cannabis dispensary is set to open next week in Fargo, the Associated Press reported. Acreage Holdings will open a facility called The Botanist in Bismark.
In 2018, North Dakota voters rejected a marijuana legalization measure, which would have set no limit on the amount of the drug that people could possess or cultivate. Two years earlier, voters approved a separate measure allowing medical cannabis in the state.
North Dakota officials hope to have dispensaries up and running in the state's eight major cities by fall.
Marijuana Decriminalization Narrowly Rejected By North Dakota Lawmakers
Photo courtesy of Pixabay.
Marijuana Companies Urged Governor To Ban Cannabis Home Cultivation, Document Shows
New York Gov. Andrew Cuomo (D) took marijuana reform supporters by pleasant surprise when he endorsed legalization last year after previously calling cannabis a "gateway drug" that should remain prohibited. But for advocates, there was at least one major disappointment in store when he got around to revealing the details of his plan: the proposal, unveiled as part of his budget last month, would ultimately include a ban on home cultivation of recreational marijuana.
Home growing—seen by many as a commonsense policy that ensures access to cannabis for individuals who can't afford retail prices, live too far from a dispensary or just want to flex their green thumbs—has been a feature of almost all legal adult-use marijuana systems operating in the U.S., with the exception of Washington State's. So what's behind the New York governor's opposition to letting adults cultivate their own crops?
It could be that Cuomo took a page from the commercial cannabis industry. Literally.
Roughly a month before the governor announced the details of his legalization proposal, a New York-based marijuana business association—led by the executives of the state's major licensed medical cannabis providers—sent a policy statement to Cuomo's office in the interest of offering "some thoughts on various issues associated with a transition from medical to adult-use."
One of those thoughts centered on the businesses' desire to prevent consumers from growing their own marijuana.
Politico first reported the existence of the document, created by New York Medical Cannabis Industry Association (NYMCIA), in December. This month, Marijuana Moment obtained the full 29-page memo through a state freedom of information law request.
There are some broad recommendations that most legalization supporters would take no issue with, such as encouraging individuals from communities disproportionately impacted by prohibition to participate in the legal industry and leveraging partnerships to expand research into medical cannabis.
But a chapter titled "The Fallacy of Home Grow" makes very specific—and, in the eyes of advocates, misleading—arguments against allowing marijuana cultivation for personal use.
The group recognized that people want home cultivation because of "currently high prices of medical marijuana" or because they see it as an "individual civil liberty." But according to NYMCIA, home cultivation "creates a significant public safety and black market risk."
The industry organization listed five claims to support that argument:
1. Home grow will make it impossible for the state to eliminate the black market.
2. Home grow will make it impossible for law enforcement to distinguish between legal and illegal products, thus frustrating enforcement efforts.
3. Home grow will undermine the state's harm reduction goal of ensuring that cannabis sold in New York State is grown without noxious pesticides or other contaminants.
4. Home grow will undermine the state's public health interest in ensuring that cannabis sold in New York State is tested, packaged, and and labeled correctly.
5. Home grow will cost the state tax revenue, thus hindering the state's ability to fund priorities such as drug abuse treatment and community investment.
Per that last point, it's entirely reasonable to assume that New York state would miss out on some sales tax revenue if residents decided to grow their own plants. But the other side of that dilemma is that it'd likely mean missed profits for cannabis businesses, including those affiliated with NYMCIA.
"From our perspective, it's really hard to see any real reason—other than individual and corporate greed—to be against home cultivation at this point," Erik Altieri, executive director of NORML, told Marijuana Moment in a phone interview. "There's not a lot of rational concerns when it comes to allowing a limited amount of plants for an individual to grow at home."
Melissa Moore, New York deputy state director of the Drug Policy Alliance, also pushed back against NYMCIA's claim that a home grow option would make eliminating the illicit market "impossible."
It's the "fallacy of 'The Fallacy of Home Grow,'" as she put it. It would make more sense to attribute difficulties reducing illicit market sales to state tax rates on retail cannabis, she said in a phone interview.
"It's really disingenuous to try to say that it would not be possible to eliminate the illicit market if we allow for home grow. That certainly hasn't been the experience of other states that allow home grow."
Moreover, NYMCIA's position is not consistent with that of other marijuana industry groups such as the National Cannabis Industry Association (NCIA), which argues that allowing home growing can actually benefit businesses.
"NCIA does not oppose limited home cultivation," Morgan Fox, media relations director at the group, said in an email. "In fact, it can act as an incubator for people to develop skills which can be used in the legal cannabis industry, which benefits businesses as well as individuals looking to enter the market. Much like home brewing has helped spur interest the craft beer market, limited home cannabis cultivation can do the same in legal states."
Who is involved in NYMCIA and why do they want to ban home cultivation?
Marijuana companies Columbia Care, Etain, PharmaCann, The Botanist and Acreage NY, Vireo Health and MedMen were all listed as members of NYMCIA in the memo to Cuomo's office. (MedMen later acquired PharmaCann, and more recently, NYMCIA urged MedMen to leave the association amid a controversy over racist remarks allegedly made by the company's executives).
(A separate controversy previously enveloped Columbia Care, which owns dispensaries and grow facilities in multiple states, after its Massachusetts-based subsidiary, Patriot Care, was discovered to be advocating against letting certain people with past drug convictions work in the legal cannabis industry).
Acreage Holdings, a cannabis firm that Republican former U.S. House Speaker John Boehner joined as a board member, declined to comment for this story through a public relations firm that represents the company.
A MedMen spokesperson said in a statement to Marijuana Moment that it "respects the right of those who choose to cultivate cannabis for their personal use," but did not respond to specific questions about the company's involvement in drafting the policy statement that urged New York officials to continue prohibiting such activity.
Jeremy Unruh, director of public and regulatory affairs at PharmaCann, told Marijuana Moment that the document "was our industry association's first go at formulating some broad policy positions" prior to meeting with the governor's office and that the company's "position on home grow is far more nuanced than a simple approve/oppose."
"Those policy points you have are sound, but our positions have evolved (and will continue to do so) as we've had a chance to socialize these concepts" with other stakeholders, Unruh said. He argued that New York has superior quality control standards in place for medical cannabis and that while the company recognizes "the nature and value of civil liberty" of home cultivation, allowing it would pose public health risks.
But ultimately, "Our position is this: We support the governor's homegrow proposal," he wrote in an email.
While recommending that lawmakers ban personal cultivation of recreational marijuana, Cuomo did include a home grow option for medical cannabis patients in his budget plan.
(Full disclosure: Several members of the companies involved in NYMCIA support Marijuana Moment through monthly Patreon pledges, or have in the past.)
Cannabis reform advocates aren't buying NYMCIA's claims.
It is quite obvious that NYMCIA's affiliates have a financial stake in the shape of whatever marijuana law eventually emerges from the New York legislature. And their opposition to a home grow option is a point of concern for advocacy groups.
"[T]o advocate against home cultivation given all we know about how it works in practice from the industry side really just is kind of despicable and illustrates their greed, that they're willing to sacrifice individual freedoms for the slightest increase in their profits," NORML's Altieri said.
The association's recommendation also runs counter to what Marijuana Moment was previously told by the vice president of corporate communications for Vireo Health, Albe Zakes.
Asked about the memo following the initial Politico report that only vaguely described the document, Zakes wrote in an email that "our CEO and COO assured me that we've never lobbied against home grow and in fact support home grow as part of larger legislation, as long as it is regulated and controlled in a responsible manner, the same way medical or recreational markets would be, in order to protect consumers."
(Vireo CEO Aaron Hoffnung signed an Internal Revenue Service financial disclosure form for NYMCIA last year as one of the association's directors.)
Marijuana Moment sent a follow-up request for comment after obtaining the policy statement through the public records request, but Zakes said the he was unable to reach the company's executives and so Vireo would have to decline the opportunity for further comment.
Advocates question whether NYMCIA leveraged its influence for the right reasons.
Is the worry really that a home cultivation policy would sustain an illicit market or complicate law enforcement activities in New York? Are concerns about the public health impact genuine? Or is it that cannabis businesses want the entire market to themselves?
"We need to make sure that we have a check on the potential greed of the industry that we can already see in these early stages based on this advocacy document," Altieri said. "We need to make sure that the market in New York not only begins to address all the harms caused by the war on cannabis but also is oriented toward the consumer and not large industry interests."
"Banning home cultivation benefits no one but corporations and large industry groups."
Despite Cuomo including the home grow ban in his proposal, it seems that advocates may get more time to voice their concerns about the policy. Some leading lawmakers such as Senate President Andrea Stewart-Cousins (D) are increasingly doubtful that marijuana reform will make it into the final state budget, meaning that negotiations on separate legalization legislation could end up resulting in a law that allows consumers to grow their own cannabis.
Marijuana Moment reached out to NYMCIA itself, Cuomo's office, Etain and Columbia Care for comment, but representatives did not respond to multiple inquiries by the time of publication.
Read the full NYMCIA policy statement, including the section on home cultivation, below: 
New York Medical Cannabis I… by on Scribd
New York City Council Members File A Dozen Marijuana Proposals In One Day
Marijuana Legalization Bill Approved By Key New Hampshire House Committee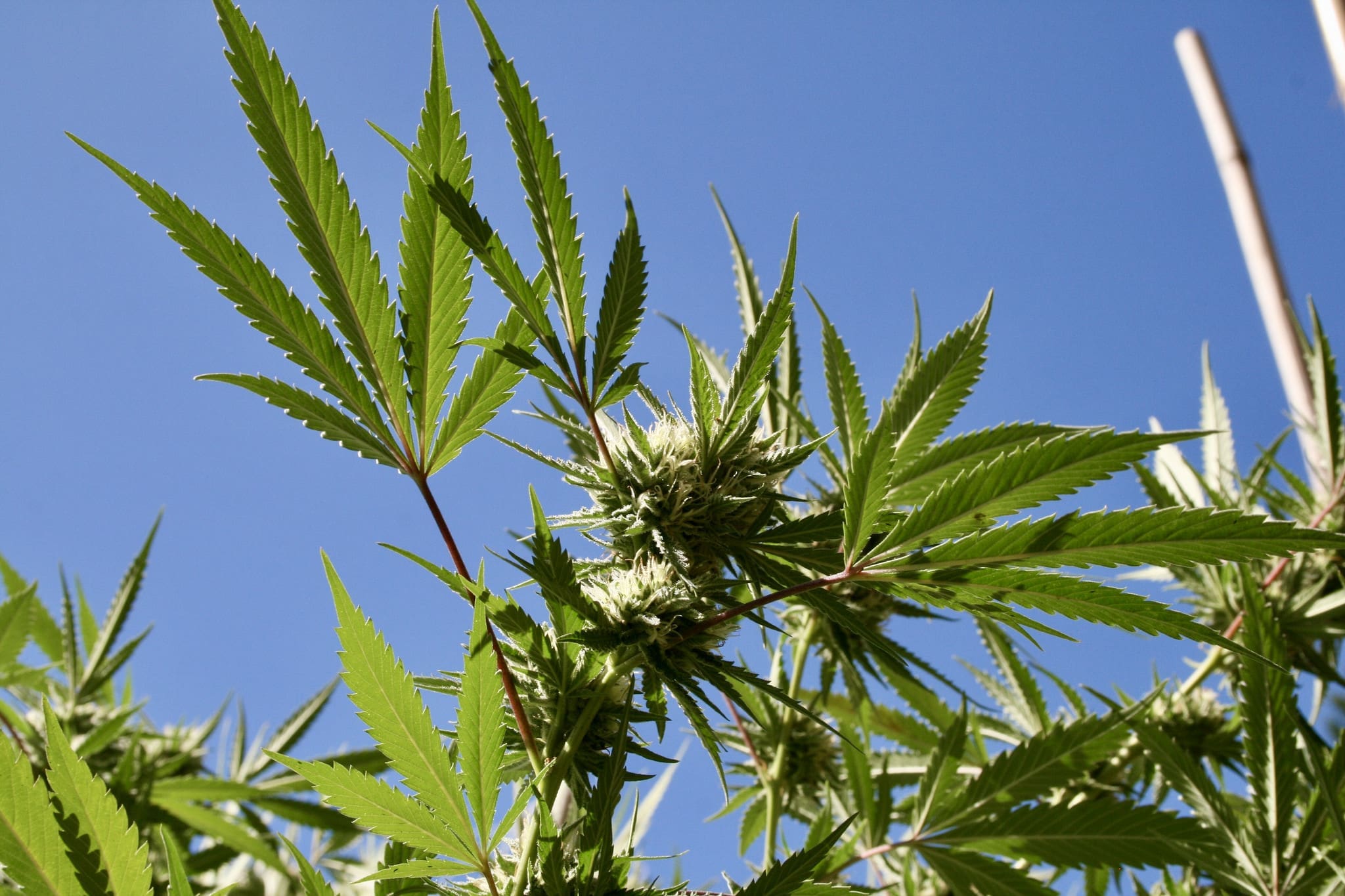 A New Hampshire House committee approved a bill to legalize and regulate marijuana in the state on Thursday.
The legislation, which would allow adults 21 and older to possess, purchase and gift up to one ounce of cannabis and grow up to six plants (three of which could be mature), cleared the House Criminal Justice and Public Safety Committee in a 10-9 vote.
A governor-appointed commission would be responsible for issuing licenses for marijuana cultivators, product manufacturers, testing facilities and retailers. Possession and home cultivation would be legal 60 days after the bill passes, and the first retail licenses would be issued in November 2020.
The bill also provides for the expungement of prior convictions for cannabis-related offenses that were made legal.
This is the first time that the committee has advanced such legislation, according to the Marijuana Policy Project (MPP). Last year, the panel rejected a similar proposal, but the full House voted to overturn that recommendation and then it passed an amended version of the bill that excluded commercial sales. It later died before making its way to the Senate, however.
While some committee members expressed reservations about the health impacts of marijuana and raised doubts about revenue from legal sales, others like Rep. Will Pearson (D) said such concerns are overblown and that the time to legalize "was yesterday—beyond yesterday."
Pearson adds health effects of marijuana should not be related to alcohol, but rather compared with coffee and sugar.

Also says NH is behind curve. "The time to do this was yesterday – beyond yesterday." #nhpolitics

— Ethan DeWitt (@edewittNH) February 21, 2019
"We applaud the committee for recognizing that marijuana prohibition is an outdated and increasingly unpopular policy that has failed to accomplish its public health and safety objectives," Matt Simon, New England political director at MPP, said in a press release. "It's time for New Hampshire to adopt a more sensible system in which cannabis is legal for adults 21 and older and regulated in order to protect consumers and the public."
"We are very pleased that the committee tasked with overseeing criminal justice and public safety has recommended the passage of this legislation," he said. "Passage of this bill would be terrible news for illicit drug dealers and good news for proponents of smarter, more effective drug policies."
Gov. Chris Sununu (R) opposes legalizing cannabis, but House Speaker Steve Shurtleff has said he believes there are enough votes in his chamber, and perhaps also in the Senate, to override a potential veto.
Meanwhile, marijuana legislation is moving through legislatures all across the U.S.
—
Marijuana Moment is already tracking more than 700 cannabis bills in state legislatures and Congress this year. Patreon supporters pledging at least $25/month get access to our interactive maps, charts and hearing calendar so they don't miss any developments.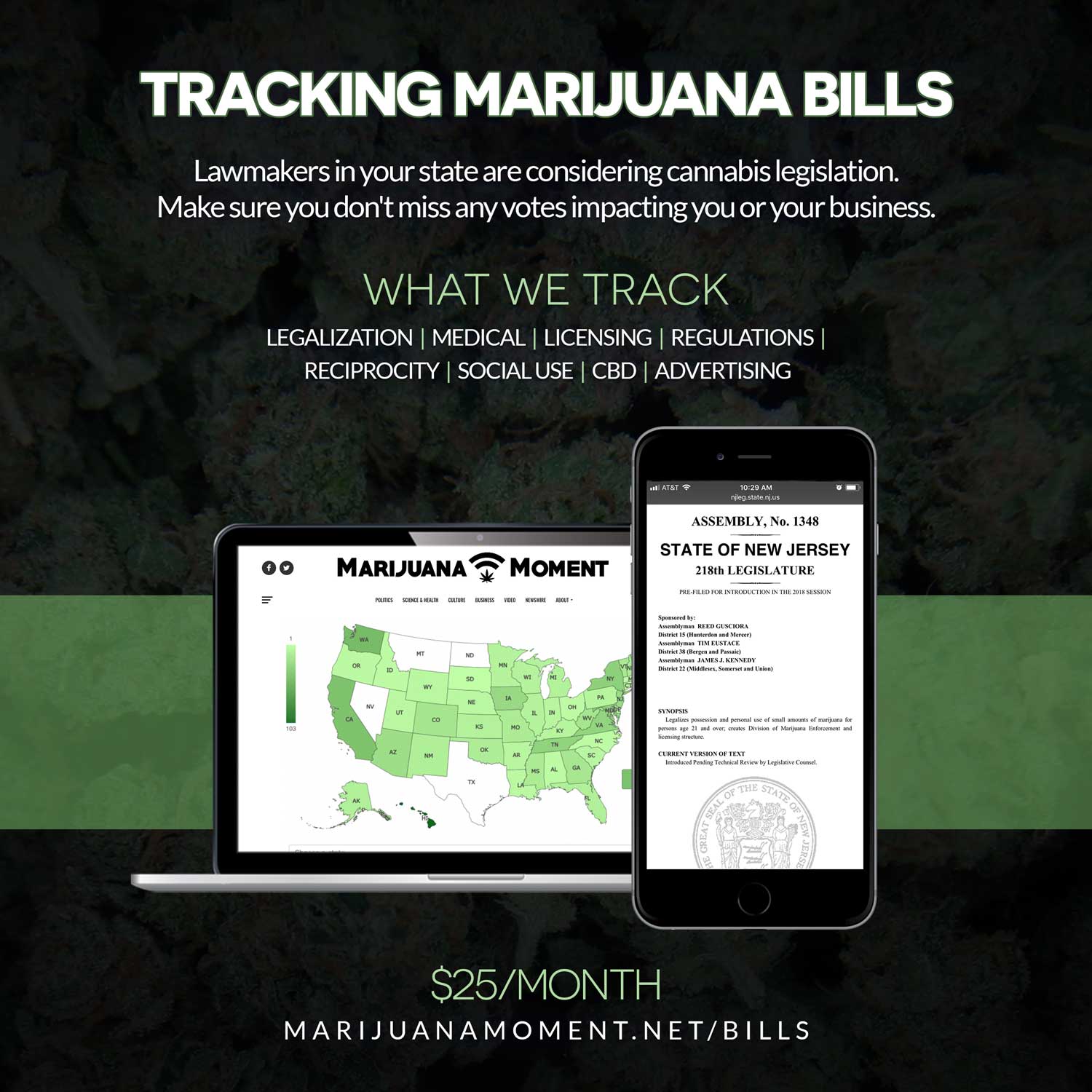 We followed more than 900 pieces of cannabis legislation in 2018. Learn more about our marijuana bill tracker and become a supporter on Patreon to get access.
—
During the last week alone, a Vermont Senate committee approved a bill to allow cannabis sales, the West Virginia House passed a piece of marijuana banking legislation and a Missouri House committee cleared a bill to provide for the expungement of certain marijuana convictions. On Wednesday, North Dakota's House narrowly rejected cannabis decriminalization legislation.
Earlier this month, legislative committees in Hawaii and New Mexico both voted to approve marijuana legalization bills.
Hawaii Lawmakers Unanimously Approve Marijuana Legalization Bill In Committee
Photo courtesy of Brian Shamblen.