CBD Cleared For Use By Athletes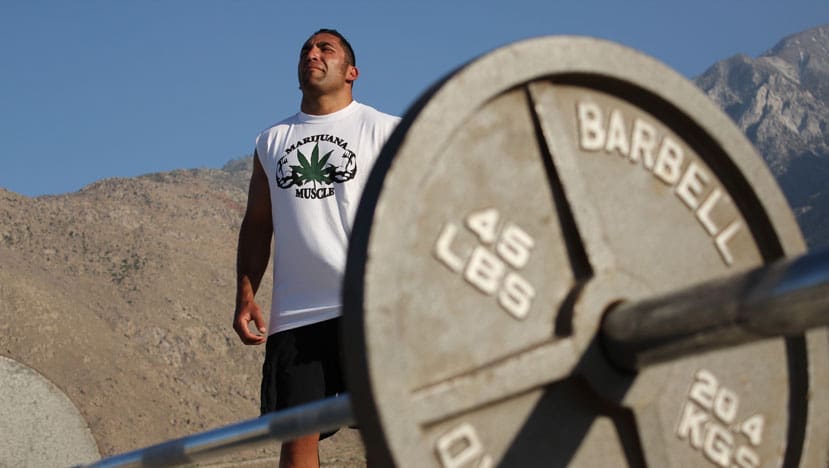 A top sports regulator just changed its rules to allow athletes to use a component of marijuana without punishment.
Cannabidiol, better known as CBD, has gotten a lot of attention in recent years as a therapeutic compound of the cannabis plant.
Unlike its psychoactive cousin tetrahydrocannabinol, or THC, CBD doesn't leave consumers with a high. But it has been shown to relieve severe seizure disorders, and there is mounting evidence that it has pain-relieving, neuroprotective and other beneficial properties as well.
The World Anti-Doping Agency (WADA) moved last week to officially allow athletes to begin using CBD without fear of being suspended from competition.
WADA, created by the International Olympic Committee in 1999, maintains a list of approved and banned substances that is used by hundreds of sports organizations around the world.
The organization's 2018 List of Prohibited Substances and Methods makes a clear exception for the use of CBD:
WADA's 2017 version of the same document contained no such CBD carve-out:
Whole-plant marijuana and THC are still banned under the new rules, which go into effect on January 1. That's a crucial point, because "cannabidiol extracted from cannabis plants may also contain varying concentrations of THC," explains a separate WADA document summarizing changes to the organization's banned drugs list.
WADA's new policy on CBD was first reported by MMA Imports.
Photo courtesy of Marijuana Muscle.
Late-Nite TV Marijuana Humor: Colbert, Kimmel, South Park And Daily Show Have Cannabis Quips
Since Canada became the largest country in the world to legalize marijuana this week, naturally it'd be on the late-night television radar. Unfortunately, as we see global cannabis policy progressing, comedy largely doesn't seem to be catching up.
Late Show host Stephen Colbert, for example, suggested during an opening monologue this week that Canada's national anthem would turn into "Oh, Cannabis, I'm staring at my hand."
A mock Canadian tourism ad followed, but the piece fell into many of the already played out stoner stereotypes. A voice with a Canadian accent starts talking about the reasons to visit our neighbors to the north, including legal marijuana, then gets distracted.
"Visit today," the voice says, "because you'll never know if we'll be here tomorrow." Then the faux philosophical pondering begins. The most confusing part of the ad is a Barenaked Ladies song popping up. Is the 90s one hit wonder an artist marijuana consumers really relate to? Maybe they're big in Canada and Americans have no idea, like all-dressed chips. Either way, we should expect more sophisticated humor from the current king of late night TV.
And then Trevor Noah brought up Canadian cannabis legalization on The Daily Show.
He referred to the home of hockey and maple syrup as America's so-called "Plan B,", a nod to the idea that many Americans might move north due to the current leadership or, you know, so many other reasons. Noah went on to say the country has lots of elements that we south of the border envy. Silly things to some U.S. citizens like universal health care and a "handsome, not-crazy leader." And, of course, now legal weed, too.
Most of his jokes landed and stayed away from the traditional heavy peaches of marijuana humor.
"I assumed that they were all already high up there. I mean have you seen their horses?" he said as a picture of a moose appeared next to him, a joke that got some laughs—certainly not a cannabis quip I've heard before. He then expressed his frustration with the relative progress in Canada compared to the U.S., because New Yorkers and their well-known high tempers could really use marijuana, he said. Mr. Noah could be closer to getting what he wants after the elections this November.
South Park got in on the marijuana fun, too.
And turning the focus back to the States, South Park's recent episode featured Stan's dad Randy moving the family out of town and onto a cannabis farm. The Marshes get uprooted because Stan's sister is bribing the recess monitor to look the other way when they vape nicotine, and Randy just can't handle it anymore.
The cannabis farm on which the Marshes take up residence, also known as a "Colorado farm," is nestled in with a handful of other marijuana cultivation facilities. Shortly after the Marsh's Tegridy Farms is up and running, Randy gets approached by an executive from a vaping company. Offended at his offer and defending his "tegridy," Randy turns him down. The exec walks away and yells back "You can be a part of progress, or you can be run over by it!"
The irony here shouldn't be lost on any marijuana reform advocate. Eventually one of Randy's neighbors sells out to the vape company. Then the episode comes to a neat and satisfying conclusion. Life goes on in South Park. The episode does seem to toss around hemp and marijuana almost interchangeably. Other than that, the whole story is as poignant a commentary on the green rush as South Park could do it. A well-done country music parody accompanies the family's move:
Randy enjoys life on the farm. Watch the full episode, "Tegridy Farms" for free now – https://t.co/lEsTsW7qfp #southpark22 pic.twitter.com/ZSLg0GsKN3

— South Park (@SouthPark) October 18, 2018
And even Jimmy Kimmel gave pot some screen time.
The normally LA-based host debuted a California Guide to Getting a Medicinal Marijuana Card as part of an away show from Brooklyn. It was a gift to New Yorkers, he said, in light of Brooklyn getting their first dispensary.
Kimmel explained that since California has had medical marijuana for so long he thought they could help their friends in the Empire State.
The list of "reasons we used in LA" to get a medical marijuana prescription were hilarious and timely. "I'm depressed that my avocado turned brown" and "I'm worried that Donald Trump might be president one day" were some of the best.
Voters In Seven States Will See These Marijuana Questions On Election Day
SXSW Goes Big On Marijuana Panels For 2019
South by Southwest (SXSW) has announced its conference sessions for next year's festival, and this time the annual Austin gathering has boosted its marijuana panel selections bigtime.
With over 20 different cannabis events, attendees have their pick of topics. Ranging from social justice to industry, there seems to be something for veterans and newbies alike.
Online voting on panels was open to the public earlier this year, with at least 62 separate cannabis proposals up for consideration.
Here are some standouts among the ones that got picked for the 2019 festival:
The Cannabis Feminism Meet Up will celebrate "female entrepreneurship in the budding cannabis industry" and be an open conversation with Cannabis Feminist Jessica Assaf.
Can We Heal Ourselves From The War On Drugs? is a panel that "will outline the racist roots of the War on Drugs and focus on the instruments of oppression that persist today" featuring panelists from the ACLU and other advocacy groups.
The Politics of Marijuana: What's in Store for Texas "will examine where Texas is at now and what a changing national tone regarding marijuana policy could mean for Texas," featuring Eddie Lucio III from the Texas State House of Representatives, Heather Fazio from Texans for Responsible Marijuana Policy and journalist Alexandra Samuels from The Texas Tribune.
Cannabis industry celebrity Steve DeAngelo will be a featured speaker, and there will be also be sessions on cannabis and aging brains, building brands, disruptive cannatech and more. CBD, California-specific branding and industry trends also get some stage time. For those interested in the more sensual side, there's even Sex, Health and Cannabis. You can see them all for yourself on the SXSW site.
It's encouraging to see the social-justice-focused sessions that made it through voting. Perhaps the public—and SXSW organizers—are getting hip to the idea that the industry wouldn't exist without the activism that changes laws in the first place and that its important for legal markets to prioritize equitable access and ownership.
SXSW rocks Austin March 8 – 17, 2019.
Marijuana And Tobacco Appear In Almost Half Of Popular Music Videos, Study Shows
Marijuana and tobacco were featured in nearly half of the most popular hip-hop and R&B music videos from 2013 to 2017, new research finds.
The study, published in the Journal of the American Medical Association Internal Medicine on Monday, takes a critical look at the prevalence of regulated products appearing in hit music videos. The team of researchers found that 40 to 50 percent of the videos reviewed depicted smoking or vaping tobacco or cannabis.
"While there is no doubt that hip-hop artists have made many positive contributions to social change—speaking out on issues like police violence against minorities—there's also a history of showing regulated substances in hip-hop and other popular music," Kristin Knutzen, lead author of the study, said in a press release.
"These depictions may affect fans' attitudes toward smoking and increase the likelihood of smoking—particularly among young people."
For the analysis, researchers examined the Billboard Top 50 charts for R&B and hip-hop from 2013 to 2017. Of the 1,250 songs covered in those charts, 769 had accompanying music videos that were included in the review.
"The proportion of songs with accompanying music videos that contained combustible use, electronic use, or smoke or vapor equaled 44 percent in 2014, 40 percent in 2015, 50 percent in 2016, and 47 percent in 2017. (For a total of 39.5 billion views)."
Besides the significant prevalence of marijuana and tobacco depictions in these videos, researchers also observed that the more views a given music video received, the more likely it was that they featured tobacco or cannabis products.
In other words, people seem to be more likely to watch and share music videos that show marijuana or tobacco consumption.
Forty-two percent of the songs that received 8,700 to 19 million views showed marijuana or tobacco products. For videos that received 112 million to four billion views, though, 50 percent featured these products.
When it comes to tobacco products, one interesting trend is the lack of manufactured cigarettes that appeared in these videos. Only 8 percent of the songs reviewed showed manufactured, as opposed to rolled, cigarettes.
But depictions of brands seem to be on the rise. Brand placement showing combustable (i.e. smokable) cannabis or tobacco products appeared in appeared in 0 percent of the top music videos in 2013, compared to 10 percent in 2017. Depictions of electronic vaping products rose from 25 percent in 2013 to 88 percent in 2017.
The researchers expressed concern with the rise of smoking or vaping depictions in popular videos.
"When young people, especially adolescents, see their favorite artists using tobacco products in music videos, they can begin to view them as normal in hip-hop culture, and they can begin to see themselves using them," study co-author Samir Soneji said in a press release. "They also could view them as less harmful than they are. That's a very real public health threat."
While few studies to date have examined the relationship between the appearance of cannabis products in popular culture and youth consumption habits, the medium has seen renewed interest recently. A study published earlier this year, for example, also showed a dramatic increase in references to marijuana in popular songs.
Marijuana References In Popular Music Are On the Rise, Study Finds
Photo courtesy of Chris Wallis // Side Pocket Images.