CBD Cleared For Use By Athletes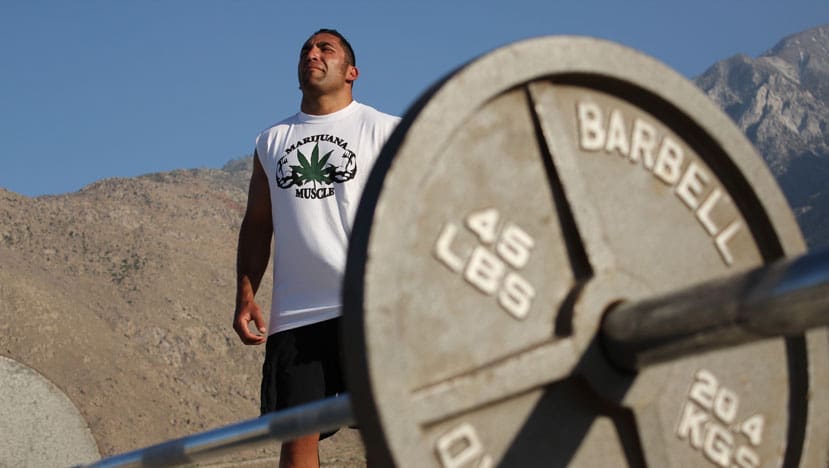 A top sports regulator just changed its rules to allow athletes to use a component of marijuana without punishment.
Cannabidiol, better known as CBD, has gotten a lot of attention in recent years as a therapeutic compound of the cannabis plant.
Unlike its psychoactive cousin tetrahydrocannabinol, or THC, CBD doesn't leave consumers with a high. But it has been shown to relieve severe seizure disorders, and there is mounting evidence that it has pain-relieving, neuroprotective and other beneficial properties as well.
The World Anti-Doping Agency (WADA) moved last week to officially allow athletes to begin using CBD without fear of being suspended from competition.
WADA, created by the International Olympic Committee in 1999, maintains a list of approved and banned substances that is used by hundreds of sports organizations around the world.
The organization's 2018 List of Prohibited Substances and Methods makes a clear exception for the use of CBD:
WADA's 2017 version of the same document contained no such CBD carve-out:
Whole-plant marijuana and THC are still banned under the new rules, which go into effect on January 1. That's a crucial point, because "cannabidiol extracted from cannabis plants may also contain varying concentrations of THC," explains a separate WADA document summarizing changes to the organization's banned drugs list.
WADA's new policy on CBD was first reported by MMA Imports.
Photo courtesy of Marijuana Muscle.
Spray Marijuana Mist On North Korea And Iran To Solve Nuclear Crisis, C-SPAN Caller Says
Katherine from New Hampshire has a novel idea to stave off nuclear war: fly over sites where the weapons are being developed and release a marijuana mist so that the workers will "chill out" and lose interest in creating the missiles.
During an open phone segment of C-SPAN's Washington Journal on Wednesday, the viewer laid out her vision for world peace to a visibly amused Pedro Echevarria, host of the program.
"I have a comment, and I don't know how it could be done, but I was thinking we could spray a marijuana-Prozac or peace-happy-friendly chemical mist over sites in Iran and North Korea, where they're working to produce nuclear weapons," she said. "And the mist would cause the workers at these sites in Iran and North Korea to chill out and become less interested in making nuclear missiles."
"The world needs to relax and take deep breaths and be into good days instead of destruction and death, and that's what they should be talking about," she said.
Echevarria declined to comment on the proposal and turned to the next caller, who did not follow up about the cannabis chemtrail idea and instead chatted about socialism.
Presidential Candidate Jokes About Why Denver Decriminalized Psychedelic Mushrooms
Photo courtesy of Wikimedia.
'I Can't Breathe': Video Shows Grandmother With Arthritis Arrested For CBD At Disney World
Police released body camera footage of a 69-year-old woman being arrested at a Florida amusement park for possessing CBD oil without a state medical cannabis card on Tuesday.
Hester Burkhalter, a grandmother who suffers from arthritis, was arrested after an off duty sheriff's deputy discovered the oil in her purse at a checkpoint at Disney's Magic Kingdom last month in a case that made headlines around the world.
The newly released video shows Burkhalter being handcuffed and placed in the back of a patrol car, where she began to feel claustrophobic and said, "I can't breathe. I feel like I'm going to pass out." One deputy said that she threw up, according to News 6.
Burkhalter, who says her doctor in Tennessee recommended CBD, later spent 12 hours in custody and was released on a $2,000 bond.
Burkhalter requested to be transported to the jail alone, as opposed to being transported along with another individual who was arrested for possession of a cannabis vaporizer, and a deputy made a call to accommodate her. She was allowed to be taken to the facility in the front seat of a separate patrol car.
"The older female said she gets claustrophobic, and feels like she's going to pass out, and wants somebody else so she can go by herself," the deputy said on a call.
Once she was in the front seat with air conditioning on, she said she felt better and thanked the deputy.
"I couldn't breathe back there," she reiterated.
When the arrest was first reported, reform advocates condemned the park and sheriff's department for subjecting an older woman to an arrest on a family vacation for simple possession of a non-intoxicating compound that is known to treat pain and inflammation.
CBD is legal for medical purposes in Florida, but individuals must be registered to possess medical cannabis in the state. Hemp-derived CBD was federally legalized under the 2018 Farm Bill, though the Food and Drug Administration (FDA) has not yet developed regulatory guidelines allowing for its lawful marketing as a food item or supplement.
Prosecutors dropped the charges against Burkhalter earlier this month, finding her case unsuitable for prosecution. She's since announced plans to file a lawsuit against Disney and the sheriff's department.
"Horrific treatment that they placed upon this church-going, law-abiding grandmother," her lawyer said at a press conference.
In a similarly confounding recent case, a 72-year-old woman was arrested at a Texas airport after security discovered CBD oil. She was charged with a felony that carried a maximum sentence of 20 years, and she stayed in custody for two days.
"To be honest, I did not even think about the possibility of my CBD being illegal or being challenged," Lena Bartula, who was going to visit family in Oregon, said. "It is such an integral part of my wellness that it got thrown into my bag along with Vitamin C and oregano oil."
"Had I thought about it, I would have remembered that I could buy it in Portland," she said.
The charges in that case were also dropped about two months after the arrest.
In other recent cannabis enforcement action called out as excessive by reform advocates, Missouri police officers searched through the belongings of a man with stage-four pancreatic cancer in March after a security guarded reported the smell of marijuana.
The officers found nothing, but video of the search sparked public outrage over the harassing behavior of the officers toward a sick man who said he does benefit from medical cannabis.
Video: Missouri Police Search Cancer Patient's Bags For Marijuana In Hospital Room
Photo courtesy of YouTube.
Presidential Candidate Jokes About Why Denver Decriminalized Psychedelic Mushrooms
Sen. Michael Bennet (D-CO) joked on Thursday that Denver voters approved a measure to decriminalize psychedelic mushrooms because they thought the state of Colorado was running low on marijuana.
The 2020 Democratic presidential candidate made the remark during an appearance on Late Night with Seth Meyers. The host asked Bennet if it was "true that magic mushrooms are going to be legal in Colorado."
(The measure actually simply decriminalizes psilocybin mushrooms for adults, and only in the city of Denver.)
Bennet slapped his knee and quipped, "I think that our voters just voted to get Denver to do that, and I think they might've thought that we were out of marijuana all of a sudden."
"And by the way, we're not out of marijuana in Colorado," he said.
"That's what it says on the state flag now, right?" Meyers said.
"Yeah, exactly," Bennet replied.
The senator, who previously served as the superintendent of the Denver Public Schools, has cosponsored several wide-ranging cannabis bills in Congress, including legislation to federally deschedule marijuana and penalize states that enforce cannabis laws in a discriminatory way.
But before his state voted to legalize marijuana in 2012, Bennet stood opposed.
It's not clear how he voted on Denver's historic psilocybin initiative.
At least Bennet is aware of the measure and was willing to joke about it, though. Several of his colleagues who have worked on cannabis issues declined to weigh in on decriminalizing psychedelics when asked by Marijuana Moment recently.
Congressional Lawmakers Have Little To Say About Decriminalizing Psychedelics Following Denver Victory
Photo courtesy of YouTube/Late Night with Seth Meyers.