Cannabis banking access at "top of the list" for Treasury Dept. (Newsletter: Feb. 16, 2018)
Subscribe to receive Marijuana Moment's newsletter in your inbox every weekday morning. It's the best way to make sure you know which cannabis stories are shaping the day.
Canadian legalization delayed; Gardner lifts some DOJ holds; Amendment shields immigrants from deportation for cannabis
Your support makes Marijuana Moment possible…
Huge thanks to these readers who just stepped up to help me out with monthly pledges #186, #187 and #188. Subscribers who value this newsletter enough to support my work on Patreon are the only reason I am able to continue putting all this cannabis news in your inbox every day…
Wes Garrett: "I pledged because I'm a veteran fighting for equal access to cannabis for my community so 22 veteran suicides per day can become a thing of the past.  Knowing the pertinent legislative actions is very important to me."

GreenMarket Bank: "GreenMarket Bank is pledging because this movement touches everything from public health to public safety to criminal justice reform which makes it too important for people to ignore."


Lisa Cardon: "I wanted to support you as I believe marijuana should be legalized throughout the United States. Too many people are deprived of accessing medical marijuana and that is most unfortunate for those suffering from chronic pain, seizure disorder and other illnesses that cannabis can treat successfully."
Subscribers who show their support with a few dollars help me keep doing this. Please chip in and help ensure Marijuana Moment's continued operations.
http://patreon.com/marijuanamoment
/ TOP THINGS TO KNOW
U.S. Treasury Sec. Steven Mnuchin said that fixing marijuana businesses' access to banks is at the "top of the list" of his department's concerns.
U.S. Sen. Cory Gardner (R-CO) is lifting holds he placed on some Department of Justice nominees over a marijuana policy dispute after U.S. Deputy Attorney General Rod Rosenstein showed "good faith" and "willingness to provide what I think will be hopefully the protections we sought," according to the senator.
U.S. Sen. Cory Booker (D-NJ) introduced, but did not force a vote on, a far-reaching marijuana reform proposal as an amendment to broad criminal justice reform legislation approved by the Senate Judiciary Committee.
/ FEDERAL
U.S. Sen. Ron Wyden (D-OR) filed an amendment to protect immigrants from being deported or denied visas for marijuana activity that complies with state laws.
Congressional appropriations leaders are currently negotiating whether language allowing military veterans to receive medical cannabis recommendations from their U.S. Department of Veterans Affairs doctors will be included in Fiscal Year 2018 legislation.
Congressman Lou Correa (D-CA) and two cosponsors filed legislation to codify the provisions of the now-rescinded Cole Memo into law.
The U.S. Drug Enforcement Administration's Denver office is pushing Colorado regulators to release updated data about marijuana legalization.
The U.S. Secret Service settled a lawsuit concerning access to visitor logs for the White House Office of National Drug Control Policy and other agencies.
Congressman Jamie Raskin (D-MD) cited marijuana law reform as an issue on which he is working to find "common ground" with Republicans.
/ STATES
Georgia Gov. Nathan Deal (R) supports adding PTSD and chronic pain as CBD medical cannabis qualifying conditions.
Utah Gov. Gary Herbert (R) indicated he won't necessarily sign pending legislation directing the state to grow medical cannabis for certain patients.
Massachusetts Attorney General Maura Healey (D) told regulators to slow down with proposed far-reaching marijuana rules. And nearly 80 lawmakers also want to delay allowing cannabis social use areas and delivery services.
Pennsylvania Auditor General Eugene DePasquale (D) held a debate about marijuana legalization with Republican congressional candidate Joe Peters.
Ohio gubernatorial candidate Dennis Kucinich (D), a former congressman, said that if elected he would review cases of all people convicted of low-level non-violent drug crimes to consider commutations.
The New Mexico Senate approved resolutions requesting that regulators add opioid use disorder as a medical cannabis qualifying condition and urging Congress to expand medical cannabis protections to cover people who live on tribal lands. Lawmakers also passed legislation creating a study commission to examine allowing safe injection sites for illegal drug consumers.
The Connecticut General Assembly's General Law Committee voted to consider marijuana legalization legislation.
The Virginia Senate Education and Health Committee amended a previously approved bill to let doctors recommend CBD/THC-A medical cannabis oil for any condition so that it will take effect immediately upon the governor's signature.
The Oregon Agricultural and Natural Resources Committee approved a bill easing hemp cultivation.
New Jersey senators filed a marijuana decriminalization bill in a move that is seen as an attempt to undercut the push for full legalization. Separately, an assemblywoman introduced legislation to remove limits on the amount of medical cannabis allowed to be dispensed at one time and expand access to edible forms.
The Arizona House Health Committee voted 6-3 to approve legislation making it a felony for doctors to violate medical cannabis regulations.
A California senator filed a bill to allow special needs students to use medical cannabis at school.
Ohio regulators said a human error led to a proposed medical cannabis cultivation business being inadvertently left off a list of successful applicants.
Maryland regulators settled a lawsuit with companies that failed to win medical cannabis business licenses.
Michigan regulators released the design of an official symbol that will need to appear on packaging for all medical cannabis products.
Oregon regulators will meet next week to consider proposed rules on marijuana packaging and labeling.
Here's a look at the prospects for medical cannabis in Missouri.

/ LOCAL
Philadelphia, Pennsylvania's district attorney is directing prosecutors to drop marijuana possession cases that are still charged as misdemeanors. And along with the mayor, he co-authored an op-ed calling the war on drugs "a big mistake."
A lawyer for Denver, Colorado recommended that regulators approve the city's first marijuana social use area.
Dekalb County, Georgia commissioners approved a resolution asking state lawmakers to allow counties to decriminalize marijuana.
A proposal to decriminalize marijuana in Easton, Pennsylvania appears to not have enough support to pass.
/ INTERNATIONAL
A Canadian government move to escalate Senate consideration of pending marijuana legalization legislation has failed. A final vote is expected on or before June 7, which would not leave enough time for the government to implement the law by its original July target.
/ ADVOCACY
Prohibitionist group Smart Approaches to Marijuana released a report claiming that the costs of legalizing marijuana in Connecticut would outweigh tax revenues.
/ BUSINESS
Pennsylvania medical cannabis sales began.
Canadian Securities Administrators  published guidance outlining disclosure expectations for issuers with U.S.-based marijuana interests.
BioTrackTHC was chosen to run North Dakota's medical cannabis seed-to-sale tracking system.
/ CULTURE     
Comedian David Spade smoked marijuana at Ellen Degeneres's birthday party.
Former NBA player Charles Barkley said he doesn't understand "the fascination" with marijuana, but doesn't judge other people for using it.
Make sure to subscribe to get Marijuana Moment's daily dispatch in your inbox.
Legal cannabis heads to CT gov's desk (Newsletter: June 18, 2021)
FL Court blocks marijuana initiative; Drug war hearing in Congress; Advocates' federal legalization amendments; Poll: Voters back drug decrim
Subscribe to receive Marijuana Moment's newsletter in your inbox every weekday morning. It's the best way to make sure you know which cannabis stories are shaping the day.
Your support makes Marijuana Moment possible…
By starting a $10 per month pledge on Patreon—or about 45 cents per issue of this newsletter—you can help us rely less on ads to cover our expenses, hire more journalists and bring you even more marijuana news.
https://www.patreon.com/marijuanamoment

/ TOP THINGS TO KNOW

Connecticut lawmakers sent a marijuana legalization bill to the desk of Gov. Ned Lamont (D), who announced he will sign it into law after recent changes addressed concerns that led him to issue a veto threat earlier this week.

On Thursday's 50th anniversary of President Richard Nixon declaring the war on drugs, congressional lawmakers formally filed a bill to decriminalize all drugs and held a hearing on the harms of prohibition enforcement.

The Florida Supreme Court invalidated another marijuana legalization ballot measure because, the justices say, its ballot summary is "misleading." They already blocked one cannabis initiative in April. Activists have to start all over for 2022 now.

The Parabola Center—a new organization led by former Massachusetts marijuana regulator Shaleen Title—proposed changes to a federal legalization bill to prevent big businesses from shutting communities harmed by the drug war out of the cannabis industry.

Another new poll found that a strong majority of U.S. voters support decriminalizing all drugs. The survey, published by The Appeal and Data for Progress, also shows support for removing criminal penalties for intent to distribute personal amounts.

/ FEDERAL

The Senate Judiciary Committee advanced President Joe Biden's nominee to lead the Drug Enforcement Administration to the floor.

Several Republican senators spoke about their views on federal marijuana reform.

Rep. Charlie Crist (D-FL), who is running for Florida governor, tweeted, "The Florida Supreme Court that @GovRonDeSantis packed with partisan judges just denied another ballot initiative to let Floridians vote on legalizing marijuana. This is wrong. Legalization should be up to the people of Florida."

Rep. Doug LaMalfa (R-CA) gave a House floor speech calling on the federal government to do more to combat illegal marijuana grow operations.

Former Rep. Barney Frank (D-MA) spoke about how he is pressing senators to approve marijuana banking legislation.

/ STATES

Delaware Gov. John Carney (D) signed a bill allowing certified nurse practitioners and physician assistants to issue medical cannabis recommendations.

Alabama Gov. Kay Ivey (R) held a signing ceremony for a medical cannabis bill that she previously formally signed.

South Dakota Gov. Kristi Noem (R) tweeted, "I want South Dakota to have the best, most patient-focused medical cannabis program in America. I've heard from people who are hurting & hopeful for relief. We are 100% committed to starting this program as quickly & responsibly as possible. Learn more at http://MedCannabis.SD.gov."

Former Colorado governors are endorsing a proposed ballot measure to increase marijuana taxes.

The Maine Senate and House of Representatives gave initial approval to a bill to block controversial medical cannabis regulations.

The Wyoming Supreme Court rejected a motion from the state attorney general's office to remove from the record the identity of a police officer whom the court found lied during testimony in a case charging hemp farmers with growing marijuana.

A Michigan representative filed a bill to regulate delta-8-THC.

Washington State regulators held an emergency meeting on hemp-derived delta-9-THC. Separately, regulators sent an update to clarify that marijuana dispensaries may use their parking lots to host vaccination clinics as part of the "Joints for Jabs" program.

Massachusetts regulators will begin accepting applications for the state's third social equity cohort on Monday.

Ohio's Medical Marijuana Advisory Committee met.

Nevada regulators will host a webinar on health hazards in marijuana facilities on Wednesday.

Idaho regulators will hold public meetings on planned hemp rules on Wednesday and on June 30.

—
Marijuana Moment is already tracking more than 1,100 cannabis, psychedelics and drug policy bills in state legislatures and Congress this year. Patreon supporters pledging at least $25/month get access to our interactive maps, charts and hearing calendar so they don't miss any developments.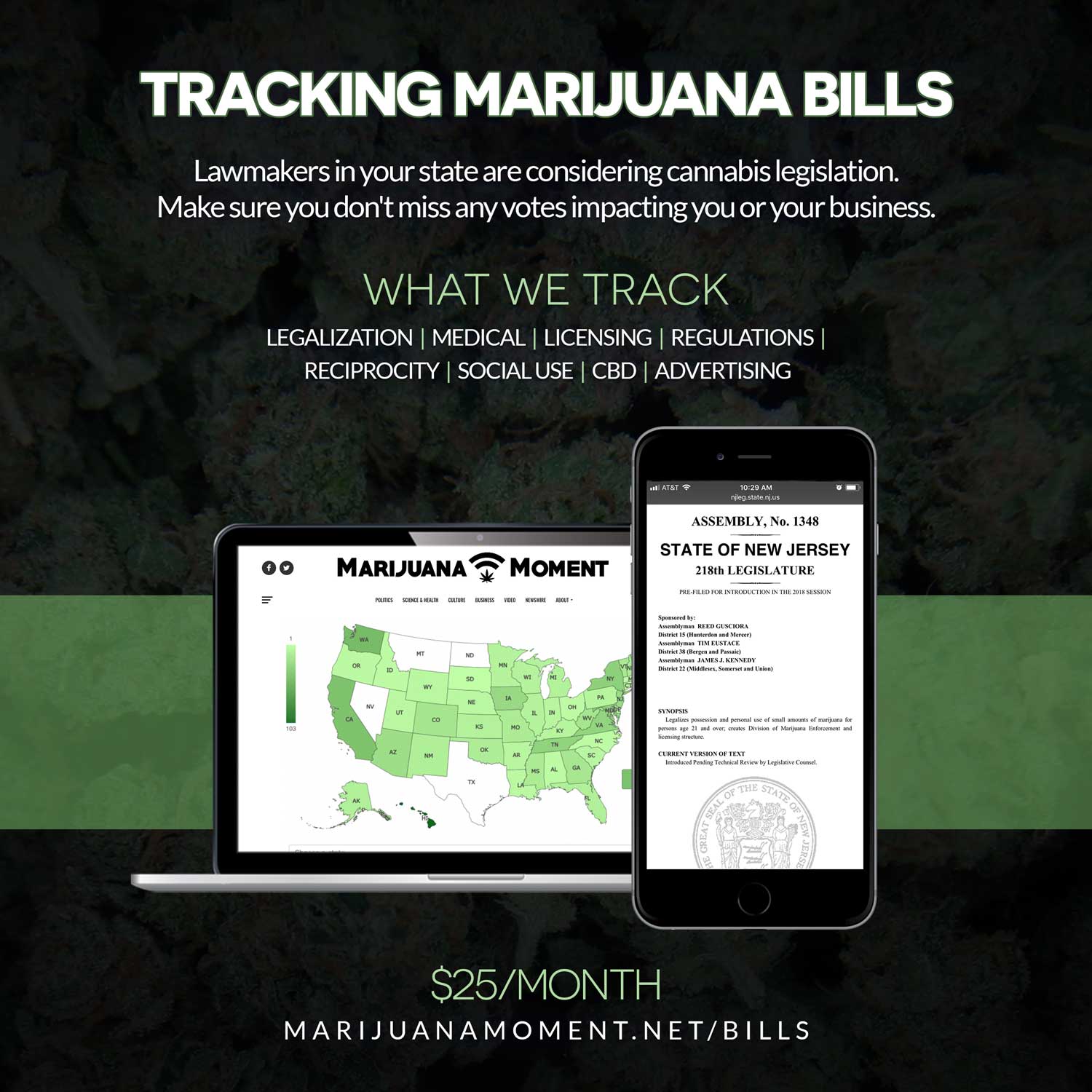 Learn more about our marijuana bill tracker and become a supporter on Patreon to get access.
—
/ LOCAL

A federal judge said Detroit, Michigan's residency rules for marijuana business ownership are "likely unconstitutional."

The Gwinnett County, Georgia Police Citizens Advisory Board issued a recommendation to decriminalize marijuana.

A Cleveland County, Oklahoma commissioner wants the legislature to conduct an interim study on medical cannabis cultivation facilities in unincorporated areas.

/ INTERNATIONAL

The UK's Taskforce on Innovation, Growth and Regulatory Reform recommended changes to regulations for CBD products.

Former Colombian President Juan Manuel Santos tweeted, "Fifty year ago Nixon declared the world war on drugs. A war with worse consequences each day. It's a lost war that we must change. Prohibition is the original sin."

/ SCIENCE & HEALTH

A study of marijuana purchasing choices found that "price difference between licensed and un-licensed sources was commonly discussed as a factor that influenced purchase decisions" and that "product quality characteristics (e.g. size, color, moisture content) and social influences were also considered in purchase decisions," while "participants were generally indifferent to packaging and warning labels but expressed concern about the excessive packaging required for regulated products."

A study provided "evidence for the beneficial effects of MDMA-assisted psychotherapy in treating [sleep disorders] in individuals with PTSD."

/ ADVOCACY, OPINION & ANALYSIS

The Connecticut Democratic Party tweeted, "Connecticut is about to legalize marijuana."

New Jersey Policy Perspective published a report finding that the state spent $11.6 billion over the past decade to enforce the war on drugs.

The Coalition for Cannabis Policy, Education, and Regulation  published a policy paper on opportunities for small and minority-owned marijuana businesses.

/ BUSINESS

Curaleaf Holdings, Inc. is being sued by a former executive of a company it acquired who alleges she never received the equity she was promised as a condition of her employment.

Subway won a trademark infringement lawsuit against Canadian cannabis dispensary Budway.

Simplifya closed a $6 million Series B funding round.

Cresco Labs launched a "summer-long social justice campaign" that will feature expungement events and fundraising and petitioning drives.

Total Life Changes LLC is being sued by a former Army sergeant who alleges the company failed to warn consumers that its weight loss tea and other products contain THC.
Make sure to subscribe to get Marijuana Moment's daily dispatch in your inbox.
CT House amends cannabis bill after gov's veto threat (Newsletter: June 17, 2021)
LA gov: Legal marijuana is coming; CA senator: psychedelics bill a step to all drug decrim; NJ AG sends cannabis cease and desist letters
Subscribe to receive Marijuana Moment's newsletter in your inbox every weekday morning. It's the best way to make sure you know which cannabis stories are shaping the day.
Your support makes Marijuana Moment possible…
Your good deed for the day: donate to an independent publisher like Marijuana Moment and ensure that as many voters as possible have access to the most in-depth cannabis reporting out there.

Support our work at https://www.patreon.com/marijuanamoment

/ TOP THINGS TO KNOW

The Connecticut House of Representatives passed a marijuana legalization bill. Because the body adopted an amendment to address a veto threat from Gov. Ned Lamont (D), it needs to head back to the Senate for one more vote on Thursday.

Louisiana Gov. John Bel Edwards (D)—who signed a marijuana decriminalization bill this week—said he thinks the state will eventually fully legalize cannabis, but he'd be surprised if it happens before he leaves office in early 2024.

The California lawmaker who is sponsoring a Senate-passed bill to legalize possession of psychedelics says it's a step toward eventually decriminalizing all drugs. He also spoke about the path forward for his bill in the Assembly this session

New Jersey's attorney general sent cease and desist letters demanding that four companies stop circumventing the state's marijuana laws by offering free "gifts" of cannabis along with purchases of overpriced products like cookies, brownies and stickers.

Rep. Cori Bush (D-MO), who is introducing a federal bill to decriminalize all drugs, says she also supports allowing a "safe supply" of illegal substances for consumers as a harm reduction measure.

/ FEDERAL

The Food and Drug Administration posted a budget overview showing it plans to spend $5 million in Fiscal Year 2021 for "Cannabis and Cannabis Derivatives Activities."

The House Judiciary Committee will hold a hearing on the harms of the war on drugs on Thursday.

Sen. Bob Casey (D-PA) wrote in a constituent letter that he supports moving marijuana to Schedule II.

Rep. Glenn Grothman (R-WI) again spoke on the House floor about legalization making it so it's "no longer profitable to bring marijuana across the southern border."

/ STATES

Oregon Gov. Kate Brown (D) signed a bill clarifying that the state's driving under the influence laws apply to psilocybin.

Mississippi Gov. Tate Reeves (R) said he anticipates calling a special session for lawmakers to pass a medical cannabis bill "sooner rather than later."

Colorado Gov. Jared Polis (D) re-extended, through July 10, an executive order for policies enacted during the coronavirus pandemic, including the allowance of remote marijuana sales transactions, suspension of fingerprinting for license renewal applications and suspension of in-person requirements for medical cannabis recommendations.

The California Assembly Public Safety Committee approved a bill to end mandatory minimum jail sentences for nonviolent drug offenses.

South Dakota's health secretary discussed medical cannabis rules with the South Dakota Association of Healthcare Organizations.

A former Massachusetts cannabis regulator became the first customer of the state's first recreational marijuana delivery service.

Michigan regulators updated a bulletin on common issues faced by marijuana businesses.

Ohio regulators released updated medical cannabis patient and caregiver numbers.

Wisconsin regulators are hiring four hemp chemists.

Nevada regulators will discuss marijuana business issues on Tuesday.

—
Marijuana Moment is already tracking more than 1,100 cannabis, psychedelics and drug policy bills in state legislatures and Congress this year. Patreon supporters pledging at least $25/month get access to our interactive maps, charts and hearing calendar so they don't miss any developments.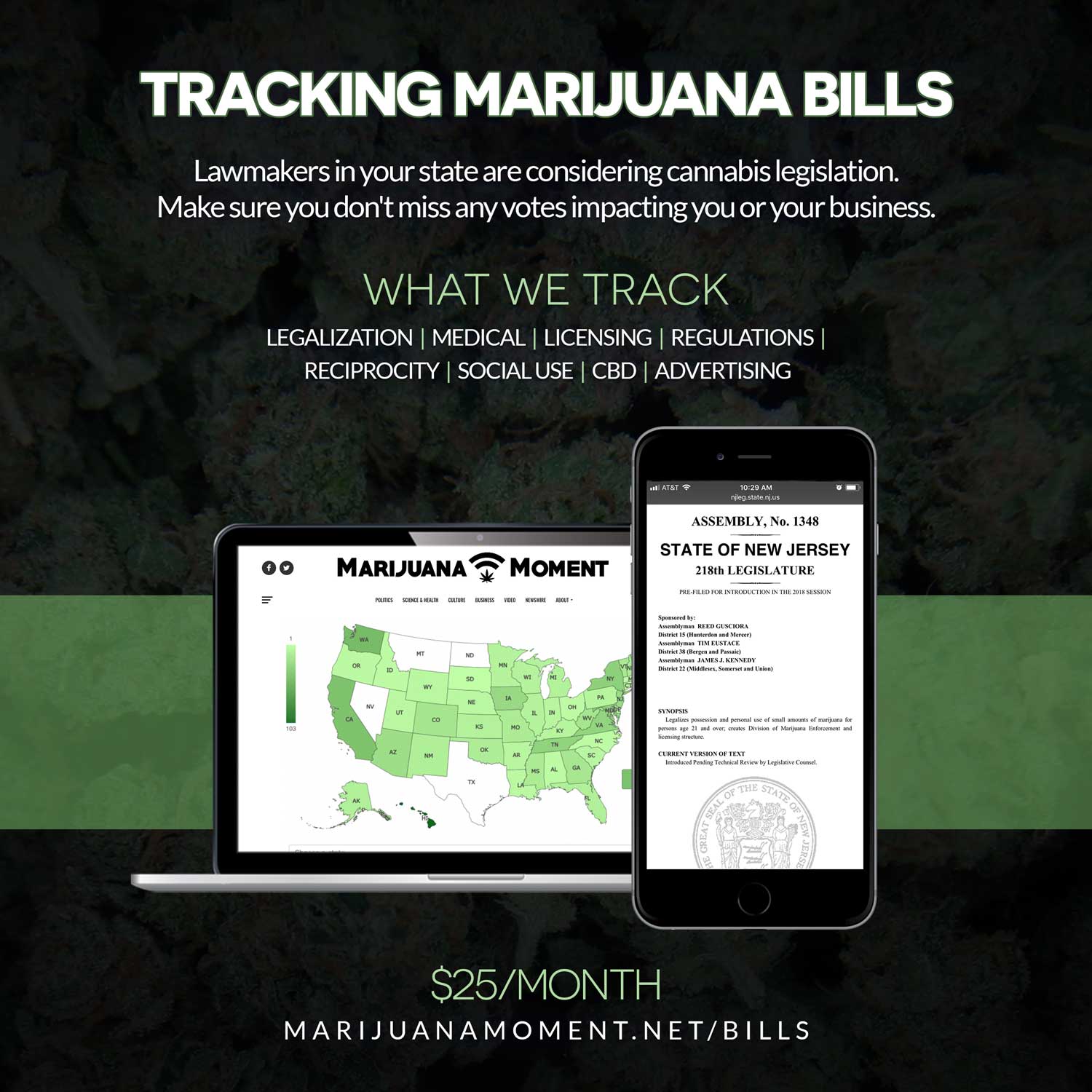 Learn more about our marijuana bill tracker and become a supporter on Patreon to get access.
—
/ LOCAL

The Manhattan, New York district attorney plans to dismiss more than 3,000 open warrants for low-level marijuana cases.

The Eau Claire County, Wisconsin Board of Supervisors passed a resolution calling on the state to legalize or decriminalize marijuana.

The Sioux Falls, South Dakota City Council voted to require medical cannabis businesses to apply for local permits, which won't be available until state rules are in place.

Matawan, New Jersey is being sued by a former police officer who claims he was fired for using CBD oil in retaliation for supporting a sexual discrimination lawsuit brought by a fellow officer.

/ INTERNATIONAL

A UK member of Parliament presented a medical cannabis bill for debate later this year.

/ SCIENCE & HEALTH

A study found that "co-users and [exclusive cigarette] smokers demonstrated comparable levels of biomarkers of exposure to harmful constituents despite smoking similar amounts of tobacco" while [exclusive cannabis] smokers demonstrated lower levels of toxicant exposure for most biomarkers."

A study suggested that "administering adjunctive group therapy with psilocybin may enhance the effectiveness of trauma processing by reinforcing social cohesion, safety, trust, and belonging."

/ ADVOCACY, OPINION & ANALYSIS

The American Bar Association's Law Student Division will host a cannabis webinar on June 30.

/ BUSINESS

WM Holding Company, LLC, which operates Weedmaps, completed its business combination with Silver Spike Acquisition Corp. and began trading on the Nasdaq.

The Parent Company selected The Peakz Company as its second social equity corporate venture fund investment.

Leafly is seeking to raise $30 million in a funding round.

Sanity Group closed a $44.2 million Series A financing round.

Woodstock Ventures LC and Woodstock Roots LLC are nearing a settlement in a years-long case on the right to use the "Woodstock" name in marijuana products.

4Front Ventures Corp. announced it will contribute $75,000 to the Village of Elk Grove, Illinois and local community programs to support health and wellness initiatives.

Headset and springbig launched an integration.

Arizona retailers sold $69.3 million worth of recreational marijuana in April.

/ CULTURE

George Lopez is partnering with Platinum Vape to launch a cannabis brand.
Make sure to subscribe to get Marijuana Moment's daily dispatch in your inbox.
CT Senate passes legal cannabis in special session (Newsletter: June 16, 2021)
LA gov signs marijuana decrim; TX gov signs medical cannabis expansion; Drug decrim bill in Congress; Fed marijuana cases drop as more states legalize
Subscribe to receive Marijuana Moment's newsletter in your inbox every weekday morning. It's the best way to make sure you know which cannabis stories are shaping the day.
Your support makes Marijuana Moment possible…
Free to read (but not free to produce)! We're proud of our newsletter and the reporting we publish at Marijuana Moment, and we're happy to provide it for free. But it takes a lot of work and resources to make this happen.

If you value Marijuana Moment, invest in our success on Patreon so we can expand our coverage and more readers can benefit: https://www.patreon.com/marijuanamoment

/ TOP THINGS TO KNOW

The Connecticut Senate approved a marijuana legalization bill on the first day of a special session. The House will take it up on Wednesday. If approved there, it'll go to Gov. Ned Lamont's (D) desk. However, the governor is threatening to veto the legislation over an amendment on equity licensing eligibility.

Louisiana Gov. John Bel Edwards (D) signed a bill to decriminalize marijuana. He also has separate legislation to legalize smokable medical cannabis flower on his desk that is still pending.

Texas Gov. Greg Abbott (R) signed a bill to expand the state's limited medical marijuana program. He also has legislation on his desk to require the state to study the therapeutic benefits of psychedelics, but hasn't acted on it yet.

Reps. Bonnie Watson Coleman (D-NJ) and Cori Bush (D-MO) are filing the first-ever congressional bill to federally decriminalize all drugs. It will also incentivize local reform by withholding law enforcement grants from jurisdictions that continue criminalization.

A new analysis from the U.S. Sentencing Commission shows that federal marijuana cases are dropping significantly as more state legalization laws go into effect—even though federal prohibition hasn't ended.

/ FEDERAL

The Supreme Court ruled that people convicted of certain low-level drug offenses are ineligible for resentencing under a 2018 criminal justice reform law.

Sen. Pat Toomey (R-PA) wrote in a constituent letter that he has "concerns that legalization for recreational use may carry adverse unintended consequences."

Rep. Barbara Lee (D-CA) will participate in an event on the 50th anniversary of the war on drugs on Thursday.

Rep. Don Young (R-AK) tweeted, "I introduced the GRAM Act to protect the gun rights of state-legal #marijuana users. Our archaic federal cannabis policies currently require legal users to risk perjuring themselves when trying to exercise their #2A rights. Frankly, it's wrong."

Rep. Dwight Evans (D-PA) tweeted, "Ask candidates running for state house and state senate, either incumbents or challengers, what is their position on legalization of marijuana. Then support those that want to change the commonwealth's policy."

Rep, Steven Horsford (D-NV) tweeted, "I'm proud to support the #SAFEBanking Act to provide Nevada's marijuana industry with access to the banking system and protect their employees and customers. The SAFE Banking Act is common sense — it's time to make it law."

/ STATES

Nevada Gov. Steve Sisolak (D) met with state cannabis regulators.

California lawmakers sent Gov. Gavin Newsom (D) a bill to provide $100 million in funding to help cities and counties transition marijuana businesses from provisional to regular licenses.

Rhode Island's House speaker said there is "no consensus" among lawmakers on reconciling three competing marijuana legalization bills.

The Oregon Senate Committee on Finance and Revenue held a hearing on a bill to let cities and counties more than triple local marijuana taxes.

The Ohio House Health Committee considered but did not vote on a bill to add autism as a medical cannabis qualifying condition.

The Massachusetts legislature's Joint Committee on Cannabis Policy held a hearing on several marijuana social equity bills.

The chancellor of Washington, D.C.'s public schools sent a letter pushing back against the District Council's move to undo a policy of mandating marijuana testing for contractors.

Colorado regulators adopted rules on marijuana business licensing fees.

Michigan regulators will discuss marijuana issues on Thursday.

New Mexico regulators will host a workshop for marijuana entrepreneurs on June 22.

—
Marijuana Moment is already tracking more than 1,100 cannabis, psychedelics and drug policy bills in state legislatures and Congress this year. Patreon supporters pledging at least $25/month get access to our interactive maps, charts and hearing calendar so they don't miss any developments.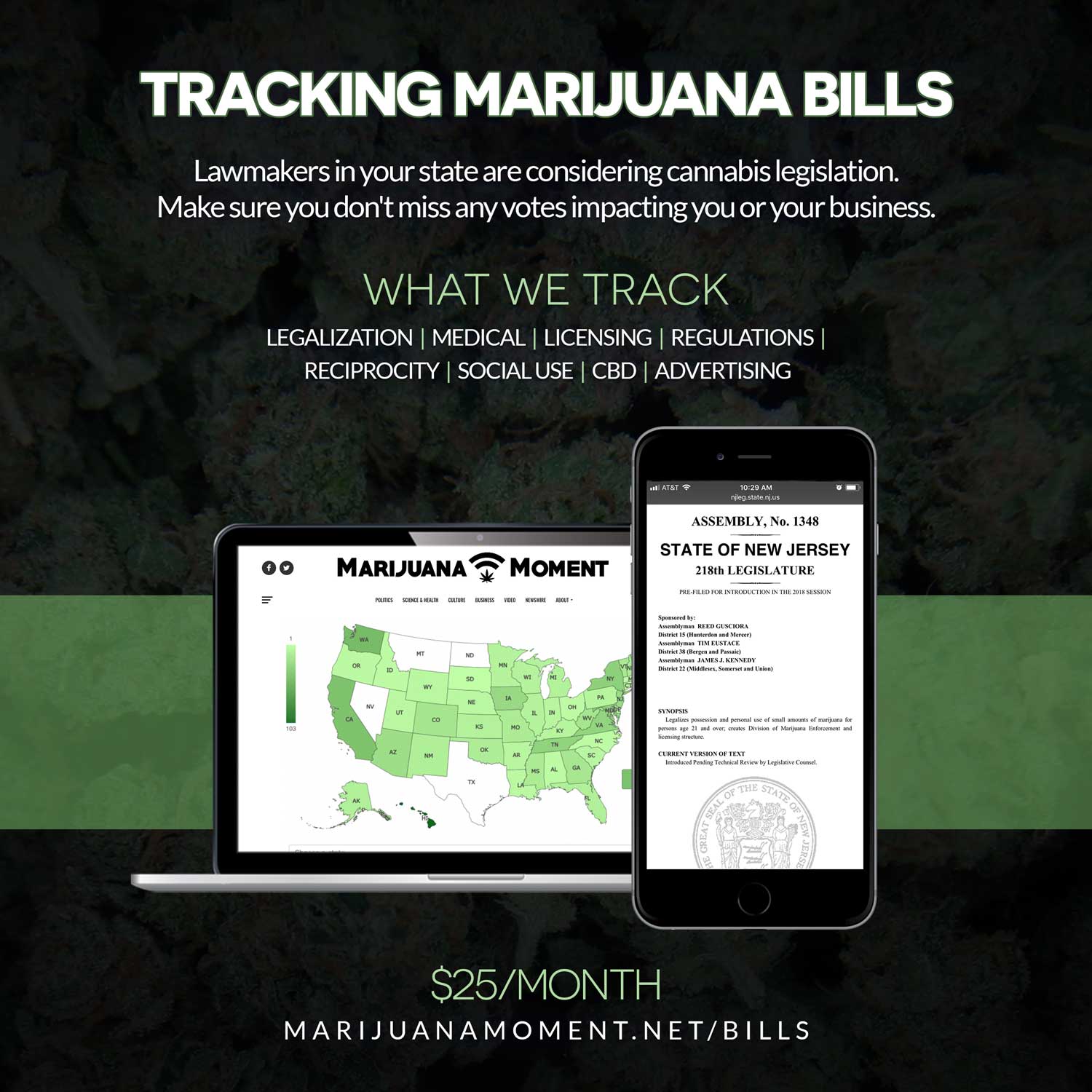 Learn more about our marijuana bill tracker and become a supporter on Patreon to get access.
—
/ LOCAL

Los Angeles, California regulators filed a motion to dismiss a lawsuit brought by companies that say the city's marijuana social equity policy is flawed and that their applications were unlawfully disfavored.

The Montgomery County, Maryland Policing Advisory Commission heard testimony about marijuana enforcement.

/ INTERNATIONAL

A UK lawmaker who was one of the winners of a drawing to earn floor debate time for a private member's bill said he will use the opportunity for medical cannabis legislation.

/ SCIENCE & HEALTH

A study found that "minimal changes have occurred in the cannabis use patterns of service-seeking youth in the short term following legalization" and that "this holds true both for youth who have reached the age of majority and those who have not."

A review concluded that "CBD has demonstrated efficacy in reducing nausea and vomiting, with CBDA and CBDA-ME being more potent."

/ ADVOCACY, OPINION & ANALYSIS

A poll found that 48 percent of New Zealand voters support decriminalizing marijuana, 8 percent want to decriminalize all drugs and 31 percent back the status quo.

The New Jersey Democratic State Committee filed a challenge to the nominating petitions of Legalize Marihuana Party gubernatorial candidate Ed "NJ Weedman" Forchion.

The United Cannabis Business Association is holding a fundraiser for California's attorney general on Thursday.

Dr. Bronner's CEO David Bronner published a response to a conspiracy theory about peyote production that was circulated by Decriminalize Nature.

/ BUSINESS

Columbia Care Inc. is acquiring Medicine Man Denver.

Fire & Flower Holdings Corp. reported quarterly revenue of C$44.1 million and a net loss of C$61.6 million.

KushCo Holdings, Inc. reported that it expects quarterly revenue to be between  $27.5 million and $28 million.

Innovative Industrial Properties, Inc declared a quarterly dividend of $1.40 per share.

Harborside Inc. granted stock options to certain employees.

Charlotte's Web Holdings, Inc. has a new CFO.

/ CULTURE

Former basketball player Paul Pierce is launching marijuana products in Massachusetts under the "Truth" brand.

Joe Exotic is launching a marijuana brand while incarcerated.
Make sure to subscribe to get Marijuana Moment's daily dispatch in your inbox.