Canada releases proposed cannabis regs (Newsletter: Nov. 22, 2017)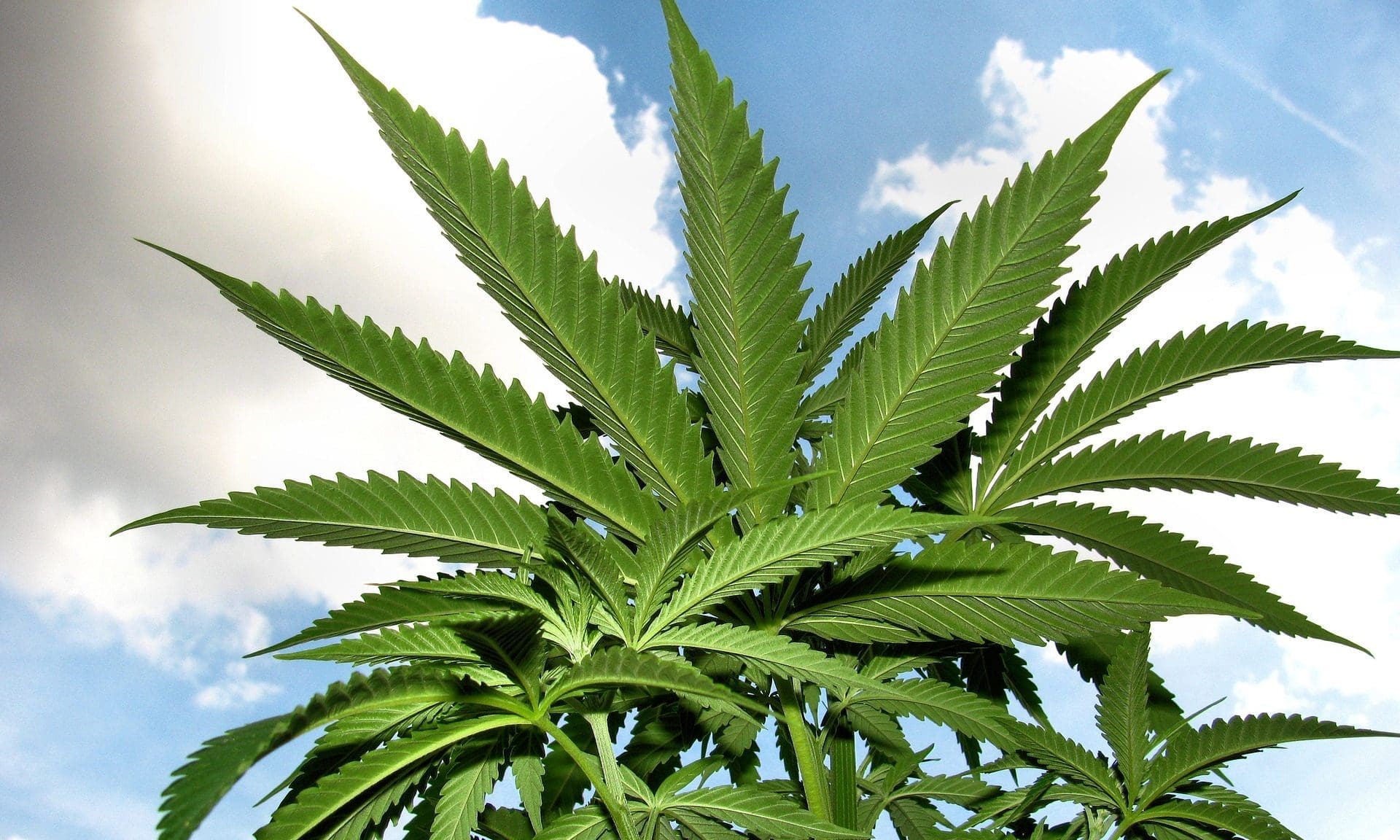 Subscribe to receive Marijuana Moment's newsletter in your inbox every weekday morning. It's the best way to make sure you know which cannabis stories are shaping the day.
MPP head steps down; Privateer layoffs; DEA OKs synthetic THC drug
TOP THINGS TO KNOW
Canada's federal government launched a public consultation process on proposed legal marijuana rules.
https://www.canada.ca/en/health-canada/programs/consultation-proposed-approach-regulation-cannabis.html
//
http://www.cbc.ca/news/politics/pot-regulations-1.4412015
And the House of Commons advanced the government's marijuana legalization bill to third reading by a vote of 201 to 97.
http://www.parl.ca/LegisInfo/BillDetails.aspx?Language=E&billId=8886269
Marijuana Policy Project founder Rob Kampia stepped down as executive director and will transition to new role focused on fundraising and strategy. Staffer Matt Schweich will serve as interim executive director while a search is conducted for a full-time replacement.
https://www.mpp.org/news/press/marijuana-policy-project-announces-leadership-changes-begins-national-search-new-executive-director/
FEDERAL
Visitor logs and calendars released by the White House Office of National Drug Control Policy show meetings and calls with active prohibitionists like Smart Approaches to Marijuana's Kevin Sabet and Drug Free America Foundation's Calvina Fay.
https://twitter.com/tomangell/status/933064210199740416
//
https://projects.propublica.org/graphics/wh-complex#ONDCP
The U.S. Drug Enforcement Administration is moving to grant Schedule II status for synthetic THC drug Syndros, which is developed by Insys Therapeutics, a company that donated significant funding to help defeat Arizona's 2016 marijuana legalization measure.
https://www.federalregister.gov/documents/2017/11/22/2017-25275/schedules-of-controlled-substances-placement-of-fda-approved-products-of-oral-solutions-containing
U.S. military forces launched airstrikes against Taliban opium processing facilities in Afghanistan.
https://www.nytimes.com/2017/11/20/world/asia/airstrikes-taliban-opium.html
Congresswoman Eleanor Holmes Norton (D-DC) is happy that a draft Senate spending bill contains no riders on Washington, D.C. policies, including one that has prevent the city from legalizing marijuana sales.
https://norton.house.gov/media-center/press-releases/norton-elated-that-republican-senate-dc-appropriations-bill-contains-no
Congressman Steve Cohen (D-TN) spoke about his support for marijuana law reform.
http://www.dailyhelmsman.com/news/congressman-cohen-comments-on-impeachment-taxes-and-marijuana/article_31c105e8-ce7b-11e7-8858-2b64f73f02fb.html
Congressman Ro Khanna (D-CA) tweeted that legalizing marijuana is a partial solution to opioid issues.
https://twitter.com/RepRoKhanna/status/933003974751543298
STATES
Massachusetts regulators plan to put together draft marijuana rules in December.
http://www.telegram.com/news/20171121/mass-marijuana-board-moving-toward-first-draft-of-regs
New Jersey Gov. Chris Christie (R) says he's "concerned" about his successor's plans to legalize marijuana, which he called "reprehensible."
https://www.youtube.com/watch?v=dCqu2SADDHA&t=46m50s
Congressman Jared Polis (D-CO), a Colorado gubernatorial candidate, is proposing to use more marijuana tax money to pay for schools.
https://www.greeleytribune.com/news/local/u-s-congressman-colorado-gubernatorial-candidate-jared-polis-visits-billie-martinez-elementary-school/
Florida medical cannabis patients and a cultivation business are suing state regulators over a delay in issuing new production and sales licenses.
http://sunshinestatenews.com/story/veteran-family-files-complaint-against-florida-department-health-over-medical-marijuana
Separately, a senator filed a bill allowing medical cannabis use in schools.
https://www.flsenate.gov/Session/Bill/2018/00986
Virginia's Joint Commission on Health Care is supporting legislation to allow doctors to recommend THC-A or CBD medical cannabis oil for any condition.
http://www.newsleader.com/story/news/2017/11/21/support-virginia-growing-medical-marijuana/846880001
//
http://jchc.virginia.gov/Decision%20Matrix%202017.pdf
In an official opinion, the Indiana attorney general's office outlined the limitations of the state's CBD medical cannabis law.
https://www.indystar.com/story/news/politics/2017/11/21/after-months-confusisattorney-general-curtis-hill-says-cbd-oil-illegal-indiana-after-months-confusio/884505001/
//
https://www.in.gov/attorneygeneral/files/Cannabidiol.pdf
The Kentucky secretary of state's medical cannabis task force held its first meeting.
http://www.wkyt.com/content/news/Task-force-to-discuss-legalization-of-medical-marijuana-in-Kentucky-459014683.html
Michigan regulators plan to release medical cannabis rules next week.
http://wkar.org/post/state-needs-little-more-time-release-official-rules-medical-marijuana-licenses
A South Dakota marijuana consultant had charges dismissed following a case concerning his work to help a Native American tribe open the nation's first cannabis resort.
https://www.usnews.com/news/best-states/south-dakota/articles/2017-11-21/tribes-marijuana-consultant-pays-fine-court-costs
A Texas medical marijuana company named a new strain and grow room after the representative who authored the state's CBD cannabis law.
https://twitter.com/tomangell/status/933097811117084674
A New Jersey senator is pushing to "slow down" the push toward legalizing marijuana.
https://patch.com/new-jersey/bloomfield/new-jersey-senator-has-worries-legal-weed-do-you-agree
LOCAL
The Detroit, Michigan City Planning Commission is asking the City Council to challenge voter-approved ballot measures that will allow medical cannabis businesses to operate in more locations.
http://www.freep.com/story/news/local/michigan/detroit/2017/11/21/detroit-marijuana-proposal/886339001/
A Los Angeles, California City Council committee approved proposed marijuana regulations.
http://www.foxla.com/news/local-news/la-city-council-approves-rules-ahead-of-legal-marijuana-date
San Francisco, California public transit authorities banned marijuana ads on buses.
http://www.sfexaminer.com/muni-bans-cannabis-ads-buses/
San Diego, California cannabis businesses are playing a role in local Board of Supervisors elections.
http://www.sandiegouniontribune.com/news/politics/sd-me-marijuana-supervisors-20171120-story.html
Police in Mart, Texas are now required to arrest people caught with small amounts of marijuana and no longer have the option to issue citations under a new zero-tolerance policy.
http://www.wacotrib.com/news/police/mart-police-end-tickets-for-misdemeanor-marijuana-possession/article_1ba1986f-1293-5ae3-942a-7dc6499e78c9.html
INTERNATIONAL
Statistics Canada will begin tracking marijuana industry data.
https://www.bloomberg.com/news/articles/2017-11-21/statistics-canada-moves-to-include-marijuana-in-gdp-accounts
The Philippine Supreme Court is hearing a case against the nation's bloody "drug war" policies.
http://sea-globe.com/philippine-unconstitutional/
A Brazilian senator is stalling consideration of an official petition to allow personal marijuana cultivation.
https://theintercept.com/2017/11/21/senador-ignora-apelos-e-mantem-relatorio-contra-plantio-de-maconha-para-uso-proprio/
ADVOCACY
Google is giving $4 million to efforts to fight back against mass incarceration.
https://twitter.com/verainstitute/status/933004563875028993
The Virginia Farm Bureau's upcoming conference will feature a panel on cannabis cultivation.
https://www.vafb.com/membership-at-work/news-resources/convention-agenda
SCIENCE & HEALTH
The Open Cannabis Project says it is building an archival record of all existing cannabis strains to ensure they remain in the public domain, unrestricted by commercialization or patenting.
https://opencannabisproject.org/
An article in JAMA Internal Medicine decries the secondhand smoke effects of large 4/20 events.
https://jamanetwork.com/journals/jamainternalmedicine/fullarticle/2663848
OPINION & ANALYSIS
The Orange County Register editorial board is cheering bipartisan work in Congress to roll back asset forfeiture and protect state marijuana laws.
http://www.ocregister.com/2017/11/21/bipartisanship-to-curb-civil-asset-forfeiture-and-marijuana-crackdowns/
BUSINESS
Privateer Holdings confirmed significant staff layoffs that I first reported last week on Twitter.
https://www.geekwire.com/2017/marijuana-investment-firm-privateer-confirms-layoffs-calls-master-p-lawsuit-nonsense
//
https://twitter.com/tomangell/status/931681914888564736
Marijuana products from Citi-Med LLC, dba Starbuds are being recalled due to pesticide contamination.
https://www.colorado.gov/pacific/sites/default/files/HSA%20Citi-Med%2011172017.pdf
CULTURE     
Rapper Nelly has been ordered not to sing about marijuana, alcohol or sex during a concert in Saudi Arabia.
https://www.washingtonpost.com/news/worldviews/wp/2017/11/21/rapper-nelly-is-to-perform-in-saudi-arabia-only-men-are-allowed-to-attend/
Rapper Cassidy was arrested for possessing marijuana and paraphernalia.
http://www.tmz.com/2017/11/21/cassidy-arrested-marijuana/
Rolling Stone looks at cannabis-consuming athletes.
http://www.rollingstone.com/culture/pictures/sports-all-star-stoners-20100720/nate-and-nick-diaz-w512027
Conflicting cannabis amendments cleared for House votes (Newsletter: July 29, 2021)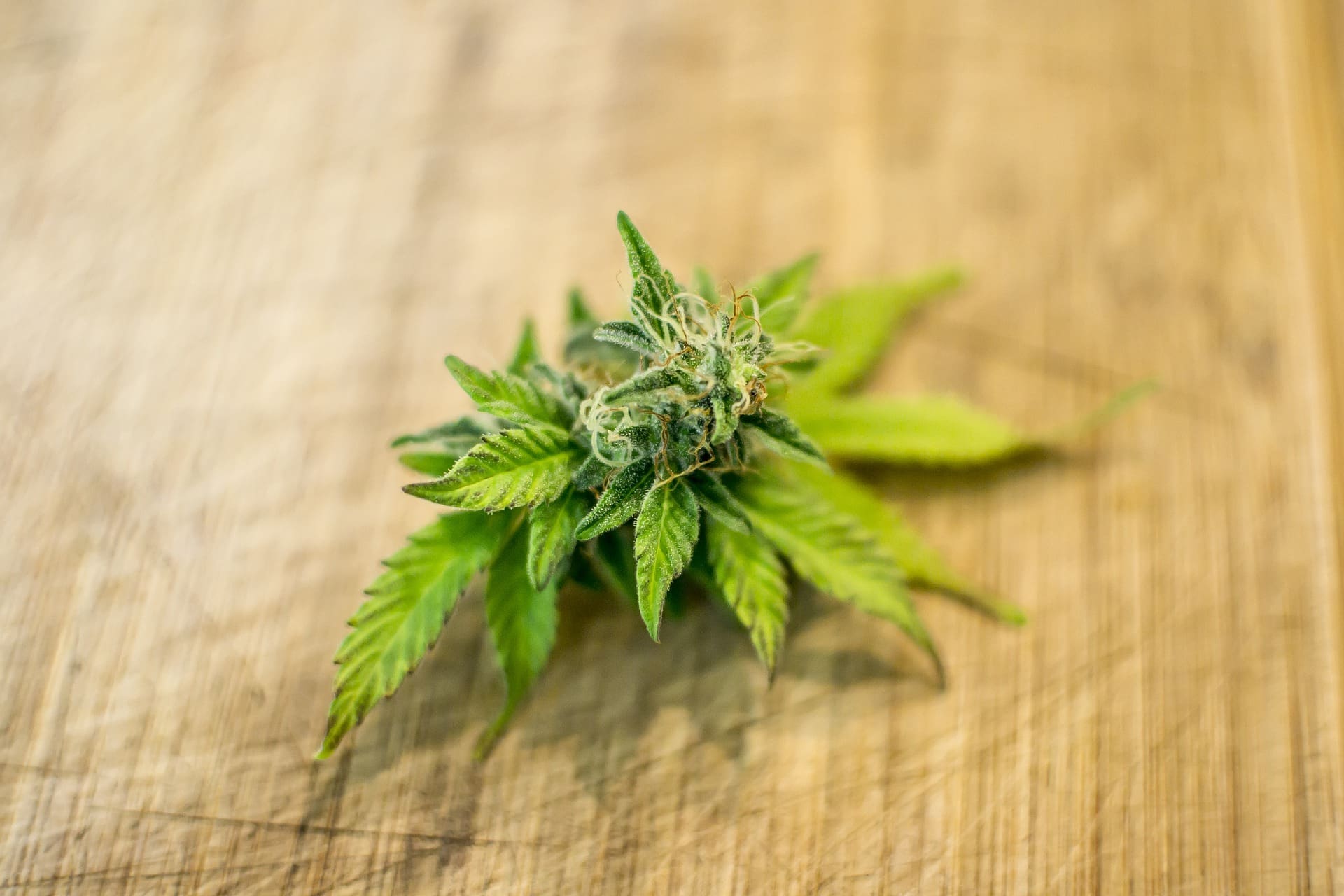 Support grows for AOC's psychedelics reform; New CO marijuana business office; FL officials slam OR hemp & say buy local
Subscribe to receive Marijuana Moment's newsletter in your inbox every weekday morning. It's the best way to make sure you know which cannabis stories are shaping the day.
Your support makes Marijuana Moment possible…
Your good deed for the day: donate to an independent publisher like Marijuana Moment and ensure that as many voters as possible have access to the most in-depth cannabis reporting out there.
Shawna Seldon McGregor of Maverick Public Relations:

"As a political junkie, I've been reading Marijuana Moment for years. Now as so many legislative issues are heating up, I'm turning to the website for the latest news on policy movement. I'm long overdue in pledging my support. Bonus: I'm also excited to take advantage of the legislative tracking tools."
Support our work at https://www.patreon.com/marijuanamoment

/ TOP THINGS TO KNOW

The House Rules Committee advanced competing marijuana amendments to the floor for votes. One would shield all state legalization laws from federal interference, while another would delete existing medical cannabis protections. Those votes could take place as soon as Thursday.

A new Marijuana Moment analysis looks at how even though Rep. Alexandria Ocasio-Cortez's (D-NY) psychedelics research amendment fell short on the House floor this week, support grew considerably from the last time it was voted on in 2019. We examine how the advancement of state psychedelics legislation likely flipped a number of votes, and how some Democratic leaders are still not on board with the reform.
Colorado Gov. Jared Polis (D) announced the launch of a new Cannabis Business Office aimed at providing economic support for the state's marijuana industry—with a focus on social equity.
"Where the federal government has fallen behind, Colorado will lead. Colorado is, and always has been, the best place to live, work, grow and sell cannabis."
The Florida Department of Agriculture and Consumer Services put out an alert warning consumers about poor quality hemp products from Oregon that contain "rocks, sticks and other foreign material." People should buy hemp with "Fresh From Florida" logos instead, they say.

/ FEDERAL

The acting director of the White House Office of National Drug Control Policy reiterated President Joe Biden's position that no one should be incarcerated for drug use alone.

The U.S. Department of Agriculture's Risk Management Agency tweeted, "Hemp offers new economic opportunities for America's farmers, and we are pleased to offer coverage to hemp producers."

Sen. Cory Booker (D-NJ) spoke about the need to federally legalize marijuana.

House Small Business Committee Chairwoman Nydia Velazquez (D-NY) tweeted, "Thank you @BrooklynDA for dismissing 3,500 marijuana cases following legalization by NY state. This is an important step in remedying all the harm inflicted on our communities by the so called 'war on drugs.'"

The House bill to deschedule marijuana and fund programs to repair the drug war's harms got seven new cosponsors for a total of 59.

/ STATES

Mississippi's lieutenant governor said senators should have a draft medical cannabis bill next week.

Oklahoma's public safety secretary said the medical cannabis industry needs to be more tightly regulated.

The Arizona Supreme Court publicized an event to help people expunge marijuana charges.

New Mexico lawmakers held a hearing on law enforcement issues related to marijuana legalization. Separately, regulators will host a cannabis entrepreneur informational workshop on Thursday.

A lawsuit challenging Illinois marijuana business licensing rules was dropped by the plaintiff, and regulators are set to hold the first of three lotteries on Thursday. A judge in a separate case, however, said no licenses can be awarded until an August 9 hearing.

Nevada regulators shared updated mask guidelines with marijuana businesses.

Oregon's Cannabis Commission met.

—
Marijuana Moment is already tracking more than 1,100 cannabis, psychedelics and drug policy bills in state legislatures and Congress this year. Patreon supporters pledging at least $25/month get access to our interactive maps, charts and hearing calendar so they don't miss any developments.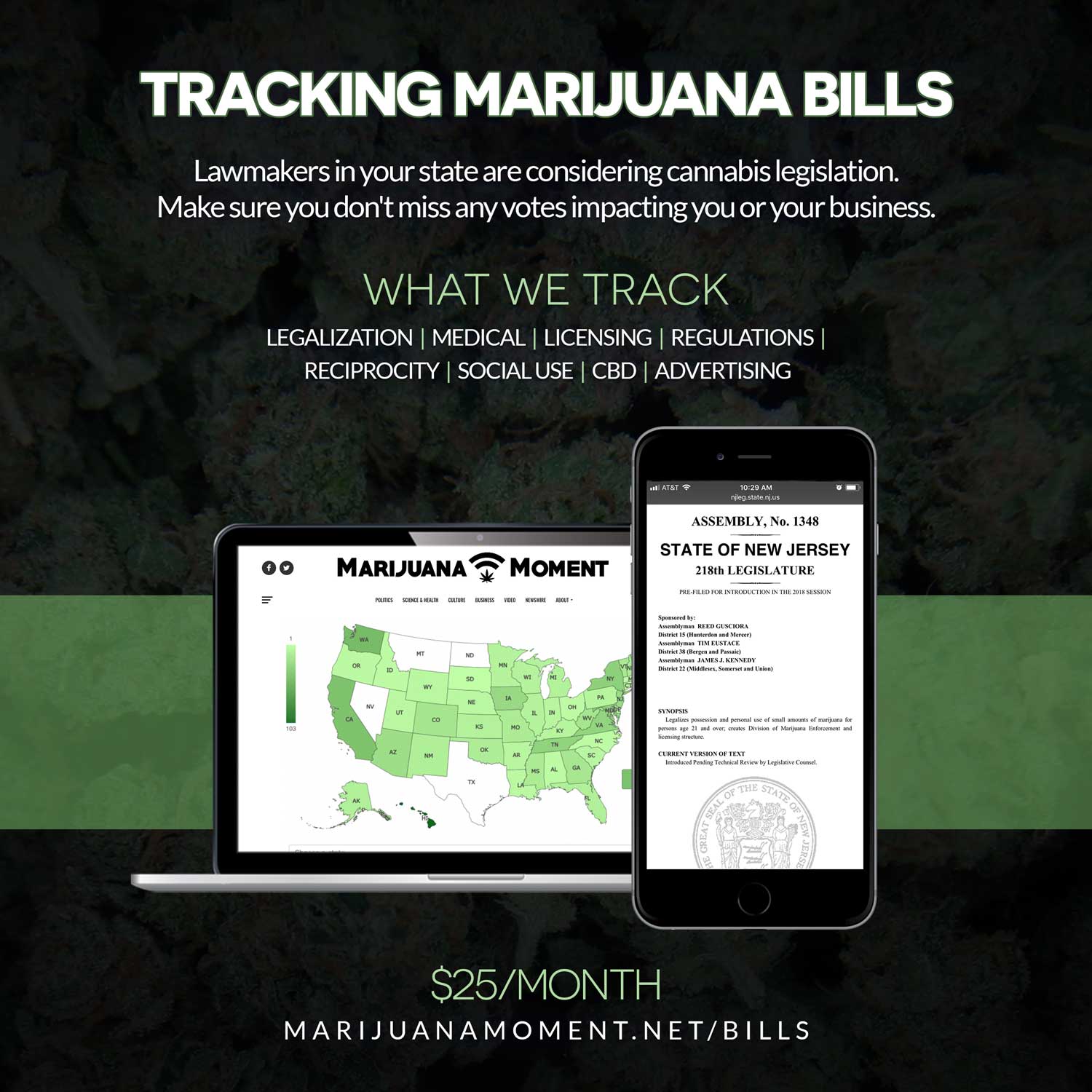 Learn more about our marijuana bill tracker and become a supporter on Patreon to get access.
—

/ INTERNATIONAL

Israeli lawmakers rejected a bill to decriminalize marijuana and reclassify CBD as a food additive.

Australia's federal police commissioner said legalizing drugs "will not stop organised crime— it will likely embolden them, make them richer and enable them to buy more guns and pay for more murders."

Gabon's sovereign wealth fund is investigating how to monetize interest in ibogaine.

/ SCIENCE & HEALTH

A study on whether external stress is a factor in "hot hemp" found "no evidence that any of these stresses caused THC concentration or the ratio of THC to CBD to increase at harvest."

A study of bees found that "hemp supplementation positively influences the immune system of workers, and the appropriate method of administration may be adapted to the health problems of bees."

/ ADVOCACY, OPINION & ANALYSIS

The National Governors Association noted how a number of governors discussed marijuana during their state of the state addresses this year.

Decriminalize Nature launched a new campaign it says is intended to expose corporate influences seeking to undermine access to psychedelic plants and fungi.

The executive director of Minority Veterans of America authored an op-ed calling for marijuana reform.

/ BUSINESS

Tilray, Inc. reported quarterly net revenue of $142.2 million.

Canopy Growth Corporation ended its relationship with Seth Rogen's Houseplant brand.

GoDaddy refused technical support to cannabis news outlet Heady NJ because its website "shows marijuana imagery."

Frankenmuth Credit Union launched a cannabis banking program.

A subsidiary of Avicanna Inc. completed its first export of THC cannabis extracts from Colombia to Austria.

/ CULTURE

Actor Colin Hanks is partnering with Jushi Holdings Inc. to bring his Hanks Kerchiefs to the company's BEYOND / HELLO marijuana retail stores.

Football player Julio Jones is being sued by cannabis company Genetixs for alleged fraud and money laundering.

Make sure to subscribe to get Marijuana Moment's daily dispatch in your inbox.
Congress rejects AOC's psychedelics amendment but adopts CBD one (Newsletter: July 28, 2021)
OH 2022 marijuana initiative; MA psychedelics hearing; Global sports authority: Reconsider cannabis penalties; Study on artisanal CBD benefits
Subscribe to receive Marijuana Moment's newsletter in your inbox every weekday morning. It's the best way to make sure you know which cannabis stories are shaping the day.
Your support makes Marijuana Moment possible…
Before you dig into today's cannabis news, I wanted you to know you can keep this resource free and published daily by subscribing to Marijuana Moment on Patreon. We're a small independent publication diving deep into the cannabis world and rely on readers like you to keep going.

Join us at https://www.patreon.com/marijuanamoment

/ TOP THINGS TO KNOW

The House of Representatives defeated an amendment from Rep. Alexandria Ocasio-Cortez (D-NY) to expand research on the medical benefits of psychedelics like psilocybin and MDMA. Amid a growing national reform movement, however, the measure failed by a narrower margin than her previous attempt two years ago.
Separately, lawmakers approved an amendment from Rep. Kurt Schrader (D-OR) that encourages the Food and Drug Administration to issue regulations allowing CBD as a dietary supplement and food ingredient. They also rejected a proposal from Rep. Debbie Lesko (R-AZ) to remove protections for universities that study marijuana. She argued on the floor that she's worried schools will "offer a class called 'Pot Smoking 101' [that's] dedicated to smoking pot."
Ohio activists launched a new marijuana legalization ballot initiative campaign. The plan is to pressure lawmakers to end cannabis prohibition through the legislature, but organizers say they're prepared to go directly to voters if need be.

The Massachusetts legislature's Joint Judiciary Committee held a hearing on a bill to create a task force charged with studying the legalization of psychedelics like psilocybin and ayahuasca.

The president of global sports governing body World Athletics said it's "sensible" to reevaluate marijuana penalties for Olympic athletes after Sha'Carri Richardson's suspension.
"Nothing is set in tablets of stone. You adapt and occasionally reassess."
A new study found that epilepsy patients who use "artisanal CBD" have "higher quality of life, lower psychiatric symptom severity and improved sleep." They also use fewer prescription medications, take fewer sick days and are less likely to visit the hospital.

/ FEDERAL

Patients made a new filing in a lawsuit seeing to force the Drug Enforcement Administration to let them use psilocybin.

A former Fall River, Massachusetts mayor who was federally convicted of extorting marijuana businesses filed a motion for acquittal or a new trial.

Sen. Ed Markey (D-MA) and other senators sent a letter urging Secretary of State Antony Blinken to press the Philippine government for human rights violations in its bloody "war on drugs."

Sens. Patty Murray (D-WA) and Maria Cantwell (D-WA) cited the marijuana regulatory experience of a U.S. attorney nominee for the Western District of Washington.

/ STATES

New Jersey Gov. Phil Murphy (D) spoke about the need to center social justice and equity in marijuana legalization implementation. Separately, a judge dismissed a lawsuit seeking to overturn the state's voter-approved cannabis legalization referendum.

New York Gov. Andrew Cuomo's (D) office said he is in the process of appointing people to the Cannabis Control Board. Meanwhile, the Senate majority leader said the governor should "send his appointees down and we'll take a look at them."

Texas Democratic attorney general candidate Lee Merritt tweeted, "Due in part to the so-called 'war on drugs' U.S. police are the deadliest in the modern world. We can eradicate the demand for illegal drugs by providing healthcare and affordable housing. Not war."

New Mexico regulators issued a cease and desist order to a business that has been "gifting" marijuana in exchange for the purchase of store merchandise. Separately, the top regulator told lawmakers it is " highly likely" retailers will run out of cannabis in the first week or two of recreational sales. She also said she fears that local residents will be prevented from entering the industry due to difficulties accessing bank loans.

California regulators named a leadership team for the new Department of Cannabis Control.

Rhode Island regulators again delayed a lottery to award new medical cannabis dispensary licenses.

Oklahoma representatives discussed challenges in regulating medical cannabis on a podcast.

Vermont regulators will consider marijuana-related highway safety issues, criminal justice data and banking access on Thursday.

South Dakota regulators scheduled an August 18 public hearing on proposed medical cannabis rules.

—
Marijuana Moment is already tracking more than 1,100 cannabis, psychedelics and drug policy bills in state legislatures and Congress this year. Patreon supporters pledging at least $25/month get access to our interactive maps, charts and hearing calendar so they don't miss any developments.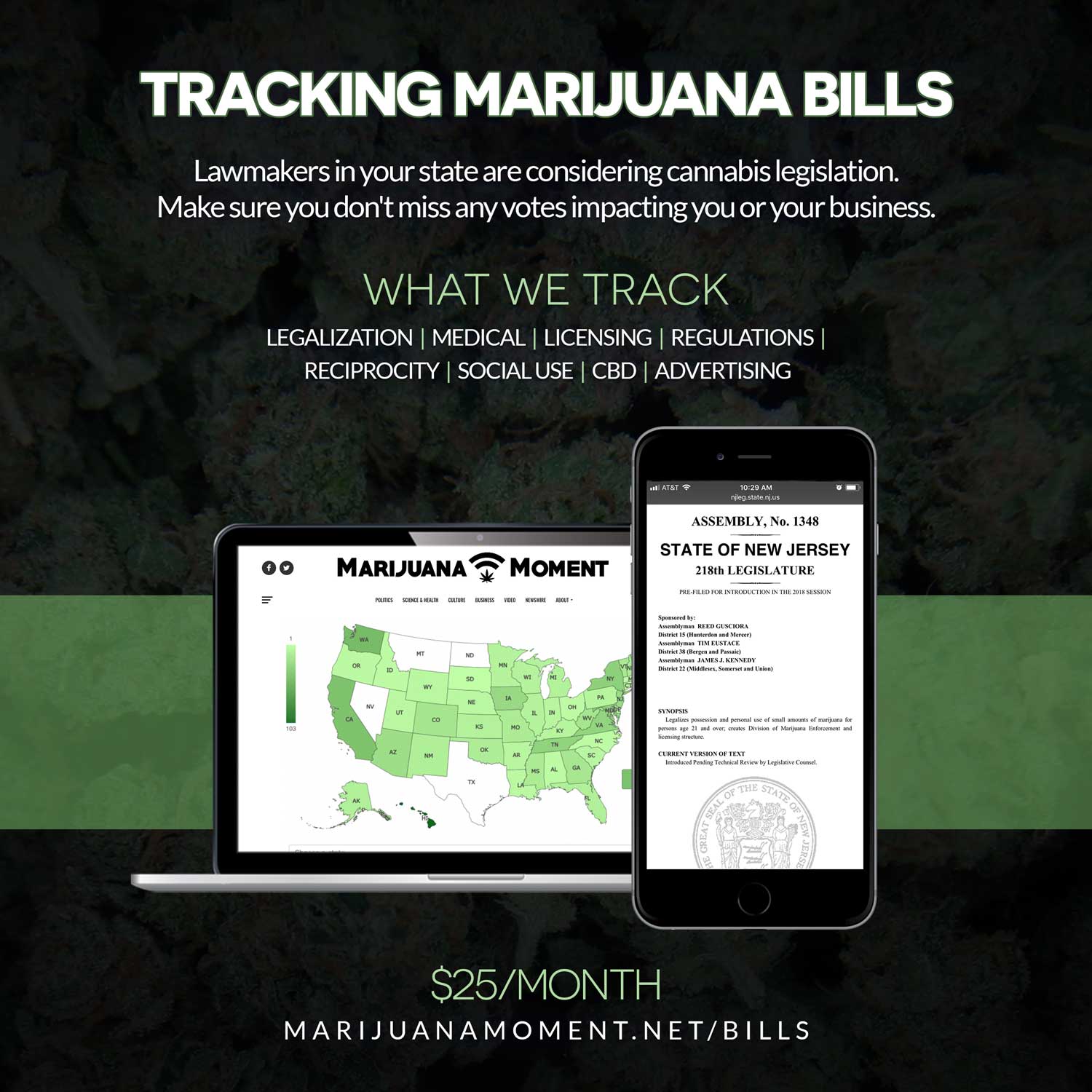 Learn more about our marijuana bill tracker and become a supporter on Patreon to get access.
—
/ LOCAL

Brooklyn, New York's district attorney moved to dismiss more than 3,500 marijuana-related warrant cases.

New York City's mayor criticized Gov. Andrew Cuomo (D) for the state's slow rollout of a new marijuana legalization law. He also encouraged people to store cannabis edibles out of the reach of children.

Santa Fe, New Mexico officials are seeking public comment on marijuana rules.

/ INTERNATIONAL

Guyana President Irfaan Ali said he is focused on regulating hemp before addressing broader marijuana reform issues.

Israeli lawmakers are expected to vote on a marijuana decriminalization bill on Wednesday.

Canada's health minister is being sued by patients who want her to act on stalled applications to legally use psilocybin.

/ SCIENCE & HEALTH

A review identified how "epigenetic modulations caused by cannabinoids lead to the suppression of inflammation."

/ ADVOCACY, OPINION & ANALYSIS

The Tennessee Democratic Party criticized Fox News hosts tying marijuana to violence, tweeting, "Reminder that this is how the Republican party views weed, violent crime, and mental health. What we actually need is to legalize it, clear all marijuana-related convictions from people's criminal records, and provide people with the resources and healthcare that they deserve."

Koch Industries CEO Charles Koch spoke about his support for marijuana legalization and drug policy reform.

The Multidisciplinary Association for Psychedelic Studies has a new board chair.

/ BUSINESS

Harvest Health & Recreation Inc. is being sued for allegedly failing to inform investors of the terms of its proposed acquisition by Trulieve Cannabis Corp.

Curaleaf International launched its second range of medical cannabis flower products for the UK market.
Make sure to subscribe to get Marijuana Moment's daily dispatch in your inbox.
Congress to vote on cannabis, psychedelics & CBD this week (Newsletter: July 27, 2021)
Senators plan White House marijuana meetings; Top cop and Psaki on cannabis & violence; FDA wants kratom ban comments
Subscribe to receive Marijuana Moment's newsletter in your inbox every weekday morning. It's the best way to make sure you know which cannabis stories are shaping the day.
Your support makes Marijuana Moment possible…
Hold on, just one second before you read today's news. Have you thought about giving some financial support to Marijuana Moment? If so, today would be a great day to contribute. We're planning our reporting for the coming year and it would really help to know what kind of support we can count on.
SF, who asked to only use their initials:

"I've been using Marijuana Moment as a source of information for quite some time… probably years. I recognize that a lot goes into the production and dissemination of the information you publish and I want to show my support. Your website, Twitter etc., are great resources for anyone involved in the space (including the nascent psychedelics industry) even if just to educate themselves."
Check us out on Patreon and sign up to give $25/month today:
https://www.patreon.com/marijuanamoment

/ TOP THINGS TO KNOW

The House Rules Committee cleared marijuana and drug policy amendments for floor votes this week—including measures to remove roadblocks to research on the benefits of psychedelics and encourage federal regulations allowing CBD as a dietary supplement and food ingredient.
An amendment to protect people from losing public housing over cannabis use was blocked from consideration, however.
Sen. Cory Booker (D-NJ) said he and other senators sponsoring a new marijuana bill will be "having conversations with the White House" to get President Joe Biden on board with legalization. He also further addressed his cannabis banking stance in a new Twitter Q & A session.

White House Press Secretary Jen Psaki quickly pivoted away from a Fox News reporter's question about whether violent incidents in Washington, D.C. mean it's time to "get tougher on marijuana."
The

city's police chief

said after a recent shooting that the illegal marijuana trade drives violence, but advocates say a big part of the problem is that Congress keeps blocking the city from regulating cannabis sales. That could change this year.
The Food and Drug Administration is asking for public comments about a possible global ban on kratom. Advocates say it's part of a U.S. effort to restrict the natural painkiller domestically by default after a federal scheduling effort stalled.

Missouri probation and parole officers are sending patients back to prison for using medical cannabis—even though it is legal in the state.

/ FEDERAL

The Centers for Medicare & Medicaid Services said in a Federal Register filing that "untreated and inappropriately treated pain may translate to increased costs to the Medicare program" and that "additional risks in untreated pain include individuals using illicit drugs such as cannabis."

The U.S. Department of Agriculture said hemp businesses operating under the 2018 Farm Bill are eligible for the Rural Energy for America Program.

Former Labor Sec. Robert Reich tweeted, "As the Olympics officially get under way, I can't help but think about how ludicrous it is that cannabis use kept Sha'Carri Richardson from competing, when the cannabis industry is projected to rake in $70 billion by 2028."

Senate Majority Leader Chuck Schumer (D-NY) tweeted, "It's long past time to end the federal prohibition and undo the harms of the War on Drugs. That's why @SenBooker, @RonWyden, and I are working to pass our Cannabis Administration and Opportunity Act." He also tweeted, "The War on Drugs has been a war on people. @SenBooker, @RonWyden, and I released our Cannabis Administration and Opportunity Act to end the federal prohibition, enact criminal justice reforms, and invest in communities hurt by the War on Drugs."

Sen. Charles Grassley (R-IA) wrote in a constituent letter that "marijuana is illegal because it is dangerous."

Rep. Jamie Raskin (D-MD) praised the medical cannabis advocacy of a New Hampshire state representative in remarks for the Congressional Record.

Rep. Mike Walz (R-FL) tweeted, "The IOC bans a US athlete for cannabis but allows #IRGC terrorist murderers to compete?"

/ STATES

New York Gov. Andrew Cuomo (D) and top lawmakers are blaming one another for the lack of appointments to the state's marijuana regulatory bodies.

Most South Carolina senators said in a survey that they expect a medical cannabis bill will be a 2022 priority for the chamber.

A California senator spoke about his bill to legalize possession of psychedelics.

The New Mexico Court of Appeals upheld a lower judge's ruling directing regulators to designate additional medical cannabis dispensary locations for Ultra Health.

Illinois regulators awarded 40 out of 40 marijuana craft grower licenses to businesses led by military veterans.

Idaho regulators are preparing to submit a hemp plan for federal approval.

Alaska regulators proposed changes to marijuana business fine schedules.

West Virginia regulators said they will host more in-person medical cannabis patient registration events based on the turnout of one on Monday.

The Texas Medical Advisory Board discussed the issue of marijuana use by a person while driving when they have a history of alcoholism.

Ohio regulators plan to consider several rules changes related to medical cannabis at a hearing on August 19.

Oklahoma regulators sent a reminder that medical cannabis ownership attestation forms are due by August 30.

—
Marijuana Moment is already tracking more than 1,100 cannabis, psychedelics and drug policy bills in state legislatures and Congress this year. Patreon supporters pledging at least $25/month get access to our interactive maps, charts and hearing calendar so they don't miss any developments.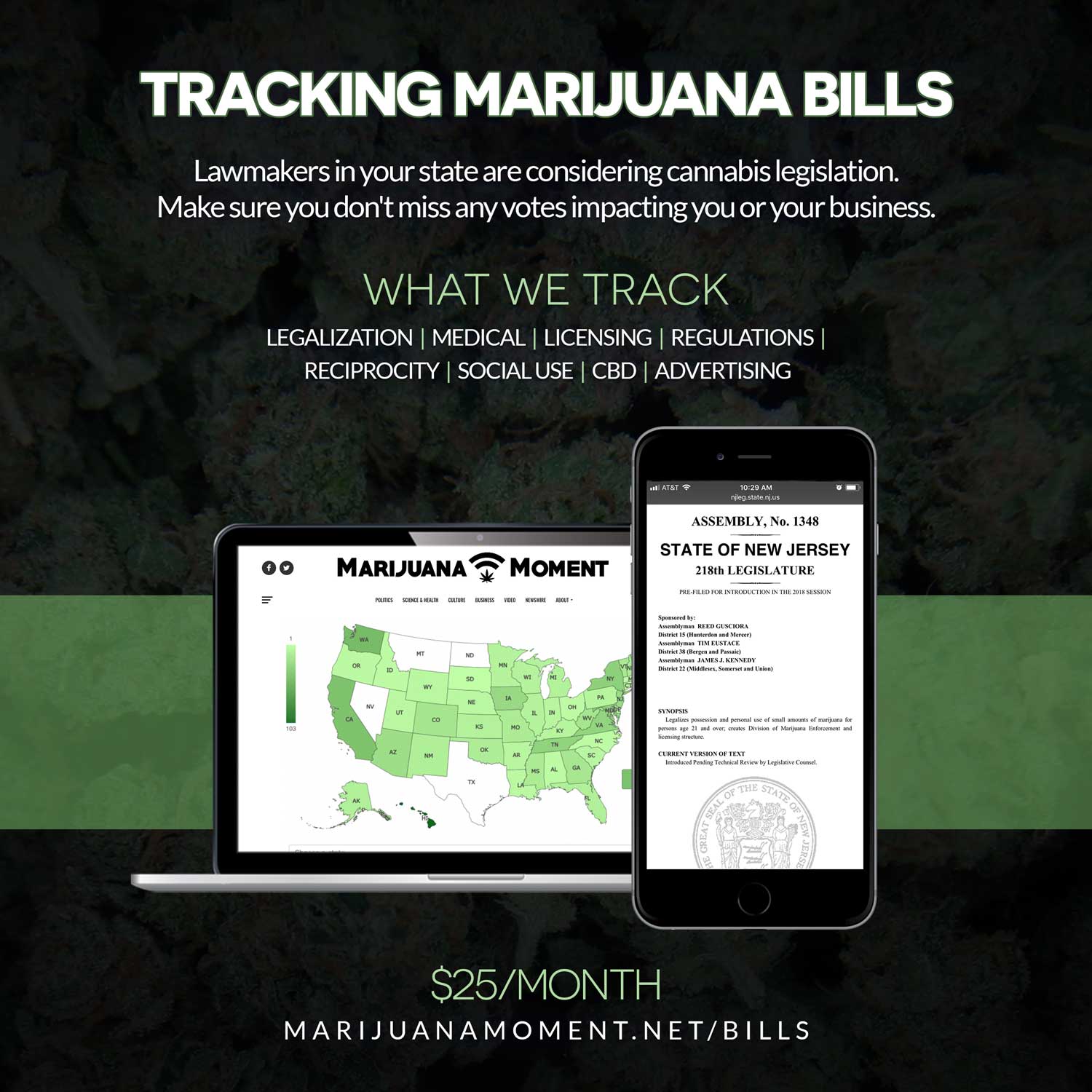 Learn more about our marijuana bill tracker and become a supporter on Patreon to get access.
—
/ LOCAL

Denver, Colorado's mayor proposed using a portion of marijuana tax revenue to fund a loan program for minority and women-owned businesses. Separately, officials will host an information session on marijuana businesses on Tuesday.

The Oakland, California City Council approved a resolution to support state legislation to prohibit employers from discriminating against potential or current workers for testing positive for inactive marijuana metabolites in their urine or hair.

The Richmond, Virginia Redevelopment and Housing Authority is being sued by a woman whose voucher for housing assistance was rejected due to a past marijuana conviction.

A Polk County, Iowa attorney candidate tweeted, "Since marijuana is trending right now, this seems as good a time as any to remind people that as Polk County Attorney it will be the presumption of the office to not prosecute low level, nonviolent offenses like pot possession."

/ INTERNATIONAL

Philippine President Rodrigo Duterte defended his nation's bloody "war on drugs" in his final State of the Nation Address.

Guernsey's government is accepting applications to cultivate medical cannabis.

The Penticton, British Columbia, Canada rejected a motion to support Vancouver's effort to decriminalize drugs.

The Israeli Defense Forces is cracking down on use of marijuana and other drugs by troops.

/ SCIENCE & HEALTH

A review concluded that "cannabinoids are a reasonable treatment modality for refractory chronic pelvic pain, especially if a neuropathic component is suspected."

A study of CBD to treat Lennox–Gastaut syndrome found that "87% or more of patients/caregivers reported improvement in the patient's overall condition on the Subject/Caregiver Global Impression of Change scale."

/ ADVOCACY, OPINION & ANALYSIS

ACT UP NY gave out free marijuana joints outside the Brooklyn apartment of Senate Majority Leader Chuck Schumer (D-NY) to people who have received coronavirus vaccines.

/ BUSINESS

Bluebird Botanicals acquired Precision Botanical.

Numinus Wellness Inc. received approval from the Canadian government for a study evaluating MDMA-assisted therapy for post-traumatic stress disorder.

Braxia Scientific Corp. established direct billing practices with Medavie Blue Cross to provide ketamine treatment to Canadian military veterans.

/ CULTURE

Joe Exotic's marijuana company is rolling out a marijuana-infused seltzer called Tiger Piss.
Make sure to subscribe to get Marijuana Moment's daily dispatch in your inbox.
Photo courtesy of Chris Wallis // Side Pocket Images.