Canada releases proposed cannabis regs (Newsletter: Nov. 22, 2017)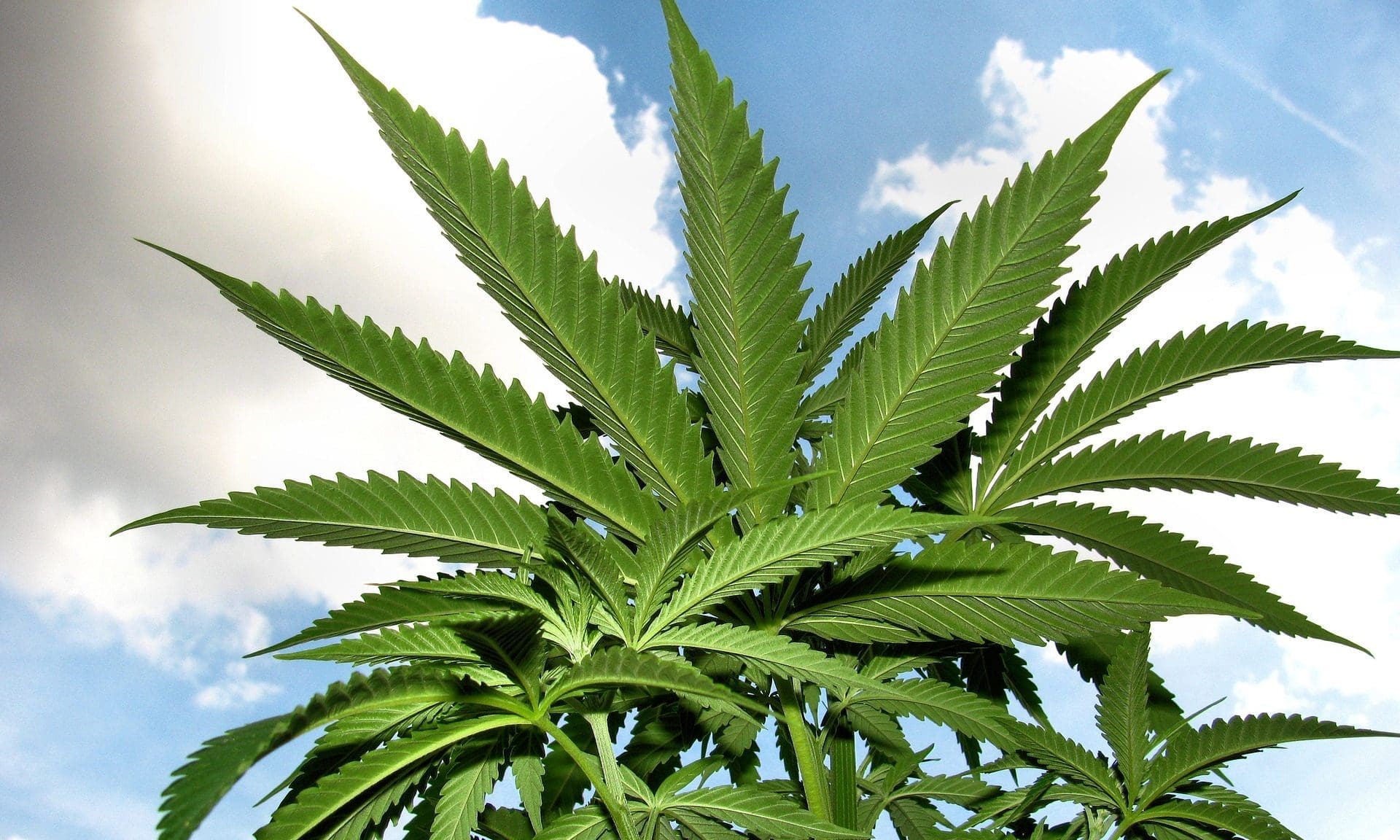 Subscribe to receive Marijuana Moment's newsletter in your inbox every weekday morning. It's the best way to make sure you know which cannabis stories are shaping the day.
MPP head steps down; Privateer layoffs; DEA OKs synthetic THC drug
TOP THINGS TO KNOW
Canada's federal government launched a public consultation process on proposed legal marijuana rules.
https://www.canada.ca/en/health-canada/programs/consultation-proposed-approach-regulation-cannabis.html
//
http://www.cbc.ca/news/politics/pot-regulations-1.4412015
And the House of Commons advanced the government's marijuana legalization bill to third reading by a vote of 201 to 97.
http://www.parl.ca/LegisInfo/BillDetails.aspx?Language=E&billId=8886269
Marijuana Policy Project founder Rob Kampia stepped down as executive director and will transition to new role focused on fundraising and strategy. Staffer Matt Schweich will serve as interim executive director while a search is conducted for a full-time replacement.
https://www.mpp.org/news/press/marijuana-policy-project-announces-leadership-changes-begins-national-search-new-executive-director/
FEDERAL
Visitor logs and calendars released by the White House Office of National Drug Control Policy show meetings and calls with active prohibitionists like Smart Approaches to Marijuana's Kevin Sabet and Drug Free America Foundation's Calvina Fay.
https://twitter.com/tomangell/status/933064210199740416
//
https://projects.propublica.org/graphics/wh-complex#ONDCP
The U.S. Drug Enforcement Administration is moving to grant Schedule II status for synthetic THC drug Syndros, which is developed by Insys Therapeutics, a company that donated significant funding to help defeat Arizona's 2016 marijuana legalization measure.
https://www.federalregister.gov/documents/2017/11/22/2017-25275/schedules-of-controlled-substances-placement-of-fda-approved-products-of-oral-solutions-containing
U.S. military forces launched airstrikes against Taliban opium processing facilities in Afghanistan.
https://www.nytimes.com/2017/11/20/world/asia/airstrikes-taliban-opium.html
Congresswoman Eleanor Holmes Norton (D-DC) is happy that a draft Senate spending bill contains no riders on Washington, D.C. policies, including one that has prevent the city from legalizing marijuana sales.
https://norton.house.gov/media-center/press-releases/norton-elated-that-republican-senate-dc-appropriations-bill-contains-no
Congressman Steve Cohen (D-TN) spoke about his support for marijuana law reform.
http://www.dailyhelmsman.com/news/congressman-cohen-comments-on-impeachment-taxes-and-marijuana/article_31c105e8-ce7b-11e7-8858-2b64f73f02fb.html
Congressman Ro Khanna (D-CA) tweeted that legalizing marijuana is a partial solution to opioid issues.
https://twitter.com/RepRoKhanna/status/933003974751543298
STATES
Massachusetts regulators plan to put together draft marijuana rules in December.
http://www.telegram.com/news/20171121/mass-marijuana-board-moving-toward-first-draft-of-regs
New Jersey Gov. Chris Christie (R) says he's "concerned" about his successor's plans to legalize marijuana, which he called "reprehensible."
https://www.youtube.com/watch?v=dCqu2SADDHA&t=46m50s
Congressman Jared Polis (D-CO), a Colorado gubernatorial candidate, is proposing to use more marijuana tax money to pay for schools.
https://www.greeleytribune.com/news/local/u-s-congressman-colorado-gubernatorial-candidate-jared-polis-visits-billie-martinez-elementary-school/
Florida medical cannabis patients and a cultivation business are suing state regulators over a delay in issuing new production and sales licenses.
http://sunshinestatenews.com/story/veteran-family-files-complaint-against-florida-department-health-over-medical-marijuana
Separately, a senator filed a bill allowing medical cannabis use in schools.
https://www.flsenate.gov/Session/Bill/2018/00986
Virginia's Joint Commission on Health Care is supporting legislation to allow doctors to recommend THC-A or CBD medical cannabis oil for any condition.
http://www.newsleader.com/story/news/2017/11/21/support-virginia-growing-medical-marijuana/846880001
//
http://jchc.virginia.gov/Decision%20Matrix%202017.pdf
In an official opinion, the Indiana attorney general's office outlined the limitations of the state's CBD medical cannabis law.
https://www.indystar.com/story/news/politics/2017/11/21/after-months-confusisattorney-general-curtis-hill-says-cbd-oil-illegal-indiana-after-months-confusio/884505001/
//
https://www.in.gov/attorneygeneral/files/Cannabidiol.pdf
The Kentucky secretary of state's medical cannabis task force held its first meeting.
http://www.wkyt.com/content/news/Task-force-to-discuss-legalization-of-medical-marijuana-in-Kentucky-459014683.html
Michigan regulators plan to release medical cannabis rules next week.
http://wkar.org/post/state-needs-little-more-time-release-official-rules-medical-marijuana-licenses
A South Dakota marijuana consultant had charges dismissed following a case concerning his work to help a Native American tribe open the nation's first cannabis resort.
https://www.usnews.com/news/best-states/south-dakota/articles/2017-11-21/tribes-marijuana-consultant-pays-fine-court-costs
A Texas medical marijuana company named a new strain and grow room after the representative who authored the state's CBD cannabis law.
https://twitter.com/tomangell/status/933097811117084674
A New Jersey senator is pushing to "slow down" the push toward legalizing marijuana.
https://patch.com/new-jersey/bloomfield/new-jersey-senator-has-worries-legal-weed-do-you-agree
LOCAL
The Detroit, Michigan City Planning Commission is asking the City Council to challenge voter-approved ballot measures that will allow medical cannabis businesses to operate in more locations.
http://www.freep.com/story/news/local/michigan/detroit/2017/11/21/detroit-marijuana-proposal/886339001/
A Los Angeles, California City Council committee approved proposed marijuana regulations.
http://www.foxla.com/news/local-news/la-city-council-approves-rules-ahead-of-legal-marijuana-date
San Francisco, California public transit authorities banned marijuana ads on buses.
http://www.sfexaminer.com/muni-bans-cannabis-ads-buses/
San Diego, California cannabis businesses are playing a role in local Board of Supervisors elections.
http://www.sandiegouniontribune.com/news/politics/sd-me-marijuana-supervisors-20171120-story.html
Police in Mart, Texas are now required to arrest people caught with small amounts of marijuana and no longer have the option to issue citations under a new zero-tolerance policy.
http://www.wacotrib.com/news/police/mart-police-end-tickets-for-misdemeanor-marijuana-possession/article_1ba1986f-1293-5ae3-942a-7dc6499e78c9.html
INTERNATIONAL
Statistics Canada will begin tracking marijuana industry data.
https://www.bloomberg.com/news/articles/2017-11-21/statistics-canada-moves-to-include-marijuana-in-gdp-accounts
The Philippine Supreme Court is hearing a case against the nation's bloody "drug war" policies.
http://sea-globe.com/philippine-unconstitutional/
A Brazilian senator is stalling consideration of an official petition to allow personal marijuana cultivation.
https://theintercept.com/2017/11/21/senador-ignora-apelos-e-mantem-relatorio-contra-plantio-de-maconha-para-uso-proprio/
ADVOCACY
Google is giving $4 million to efforts to fight back against mass incarceration.
https://twitter.com/verainstitute/status/933004563875028993
The Virginia Farm Bureau's upcoming conference will feature a panel on cannabis cultivation.
https://www.vafb.com/membership-at-work/news-resources/convention-agenda
SCIENCE & HEALTH
The Open Cannabis Project says it is building an archival record of all existing cannabis strains to ensure they remain in the public domain, unrestricted by commercialization or patenting.
https://opencannabisproject.org/
An article in JAMA Internal Medicine decries the secondhand smoke effects of large 4/20 events.
https://jamanetwork.com/journals/jamainternalmedicine/fullarticle/2663848
OPINION & ANALYSIS
The Orange County Register editorial board is cheering bipartisan work in Congress to roll back asset forfeiture and protect state marijuana laws.
http://www.ocregister.com/2017/11/21/bipartisanship-to-curb-civil-asset-forfeiture-and-marijuana-crackdowns/
BUSINESS
Privateer Holdings confirmed significant staff layoffs that I first reported last week on Twitter.
https://www.geekwire.com/2017/marijuana-investment-firm-privateer-confirms-layoffs-calls-master-p-lawsuit-nonsense
//
https://twitter.com/tomangell/status/931681914888564736
Marijuana products from Citi-Med LLC, dba Starbuds are being recalled due to pesticide contamination.
https://www.colorado.gov/pacific/sites/default/files/HSA%20Citi-Med%2011172017.pdf
CULTURE     
Rapper Nelly has been ordered not to sing about marijuana, alcohol or sex during a concert in Saudi Arabia.
https://www.washingtonpost.com/news/worldviews/wp/2017/11/21/rapper-nelly-is-to-perform-in-saudi-arabia-only-men-are-allowed-to-attend/
Rapper Cassidy was arrested for possessing marijuana and paraphernalia.
http://www.tmz.com/2017/11/21/cassidy-arrested-marijuana/
Rolling Stone looks at cannabis-consuming athletes.
http://www.rollingstone.com/culture/pictures/sports-all-star-stoners-20100720/nate-and-nick-diaz-w512027
Senate chair discusses cannabis banking bill changes (Newsletter: October 18, 2019)
Four governors hold legal marijuana summit; Sanders congratulates Canada on legalization anniversary; Studies: Cannabis is opioid alternative
Subscribe to receive Marijuana Moment's newsletter in your inbox every weekday morning. It's the best way to make sure you know which cannabis stories are shaping the day.
Your support makes Marijuana Moment possible…
By starting a $10 per month pledge on Patreon—or about 45 cents per issue of this newsletter—you can help us rely less on ads to cover our expenses, hire more journalists and bring you even more marijuana news.
https://www.patreon.com/marijuanamoment

/ TOP THINGS TO KNOW

Marijuana Moment spoke to Senate Banking Committee Chairman Mike Crapo (R-ID) about what changes he has in mind for House-passed cannabis banking legislation that he plans to advance through his panel this year.

New York Gov. Andrew Cuomo (D), Connecticut Gov. Ned Lamont (D), New Jersey Gov. Phil Murphy (D) and Pennsylvania Gov. Tom Wolf (D), along with officials from three other states, held a regional summit to coordinate marijuana legalization efforts and adopted a set of "core principles" that will shape the cannabis plans they pursue in 2020.
"There is a desire to do this. I believe the people of this state and our surrounding states have a desire to do it. But the old expression is the devil is in the details, how you do this makes all the difference."
Sen. Bernie Sanders (I-VT), a presidential candidate, congratulated Canada on the one-year anniversary of its marijuana legalization law.
"Vermont shares a border with Canada, and as far as I can tell, the sky has not fallen and the cities have not plunged into anarchy on the other side."
Two new studies examined marijuana as an opioid alternative, finding that medical cannabis laws "are associated with a lower likelihood of opioid pain reliever use" and that "a substantial number of U.S. adults reported that they substituted marijuana for opioids."

/ FEDERAL

A federal judge rejected a motion from Utah's attorney general to dismiss a lawsuit challenging the legislation lawmakers passed to replace a voter-approved medical cannabis ballot measure, and granted advocates' request to move the case back to state court.

Sen. Ted Cruz (R-TX) tweeted that presidential candidate and former Rep. Beto O'Rourke's (D-TX) advocacy for marijuana legalization makes him "the new national spokesman for Cheetos."

Rep. Jim Himes (D-CT) spoke about how three-strikes laws give people life sentences for selling marijuana.

/ STATES

New Mexico Gov. Michelle Lujan Grisham (D) tweeted, "Legalizing recreational cannabis has the potential to create more than 11,000 new jobs and generate hundreds of millions of dollars in revenue in the first year of sales alone. I look forward to working with the Legislature to get a bill to my desk next year. We're going to protect medical cannabis patients, address public safety and workplace concerns, and accelerate New Mexico's economic diversification and growth."

Pennsylvania Gov. Tom Wolf (D) tweeted about how people can get their past marijuana convictions pardoned.

The Oregon Court of Appeals issued a temporary stay against regulators ban on flavored nicotine vaping products but left in place its application to marijunaa vaping products.

Rhode Island's House speaker is attempting to distance himself from a controversy related to the license suspension of a hemp business for which personnel have close ties to his office.

Nevada regulators have been performing surprise inspections on marijuana testing labs and are putting an indefinite freeze on processing applications for sale or transfer of cannabis business licenses.

Maryland regulators sent an advisory warning consumers not to use vaping products containing THC.

The Commonwealth of the Northern Mariana Islands's Cannabis Commission is close to hiring a managing director.

Illinois regulators released an updated list of medical cannabis businesses that have been approved to conduct adult-use marijuana sales.

Florida's Financial Impact Estimating Conference is holding workshops on a proposed marijuana legalization ballot measure this month.
Michigan regulators are asking people to participate in a hemp survey.

Ohio regulators released updated medical cannabis patient and caregiver numbers.

—
Marijuana Moment is already tracking more than 1,000 cannabis bills in state legislatures and Congress this year. Patreon supporters pledging at least $25/month get access to our interactive maps, charts and hearing calendar so they don't miss any developments.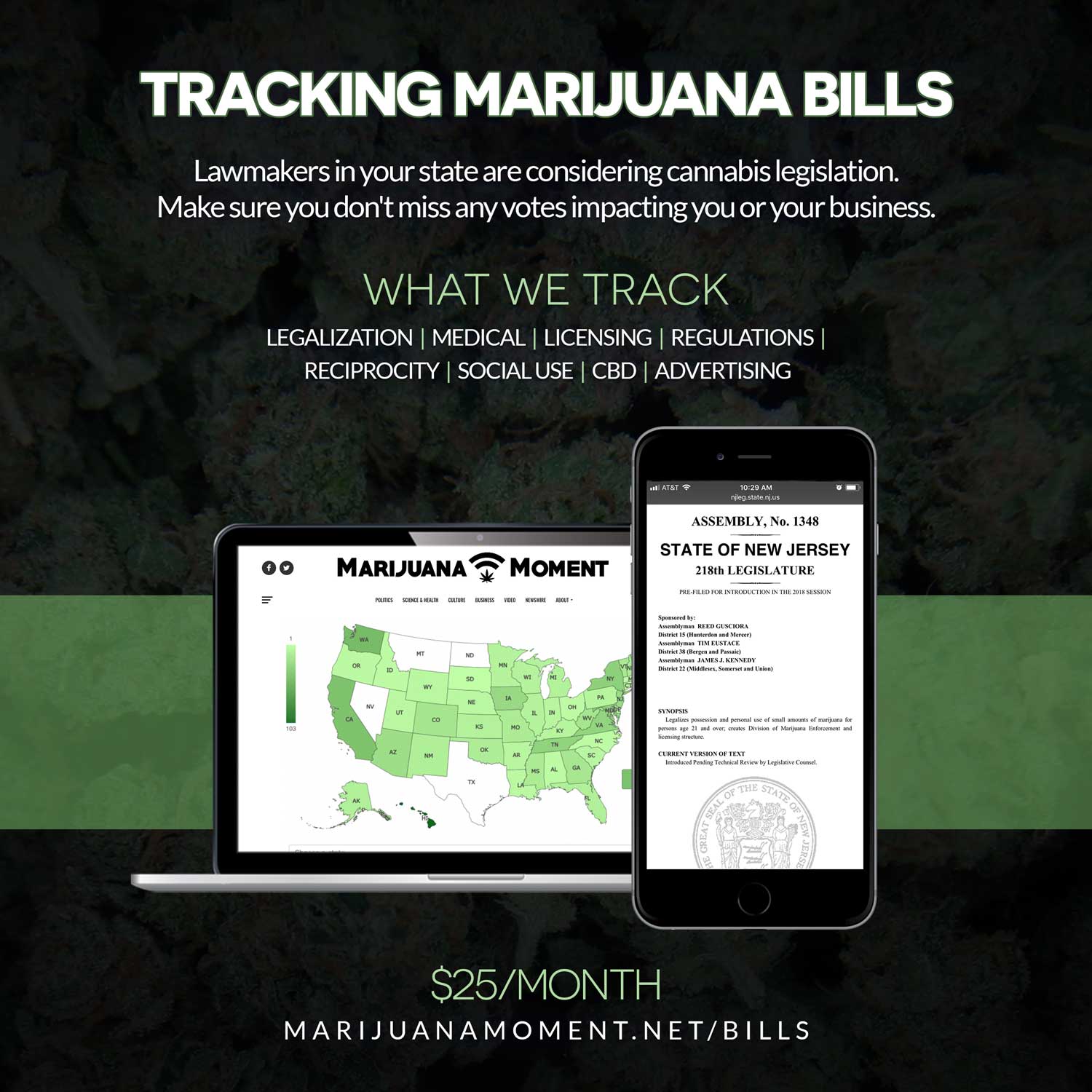 Learn more about our marijuana bill tracker and become a supporter on Patreon to get access.
—
/ LOCAL

The Leon County, Florida Commission didn't have enough votes to pass a proposed marijuana decriminalization ordinance.

The Tallahassee, Florida City Commission discussed but did not vote on a marijuana decriminalization proposal.

A Denver, Colorado effort to help people clear past marijuana records is off to a slow start.

/ INTERNATIONAL

Canadian regulations allowing marijuana edibles took effect. Separately, here's a look at activists' efforts to legalize psilocybin.

Jamaica's minister of industry, commerce, agriculture and fisheries said he wants President Trump's help in fixing marijuana industry banking issues.

A French comedian resigned from the Presidential Council of Cities, telling President Emmanuel Macron that it is necessary to "legalize Muslims in this country before legalizing marijuana."

/ ADVOCACY, OPINION & ANALYSIS

A poll of U.S. voters found that 65% want Congress to direct the Food and Drug Administration (FDA) to quickly set safety standards for CBD products and 70% believe FDA should already have done so.

A poll found that Maryland residents support legalizing marijuana, 66%-31%.

The Marijuana Policy Project appointed Revolution Global CEO Mark de Souza to its board of directors. It also put Akerna on its Policy Council.

/ BUSINESS

Nova Farms had its licenses restored by Massachusetts regulators following an initial suspension after they determined threats to public health, safety and welfare had been mitigated.

/ CULTURE

Actress Susan Sarandon tweeted, "Despite widespread legalization, countless individuals remain incarcerated in the US & worldwide for cannabis offenses. @lastprisonerprj is a non-profit dedicated to restorative justice through clemency, expungement & reentry work. Support & learn more: http://lastprisonerproject.org?
Make sure to subscribe to get Marijuana Moment's daily dispatch in your inbox.
NM gov gets legal cannabis recommendations from working group (Newsletter: October 17, 2019)
CDC official pushes back on anti-marijuana congressman; Canadian election & drug policy; Snoop Dogg employs full-time blunt roller
Subscribe to receive Marijuana Moment's newsletter in your inbox every weekday morning. It's the best way to make sure you know which cannabis stories are shaping the day.
Your support makes Marijuana Moment possible…
By starting a $10 per month pledge on Patreon—or about 45 cents per issue of this newsletter—you can help us rely less on ads to cover our expenses, hire more journalists and bring you even more marijuana news.
https://www.patreon.com/marijuanamoment

/ TOP THINGS TO KNOW

New Mexico Gov. Michelle Lujan Grisham's (D) marijuana legalization working group released recommendations for a bill to pass in January's 30-day session. Among other provisions, the proposal includes expungements, micro business licenses and a ban or limits on home cultivation.

At a House hearing, Rep. Andy Harris (R-MD) asked several lines of leading questions seemingly intended to get witnesses to blame vaping-related lung injuries on marijuana legalization, but a top Centers for Disease Control and Prevention official didn't play along.
"Let me clarify, for the lung injury outbreak, while the vast majority report using THC-containing pre-filled cartridges, they report getting them from informal sources or off the street, not necessarily from licensed dispensaries."
Marijuana Moment latest analysis takes a look at where Canadian political parties and leaders stand on cannabis and broader drug decriminalization as voters prepare to go to the polls on Monday to potentially elect a new majority government and prime minister.

Snoop Dogg spoke to Howard Stern about the full-time marijuana blunt roller he employs for $40,000-50,000 a year. Seth Rogen says he has seen the man in action—"it's fucking fascinating"—and thinks "it might be worth my while financially to hire someone to do that" as well.

/ FEDERAL

The Food and Drug Administration is warning pregnant and breastfeeding women about using CBD products.

The Drug Enforcement Administration used clues in media reports about Denver's psilocybin decriminalization policy to identify and arrest an alleged dealer.

NASA paid for a $5 million SpaceX workplace safety review after CEO Elon Musk smoked marijuana during a podcast appearance.

The House of Representatives approved a bill to make technical corrections to legislation dealing with the White House Office of National Drug Control Policy.

Sen. Jacky Rosen (D-NV) tweeted, "We must remove the federal restrictions that are hurting our legal marijuana industry in banking, research, and more."

Rep. Matt Gaetz (R-FL) tweeted, "It is a rough day when the leading Republican supporter of #Marijuana reform gets thrown into a mean, sexually graphic, ageist, anti-gay tweet by…Tommy Chong…"

The Senate bill to remove barriers to marijuana and CBD research got one new cosponsor for a total of 11.

The House bill to shield military veterans from losing benefits over marijuana use got one new cosponsor for a total of seven.

/ STATES

Kentucky Gov. Matt Bevin (R) and Democratic challenger Andy Besheaer debated taxing medical cannabis.

Former Pennsylvania Gov. Ed Rendell (D) co-authored an op-ed about a safe consumption site for illegal drugs that he and colleagues are working to open in Philadelphia.

Washington State regulators adopted emergency rules banning flavored vaping products, requiring marijuana licenses to disclose all compounds in concentrates for inhalation and mandating the posting of consumer warnings.

The Florida Supreme Court accepted a case challenging the state's medical cannabis vertical integration requirements. Separately, the House Health Quality Subcommittee heard presentations on marijuana issues.

Rhode Island regulators suspended the license of a hemp company with close ties to the House speaker.

A former Oklahoma health department lawyer pleaded guilty to sending herself fake threat emails about medical cannabis regulations.

Oregon regulators will consider marijuana violation stipulated settlement agreements on Thursday.

Alaska regulators will consider marijuana establishment applications on Tuesday.

California's Cannabis Advisory Committee will hold meetings in San Francisco next week.

—
Marijuana Moment is already tracking more than 1,000 cannabis bills in state legislatures and Congress this year. Patreon supporters pledging at least $25/month get access to our interactive maps, charts and hearing calendar so they don't miss any developments.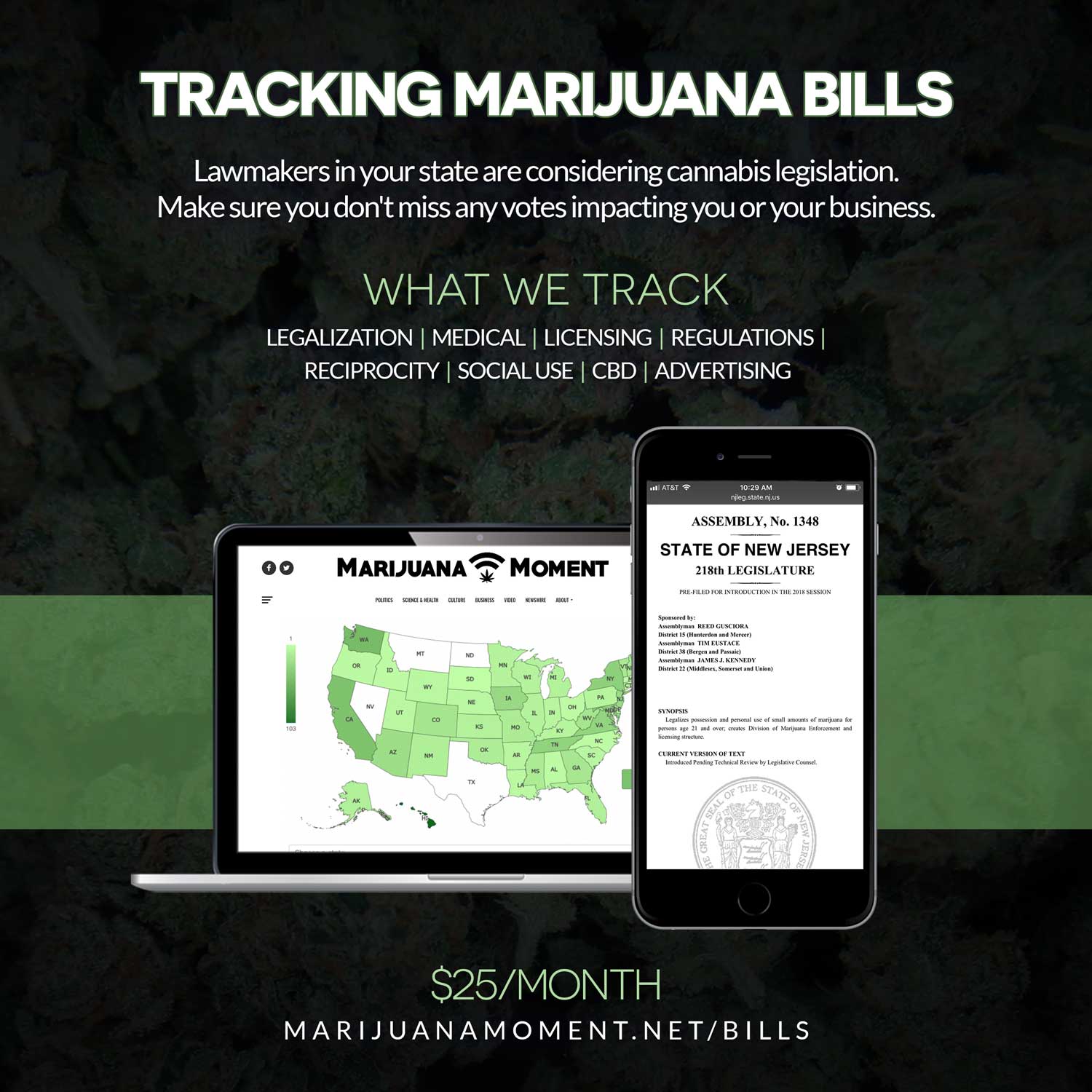 Learn more about our marijuana bill tracker and become a supporter on Patreon to get access.
—
/ LOCAL

The Chicago, Illinois City Council approved marijuana business zoning rules, though the Black Caucus raised concerns about the lack of cannabis business ownership by people of color and had floated a potential delay in legal sales from January until July.

The Clear Creek County, Colorado School District adopted a policy allowing school personnel to administer medical cannabis to students.

/ INTERNATIONAL

A United Nations Office on Drugs and Crime official said that "need to clearly stand together behind the decriminalisation of personal use" of drugs.

Israeli Prime Minister Benjamin Netanyahu formally requested Russian President Vladimir Putin pardon an Israeli-American woman sentenced to 7 1/2 years in prison after being convicted of smuggling marijuana into the country.

French regulators created a committee to formulate rules for a two-year medical cannabis trial.

The mayor of Porto, Portugal wants to recriminalize drugs.

The Associated Press takes a look at Canada's marijuana legalization law on the one-year anniversary of its enactment.

/ SCIENCE & HEALTH

A study suggested that "atypical cannabinoids, like O-1602 and abnormal cannabidiol, exert antitumorigenic effects on paclitaxel-resistant breast cancer cells" and that "due to their lack of central sedation and psychoactive effects, these atypical cannabinoids could represent new leads for the development of additional anticancer treatments when resistance to conventional chemotherapy occurs during the treatment of breast and possibly other cancers."

A survey concluded that "Connecticut licensed pharmacists had lack of complete and accurate knowledge regarding the state's" medical cannabis program.

/ ADVOCACY, OPINION & ANALYSIS

Prohibitionist organization Smart Approaches to Marijuana is building up its presence on Capitol Hill, including by bringing on a former chief of staff to Sens. Patrick Leahy (D-VT) and Mark Warner (D-VA).

/ BUSINESS

Weedmaps laid off a quarter of its workforce.

Two associates of President Trump's lawyer Rudolph Giuliani who were indicted last week for allegedly attempting to use foreign money to win marijuana business licenses in Nevada also reportedly tried to pursue medical cannabis approvals in Florida.

Canopy Growth Corp. won the first license to import medicinal cannabis in bulk into the UK.

Cresco Labs announced that it has received approval to sell recreational marijuana at all five of its existing Illinois medical cannabis dispensaries.

Business Insider looks at how Wall Street banks are starting to engage around the edges of the marijuana industry.

/ CULTURE

Rebelution's Eric Rachmany is donating 100% of his solo tour's proceeds to The Last Prisoner Project, which focuses on release and reentry for people incarcerated on marijuana charges.

Duane "Dog The Bounty Hunter" Chapman spoke about his wife's decision to end chemotherapy and start using cannabis shortly before she died of cancer.
Make sure to subscribe to get Marijuana Moment's daily dispatch in your inbox.
Presidential candidates debate decriminalizing opioids (Newsletter: October 16, 2019)
Pennsylvania lawmakers file marijuana legalization bill; Study: medical cannabis reduces benzo use; Cops ask man to stop calling 911 over stolen weed
Subscribe to receive Marijuana Moment's newsletter in your inbox every weekday morning. It's the best way to make sure you know which cannabis stories are shaping the day.
Your support makes Marijuana Moment possible…
This issue of Marijuana Moment, and our original reporting that is featured in it, are made possible by the generous support of 448 Patreon sponsors. Cannabis industry professionals receive valuable rewards for pledges of $25 and up.

Check out the perks of being a sponsor on our Patreon page.
https://www.patreon.com/marijuanamoment

/ TOP THINGS TO KNOW

The issue of decriminalizing drugs beyond marijuana was seriously discussed on a presidential debate stage for the first time as Democratic candidates weighed in on whether removing criminal penalties is part of the solution to the opioid crisis.

Pennsylvania senators filed a comprehensive marijuana legalization bill that includes home cultivation, delivery services, social use areas, expungements, equity-focused loans and limits on big businesses.

Illinois lawmakers could make tweaks to the state's marijuana legalization law in a veto session this month, including fixing "unintended consequences" of a ban on smoking for medical cannabis patients under 21.

A study found that 45% of patients completely stopped taking benzodiazepines after they started using medical cannabis.
"Patients also reported decreased daily distress due to their medical condition(s)."
A Florida man wouldn't stop calling 911 to report his marijuana being stolen this past weekend, so a sheriff's deputy had to intervene.
"A guy is calling in saying his roommate stole his weed, $20 worth, and he's upset."
/ FEDERAL

A U.S. Army report suggests that there was a roughly 18% increase between 2017 and 2018 in positive drug tests for THC at nine bases in or near states where marijuana is legal.

Sen. Cory Booker (D-NJ), a presidential candidate, spoke about how there are still hundreds of thousands of marijuana arrests in the U.S. every year at a time when states are legalizing it.

Sen. Kamala Harris (D-CA), a presidential candidate, tweeted, "As the legal marijuana industry grows, it's vital that people of color— who were disproportionately targeted by the failed War on Drugs— are the first in line to enter the industry. My Marijuana Opportunity Act would help do just that."

Montana Gov. Steve Bullock (D), a presidential candidate, said the federal government "needs to get out of the way" of state marijuana laws.

Rep. Karen Bass (D-CA) tweeted, "It's time to fully address policies formed during the War on Drugs. We must do better."

Rep. Joe Courtney (D-CT) tweeted, "The bipartisan #SAFEBanking Act, passed out of the House earlier this year, corrects unfair & outdated federal regulations that penalize financial institutions from working with #hemp farmers & legal #cannabis businesses. It's time for the Senate to vote."

/ STATES

Kentucky attorney general candidates debated medical cannabis and marijuana decriminalization.

The Florida Health & Human Services Committee heard a marijuana legalization presentation from a former White House Office of National Drug Control Policy official.

The Indiana legislature's Interim Study Committee on Fiscal Policy discussed taxation of CBD oil and vaping products.

Puerto Rico lawmakers held a hearing on medical cannabis research.

Colorado regulators held a public hearing on proposed rules to ban certain additives in marijuana vaping products.

Massachusetts regulators published a frequently asked questions document about the sale of hemp-derived products.

New Mexico regulators will hold public meetings on proposed hemp rules this month and next month.

Here's a look at Oklahoma medical cannabis tax revenue, county-by-county.

—
Marijuana Moment is already tracking more than 1,000 cannabis bills in state legislatures and Congress this year. Patreon supporters pledging at least $25/month get access to our interactive maps, charts and hearing calendar so they don't miss any developments.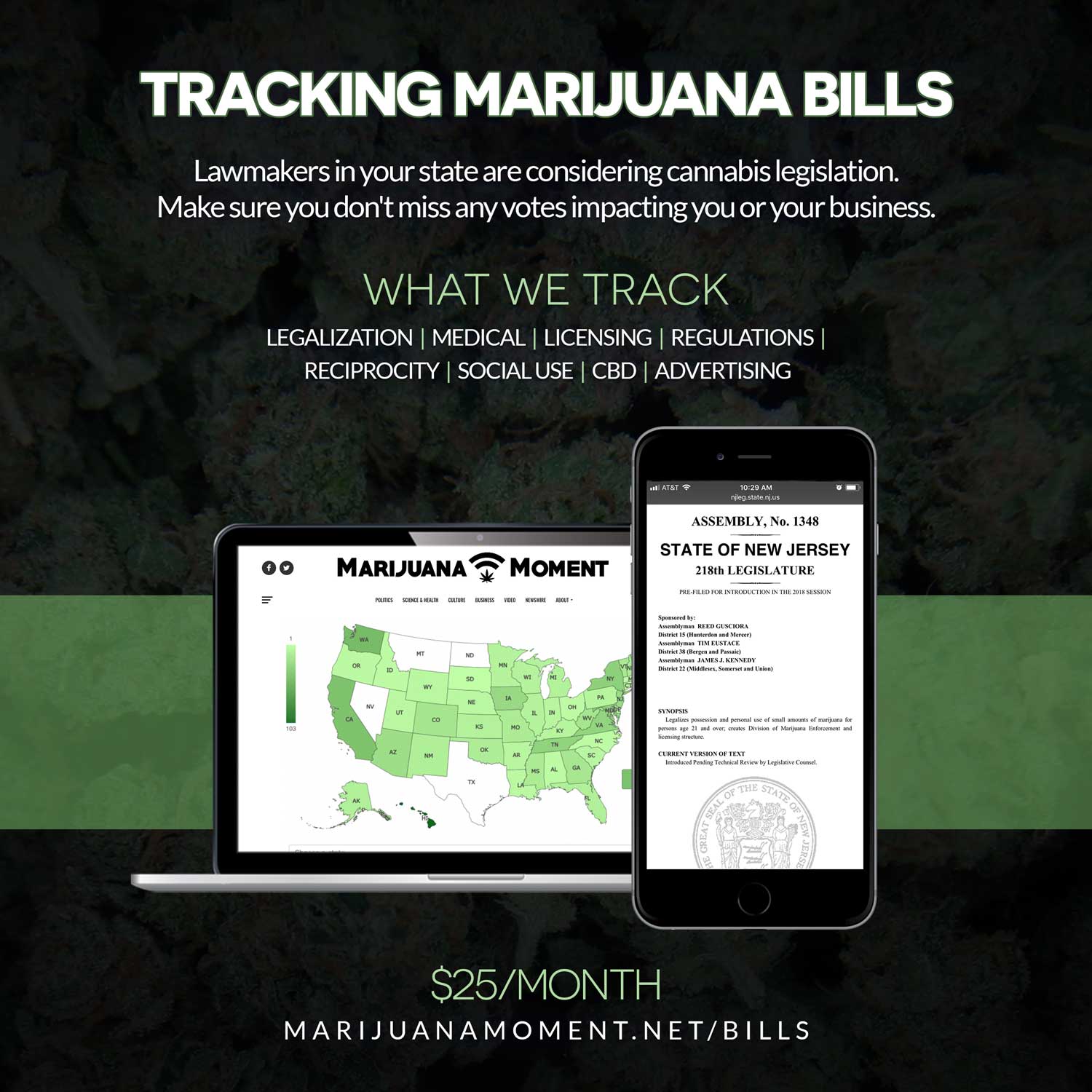 Learn more about our marijuana bill tracker and become a supporter on Patreon to get access.
—
/ LOCAL

Chicago, Illinois's mayor scaled back a plan to largely block marijuana dispensaries from the city's downtown area.

Sacramento. California's mayor directed the city auditor to investigate the marijuana permitting process.

/ INTERNATIONAL

The Senate leader of Mexico's ruling party said lawmakers will vote on a marijuana legalization bill this week or next week.

Australia's attorney general warned that a local marijuana legalization move doesn't change federal criminal law.

Brazilian regulators delayed a vote on a proposal to regulate medical cannabis production.

/ SCIENCE & HEALTH

An article in the journal Addiction argues that for the development of a "Standard THC Unit" that would be "fixed at 5 milligrams of THC for all cannabis products and methods of administration."

The New York Times looks at how a common drug testing method can mistake CBD for THC.

/ ADVOCACY, OPINION & ANALYSIS

A poll found that Australians opposed legalizing marijuana, 49%-42%.

The Las Vegas Review-Journal editorial board doesn't seem impressed with Nevada Gov. Steve Sisolak's (D) move to create a task force to investigate marijuana industry corruption.

The Cannabis Voter Project is piloting a program where marijuana dispensaries offer discounts to customers who sign up to receive legislative updates.

Here's a look at Rhode Island marijuana industry lobbying spending.

/ BUSINESS

Aphria Inc. reported quarterly net revenue of $126.1 million

Eaze announced a partnership with Recreational Embassy and the Fairmont Miramar Hotel & Bungalows Santa Monica to offer in-hotel marijuana access.

Flowhub raised $23 million in Series A funding.

/ CULTURE

The New England Patriots are partnering with former player Rob Gronkowski's CBD company Abacus Health Products.

Jennifer Lopez's makeup artist credited her youthful looks to cannabis-infused eye cream.
Make sure to subscribe to get Marijuana Moment's daily dispatch in your inbox.
Photo courtesy of Chris Wallis // Side Pocket Images.