Broad City's Stars And NY Gov Candidate Cynthia Nixon Are Giving Away A Bong
Marijuana is already a hot issue in the race for New York's Democratic gubernatorial nomination, and things just got a little more interesting.
Incumbent Gov. Andrew Cuomo, until recently, called marijuana a "gateway drug" and vigorously opposed its legalization. More recently, however, in light of a challenge from anti-prohibition actress Cynthia Nixon, he's shifted his tune, ordering an official state study that is expected to endorse legalizing cannabis. And the state Democratic Party, apparently with Cuomo's blessing, also officially came out in support of ending prohibition.
Perhaps sensing that the governor is succeeding in taking away what was once a primary point of distinction between the two candidates—although he hasn't yet said he personally supports legalization—Nixon feels the need to shake things up a bit.
So, her campaign is raffling off a bong signed by Abbi Jacobson and Ilana Glazer from the stoner comedy series Broad City.
"Yes, we know, a bong," Nixon's campaign website says. "This may not be the most serious contest, but this is a serious issue. 80% of New Yorkers arrested for marijuana are black or Latino, even though they use it at roughly the same rates as whites. It's time for NY to join 8 other states and DC and legalize the recreational use of marijuana."
Here's a sentence I never thought I'd be typing: You could win a bong signed by @BroadCity's @abbijacobson and @ilazer! This may not be a serious contest, but legalizing weed is no joke. So enter now: https://t.co/ClfBSzSj9u

— Cynthia Nixon (@CynthiaNixon) July 8, 2018
"80% of New Yorkers arrested for cannabis are black or latinx, while people who look like @abbijacobson, @ilazer, and I essentially get a pass," the candidate said in a tweet, tagging the two fellow actresses. "We have to stop putting people of color in jail for something that white people do with impunity."
Join the ladies of @broadcity and support my plan to legalize cannabis and end the criminalization of people of color in NY. Enter now for a chance to win a bong signed by Abbi & Ilana: https://t.co/ClfBSzSj9u

— Cynthia Nixon (@CynthiaNixon) July 8, 2018
A Quinnipiac poll released in May found that 63 percent of New York voters—and 71 percent of Democrats—support legalizing marijuana.
Cuomo Encourages Banks To Work With Medical Marijuana And Hemp Businesses
Feds Warn About Marijuana Use And Driving On 'Danksgiving'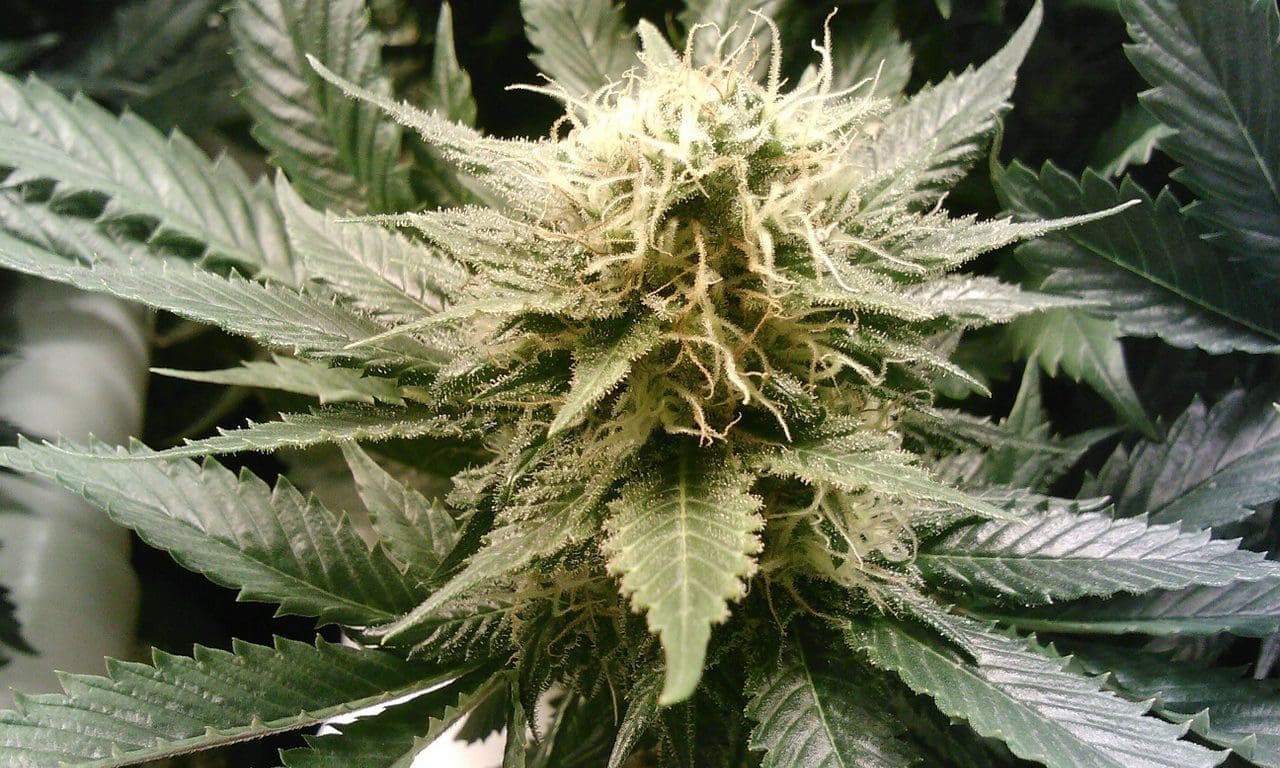 In the latest sign of the rise of cannabis into popular culture, a federal agency is spreading the word about "Danksgiving," cautioning people who use marijuana on Thanksgiving against driving.
Danksgiving can mean simply consuming cannabis to stimulate appetite to plow through some of grandma's homemade stuffing or, for more advanced enthusiasts, it can mean actually making a cannabinoid-infused spread for the holiday.
It's a relatively new trend, based on Google search interest. Starting in 2006, searches for "Danksgiving" have spiked each year around the holiday, and its popularity has continued to grow.
In any case, the National Highway Traffic Safety Administration (NHTSA) is imploring anyone who does partake to plan ahead, designate a sober driver or use public transportation or ride-sharing services to get home safely.
The same goes for people who drink alcohol on Thanksgiving. NHTSA said that substance abuse during the holiday "has become something of a cultural phenomenon."
"It has been promoted on social media as 'Blackout Wednesday,' 'Drinksgiving,' or Thanksgiving Eve;' 'Danksgiving' also occurs during the Thanksgiving weekend but is related to marijuana use," the agency said in an advisory.
"To counteract this trend, NHTSA and its partners will be running a social media blitz for Thanksgiving," which will include sharing posts on their accounts with hashtags like "#DitchDanksgiving" and "#BoycottBlackoutWednesday."
Ditching Danksgiving altogether might not resonate with all consumers, but the underlying message is one that many cannabis advocates and opponents alike can get behind: Don't drive stoned.
The Feds Are Hiring Professional Marijuana Joint Rollers…Kind Of
Al Sharpton Jokes About Reaction To Elizabeth Warren's Marijuana Bill
At a conference focusing on legislation in the next Congress on Tuesday, civil rights activist Rev. Al Sharpton joked about the particular attention some attendees paid to a marijuana bill sponsored by Sen. Elizabeth Warren (D-MA).
Warren described the bipartisan legislation—which would let states implement legal cannabis systems free from federal interference—as part of her talk about criminal justice reforms she hopes to enact. Marijuana prohibition disproportionately impacts black Americans, she pointed out, and this bill would represent "a step toward making a real difference."
"We cannot give up on this."
When Sharpton, who founded the conference's hosting organization, National Action Network, came back to the podium to introduce the next lawmaker, he quipped:
"I know for all of you old weed smokers, y'all like that marijuana bill. I'm not calling no names, but I saw some of y'all kind of nodding off and your heads snapped up when she started talking about—when she got into that weed thing, some of y'all woke up."
Sharpton has made repeated calls for federal cannabis reform, characterizing decriminalization as a "civil rights cause" in a 2017 op-ed for The Guardian.
He's also challenged the marijuana industry to do more to create business opportunities for people of color and get behind civil rights movements more broadly.
Sen. Dianne Feinstein Signs Onto Marijuana Bill After Decades Of Drug War Advocacy
Photo courtesy of C-SPAN.
'Walking Dead' Actor Raises Money For Kids Who Use Medical Marijuana
Norman Reedus, who plays zombie-slaying Daryl Dixon on AMC's The Walking Dead, is once again raising money to help kids suffering from serious illnesses get medical marijuana treatment.
Yes, again. It seems he loves helping kids as much as he loves taking out walkers on TV.
— norman reedus (@wwwbigbaldhead) November 9, 2018
Right now, for every $5 you donate to SavingSophie.org, you're entered to win some Reedus-signed memorabilia from the organization. Saving Sophie is a non-profit set up by the parents of Sophie Ryan, who was diagnosed with a low-grade, optic pathway glioma brain tumor when she was eight years old.
After creating a Facebook page around their child's situation, a friend introduced them to Ricki Lake and filmmaker Abby Epstein, who were in production on their recently released documentary "Weed The People." With this new connection and information, the parents decided to use a combination of chemo and cannabis oil to treat Sophie's condition. Sophie's brain tumor has since shrunk by up to 90 percent, according to their website.
Through the donations to the non-profit, Sophie's parents "hope to pay it forward to those who are now in the same financial troubles we once found ourselves in."
Contributions will help fund the group's cancer research initiative, which currently consists of eight patients who are using "cannabinoid therapy alongside doctor-prescribed treatments," according to an email blast.
"Our goal with this research is to bring non-toxic cancer treatments through human trials so that doctors will have access to this life-saving medicine for patients in need."
This isn't the first time Reedus has helped raise funds for pediatric patients using cannabis.
In January 2017, he tweeted a call for donations to CannaKids.org for a raffle featuring some of his autographed gear and more.
$5 per entry and all proceeds go to help CannaKids' pediatric cancer patients. https://t.co/YGvN8pxhnR DO A GOOD THING. XXX

— norman reedus (@wwwbigbaldhead) January 3, 2017
It's clear the Boondock Saints star and heartthrob of early 2000's Hot Topic shoppers has a caring heart for children seeking to use cannabis as a cancer treatment.
'Godfather' Director Francis Ford Coppola Launches Luxury Marijuana Brand
Photo courtesy of Heather Paul.