Attorney General Pressed To Enact Marijuana Non-Enforcement Policy For D.C.
A coalition of local, state and national advocacy organizations is asking the U.S. attorney general to formally adopt a policy of non-enforcement to allow Washington, D.C. to legalize marijuana sales even in light of an ongoing ban enacted by Congress.
In a letter sent to Attorney General Merrick Garland on Monday, activists said they want DOJ to take an approach to D.C. that is "functionally equivalent to the non-enforcement approach it has traditionally taken with respect to the states that have reformed their laws allowing for the taxation and regulation of the adult use of cannabis."
While federal law still prohibits marijuana, the Justice Department during the last several presidential administrations has generally taken a hands-off approach to state cannabis programs. But the District faces additional restrictions under a congressional spending bill rider that prevents the local government from using its local tax dollars to implement a system of regulated marijuana commerce.
The letter, led by the Drug Policy Alliance (DPA) and signed by 74 other organizations, says that the rider and the related Anti-Deficiency Act mandating budget compliance means D.C. "is only jurisdiction in the country that cannot regulate marijuana sales or fruitfully tap into the public health and safety benefits of proper regulation."
D.C. legalized marijuana possession, cultivation and gifting for adult use through a ballot initiative in 2014, but there's currently no regulated commercial market.
In light of President Joe Biden's recent mass marijuana pardon and directive for an administrative review into the federal scheduling of cannabis, the groups said they "desperately urge" DOJ to adopt a policy of non-interference in the District.
During the Obama administration, DOJ issued guidance to federal prosecutors, known as the "Cole memo," that generally recommended discretion and provided a level of protections for state cannabis programs, but that was rescinded by then-Attorney General Jeff Sessions and has yet to be reinstated. As such, there's no active policy parallel for what the activists are asking to be extended to D.C., even though federal officials have in practice continued to refrain from cracking down on state-legal marijuana businesses.
"Allowing D.C. to regulate cannabis would alleviate public health and safety concerns due to the unregulated marijuana market in D.C., promote economic development in D.C., as well as demonstrate this administration's support for D.C.'s right to home rule," the letter to Garland and Deputy Attorney General Lisa Monaco says.
"We recognize that not everyone in Congress supports D.C.'s right to become a State, which would ensure the rights and liberties of its diverse, voting, tax paying, military serving residents. Nevertheless, we collectively call on the Department of Justice to at least commit to a non-enforcement approach for D.C. that includes the non-enforcement of the 'Harris' rider and the Anti-Deficiency Act with respect to the rider, and permit D.C. to spend its local dollars on priorities such as regulating marijuana in the same way that 19 other States have already done."
The rider, nicknamed after its sponsor Rep. Andy Harris (R-MD), could potentially be removed legislatively as part of the 2023 Fiscal Year budget.
The House passed a relevant spending bill in July that excludes the D.C. marijuana prohibition language. In the Senate, the Democratic Appropriations Committee chairman proposed legislation that also omits the rider. But those bills haven't been enacted into law and the government has continued to operate on a temporary extension of prior appropriations law, known as a "continuing resolution" as lawmakers have been unable to reach a bipartisan agreement on full Fiscal Year 2023 legislation.
"The injustice imposed on D.C. by this rider has created an untenable situation with the unregulated cannabis marketplace," the groups wrote in the new letter. "Without the ability to regulate marijuana sales, the grey market for marijuana flourishes despite the need and want of the full D.C. Council, the D.C. Mayor, the D.C. Attorney General, and residents alike to establish a regulatory system grounded in safety, equity, and justice."
Biden has faced consistent criticism from reform advocates over his last two budget proposals that have included the rider, despite the fact that he's voiced support for D.C. statehood and for letting states set their own marijuana policies without federal interference.
"The status quo is preventing D.C. from being able to implement consumer health and safety measures, which has serious consequences to D.C. residents," the letter says, adding that the District is also missing out on the economic benefits that come with legalization.
"An explicit commitment to a non-enforcement policy for D.C. would give D.C. lawmakers the ability to spend local funds to regulate the marijuana marketplace, which would help D.C. improve public health and safety for all D.C. residents," it continues. "Additionally, an explicit, non-enforcement policy for D.C. would allow legitimate entrepreneurs to start businesses, create jobs and spur economic development in D.C."
"With the impacts of compounded global public health emergencies, it is now more critical than ever that D.C. be able to tax and regulate its marijuana market, as the majority of its voters intended. The economic opportunities within a regulated marijuana market are enormous, and the millions in revenue that could be funneled back into local D.C. communities is currently being ceded to unregulated and untaxed enterprises."
Beside DPA, signatories include American Civil Liberties Union (ACLU), Better Organizing to Win Legalization (BOWL), DC Marijuana Justice (DCMJ), Doctors for Cannabis Regulation, Dr. Bronner's, Global Alliance for Cannabis Commerce (GACC), The i-71 Committee, JustLeadershipUSA, Law Enforcement Action Partnership (LEAP), Leadership Conference on Civil and Human Rights, National Cannabis Industry Association (NCIA), NORML, Parabola Center for Law and Policy, The Sentencing Project, Students for Sensible Drug Policy (SSDP), United Food and Commercial Workers International Union (UFCW), Veterans Cannabis Coalition and dozens more.
"For nearly a decade, Congress has uniquely robbed the District of Columbia of the opportunity to actualize the public health, safety, and economic benefits of a legal marketplace for adult use cannabis—despite continual advancements made on marijuana reform at the federal level and across the country," Queen Adesuyi, senior national policy manager at DPA, told Marijuana Moment.
"The Department of Justice has the power to extend protections to D.C. that are equivalent to the approach taken with every other state that has reformed its marijuana laws," she said. "We are calling on Attorney General Garland and Deputy Attorney General Monaco to urgently bring this federal interference and injustice to an end with the adoption of an explicit non-enforcement policy for D.C."
Local D.C. lawmakers separately sent letters to House and Senate Appropriations Committees leadership in September, imploring them to remove the rider preventing local cannabis sales as part of Fiscal Year 2023 spending legislation.
As Congress decides the fate of the rider, the D.C. Council has separately enacted what is effectively a workaround to the federal blockade, passing a bill in late June that allows people to self-certify themselves as patients under the District's existing medical cannabis program, through with they can access dispensaries—without needing to get a recommendation from a doctor.
Medical marijuana patient registrations have surged since the policy was enacted, and that trend is expected to continue, especially since Mayor Muriel Bowser (D) signed another bill last month that allows non-residents to self-certify as well.
But advocates are still hoping for a more reliable solution that comes from the top down.
To that end, the groups in the new letter reiterated their request that DOJ "follow the spirit of the Home Rule Act and respect D.C.'s right to self-determination."
"Support for marijuana legalization is at an all-time high across the nation," they said. "We urge the Department of Justice to assist in eliminating federal interference in our collective efforts to establish a legal marketplace for adult use and explicitly allow D.C. to implement marijuana regulation and policies that promote economic development, health, and safety for D.C.'s nearly 700,000 residents."
After Biden issued a proclamation pardoning those who've committed federal marijuana possession offenses, as well as people who've violated the law in D.C., U.S. Rep. Eleanor Holmes Norton (D-DC) called on the president to go further by federally legalizing cannabis and letting the District establish a commercial cannabis market and grant clemency on its own.
A poll released in September found that D.C. voters strongly support marijuana legalization and oppose a crackdown on the cannabis "gifting" market that's emerged in the absence of regulated sales.
Meanwhile, the emergency legislation that allows adult residents 21 and older to self-certify would be permanently codified under a bill that cleared the D.C. Council Judiciary & Public Safety Committee last month.
—
Marijuana Moment is tracking more than 1,500 cannabis, psychedelics and drug policy bills in state legislatures and Congress this year. Patreon supporters pledging at least $25/month get access to our interactive maps, charts and hearing calendar so they don't miss any developments.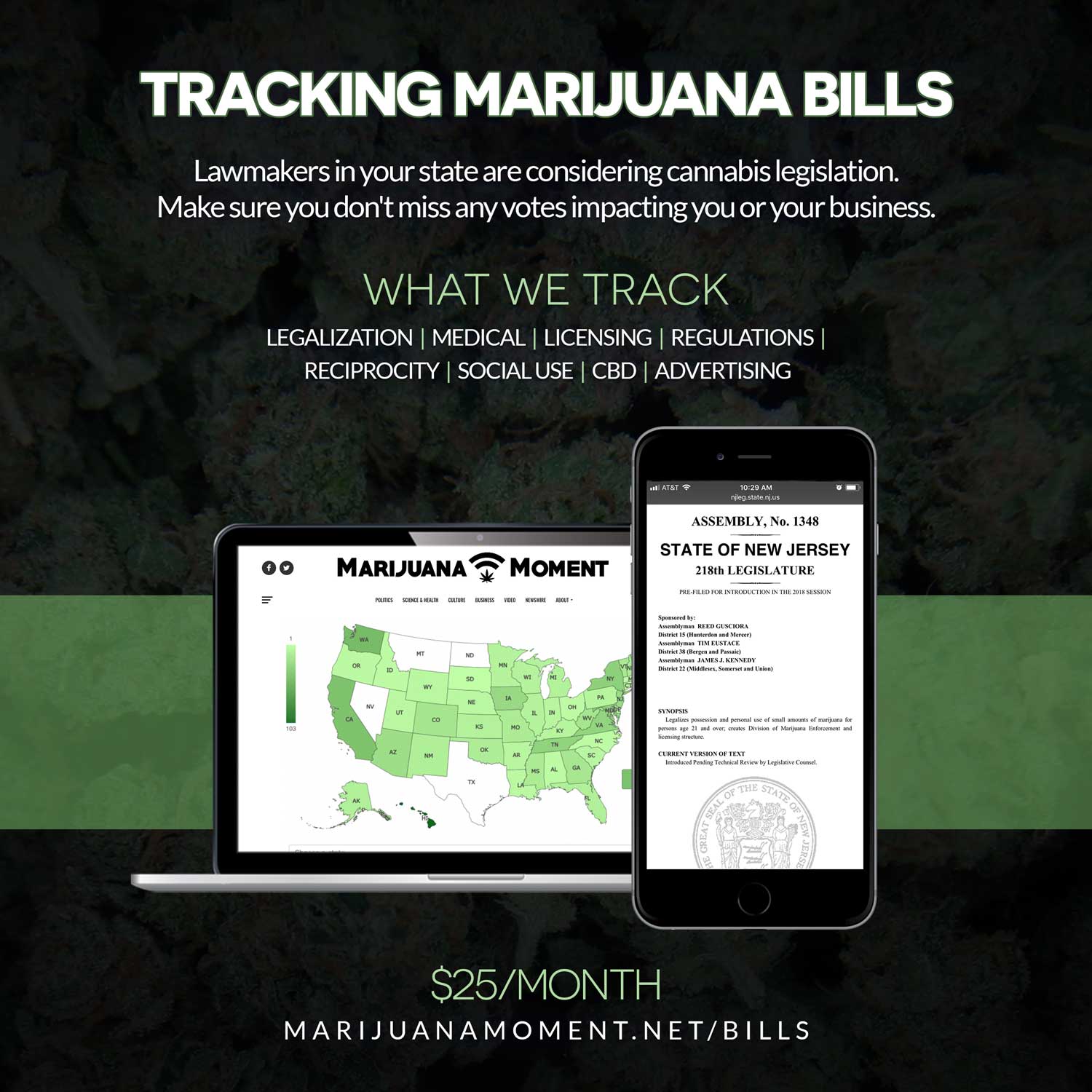 Learn more about our marijuana bill tracker and become a supporter on Patreon to get access.
—
The policy represents a significant expansion of another piece of legislation enacted into law this year that allows people 65 and older to self-certify for medical cannabis without a doctor's recommendation.
Separately, the mayor signed a bill in July that bans most workplaces from firing or otherwise punishing employees for marijuana use.
The reform is designed to build upon on a previous measure lawmakers approved to protect local government employees against workplace discrimination due to their use of medical cannabis.
While not directly related to the policy change, a D.C. administrative court recently reversed the termination of a government employee and medical cannabis patient who was fired after being suspected of intoxication on the job and subsequently tested positive for marijuana in late 2020. It also ordered the Office of Unified Communications (OUC) to reimburse the worker for all back pay and benefits.
Read the letter requesting federal non-enforcement for D.C. marijuana policy below: 
Local Illinois Lawmaker Pushes For Psychedelics Decriminalization With New Bill