Applying The Lessons Of Legal Cannabis To Psychedelics Decriminalization (Op-Ed)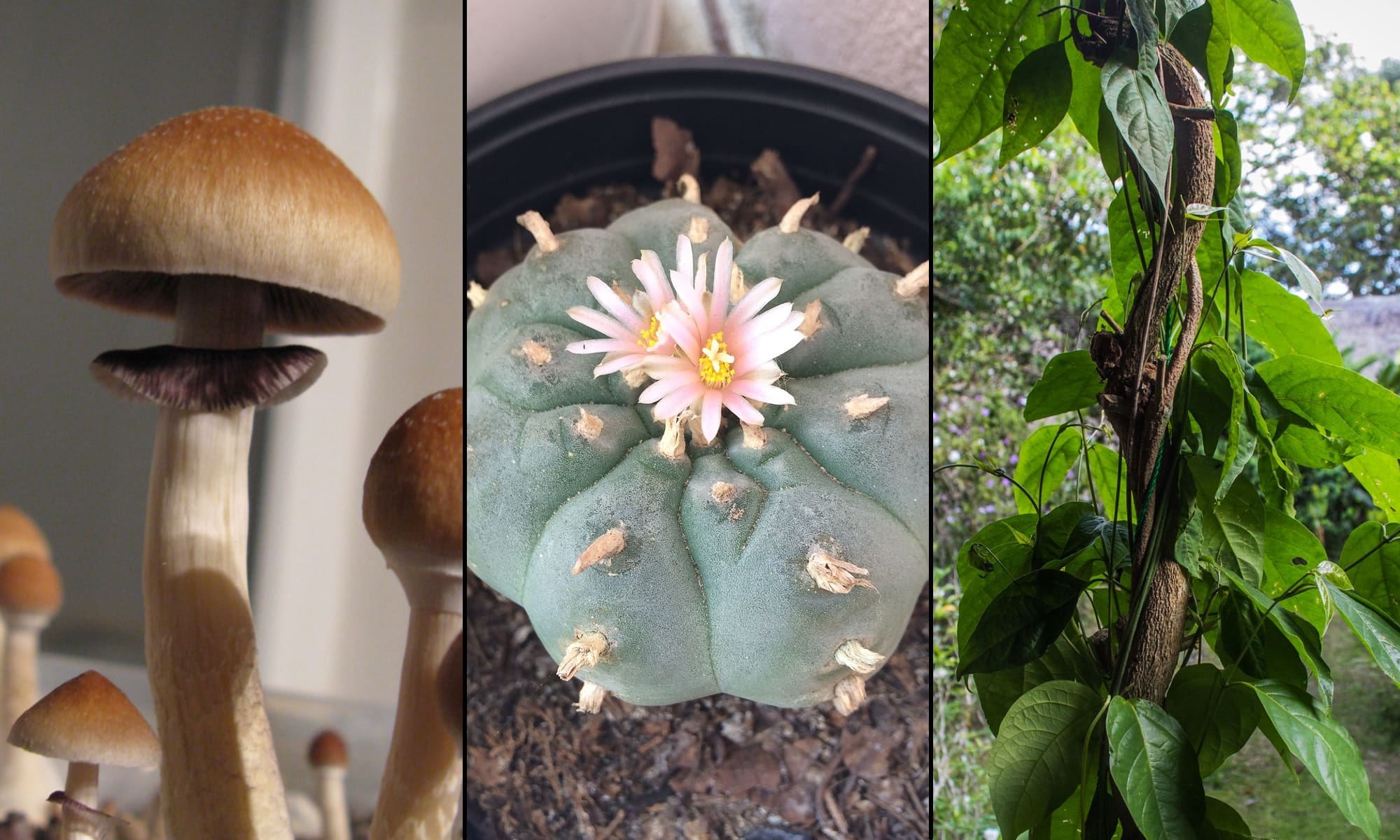 "If the common person has the ability to grow and use their own healing plants, and share with friends, they can forever hold the corporate interests accountable."
By Carlos Plazola, Decriminalize Nature
We're getting decriminalization and legalization of our sacred plant allies all wrong. I was part of the process that screwed up our relationship with cannabis. And these are my lessons I carry to a new movement called Decriminalize Nature, born in Oakland and now spreading across the country in over 100 cities and 30 states.
In 2010, I sat at a meeting in Richmond, California lobbying the City Council to allow dispensaries to become permitted. My team presented a complex rubric of regulations they could place on the dispensaries to ensure the world would stay safe, and we seduced them with the staggering tax windfalls they'd receive once the dispensaries were fully operational. It helped that the unregulated mortgage derivate industry had just sucked trillions of dollars out of the economy, causing de-industrialized towns like Richmond to hemorrhage from their dwindling budgets. We brought to them smoke and mirrors, complex regulations and greed. And they ate it up.
I was part of a large group of second wave organizers following early-in pioneers who, for the love of the plant, sought to decriminalize cannabis for medical healing purposes throughout the 80s and 90s. Where their version of the story focused on the healing power of cannabis, the assistance it provided to heal trauma and all the medical benefits, our version of the story in the mid-2000s focused on the power of cannabis to create taxes, to create wealth, to heal the budgets of cities and make communities rich. In other words, the full-blown commodification narrative was set loose.
But, to be fair, the war on cannabis was stupid to begin with. We all knew it, and the fear held by officials at all levels of government was dumbfounding. All anyone had to do to understand that the hype behind Reefer Madness and the dangers of weed was nonsense was to do a news search on the history of cannabis and read a few news articles and scientific studies. Two hours on a computer googling "why did cannabis get on Schedule I?" would have shown that available scientific research showed marijuana should NOT have been on Schedule I. But elected officials live in fear. It's almost a prerequisite to re-election. Always looking over the shoulder at the next up-start poised to take their seat. "Can't make a stupid decision that will wreck my career."
But here we found ourselves on familiar terrain. How do you overcome the innate fear of elected officials who refuse to look at things rationally and prefer to "do more studies!" or employ the standard delay tactic of "send it to committee," instead of righting Nixon's wrongs? I'd spent eight years in government, as a congressional aide and council chief of staff, and I understood that fear and paranoia was just part of the game. So, it seemed logical to fight fire with fire. The ends justify the means, don't they? (It turns out they don't.) How do you get over an irrational fear of a decision maker? Desire. Offer them something they can't refuse. So, we did. And in the process, we destroyed our relationship to cannabis.
From this strategy of appeasing politician's fear were born the three horsemen of the apocalypse on healing plants. The three horsemen emerged as Scarcity, Complexity and Greed. Together they are destroying the sacred relationship between humans and cannabis, and are poised to destroy our relationship to entheogenic plants and fungi—if we, as advocates, repeat our mistakes.
Horseman #1: Scarcity
"But weed will be everywhere and everyone will be smoking it, children will die from it, cars will drive off bridges because of it and hell will break loose! How will you prevent this?!" sang the chorus of anxious elected officials. Now, at this moment, we should have all united as advocates and stood strong and calmed them down, like a mother calms a terrified child and says, "show me where the monster is." And we should have shown them that there are no monsters in the closet. "It was all Nixon's hype. And since progressive elected officials all hate Nixon so much, join us in righting his wrong against our natural world and our consciousness."
It could have been so beautiful. We could have forced the conversation toward the truths about this beautiful plant that has co-evolved with humans and provided so much healing over the eons but, instead, we took the bait and we did something very stupid. We said, "OK, we'll limit the number of plants that individuals are allowed to grow." The intention was good (to allay their fear) but the logic was flawed. By limiting the amount someone can grow, we sent the message that cannabis is dangerous and we created scarcity, especially for those who most needed it to heal.
Horseman #2: Complexity
"Any intelligent fool can make things bigger and more complex. It takes a touch of genius, and a lot of courage to move in the opposite direction." Einstein was right. As it pertains to cannabis, we wanted to allay the fears of the elected officials, so we offered them complex regulatory frameworks, and they ran with it.
In the early 2000's, the herd began its stampede toward greater and greater regulatory complexity, and hasn't stopped since. Everyone had to put their fingerprints on the regulations. By the time the California state cannabis regulations were completed and published in January 2019, only a few well-paid lawyers understood what the hell was going on, and most of them were faking it. Their $500 hourly billing rate wasn't really all that attainable for that black or brown person in East or West Oakland who'd been cultivating the sacred plant for 20 years as their livelihood, did time in the 80s for having a baggy of weed in their car and would eventually get pushed out of the industry because of the cost of complexity.
Again, the intentions were good, but we were reacting to fear. How do we keep babies from going up in flames? Create new regulations. And while the stampede was running full-speed ahead toward Complexity Cliff, it seemed no one had the fortitude to just raise their hand and say, "uh, guys, gals, we have all these pre-existing regulations that have been working perfectly fine for well, about a hundred years or more. Why don't we just apply these regs to cannabis, like we do to herbs, or tomatoes, or oranges, or Heinz Ketchup, or Newman's Own lemonade?"
The initial reaction would have been predictable. "What?! Don't you understand this plant is the devil's weed! We must contain this THC/CBD Beast and tame it so it doesn't destroy civilization!" But, over time, had we held to our message long enough, we could have convinced the decision-makers that "nope, cannabis is a loving and friendly plant that heals. You don't have to treat it with disrespect. Just treat it like any other plant and relax." The winners would have been everyone except lawyers and lobbyists. But alas, here we are. Weekly conference calls to make sure we're meeting the most recent iteration of a regulatory requirement. A growing underground market of people telling the state to piss off. A bunch of angry advocates who helped create this complexity demanding justice. And the few true believers watching their mission of bringing the healing effects of cannabis to those in need become harder and harder.
Horseman #3: Greed
Create Scarcity. Check.
Create Complexity. Check.
OK, perfect. Launch Venture Capital! The final wave of total annihilation of our sacred relationship to cannabis.
To be fair, this was not some grand master plan by venture capitalists. I've been watching the cannabis industry take a big giant crap since 2000. Watching it all unfold. Paying my own heavy price for participating in this fool's game of defilement. Venture capital wasn't sitting on the sidelines waiting for their dastardly plan to finally unfold so they could rush in and collect their winnings. This is just how things work when we legislate from fear. It's an inevitability.
Ruthless capitalism was created in response to fear hundreds of years ago. It feeds off fear and all the fear-based responses that emerge—well, like hoarding, for example. So, it was natural that the process we began in the early 2000s that started from a place of pandering to the fear of decision-makers would eventually end in the ultra-competitive world of venture capital. We did it. We came from love. We reacted to fear. We justified it by thinking the ends justified the means. And we set it down the road of destruction, so now the weed advocates hold conferences asking, "Where did cannabis go wrong?" and lamenting the lack of people of color in the industry, while down the road the capitalists hold conferences with panel titles such as, "Desktop and Mobile Technologies: CRM, POS, Blockchain, Digital Payment—what's Hot and Needs to Disrupt?" in a room filled with primarily white entrepreneurs.
We did this. But we can learn from this to make sure we don't destroy our relationship with our plant allies of the entheogenic type. Cannabis was the sacrificial lamb to the altar of human frailty. But here is our opportunity to get it right with our plant and fungal allies that lovingly heal our consciousness—ayahuasca, sacred mushrooms, ibogaine, mescaline cacti and the like, because if we fuck this one up, once knowledge, what forgiveness? None. Game over.
To Decriminalize Nature
Think about this for a moment. To Decriminalize Nature. Nature. Us. We're Nature. We're of Nature. Nature is Us. How did it come to pass that we would even need to create a movement that in essence says, "Decriminalize Us"? We, as humans, have become so embedded in fear that the absurd concept of criminalizing nature now actually makes sense to many people in the world. The logic is simple in their minds: "We must stop people from doing stupid things to themselves, and we can do this by declaring it illegal! And now, let's throw them in prison for using these substances to protect them from themselves. There. Sit in a cage so you don't harm yourself."
That we have to explain this to elected officials can, at times, be maddening. Often the response is, "Do more studies! Send it to Committee!" Fear-based responses. But we must stay the course, be patient, build a movement and hold to our message this time, and our message is simple:
Build Abundance, Not Scarcity:
Any initiatives that seek to legalize, regulate or end the war on drugs must first, or simultaneously, decriminalize our relationship with natural healing plants without limits on growing, gathering or gifting of entheogenic plants for non-commodified uses. We must treat these plants as we would treat tomatoes, oranges or everyday garden herbs. By enabling anyone to grow as much as they want for non-commodified uses, we even the playing-field for the inevitable commodification down the road. If the common person has the ability to grow and use their own healing plants, and share with friends, they can forever hold the corporate interests accountable. They will retain the ultimate leverage of the freedom to home-grow if the products of corporations become unattractive or undesirable, or if they simply prefer to grow their own and not rely on corporate products—just like with oranges or tomatoes.
Don't Reinvent The Regulatory Wheel:
Like oranges or tomatoes, it is likely that commodified products from healing plants and fungi will emerge. But we don't need to create complexity where the only winners are lawyers and lobbyists. Keep it simple. Use pre-existing regulatory frameworks that work just fine.
Transform Capitalism:
Ok. This is a tall order. And will likely take a couple of centuries for us to achieve, presuming we can get there as a species. It is also inevitable that this single-motive technology (capitalism) will eventually evolve to encompass other values, such as compassion, ecological protections and empathy. But, until then, we will all have to work together to push full decriminalization without caps on amounts as a balancing force, keep regulations simple and work together to encourage any for profit venture capitalist or corporation to approach nature with reverence.
This next great frontier of humanity is not out there in space, on Mars or on some new undiscovered continent. The next great frontier of humanity is inward. It involves conquering our fears; the fears that have us treating ourselves, each other and nature with disdain, allowing the emergence of destructive policies and practices that hurt only us. The next move is to decriminalize our relationship with nature which, when we finally wake, we'll understand was really about decriminalizing our own relationship with ourselves and letting go of fear.
Carlos Plazola is the chair of the board of Decriminalize Nature. He formerly worked as a lobbyist in the cannabis industry from 2008 to 2012 and as chief of staff to the Oakland City Council president from 2000 to 2006.
Nearly 100 Cities Are Considering Decriminalizing Psychedelics, Map Shows
Photo elements courtesy of carlosemmaskype and Apollo.
Wisconsin Republicans Announce Limited Medical Marijuana Legalization Bill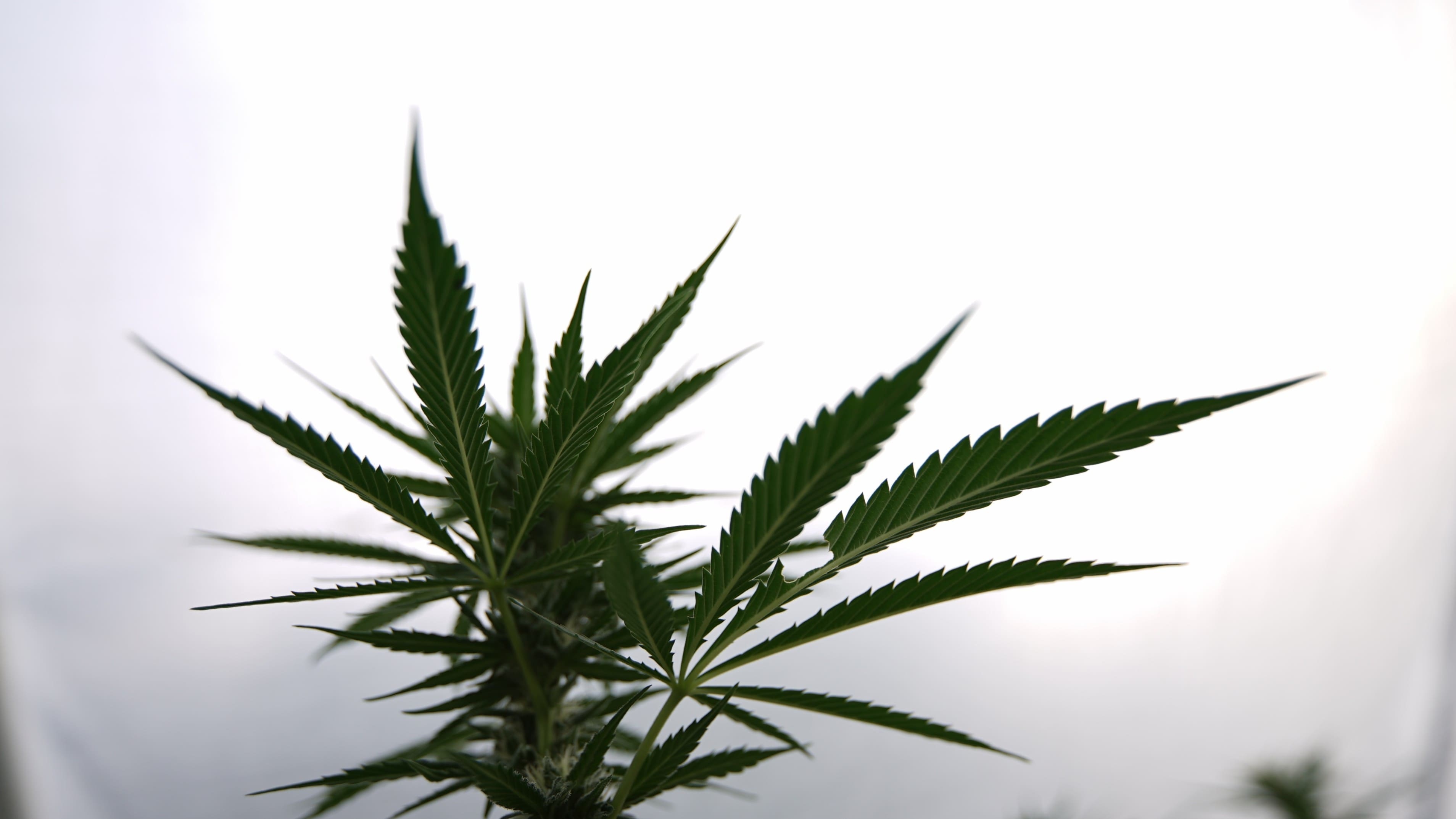 More than a dozen Republican Wisconsin lawmakers announced on Wednesday that they are filing a bill to legalize medical marijuana in the state.
Sen. Mary Felzkowski (R) and Rep. Patrick Snyder (R) are leading the bicameral effort, though advocates are already skeptical considering how the GOP-legislature has historically resisted and blocked cannabis reform. On Tuesday, for example, the Senate passed a bill to increase penalties for people who use butane to extract marijuana resin, and GOP members also shot down an amendment to the measure that would have legalized adult-use cannabis.
The Republican-led medical cannabis legislation is also fairly restrictive, as it prohibits smokable marijuana products and doesn't allow patients to grow cannabis for personal use. Patients could only obtain cannabis preparations in the form of oils, pills, tinctures or topicals.
Wisconsinites deserve another tool in the toolbox as they go through difficult treatment and recovery journeys, look to alleviate their chronic pain, and handle the debilitating effects of PTSD.

— Sen. Mary Felzkowski (@MaryFelzkowski) January 26, 2022
What it would do is allow doctors to issue medical cannabis recommendations to patients with one of eight conditions, including cancer, seizure disorders, post-traumatic stress disorder and multiple sclerosis.
Assembly Speaker Robin Vos has expressed support for medical cannabis reform, and the lead Senate sponsor said at Wednesday's press conference that Majority Leader Devin LeMahieu (R) is "more than willing" to hold a hearing on the proposal.
Under the bill, a medical marijuana regulatory commission would be established through the Department of Revenue to promulgate rules for the program in consultation with a medical cannabis advisory board. The commission could add more qualifying conditions.
Licensed processors would be taxed at a rate of 10 percent for "each wholesale sale in this state of medical marijuana to a licensed dispensary," the text of the bill says. Revenue would go toward a medical marijuana fund to support drug prevention and treatment programs.
—
Marijuana Moment is already tracking more than 1,000 cannabis, psychedelics and drug policy bills in state legislatures and Congress this year. Patreon supporters pledging at least $25/month get access to our interactive maps, charts and hearing calendar so they don't miss any developments.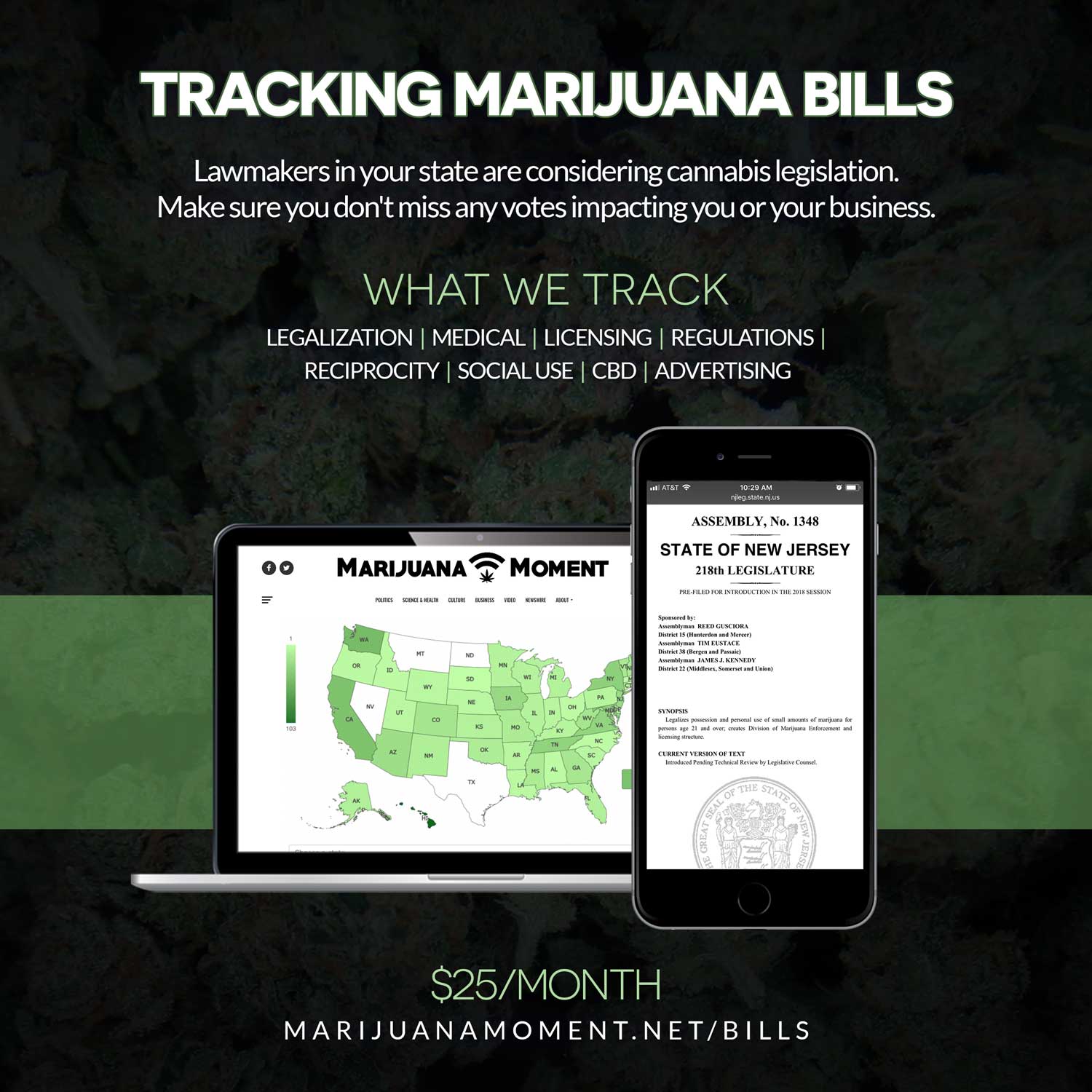 Learn more about our marijuana bill tracker and become a supporter on Patreon to get access.
—
It does not appear that the measure contains equity provisions like expungements that are favored by progressives.
"Currently 36 other states, including our neighbors Michigan, Illinois, and Minnesota, have passed laws allowing patients with certain medical conditions to access medical marijuana if their doctors recommend it," a co-sponsorship memo that Felzkowski and Snyder sent to fellow legislators on Wednesday says. "Medicine is never one-size-fits-all, and it is time for Wisconsin to join the majority of the country in adding another option which may help patients find the relief they need."
The memo also discusses how voters in multiple cities and counties across Wisconsin have strongly approved local, non-binding ballot referendums expressing support for marijuana reform in recent years.
"Wisconsinites who have discussed the positive benefits of using marijuana for medicinal purposes with their primary care physicians are currently forced to endure pain and physical agony, traffic drugs into Wisconsin and become criminals, or be held hostage by the FDA approved pain killers that may alleviate their pain, but come with a host of side effects that diminish quality of life," a summary of the proposal says.
This isn't the only cannabis bill that's up for consideration in the Wisconsin legislature.
Every single Republican voted against taking up my amendment to fully legalize cannabis for responsible, adult usage.

Every. Single. One. https://t.co/jAOk0mZno2

— Senator Melissa Agard (@SenatorAgard) January 25, 2022
In November, a bipartisan pair of legislators introduced a bill to decriminalize low-level marijuana possession. In August, three senators separately filed legislation to legalize cannabis for adult use in the state.
As it stands, marijuana possession is punishable by a maximum $1,000 fine and up to six months in jail for a first offense. People convicted of a subsequent offense would face a felony charge punishable by a maximum $10,000 fine and up to three and a half years in prison.
Gov. Tony Evers (D) tried to legalize recreational and medical marijuana through his proposed state budget last year, but a GOP-led legislative committee stripped the cannabis language from the legislation. Democrats tried to add the provisions back through an amendment the next month, but Republicans blocked the move.
Other Republican lawmakers have filed bills to more modestly decriminalize marijuana possession in the state, but none of those proposals advanced during last year's session.
Evers held a virtual town hall event last year where he discussed his cannabis proposal, emphasizing that polling demonstrates that Wisconsin residents back the policy change.
And in the interim as lawmakers pursue reform, the governor has issued more than 300 pardons during his years in office, primarily to people convicted of non-violent marijuana or other drug offenses.
Colorado Activists File Revised Ballot Initiatives To Legalize Psilocybin And Establish 'Healing Centers'
Photo courtesy of Chris Wallis // Side Pocket Images.
Delaware Lawmakers Approve Marijuana Legalization Bill In Committee Vote
A bill to legalize marijuana in Delaware cleared its first legislative hurdle on Wednesday, advancing out of the House Health and Human Development Committee on a 10-4 vote.
The legislation is sponsored by Rep. Ed Osienski (D), who introduced a similar proposal last year. The Health and Human Development Committee approved last year's measure, too, but it ultimately stalled ahead of an expected floor vote due to disagreements over social equity provisions. At the time, Osienski pledged to bring a revised bill for the 2022 session that could earn broad enough support to pass.
Osienski said at the hearing that the proposal would "create good-paying jobs for Delawareans while striking a blow against the criminal element which profits from the thriving illegal market in our state."
Rep. Paul Baumbach (D), a cosponsor of both the current and past versions of the legalization bill, thanked Osienski for his efforts to tweak and strengthen the bill over time.
"You've listened so much to so many concerns," he said, "and you and the staff have incorporated so many of the best ideas there are for this matter."
Pending signatures, the Marijuana Control Act (HB 305) will be released from the Health Committee.

Appreciate everyone who provided comment on the bill. It's past time to get this done. It's clear the public broadly supports this legislation.

— David Bentz (@DaveBentz) January 26, 2022
One of the few vocal opponents to the bill at Wednesday's hearing was Rep. Charles S. Postles Jr. (R), who said he didn't "believe in either extreme, that of legalization or of excessive punitiveness" and worried that legalization would send a message to kids that cannabis use is safe. "We're talking about the government telling our young people, 'This stuff is fine. Go do it.'"
The bill, HB 305, would allow adults 21 and older to purchase and possess up to one ounce of cannabis, including up to five grams of cannabis concentrates. Growing marijuana at home, as well as home delivery by licensed businesses, would be prohibited.
A marijuana commissioner under the state Division of Alcohol and Tobacco Enforcement would regulate the industry and oversee licensing of retailers, cultivators, manufacturers and laboratories. Licenses would be granted through a scored, competitive process, with advantages given to those who pay workers a living wage, provide health insurance or meet certain other benchmarks.
—
Marijuana Moment is already tracking more than 1,000 cannabis, psychedelics and drug policy bills in state legislatures and Congress this year. Patreon supporters pledging at least $25/month get access to our interactive maps, charts and hearing calendar so they don't miss any developments.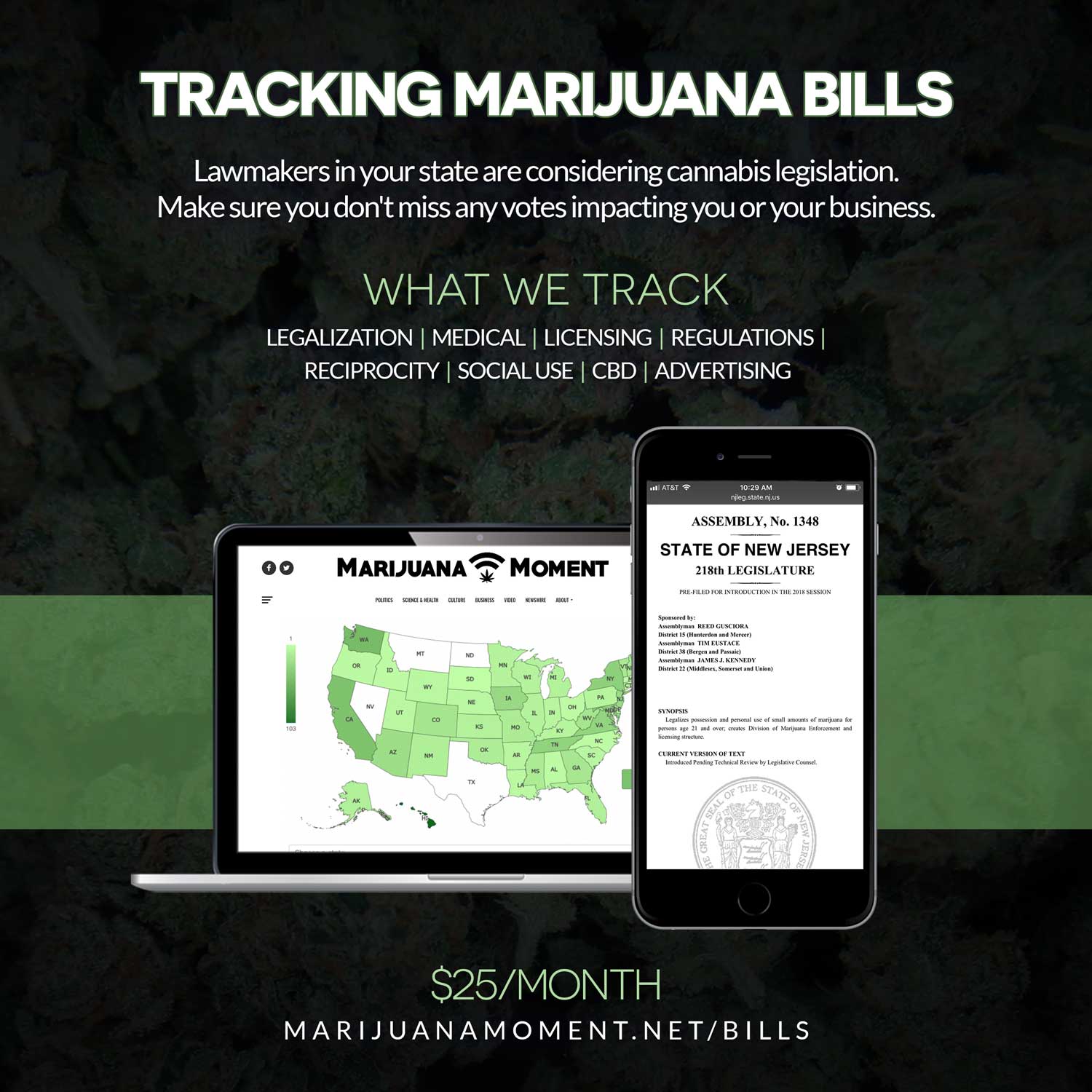 Learn more about our marijuana bill tracker and become a supporter on Patreon to get access.
—
Efforts at social equity are built into the licensing scheme. After 19 months of the bill's enactment, for example, regulators would have to approve 30 retailer licenses, half of which would go to social equity applicants. Social equity applicants—defined as entities majority-owned by people with past cannabis convictions or who live in an area disproportionately impacted by the drug war—would also be allotted one-third of the planned 60 cultivation licenses, one-third of manufacturing licenses and two of five licenses for testing laboratories.
Equity applicants would also qualify for reduced application and licensing fees as well as technical assistance from the state.
Retail sales of cannabis would be subject to a 15 percent excise tax, which would not be applied to medical marijuana products.
Of the tax revenue, 7 percent would go to a new Justice Reinvestment Fund, which would support grants, services and other initiatives that focus on issues such as jail diversion, workforce development and technical assistance for people in communities that are economically disadvantaged and disproportionately impacted by the drug war. The money would also be used to help facilitate expungements, according to a summary from the advocacy group Marijuana Policy Project (MPP).
When Osienski's earlier bill was being considered last year, a similar equity fund provision was included, and the sponsor said he was caught off guard when he was informed that its inclusion meant the bill would require 75 percent of legislators in the chamber to approve it.
Osienski attempted to address the problem through an amendment, but some members of the Black Caucus opposed the changes, and the measure failed.
The current bill will still require a supermajority threshold to pass, but a smaller one of 60 percent.
Osienski has worked with the Black Caucus in the ensuing months to build support and move toward more passable legislation. And a clear sign of the progress is that Reps. Rae Moore (D) and Nnamdi Chukwuocha (D) have already signed on as cosponsors to the new bill after pulling their support for the 2021 version over equity concerns.
Chukwoucha said at Wednesday's hearing that he believed past versions of the bill fell short on addressing past injustice against people of color. The current version, he said, does better.
"We spoke about the harms in communities and [how] individuals who look like me are four times more likely to be arrested for marijuana offenses, but we didn't really see redress in the bill," Chukwoucha said. He thanked Osienski for working with stakeholders to address those concerns.
In 2019, Osienski was the chief sponsor of a legalization bill that cleared a House committee but did not advance through the full chamber. That bill would have allowed medical cannabis dispensaries to begin selling marijuana to adults 21 and older while the rest of the adult-use industry was still preparing to launch, a provision that was removed from later versions.
Four of the state's six medical marijuana companies came out publicly against that change and testified in opposition to last year's bill. In response, Delaware activists mounted a boycott against those operators.
During public testimony on Wednesday, a representative from a subsidiary of one multi-state dispensary operator, Columbia Care, said the group supports the bill.
Representatives from various state agencies, meanwhile, raised worries about some of the bill's provisions and encouraged changes to the plan. The Department of Health and Social Services, for example, urged investment in substance use disorder treatment programs and public awareness campaigns about the risks of cannabis use. A Department of Agriculture representative called for outdoor cannabis cultivation to be forbidden, among other changes.
The Department of Finance, meanwhile, said that while the bill addressed some of the department's past concerns, it would nevertheless create problems for administrators handling tax collection and other transactions, especially because much of the cannabis industry relies on cash.
Osienski said at the beginning of the hearing that he was expecting the agency pushback after Gov. John Carney's (D) office sent him a list of concerns on Tuesday afternoon. "I want to reassure you that we have met in the past with these agencies," he said, "and we will continue to meet with them to address these concerns."
Advocates cheered the decision to advance the bill.
"The House Human Development committee's approval of HB 305 today is the first step towards bringing equitable legalization to the state this year," Olivia Naugle, senior policy analyst for Marijuana Policy Project, told Marijuana Moment on Wednesday. "Delaware has the opportunity to join 18 other states and DC that have legalized cannabis for adults—including their neighbor, New Jersey. It is past time for the legislature to listen to their constituents and meet the moment."
Several modest amendments that were filed when last year's bill was being considered have been incorporated into the new measure. Those include provisions related to quality control standardization, accreditation for marijuana testing facilities and packaging and labeling requirements.
Portions of the bill on expungements were also removed, as they were made redundant by the enactment of separate legislation last year.
Individual municipalities would be able to establish their own regulations for marijuana business operating times and locations, and they would also be able to ban cannabis companies altogether from their jurisdiction.
As supportive lawmakers work to push the bill through the legislature, they also face the challenge of winning over Carney, one of the rare Democratic governors who remain opposed to legalization.
Despite his wariness about adult-use legalization, Carney did sign two pieces of marijuana expungement legislation in recent years. In 2017 and 2018, a state task force met to discuss issues related to legalization, and the governor hosted a series of roundtable meetings about cannabis.
A legalization bill previously received majority support on the House floor in 2018, but it failed to receive the supermajority needed to pass.
Carney's predecessor approved a measure to decriminalize simple possession of cannabis in 2015.
An analysis from State Auditor Kathy McGuiness (D) released last year found that Delaware could generate upwards of $43 million annually in revenue from regulating marijuana and imposing a 20 percent excise tax. The legal market could also create more than 1,000 new jobs over five years if the policy is enacted, according to the report.
Amazon Endorses GOP-Led Bill To Federally Legalize Marijuana
Colorado Activists File Revised Ballot Initiatives To Legalize Psilocybin And Establish 'Healing Centers'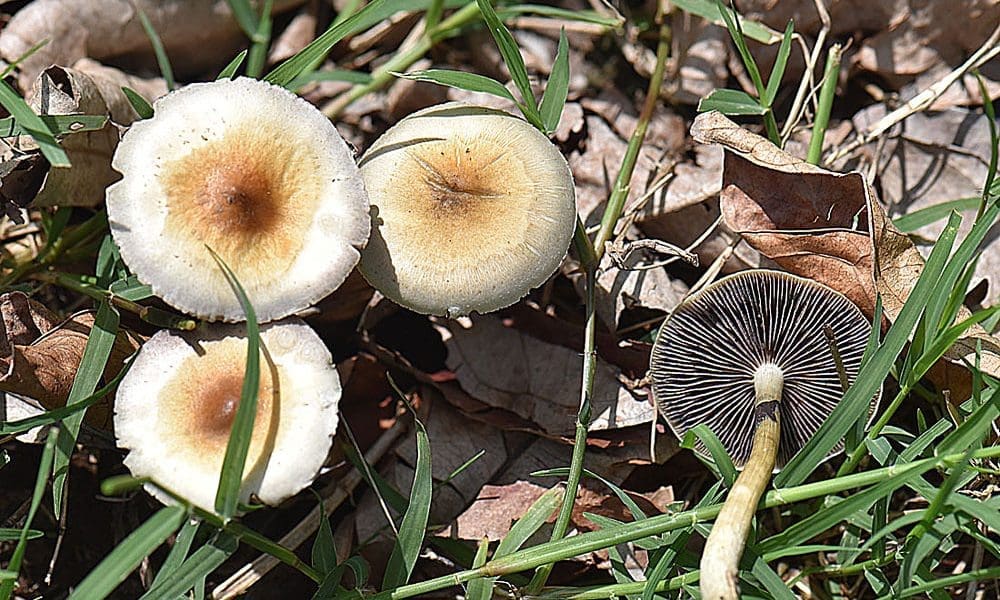 Colorado activists have filed revised versions of a pair of 2022 ballot initiatives to legalize psilocybin and create licensed "healing centers" where people can use the psychedelic for therapeutic purposes. The move comes as state lawmakers have introduced a separate bill to require a study into the efficacy of plant-based psychedelics.
The ballot measures—filed by Kevin Matthews, the campaign manager behind Denver's historic 2019 vote to locally decriminalize psilocybin and entrepreneur Veronica Perez—are similar to earlier versions the advocates filed with the secretary of state's office last month, with a few key changes concerning the rollout of the reform, promoting equity and possession limits.
For the original initiatives, the campaign was considering two options: one would have legalized a wide range of entheogenic substances including DMT, ibogaine and mescaline, as well as establish a regulatory model for psychedelics therapy. The other would have initially enacted the reform for psilocybin and psilocin alone.
But recognizing that regulators would be faced with an onerous task to set up rules for multiple psychedelics, activists decided to take a different approach with the new measures. For both, there would be a two-tiered regulatory model, where only psilocybin would be legalized and regulated for therapeutic use until June 2026, after which point regulators could expand the policy change to include other psychedelics that are listed in the proposal.
"We really wanted to make sure that the administration had time to set up a proper regulatory structure—first for psilocybin and then for any further natural medicines," Rick Ridder of RBI Strategies, a spokesperson for the campaign, told Marijuana Moment on Monday.
The decision to add additional psychedelics to the program would be made by the Department of Regulatory Agencies in consultation with a Natural Medicine Advisory Board that would be established. The board would be comprised of 15 members, including people who have experience with psychedelic medicine in a scientific and religious context.
Another major change from the prior versions is that the revised initiatives do not contain explicit "allowable" possession limits—a provision that had garnered pushback from certain Colorado activists when the original measures were filed.
And unlike the last two versions of the initiatives, these new measures also include specific provisions meant to "ensure the regulatory access program is equitable and inclusive and to promote the licensing of and the provision of natural medicine services" for people who have been disproportionately impacted by drug criminalization, who face challenges accessing health care, have "traditional or indigenous history with natural medicines" and military veterans.
Those rules could involve, but are not limited to, reduced licensing fees, reduced costs for low-income people and an annual review of "the effectiveness of such policies and programs."
"I think what this is is a giant step forward for mental health treatment in the state of Colorado," Ridder said. "As we've looked at the results of research throughout the world, we're seeing very promising data related to particularly healthy people with PTSD, with suicidal tendencies and end-of-life. And this is just an opportunity to bring that kind of natural medicine and medicinal help to citizens here in Colorado."
The two new initiatives are nearly identical to each other, except that one contains a component specifically authorizing people to petition courts for record sealing for past convictions that would be made legal under the proposal.
Under the proposals, the Department of Regulatory Agencies would be responsible for developing rules for a therapeutic psychedelics program where adults 21 and older could visit a licensed "healing center" to receive treatment under the guidance of a trained facilitator.
This latest filing comes more than two years after Denver became the first city in the U.S. to decriminalize psilocybin mushrooms. Various activists, including those involved in the 2019 campaign, have signaled interest in building upon the reform.
The initiatives must still be assigned an official ballot title and summary from the state before they're approved to begin signature gathering. The measures are scheduled to receive a review and comment hearing on February 3. If approved by state officials, activists will choose one of the measures to pursue and will then need to collect 124,632 valid signatures from registered voters to achieve ballot access.
The Colorado ballot initiatives seek to accomplish something similar to what California activists are actively pursuing. California advocates are in the process of collecting signatures for a ballot initiative to legalize psilocybin mushrooms in the state.
Meanwhile, in Colorado, Sen. Joann Ginal (D) and Rep. Alex Valdez (D) filed a modest bill last week to create a one-year plant-based medicine policy review panel that would be tasked with studying the "use of plant-based medicines to support mental health," according to a summary. The ballot campaign is not affiliated with that legislative effort.
—
Marijuana Moment is already tracking more than 1,000 cannabis, psychedelics and drug policy bills in state legislatures and Congress this year. Patreon supporters pledging at least $25/month get access to our interactive maps, charts and hearing calendar so they don't miss any developments.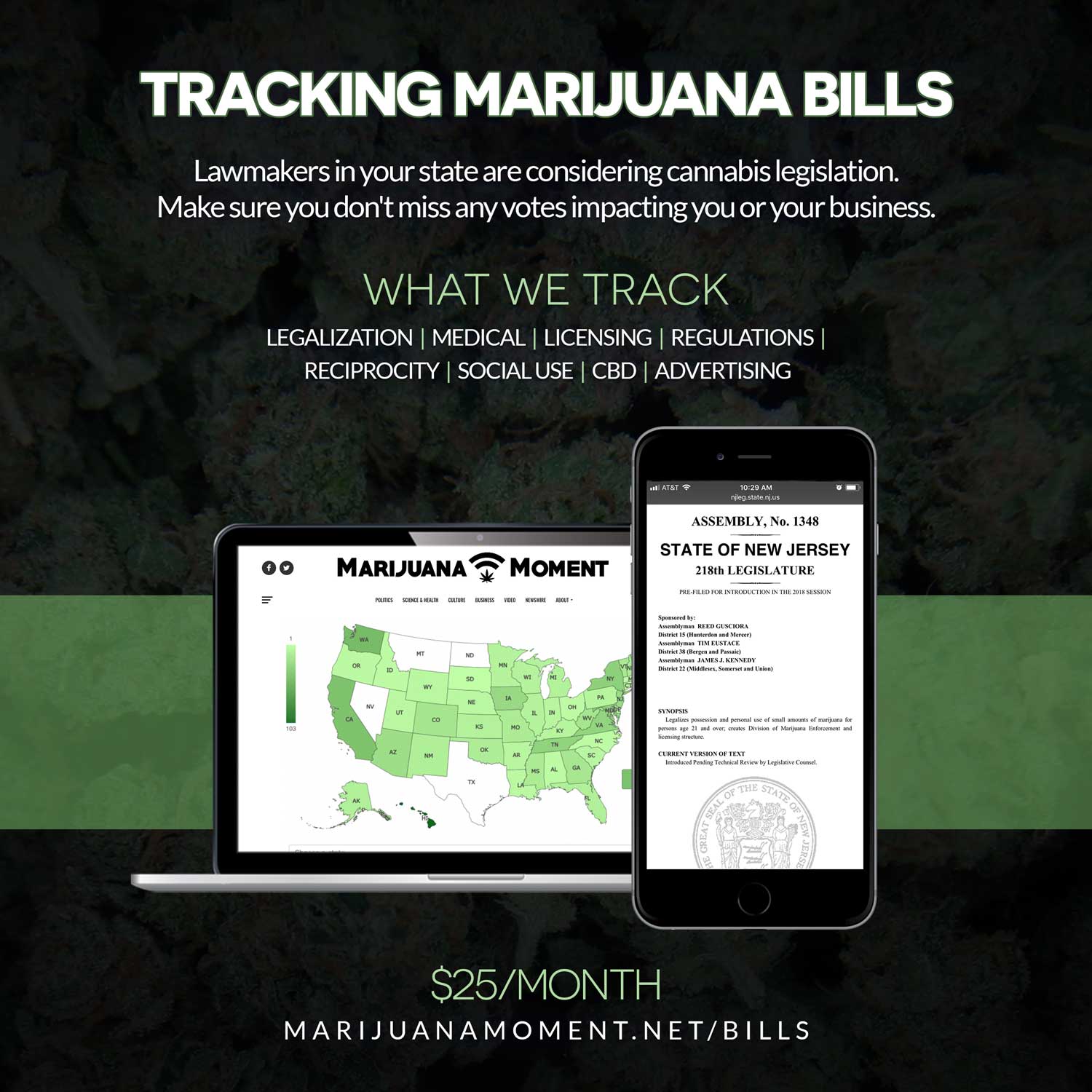 Learn more about our marijuana bill tracker and become a supporter on Patreon to get access.
—
"The policy review panel shall submit a report on its findings and policy recommendations to the House of Representatives Public and Behavioral Health and Human Services Committee and the Senate Health and Human Services Committee, or any successor committees; the governor; and the Department of Human Services," it says.
Meanwhile, legislative efforts to enact psychedelics reform are also underway in other states across the country.
For example, a bill to decriminalize a wide array of psychedelics in Virginia was taken up by a House of Delegates panel on Monday, only to be pushed off until 2023. But there's still a separate but similar reform proposal that's pending in the Senate.
Two Republican Oklahoma lawmakers recently filed bills meant to promote research into the therapeutic potential of psilocybin, and one of the measures would further decriminalize low-level possession of the psychedelic.
A GOP Utah lawmaker also introduced a bill last week that would set up a task force to study and make recommendations on the therapeutic potential of psychedelic drugs and possible regulations for their lawful use.
In Kansas, A lawmaker also recently filed a bill to legalize the low-level possession and cultivation of psilocybin mushrooms.
A Republican Missouri lawmaker introduced a bill this month to give residents with serious illnesses legal access to a range of psychedelic drugs like psilocybin, ibogaine and LSD  through an expanded version of the state's existing right-to-try law.
California Sen. Scott Wiener (D) told Marijuana Moment in a recent interview that his bill to legalize psychedelics possession stands a 50/50 chance of reaching the governor's desk this year. It already cleared the full Senate and two Assembly committees during the first half of the two-year session.
In Michigan, a pair of state senators introduced a bill in September to legalize the possession, cultivation and delivery of various plant- and fungi-derived psychedelics like psilocybin and mescaline.
Washington State lawmakers also introduced legislation this month that would legalize what the bill calls "supported psilocybin experiences" by adults 21 and older.
In Vermont, a broad coalition of lawmakers representing nearly a third of the House introduced a bill to decriminalize drug possession.
New Hampshire lawmakers filed measures to decriminalize psilocybin and all drugs.
Last year, the governor of Connecticut signed legislation that includes language requiring the state to carry out a study into the therapeutic potential of psilocybin mushrooms.
At the congressional level, bipartisan lawmakers sent a letter to the Drug Enforcement Administration (DEA) this month, urging that the agency allow terminally ill patients to use psilocybin as an investigational treatment without the fear of federal prosecution.
Virginia House Committee Pushes Back Psychedelics Decriminalization Bill Until 2023, But Senate Proposal Still Pending
Photo courtesy of Dick Culbert.