Allowing Public Marijuana Smoking Leads To Bigger NYC Arrest Decline Than In Other Legalized Places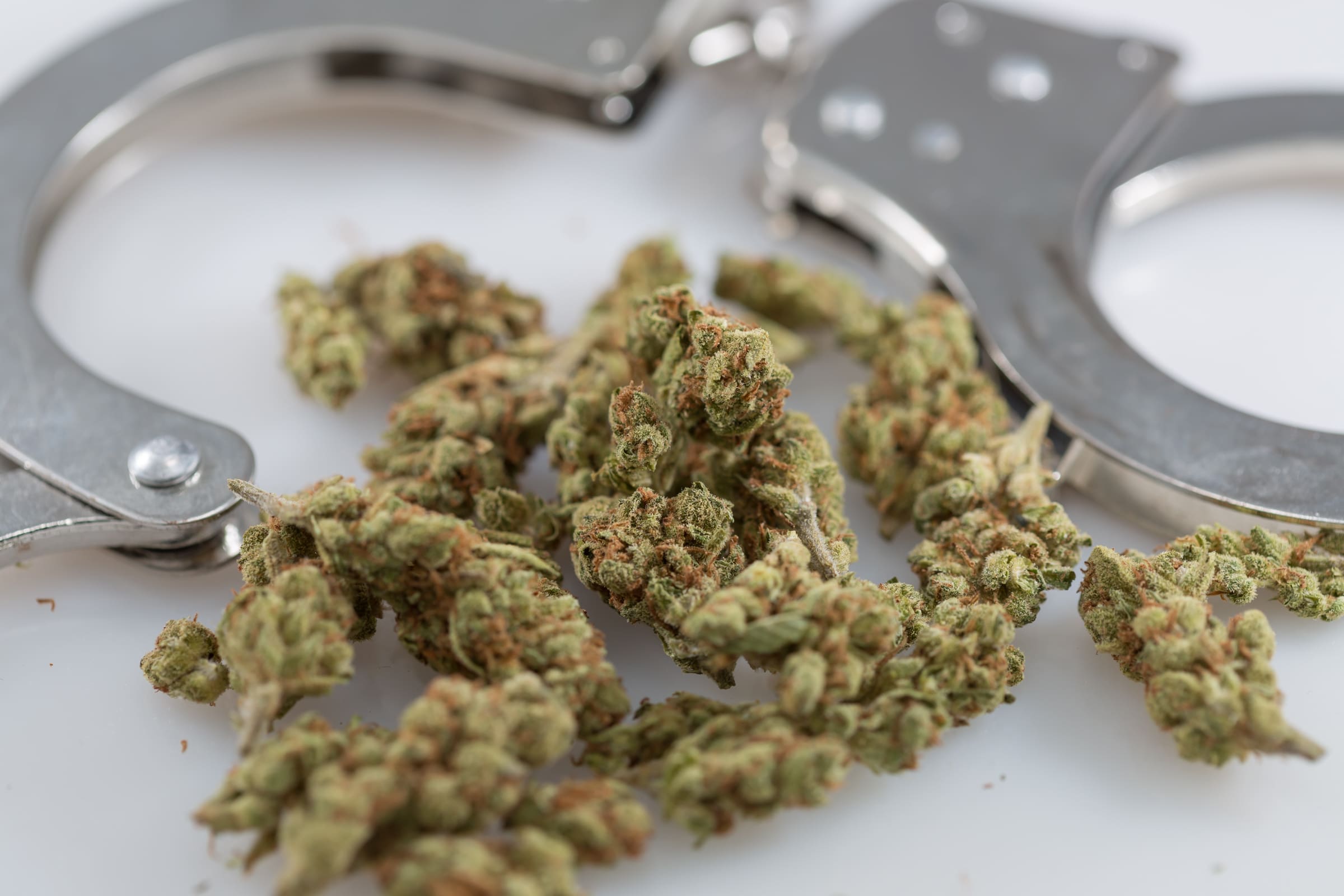 The number of marijuana-related arrests and summonses plummeted in New York City in the first quarter since the state's legalization law took effect, data released by NYPD shows.
While it might not seem surprising to see arrests drop following legalization, the decline was far more significant than those seen in other jurisdictions that have previously ended cannabis prohibition—and it likely has to do with a unique aspect of New York's marijuana law that allows for public smoking.
Arrests for criminal possession of cannabis fell from 163 in the first quarter of 2021 to just eight in the latest quarter. Under legalization, adults 21 and older can possess up to three ounces of marijuana, so those busts are for possession in excess of the limit.
Cannabis-related summonses, meanwhile, declined from 3,687 in the first quarter to just eight in April, May and June. Six were for unlawful possession of marijuana and two were for unlawful sales. The state has yet to launch retail sales of recreational cannabis, creating an access barrier.
Compare those figures with that of Chicago. In the first year after Illinois's legalization law took effect and retailers opened up in 2020, there were still nearly 3,000 marijuana-related arrests, disproportionately targeting black people.
And while most of those arrests were for possession over the lawful limit and illicit sales, another factor that has likely contributed to the more abrupt drop in arrests and summonses in New York City is that, unlike in other legal states, public consumption of marijuana is legal in places where tobacco use is permitted.
After cannabis was legalized in Colorado, Denver saw a significant reduction in arrests for possession—dropping from 1,548 in 2014 to 351 in 2016. At the same time, however, public consumption and display arrests skyrocketed from eight to 891 in that same timeframe, according to the Drug Policy Alliance.
A Washington Post analysis of marijuana arrest data in Washington, D.C. revealed that possession cases in the nation's capital dropped by about 50 percent following legalization. Still, overall cannabis arrests continued, due in no small part to the lack of a lawful sales model and the ongoing criminalization of public consumption.
From 2015 to 2019—the post-legalization era—District police made 3,631 cannabis arrests. There were 900 for public consumption alone. And again, racial disparities in these cases remained large despite the intent of the policy change.
All of that is to say that, in New York City, the new law and its specific protections for public use seem to be achieving a primary goal of the reform in a timely manner.
It likely helps that after then-Gov. Andrew Cuomo (D) signed legalization into law, NYPD sent a memo to officers updating them on the new policies for marijuana and explaining what they can and can't bust people over.
And while retail sales aren't expected to launch in the state until next year, newly inaugurated Gov. Kathy Hochul (D), who replaced Cuomo last week after he resigned amid a sexual harassment scandal, is prioritizing the implementation of legalization.
Her office recently said that she's committed to expediently filling regulatory positions for the cannabis market. Hochul's predecessor faced criticism as negotiations with lawmakers on potential appointments stalled, and the new governor is now talking the helm and discussing how to move the process forward with leaders.
Adding pressure to get the market up and running is the fact that regulators in neighboring New Jersey recently released rules for its adult-use marijuana program, which is being implemented after voters approved a legalization referendum last year.
Last month, a New York senator filed a bill to create a provisional marijuana licensing category so that farmers could begin cultivating and selling cannabis ahead of the formal rollout of the adult-use program. The bill has been referred to the Senate Rules Committee.
The state comptroller recently projected that New York stands to eventually generate $245 million in annual marijuana revenue.
For the first year of cannabis sales, the state is expected to see just $20 million in tax and fee collections. That will be part of an estimated $26.7 billion in new revenues that New York is expected to generate in fiscal year 2021-2022 under a budget that the legislature passed in April.
"Cannabis legalization will create more than 60,000 new jobs, spurring $3.5 billion in economic activity and generating an estimated $300 million in tax revenue when fully implemented," the former governor's office said in January.
Meanwhile, a New York lawmaker introduced a bill in June that would require the state to establish an institute to research the therapeutic potential of psychedelics.
Colorado Governor Urges Senators To Pass Marijuana Banking And Tax Reform Before Tackling Legalization