Alex Jones Says Secret Government Program Uses Psychedelics To Communicate With Aliens
Joe Rogan got conspiracy theorist Alex Jones on his podcast this week and, among other things, the pair talked about psychedelics and aliens. Buckle up, folks.
According to Jones, there's a deep state government program based in San Francisco through which rogue intelligence agents take massive doses of psychedelics like DMT and ayahuasca in order to engage in intergalactic diplomacy.
The InfoWars host claims to have spoken to hundreds of people in the military and Central Intelligence Agency about the clandestine operation.
Of course, Jones has also peddled a number of verifiably false claims like that crisis actors were behind the Sandy Hook school shooting and that high-profile Democrats participated in an underage sex trafficking operation run out of the basement of a pizzeria.
So keep that in mind as you read on…
Nonetheless, Jones claims "real research" and the testimony of his unnamed sources back up his claims about psychedelics and aliens.
In San Francisco, the "breakaway, rogue intelligence agencies" have an "alien base" where they are "literally communicating [with intergalactic beings] and they've got like astronaut-level people taking super hardcore levels of drugs and going into meetings with these things and making intergalactic deals," Jones said.
"I've known about this a long time and I just don't think people are ready for it."
Rogan played devil's advocate for a bit, noting that "everyone who's done a high dose of psychedelic drugs has had this experience" of meeting seemingly alien beings. 
"You have some kind of communication with something else," Rogan said. "The question is, is that something else insider your psyche or is there a chemical doorway inside the mind that opens up?"
Jones said the process of making an intergalactic connections goes "even deeper," too. In other cases, for more advanced psychonauts, "they turn your heart off for five minutes and they pump oxygen in your blood and you're in the meetings."
"You're in the meeting with freaking aliens," he said.
But what do they talk about during these meetings? Jones said "you get killed for this stuff," explaining why he couldn't reveal those details.
Jones clarified he hasn't personally used DMT or ayahuasca—"for obvious reasons"—but he does use cannabis. He smoked what Rogan very sarcastically described as "100 percent" tobacco later in the episode, which is likely the same blend of "very strong tobacco from Mexico" that the two smoked on an earlier episode.
That 2017 sesh ended up costing Jones, though, as his wife took him to court in a custody battle that he lost after her attorneys submitted the clip as evidence of illegal drug use. Jones claimed at the trial that he uses cannabis annually to test its potency, because, he believes, billionaire Democratic donor George Soros is behind a plot to increase THC concentrations in marijuana.
Jones made some outlandish claims on that 2017 episode, too—like that a former NASA official died under mysterious circumstances before he was able to disclose "the secret of NASA"—but Jones seemed especially high in the clouds during the new appearance.
Mike Tyson And Joe Rogan Swap Stories About Psychedelics And Marijuana
Photo courtesy of YouTube.
Don't Drive High On Marijuana Even If You're Being Chased By An Axe Murderer, Federal PSA Says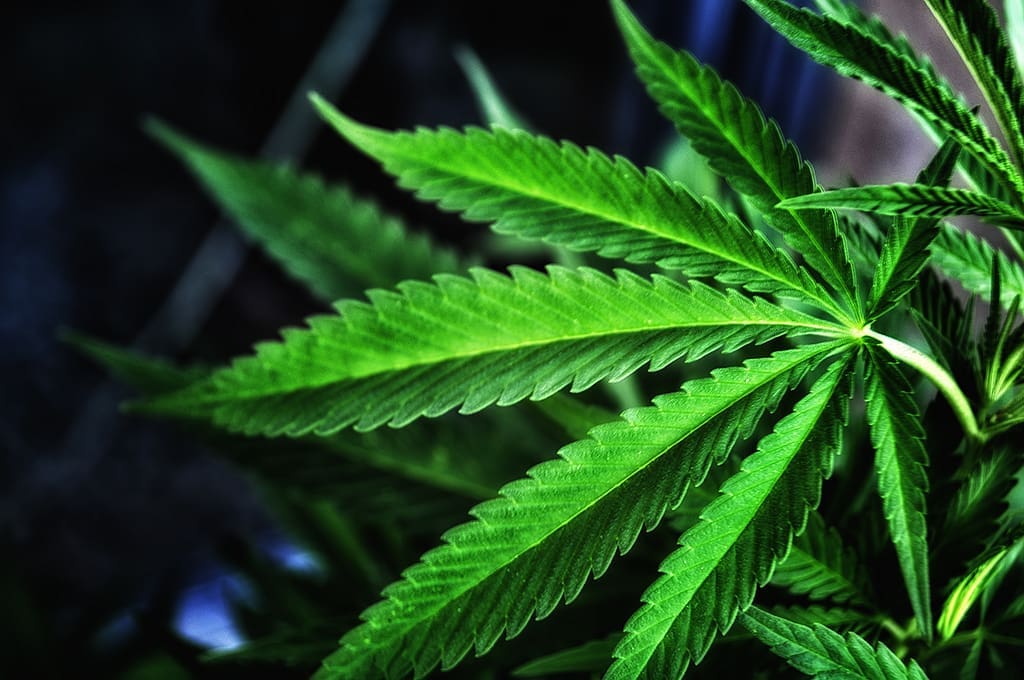 The latest push by the federal government to deter marijuana-impaired driving is coming to TV, radio and the web. Its message? Even if you're being chased by an axe-wielding psychopath, it's not worth driving high.
The ad, a partnership between the National Highway Traffic Safety Administration (NHTSA) and the Ad Council, is the first TV spot developed by Vox Creative, the advertising arm of Vox Media. In it, two men run for their lives from a would-be murderer, dodging axe blows while reciting reasons not to drive stoned.
The men ultimately find a vehicle to escape the scene, but the driver pauses before he turns the key in the ignition. "Wait wait wait," he says. "I can't drive. I'm high."
(Don't worry. The two would-be murder victims swap seats and end up getting away safely while the sober one mans the wheel.)
"The rules around marijuana use can be confusing. But when it comes to marijuana use and driving, all you need to remember is one rule: Driving impaired is illegal everywhere."
The Ad Council campaign also includes radio and online advertisements. A 30-second version of the video will run on TV, while a longer, 80-second version (embedded above) will reportedly run on Vox.com and the brand's ad marketplace, Concert.
"Many marijuana users don't see a problem with driving after use, but research shows marijuana can slow reaction time, impair judgment of distance, and decrease coordination – all skills necessary for the safe operating of a vehicle," the Ad Council said in a statement accompanying the new video. "Our campaign targets young men aged 18 to 35, many of whom reject the common stereotypes of marijuana users."
Stereotypes or no, the campaign reminds consumers that driving under the influence of marijuana is illegal in all 50 U.S. states—even if cannabis itself is legal in a growing number of them.
"The rules around marijuana use can be confusing," its website says. "But when it comes to marijuana use and driving, all you need to remember is one rule: Driving impaired is illegal everywhere."
Beyond the video and radio ads, the awareness push also includes a number of self-aware signage with messages such as "This is an ad that says you shouldn't drive high."
As more states have considered legalizing marijuana in recent years, highway safety has become a major focus. Opponents often contend that increased roadway risks themselves are enough to tap the brakes on reform.
In a typical example, the Washington Post's editorial board in 2014 came out against legalization in Washington, D.C., citing "negative consequences, including increased instances of impaired driving."
While being impaired no doubt increases drivers' danger to themselves and others, some critics have complained that the risks of marijuana-impaired driving have been overblown, used as a fear tactic to chill cannabis reform. They argue that research on cannabis and driving is still thin and conflicted, and that the drug's effect on driving pales in comparison to alcohol and some prescription drugs.
A report commissioned by Congress and published last year cast doubt on the dire warnings of THC-impaired driving. "Although laboratory studies have shown that marijuana consumption can affect a person's response times and motor performance, studies of the impact of marijuana consumption on a driver's risk of being involved as a crash have produced conflicting results, with some studies finding little or no increased risk of a crash from marijuana usage," the Congressional Research Service wrote.
NHTSA, part of the Department of Transportation, has long acknowledged that THC concentration in drivers' blood levels does not correlate with driver impairment. (The campaign even includes that fact on its website. "Unlike alcohol, there is no correlation between rising THC level and driver impairment," it says. But that doesn't mean it's safe to drive high: "Some research studies have found that peak performance deficits are observed long after peak THC level occurs.")
The lack of a clear correlation between marijuana and impaired driving has been enough to push some jurisdictions to reconsider per-se THC limits, under which drivers can be charged with a DUI based on the amount of THC in their blood regardless of any evidence of actual impairment.
In Pennsylvania, lawmakers last month introduced a bill that would force police instead to prove impairment. The legislation would exempt medical marijuana patients from the state's existing DUI law, and police would instead have to demonstrate that a patient's driving was actually impaired by the drug.
Meanwhile, Congress is taking steps to require states to study the impacts of marijuana-impaired driving. Legislation introduced last month would force states that have legalized cannabis, and only those states, to consider how to educate and discourage people from driving while high. Advocates have questioned that approach, noting that while impaired driving is an important issue, it's not limited to states with legal cannabis.
Earlier this month, the U.S. House of Representatives voted to take a number of steps related to marijuana-impaired driving, including directing federal agencies to prepare a report on "the establishment of a national clearinghouse for purposes of facilitating research on marijuana-impaired driving." Rep. Peter DeFazio (D-OR), a sponsor of the bill, also wants the report to outline how researchers in states that haven't legalized marijuana can still access cannabis from dispensaries to study the drug's effects on driving.
Congress rejected another amendment, however, that would have required NHTSA "carry out a collaborative research effort to study the effect that marijuana has on driving and research ways to detect and reduce incidences of driving under the influences of marijuana."
Colorado's Marijuana Legalization Law Decreases Crime In Neighboring States, Study Finds
Photo courtesy of Carlos Gracia
HBO Teams Up With Marijuana Companies To Sell THC Gummies Promoting New TV Series
HBO is partnering up with major marijuana businesses to market a line of promotional cannabis edible gummies meant to bring attention to an animated series premiering next week, the entertainment giant announced on Monday.
The 10mg THC gummies are made by the marijuana company Kanha and will be available at select California dispensaries as well as via delivery from Eaze. Each blend was developed to produces effects the network says reflect the personalities of the four main characters from "Close Enough," which will be streaming on HBO Max starting July 9.
"It has been so thrilling for my team and I to create a campaign that feels so authentic to Close Enough," Peter Sherman, senior vice president of program marketing at HBO Max, said in a press release. "When crafting any campaign, our aim is always to create an experience for the audience that feels genuine and exciting, and this partnership with Kanha hits the nail on the head. We're so excited about this one and we can't wait to see how fans react."
What's interesting about the promotion—beside the fact that a major, international media company is working with the cannabis industry—is that the series doesn't even seem to have much to do with marijuana. It's an adult-themed comedic animated show that touches on themes like raising children and navigating careers. The trailer doesn't even mention cannabis.
So instead, it seems HBO is simply embracing the culture of consuming marijuana while enjoying TV.
"Kanha's partnership with HBO Max is an exciting opportunity to showcase our delicious, award-winning gummies to a brand new audience," Cameron Clarke, CEO of the parent company Sunderstorm, said. "We can't think of a more playful, fun collaboration to announce to our fiercely loyal fans. We're thrilled to partner with one of entertainment's biggest media giants to help bring the adult characters in their new show to life through our gummy flavors and profiles."
In celebration of the new series #CloseEnoughMax, @HBOMax releases limited edition cannabis-infused edible gummies in partnership with @bySunderstorm's @KanhaEdibles: https://t.co/J2REn3EPHj pic.twitter.com/I1u3JffGwk

— HBO Max PR (@HBOMaxPR) June 29, 2020
Here's how HBO described each of the flavors that are based on the show's characters: 
JOSH: Cool dad, husband, and future world-famous video-game designer, Josh likes to chill with his Indica Strawberry Gummies.
EMILY: Emily is logical, organized, a planner — everything her husband Josh is not. She's a loving mother and a strong working woman who tries to have it all. Busy mom Emily gets it done with her Sativa Pineapple Gummies.
ALEX: Alex is Josh's neurotic best friend from high school. He lives in the walk-in closet of the apartment he shares with Josh, Emily, Candice, and Bridgette (his ex-wife, but it's not a big deal). When Alex wants to get lost in thought, he stays cool and carries on with his Hybrid Watermelon Gummies.
BRIDGETTE: Bridgette is a glamorous social media influencer — at least in her mind. 'Working' is more of a hobby she squeezes in between partying. Bridgette stays on top of partying and her social game with her 1:1 Pink Lemonade Gummies.
Eaze CEO Ro Choy said that the partnership with HBO Max "is so exciting and it's a great way to connect with audiences."
"Eaze is all about high product standards and the best value for customers, and we're pleased to align with one of the biggest and most respected names in entertainment," he said.
The promotion begins on Monday and extends through the end of July, or until supplies run out. There are 20 California dispensaries that carry the products, and Eaze will offer them through deliveries in Los Angeles, San Francisco and San Diego.
Oregon Psilocybin Measure Has Enough Signatures For November Ballot, Activists Say
Photo courtesy of Flickr/JasonParis.
Just Look At These Hemp Shoes The VA Is Selling To Military Veterans
The U.S. Department of Veterans Affairs (VA) is selling pairs of aesthetically questionable hemp toe shoes to military veterans.
In one of the latest, albeit more trivial, examples of the federal government embracing the crop since its legalization under the 2018 Farm Bill, VA's Veterans Canteen Service (VCS) is offering the hemp shoe at a price they claim is "so good" that their brand partners won't let them disclose it unless you're a member.
VCS, established in 1946, provides "articles of merchandise and services at reasonable prices to Veterans enrolled in VA healthcare system, caregivers, and visitors," according to the agency's site. "Since its conception, VCS' mission continues, incorporating a strategic Veteran-centric approach emphasizing the importance of service to Veterans and supporting VA's overall mission."
Of course, VA doesn't produce the shoes; the company Vibram does. Both the men's- and women's-style shoe go for about $100 normally, according to the firm's website.
Selling points for the hemp shoes, according to VCS, are that they are a "casual minimalist" style, breathable, made of a blend of hemp and polyester, "durable and comfortable" and machine washable.
While some might have to weigh those benefits against the trademark FiveFinger aesthetic, it is the case that hemp often represents a more environmentally sustainable alternative to plastic-based materials.
That VA is offering the hemp product to its members is another sign of the federal government normalizing the crop, despite maintaining prohibition against its cannabis cousin marijuana.
That said, while VA is working to put hemp on veterans' feet, the Department of Defense has made clear that active service members cannot ingest hemp products such as CBD oils and tinctures regardless of their legal status. A little-noticed memo the department issued this year instructed military branches to issue guidance explaining the hemp ban by March.
The memo does make an exception for the use of "durable goods containing hemp" such as rope and clothing, however, so it appears service members would be cleared to individually wrap each of their toes in the Vibram cannabis shoe as long as they don't try to smoke or eat it.
Meanwhile on the policy side, a pair of lawmakers recently wrote a letter to the head of the U.S. Department of Agriculture (USDA), asking that the agency extend access to a coronavirus relief program to hemp farmers.
Little-Noticed Hemp Memo Clarifies Military's Ban On Service Members Using CBD
Photo courtesy of VCS.