After Legalizing Marijuana, Colorado Saw 'Significant Decrease' In Opioid Prescriptions, Study Finds
Since Colorado legalized recreational marijuana, the amount of opioid prescriptions for pain fell significantly compared to two states where access to cannabis for adult-use is still illegal, a new study finds.
While a robust body of research has demonstrated a link between legal access to medical marijuana and lower use of opioids, less is known about how broader adult-use laws affect the prescribing rates of pharmaceuticals used for pain management. Researchers at the Geisinger Commonwealth School of Medicine and the University of New England were interested in addressing this gap in the literature.
For their analysis, they chose to compare Colorado with Maryland and Utah based on the fact that those two states are similar to the first-to-legalize jurisdiction in different ways: While Maryland has similar demographics in terms of population size, home ownership, education level and uninsured rates, Utah was the most geographically similar state with comparable Body Mass Index and median household income.
According to the study's findings, which were pre-published on bioRxiv earlier this month and have yet to be peer-reviewed: "Colorado had a larger decrease in opioid distribution after 2012 than Utah or Maryland. Therefore, marijuana could be considered as an alternative treatment for chronic pain and reducing use of opioids."
"There has been a significant decrease in the prescription opioid distribution after the legalization of marijuana in Colorado."
Using data from a federal program managed by the Drug Enforcement Administration to keep an eye on the distribution of certain narcotics, the study's authors looked at the prescription rates from 2007 to 2017 for nine opioid pain medications (oxycodone, fentanyl, morphine, hydrocodone, hydromorphone, oxymorphone, tapentadol, codeine, and meperidine) and two medications used to treat opioid use disorder (methadone and buprenorphine) in the three states. For a baseline comparison, they converted the amount of each drug distributed into what the equivalent would be in a dose of oral morphine in milligrams (MME).
According to the study's analysis, Maryland had the highest amount of total pharmaceuticals distributed during the study period: In 2011, the weight of all 11 opioids peaked at 12,167 kg MME. That amount was more than twice the weight determined in Colorado and Utah, which peaked at 5,029 kg MME in 2012 and 3,429 kg in 2015, respectively. The two narcotics distributed the most in all three states were oxycodone and methadone.
When researchers looked specifically at medications prescribed to help people who misuse opioids—that is, methadone and buprenorphine—they found Utah had cut back by 31 percent over the study period. Colorado and Maryland both increased these prescriptions by 19 percent and 67 percent, respectively.
For pain medications specifically, Utah had lower rates in every year and in every drug compared to Colorado. However, its prescription rate increased by almost 10 percent over time. Meanwhile, Colorado's prescribing rates decreased by approximately 12 percent during the decade studied, while Maryland saw a decrease of 6 percent.
"This finding was particularly notable for opioids indicated predominantly for analgesia such as hydrocodone, morphine and fentanyl."
"Colorado and Maryland experienced an overall decrease in opioid distribution, but Colorado's decrease was larger," the study states. "While the nation as a whole was experiencing a decrease in opioid distribution, it was promising that Colorado's greater decrease gives consideration to the potential impact of recreational marijuana."
It's unclear why Colorado saw such a significant drop in prescriptions for pain medication, but it's hard to ignore the fact that Colorado legalized marijuana for adult use in 2012. Recent research also shows that many customers purchase marijuana from recreational dispensaries for the same reasons medical cannabis patients do: to help with pain and sleep.
There may be other variables at play, however, including guidelines issued by the Centers for Disease Control and Prevention in 2016 to address prescribing narcotics for chronic pain, the study states. Additionally, Maryland lawmakers passed a medical cannabis law in 2013, while Utah voters didn't approve medical access until 2018.
Importantly, the authors say that lawmakers "have the duty" to consider other options to address the opioid crisis, including "marijuana as a treatment option for chronic pain."
"If there is an initial reduction in opioid distributions in states with recreational marijuana laws, it is conceivable that opioid misuse, addiction, and overdose deaths could also fall," they conclude. "Therefore, it may be time to reconsider the practice of automatically discharging patients from pain treatment centers for positive marijuana screens, considering this use might actually reduce their overall opioid use."
Patients Are Substituting Marijuana For Addictive Pharmaceutical Drugs, Two New Studies Show
Federal Health Agency Releases List Of Marijuana Research Priorities
In one of the latest signs that the federal government is recognizing the reality of the marijuana legalization movement's continued success, a top health agency released an extensive list of cannabis-related research objectives it hopes to fund.
The notice, published on Wednesday, notes the rapid evolution of marijuana policies in the U.S. and globally, which is "far outpacing the knowledge needed to determine and minimize the public health impacts of these changes."
"A growing number of states have loosened restrictions on cannabis, including those on sales and use, by passing medical marijuana laws or by making cannabis legal for adult recreational use, and in some cases, states have done both," the National Institute on Drug Abuse (NIDA) wrote.
It also referenced a 2018 report from a cannabis policy working group that was tasked with identifying "cannabis policy research areas with the greatest urgency and potential for impact."
Evidently, there are quite a few areas that fit that description, as NIDA listed 13 research objectives of "programmatic interest." And while the agency has previously called for studies into several areas that are featured on the notice, there are others that signal NIDA is evolving in its understanding of research needs as more states opt to legalize.
For example, NIDA is not simply focusing on providing grants to explore the health risks of cannabis use, it's also interested in learning about "reasons for initiation and continued use of marijuana for therapeutic purposes" as well as investigating "how cannabis industry practices, including research on marketing, taxes, and prices, impact use and health outcomes."
Notice of Special Interest (NOSI): Public Health Research on Cannabis https://t.co/c04DIcmdAI

— NIH Funding (@NIHFunding) August 14, 2019
The agency also wants to fund studies that look at the differences in legal marijuana regulatory schemes in various jurisdictions to "understand which combinations or components minimize harm to public health."
Other research goals NIDA described include exploring the impact of cannabis use during pregnancy and developing roadside testing instruments to identify THC impaired drivers as well as standards to measure marijuana dosing.
Here's the full list of research objectives: 
—Develop standards for measuring cannabis (including hemp and hemp product) dose, intoxication, and impairment.
—Enhance existing epidemiology research to study trends for cannabis use and CUD; including new products, patterns of use, and reasons for use in different populations.
—Characterize the composition/potency of cannabis, methods of administration, cannabis extracts/concentrates, and cannabis of varying constituents (e.g. cannabinoid or terpene content), as well as how those factors impact physical and mental health.
—Determine the physical and mental health antecedents of use, as well as outcomes of use.
—Explore the impact of polysubstance use on health outcomes, including interactions (substitution/complementation) with alcohol, tobacco, and prescription and nonprescription opioids.
—Examine reasons for initiation and continued use of marijuana for therapeutic purposes.
—Investigate the effects of different patterns of cannabis use on brain development, educational attainment, and transition to work and adult roles.
—Identify the effects of maternal cannabis consumption during pregnancy and breastfeeding.
—Develop effective roadside tests for cannabis impairment that can be practically deployed by law enforcement.
—Determine the prevalence of cannabis-involved vehicular crashes and other types of injury or property damage.
—Investigate how cannabis industry practices, including research on marketing, taxes, and prices, impact use and health outcomes (e.g. how different price points impact consumption patterns across different levels of use).
—Determine the impact of federal, state, and local marijuana policies and their implementation on use and health outcomes.
—Explore the heterogeneity of regulatory schemes (e.g. models for retail distribution of cannabis) to understand which combinations or components minimize harm to public health.
A number of federal health agencies have issued several notices for marijuana-related research opportunities in recent months. One that received particular attention came from NIDA in May, when it said applications were open for what is essentially a professional research-grade marijuana joint roller and analyst position.
While NIDA said that research isn't keeping up with the rapid reform movement, its director also acknowledged in April that the federal drug scheduling system—which regards cannabis as a tightly restricted Schedule I drug—has inhibited such research by making it difficult for scientists to access marijuana.
Women Lawmakers From Across U.S. Hold Marijuana Conference And Tour Dispensary
Photo by Aphiwat chuangchoem.
Study Reviews How Marijuana Compounds Inhibit Tumor Growth And Kill Cancer Cells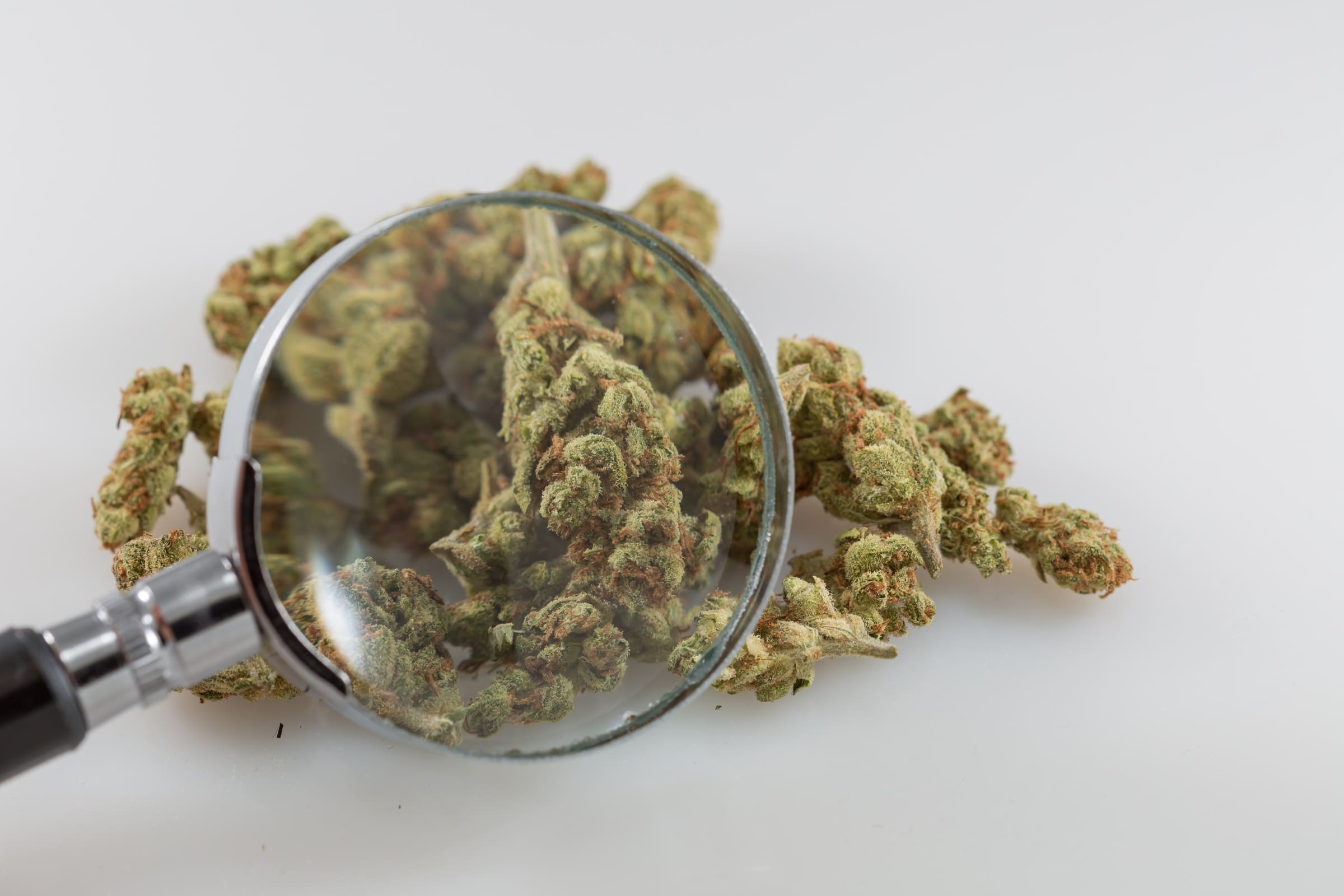 A recent scientific review concludes that marijuana's legal status should be revisited given existing research that shows cannabis's components can inhibit tumor growth and help with cancer management.
Researchers at Amity University in India detailed the scientific literature surrounding the effects of cannabinoids on different cancer types and also looked at marijuana's anti-nausea, appetite stimulation and pain relieving qualities.
Besides treating symptoms of chemotherapy side effects, cannabis also shows potential in slowing the growth of cancer cells and even kill cancer cells in certain cases, the researchers wrote.
"THC and CBD exhibit effective analgesic, anxiolytic, and appetite-stimulating effect on patients suffering from cancer."
But that's not all. "Apart from exerting palliative effects, THC also shows promising role in the treatment of cancer growth, neurodegenerative diseases (multiple sclerosis and Alzheimer's disease), and alcohol addiction and hence should be exploited for potential benefits," an abstract of the study, published in the Journal of Cancer Research and Therapeutics, states.
The majority of the studies that were reviewed were based on in vitro experiments, meaning they did not involve human subjects but rather isolated cancer cells from humans, while some of the research used mice.
Cannabinoids appear to "exert potent [anti-growth] activity and activate various apoptotic mechanisms eventually leading to cell death" of cancer cells associated with glioma, an aggressive form of brain cancer.
At least once clinical trial showed that patients with recurrent glioblastoma multiforme who were treated with a "proprietary combination of THC and CBD" in addition to a traditional pharmaceutical had a higher one-year survival rate (83 percent) compared to a placebo group (53 percent).
Another study found blood cancer cells that were treated with two synthetic endocannabinoids activated receptors that "mediated apoptosis," or the death of the cells.
In certain cell lines of prostate cancer, similar findings were observed. There was "[s]ignificant cell growth inhibition followed by apoptosis" in one particular cancer cell type in a "study which was designed to evaluate the in vitro effects of endocannabinioids such as 2-arachidonoyl glycerol, anadamine, and its synthetic analog methazolamide."
Less research has been conducted on the effects of cannabis on lung, breast, oral and liver cancers, but the study authors documented instances where mice with certain lung cancer types treated with THC experienced a "notable reduction of the subcutaneous tumor growth and lung metastasis" of those cells, "prompting its significance as a novel therapeutic molecule in lung cancer treatment."
But while THC is a common study focus, other cannabinoids show particular potential in treating different cancer types, they found. For example, a synthetic CBD compound (940-CBD) was the most effective "in terms of antiproliferative effects and invasiveness" of a particular breast cancer cell line.
When treated with THC, an oral cancer cell line that's "highly resistant to anticancer drugs," showed increased "cellular respiration inhibition," whereas another conventional treatment option "showed no such effect."
While researchers have investigated a wide range of cancer treatments, "the utilization of THC and their derivatives is still unexplored pharmacologically owing to their 'habit-forming' nature," the researchers concluded. "Specific targeting of cannabinoid receptors can be used to manage severe side effects during chemotherapy, palliative care and overall cancer management."
"Furthermore, research evidences on cannabinoids have suggested tumor inhibiting and suppressing properties which warrant reconsidering legality of the substance," they said. "Studies on [cannabinoid] receptors, in case of cancers, have demonstrated the psychoactive constituents of cannabinoids to be potent against tumor growth."
Because the activation of CB1 and CBD2 cannabinoid receptors "tends to limit human cancer cell growth," there may be a "role of the endocannabinoid system as a novel target for treatment of cancers" and "[f]urther explorations are required to exploit cannabinoids for an effective cancer management."
The findings reflect another recent study that also explored the therapeutic potential of cannabis extracts in the treatment of different cancers. Like this new review, it demonstrated that while variation in cannabinoids that are used to treat distinct cancer cell lines is an important consideration, the growing data on marijuana's ability to inhibit cell growth and kill cancer cells indicates that it should be a major area of research going forward.
Psychedelics Can Help Patients With Depression And Anxiety, Study Finds
Marijuana Legalization Causes 'Significant Decline' In Opioid Overdoses, New Research Finds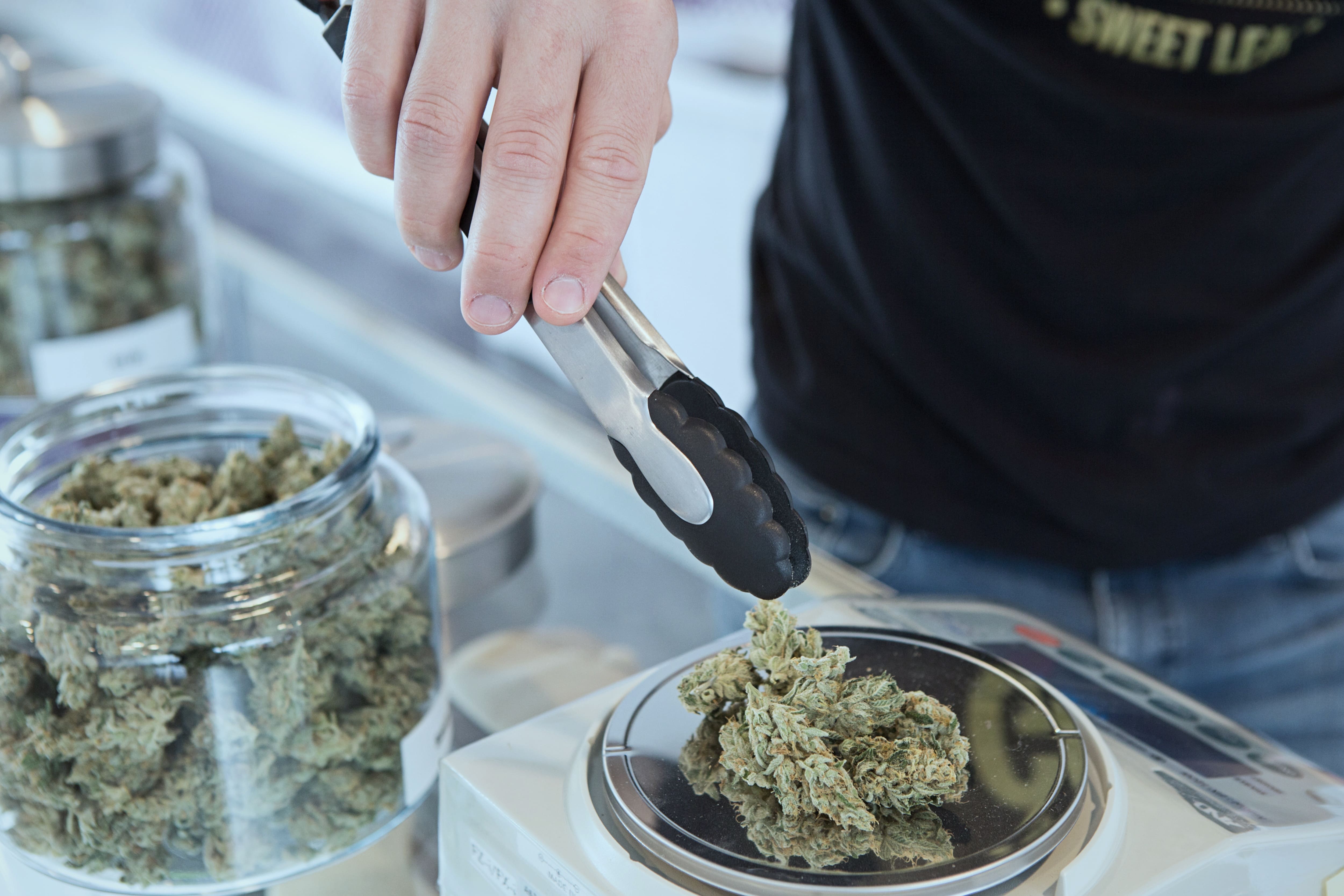 Two new studies find that opioid-related deaths decline when states legalize access to marijuana. In fact, when adult-use cannabis laws are in place, the rate of opioid overdoses declines by at least 20 percent.
Both papers, published in the journal Economic Inquiry, not only show the impact of passing such laws, but also how dispensaries play a role in helping to quell these deaths.
The first study, helmed by researchers in Massachusetts and Colorado, claims to be the first to show the causal effects of access to recreational cannabis on opioid mortality.
"We find that marijuana legalization causes a significant decline in opioid mortality— especially deaths from synthetic opioids—with particularly pronounced benefits in states that have legalized recreational usage," the study's authors write. "Yet it is not legalization, per se, that produces these gains; rather, states that have legal access via dispensaries see the largest reductions in mortality."
"We estimate that [recreational marijuana laws] reduce annual opioid mortality in the range of 20%–35%, with particularly pronounced effects for synthetic opioids."
The study used three main sources of data: death rates involving all opiates, prescription opioids and synthetic opioids from January 1999 through the end of 2017; the history of marijuana legalization in each state (including when legislation was passed and when dispensaries opened for business) and state-level demographic information. During the study period, 29 states had approved medical cannabis, while recreational marijuana was legalized in eight states plus the District of Columbia. According to the Centers for Disease Control and Prevention, the number of opioid-related deaths has increased six times over between 1999 and 2017. Additionally, 36 percent of the 47,600 opioid overdoes in 2017 involved prescription opioids.
After running several statistical and mathematical models that included checks to ensure their results were consistent, the study's authors found that broader adult-use laws reduce a state's opioid death rate between 20 percent (for all opiates and prescription opioids) to 35 percent (for synthetic opioids).
"Recreational marijuana laws affect a much larger population than medical marijuana laws, yet we know relatively little about their effects," study co-author Nathan W. Chan, PhD said in a press release. "Focusing on the recent wave of recreational marijuana laws in the U.S., we find that opioid mortality rates drop when recreational marijuana becomes widely available via dispensaries."
"Our estimates are sizable," the study itself states. "For reference, the average never-legalizer state has 4.82 fatalities per 100,000 people from All Opiates (Synthetic Opioids) annually, while for the average [medical marijuana law] state, these are 6.067 and 0.856 per 100,000 people. Thus, our estimates imply annual reductions in All Opioid mortality between 1.01 and 1.27 deaths per 100,000 people for non-[recreational marijuana law] states, on average. For a state with a population of 5 million (near the nationwide median), this would save on the order of 50 lives per year, or roughly 10 averted deaths from Synthetic Opioids alone."
Those are conservative estimates, the authors add.
Additionally, models showed that white people and women saw the highest reductions in synthetic opioid deaths in states that legalized recreational cannabis: Whites experienced a 32 percent decrease, while the statistical effect for women was larger and "highly statistically significant" compared to what they found for men.
The authors did not identify what mechanism is responsible for this reduction in mortality rates, though past research suggests people who can legally access marijuana may substitute it for opioids. A recent study, for example, found the majority of people who shopped at cannabis retail shops reported using marijuana to help with pain and sleep.
The new study's authors do stress, however, that the causal effect they identified is "highly robust."
"Our bedrock findings remain unmoved by variations in modeling assumptions and selections of control variables, and our findings are further corroborated through placebo tests," they write. "Our results show that there are substantial ancillary benefits to marijuana legalization, especially [recreational marijuana laws], and they offer important food for thought as many states continue to contemplate expansions to both medical and recreational marijuana access."
Their findings support a growing body of research that has linked the availability of medical marijuana dispensaries with a drop in the rate of local opioid-related deaths.
In fact, that was the focus of the second cannabis-related study published recently in Economic Inquiry. According to its findings, after a medical cannabis dispensary opened in a county, prescription opioid deaths fell locally by approximately 11 percent. These results, the author writes, suggest "a substitutability between marijuana and opioids."
"Furthermore," the study concludes, "the unintended beneficial effects of allowing for marijuana dispensary operations should be considered by policymakers as they aim to curtail narcotic abuse and limit the impact of the opioid epidemic."
New Analysis Explores Relationship Between Medical Marijuana And Opioid Overdoses