Wyoming Cops Accuse Hemp Advocates Of Illegally Growing Marijuana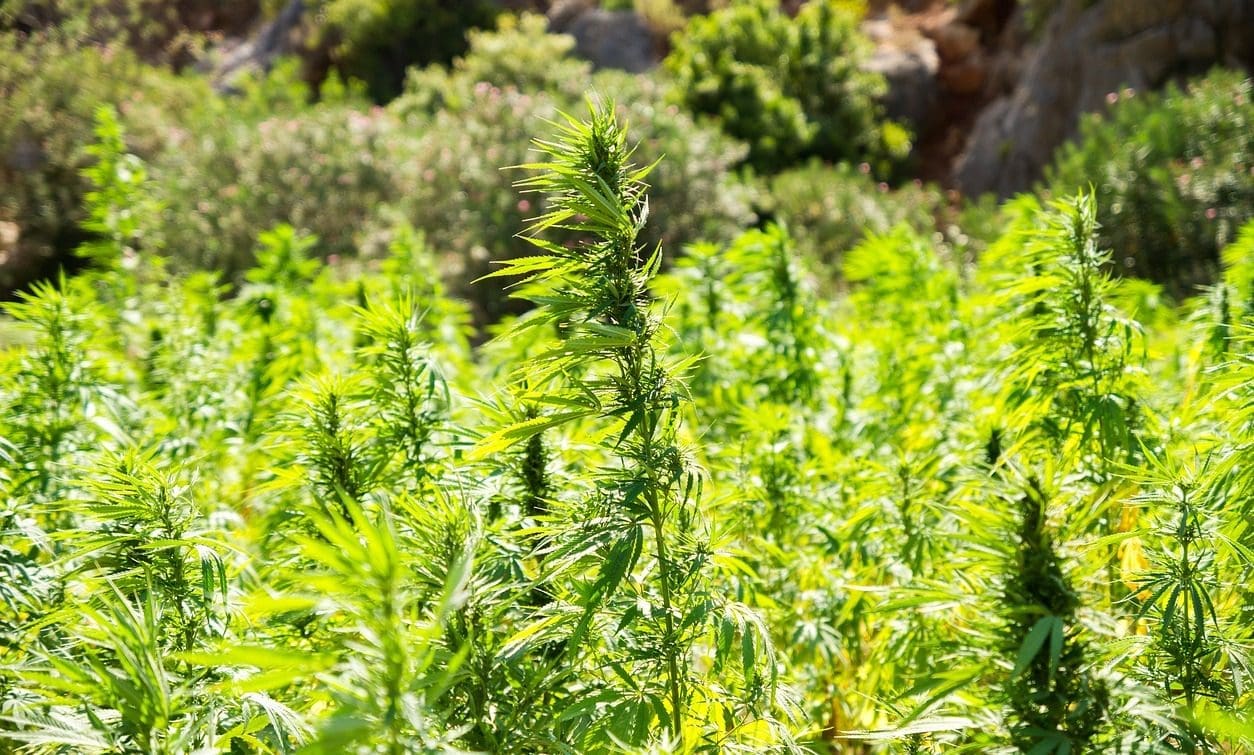 A lawyer "argues there is a pile of evidence that the farmers intended to grow hemp, beginning with the fact that they testified in front of legislative committees in favor of legalizing this agricultural practice in Wyoming."
By Andrew Graham, WyoFile.com
UPDATE: Laramie County prosecutor David Singleton and attorneys for the defendants questioned Wyoming Division of Criminal Investigations Special Agent John Briggs on Thursday during the start of the preliminary hearing. Laramie County Circuit Court Judge Antoinette Williams is presiding over the hearing, which was extended to an as-yet-unannounced date. — Ed.
Wyoming Division of Criminal Investigation agents in November raided an Albin hemp farm, operated by two people instrumental in legalizing the crop in Wyoming, court filings show.
DCI and Laramie County prosecutors are accusing the mother-and-son farmers of growing marijuana with the intent to distribute because the 700-plus pounds of dried plant material law enforcement seized tested slightly above the legal THC-concentration limit of 0.3%, according to a DCI affidavit. Marijuana and hemp are derived from the same plant. Tetrahydrocannabinol, or THC, is the chemical in marijuana that gets users high. Its low presence in hemp keeps the crop from being categorized a drug.
The farmers, Deb Palm-Egle and her son, Josh Egle, could face years, even decades, in prison if convicted.
The Egles intended to grow hemp, and their crop tested below the legal limit before the raid, according to documents filed by their attorney, trial lawyer Tom Jubin of Cheyenne.
In the July 6 court filing, Jubin argues there is a pile of evidence that the farmers intended to grow hemp, beginning with the fact that they testified in front of legislative committees in favor of legalizing this agricultural practice in Wyoming.
The case comes up for a preliminary hearing tomorrow in Laramie County Circuit Court. Jubin declined to comment, but his filing indicates he will ask the judge to dismiss the case because his clients did not intend to grow marijuana, which he argues should invalidate all the charges.
The Legislature legalized industrial hemp farming in 2017, though it became law without then-governor Matt Mead's signature — a sign of his disapproval.
Jubin's list of expected witnesses includes high-ranking politicians. Wyoming State Treasurer Curt Meier, a former state senator, along with House Majority Floor Leader Eric Barlow and House Judiciary Committee Chairman Dan Kirkbride — all proponents of hemp farming who interacted with the charged farmers during legislative hearings on the statutes — are listed as potential witnesses. All three submitted testimony that they believe the Egles intended to grow hemp, not marijuana.
Political proponents of hemp have touted it as a way to diversify Wyoming's fossil-fuel dependent economy and provide a new crop for the state's agriculturists.
A photograph of the Egles standing next to Gov. Mark Gordon at the March 6, 2019 signing of a follow-up bill legalizing hemp production and processing is also included in the filing.
Jubin is also arguing that while DCI's tests found the plants contained above the legal limit for THC, their concentration of the psychoactive ingredient was far too low to be effective as an illegal intoxicant.
DCI agents put the plants through a series of 10 tests, according to the charging documents. In nine of those, the concentration tested higher than 0.3%, according to the charging documents. The highest test level came back at 0.6% THC.
But for someone looking to get high, smoking these plants would be a disappointment. A review of recreational marijuana dispensary websites in Fort Collins, Colorado shows most "flowers," the smokable buds of the plants, contain 15% THC or more.
"A crop of hemp containing in the neighborhood of .3 percent — or even over one percent, would be entirely unmarketable as marijuana," Jubin argued in his July 6th filing. Selling such a product "on the illegal black market" could even put the seller at risk of retaliation, Jubin argued.
"Selling such a plant representing it to be marijuana could endanger the seller as it has no significant psychoactive properties, and any purchaser would consider himself duped or cheated," he wrote. Nor could the farmers sell the crop in the legal marijuana market, because it did not come from a licensed grow operation, Jubin argued.
Prosecutors, however, are leveling serious charges against the farmers. These include conspiracy to manufacture, deliver or possess marijuana; possession with intent to deliver marijuana; possession of marijuana; and planting or cultivating marijuana. All but the last are felonies. The conspiracy and possession-with-intent-to-deliver charges carry prison sentences of zero to 10 years. Possession of a felony weight of marijuana — over three ounces — carries a prison sentence of zero to five years.
Two more people, Brock and Shannon Dyke, who were present at the farm the day of the raid, face identical charges. Brock Dyke was a contractor doing work for the Egles, according to Jubin's filing.
Laramie County District Attorney Leigh Ann Manlove did not respond to a request for comment by publication time.
Tipster led to 'bust'
The trail to DCI's raid on the farm in sleepy Albin, east of Cheyenne near the Nebraska border, began on Sept. 4, according to the charging documents. That day, a "reliable source of information" contacted DCI Special Agent J. Briggs and said he was concerned Palm-Egle was growing marijuana. The source said he or she "has known PALM-EGLE for some time," Briggs wrote in his affidavit. The reliable source said they had seen a new addition on Palm-Egle's farm and "believed that the new addition was what was described as a 'greenhouse,'" Briggs wrote. The source "also claimed that he/she, noticed 'blue lights coming from the greenhouse.'"
The source also said that Palm-Egle, who is in her 60s, talked in conversation about marijuana easing the symptoms of her multiple sclerosis.
More than a month after the tip, on Oct. 28, DCI's Briggs "attempted to conduct physical surveillance on the residence," he wrote. He saw car tracks but no people.
On Nov. 1, Briggs returned to the farm with another agent and went looking for someone to talk to. They did not find anyone, even after knocking on doors and entering "open barns" to look "around corners in areas that someone could possibly be, with the inability to hear Agents announcing themselves," Briggs wrote.
He did not find anyone to talk to, but spotted "what appeared to be raw plant form marihuana" hanging in a barn with no door to hide it. Briggs then did some research, according to his affidavit. An official at the Wyoming Department of Agriculture told him that no hemp licenses had been granted yet. Briggs also found that Palm-Egle was once the registered agent for a Denver-based marijuana company, but the company no longer had a grow license.
The morning of Nov. 4, agents executed a search warrant and raided the farm, where they found the Dykes, along with their two children. Jubin describes Brock Dyke as a building contractor who worked for the Egles.
"My clients are honest small business owners," Michael Bennett, a Laramie-based attorney representing the Dykes, said. Bennett declined to comment further on the case.
When the agents entered the barn, they found the plants had been taken down and the buds had been placed in "large brown paper bags."
According to Briggs, Brock Dykes in an interview told the agent the plants were "clones" of marijuana plants Josh Egle had brought from a marijuana grow in Colorado.
According to Jubin's filing, Dykes told DCI Agent Jason Moon during the raid that the crop was hemp. He provided the agent text messages from the farmers with the results of two previous tests the farmers had a commercial lab conduct on the crop. Both those tests, as well as a third one that is included as evidence in Jubin's filing, came back below 0.3% THC. Moon shared those results with other investigating law enforcement officers, Jubin said.
Jubin will argue that the fact that the farmers were testing their crop at all suggests they were growing hemp, not pot, he wrote in his filing. This idea is consistent with what "one of the DCI agents on scene at the time of the search has said," Jubin wrote.
"It is very surprising that this matter has come this far and gotten to this point," Jubin wrote.
The agents took the plants in the barn, "as well as a small amount of high grade marihuana from inside the residence," that the Dykes denied ownership of. The agents seized 327,600 grams of plants, according to the affidavit. That's roughly 722 pounds.
WyoFile is an independent nonprofit news organization focused on Wyoming people, places and policy.
Veterans Working In Marijuana Industry Aren't Automatically Blocked From Home Loans, VA Says
Photo courtesy of Pixabay.
Top IRS Official Says Marijuana Banking Reform Would Help Feds 'Get Paid'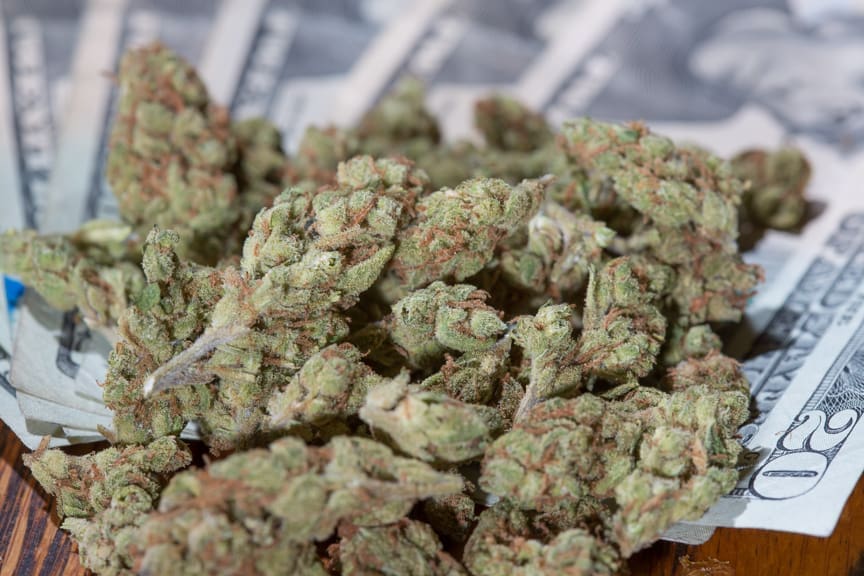 The Internal Revenue Service (IRS) would like to get paid—and it'd help if the marijuana industry had access to banks like companies in other legal markets, an official with the federal department said. She also talked about unique issues related to federal tax deductions for cannabis businesses.
At an event hosted by UCLA's Annual Tax Controversy Institute on Thursday, IRS's Cassidy Collins talked about the "special type of collection challenge" that the agency faces when it comes to working with cannabis businesses while the product remains federally illegal.
While IRS isn't taking a stand on federal marijuana policy, Collins said that the status quo leaves many cannabis businesses operating on a cash-only basis, creating complications for the agency, in part by making it harder for banks to "pay us."
"The reason why [the marijuana industry is] cash intensive is twofold," she said. "Number one, a lot of customers don't want a paper trail showing that they're buying marijuana, and number two, the hesitancy of banks to allow marijuana businesses to even bank with them."
Of course, the reason why many financial institutions remain hesitant to take on cannabis companies as clients is because the plant is a strictly controlled substance under federal law.
"There's been a number of legislative bills that have been introduced—and I am definitely not expressing any opinion personally or on behalf of the IRS about any pending or proposed legislation," Collins, who is a senior counsel in the IRS Office of Chief Counsel, said. "But it is interesting to note that, if the law changed so that the marijuana businesses could have banks, that would make the IRS's job to collect [taxes] a lot easier. As part of collection, we want the money. That's our end goal there."
A major part of what makes cannabis businesses unique is that they don't qualify for traditional tax credits under an IRS code known as 280E. That policy "prohibits them from claiming deductions for business expenses because they're technically being involved in drug trafficking," Collins explained at the event, from which small excerpts of her comments were reported by Bloomberg.
There are some options available to lessen the burden on marijuana firms, however. At the end of the day, "IRS will work with marijuana companies because, again, we want to get paid," Collins said.
One of the ways the agency works with marijuana business operators is to have them visit designated IRS "tax assistance centers" that accept cash payments in excess of $50,000. But the official warned businesses to "be prepared to be there for a little while" as the center checks—and double checks—the amount of cash being submitted.
"Revenue officers will assist the marijuana companies in paying us," she said.
IRS officials could also help cannabis firms by having officials accompany them "to the bank in order to try to help the taxpayer secure a cashier's payment to pay the IRS, as well as using money orders," she said, adding that "our revenue officers are are wanting to work with the marijuana companies to help assist them to pay us."
"When the revenue officers are there in person with the taxpayer, that could potentially help increase the likelihood that the bank will cooperate and help the taxpayer transition into a cashier's check," she continued. "And that has been a trend since this first became legal [at the state level], that more and more banks are allowing cannabis companies to bank with them."
In a report published earlier this year, congressional researchers examined tax policies and restrictions for the marijuana industry—and how those could change if any number of federal reform bills are enacted.
IRS, for its part, said last month that it expects the cannabis market to continue to grow, and it offered some tips to businesses on staying compliant with taxes while the plant remains federally prohibited.
As it stands, banks and credit unions are operating under 2014 guidance from the Financial Crimes Enforcement Network (FinCEN) that lays out reporting requirements for those that choose to service the marijuana industry.
Leaders in both chambers of Congress are working on legalization bills to end federal marijuana prohibition. But stakeholders are hopeful that, in the interim, legislators will enact modest marijuana banking reform. Legislation to protect financial institutions from being penalized for working with cannabis businesses passed the House for the fifth time last month.
Rodney Hood, a board member of the National Credit Union Administration, wrote in a Marijuana Moment op-ed this month that legalization is an inevitability—and it makes the most sense for government agencies to get ahead of the policy change to resolve banking complications.
IRS separately hosted a forum in August dedicated to tax policy for marijuana businesses and cryptocurrency.
Earlier this year, IRS Commissioner Charles Rettig told Congress that the agency would "prefer" for state-legal marijuana businesses to be able to pay taxes electronically, as the current largely cash-based system under federal cannabis prohibition is onerous and presents risks to workers.
Former Treasury Secretary Steven Mnuchin said in 2019 that he'd like to see Congress approve legislation resolving the cannabis banking issue and he pointed to the fact that IRS has had to build "cash rooms" to deposit taxes from those businesses as an example of the problem.
IRS released updated guidance on tax policy for the marijuana industry last year, including instructions on how cannabis businesses that don't have access to bank accounts can pay their tax bills using large amounts of cash.
The update appears to be responsive to a Treasury Department internal watchdog report that was released earlier in the year. The department's inspector general for tax administration had criticized IRS for failing to adequately advise taxpayers in the marijuana industry about compliance with federal tax laws. And it directed the agency to "develop and publicize guidance specific to the marijuana industry."
Luxembourg Set To Become First European Country To Legalize Marijuana Following Government Recommendation
Luxembourg Set To Become First European Country To Legalize Marijuana Following Government Recommendation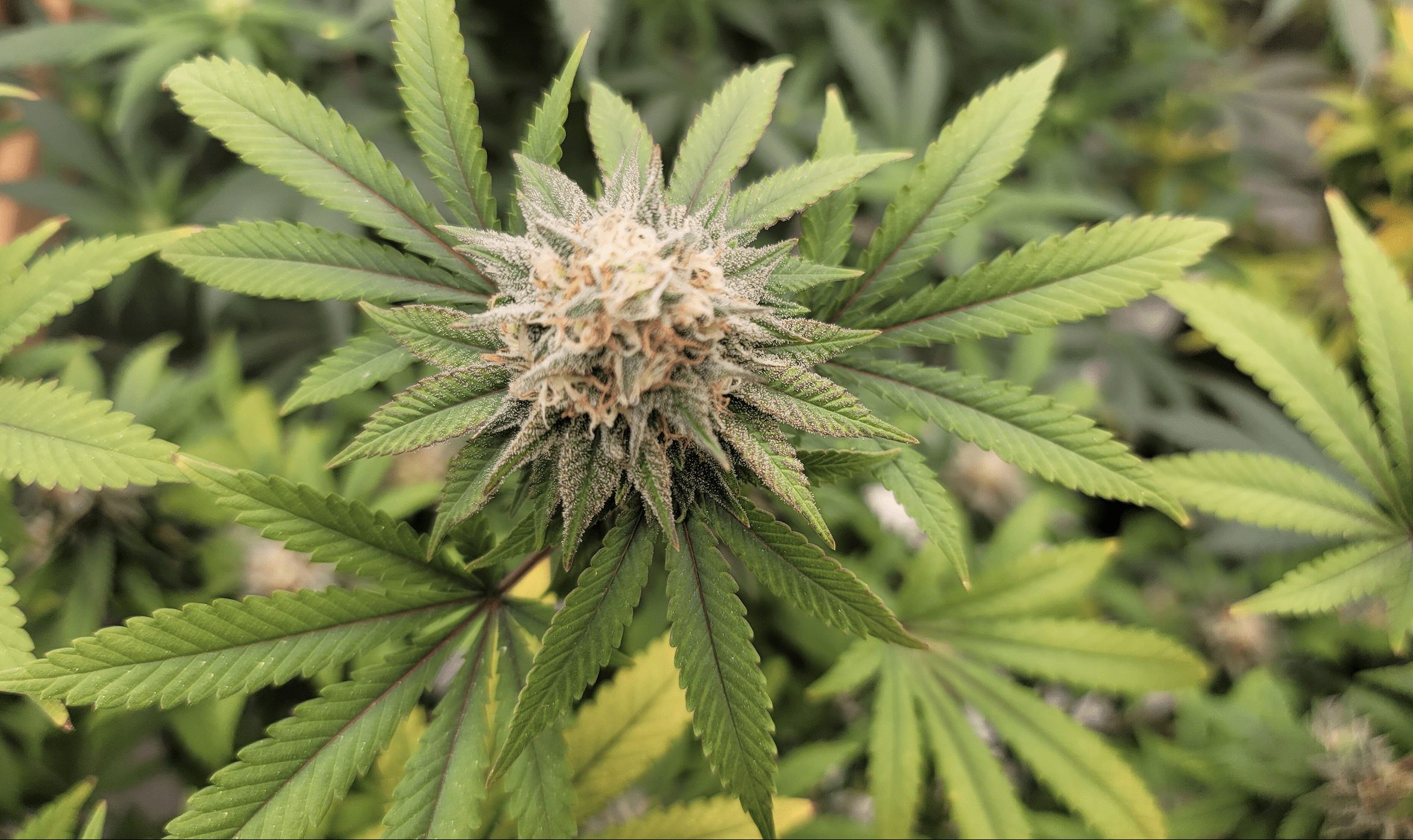 Luxembourg is poised to become the first European country to legalize marijuana, with key government agencies putting forward a plan to allow the possession and cultivation of cannabis for personal use.
The ministers of justice and homeland security on Friday unveiled the proposal, which will still require a vote in the Parliament but is expected to pass. It's part of a broader package of reform measures the agencies are recommending.
Under the marijuana measure, adults 18 and older could grow up to four plants. However, under the non-commercial model that is being proposed, possessing more than three grams in public would still be a civil offense, carrying a fine of €25-500 ($29-581). Currently, the maximum fine for possession is €2,500 ($2,908).
In terms of access, adults would be able to buy and trade cannabis seeds for their home garden.
Justice Minister Sam Tamson said the government felt it "had to act" and characterized the home cultivation policy change as a first step, The Guardian reported.
Paquet stupéfiants:
👉🏻élaboration du projet de loi usage privé du #cannabis : jusqu'à 4 plantes à domicile & décorrectionnalisation <3g
👉🏻renforcement de la prévention & de l'accompagnement
👉🏻⬆️des moyens de la police
👉🏻élaboration d'un projet de production/vente #Luxembourg pic.twitter.com/8yre0Udt8J

— Sam Tanson (@SamTanson) October 22, 2021
"The idea is that a consumer is not in an illegal situation if he consumes cannabis and that we don't support the whole illegal chain from production to transportation to selling where there is a lot of misery attached," he said. "We want to do everything we can to get more and more away from the illegal black market."
While limited in scope, the reform would make Luxembourg the first country in Europe to legalize the production and possession of marijuana for recreational use. Cannabis has been widely decriminalized in certain countries in the continent, but it has remained criminalized by statute.
Government sources in Luxembourg told The Guardian that plans are in the works to develop a program where the state regulates the production and distribution of marijuana. Tamson said they are working to resolve "international constraints" before taking that step, however, referring to United Nations treaty obligations that multiple U.S. states and other countries like Canada and Uruguay have openly flouted.
The measures include:

🟢 Regulation of cannabis use and cultivation: adults will be able to legally cultivate up to four cannabis plants for their own use, provided the cultivation is happening at their place of residence.

— European Greens (@europeangreens) October 22, 2021
For now, the country is focusing on legalization within a home setting. Parliament is expected to vote on the proposal in early 2022, and the ruling parties are friendly to the reform.
This has been a long time coming, as a coalition of major parties of Luxembourg agreed in 2018 to enact legislation allowing "the exemption from punishment or even legalization" of cannabis.
Meanwhile in the U.S., congressional lawmakers are working to advance legalization legislation. A key House committee recently approved a bill to end marijuana prohibition, and Senate leadership is finalizing a separate reform proposal.
In Mexico, a top Senator said this week that lawmakers could advance legislation to regulate marijuana in the coming weeks. The Supreme Court has already ruled that adults cannot be criminalized over possession or cultivation, but there's currently no program in place to provide access.
New Bipartisan Marijuana Research Bill In Congress Would Let Scientists Study Dispensary Products
Photo courtesy of Mike Latimer.
New Bipartisan Marijuana Research Bill In Congress Would Let Scientists Study Dispensary Products
A bipartisan group of federal lawmakers introduced a bill on Thursday to remove barriers to conducting research on marijuana, including by allowing scientists to access cannabis from state-legal dispensaries.
The Medical Marijuana Research Act, filed by the unlikely duo of pro-legalization Rep. Earl Blumenauer (D-OR) and prohibitionist Rep. Andy Harris (R-MD), would streamline the process for researchers to apply and get approved to study cannabis and set clear deadlines on federal agencies to act on their applications.
"Congress is hopelessly behind the American people on cannabis, and the quality of our research shows why that is an urgent problem," Blumenauer told Marijuana Moment. "Despite the fact that 99 percent of Americans live in a state that has legalized some form of cannabis, federal law is still hamstringing researchers' ability to study the full range of health benefits offered by cannabis, and to learn more about the products readily available to consumers."
"It's outrageous that we are outsourcing leadership in that research to Israel, the United Kingdom, Canada, and others. It's time to change the system," he said.
Late last year, the House approved an identical version of the cannabis science legislation. Days later, the Senate passed a similar bill but nothing ended up getting to the president's desk by the end of the last Congress. Earlier this year, a bipartisan group of senators refiled their marijuana research measure for the current 117th Congress.
Meanwhile, lawmakers are also advancing a separate strategy to open up dispensary cannabis to researchers. Large-scale infrastructure legislation that has passed both chambers in differing forms and which is pending final action contains provisions aimed at allowing researchers to study the actual marijuana that consumers are purchasing from state-legal businesses instead of having to use only government-grown cannabis.
The new bill filed this week by Blumenauer and Harris, along with six other original cosponsors, would also make it easier for scientists to modify their research protocols without having to seek federal approval.
—
Marijuana Moment is already tracking more than 1,200 cannabis, psychedelics and drug policy bills in state legislatures and Congress this year. Patreon supporters pledging at least $25/month get access to our interactive maps, charts and hearing calendar so they don't miss any developments.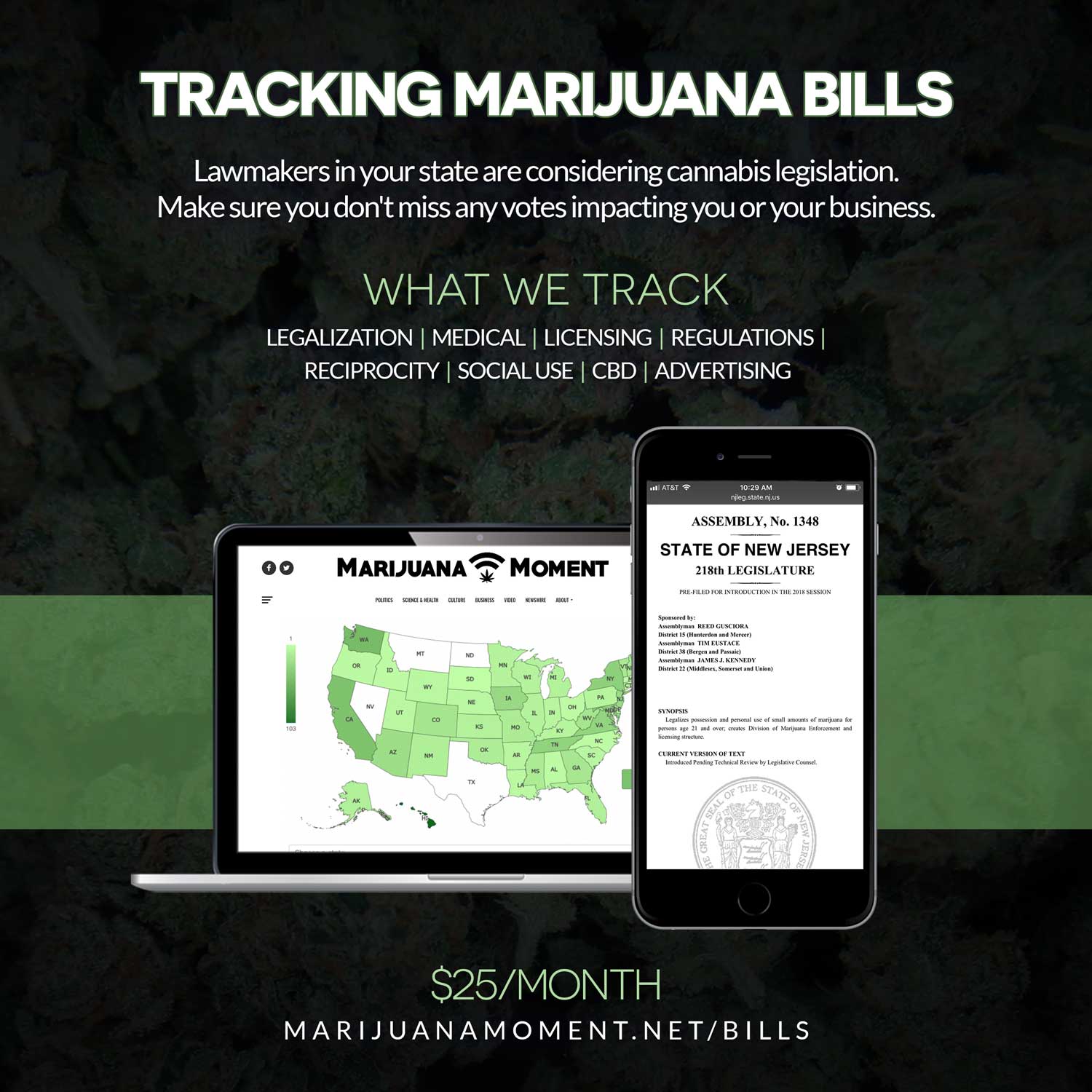 Learn more about our marijuana bill tracker and become a supporter on Patreon to get access.
—
It would additionally mandate that the Drug Enforcement Administration (DEA) license more growers and make it so there would be no limit on the number of additional entities that can be registered to cultivate marijuana for research purposes. It would also require the U.S. Department of Health and Human Services (HHS) to submit a report to Congress within five years after enactment to overview the results of federal cannabis studies and recommend whether they warrant marijuana's rescheduling under federal law.
"The cannabis laws in this country are broken, including our laws that govern cannabis research," Blumenauer said in remarks in the Congressional Record. "Because cannabis is a Schedule I substance, researchers must jump through hoops and comply with onerous requirements just to do basic research on the medical potential of the plant."
The new legislation will "both streamline the often-duplicative licensure process for researchers seeking to conduct cannabis research and facilitate access to an increased supply of higher quality medical grade cannabis for research purposes," he said, adding that expanded studies will help make sure "Americans have adequate access to potentially transformative medicines and treatments."
For half a century, researchers have only been able to study marijuana grown at a single federally approved facility at the University of Mississippi, but they have complained that it is difficult to obtain the product and that it is of low quality. Indeed, one study showed that the government cannabis is more similar to hemp than to the marijuana that consumers actually use in the real world.
There's been bipartisan agreement that DEA has inhibited cannabis research by being slow to follow through on approving additional marijuana manufacturers beyond the Mississippi operation, despite earlier pledges to do so.
In May, the agency finally said it was ready to begin licensing new cannabis cultivators. Last week, DEA proposed a large increase in the amount of marijuana—and psychedelics such as psilocybin, LSD, MDMA and mescaline—that it wants produced in the U.S. for research purposes next year.
Under the new House bill, the agency would be forced to start approving additional cultivation applications for study purposes within one year of the legislation's enactment.
HHS and the attorney general would be required under the bill to create a process for marijuana manufacturers and distributors to supply researchers with cannabis from dispensaries. They would have one year after enactment to develop that procedure, and would have to start meeting to work on it within 60 days of the bill's passage.
In general, the legislation would also establish a simplified registration process for researchers interested in studying cannabis, in part by reducing approval wait times, minimizing costly security requirements and eliminating additional layers of protocol review.
Read the full text of the new marijuana research bill below: