Woody Harrelson Tried To Hide Marijuana Abstinence From Willie Nelson
Woody Harrelson made headlines when he announced earlier this year that he quit smoking marijuana.
Now, in a new interview, the Oscar-nominated actor says it was difficult to share the decision with his cannabis enthusiast friend Willie Nelson.
"That was a very hard one to break," he said in an appearance on Jimmy Kimmel Live on Friday. "At first, I'm like pretending [to smoke a joint]. I'm just holding it because I don't want him to know and then finally I'm like, 'Willie, I quit.'"
But it has apparently taken Nelson some time to come to terms with the change.
"And still it never fails, the joint comes around and he passes it to me," Harrelson said. "He keeps waiting for me to smoke again."
Harrelson previously discussed his cannabis abstinence and his friendship with Nelson in an appearance on The Late Show With Stephen Colbert.
Disneyland Busted Robert Downey Jr. For Smoking Marijuana, He Reveals While Accepting Disney Award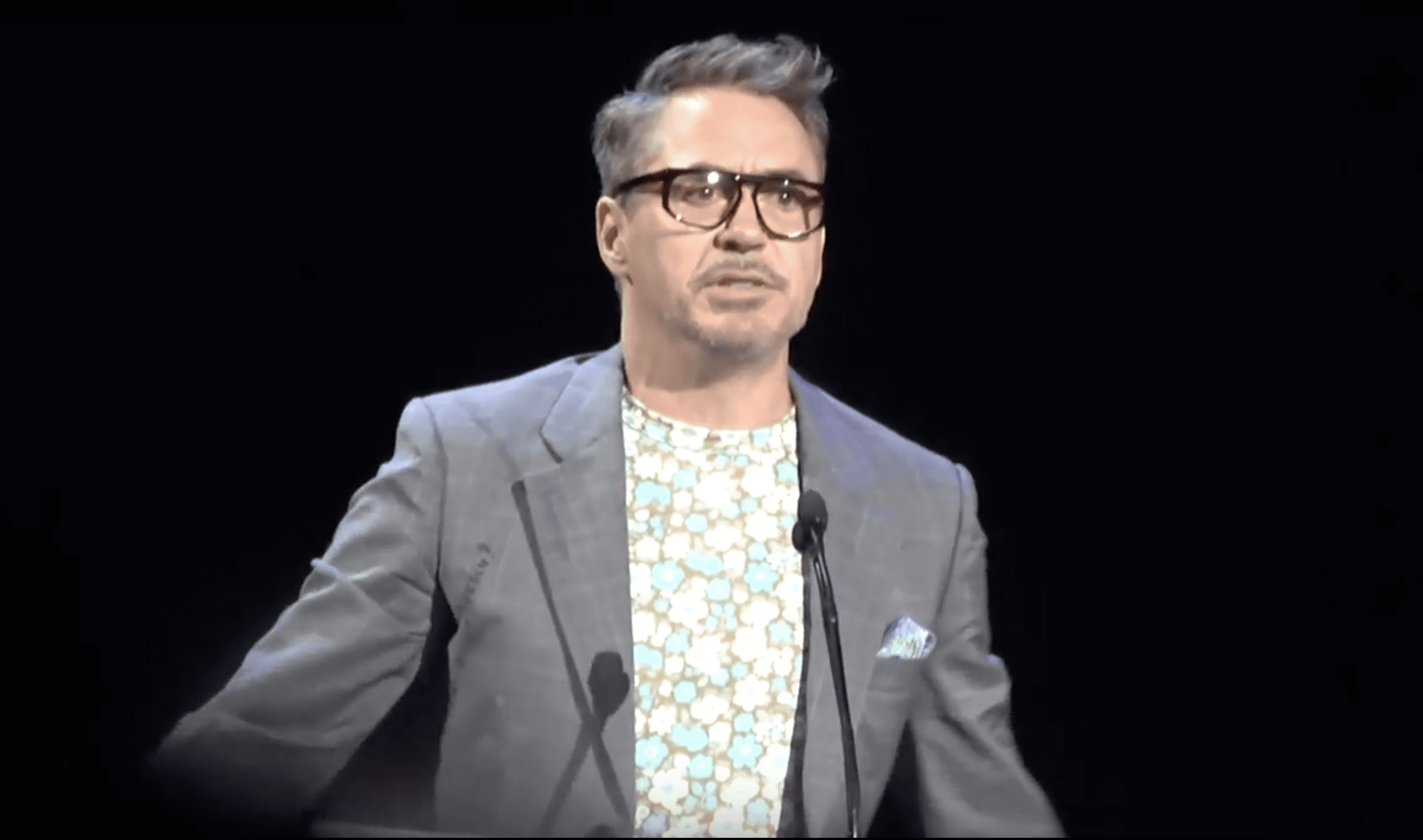 Robert Downey Jr. said he was once detained at Disneyland after getting caught smoking marijuana on a gondola ride.
The Iron Man and Avengers actor shared the anecdote while being honored at the Disney Legends award show on Friday, describing his first trip to the California park.
"Here's a bit of trivia for you. The very first time I went to Disneyland, I was transported to another place—within moments of being arrested," Downey said, drawing laughs. "I was brought to a surprisingly friendly processing center, given a stern warning, and returned to, if memory serves, one very disappointed group chaperone."
"I've been sitting on that shame for a while and I'm just going to release it here tonight," he said. "I would like to make amends to whomever had to detain me for smoking pot in a gondola without a license."
"And I don't wanna further confuse the issue by insinuating that pot smoking licenses for the gondola are in any way obtainable or for any of the other park attractions," Downey added.
"Maybe for the Imagineers, but that's their own business," he joked, referencing Disney's research and development team.
It's not clear when Downey was detained in the so-called "Happiest Place On Earth," but he's previously talked about starting to use cannabis at an early age.
The actor isn't the only high profile figure to get booted from Disneyland over smoking on the gondola ride.
Former President Barack Obama said last year that the same thing happened to him and some friends during college. He said during a speech at a political rally that they were smoking cigarettes on the gondolas, but also seemed to wink, raising questions about exactly what sort of plant material he and his friends were inhaling at the time.
In any case, Downey is right that there are no gondola marijuana smoking licenses available, even in California where cannabis is legal. In fact, Disney specifies on its park rules site that "[s]moking marijuana or any other illegal substances is not permitted at any time."
There are designated cigarette smoking areas, however, which the former president presumably could have taken advantage of, if he really was simply imbibing tobacco.
Dave Chappelle Ate Magic Mushrooms Gifted By A Stranger, Joe Rogan Says
Photo courtesy of YouTube/Spokesmayne.
Dave Chappelle Ate Magic Mushrooms Gifted By A Stranger, Joe Rogan Says
Comedian Dave Chappelle recently rented out a movie theater at 1:00 AM and took psilocybin mushrooms that a stranger handed him.
That's according to Joe Rogan, who also attended the private screening of Quentin Tarantino's new film with Chappelle after the pair performed a stand-up show in Tacoma, Washington.
"I'm pretty sure he ate mushrooms from a fan the other day," Rogan said on his podcast last week.
"We have a private screening of Once Upon a Time In Hollywood at one o'clock in morning. Dave is eating mushrooms that some fucking guy gave him in the crowd," he said.
Rogan, no stranger to tripping, said he did not partake in the psychedelic festivities this time.
"Fool me once, shame on you. Fool me twice, shame on me," he joked.
That said, Chappelle did gift a bag of unlabeled cannabis edibles to Rogan, he said.
"I don't know where the fuck they came from," Rogan said. "They were in a bag."
While Chappelle has incorporated marijuana and magic mushrooms in his comedy routines (like this 1998 bit where he also talked about taking shrooms he got from a stranger and then hallucinating during a haircut), he's also seriously advocated for reforming cannabis policy.
Former NAACP President Ben Jealous, who ran for governor of Maryland in 2018 on a pro-legalization platform, credited Chappelle for first putting the idea or marijuana reform in his head.
The two had an "ongoing conversation about the history of marijuana enforcement—the way it was targeted at our community and Latino communities—and that just sort of opened my eyes," Jealous told Marijuana Moment last year.
Whether Chappelle will go on to become a vocal advocate for psychedelics reform is yet to be seen.
South Park Seems To Take A Jab At Marijuana Company MedMen In Satirical Ad
Photo courtesy of YouTube/Joe Rogan Experience.
Here Are The Top 20 Most And Least Marijuana-Friendly U.S. Colleges
It's back-to-school season, and as college students get ready to move into their dorms, some might be wondering about campus culture—including whether their school is marijuana friendly.
The Princeton Review is here to help. Besides ranking colleges overall each year, it also includes breakout sections offering ratings on a wide range of college features. For this year's issue, the review guide looked at the top 20 universities where students use cannabis the most and least.
To compile the list, released earlier this week, Princeton Review asked 140,000 students at 385 schools a simple question: "How widely is marijuana used at your school?"
The results, for the most part, aren't especially shocking. In general, marijuana is consumed most frequently at colleges located in states with looser cannabis laws, or more libertarian climates. Students are least likely to consume cannabis, according to the rankings, if they attend religious or military schools, or if the campuses are located in states with more restrictive cannabis policies.
Here are the most marijuana-friendly colleges: 
1. University of Vermont (Burlington, Vermont)
2. Pitzer College (Claremont, California)
3. University of Rhode Island (Kingston, Rhode Island)
4. Wesleyan University (Middletown, Connecticut)
5. Skidmore College (Saratoga Springs, New York)
6. Reed College (Portland, Oregon)
7. University of Maine (Orono, Maine)
8. Bard College (Annandale-on-Hudson, New York)
9. Marlboro College (Marlboro, Vermont)
10. University of California at Santa Barbara (Santa Barbara, California)
11. Warren Wilson College (Asheville, North Carolina)
12. Sarah Lawrence College (Bronxville, New York)
13. State University of New York, Purchase College (Purchase, New York)
14. Champlain College (Burlington, Vermont)
15. Colorado College (Colorado Springs, Colorado)
16. University of Colorado at Boulder (Boulder, Colorado)
17. Ithaca College (Ithaca, New York)
18. University of Wisconsin at Madison (Madison, Wisconsin)
19. Syracuse University (Syracuse, New York)
20. Hamilton College (Clinton, New York)
Here are the least cannabis-friendly colleges:
1. United States Air Force Academy (USAF Academy, Colorado)
2. United States Military Academy (West Point, New York)
3. United States Naval Academy (Annapolis, Maryland)
4. College of the Ozarks (Point Lookout, Missouri)
5. Thomas Aquinas College (Santa Paula, California)
6. Brigham Young University (Provo, Utah)
7. Wheaton College (Wheaton, Illinois)
8. City University of New York, Baruch College (New York, New York)
9. Calvin University (Grand Rapids, Michigan)
10. Grove City College (Grove City, Pennsylvania)
11. City University of New York, Hunter College (New York, New York)
12. Baylor University (Waco, Texas)
13. Gordon College (Wenham, Massachusetts)
14. Hillsdale College (Hillsdale, Michigan)
15. Illinois Institute of Technology (Chicago, Illinois)
16. Stephens College (Columbia, Missouri)
17. University of Dallas (Irving, Texas)
18. Pepperdine University (Malibu, California)
19. Agnes Scott College (Decatur, Georgia)
20. Simmons University (Boston, Massachusetts)
Regardless of how much or little students at a given college consume marijuana, those who choose to partake could be at risk of losing the means by which they pay for their tuition. Drug convictions can lead to the loss of federal financial aid, which is why some lawmakers are pushing for legislation to protect such students from being denied access to education over a substance that is becoming legal in more and more places.
Young Americans Are More Likely To Smoke Marijuana Than Cigarettes, Poll Finds
Photo courtesy of Pixabay.