Where Trump's Pick For Attorney General Stands On Drug Policy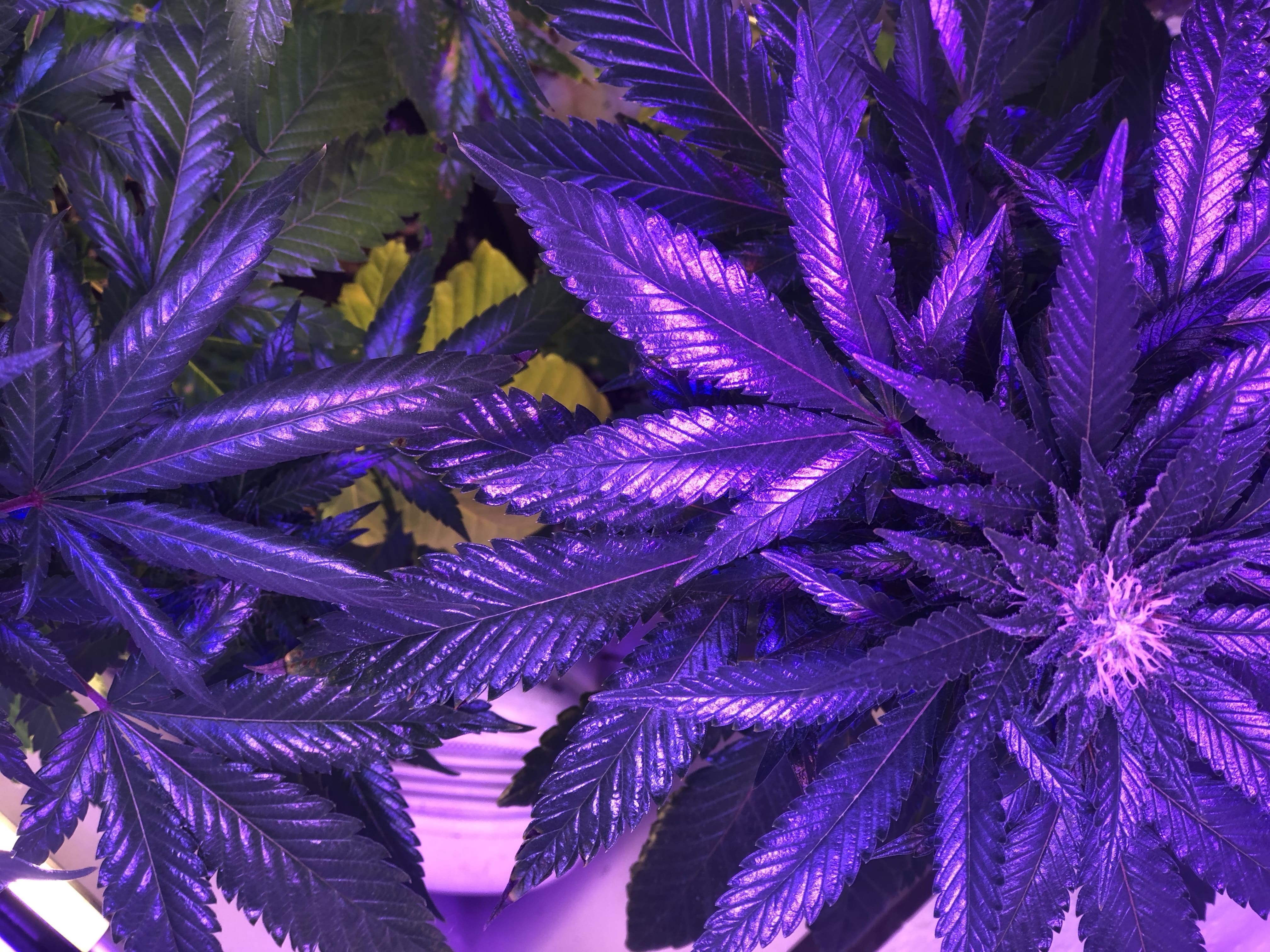 President Donald Trump said on Friday that he plans to nominate William Barr to replace Jeff Sessions as U.S. attorney general.
Barr, who previously served in the position under President George H. W. Bush's administration, seems less openly hostile to marijuana compared to other potential nominees whose names were floated—like New Jersey Gov. Chris Christie (R), who pledged to crack down on state-legal cannabis activity during his failed 2016 presidential bid.
That said, he developed a reputation as anti-drug while overseeing harsh enforcement policies under Bush.
….and one of the most highly respected lawyers and legal minds in the Country, he will be a great addition to our team. I look forward to having him join our very successful Administration!

— Donald J. Trump (@realDonaldTrump) December 7, 2018
The prospective nominee seems to share a worldview with the late president under whom he served. Bush called for "more prisons, more jails, more courts, more prosecutors" to combat drug use and dramatically increased the federal drug control budget to accomplish that goal. In 1992, Barr sanctioned a report that made the "case for more incarceration" as a means to reduce violent crime.
Barr wrote a letter explaining why he was releasing the report, which has now resurfaced as observers attempt to gauge how he will approach drug policy in the 21st century.
"[T]here is no better way to reduce crime than to identify, target, and incapacitate those hardened criminals who commit staggering numbers of violent crimes whenever they are on the streets," he wrote. "Of course, we cannot incapacitate these criminals unless we build sufficient prison and jail space to house them."
"Revolving-door justice resulting from inadequate prison and jail space breeds disrespect for the law and places our citizens at risk, unnecessarily, of becoming victims of violent crime."
He also wrote a letter to lawmakers in 2015 defending the criminal justice system—including mandatory minimum sentences—and encouraging Congress not to bring up a sentencing reform bill.
"It's hard to imagine an Attorney General as bad as Jeff Sessions when it comes to criminal justice and the drug war, but Trump seems to have found one," Michael Collins, director of national drug affairs for the Drug Policy Alliance, said in a press release. "Nominating Barr totally undermines Trump's recent endorsement of sentencing reform."
"The vast majority of Americans believe the war on drugs needs to be replaced with a health-centered approach. It is critically important that the next Attorney General be committed to defending basic rights and moving away from failed drug war policies. William Barr is a disastrous choice."
Another window into Barr's criminal justice perspective comes from 1989, when he wrote a Justice Department memo that authorized the FBI to apprehend suspected fugitives living in other countries and extradite them to the U.S. without first getting permission from the country. The intent of the memo seemed to be to enable the U.S. to more easily capture international drug traffickers.
In 2002, Barr compared drug trafficking to terrorism and described the drug war as the "biggest frustration" he faced under Bush. The administration "did a very good job putting in place the building blocks for intelligence building and international cooperation, but we never tightened the noose," he said.
Interestingly, as The Washington Post reported, Barr would be heading up a department where his daughter, Mary Daly, also works. Daly is the director of opioid enforcement and prevention efforts in the deputy attorney general's office, and she's established herself as an advocate for tougher criminal enforcement aimed at driving out the opioid epidemic.
Today's drug policy landscape is a lot different than it was in the early 1990s, though, and it's yet to be seen how Barr, if confirmed by the Senate, will navigate conflicting state and federal marijuana laws. He'll also be inheriting a Justice Department that no longer operates under an Obama-era policy of general non-intervention, after Sessions moved this year to rescind the so-called Cole memo that provided guidance on federal cannabis enforcement.
But for advocates, at least it's not the guy who said "good people don't smoke marijuana" anymore and it won't be one who campaigned for president saying he'd enforce federal prohibition in legal states, either.
Surgeon General Says Marijuana's Schedule I Status Hinders Research
Austin Police Chief Says Marijuana Arrests Will Continue Despite City Council Vote
Chief Brian Manley said he would continue to enforce marijuana laws the day after the city council unanimously approved stopping arrests and tickets for low-level cases.
By Jolie McCullough, The Texas Tribune
The day after the Austin City Council approved a resolution to stop arresting or ticketing people for most low-level marijuana possession offenses, the police chief made clear he had no plans to do so.
"[Marijuana] is still illegal, and we will still enforce marijuana law if we come across people smoking in the community," Chief Brian Manley said during a news conference Friday afternoon.
Though cracking down on those in possession of small amounts of marijuana has never been a priority for the department, he said, police will continue to either issue tickets under the city's "cite-and-release" policy or arrest people if officers "come across it."
The difference, according to City Council member and resolution sponsor Greg Casar, is that the council's move now guarantees those actions will come with no penalty. Tickets will be meaningless pieces of paper and any arrests will result in a quick release with no charges accepted from prosecutors, he told The Texas Tribune after the news conference.
"What has changed since yesterday is that enforcement, almost in virtually all cases, is now handing someone a piece of paper with no penalty or no court date," Casar said.
The move by the City Council came as a direct result from Texas' new hemp law which complicated marijuana prosecution across the state. Last summer, when lawmakers legalized hemp, they also changed the definition of marijuana from cannabis to cannabis that contains more than 0.3% THC, the psychoactive ingredient in the plant.
Many prosecutors, including those in Austin's Travis County, now won't accept pot cases based on look and smell alone, requiring lab testing to determine THC levels before accepting a case. Such testing is not yet available in public crime labs, though some counties and cities have spent money to obtain test results from private labs.
The council's resolution prohibited using city funds or personnel to conduct such testing in non-felony marijuana cases. It also directed the elimination, to the furthest extent possible, of arrests or citations for cannabis possession. As Manley also noted, the resolution clarifies it can't technically decriminalize marijuana, since that is state law.
The resolution gave the city manager until May 1 to report back to the council on how police were trained in this new resolution, and Casar said he hopes Manley reviews his policies before then.
Manley said in the news conference that he would continue to review the resolution, as well as police policies.
But, he assured, "a City Council does not have the authority to tell a police department not to enforce a state law."
The Texas Tribune is a nonprofit, nonpartisan media organization that informs Texans — and engages with them — about public policy, politics, government and statewide issues.
Austin City Council Approves Measure To End Most Marijuana Arrests
Andrew Yang Wants To Legalize Psychedelic Mushrooms For Military Veterans
Andrew Yang says he wants to legalize psilocybin mushrooms for military veterans to help them combat mental health conditions such as post-traumatic stress disorder (PTSD).
During a town hall event at an Iowa college on Thursday, the 2020 Democratic presidential candidate was asked whether he would take initiative and allow veterans to access medical marijuana if elected. Yang replied he "will be so excited to be that commander-in-chief" that he would not only end federal cannabis prohibition but would go one step further by legalizing the psychedelic fungus for veterans as well.
"We need to get marijuana off of the Controlled Substances Act and legalize it at the federal level, make it freely available," he said. "I say this because I've talked to hundreds of veterans and other Americans who benefit from marijuana as a pain relief treatment, and it's much less deadly than the opiates that many, many people are using for the same conditions."
"I've talked to veterans who've also benefited from psilocybin mushrooms," he added. "They said it was the only thing that actually has helped combat their PTSD. I'm for legalizing psilocybin mushrooms for veterans as well. Pretty much if it's going to help a veteran, we should make it easier, not harder, for them to get access to it."
Yang's drug policy reform platform is unique in that respect. While the majority of Democratic candidates support marijuana legalization, he's pushed unique proposals such as decriminalizing possession of opioids and making psilocybin mushrooms "more freely available" for therapeutic purposes. The candidate also wants to invest federal funds in safe injection facilities where individuals can use prohibited drugs in a medically supervised environment and receive help getting into treatment.
He hasn't gone so far as embracing the decriminalization of all drugs, as former South Bend, Indiana Mayor Pete Buttigieg has, however.
That said, Yang did signal that he's open to legalizing and regulating "certain drugs" beyond cannabis, which he argued would disrupt international drug cartels. Rep. Tulsi Gabbard (D-HI) recently said she backs "legalizing and regulating" currently illegal controlled substances to protect public safety and combat the illicit market.
At the Iowa town hall, Yang went on to say that he's particularly interested in legalizing marijuana, and he again pledged to "pardon everyone who's in jail for a non-violent marijuana-related offense because they shouldn't be in jail for something that's frankly legal in other parts of the country."
"And I would pardon them all on April 20, 2021, high-five them on the way out of jail and be like, 'things got a lot better in the last year,'" he said, referencing the unofficial cannabis holiday 4/20.
Tom Steyer Calls For Marijuana Legalization And Opioid Decriminalization
Photo element courtesy of Gage Skidmore.
https://commons.wikimedia.org/wiki/File:Andrew_Yang_(48571382196).jpg

Tom Steyer Calls For Marijuana Legalization And Opioid Decriminalization
Billionaire philanthropist Tom Steyer is calling for the legalization of marijuana and decriminalization of opioid possession.
In a criminal justice reform plan released on Thursday, the 2020 Democratic presidential candidate laid out a vision for ending the drug war, which he said has contributed to mass incarceration and is enforced in a racially disproportionate manner.
"Tom believes we must end the failed War on Drugs. Based on the flawed idea that incarceration is the answer to addiction, federal and state elected officials passed severe sentencing laws that encouraged incarceration for low-level drug offenses," the plan states. "Unfortunately, communities of color were and continue to be disproportionately affected and targeted by these laws, even when other ethnicities were committing the same drug crimes at the same rates."
Today @TomSteyer announced a new criminal justice plan to:

– Reform the juvenile system
– Improve prison conditions
– Redirect funds to education
– Eliminate cash bail
– Release more rehabilitated people
– End the war on drugs

And much more! 👉 https://t.co/3VYRw7ioXB

— TeamTom 🌎 (@TomHQ) January 24, 2020
There are six proposals in the drug war section, including legalizing cannabis and expunging prior marijuana convictions, ending mandatory minimum sentences and empowering judges to use more discretion in non-violent drug cases, diverting people convicted of drug offenses to treatment or drug court, ending the sentencing disparity between crack and powder cocaine, sealing the records of certain drug convictions and decriminalizing opioids while investing $75 billion in treatment programs and holding pharmaceutical companies accountable.
Steyer specifically endorsed House Judiciary Committee Chairman Jerrold Nadler's (D-NY) Marijuana Opportunity Reinvestment and Expungement (MORE) Act, which would deschedule cannabis, expunge prior convictions and set aside tax revenue to support communities most impacted by the drug war.
"Policing marijuana use has led to too many unfair incarcerations and predominantly impacted communities of color," the plan says. It also criticizes then-Attorney General Jeff Sessions's 2018 move on "repealing leniency given to states for marijuana laws."
Today, I'm meeting with formerly incarcerated individuals to talk about transforming the criminal justice system through police accountability, ending cash bail, providing adequate funding to re-entry programs, and so much more. pic.twitter.com/m9lDEKWwwU

— Tom Steyer (@TomSteyer) January 23, 2020
"A Steyer Administration will also open equitable pathways to banking for marijuana businesses," it continues. "The federal government—including the Federal Deposit Insurance Corporation—should not be a barrier to marijuana businesses receiving support from their local banks."
"Incarceration is not the answer to addiction, and low-level drug offenses should not carry a severe sentence. Tom will legalize marijuana, let states pass their own policies, expunge past records, and direct the federal government to open banking services to the marijuana industry. Tom's administration will end the disparity between crack and cocaine sentences, decriminalize opioid possession, and invest $75 billion to address the opioid crisis."
The opioid decriminalization proposal is similar to that of entrepreneur Andrew Yang, another 2020 candidate who said removing criminal penalties for possessing the substance is necessary in order to help get people into treatment and curb the opioid crisis. Former South Bend, Indiana Mayor Pete Buttigieg and Rep. Tulsi Gabbard (D-HI) have gone further, calling for the decriminalization of all drug possession and, in Gabbard's case, also the legalization and regulation of illicit drugs.
"Tom supports decriminalizing small amounts of opioid possession for personal use at the federal level," the plan states. "He will address the opioid crisis through $75 billion in new funding over ten years to resource state and local treatment programs, hold big pharmaceutical corporations and their executives accountable, and strongly enforce laws that end the illicit distribution and sale of opioids."
This is a notable development for Steyer, who hasn't discussed drug policy reform as much as many other candidates in the race and whose views on decriminalization of substances beyond marijuana were previously unknown.
Last year, Steyer said he supported creating a national referendum process so that Americans can made decisions about a wide range of policy issues, including cannabis legalization.
He also previously discussed his support for ending marijuana prohibition and providing the industry with access to banking, saying that he and his wife wanted to provide financial services to minority- and women-owned cannabis firms through their community bank, but federal prohibition means the business would be put at risk if they did that.
Steyer's new plan also calls for juvenile justice reform, ending cash bail, banning facial recognition technology in policing, demilitarizing law enforcement, improving prison conditions and eliminating the death penalty, among other reforms.
Wisconsin Governor Blasts Lawmakers For Not Legalizing Medical Marijuana Despite Public Support
Photo courtesy of Flickr/Gage Skidmore.