Congressional Lawmakers Hold Hearing On Marijuana Legalization In Committee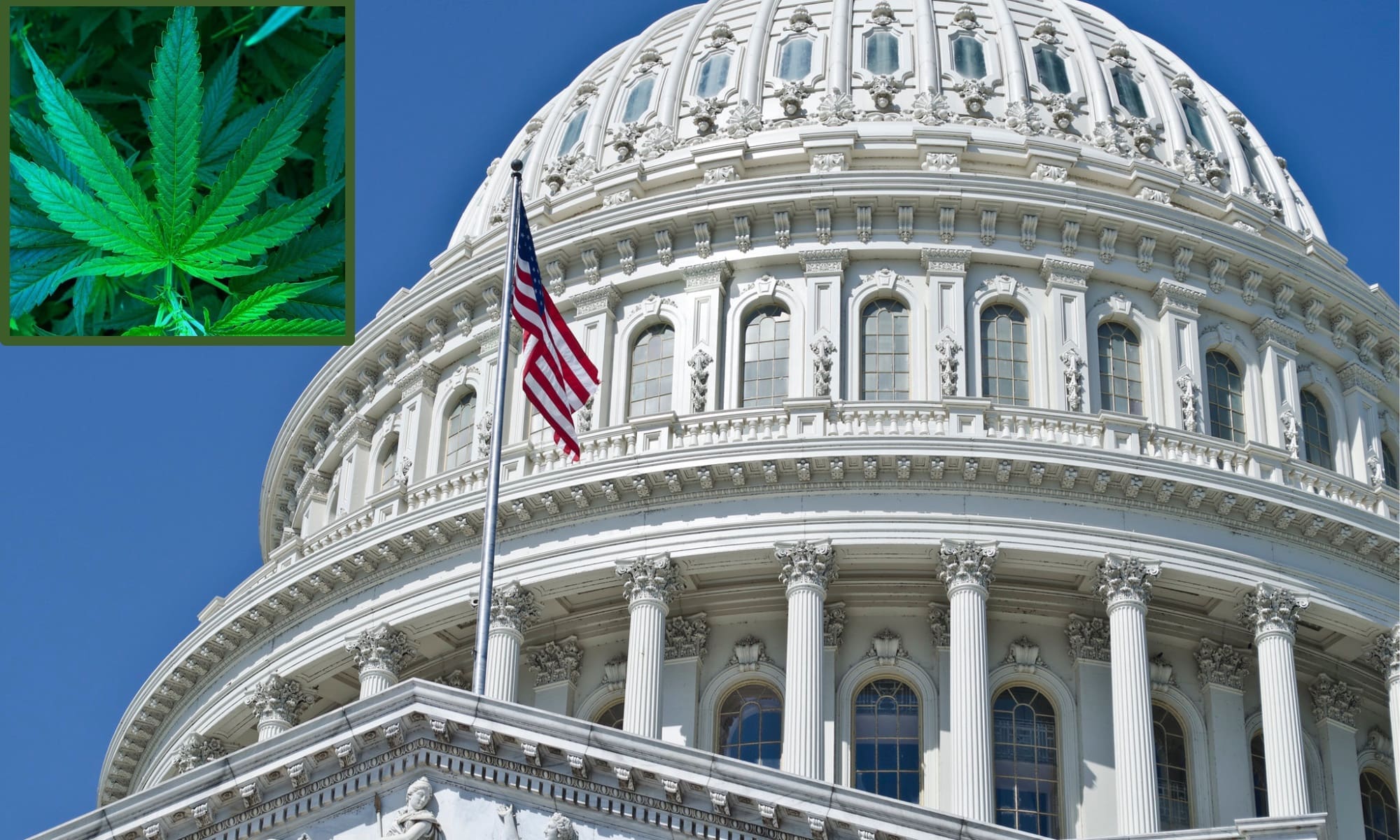 Congressional lawmakers held a hearing on Tuesday to discuss federal marijuana legalization and state cannabis developments, hearing testimony from a panel of broadly pro-reform advocates.
The House Oversight Subcommittee on Civil Rights and Civil Liberties first announced the meeting—titled "Developments in State Cannabis Laws and Bipartisan Cannabis Reforms at the Federal Level"—last week, and staff for the panel's Democrats and Republicans issued a joint memo on Sunday that laid out aspects of the issue to frame the discussion.
Chairman Jamie Raskin (D-MD) and Ranking Member Nancy Mace (R-SC) both support legalization, as do the invited witnesses, and the conversation during the hearing largely reflected that position—with the exception of a handful of other GOP members who chimed in to express prohibitionist views.
"Cannabis must be decriminalized at the federal level as a matter of basic justice in the country and, I would say, to vindicate the anti-prohibition principle that's in our Constitution," Raskin said in his opening remarks.
Decriminalizing cannabis at the federal level is a bipartisan policy choice that will bring an end to failed Prohibition-style policies that have criminalized our people.
It's time to promote the safety and health of our communities and end the war on cannabis. pic.twitter.com/vmYr4Se32T

— Rep. Jamie Raskin (@RepRaskin) November 15, 2022
"The war against marijuana has ruined so many lives in our country," he said. "We can do a lot better by treating all of these as public health questions and regulatory questions rather than questions of crime and putting people behind bars."
The chairman said he hoped that the "extremely bipartisan hearing will be a harbinger of what can take place in the next Congress, regardless of which one of us ends up on top by one vote or two," referring to the still not finalize results of last week's midterm elections.
Mace began her time at the hearing by saying that marijuana is more than a policy issue for her—it's personal. She recounted being raped as a teen and said using cannabis helped to treat the symptoms of her trauma.
This plant literally saved my life.

I'm glad I can share my experience with all of you today. #SRA #OverightHearing #Cannabis

— Rep. Nancy Mace (@RepNancyMace) November 15, 2022
"It cut my anxiety. I was able to sleep better. And I stayed alive," the congresswoman said. "If I can make it, anybody can, and this plant literally saved my life. I don't know where I would be today had I not had that kind of experience that I can share with millions of Americans today. The only place that cannabis is really controversial today is here on the Capitol."
Watch the panel discuss state and federal marijuana legalization in the video below: 
Rep. Alexandria Ocasio-Cortez (D-NY) discussed President Joe Biden's recent mass marijuana pardons.
"While the spirit of this executive order should absolutely be applauded, I do believe that issue experts have rightly pointed out that there is necessary action needed from Congress and state governments to actually fulfill the true impact and live up to the spirit of that order," the congresswoman said.
The joint memo on the hearing mentioned several pieces of marijuana legalization legislation, including the House-passed Marijuana Opportunity, Reinvestment and Expungement (MORE) Act, Senate leadership's Cannabis Administration and Opportunity Act (CAOA) and Mace's States Reform Act (SRA).
One year ago today we introduced H.R.5977 – The States Reform Act.

This bill is different than others – with low excise tax, common sense regulation, protections for kids & veterans, & criminal justice reforms. #SRA

Thank you to all who have supported the #SRA! pic.twitter.com/LZoVyoVWgJ

— Rep. Nancy Mace (@RepNancyMace) November 15, 2022
"This hearing will be a bipartisan examination of the many benefits of decriminalization at the federal level, including: criminal justice reform, which will largely benefit communities of color, as well as the justice system more broadly; access for veterans through the Department of Veterans Affairs (VA); and the ability for the legal cannabis industry to access financial services," the 11-page memo says.
It lists the three main issues that were raised in the panel: 
1. Decriminalizing cannabis at the federal level would benefit multiple communities, including veterans, potential federal employees, people of color, and individuals arrested or convicted for non-violent cannabis offenses.
2. Reforms are needed in several sectors, including criminal justice through the expungement of non-violent cannabis convictions, access to financial services, regulatory policy, and taxation.
3. The federal government should establish protocols to regulate cannabis as it does alcohol.
Here are the witnesses that testified for the hearing: 
Randall Woodfin, mayor of Birmingham
Paul Armentano, deputy director of NORML
Andrew Freedman, executive director of Coalition for Cannabis Policy, Education, and Regulation (CPEAR)
Eric Goepel, founder and CEO of Veterans Cannabis Coalition (VCC)
Keeda Haynes, senior legal advisor of Free Hearts
Amber Littlejohn, senior policy advisor of Global Alliance for Cannabis Commerce (GACC)
Jillian Snider, director of criminal justice & civil liberties at R Street Institute
In his testimony, NORML's Armentano said that ending marijuana prohibition is "necessary in order to close the growing and untenable divide between state and federal cannabis laws."
"By descheduling cannabis, tens of millions of Americans who reside in states where cannabis is legal in some form, as well as the hundreds of thousands of people who work for the state-licensed industry that services them, will no longer face needless hurdles and discrimination—such as a lack of access to financial services, loans, insurance, 2nd Amendment rights, tax deductions, certain professional security clearances, and other privileges," he said.
NORML TESTIFIES TO CONGRESS: It makes no sense from a political,
fiscal, or cultural perspective for Congress to try to put this genie back in the bottle or to
continue to place its collective head in the sand. It is time to end cannabis prohibition. pic.twitter.com/YLGLbN6e9O

— NORML (@NORML) November 15, 2022
Littlejohn, for her part, said that "under the threat of criminal penalty and forfeiture, the status quo of federal prohibition continues to balkanize state marketplaces and raise insurmountable barriers to entry with devastating consequences for small and minority-owned businesses."
"Consequently, minority-owned cannabis businesses are in decline," she said. "Black Americans bear the brunt of the disparate enforcement of cannabis laws. They also now bear the brunt of failed state policies and the devastating impact of federal prohibition on the legal cannabis industry."
Members of the subcommittee also addressed how federal prohibition creates a barrier for military veterans who want access to cannabis treatment but can't obtain a recommendation from U.S. Department of Veterans Affairs (VA) doctors regardless of the law in the state where they live.
That's a topic that Goepel of VCC is especially well-positioned to address in the panel. He discussed the problem in an op-ed for Marijuana Moment last month.
"Every death by suicide, overdose and toxic exposure is not a tragedy—it is a policy failure," Goepel said at the hearing on Tuesday. "If cannabis is helping some of the most severely injured and ill people in our society, who have been failed by traditional care, achieve a better quality of life, then why is the federal government determined to deny the reality and deprive them of their liberty?"
Our nation looks so divided on the outside – but today this is an example where we can work together. #SRA #OversightHearing #Cannabis pic.twitter.com/AhX0dkK7GL

— Rep. Nancy Mace (@RepNancyMace) November 15, 2022
Freedman from CPEAR said in his testimony that he "cannot overstate what a remarkable job state officials, advocates, and the industry have done to implement state regulatory programs, but there is a limit to what can be done when blanket federal prohibition remains on the table."
"Our system allows states wide latitude to effect policy change, but some issues and areas of law are inherently and solely under the jurisdiction of Congress and federal agencies, and it is on those issues where differences between state and federal law create the greatest tensions," he said.
Snider of R Street Institute said in her testimony for the panel that "after more than a century of prohibition, the United States is at a critical moment in determining the future legal status of cannabis."
It's only in the halls of DC where cannabis prohibition maintains its popularity.#OversightHearing #Cannabis#StatesReformAct

— Rep. Nancy Mace (@RepNancyMace) November 15, 2022
"Proposed federal legislation indicates increased support for alternatives to federal cannabis prohibition, and this increased support is critical to provide clarity on the overall legal status of cannabis, as the current situation presents inconsistency and a quasi-legal conundrum," she said. "The substance may be legal in one state and decriminalized in another, but because it is still prohibited at the federal level, users or possessors of the substance are subject to criminal penalty."
"This dual legality is problematic. It not only confuses the average citizen, but it also results in extremely varied approaches to the types and quantities of cannabis that can be cultivated or consumed; different standards for quality control; discrepancies in retail and consumer eligibility and related processes; widely varied taxation models; and a lack of consensus on the superseding status of the substance that places all of the stakeholders, including criminal justice professionals, in a gray area of compliance confusion."
"The prohibition of cannabis has taken far too high of a human toll on Black and Brown communities," the mayor of Birmingham said. "As mayor, I've taken action on this issue by using my pardon power to pardon over 23,000 individuals charged with possession of cannabis in the city."
In just a few minutes, I'll be speaking with the House Subcommittee on Civil Rights and Civil Liberties how we can work together to reform cannabis laws around our country.

Tune in: https://t.co/3VjXbcw25P

— Randall Woodfin (@randallwoodfin) November 15, 2022
"Mayors can do a lot, but we can only do so much," he said. "The state-by-state patchwork leaves too many Americans out of reach from the promise presented by ending the federal prohibition on cannabis."
Rep. Pete Sessions (R-TX), who as a former chairman of the House Rules Committee regularly blocked cannabis amendments from advancing to the floor for votes, delivered a series of prohibitionist talking points in comments at the hearing on Tuesday, attempting to link marijuana legalization to increased impaired driving and raising concerns about high THC potency in cannabis products.
He also raised eyebrows by comparing marijuana commerce to slavery, saying cannabis "has been advocated by people who were in it to make money" and "slavery made money also and was a terrible circumstance that this country and the world went through for many, many years."
Woodfin later called the comparison "patently offensive."
Comparing the legal cannabis industry to slavery is patently offensive.

I hope that Rep. @PeteSessions learns from his many Republican colleagues on the right side of this issue.

It's past time we end the prohibition of cannabis. pic.twitter.com/psySB0Ilsc

— Randall Woodfin (@randallwoodfin) November 15, 2022
Mace also made a point to "condemn those words" from Sessions, saying there is "absolutely no justification occasion for anybody up here today in Congress to compare cannabis to slavery."
"It's a disgusting comparison and never should have been stated up here today," she said. "Prohibition of cannabis was created out of racism."
Rep. Eleanor Holmes Norton (D-DC) took the opportunity at the hearing to bring up "the unique and undemocratic position of the District of Columbia regarding both marijuana and clemency" under a congressional spending bill rider that prevents the city from using its local tax dollars to implement a system of regulated cannabis sales despite voters approving legalization in 2014.
Today, during the @OversightDems hearing on marijuana, I'll discuss the importance of removing the rider that prohibits DC from using its local funds on commercializing recreational marijuana and giving DC authority to grant clemency for DC crimes.#DCStatehood #HandsOffDC

— Eleanor #DCStatehood Holmes Norton (@EleanorNorton) November 15, 2022
"Another violation of D.C. home law is that the president exercises authority to grant clemency for D.C. crimes," she said. "Like the states and territories, D.C. should have the authority to grant clemency for its own crimes."
Mace, the panel's ranking member, previously told Marijuana Moment that she had received a "promise" from leadership that SRA would be taken under consideration in the committee.
The chairman, Raskin, made a point to credit Mace for the hearing, saying it was "her idea" to have the discussion in order to "collect information about what's taking place across the country and then to emphasize what needs to be done at the federal level."
Today's landmark hearing will bring conversations from both sides of the aisle on much needed #cannabis reform.

One step closer. #SRA 🔥🍃

— Rep. Nancy Mace (@RepNancyMace) November 15, 2022
Previously, Raskin filed a floor amendment to the MORE Act to require federal agencies to review security clearance denials going back to 1971 and retroactively make it so cannabis could not be used "as a reason to deny or rescind a security clearance." That measure was narrowly defeated in a floor vote.
Also at Tuesday's hearing, Mace and Goepel discussed the fact that, by the admission of several federal agencies, there are no recorded cases of someone dying from an overdose on cannabis alone.
It's time to get Washington out of the weeds.

The States Reform Act will pave the way. #SRA #Cannabis #OversightHearing

— Rep. Nancy Mace (@RepNancyMace) November 15, 2022
With respect to state-level marijuana developments, the panel met one week after the midterm elections, which saw two more states, Maryland and Missouri, vote to legalize adult-use cannabis.
This month also marks the 10-year anniversary of the first state votes to legalize cannabis for adult-use in Colorado and Washington State.
To mark the occasion, Sen. John Hickenlooper (D-CO) recently announced that he will soon be filing a bill to direct the attorney general to create a commission charged with making recommendations on a regulatory system for marijuana that models what's currently in place for alcohol.
The most recent House action on marijuana reform came in late September, when the Judiciary Committee approved a series of criminal justice reform bills—including bipartisan proposals to clear records for prior federal marijuana convictions, provide funding for states that implement systems of automatic expungements and codify retroactive relief for people incarcerated due to on crack-cocaine sentencing disparities.
There was also expected to be an expedited vote in the Senate on a House-passed cannabis research bill in September, but that was delayed after a GOP senator raised an objection.
Also on the Senate side, Majority Leader Chuck Schumer (D-NY) has been working to finalize a package of incremental marijuana legislation, which is expected to include cannabis industry banking protections and expungements proposals.
Schumer recently said that Congress is getting "very close" to introducing and passing the marijuana bill, colloquially known as SAFE Plus, following discussions with a "bunch of Republican senators."
Sen. Cory Booker (D-NJ), who is also a primary sponsor of CAOA, said on Sunday that, because Republicans will have a majority in the House next session, Democrats who want to enact marijuana reform must either do it "now" during the lame duck or wait until "many years from now" when his party has a shot at controlling Congress again.
Nearly Seven In Ten Americans Back Marijuana Legalization, Including Majority Of Republicans, Latest Gallup Poll Finds
Image element courtesy of Tim Evanson.