Virginia Leaders Say Marijuana Legalization Is Possible In 2021
Proposals to legalize recreational marijuana in Virginia are set to get their first serious hearings when the General Assembly convenes in January and, at least for now, it looks like there's a decent chance they could succeed.
In the Senate, they give it "slightly better than 50-50 odds."
And Gov. Ralph Northam's office says he's "certainly open to it."
Proposals to legalize recreational marijuana in Virginia are set to get their first serious hearings when the General Assembly convenes in January and, at least for now, it looks like there's a decent chance they could succeed.
"It's high time we actually make this change and I think other people have seen that as well," said Del. Mike Mullin, D-Newport News, who chairs the House's criminal law subcommittee and says he believes there are enough votes in the chamber to end prohibition of the drug. "I can tell you I think it will pass."
The movement in Virginia comes after voters in four states overwhelmingly approved referendums legalizing marijuana, bringing the total nationwide total to 15. If lawmakers in Virginia move forward, the state would become the first in the South to authorize recreational use of the drug.
Virginia has been slowly loosening its stance on marijuana for years, first allowing medical use of CBD in 2017, expanding that to a full-fledged medical marijuana program by 2019 and, earlier this year, passing legislation that reduced the penalty for people caught with small amounts of the drug to a $25 civil fine.
But to date, no proposals to fully legalize and regulate adult use of the drug have made it the floor of either chamber in the General Assembly despite rapidly shifting public opinion in favor of the measures.
The outcome was unsurprising when Republicans controlled the General Assembly, many of whom opposed efforts to expand access to the drug. But some Democrats eager to move past prohibition after winning majorities in the House and Senate last year were disappointed when their colleagues voted down their own legalization bills.
Democrats framed decriminalization—and now legalization—as an important step to end disparate enforcement of drug laws on Black Virginians, who have been prosecuted at significantly higher rates despite studies showing they use the drug at roughly the same rate as their White counterparts.
But Democratic leaders, including Northam, said last year that it would be irresponsible for the state to move straight to fully legalizing the drug without first studying how other states have approached the issue. To that end, lawmakers requested two studies reviewing potential regulatory models and tax schemes when they approved decriminalization in March.
Those studies are due this month — the first is scheduled to be presented Monday — and party leaders say they're ready to give the issue serious consideration.
Northam's office and leaders in the House and Senate all said that because the issue is entirely new for the state, they'll be looking for broad guidance on how to set up and regulate the new industry from scratch. Outstanding questions include how licenses to grow and sell the plant will be distributed, what say local governments should have in the process and whether a new state agency should be created to govern the industry or an existing bureaucracy like the Alcoholic Beverage Control Authority should take on the duties.
Northam—a physician who helped raise the state's smoking age to 21 and voiced concern at the beginning of the year about condoning drug use—remains interested in youth health and how those concerns will be addressed, said his chief of staff, Clark Mercer. But in the context of adult use, he said Northam understands the broader history of its prohibition in the country, which was largely sparked by anti-Mexican and anti-Black sentiment in the early 1900s and fears the drug was causing the two groups to "forget their place in the fabric of American society," as CBS News put it in 2016.
"He is certainly open to it and we're going to look at the reports when they come out and continue to dig into the details of how you go about regulating an industry," Mercer said. "The door is not closed in our office on this issue."
In the House, Majority Leader Charniele Herring, D-Alexandria, agreed with Mullin that a legalization bill could clear the chamber: "I think it has a good chance," she said. However she cautioned that members wouldn't rush a bill through: "But I can't say that it's definitely going to happen if members don't feel comfortable with the proper regulatory construct."
She said one area she'll be focused on is making sure the population most impacted by prohibition—Black Virginians—have an opportunity to participate in any new industry. Some states, for instance, have set aside a certain number of retail and production licenses for minority-owned businesses.
In the Senate, where Democrats hold a narrower 21-19 majority, the bigger question is whether the basic concept will be able to muster enough support to pass.
Senate Majority Leader Dick Saslaw, D-Fairfax, has said in the past that while he backed decriminalization, he wasn't certain he would support legalization. In a phone call Thursday, he said he is open to the idea. "I'm willing to listen," he said. "I want to hear what both sides have to say."
He put the odds of passage at "slightly better than 50-50," an assessment shared by Sen. Adam Ebbin, D-Alexandria, who proposed the decriminalization legislation earlier this year and plans to carry a legalization bill in January with Sen. Jennifer McClellan, D-Richmond.
Sen. Creigh Deeds, D-Bath, who chairs the chamber's criminal law subcommittee, said he's withholding judgement until the studies are delivered, but hadn't expected to take the issue back up again so soon after decriminalization. "I'm not opposed to the idea," he said. "I just want to do it right."
While Democrats make up the bulk of support, any votes on the issue are unlikely to fall strictly on party-lines, said Jenn Michelle Pedini, executive director of Virginia NORML, the state chapter of the National Organization for the Reform Marijuana Laws, which has led lobbying efforts on the bill and noted that about a dozen Republicans backed decriminalization.
Ebbin said that, whatever the outcome next year, it's clear Virginia is on track to move forward sooner than later.
"I think it's pretty clear that the people expect this to happen eventually," he said.
This story was first published by Virginia Mercury, which is part of States Newsroom, a network of news outlets supported by grants and a coalition of donors as a 501c(3) public charity.
House Republicans Attack Democrats Over Planned Marijuana Legalization Vote
Louisiana House Approves Marijuana Decriminalization Bill As Other Reforms Advance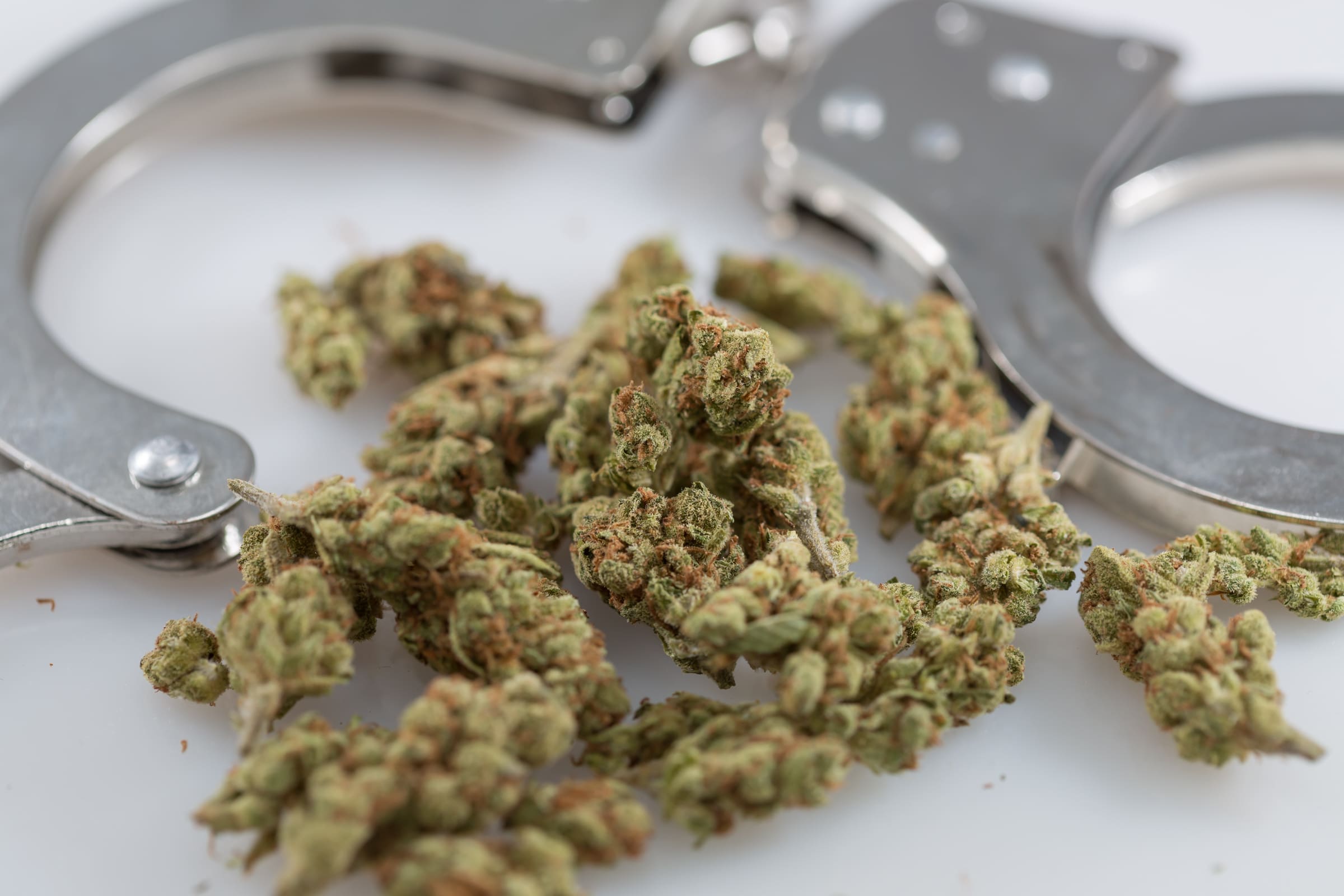 The Louisiana House of Representatives on Tuesday approved a bill to decriminalize marijuana possession, while a committee advanced separate legislation to impose taxes on cannabis sales if the state ends up enacting broader legalization.
Meanwhile, a measure to legalize marijuana sales is scheduled for a vote on the House floor on Wednesday after being delayed from earlier consideration while the sponsor has worked to build support.
Tuesday's action on the narrower decriminalization bill is the latest example of marijuana reform advancing in the traditionally conservative legislature this session.
The proposal, sponsored by Rep. Cedric Glover (D), has gone through several changes since its introduction.
Originally it would have made it so possession of up to 14 grams of cannabis punishable by a $50 fine and no jail time. And while it was gutted in committee last week to maintain a penalty of $300 and/or 15 days in jail, a floor amendment was approved on Tuesday that again removed the threat of incarceration and set the fine at $100.
Members approved the revised bill in a 67-25 vote.
"This bill is about common ground," Glover said prior to the vote. "You know there are all different iterations of us in here today, black, white, male, female, big, small, conservative, progressive—and many of us who may not agree on as much as 90 plus percent of any given topic, especially when it comes to something as controversial as marijuana."
"The possession of a small amount of marijuana should no longer result in two things," he said. "One is setting out a result, and a path, that leads you to becoming a convicted felon. And neither should it set you on a path to go to prison."
—
Marijuana Moment is already tracking more than 1,100 cannabis, psychedelics and drug policy bills in state legislatures and Congress this year. Patreon supporters pledging at least $25/month get access to our interactive maps, charts and hearing calendar so they don't miss any developments.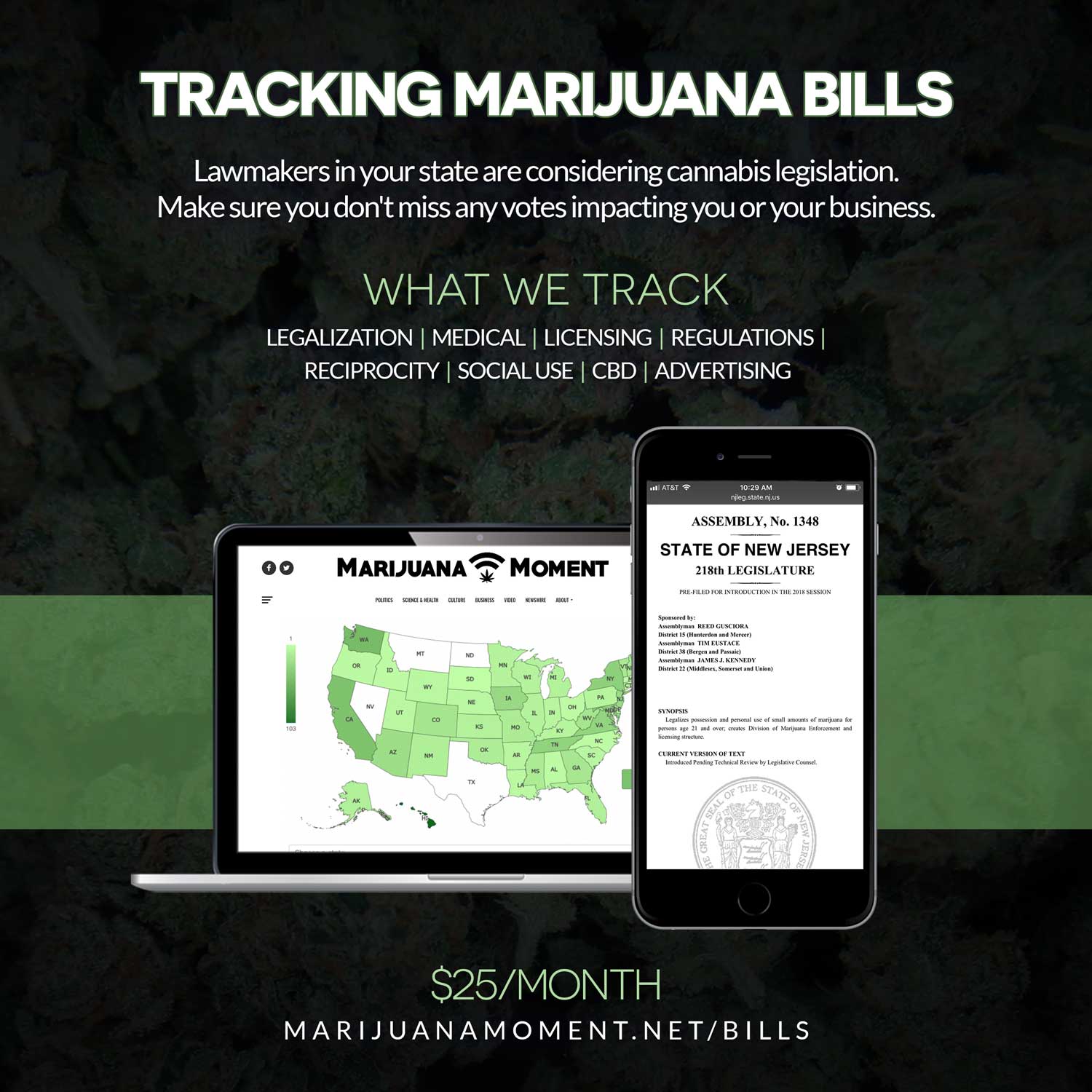 Learn more about our marijuana bill tracker and become a supporter on Patreon to get access.
—
In the House Ways and Means Committee, legislation to impose taxes on cannabis sales if Louisiana ends prohibition passed by a voice vote.
As amended by the committee, adults would pay a 15 percent sales tax on cannabis products, in addition to state and local taxes. The resulting revenues would be split between the state general fund and the local local jurisdictions where sales take place, with a chunk of the latter going to support law enforcement. The panel also advanced separate legislation to repeal a current law that requires illicit cannabis sellers to purchase tax stamps for their products. It would only take effect if legalization passes.
Meanwhile, the House approved a bill from Speaker Clay Schexnayder (R) on Monday that is meant to align Louisiana's hemp program with U.S. Department of Agriculture rules for the crop that were finalized and took effect in March.
Additionally, a Senate committee advanced a bill on Monday that would impose taxes on raw marijuana flower if those smokeable products are legalized for medical use under another measure that cleared the House last week.
Advocates are closely monitoring each of these developments, but the adult-use legalization bill from Rep. Richard Nelson (R) is receiving the most attention.
It would allow adults 21 and older to purchase and possess marijuana from licensed retailers. Possession of up to two and a half pounds of cannabis would be lawful. Regulators would be tasked with creating a permit for adults to grow up to six plants for personal use.
The measure has twice been rescheduled for House floor action at the request of Nelson, who has worked on amendments intended to increase support in what is expected to be a close vote. One proposal that has been posted would remove the home cultivation provisions to address concerns that have been raised by law enforcement.
A separate measure from Nelson that the chamber is set to consider this week would establish a $2,500 annual fee for cannabis business licenses and a $100 annual fee for a personal cultivation permit.
There is an additional decriminalization bill moving through the legislature as well.
That legislation, sponsored by Rep. Candace Newell (D), would simply remove the existing criminal penalties for possession, distribution and dispensing of cannabis "if the legislature provides for a statutory regulatory system for the legal sale and distribution of marijuana and establishes a sales tax on those sales."
When it comes to broader legalization, while advocates have generally expected resistance from the governor, who has repeatedly expressed opposition to the reform, he did say last month that he has "great interest" in the legalization proposal, and he pledged to take a serious look at its various provisions.
Last year, the legislature significantly expanded the state's medical marijuana program by passing a bill that allows physicians to recommend cannabis to patients for any debilitating condition that they deem fit instead of from the limited list of maladies that's used under current law.
Gov. John Bel Edwards (D) signed the measure in June 2020 and it took effect weeks later.
As state lawmakers have continued to advance these marijuana reform bills, two recent polls—including one personally commissioned by a top Republican lawmaker—show that a majority of voters are in favor of legalizing cannabis for adult use.
Top Connecticut Lawmaker Says Marijuana Legalization Bill Could Get Bumped To Special Session
Schumer Reiterates That Marijuana Legalization Must Pass Before Cannabis Banking Reform
With Democrats in control of the Senate this session, Majority Leader Chuck Schumer (D-NY) doesn't plan to jeopardize a marijuana legalization bill he's working on by advancing a more modest cannabis banking measure first.
In an interview with The Ringer that was released on Tuesday, the senator reiterated that he and his colleagues will be "introducing our bill shortly" to end cannabis prohibition—and he said banking reform legislation that's been filed will have to wait because "we're not going to bargain against ourselves."
Schumer made a similar point in an interview with Marijuana Moment last month, arguing that passing a measure that protects banks that service state-legal cannabis businesses first could jeopardize the chances of advancing comprehensive reform. The thinking is that Republicans and moderate Democrats who are on the fence about a bolder policy change might be less inclined to vote for it if they have an opportunity to pass a more modest bill like the Secure and Fair Enforcement (SAFE) Banking Act instead.
Senate Majority Leader @SenSchumer and @Bakari_Sellers discuss the possibility of legalizing marijuana pic.twitter.com/MWnyFsXiIX

— The Ringer (@ringer) May 11, 2021
The House has already approved the marijuana banking bill this session along largely bipartisan lines.
"We want a strong, comprehensive bill. We'll introduce it," the leader told podcast host Bakari Sellers, adding that "there's huge support" for legalization, including in conservative states like South Dakota where voters approved a reform initiative last year.
"We're going to get some support from the right on this as well we hope, and we're going to push it," Schumer said. "It's going to take a little while. We're going to need a mass campaign. But there's real excitement in the country to do this."
Schumer has been working with Senate Finance Committee Chairman Ron Wyden (D-OR) and Sen. Cory Booker (D-NJ) to draft a legalization bill over the course of the past few months. He's been making the case for reform everywhere from the Senate floor to a cannabis rally in New York City.
Beyond ending prohibition, Schumer said the proposal he and his colleagues are working on will "ensure restorative justice, public health and implement responsible taxes and regulations," similar to what New York lawmakers sought to accomplish in a legalization bill that the governor signed into law late last month.
The senator also said last month that the legalization bill they're working on will be brought to the floor of his chamber "soon."
He, Wyden and Booker formally started their reform efforts by holding a meeting earlier this year with representatives from a variety of advocacy groups to gain feedback on the best approach to the reform.
Schumer made a point in March to say that it will specifically seek to restrict the ability of large alcohol and tobacco companies to overtake the industry.
Instead, it will prioritize small businesses, particularly those owned by people from communities most impacted by prohibition, and focus on "justice, justice, justice—as well as freedom," he said.
He also urged voters to reach out to their congressional representatives and tell them that "this is long overdue."
On the House side, Judiciary Chairman Jerrold Nadler (D-NY) said recently that he plans to reintroduced his legalization bill, the Marijuana Opportunity, Reinvestment and Expungement (MORE) Act, which cleared the chamber last year but did not advance in the Senate under GOP control.
Top Connecticut Lawmaker Says Marijuana Legalization Bill Could Get Bumped To Special Session
Top Connecticut Lawmaker Says Marijuana Legalization Bill Could Get Bumped To Special Session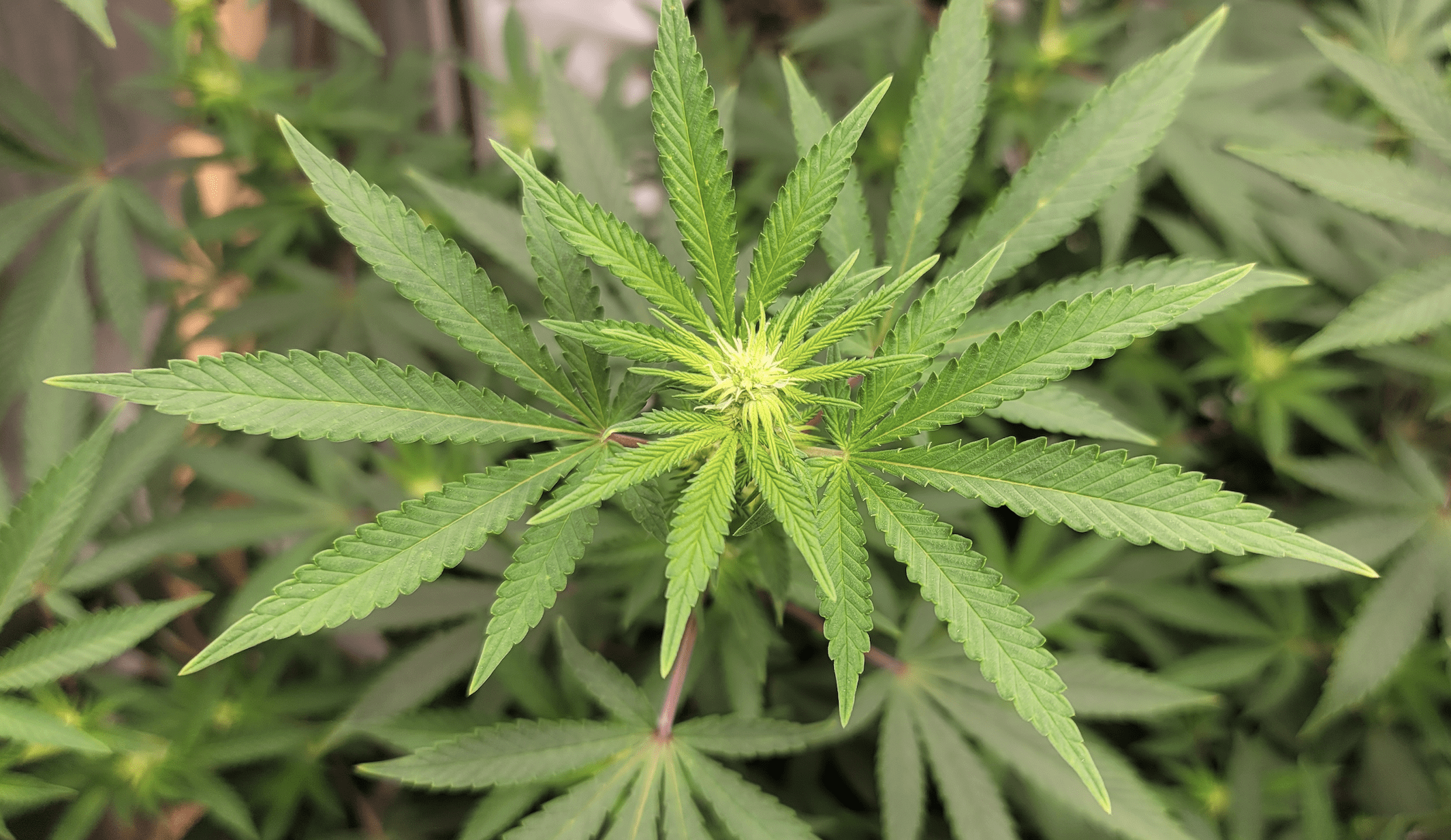 Facing a tight deadline, a top Connecticut lawmaker said on Tuesday that a bill to legalize marijuana may be taken up in a special session after the legislature completes its regular business for the year.
With the June 9 end of the legislative session less than a month away, House Majority Leader Jason Rojas (D) was asked about the prospects of passing legislation to end cannabis criminalization in 2021—and he said lawmakers have been having "great conversations" with Gov. Ned Lamont's (D) administration as they work through competing reform proposals.
"It's just one of those issues that we're working through some of the details that were of concern to everyone over the past couple months, but we're making progress," Rojas told a reporter from CT News Junkie during a press conference.
House Speaker Matt Ritter (D) chimed in to say that "if we can find a path to a deal, it's the kind of thing that I think you could always go into overtime if you had to," adding that "we'd all be comfortable coming to special session for that issue."
Watch the Connecticut lawmakers discuss marijuana legalization, starting around 24:40 into the video below:
But while some progress has been made in reconciling competing reform proposals from the governor and the legislature, it's not clear how close lawmakers are to reaching a deal and moving a proposal to floor votes—and Lamont is still waiting to review updated legalization legislation that's in the process of being drafted, he said on Monday.
"I can tell you that [administration staff has] put together a very complete law for consideration by the legislature," the governor said, referring to his own legalization proposal. "It's sitting on their desk, and we're ready for some decisions."
Lamont's chief of staff added that administration officials have been "meeting with legislative negotiators," and they're "waiting for them to provide us a revised draft" of a reform bill.
A bill to legalize marijuana for adult use that the governor is backing cleared the Judiciary Committee last month after being amended by the panel. But if a legalization measure isn't enacted this year, Lamont said that he anticipates that the issue could go before voters.
"Marijuana is sort of interesting to me. When it goes to a vote of the people through some sort of a referendum, it passes overwhelmingly. When it goes through a legislature and a lot of telephone calls are made, it's slim or doesn't pass," Lamont said. "We're trying to do it through the legislature. Folks are elected to make a decision, and we'll see where it goes. If it doesn't, we'll probably end up in a referendum."
Ritter similarly said last year that if the legislature isn't able to pass a legalization bill, he will move to put a question on the state's 2022 ballot that would leave the matter to voters.
A competing legalization measure from Rep. Robyn Porter (D), which is favored by many legalization advocates for its focus on social equity, was approved in the Labor and Public Employees Committee in March.
—
Marijuana Moment is already tracking more than 1,100 cannabis, psychedelics and drug policy bills in state legislatures and Congress this year. Patreon supporters pledging at least $25/month get access to our interactive maps, charts and hearing calendar so they don't miss any developments.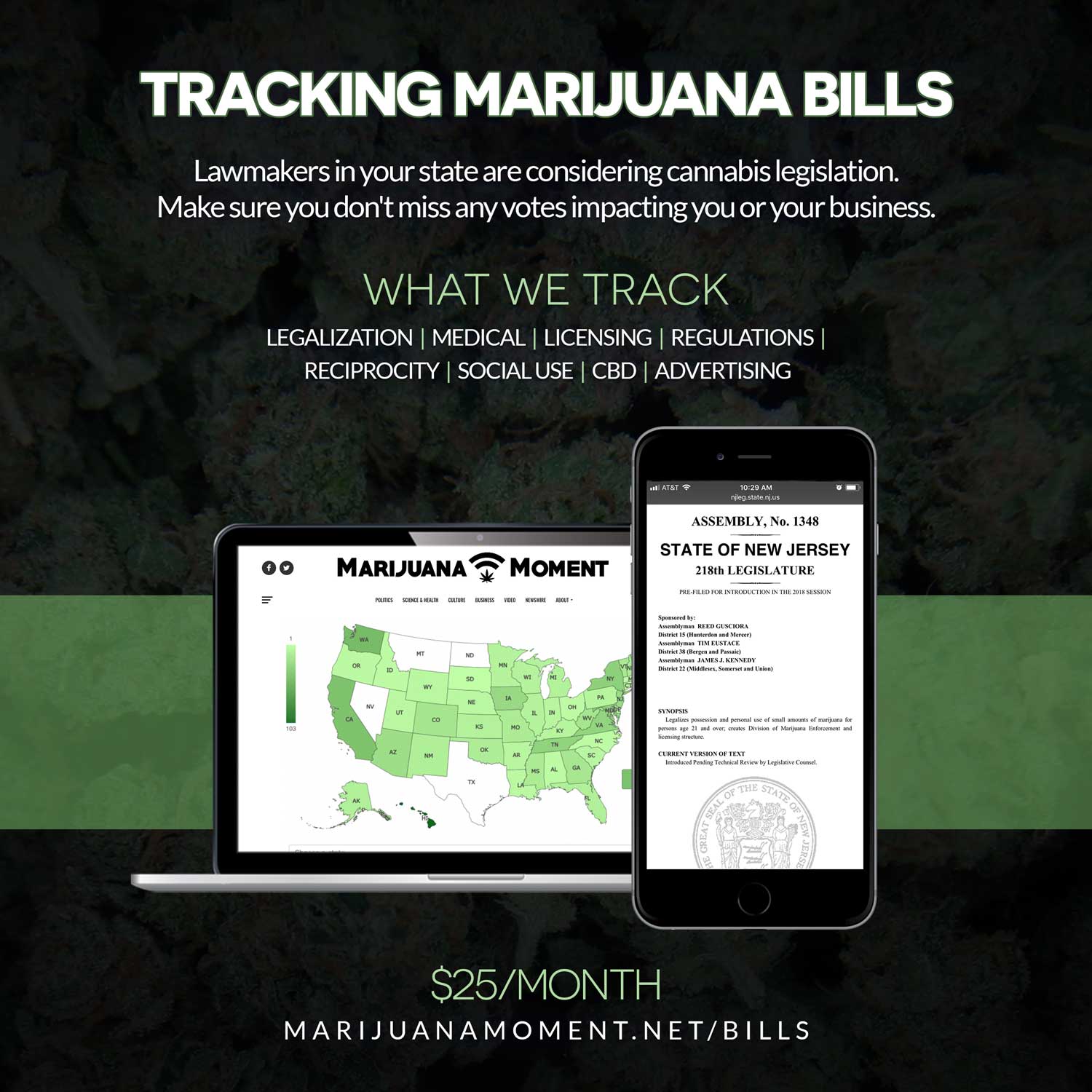 Learn more about our marijuana bill tracker and become a supporter on Patreon to get access.
—
A survey from Sacred Heart University (SHU) that was released last month found that about 66 percent of people in the state favor legalizing cannabis for adult use, while 27 percent are opposed.
Lamont, who convened an informal work group in recent months to make recommendations on the policy change, initially described his legalization plan as a "comprehensive framework for the cultivation, manufacture, sale, possession, use, and taxation of cannabis that prioritizes public health, public safety, and social justice."
But while advocates have strongly criticized the governor's plan as inadequate when it comes to equity provisions, Ritter said in March that "optimism abounds" as lawmakers work to merge proposals into a final legalization bill.
Rojas also said that "in principle, equity is important to both the administration and the legislature, and we're going to work through those details."
To that end, the majority leader said that working groups have been formed in the Democratic caucuses of the legislature to go through the governor's proposal and the committee-approved reform bill.
In February, a Lamont administration official stressed during a hearing in the House Judiciary Committee that Lamont's proposal it is "not a final bill," and they want activists "at the table" to further inform the legislation.
The legislature has considered legalization proposals on several occasions in recent years, including a bill that Democrats introduced last year on the governor's behalf. Those bills stalled, however.
Lamont reiterated his support for legalizing marijuana during his annual State of the State address in January, stating that he would be working with the legislature to advance the reform this session.
Ritter said in November that legalization in the state is "inevitable." He added later that month that "I think it's got a 50–50 chance of passing [in 2021], and I think you should have a vote regardless." The governor said in an interview earlier this year that he puts the odds of his legislation passing at "60-40 percent chance."
The governor has compared the need for regional coordination on marijuana policy to the coronavirus response, stating that officials have "got to think regionally when it comes to how we deal with the pandemic—and I think we have to think regionally when it comes to marijuana, as well."
He also said that legalization in Connecticut could potentially reduce the spread of COVID-19 by limiting out-of-state trips to purchase legal cannabis in neighboring states such as Massachusetts and New Jersey.
CBD Company's Appeal Could Let Marijuana And Psychedelics Companies Trademark Businesses Pre-Legalization
Photo courtesy of Mike Latimer.