Vermont Legislature Legalizes Marijuana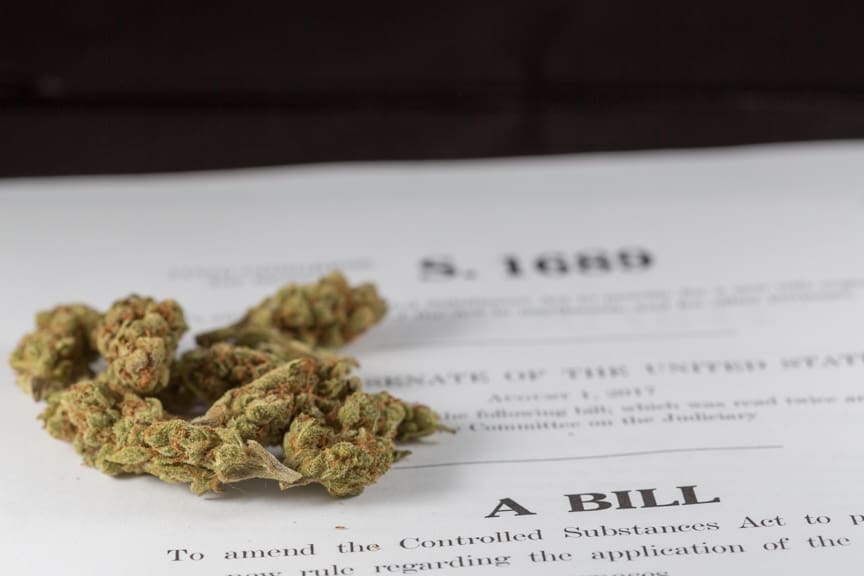 Vermont lawmakers took final action on Wednesday to make the state the first in U.S. history to legalize marijuana by an act of lawmakers. Gov. Phil Scott (R) has pledged to sign the bill into law.
Vermont Governor "Comfortable" Legalizing Marijuana In Early 2018
While eight other states and Washington, D.C. have also ended cannabis prohibition for adults over 21, they did so with voter-approved ballot initiatives.
Vermont's legislative move signals a milestone in the evolving politics of marijuana. Polls consistently show majority voter support for legalization, and more politicians are beginning to see the issue as a winning one they should embrace rather than run away from.
In neighboring New Hampshire, the House of Representatives approved a similar legalization bill on Tuesday.
The marijuana victories come just days after the Trump administration rolled back Obama-era guidance that generally allowed states to implement their own legalization laws without federal interference.
Both New England states' proposed laws provide for a noncommercial approach to marijuana under which possession and home cultivation of relatively small amounts would be allowed, but storefronts and sales would not.
In Vermont, the bill would allow people over 21 years of age to legally possess up to one ounce of marijuana and grow as many as two mature and four immature cannabis plants.
Once legislative counsel finalizes the bill formatting and it is officially transmitted to the governor's desk, he will have five days to act on it.
Last year, the state fell just short of legalizing marijuana. The legislature passed a bill to legalize personal cannabis possession and homegrow, but Scott vetoed it. However, in doing so, he laid out a few small changes he wanted legislators to make in order to win his support. The Senate quickly acted to make the requested revisions, but the House was not able to overcome procedural hurdles to get it done in time during a short special session over the summer.
The House approved the bill last week, making a minor amendment, necessitating Wednesday's final Senate vote to send the measure to Scott's desk. Final passage was accomplished via a voice vote.
Legalization supporters appear ready to keep pressing toward full-scale commercial legalization as soon as the governor signs the current proposal, which is set to take effect on July 1.
"It's up to citizens across the state whether or not we see a bill like that pass this year with their participation in the process," Lt. Gov. David Zuckerman (Progressive) said at a press conference on Tuesday. "I would like to see that. I think every year we go by not doing it, we are perpetuating the underground, unregulated, unjust system that we have today while other states are moving forward."
The Senate approved bills to allow legal marijuana sales last year and in 2016, but they didn't gain traction in the House, which favored the noncommercial approach.
Advocates believe that New Jersey is also poised to end marijuana prohibition via the legislature this year. Phil Murphy (D), who will be sworn in as governor next week, campaigned on full-scale commercial legalization, and the Senate president says he is ready to pass a bill.
A number of other states are expected to vote on ballot initiatives to legalize recreational or medical cannabis later this year.