UK Gets One Step Closer To Medical Marijuana Legalization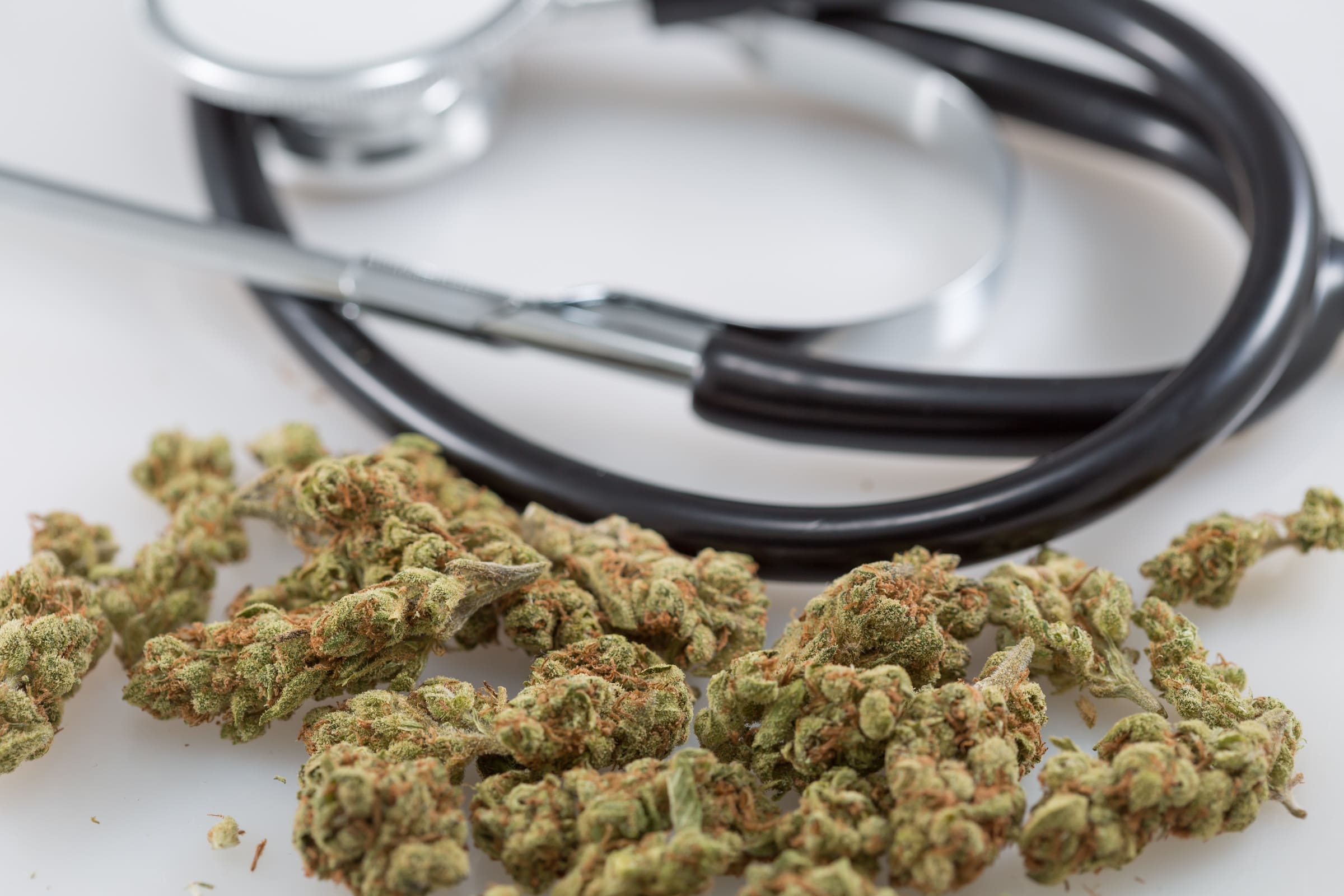 Marijuana has numerous therapeutic benefits and should be rescheduled under federal law, England's top medical officer announced on Tuesday.
Chief Medical Advisor for the UK Government Professor Dame Sally Davies said: "There is clear evidence from highly respected and trusted research institutions that some cannabis-based medicinal products have therapeutic benefits for some medical conditions."

— Michael Knowles (@mknowles_news) July 3, 2018
In a report reviewing the medical potential of cannabis, professor Sally Davies pointed to several health conditions the plant is known to treat. The list of maladies where there is "conclusive evidence" of marijuana's therapeutic benefits includes chronic pain, chemotherapy-induced nausea and vomiting and muscle spasms due to multiple sclerosis.
There's "moderate evidence" that marijuana can improve "short-term sleep outcomes" for individuals suffering from a wide range of other health conditions, according to the report.
"Schedule 1 drugs by definition have little or no therapeutic potential," Davies concluded. "As summarized in this review, there is now conclusive evidence of medicinal benefit of cannabis based products for certain medical conditions, and reasonable evidence of benefit for indications that they may be useful under restricted circumstances."
"My recommendation is that cannabis based medicinal products are moved out of Schedule 1 of the Misuse of Drugs Regulations 2001. It may be pragmatic for them all to be moved to Schedule 2 pending a fuller review by [the Advisory Council on the Misuse of Drugs] that can differentiate different products into the appropriate different Schedules."
CMO Report Cannabis Products Web Accessible by MarijuanaMoment on Scribd
The report is part of a two-stage review of laws governing cannabis in England. Last month, the country's interior ministry ordered the review—due in part to increased interest in reforming Britain's marijuana laws in order to provide relief for patients. High-profile cases of children suffering from epilepsy being denied treatment ignited calls for reform.
In February, it was reported that lawmakers would take up debate over the country's cannabis policy after the family of a six-year-old boy, Alfie Dingley, sought government approval to treat his severe epilepsy with marijuana. Prime Minister Theresa May (Conservative) rejected that appeal, however, and lawmakers ultimately ran out of time to vote on a proposed bill.
More recently, authorities confiscated a cannabis-based epilepsy medication from the mother of a 12-year-old boy at London's Heathrow Airport. In a surprising win for patients and reform advocates, the government used "an exceptional power" to get the marijuana oil back to the family after the child was later admitted to the hospital for his severe seizures, Reuters reported.
What's next?
Now that the chief medical officer has submitted her report outlining the therapeutic benefits of cannabis, the next step is for the Advisory Council on the Misuse of Drugs to review current marijuana laws and make a recommendation about its scheduling status. The review will take about three weeks, and if the recommendation aligns with the medical officer's report, its likely that medical marijuana legalization will be on the horizon for England.
U.K. Home Secretary Sajid Javid said he ordered the second phase of the review based on the Davies's report. Javid previously said that "[i]t has become clear to me since becoming home secretary that the position we find ourselves in currently is not satisfactory."
"It is not satisfactory for the parent, it's not satisfactory for the doctors and it's not satisfactory for me," he said, according to PoliticsHome. "I've now come to the conclusion that it is time to review the scheduling of cannabis."
Canada's Marijuana Legalization Bill Gets Final Approval From Lawmakers
Hemp Legalization Is Officially Headed to President Trump's Desk For Signature
The 2018 Farm Bill, which would legalize industrial hemp, is officially headed to President Donald Trump's desk. The House passed the legislation on Wednesday, one day after the Senate approved it.
It's been decades since the ban on hemp was imposed—a byproduct of the federal government's war on marijuana and other drugs. The ban, it seems, will be lifted in a matter of days.
The House passed the bill, 369-47.
The votes come after months of debate over other aspects of the wide-ranging agriculture bill. But the hemp legalization provision, shepherded by Senate Majority Leader Mitch McConnell (R-KY), has received bipartisan support at every step of the legislative process.
Hemp legalization made it through a conference committee where the Senate and House Agriculture Committees reconciled their respective versions of the bill. McConnell marked the occasion this week by signing the conference report with a hemp pen, which he said on Wednesday that the president was free to use to sign the bill into law.
The hemp provision would allow U.S. farmers to grow, process and sell the crop. The Justice Department would no longer have jurisdiction over hemp under the legislation; rather, the U.S. Department of Agriculture would lightly regulate it.
One element of the hemp language created tension between lawmakers and advocates. The original Senate-passed bill prohibited people with felony drug convictions from participating in the hemp industry, but a compromise was reached last week that limited that ban in the final version to 10 years after the last offense.
House Democrats in the Agriculture Committee listed hemp legalization as one of several reasons they were calling for a "yes" vote on the legislation.
The farm bill conference report legalizes industrial hemp. pic.twitter.com/2u5xxtKwaS

— House Agriculture Committee Democrats (@HouseAgDems) December 12, 2018
According to VoteHemp, if the president signs the bill before the year's end, it will take effect on January 1, 2019.
Mitch McConnell Says Trump Can Borrow His Hemp Pen To Sign Farm Bill Into Law
Marijuana Industry Border Issues Would Be Solved Under New Congressional Bill
Marijuana can really mess up border and immigration issues for people who partake in consumption or participate in the industry, but that would change if a new bill being introduced in Congress this week is enacted.
Under current U.S. laws, people who admit to past cannabis use or who work for or invest in marijuana businesses can be barred from visiting the country under certain circumstances. And marijuana consumption, even if it is legal under state law, can lead to an immigrant being deported.
The new legislation, the Maintaining Appropriate Protections For Legal Entry Act, would provide exceptions for conduct that "was lawful in the State, Indian Tribe, or foreign country in which the conduct occurred" or that was "subsequently made lawful under the law or regulation of such jurisdiction," according to a draft obtained by Marijuana Moment.
The bill, known as the MAPLE Act for short—surely a nod to the leaf on Canada's flag—is being filed on Wednesday by Rep. Earl Blumenauer (D-OR).
U.S. border policies on entry by marijuana industry participants were slightly loosened just ahead of the launch of Canada's legal marijuana market in October to clarify that people working for cannabis businesses are generally admissible to the U.S., with the caveat that "if a traveler is found to be coming to the U.S. for reason related to the marijuana industry, they may be deemed inadmissible."
And that's a key exception. Several Canadians traveling to a cannabis industry conference in Las Vegas last month were detained for hours, with one investor being given a lifetime ban from visiting the U.S.
While there is almost certainly not enough time for Blumenauer's proposal to be considered and voted on by the end of the year, its language could easily be adopted into new legislation after the 116th Congress is seated in January.
In October, the congressman laid out a plan for a step-by-step approach to federally legalizing marijuana in 2019 in a memo to fellow House Democrats.
Marijuana Moment supporters on Patreon can read the full text of the new MAPLE Act below:
Chicago Mayor Wants Legal Marijuana Revenue To Fund Pensions
Tax revenue from legal marijuana sales should be earmarked to fund pension programs, the mayor of Chicago said on Wednesday.
"Illinois legislators will be taking a serious look next year at legalizing recreational marijuana," Mayor Rahm Emanuel (D) said in a speech to the City Council. "Should they follow that course, a portion of that revenue could go toward strengthening our pension funds and securing the retirement of the workers who depend on them."
Please visit Forbes to read the rest of this piece.
(Marijuana Moment's editor provides some content to Forbes via a temporary exclusive publishing license arrangement.)
Photo courtesy of Daniel X. O'Neil.