Twitter Partners With Feds On Campaign Flagging 'Marijuana' Searches While Giving 'Alcohol' A Pass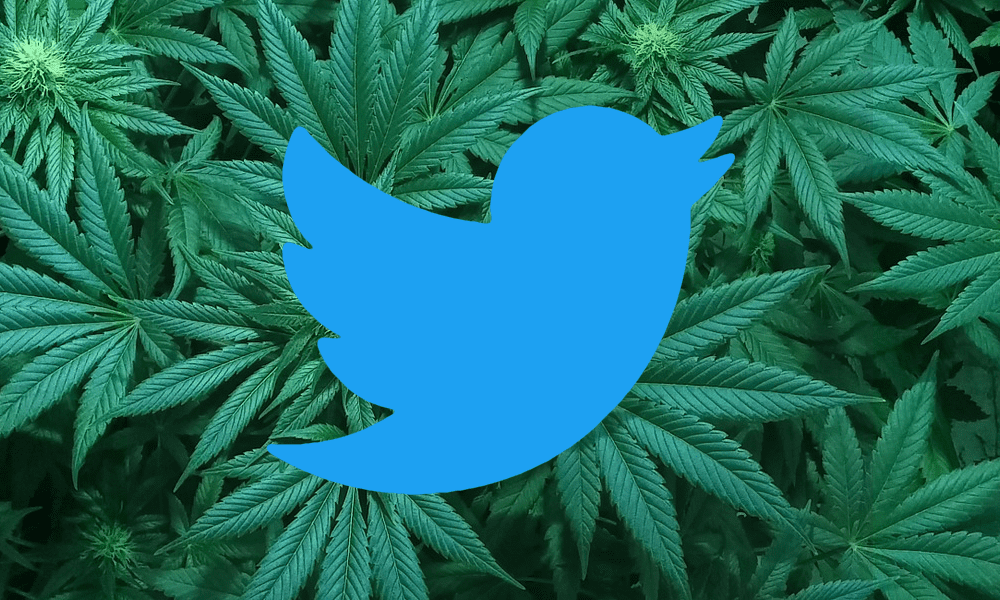 Twitter is partnering with a federal drug agency to promote substance misuse treatment resources when users of the social media platform search for "marijuana" or certain other substance-related keywords—but no such health warning appears with results for alcohol-connected terms.
In collaboration with the Substance Abuse and Mental Health Services Administration (SAMHSA), Twitter this week began adding a notification above relevant tweets on select drug terms that says, "If you or someone you know is struggling with substance use, you are not alone." It directs users to SAMHSA's help line and website.
Drug policy reform advocates have pointed out that this messaging perpetuates stereotypes about drug use, indicating that any interest in these substances signals that users may have a problem warranting treatment. But it's also the case that there's an abundance of reasons that people might enter "marijuana" into a search beyond looking for ways to score some of the product for use, including wanting to follow relevant news on public policy debates about its legalization. And besides, the vast majority of people who consume cannabis are not addicted to or dependent on it and aren't likely to appreciate the suggestion that they may need professional help.
While promoting substance misuse treatment isn't necessarily problematic in and of itself, advocates are pushing back about the fact that Twitter chose to peg these notices to cannabis and other currently illegal drugs in particular while it allows alcohol brands to be promoted on its platform. Here's what happens when you search for "vodka," for example:
Similarly, no warning is displayed alongside searches for "alcohol," "beer" or "wine."
For context, according to the World Health Organization, more than three million people die from harmful use of alcohol each year. Meanwhile, even the Drug Enforcement Administration has acknowledged that "no deaths from overdose of marijuana have been reported."
"It is not surprising that SAMHSA would be behind stigmatizing content like this, but it is surprising that a platform like Twitter would allow them to co-opt entire search terms, regardless of a person's reason for searching for them," Matt Sutton, director of media relations for the Drug Policy Alliance, told Marijuana Moment. "It goes back to the same false dichotomy that people who use drugs are struggling and need help verses the reality that most people can use drugs non-problematically, while a small portion of the population tends to struggle with substance use disorder."
Marijuana Moment reached out to Twitter about the discrepancy when it comes to alcohol-related searches, but a representative declined the opportunity to comment for this story.
"If Twitter is going to add this feature for marijuana then they should absolutely do the same for alcohol, which is a more dangerous substance," Matthew Schweich, deputy director of the Marijuana Policy Project, told Marijuana Moment.
Interestingly, while the SAMHSA treatment resources are flagged for Twitter users who search for "marijuana," "cocaine" and "heroin," searches for "cannabis," "LSD," "MDMA," "psilocybin," "pills," "adderrall" and other drug-related terms come with no such invitation to consider getting help—further highlighting the arbitrary nature of the new feature on the social media platform.
This social media policy change comes as Democratic presidential nominee Joe Biden is promoting mandatory drug rehabilitation treatment for people charged with possession crimes.
While the former vice president seems to view the policy as a progressive alternative to incarceration, many drug reform advocates feel mandatory treatment reinforces misconceptions about substance misuse, and they point out that the efficacy of forced rehabilitation programs are scientifically questionable.
"Anybody who gets convicted of a drug crime—not one that is in terms of massive selling, but consumption—they shouldn't go to prison. They should go to mandatory rehabilitation," he said last week. "Instead of building more prisons, as I've been proposing for some time, we build rehabilitation centers."
Congressional Committee Approves Marijuana Bill That Will Allow Research On Dispensary Cannabis