Twitter Partners With Feds On Campaign Flagging 'Marijuana' Searches While Giving 'Alcohol' A Pass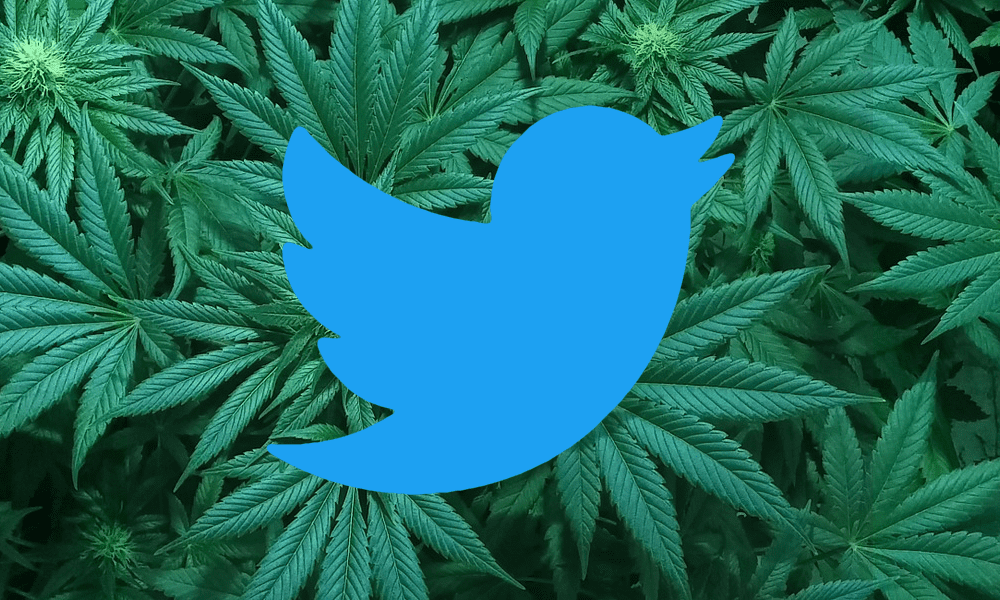 Twitter is partnering with a federal drug agency to promote substance misuse treatment resources when users of the social media platform search for "marijuana" or certain other substance-related keywords—but no such health warning appears with results for alcohol-connected terms.
In collaboration with the Substance Abuse and Mental Health Services Administration (SAMHSA), Twitter this week began adding a notification above relevant tweets on select drug terms that says, "If you or someone you know is struggling with substance use, you are not alone." It directs users to SAMHSA's help line and website.
Drug policy reform advocates have pointed out that this messaging perpetuates stereotypes about drug use, indicating that any interest in these substances signals that users may have a problem warranting treatment. But it's also the case that there's an abundance of reasons that people might enter "marijuana" into a search beyond looking for ways to score some of the product for use, including wanting to follow relevant news on public policy debates about its legalization. And besides, the vast majority of people who consume cannabis are not addicted to or dependent on it and aren't likely to appreciate the suggestion that they may need professional help.
While promoting substance misuse treatment isn't necessarily problematic in and of itself, advocates are pushing back about the fact that Twitter chose to peg these notices to cannabis and other currently illegal drugs in particular while it allows alcohol brands to be promoted on its platform. Here's what happens when you search for "vodka," for example:
Similarly, no warning is displayed alongside searches for "alcohol," "beer" or "wine."
For context, according to the World Health Organization, more than three million people die from harmful use of alcohol each year. Meanwhile, even the Drug Enforcement Administration has acknowledged that "no deaths from overdose of marijuana have been reported."
"It is not surprising that SAMHSA would be behind stigmatizing content like this, but it is surprising that a platform like Twitter would allow them to co-opt entire search terms, regardless of a person's reason for searching for them," Matt Sutton, director of media relations for the Drug Policy Alliance, told Marijuana Moment. "It goes back to the same false dichotomy that people who use drugs are struggling and need help verses the reality that most people can use drugs non-problematically, while a small portion of the population tends to struggle with substance use disorder."
Marijuana Moment reached out to Twitter about the discrepancy when it comes to alcohol-related searches, but a representative declined the opportunity to comment for this story.
"If Twitter is going to add this feature for marijuana then they should absolutely do the same for alcohol, which is a more dangerous substance," Matthew Schweich, deputy director of the Marijuana Policy Project, told Marijuana Moment.
Interestingly, while the SAMHSA treatment resources are flagged for Twitter users who search for "marijuana," "cocaine" and "heroin," searches for "cannabis," "LSD," "MDMA," "psilocybin," "pills," "adderrall" and other drug-related terms come with no such invitation to consider getting help—further highlighting the arbitrary nature of the new feature on the social media platform.
This social media policy change comes as Democratic presidential nominee Joe Biden is promoting mandatory drug rehabilitation treatment for people charged with possession crimes.
While the former vice president seems to view the policy as a progressive alternative to incarceration, many drug reform advocates feel mandatory treatment reinforces misconceptions about substance misuse, and they point out that the efficacy of forced rehabilitation programs are scientifically questionable.
"Anybody who gets convicted of a drug crime—not one that is in terms of massive selling, but consumption—they shouldn't go to prison. They should go to mandatory rehabilitation," he said last week. "Instead of building more prisons, as I've been proposing for some time, we build rehabilitation centers."
Congressional Committee Approves Marijuana Bill That Will Allow Research On Dispensary Cannabis
Colorado Is Auctioning Marijuana-Themed License Plates To Raise Money For People With Disabilities
Colorado is really leaning into its reputation as the marijuana state—for a good cause. Officials are taking the unique step of auctioning off cannabis-themed license plates to help raise money for a disability fund.
From April 1 to April 20, residents can bid on the vanity plates with terms like "BONG," "GANJA," "GOTWAX," "HEMP," "ISIT420" and even "TEGRIDY," a nod to the fictional South Park marijuana farm.
Bids on several of the plates start at $420, of course.
"The Colorado Disability Funding Committee had the TEGRIDY to STASH away some great HERB related license plate configurations and is making them available to you," a Facebook post states. "Don't be GREEN with envy because your neighbor GOTWAX and HONEY, bid on a plate and support people with disabilities!"
"Colorado GANJA themed license plates could make you as HAPPY as your 100% HEMP t-shirt," the post, which was uploaded on April 1 but is not an April Fool's joke, continues. "Leave ya SATIVA and INDICA, put down the BONG, use our HASHtags to follow along."
The page for each license plate up for auction includes a disclaimer not to drive while impaired and to use cannabis responsibly.
The proceeds of the auction will go to the Colorado Disability Funding Committee, which issues grants to organizations that "have new and innovative ideas that benefit the disability community."
Given the popularity of Colorado's marijuana market, which exceeded $2 billion in sales last year alone, it stands to reason that the plates will be a hit.
People who don't live in Colorado can also bid. If they win, they will be sent a novelty plate without the security features that come on a normal plate.
Despite being one of the first states to legalize for adult use, Colorado's cannabis program is continually evolving.
Last month, for example, the state House passed a bill to increase the lawful possession limit for marijuana and the governor signed legislation to create a social equity fund for the marijuana industry.
Gov. Jared Polis (D) visited a marijuana dispensary in Denver to sign the measure, which will establish a program within the state Office of Economic Development and International Trade that's intended to support cannabis businesses owned by people who qualify as social equity licensees, primarily people most impacted by the drug war.
The program will receive an initial infusion of $4 million from the state's marijuana tax fund—about $1 million short of what the governor had requested in January. The legislation was created in consultation with Black Brown and Red Badged (BBRB), a coalition of minority-owned cannabis businesses.
Last year, Polis signed a separate bill that creates a statewide definition of cannabis social equity licensees. Those businesses are now the ones that will primarily benefit from the new legislation.
This kind of funding is largely made possible from tax revenue derived by the state's robust cannabis market. Data from the state's Department of Revenue shows that more than $10 billion of marijuana has been sold since the adult-use program launched in 2014.
Another piece of cannabis reform legislation that cleared the Senate last month would require schools and school district to institute policies permitting employees to store and administer marijuana products for students who are registered medical cannabis patients.
Marijuana Legalization Framed As Inevitability At Rhode Island Senate Joint Hearing
Seth Rogen's Marijuana Biz Expands To U.S. While Jay-Z Gets Political With Cannabis Ad Campaign
Monday was a big day in the celebrity marijuana space, with actor Seth Rogen announcing the U.S. launch of his cannabis brand and rapper Jay-Z revealing an ad campaign for his company that's meant to highlight the absurdity of the war on drugs by pointing out that some states are more lax on cousin marriage, cannibalism or sex with farm animals than they are on weed.
Rogen's elation in bringing his business, Houseplant, to the U.S. market was evident in a one-minute video he shared on social media.
Almost ten years I go, I envisioned having my own weed company. And today I can say that my company Houseplant's weed will be available in California next week! Also, Houseplant is making lovely Housegoods like ashtrays, lighters, and YES, even ceramics. https://t.co/TNjpWFhbWB pic.twitter.com/00xR8QKNH3

— Seth Rogen (@Sethrogen) March 1, 2021
After showcasing the tins his line of sativa and indica strains come in—as well a "table lighter" that's part of the Houseplant collection—the actor of Pineapple Express and Superbad fame said that this is "honestly my life's work and I've never been more excited about anything."
The company also produced vinyl records with playlists that are meant to complement the effects of the various marijuana varieties like Pancake Ice.
This is our Pancake Ice sativa. (All our strains are named after weather systems like we did with Pineapple Express). Our Pancake Ice is what I smoke all day. It's over 33% THC. pic.twitter.com/buLcuLwZgg

— Seth Rogen (@Sethrogen) March 1, 2021
Rogen has also leveraged his marijuana stardom for philanthropic purposes, putting on an adult carnival last year where the plant was featured to raise money for research into Alzheimer's disease.
He appeared at a congressional hearing in 2014 and joked that while people might expect him to advocate for marijuana reform before the Senate committee, he was actually there to promote research into the disease, which his mother-in-law suffers from.
The actor also appeared in a PSA for National Expungement Week, an effort to help people free themselves from the burdens of prior marijuana convictions.
Meanwhile, JAY-Z, whose real name is Shawn Carter, has his cannabis business, MONOGRAM. And on Monday, the company started a "national awareness campaign that draws attention to the hypocrisy of current regulations governing cannabis" in the U.S., a press release states.
Billboards and murals featuring text that compare laws prohibiting marijuana and other state and federal statutes have been posted in cities like Los Angeles, San Francisco, Washington, D.C. and New York.
You can marry your first cousin in more states than you can buy recreational weed. pic.twitter.com/BcC7PANmck

— MONOGRAM (@monogramcompany) March 1, 2021
Here are a few examples of the campaign messages: 
"Weed is a federal crime. Even in the states where sex with farm animals isn't."
"You can marry your first cousin in more states than you can buy recreational weed."
"The war on drugs worked. If systemic racism was the goal."
"Cannabis laws are out of date and disproportionately cruel and punishing when compared to the rest of the legal code," Carter said. "I created this campaign to amplify the voices of those who have been penalized for the very same thing that venture capitalists are now prospering from with the emerging legal cannabis market."
There's a state in America where cannibalism is technically legal and cannabis isn't.

The hypocrisy of America's drug policy needs to end. pic.twitter.com/4wyHYK6kcC

— MONOGRAM (@monogramcompany) March 1, 2021
Earlier this year, the artist announced that he was putting $10 million toward a fund to promote participation in state-legal marijuana markets by communities most impacted by prohibition—an action that earned the praise of California Gov. Gavin Newsom (D).
I led the effort to decriminalize & legalize cannabis because the war on drugs has been an abject failure—with disproportionate & devastating impacts on communities of color.

These are the types of entrepreneurial opportunities we dreamed of—thanks Jay-Z! https://t.co/jHag1DdWBd

— Gavin Newsom (@GavinNewsom) January 21, 2021
"I led the effort to decriminalize & legalize cannabis because the war on drugs has been an abject failure—with disproportionate & devastating impacts on communities of color," the governor said. "These are the types of entrepreneurial opportunities we dreamed of—thanks Jay-Z!"
Top Washington, D.C. Lawmaker Files Competing Legal Marijuana Bill Days After Mayor Unveils Her Plan
Photo courtesy of Monogram.
NFL Explores How Marijuana And CBD Can Be Used As Opioid Alternatives For Players
The National Football League and NFL Players Association are launching an effort to learn about the potential of marijuana and its components like CBD as alternative treatment options for pain.
They're also more generally interested in discovering how cannabis use affects athletic performance.
A request for information that was published on Tuesday states that the league's goal is "to identify investigators who have the current capability to carry out studies aimed at supplementing the NFL-NFLPA Pain Management Committee's ('PMC') knowledge about pain management and athletic performance in NFL players."
The notice lists three areas of interest:
1. The potential therapeutic role of medications and non-pharmacological interventions that are considered to be alternatives to opioids in routine pain management of NFL players. Medications may include, but are not limited to, cannabinoids such as cannabidiol ("CBD").
2. The impact of cannabis or cannabinoids on athletic performance in NFL players.
3. The potential therapeutic role of medications and non-pharmacological interventions that are considered adjunctive to routine post-surgical orthopedic pain management in NFL football players.
The joint NFL-NFLPA committee also noted that, in 2020, it held two informational forums on CBD "to learn about the current state of CBD science and manufacturing in North America."
The findings of those forums weren't definitive, as PMC found that while the non-intoxicating cannabis compound shows promise in the treatment of some forms of pain, the science doesn't currently live up to the "hype."
"CBD is a promising compound, but the level of its use in the United States outpaces the level of research at this point," the committee wrote in a white paper for players. "Most of the hype about CBD is based upon results from animal studies."
This new request for information stresses that NFL is not committing to funding any particular studies but is more generally meant to help the league find qualified scientists if it does move forward with research projects on these issues. Interested parties have until March 31 to submit relevant information.
Meanwhile, the league's drug testing policy changed demonstrably last year as part of a collective bargaining agreement.
Under the new policy, NFL players will not face the possibility of being suspended from games over positive tests for any drug—not just marijuana.
The decision reflects a significant shift in the league's approach to drug use by players, with the agreement emphasizing the need to focus on "ensuring evaluation and treatment" rather than punishment. Now those who test positive for drugs, exhibit behaviors that indicate drug misuse or self-refer themselves will be required to enter an "intervention program" where they would receive an evaluation and treatment plan.
Testing positive for prohibited substances after that point would result in a half-week salary loss for first violations, a one-week salary loss for second violations, a two-week salary loss for third violations and a three-week salary loss for fourth and subsequent violations. The threat of suspensions would be removed.
In a similar vein, the MLB decided in 2019 to remove cannabis from the league's list of banned substances. Baseball players can consume marijuana without risk of discipline, but officials clarified last year that they can't work while under the influence and can't enter into sponsorship contracts with cannabis businesses, at least for the time being.
Meanwhile, a temporary NBA policy not to randomly drug test players for marijuana amid the coronavirus pandemic may soon become permanent, the league's top official said in December. Rather than mandate blanket tests, Commissioner Adam Silver said the league would be reaching out to players who show signs of problematic dependency, not those who are "using marijuana casually."
37 Members Of Congress Ask Biden To Issue Mass Marijuana Pardons Ahead Of Legalization
Image element courtesy of Marco Verch.