The Best 4/20 Marijuana Tweets From Politicians, Celebs And Brands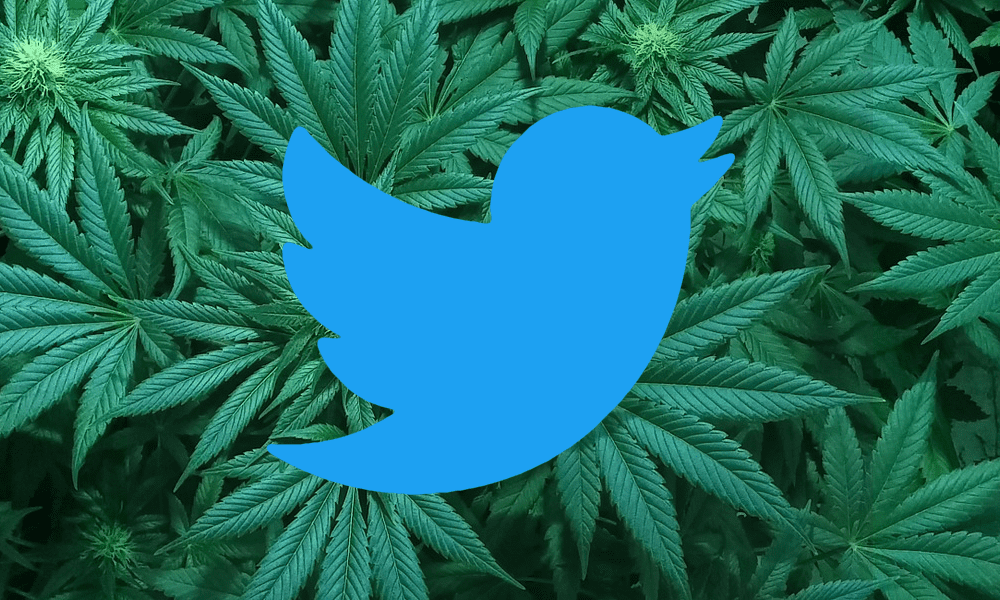 It's 4/20, and that means everyone is talking about marijuana — including members of Congress, celebrities and mainstream companies.
Here's a roundup of some of the best and most interesting cannabis-related tweets from prominent people and businesses…
Congressman Earl Blumenauer (D-OR) delivered a "Cannabis State of the Union" address:
This 4/20, my thoughts on the state of cannabis reform in America, and where this growing movement is going next: pic.twitter.com/UR8C4fmWH7

— Earl Blumenauer (@repblumenauer) April 20, 2018
U.S. Senate Minority Leader Chuck Schumer (D-NY) posted a thread about his new legislation to deschedule marijuana:
The time has come to decriminalize marijuana. My thinking – as well as the general population's views – on the issue has evolved, and so I believe there's no better time than the present to get this done. pic.twitter.com/EIHgsI8j6C

— Chuck Schumer (@SenSchumer) April 20, 2018
I have long believed that states should function as their own laboratories of democracy. My bill is a step in the right direction aimed at removing the barriers to state legalization efforts.

— Chuck Schumer (@SenSchumer) April 20, 2018
And under existing law, the federal government considers marijuana as dangerous as heroin and treats it less favorably than cocaine. That has to change.

— Chuck Schumer (@SenSchumer) April 20, 2018
That's why this bill will inject real dollars into minority and women-owned businesses to ensure those disproportionately affected by marijuana criminalization can benefit from this new economy.

— Chuck Schumer (@SenSchumer) April 20, 2018
Congresswoman Eleanor Holmes Norton (D-DC) announced she's introducing legislation to allow medical cannabis in public housing. She also stopped by a marijuana festival in the nation's capital:
I'm introducing legislation to permit medical marijuana use in public housing in states—and DC—where it's legal. Tenants who are prescribed marijuana shouldn't fear eviction for simply treating their conditions. Thanks, @DCMJ2014 for the idea! https://t.co/8sVe7zCqS6

— Eleanor Holmes Norton (@EleanorNorton) April 20, 2018
cannabis festival bonanza – never ending car lines despite several entrances – got in quickly only because I was a speaker – #legaliz

— Eleanor Holmes Norton (@EleanorNorton) April 21, 2018
U.S. Sen. Martin Heinrich (D-NM) endorsed legalizing marijuana:
It's time to legalize marijuana.

— Martin Heinrich (@MartinHeinrich) April 20, 2018
U.S. Sen. Kirsten Gillibrand (D-NY) tweeted about racial disparities in marijuana enforcement.
Black and Latino people in NYC are arrested at TEN times the rate of white people for virtually the same rate of marijuana usage. Along with @CoryBooker and @SenSanders, I'm cosponsoring a bill to legalize and decriminalize marijuana. Raise your voices and join us in this fight.

— Kirsten Gillibrand (@SenGillibrand) April 20, 2018
U.S. Sen. Brian Schatz (D-HI) touted legal marijuana's role in reducing opioid issues:
On this 4/20, let's talk marijuana policy. Where medical marijuana is legal more people use marijuana to alleviate pain, and opioid prescriptions decrease. People of color are punished at 4-5 times the rate of whites for marijuana, even though use rates are the same. It's time.

— Brian Schatz (@brianschatz) April 20, 2018
Congressman Jared Polis (D-CO), a Colorado gubernatorial candidate, toured a marijuana business:
Colorado has proven that allowing responsible adults to legally purchase marijuana gives money to classrooms, not cartels; creates jobs, not addicts; and boosts our economy, not our prison population. pic.twitter.com/QKU2wKv9We

— Polis for Colorado (@PolisForCO) April 20, 2018
California Treasurer John Chiang (D), also a gubernatorial candidate, toured a local dispensary:
Today, I visited The Apothecarium in San Fran. Californians have spoken by passing Prop 64 & legalizing cannabis for recreational use, so it's time we help businesses, like The Apothecarium, move out of the shadows of the industry & into the light. #420Day pic.twitter.com/psAjxtUP08

— John Chiang (@JohnChiangCA) April 20, 2018
Cannabis businesses operating in the dark not only pose real dangers to those in the industry, but it doesn't allow CA to collect tax revenues from cannabis sales. That's why I'm exploring the idea of a public bank w/ a focus on cannabis #420Day https://t.co/f0CBE4eGs4

— John Chiang (@JohnChiangCA) April 20, 2018
U.S. Sen. Orrin Hartch (R-UT) has a way with words:
Tomorrow, purely coincidentally, we will be talking about marijuana.

We'll get in the weeds to hash out some of the most potent arguments as to why it might be the budding answer doctors have long strained to find for countless chronic conditionshttps://t.co/6WpaBTyxDy #utpol

— Senator Hatch Office (@senorrinhatch) April 20, 2018
Congressman Steve Cohen (D-TN) tweeted a video of himself pressing U.S. Attorney General Jeff Sessions about whether good people smoke marijuana:
It's #420day&just like on 4/19, 4/21&every other day,#marijuana shouldn't be in same class as drugs like cocaine,heroine&meth.Too many lives are ruined by failed #WarOnDrugs. I've fought for #justice in drug crimes& #MedicalMarijuana for years,#legalmarijuana is overdue.#Happy420 pic.twitter.com/k8Dp6sSEBe

— Steve Cohen (@RepCohen) April 20, 2018
U.S. Sen. Cory Booker (D-NJ) tweeted about his bill, the Marijuana Justice Act, and he welcomed Sen. Schumer to the cannabis reform movement:
We should legalize marijuana AND help those who have suffered due to its prohibition.

My bill the Marijuana Justice Act legalizes marijuana & aims to right some wrongs of our failed drug war which has had a disproportionately devastating impact on Americans of color & the poor. https://t.co/P8rQU6Idob

— Sen. Cory Booker (@SenBooker) April 20, 2018
Welcome to the movement @SenSchumer!

The War on Drugs has devastated communities of color and we need to fix that. I applaud this important step in the right direction. https://t.co/q5OUrTJatT

— Sen. Cory Booker (@SenBooker) April 20, 2018
U.S. Sen. Bernie Sanders (I-VT) tweeted about his recent cosponsorship of Booker's bill:
Now is the time to remove the ridiculous federal prohibition on marijuana. I'm proud to co-sponsor the Marijuana Justice Act. pic.twitter.com/iEAfmWdE3w

— Bernie Sanders (@SenSanders) April 20, 2018
Congresswoman Jacky Rosen (D-NV), a U.S. Senate candidate, said she support marijuana legalization when it was on Nevada's ballot:
I was proud to back Question 2 in 2016 and continue to support our marijuana industry as it creates thousands of jobs and raises millions in state revenue. #420Day

— Jacky Rosen (@RosenforNevada) April 20, 2018
U.S. Sen. Jeff Merkley (D-OR) said state laws should be respected, and highlighted the important of banking access:
The people of every state should have the choice to make the same decision Oregonians have by legalizing cannabis, and they shouldn't have to fear retribution or conflict with the federal government.

— Senator Jeff Merkley (@SenJeffMerkley) April 20, 2018
That's nonsensical and it's dangerous for public safety, which is why I've joined with Democratic and Republican Senators alike – including @SenCoryGardner, @PattyMurray, @RonWyden, @LisaMurkowski & more – to push for the SAFE Banking Act.

— Senator Jeff Merkley (@SenJeffMerkley) April 20, 2018
U.S. Sen. Elizabeth Warren (D-MA) said the feds should leave state laws alone:
The federal government needs to get out of the business of outlawing marijuana. States should make their own decisions about enforcing marijuana laws.

— Elizabeth Warren (@SenWarren) April 20, 2018
U.S. Sen. Kamala Harris (D-CA) said it's time to decriminalize marijuana under federal law…even though she hasn't signed onto any of the bills her colleagues have introduced that would accomplish that:
It's time to decriminalize marijuana at the federal level. It's time to stop repeating the same mistakes of the past.

— Kamala Harris (@KamalaHarris) April 20, 2018
California Lt. Gov. Gavin Newsom (D), a gubernatorial candidate, is calling for federal politicians to step up:
Legalizing marijuana is about criminal justice reform. It's about putting an end to the failed war on drugs and fixing a broken system that has disproportionately affected low-income and minority communities.

It's time for our leaders in D.C. to step up.

— Gavin Newsom (@GavinNewsom) April 21, 2018
Congresswoman Barbara Lee (D-CA) focused on the damage done by the war on drugs:
That's why I introduced the #MarijuanaJusticeAct which:
🇺🇸Legalizes marijuana nationwide
⚖️Expunges non-violent federal marijuana convictions
💰Invests in communities torn apart by the #WarOnDrugs

— Rep. Barbara Lee (@RepBarbaraLee) April 21, 2018
Congressman Beto O'Rourke (D-TX), a U.S. Senate candidate, had this to say:
We must end the federal prohibition on marijuana in this country.

— Beto O'Rourke (@BetoORourke) April 20, 2018
Congressman Mark Sanford (R-SC) tweeted about the need for marijuana businesses to be taxed fairly:

Thirty states currently have legalized marijuana in some capacity, but because it's classified as a Schedule I substance, small businesses in the states that sell marijuana legally are not allowed to deduct business expenses like payroll, rent, utilities, etc…

— Mark Sanford (@RepSanfordSC) April 20, 2018
The Small Business Tax Equity Act enshrines the principle of federalism. If a state makes something legal, it ought to be treated on par and equally with other businesses in the state. https://t.co/PuGcAh5t20

— Mark Sanford (@RepSanfordSC) April 20, 2018
Congressman Ruben Kihuen (D-NV) spoke about the need to increase women and minority ownership on the cannabis industry:
Thank you @SenSchumer, this is long overdue. Nevada's recreational marijuana market is already in the hundreds of millions & has created thousands of jobs. Now we need to boost minority & women owned marijuana businesses, and allow banking services for these businesses. #420day https://t.co/VhGME5uhZU

— Rep. Ruben J. Kihuen (@RepKihuen) April 20, 2018
Congressman Tim Walz (D-MN), a Minnesota gubernatorial candidate, tweeted about the importance of allowing research on medical cannabis for veterans, and he called for broader marijuana legalization:
Our vets deserve access to every form of safe, effective relief there is — and I hear from vets more and more every day that they find relief in #cannabis.

The VA Medicinal Cannabis Research Act authorizes @DeptVetAffairs to finally #dotheresearch on the use of #medicalcannabis! pic.twitter.com/9smYWvs78V

— Rep. Tim Walz (@RepTimWalz) April 20, 2018
When a veteran tells me they're finding relief, I believe them. That's why I introduced the VA Medicinal Cannabis Research Act. With VA researching #MedicalCannabis, #veterans suffering from PTSD & chronic pain would finally have the answers they deserve. https://t.co/Rv4gNi3tbR

— Rep. Tim Walz (@RepTimWalz) April 20, 2018
Today seems to be a good time to reinforce that I support creating a tax-and-regulate system for adult use marijuana in Minnesota.

— Tim Walz (@Tim_Walz) April 20, 2018
Congressman Hakeem Jeffries (D-NY) said that marijuana criminalization distracts resources from more important things:
It's time to stop criminalizing recreational use of marijuana in America, and focus on our real problems (like our crumbling infrastructure & impending constitutional crisis)

— Hakeem Jeffries (@RepJeffries) April 21, 2018
U.S. Sen. Ron Wyden (D-OR) is happy that more lawmakers are endorsing cannabis law reform:
BIG news in the push to legalize marijuana – @SenSchumer joining myself, @repblumenauer, @CoryBooker, @SenJeffMerkley & others to get the federal government to respect the will of voters in Oregon & other states who've chosen legalization. https://t.co/uiEzpTmnmL

— Ron Wyden (@RonWyden) April 20, 2018
San Francisco International Airport posted a 4/20 public service announcement:
#420 TSA screens for aviation threats, but also law violations. Federal law treats marijuana as illegal. Passengers with suspect items at checkpoints will be sent to law enforcement officer. #TravelSafe. More info: https://t.co/wi4h6meW97 pic.twitter.com/VaejMqHhOq

— flySFO (@flySFO) April 20, 2018
Chelsea Manning tweeted a message focused on personal autonomy and racial disparities in the drug war:
they can't tell us what we shouldnt put in our own bodies ❌👮‍♀️time to end all criminalization of marijuana/cannabis 💨 time to close prisons and end all the racially motivated drug wars once and for all! 😎🌈💕 #WeGotThis

— Chelsea E. Manning (@xychelsea) April 20, 2018
Illinois Democratic gubernatorial candidate JB Pritzker is criticizing the incumbent governor for preventing medical cannabis expansion:
A majority of Illinoisans agree that this is the right thing to do, but @BruceRauner is firmly against it. He's even made medical marijuana in Illinois nearly inaccessible. The verification process alone leaves patients waiting for relief.

— JB Pritzker (@JBPritzker) April 20, 2018
Rauner's Medical Marijuana Program Failing Illinoisans #ilgov #twill https://t.co/SLQE133gFR

— JB for Governor Press (@JBforGovPress) April 20, 2018
Congressman Ro Khanna (D-CA) reminds us how popular legal marijuana is with voters:
61% of Americans now support legalizing marijuana. It's time for Congress to move past 'reefer madness' and pass the Marijuana Justice Act which would both legalize the drug and end the racial discrimination from the War on Drugs.

— Rep. Ro Khanna (@RepRoKhanna) April 20, 2018
Congresswoman Suzan DelBene (D-WA) wants to protect local businesses and consumers from federal prosecution:
It's long past time for Congress to act to protect medical patients, recreational users and small businesses in states that have legalized and regulated #marijuana from being prosecuted now or in the future, which is exactly what my bill, the #SMARTEnforcementAct, would do.

— Rep. Suzan DelBene (@RepDelBene) April 20, 2018
Congressman Alan Lowenthal (D-CA) touts his support of cannabis legislation:
Current federal laws around marijuana are draconian and outdated. I am proud to cosponsor the Respect State Marijuana Laws Act to empower states to decide what is best for their own communities on this issue.

— Rep. Alan Lowenthal (@RepLowenthal) April 20, 2018
Indiana Democratic congressional candidate Dan Canon had a little fun:
Please be careful out there today. Marijuana overdoses increase by an average of eleventy percent every year on 4/20.

— Dan Canon (@dancanon) April 20, 2018
Congresswoman Colleen Hanbusa (D-HI) wants state laws respected:
On #420day, we must recognize that times have changed and the regulation of marijuana is a states' rights issue… https://t.co/C1jsRjDMy3

— Colleen Hanabusa (@RepHanabusa) April 21, 2018
Maryland Democratic gubernatorial candidate Alec Ross released a video filled with marijuana puns:
The jokes are fun, but it really is high time we do away with antiquated drug laws & enforcement policies. I've rolled out my plan for the legalization & regulation of marijuana in MD. https://t.co/3PPCqGOAEj https://t.co/UsVr4tbc6P

— Alec Ross (@AlecJRoss) April 20, 2018
Congressman Denny Heck (D-WA) wants research on medical cannabis for veterans:
We need to allow the VA to research how marijuana can help our veterans. That's why I cosponsored the VA Medicinal Cannabis Research Act of 2018 earlier this week. Read more about the bill from @washingtonpost https://t.co/3b96tVHci2

— Denny Heck (@RepDennyHeck) April 21, 2018
Americans for Tax Reform's Grover Norquist wants cannabis businesses to be taxed like any other sector:
Today at the National Cannabis Festival (4/20) I will speak at 11:00 am (CSPAN) on a policy panel about ending 420E–the federal tax that undermines federalism.
The feds should respect the decision of states on Cannabis–and several hundred other issues. https://t.co/nP1AuGYZea

— Grover Norquist (@GroverNorquist) April 20, 2018
Burger King understands the value of 4/20 as a marketing hook:
spicy chicken nuggets are here. just in time for 4/20. how are you firing up? #FireUp420 pic.twitter.com/A5cfJOE60B

— Burger King (@BurgerKing) April 20, 2018
Denny's makes you go 🤔:
while it's trendy to implement new 420 menus, denny's has stayed ahead of the game by simply having…our menu

— Denny's (@DennysDiner) April 20, 2018
Ben & Jerry's chimed in a bit early:
Close enough… pic.twitter.com/lNlLDXtSet

— Ben & Jerry's (@benandjerrys) April 19, 2018
Koch Industries wants people to know it supports letting states legalize marijuana:
General Counsel Mark Holden on why it should be up to the states to decide whether to legalize or decriminalize marijuana laws: https://t.co/wujV3Y7njD #420day

— Koch Industries (@Koch_Industries) April 20, 2018
BMW tweeted that some of its car parts are made from hemp:
Fibers from sustainably grown kenaf, a form of hemp, are used to reinforce dashboard and door trims. https://t.co/hJHpf0D2r9

— BMW USA (@BMWUSA) April 19, 2018
Comedian Chelsea Handler suggested that U.S. Attorney General Jeff Sessions give marijuana a try:
#Happy420, Jeff Sessions. I know you hate marijuana, but maybe give it a try… you might get so high you'll forget how to be racist.

— Chelsea Handler (@chelseahandler) April 20, 2018
Actress Laverne Cox has never consumed marijuana but is all in favor of legalization:
Happy #420day. I have never smoked weed in my life but support decriminalization and think we need to get folks out of prison who are there on marijuana charges. We have to elect folks who will do that work.

— Laverne Cox (@Lavernecox) April 20, 2018
The Body Shop is offering a 42% discount on products in celebration of 4/20:
Get your HYDRATION HIGH today with 42% OFF hundreds of products! PLUS get 50% OFF our best-selling Hemp Hand Protector! Soften hands with our dermatologically tested lotion for very dry skin. #420day https://t.co/0UUb0yYlB0 pic.twitter.com/9lRs0sEK9n

— The Body Shop (@thebodyshopusa) April 20, 2018
The Competitive Enterprise Institute says Jeff Sessions's position on marijuana is very undudelike:
Despite Trump's campaign promises to the contrary, the Attorney General Jeff Sessions is being very uncool toward states that legalized recreational or medical marijuana. https://t.co/nqKKZGfkhO pic.twitter.com/9M1YLImW7O

— Competitive Enterprise Institute (@ceidotorg) April 20, 2018
And of course Snoop Dogg was celebrating:
on my way to your crib today #SnoopsFavoriteHoliday pic.twitter.com/Fup3syMFxR

— Snoop Dogg (@SnoopDogg) April 20, 2018
Square Quietly Launches Program For CBD Cannabis Company Credit Card Processing
Companies that sell cannabis products—even those consisting of CBD derived from hemp, which was legalized in the U.S. through the Farm Bill late last year—are continuing to have trouble accessing basic financial services that are available to businesses in other sectors. That includes being able to maintain bank accounts and process their customers' credit cards.
The latter problem could be solved under a new pilot program that has quietly been launched by the payment processing service Square.
Please visit Forbes to read the rest of this piece.
(Marijuana Moment's editor provides some content to Forbes via a temporary exclusive publishing license arrangement.)
Facebook Uses Marijuana And Broccoli To Show Off Its AI Tech
Marijuana buds and tempura broccoli can look oddly similar out of context, but Facebook's artificial intelligence (AI) technology can tell the difference.
At its annual developers conference on Wednesday, Facebook CTO Mike Schroepfer discussed how the social media giant is able to leverage visual AI to spot "policy-violating content," including advertisements to sell cannabis on the platform. He explained the process by comparing images of the fried vegetable next to marijuana buds, which he described as the "most benign possible example" of prohibited content he could find.
How Facebook flags marijuana on the social network. #F82019 pic.twitter.com/on62gJ3Y2e

— Queenie Wong (@QWongSJ) May 1, 2019
Five years ago, the company relied on "behavioral signals" to catch people advertising cannabis—things like whether the advertiser has been "caught for doing bad stuff before" or whether they used "obvious words" like "marijuana" or "drugs" in the post. But as AI advanced, Facebook developed a system that could visually distinguish cannabis from other miscellaneous items.
To drive the point home, Schroepfer put both images on the screen and challenged the audience to differentiate them.
Audience participation at #f8. Which of these is tempura broccoli and which is marijuana? Facebook's vision algorithms can tell pic.twitter.com/tITTU8EdF4

— Tom Simonite (@tsimonite) May 1, 2019
A few people thought the tempura broccoli was marijuana, but most seemed to get it right. The visual algorithm was 94 percent sure that the marijuana was, in fact, marijuana, and 88 percent sure that the other image was the broccoli.
A very high tech discussion on which of these images AI would consider to be marijuana or tempura broccoli (spoiler: it's broccoli on the right) #f82019 pic.twitter.com/nNk3sdTV2M

— john colucci (@johncolucci) May 1, 2019
For Facebook, the technology offers a convenient way to streamline its policy enforcement efforts. But for many cannabis reform groups and media companies that run Facebook accounts, the presentation is a window into an ongoing frustration.
The ban on content promoting the sale of federally illicit drugs has had collateral consequences for pages that post noncommercial marijuana material such as news outlets like Marijuana Moment and state regulatory bodies like the Massachusetts Cannabis Control Commission. These pages have at times been hidden from search results (a technique referred to as "shadowbanning") because the algorithm isn't able to accurately differentiate commercial advertisements from cannabis-related news articles, for example.
Marijuana influencers and state-legal cannabis businesses have long complained about having their accounts on the Facebook-owned Instagram platform temporarily disabled or permanently blocked for depicting cannabis or advertising their services.
A policy change may be on the horizon, as the company said in March that it wants "to consider whether we can loosen this restriction, especially in relation to medical marijuana, legal marijuana and brick and mortar stores." But for the time being, Facebook will continue to enforce the policy, and it hasn't provided a status update on that front at the conference so far.
"It's against our policies because it's against U.S. federal law, so you can't advertise marijuana on Facebook," Schroepfer said.
People Searched For A Certain Cannabis Product A Lot In 2018, Google Says
Photo courtesy of Facebook.
FDA Sends Warnings To Three Companies Selling CBD Products
At the same time that the Food and Drug Administration (FDA) is working to create a regulatory framework for hemp-derived CBD, it's also cracking down on companies that are in its view irresponsibly marketing CBD products and making unsanctioned claims about their medical benefits.
FDA announced on Tuesday that it and the Federal Trade Commission sent warning letters to three such companies last month: PotNetwork Holdings in Florida, Nutra Pure in Washington state and Advanced Spine and Pain in New Jersey. The letters were sent "in response to their making unsubstantiated claims related to more than a dozen different products and spanning multiple product webpages, online stores and social media websites," FDA Commissioner Scott Gottlieb said in a press release.
In a Twitter thread, the commissioner added that he was "concerned to hear recently that several national pharmacy chains and other major retailers have begun to sell or will soon begin to sell" CBD products and that the agency will "be contacting them to remind them of #FDA obligations and our commitment to protect consumers against products that can put them at risk."
CVS and Walgreens both recently announced they will begin selling CBD-infused products.
We'll be contacting them to remind them of #FDA obligations and our commitment to protect consumers against products that can put them at risk.

— Scott Gottlieb, M.D. (@SGottliebFDA) April 2, 2019
In the press release about the warning letters his agency has already sent to CBD companies, Gottlieb asserted that they used their websites to "make unfounded, egregious claims about their products' ability to limit, treat or cure cancer, neurodegenerative conditions, autoimmune diseases, opioid use disorder, and other serious diseases, without sufficient evidence and the legally required FDA approval."
At the same time, the warning letters announced today make clear that #FDA has and will continue to monitor the marketplace and use our authorities to take action against companies illegally selling these types of products when they are putting consumers at risk

— Scott Gottlieb, M.D. (@SGottliebFDA) April 2, 2019
FDA is hustling to provide manufacturers guidelines on marketing cannabidiol following the federal legalization of hemp last last year, but the process is complicated by the fact that CBD is the active ingredient in an FDA-approved drug, Epidiolex, and remains the subject of intensive clinical testing. Gottlieb has indicated that it will take years to develop a regulatory plan for CBD without further congressional action.
In the meantime, companies that continue to choose to engage in CBD commerce should be wary about making health claims about their products. The commissioner said FDA has "limited resources" for enforcement operations, but it would take action against companies that make "over-the-line" statements.
In the press announcement, FDA listed some of the unauthorized claims that the three companies made. For example, the products were touted as being able to treat cervical cancer, Alzheimer's disease and substance use disorder.
"I believe these are egregious, over-the-line claims and we won't tolerate this kind of deceptive marketing to vulnerable patients," Gottlieb said. "The FDA continues to be concerned about the proliferation of egregious medical claims being made about products asserting to contain CBD that haven't been approved by the FDA, such as the products and companies receiving warning letters today."
"Selling unapproved products with unsubstantiated therapeutic claims can put patients and consumers at risk," he said. "These products have not been shown to be safe or effective, and deceptive marketing of unproven treatments may keep some patients from accessing appropriate, recognized therapies to treat serious and even fatal diseases."
Questions about what constitutes an unauthorized claim that would put a company at risk of enforcement action will likely come up at the agency's just-announced public hearing CBD issues on May 31. Stakeholders are invited to submit information about the public safety impacts of CBD and how to manufacture and market products that contain the cannabis compound.
This piece was updated to include Gottlieb's tweets about national pharmacy chains.
Photo courtesy of Nicholas C. Morton.