Study Shows How Marijuana Component CBD Can Help People With Substance Use Disorders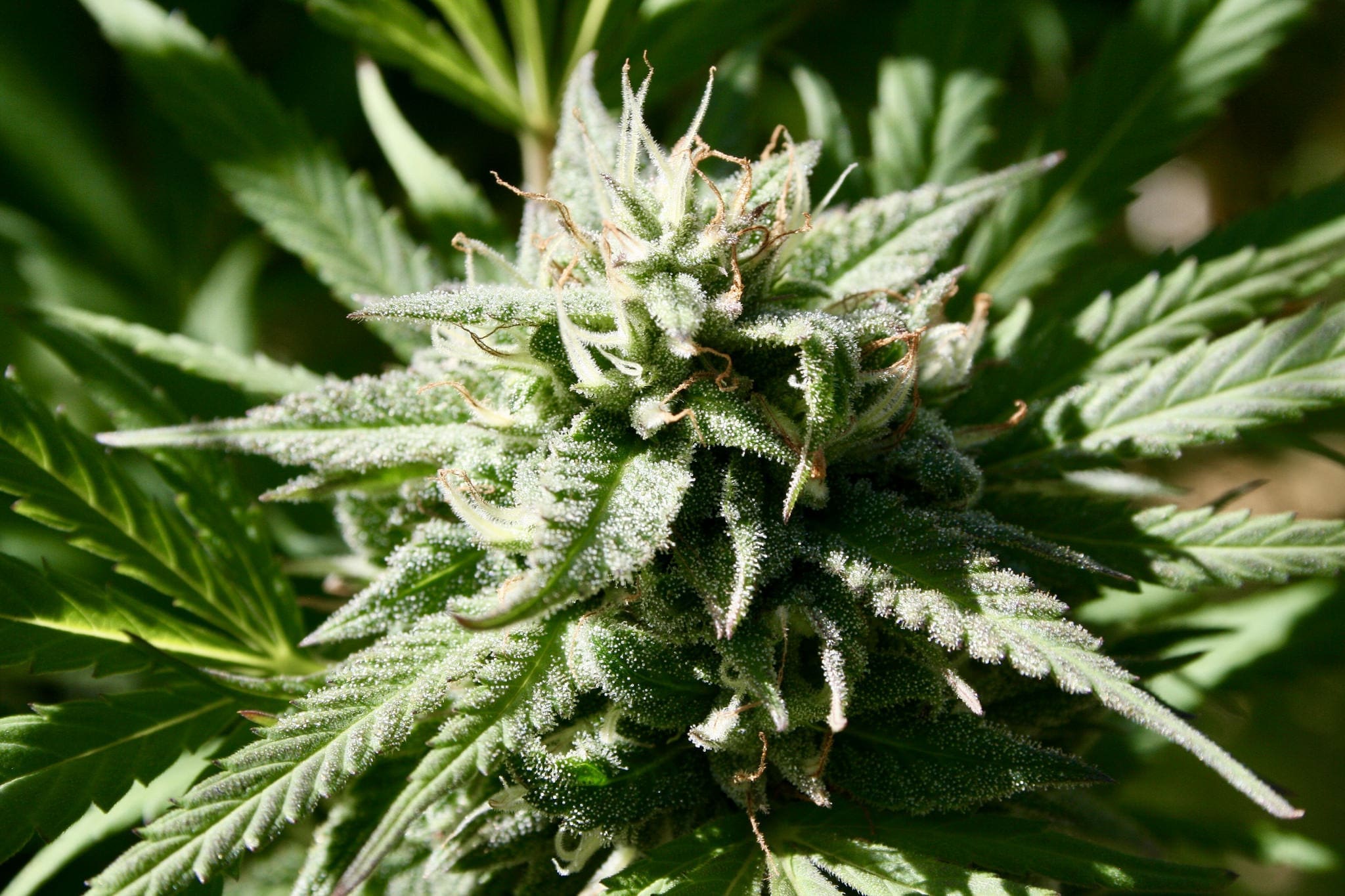 Cannabidiol, or CBD, shows promise as a potential treatment option for various types of substance use disorders, according to a recent review of existing studies.
A team of Australian researchers summarized the results of multiple human and animal trials on CBD and addiction, finding that the non-intoxicating component of marijuana can reduce cravings and the risk of relapse for chronic alcohol, tobacco and opioid misuse. They found "mixed" results when it came to stimulants like methamphetamine.
Here's what they found: 
—CBD caused reduced self-administration of ethanol (alcohol) among animal subjects, and when the dose was higher (120mg), it decreased the risk of relapse.
—A separate study indicated CBD caused animal subjects to become less responsive to cue- and stress-induced triggers for alcohol administration. That effect lasted "up to 138 days post-CBD."
—For tobacco, a study that involved 24 smokers found that those who used CBD inhalers "significantly reduced the number of smoked cigarettes" compared to the placebo groups. That's in spite of the fact that CBD didn't seem to reduce cravings or withdrawal.
—Smokers who received CBD were less susceptible to cigarettes cues after being abstinent for one night, another study found.
—Research shows that CBD can interfere with the "reward-facilitating effect" of morphine but, generally speaking, the compound is less effective than THC or a combination of THC and CBD at addressing opioid misuse.
—THC alone "demonstrated to be more effective than CBD in inhibiting morphine abstinence syndrome in mice."
The paper, published in the journal Frontiers In Psychiatry, ultimately determined that CBD plays on the endocannabinoid system in ways that empower people with substance use disorders to use less of a harmful substance even though the compounds doesn't necessarily curb withdrawal symptoms.
The compound also seems to reduce the "motivation to self-administer" or continue using drugs in animals. That said, "evidence on its efficacy" remains "limited and mixed," and so additional studies are needed to substantiate these initial findings.
The review also suggests that CBD could be more effective at treating substance use disorder when administered in tandem with THC and/or in conjunction with a broader treatment protocol, at least in certain cases.
"CBD alone may not be sufficiently effective in maintaining long-term abstinence without ongoing support and behavioral therapy," the researchers wrote. "A combination of pharmacotherapy and behavioral therapy may increase treatment potency and adherence, and CBD may be better suited as an adjunct treatment to primary behavioral or psychosocial therapy."
Patients Are Substituting Marijuana For Addictive Pharmaceutical Drugs, Two New Studies Show
Photo courtesy of Brian Shamblen.
Legalizing Marijuana Leads To Fewer Illegal Grow Sites In National Forests, Study Finds
In news that Smokey Bear, iconic protector of all forests, would be happy to hear, research shows that reports of illegal marijuana grow operations on federally protected lands fell after states began legalizing it for adult use.
"Arguably," the study authors write, "our models hint that outright, national recreational cannabis legalization would be one means by which illegal growing on national forests could be made to disappear."
"[W]e find that recreational cannabis legalization is associated with decreased reports of illegal grow operations on national forests."
The research, which was published in the journal Ecological Economics earlier this month, is thought to be the first of its kind to analyze the effects of legalization policies on illegal outdoor grows in national forests throughout the United States. A separate recent study found that cannabis cultivation on federal lands specifically in the Pacific Northwest declined after legalization.
Researchers with the United States Department of Agriculture's Forest Service used existing data on the number of illegal grow sites reported between 2004 and 2016 in 111 national forests. In addition to incorporating other variables into their analysis (including state marijuana policies, retail price for consumers, risk of exposure and others), they also came up with six simulated scenarios with policy changes to create random effects models of the number of reported grows.
For example, in one scenario, the study's authors estimated how many illegal grow sites would exist if current laws legalizing both recreational and medical marijuana were revoked. In another simulation, wholesale and retail sales taxes on legal marijuana were eliminated in states that had already approved the sale and consumption of cannabis in 2016.
According to the study's findings, "policies legalizing recreational cannabis production and consumption are associated with significantly lower numbers of reported illegal grows on national forests."
The study's predictive models showed that eliminating current state laws legalizing access to marijuana would result in "double-digit percentage increases in reported grows on national forests, while further expansion of the set of states with such laws passed by statewide referenda in 2016 (but only instituting applicable laws in 2017 or later, post-dating our dataset) would be expected to reduce growing on national forests by a fifth or more."
If all 23 states that had approved medical marijuana by 2016 moved to more broadly legalize for adult use, the study continues, illegal cultivation sites in national forests would decline anywhere from 35 percent to 51 percent. However, it concluded that legalization of medical cannabis across the U.S. alone would not affect grow operations in national forests.
Mere decriminalization of possession was also found to have no significant effect on the number of illegal farms, though models did show that harsher penalties for illegal production and possession of marijuana, as well as stricter regulations on CBD oil and similar products, did. Meanwhile, an increase in law enforcement presence only made a slight difference (a 2.5 percent decrease in reported illegal grows) if local agencies increased their manpower by 20 percent.
Another issue, of course, is the role of taxes. If states reduced how much they tax legal sales by 6 to 13 percent, the number of illegal grows would decline. As researchers point out, "availability of legal cannabis does not encourage illegal cultivation unless the after-tax price for legal cannabis is substantially elevated relative to the illegal product."
"As a practical matter," the study authors summarize, "the number of cannabis grows on national forests could be reduced in two opposite ways: (1) legalization, or (2) increased efforts to deter, incarcerate, and otherwise discourage participation in the illegal market. Redefining what is legal perhaps would yield reductions that are cost less for the Forest Service, at least in the narrow sense of cannabis law enforcement demands, and would reduce the damages associated with cannabis cultivation."
Ecologists have raised concerns about the environmental impact illegal marijuana cultivation sites have on national forests, such as the use of highly toxic rodenticide to ward off pests.
Illegal Marijuana Grows In Pacific Northwest Declined After Legalization, Study Finds
Photo by Aphiwat chuangchoem/Pexels.
Most Addiction Specialists Support Legalizing Medical Marijuana, Study Finds
We already know 93 percent of Americans support legalizing medical marijuana. Now, thanks to new research, we also know a sizable majority of substance abuse clinicians do too.
But even though drug misuse professionals broadly back cannabis's medical value, they also see risks associated with its use.
"While most participants agreed that medical marijuana should be legalized and that its 'responsible' use was 'safe,'" the study concluded, "they also believed that it is often abused and has not been studied adequately. Consistent with prior research, we found that fewer addictions treatment professionals (approximately 70%) than members of the public supported legalization of marijuana for medical purposes."
Generally speaking, many medical professionals who treat substance use disorders (SUD) believe abstinence from recreational drugs is the best practice. This new study, which published earlier last week in the Journal of Substance Use, aimed to get a better understanding of where they stood on the medical use of marijuana.
"Given that negative attitudes toward patients, regardless of the reason, may result in premature treatment termination and poorer quality care, it seems important to understand attitudes toward legalization of medical marijuana among SUD treatment professionals," the researchers from Towson University in Maryland wrote.
Participants were asked to rate how much they agreed or disagreed with 22 statements, including:
Marijuana is safe when used responsibly for medical purposes.
Medical marijuana is often abused.
A client can be in substance use disorder treatment when using medical marijuana.
Marijuana can help reduce withdrawal symptoms
Taking marijuana instead of other drugs is only replacing one addiction with another.
They were also asked to share their personal history with cannabis and whether or not they knew anyone who had used medical marijuana.
A total of 966 addiction clinicians completed the survey between February and May 2018. They were identified through professional certification boards in Alaska, Kansas, Nebraska, New Jersey, North Carolina, Rhode Island, West Virginia and Wisconsin.
Most reported having used marijuana (74 percent), knowing a medical cannabis patient (73 percent) and knowing patients with addiction issues who'd used cannabis in their recovery (61 percent).
Additionally, most respondents thought marijuana should be legalized for medical purposes and that its use was safe, though only 38 percent said it was "not detrimental to one's health." Sixty-four percent said they believed medical cannabis is often abused.
Interestingly, however, many participants agreed that cannabis (including products that contain the cannabinoid CBD) could help with symptoms associated with addiction, such as anxiety and insomnia. While 70 percent said consuming marijuana is "trading one addiction for another," most also thought it was acceptable for a person in SUD treatment to use medical marijuana.
"Overall," the study's authors note, "our results suggest that addictions treatment providers have mixed opinions about medical marijuana legalization."
Among the factors that appeared to influence participants' attitudes toward medical marijuana were age—younger professionals were more open to the idea—past experience consuming cannabis and personal knowledge of someone who'd used cannabis for therapeutic purposes. Providers on the East Coast also viewed medical marijuana more favorably than in other parts of the country.
"These mixed attitudes may actually reflect a healthy skepticism," researchers conclude. "That is, if the current trends continue, addictions treatment professionals may be poised to both accept medical marijuana legalization and to handle any associated negative consequences."
Opioid Addiction Is Now A Medical Marijuana Qualifying Condition In New Jersey
Marijuana Gives Men And Women More Sexual Desire And Better Orgasms, Study Finds
Recent research suggests that marijuana use can improve orgasms for women. Now, a new yet-to-be-published study says that men may also find their bedroom activities enhanced by cannabis.
According to an abstract shared online, the study found "participants perceived that cannabis use increased their sexual functioning and satisfaction." Age and gender did not play a role in how marijuana consumption affected sex, and the study's participants reported "increased desire, orgasm intensity, and masturbation pleasure."
The findings are the result of a nationwide survey conducted by recent East Carolina University graduate Amanda Moser for her master's thesis in human development and family science. Her goal was to build on what limited research there currently is exploring the impact of cannabis use on people's sex lives, she told Marijuana Moment in a phone interview.
Moser created an anonymous online survey targeting people 18 and older who said they'd used marijuana. For her purposes, she adapted questions taken from other frameworks used to assess human sexual response. For example, the survey asked participants to rate how cannabis affected their ability to achieve and maintain an erection (for men) and lubrication (for women). The survey also asked respondents if they believed cannabis creates a more satisfactory and pleasurable sex life, and how taste, touch, hearing, smell and sound were influenced by consumption.
A sample of 811 people with various backgrounds and marijuana preferences participated in the study. Moser said she found cannabis to be sexually beneficial for both men and women, regardless of age, as well as throughout the lifespan. "People who were 18 years old had amazing benefits as well as people up to 85 years old, and everyone in between," she explained. "All found that cannabis was beneficial for their sexual functioning as well as their sexual satisfaction."
The full study, which Marijuana Moment hasn't reviewed, is currently under embargo as Moser is working to get it published later this year.
Overall, Moser said, participants reported consuming cannabis led to more pleasure not just during sex, but also during masturbation as well. Both men and women said they had an increased desire for sex, and found that their orgasms were more intense. Women, she added, reported that they were able to achieve multiple orgasms.
Taste and touch were also "significantly enhanced" during sex after marijuana use, thus leading to more satisfaction. "If you think about it, you use taste and touch a lot during sex," she added.
Although one major limitation of the research is that it's based on self-reports, Moser pointed out that her findings contradict prior work that suggested cannabis use would not be beneficial for men during sex. "Previous literature said that cannabis is a muscle relaxer, and would be more inhibiting for males—that males would have a harder time achieving and maintaining an erection," she explained. "It makes sense, but my research actually showed contradicting to that. I found that [cannabis] does not affect males' ability to achieve and maintain an erection, that males did not report having any issues with that."
Moser speculated that the reason why men may not have trouble getting an erection after consumption—as previous researchers have suggested—is because marijuana may act as a vasodilator. In other words, cannabinoids may help widen blood vessels to improve blood flow.
Ultimately, however, Moser said that her findings reveal cannabis's potential for not only treating and curing female sexual dysfunction, but also addressing "the orgasm inequality gap," which describes the fact that men in heterosexual relationships are far more likely to orgasm than their partners.
"To me, that's a problem," Moser said. "More females should be having more orgasms. Maybe cannabis can help with that."
Marijuana Use Before Sex Leads To More Satisfying Orgasms, Study Finds