Seth Rogen And Sarah Silverman Partner With Marijuana Businesses To Press Senators For Legalization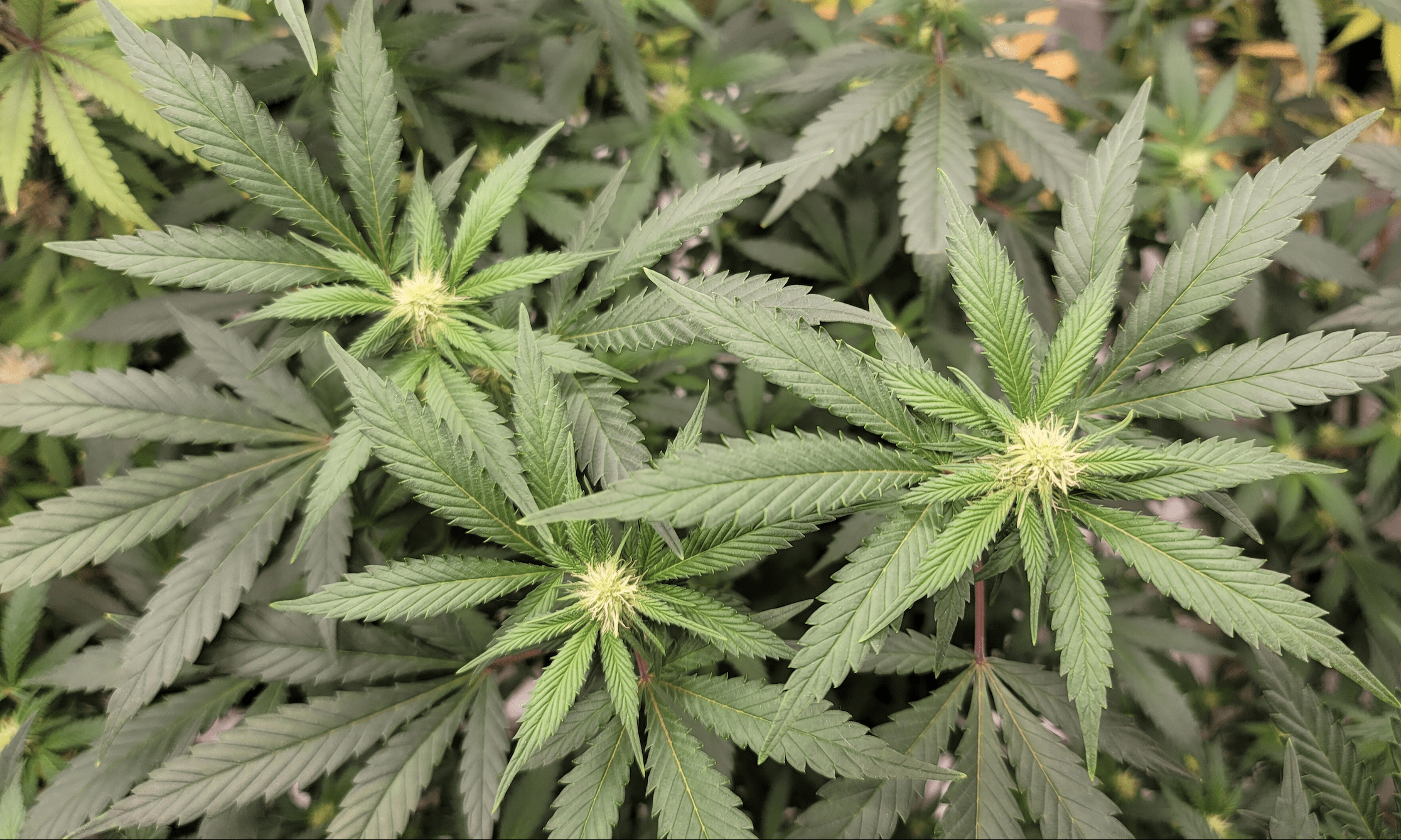 A coalition of marijuana advocacy and industry groups—as well as celebrities like Seth Rogen and Sarah Silverman—launched a campaign on Tuesday meant to encourage voters to reach out to their senators and demand action on legislation to federally legalize cannabis.
The "Cannabis In Common" campaign is being led by the U.S. Cannabis Council (USCC) and HeadCount's Cannabis Voter Project. The organizations teamed up with a slew of major marijuana businesses like Canopy Growth, Columbia Care, Cresco Labs and Weedmaps for the initiative.
In a direct-to-camera video that was produced for the campaign, Rogen said that "despite what you may have heard, Americans can actually agree on something—and that something is weed." He referenced polling that shows strong, majority support for legalization. Recent surveys have found the issue is increasingly bipartisan, too.
"You know who cannot agree on anything though? Politicians," the comedian, who also owns the cannabis business Houseplant, said, adding that fewer than half of U.S. senators have voiced support for reform and others have remained silent on the topic.
"The American people have cannabis in common. It's time for Congress to join us," says @Sethrogen.

We have a shot at legalization right now if we speak up! Visit https://t.co/wUcHivi2rD to contact your reps now. #CannabisinCommon@Cannabis_Voter @HeadCountOrg pic.twitter.com/DXjUu5frZH

— U.S. Cannabis Council (@USCannabisCncl) November 9, 2021
"With the Senate about consider a landmark bill that would legalize cannabis at the federal level and wipe cannabis convictions from thousands of people's records, their silence could end up being the difference," Rogen said. "But here's the thing about elected officials: they actually spend most of their time worrying about getting reelected. So when their inboxes and their phone lines are blowing up with constituents all rallying behind something specific, that is when things actually start to happen."
Senate Majority Leader Chuck Schumer (D-NY), Senate Finance Committee Chairman Ron Wyden (D-OR) and Sen. Cory Booker (D-NJ) have been working that "landmark" legislation—the Cannabis Administration and Opportunity Act (CAOA)—and released a draft version earlier this year. Advocates are eagerly awaiting the final product.
"Legalizing cannabis for good is long past due, but if we make enough noise, we can make it happen," Rogen said. He encouraged people to use a new resource to fill out and submit pre-written emails to their representatives, or call their offices, to push for the end of prohibition.
Silverman, meanwhile, narrated an animated video that made a similar call to action and highlighted the popularity of legalization.
"Americans can't agree on anything, can we? Is it 'gif' or 'jiff'? Are hotdogs sandwiches? Is wrestling a sport?" she said. "Fortunately, there's at least one thing most Americans have in common: more than two-thirds of us agree cannabis should be legalized, and we have a real shot at getting federal legalization done now if we speak up."
There's something we actually agree on these days – cannabis legalization. visit https://t.co/bi4PaKuk0N 
& speak out on this. We have #CannabisInCommon and it's time for Congress to join us! pic.twitter.com/GRIUfHfzo0

— Sarah Silverman (@SarahKSilverman) November 9, 2021
"If we don't make a change soon, we're settling for laws that disproportionately land people of color in prison," Silverman said. "We're leaving hundreds of thousands of jobs on the table and giving up tax revenue that can go toward education and other community investments."
Comedian Jessimae Peluso also participated in the campaign, releasing her own video urging voters to make their voices heard and contact their senators about the pending legalization bill.
Incredible news! Americans actually agree on something! Most of us want cannabis legalized and it's time for Congress to know that. Go to https://t.co/7vsxErZztB to make your voice heard NOW. @Cannabis_Voter #CannabisinCommon

📹: https://t.co/QG17t6YVR6 pic.twitter.com/6ayiNYZMzN

— Jessimae Peluso (@JessimaePeluso) November 9, 2021
"We are thrilled to launch this first-of-its-kind campaign," Steven Hawkins, CEO of USCC, said in a press release. "We are creating a lasting grassroots engagement platform that will harness the collective power of cannabis consumers and advocates. An overwhelming majority of Americans hold our views. It's time for Congress to catch up."
Cannabis businesses that are partnering in the campaign will be taking several steps to encourage their customers to contact their lawmakers about the need for legalization by submitting the pre-written letters, including promoting the call-to-action over social media and email, in-store prompts with QR codes and more.
While advocacy groups like the Marijuana Policy Project and Students for Sensible Drug Policy are listed as partners in the campaign, others like the Drug Policy Alliance (DPA) are weary of aligning with a largely industry-backed initiative.
"For us, it's not just about getting federal legalization over the finish line," DPA's Maritza Perez told The Associated Press. "We have a very specific constituency that we are fighting for, and that's people who have been impacted by prohibition."
Beside the Senate bill, the House Judiciary Committee also recently passed a separate legalization bill, the Marijuana Opportunity, Reinvestment and Expungement (MORE) Act. It cleared the full House last session but was not taken up by the GOP-controlled Senate.
Additionally, a new Republican-led effort to federally legalize and tax cannabis will soon be introduced in the House.
Biden Administration Will Keep Denying Public Housing Over Marijuana Despite Congresswoman's Request
Photo courtesy of Mike Latimer.