Sessions hosts drug policy event at conservative org (Newsletter: Dec. 6, 2017)
Subscribe to receive Marijuana Moment's newsletter in your inbox every weekday morning. It's the best way to make sure you know which cannabis stories are shaping the day.
LA & SF approve cannabis regulations; Congressman on states, guns & marijuana; OH controversy
Your support makes Marijuana Moment possible…
Here's a testimonial from the latest reader to step up and start a monthly pledge to support my cannabis reporting:
Dr. David L. Nathan, Doctors for Cannabis Regulation: "I encourage everyone to support Tom's work on Marijuana Moment. His ability to find, organize, report and analyze news is a phenomenal service to our community — one that is influential today and will someday be written into the history of cannabis policy reform."
Support from subscribers who value this daily dispatch enough to show their appreciation with a few dollars helps me keep doing this. Please chip in, if you can afford it.
http://patreon.com/marijuanamoment

TOP THINGS TO KNOW
U.S. Attorney General Jeff Sessions will host a roundtable discussion about drug policy at the conservative Heritage Foundation on Friday.
https://twitter.com/dominicholden/status/938550088632283136
FEDERAL
The U.S. Court of Appeals for the Ninth Circuit will hear a hemp industry challenge to U.S. Drug Enforcement Administration's position on CBD medical cannabis products on February 15.
https://mjbizdaily.com/cbd-drug-dea-hemp-battle-gets-february-court-date/
Congressman Ro Khanna (D-CA) posted a video saying that if Republicans wants to pass legislation forcing states to respect each other's concealed carry gun permits, Californians should be able to use medical marijuana anywhere too.
https://www.marijuanamoment.net/let-marijuana-travel-states-guns-can-dem-congressman-says/
STATES
Ohio Lt. Gov. Mary Taylor (R), a gubernatorial candidate, is calling for a moratorium on issuing medical cannabis business licenses following the revelation that the state hired someone with a past felony drug conviction to score applications. Dayton Mayor Nan Whaley (D), also a gubernatorial candidate, expressed concern but didn't call for a halt to licensing. Auditor of State Dave Yost (R), an attorney general candidate, supports a moratorium.
http://www.daytondailynews.com/news/state–regional-govt–politics/state-auditor-drug-dealer-scored-applications-for-ohio-pot-sites/Y0Oy5L0gFMVDrTzNhA8B8J/
//
https://twitter.com/JMBorchardt/status/938442435574878209
But regulators said they will move ahead with processing licenses anyway.
http://www.cleveland.com/metro/index.ssf/2017/12/ohio_medical_marijuana_program_2.html
Pennsylvania Gov. Tom Wolf (D) announced he wants to expand the state's industrial hemp crop acreage by as much as 100 times.
https://www.governor.pa.gov/pennsylvania-expands-industrial-hemp-research-opportunities/
Wisconsin Gov. Scott Walker (R) is moving forward with a plan to drug test some food stamp recipients.
https://www.jsonline.com/story/news/politics/2017/12/04/wisconsin-gov-scott-walker-moving-forward-drug-testing-some-food-stamp-recipients/919635001/
Michigan Democratic gubernatorial candidate Abdul El-Sayed said schools and roads could benefit from legal marijuana tax money.
https://twitter.com/AbdulElSayed/status/938504377228320771
Maryland Democratic gubernatorial candidate Alec Ross said that after marijuana legalization officials should be "reaching out to everyone who was arrested or convicted in Maryland and support them through the process" of having past convictions expunged.
https://twitter.com/AlecJRoss/status/938548708412678146
Connecticut Republican gubernatorial candidates discussed marijuana legalization at a debate.
http://www.wfsb.com/story/37012366/gop-candidates-for-governor-participate-in-first-debate
Massachusetts fiscal officials said recreational marijuana taxes could generate between $44 million and $82 million in revenue in the next fiscal year.
http://www.bostonglobe.com/metro/2017/12/06/marijuana-taxes-could-net-massachusetts-million-million-revenue-officials-say/NJiNfZ1Jwv0yfowFwGVnrM/story.html
Here are the presentations that regulators received this week from advisory subcommittees.
https://www.mass.gov/files/documents/2017/12/05/120517-Commission-Meeting.pdf
The chair of the Delaware Police Chiefs Council told the state's marijuana legalization study commission that cannabis consumers should have a notification on their driver's licenses to help law enforcement carry out gun restrictions. http://www.wboc.com/story/37008570/del-law-enforcement-officials-eye-gun-ban-for-marijuana-users
A New Jersey senator filed a marijuana decriminalization bill.
http://www.njleg.state.nj.us/bills/BillView.asp?BillNumber=S3588
New Hampshire representatives prefiled a bill to defelonize some drug offenses.
http://gencourt.state.nh.us/bill_status/bill_status.aspx?lsr=2202&sy=2018&sortoption=&txtsessionyear=2018&txtbillnumber=HB1792
Maryland's Medical Cannabis Commission hired a new executive director.
http://www.baltimoresun.com/health/bs-hs-cannabis-commission-executive-director-20171206-story.html
//
http://mmcc.maryland.gov/Pages/MMCC-press-release12012017.aspx
Indiana law enforcement officials and prohibitionist groups held a press conference to oppose marijuana law reform.
http://fox59.com/2017/12/06/indiana-prosecutors-to-discuss-stance-against-legalizing-marijuana/
LOCAL
The Los Angeles, California City Council voted 12-0 to approve legal marijuana regulations.
http://www.latimes.com/local/lanow/la-me-ln-marijuana-rules-20171205-story.html
//
https://www.apnews.com/79644c77d2764af7ad4992cf3fe2e0bf/LA-will-become-largest-US-city-with-recreational-pot
San Francisco, California Mayor Ed Lee (D) signed marijuana legalization regulations into law.
https://twitter.com/mayoredlee/status/938533337416712192
A St. Louis, Missouri Board of Alderman committee will hold a hearing on a proposed marijuana legalization ordinance on Thursday.
https://www.stlouis-mo.gov/events/eventdetails.cfm?Event_ID=16505
A Northport, New York woman was busted smoking marijuana while parked in the local police chief's spot outside a courthouse.
https://apnews.com/84a1731f28ea42a8aad034b8bd16aaf6
INTERNATIONAL
First Nation leaders in Canada say they want the right to set regulations for legal marijuana businesses in their communities.
https://www.theglobeandmail.com/news/politics/first-nations-want-to-set-own-rules-for-cannabis-sales/article37231232/
SCIENCE & HEALTH
Several National Institutes of Health components announced a funding opportunity to support "elucidate the therapeutic potential of the cannabinoids and endocannabinoid system in the development of mechanism-based therapies for pain."
https://grants.nih.gov/grants/guide/pa-files/PA-18-465.html
A Colorado State University study will examine marijuana dabbing's impact on driving ability.
http://www.coloradoan.com/story/news/2017/12/06/first-its-kind-study-examine-dabbing-marijuana-and-driving/928726001/
The journal Addiction updated its conflict of interest policy to require disclosure of ties to the marijuana industry or legalization movement.
http://onlinelibrary.wiley.com/doi/10.1111/add.14098/full
Here's a look at increasing research on medical cannabis for pets.
https://apnews.com/b452a4566dba4cf5b0dca6f7c254c89d/Scientists-call-on-US-to-allow-research-on-pot-meds-for-pets
BUSINESS
An Arcview Market Research and BDS Analytics report projects that retail cannabis sales will grow 33% from 2016 to nearly $10 billion this year.
https://globenewswire.com/news-release/2017/12/06/1234230/0/en/NEW-REPORT-Legal-Marijuana-Sales-to-Grow-33-to-10-Billion-in-2017.html
A Pew analysis suggests that more marijuana businesses are successfully opening bank accounts.
http://www.pewtrusts.org/en/research-and-analysis/blogs/stateline/2017/12/06/why-its-getting-easier-for-marijuana-companies-to-open-bank-accounts
The Economist looks at the cannabis industry's ongoing financial services issues.
https://www.economist.com/news/finance-economics/21732080-cash-they-must-work-vulnerable-crooks-cops-and-even-combustion
Reuters examines the trend of technology and finance entrepreneurs giving up high-paid corporate jobs to launch marijuana start-ups.
https://www.reuters.com/article/us-cannabis-investment-insight/high-tech-high-finance-and-high-times-for-u-s-pot-industry-idUSKBN1E01U1
The CEO of Oregon marijuana testing business OG Analytical is stepping down following allegations that she participates in neo-Nazi activities.
http://www.oregonlive.com/marijuana/index.ssf/2017/12/eugene_cannabis_lab_owner_plan.html
Alaska regulators ordered marijuana edibles maker Frozen Budz to cease operations while they investigate suspicions it may have neglecting to have products properly tested.
http://www.newsminer.com/news/local_news/fairbanks-company-accused-of-skimping-on-marijuana-testing/article_899861fc-d994-11e7-9899-17caa7256b18.html
Lyft said marijuana dispensary The Reef is its 2017 Las Vegas "Trending Destination."
https://take.lyft.com/thelyftieawards/
CULTURE     
Scientist Bill Nye discusses marijuana and visits a dispensary during the new season of his Netflix show, debuting on December 29.
https://www.youtube.com/watch?v=hYZLxj1cyf0
The Onion has fun with psychedelic research:
"FDA Confirms Psilocybin Reduces Risk Of Mindlessly Following Society's Rules Like Fucking Lemming"
https://www.theonion.com/fda-confirms-psilocybin-reduces-risk-of-mindlessly-foll-1821046978
NY Health Department backs legal cannabis (Newsletter: July 16, 2018)
Alcohol trade group endorses marijuana reform; Dems discussed anti-cannabis tweet in leadership meeting; Study: legalization doesn't boost youth use
Subscribe to receive Marijuana Moment's newsletter in your inbox every weekday morning. It's the best way to make sure you know which cannabis stories are shaping the day.
Your support makes Marijuana Moment possible…

This issue of Marijuana Moment, and our original reporting that is featured in it, is made possible by the generous support of 303 Patreon sponsors. Cannabis industry professionals receive valuable rewards for pledges of $25 and up…
Eric Stevens of Florida for Care: "We at Florida for Care is so deeply focused on our many state and local laws at times that without Tom's news of everything happening in DC and nationwide we couldn't keep up!"



Check out the perks of being a sponsor on our Patreon page.
https://www.patreon.com/marijuanamoment

/ TOP THINGS TO KNOW

New York's Department of Health released a study concluding that the benefits of marijuana legalization outweigh its potential harms. Among other findings, the Cuomo administration report says:
Regulating marijuana reduces risks and improves quality control and consumer protection.

Marijuana may reduce opioid deaths and opioid prescribing.

The majority of credible evidence suggests legalization of marijuana has no or minimal impact on use by youth.

Legalizing marijuana results in a reduction in the use of synthetic cannabinoids/novel psychoactive substances.

Legal sales could generate up to $677.7 million in revenues for the state in the first year.



The Wine & Spirits Wholesalers of America came out in support of ending federal marijuana prohibition so that states can enact legalization.

At least one Democratic lawmaker criticized the Democratic Congressional Campaign Committee's anti-marijuana tweet during a leadership meeting last week just before it was deleted, a participant told Marijuana Moment.

A new study found that while youth marijuana use rates are slightly higher in states with legalization, "differences between states with and without legal non‐medical cannabis may partly be due to longer‐term patterns established prior" to the end of prohibition. That undermines prohibitionists' claims that legalization causes more youth marijuana use.

/ FEDERAL

The U.S. Court of Appeals for the Eighth Circuit ruled that supervised release terms barring use of controlled substances by federal defendants also prohibit state-legal use of medical cannabis.

The U.S. Postal Service refused to deliver an Alaska newspaper because it contains a marijuana advertisement.

The U.S. attorney for the southern district of West Virginia tweeted critically about trucks claiming to sell marijuana-infused candy in New York City.

U.S. Attorney General Jeff Sessions announced a plan to prosecute synthetic opioid cases.

Congressman Earl Blumenauer (D-OR) tweeted that the Wine & Spirits Wholesalers of America's endorsement of marijuana reform is "another encouraging signal of cannabis becoming ever more established and mainstream."

Congresswoman Jacky Rosen (D-NV), a U.S. Senate candidate, tweeted, "This July marks the one-year anniversary of recreational marijuana legalization in Nevada, a historic milestone for a change in policy that is creating jobs, diversifying our local economy, and boosting tax revenue for the state."

Congressman Denny Heck (D-WA) tweeted about his marijuana banking amendment that will be considered in the House this week.

Congresswoman Vicky Hartzler (R-MO) tweeted, "Toxicology reports in Colorado are showing that marijuana found present in adolescent suicide victims has increased since legalized recreational marijuana. Drugs are contributing to our youth suicide epidemic & shouldn't be seen as part of the solution."

The U.S. House bill to end the 280E tax penalty on marijuana businesses got one new cosponsor, for a total of 46.

/ STATES

Massachusetts Gov. Charlie Baker's (R) budget proposes several changes to state marijuana laws. Meanwhile, two key lawmakers are pressing regulators to stop municipalities from requiring excessive payments from cannabis businesses seeking licenses.

A New Jersey worker's compensation judge ordered a municipality to cover the cost of an employee's medical cannabis. Separately, the state's health commissioner tweeted that "marijuana needs to be descheduled at the federal level. Enough is enough."

Oklahoma activists say they have so far collected more than 100,000 signatures on a petition to place a marijuana legalization measure on the state's ballot. Roughly 124,000 valid signatures are needed. Meanwhile, medical cannabis advocates filed two lawsuits against new restrictive medical cannabis regulations. And gubernatorial candidates from all parties slammed regulators' actions.

New York Democratic gubernatorial candidate Cynthia Nixon tweeted, "We need a governor who will stop putting people of color in prison for something that white people do with impunity, and when I am her, I will do everything in my power to pass legislation legalizing the recreational use of marijuana in New York State." And Democratic attorney general candidate Letitia James, currently New York City's public advocate, cheered the state Health Department's cannabis report, tweeting, "If NY truly wants to be a leader on criminal justice reform, economic justice, and in combatting decades-old policies that continue to hold communities of color back, then it is past time that we legalize marijuana."

California regulators released proposed marijuana rules. Separately, officials released guidance saying that "the use of industrial hemp as the source of CBD to be added to food products is prohibited." Meanwhile, State Controller Betty Yee was injured in a car crash involving a driver suspected of being under the influence of marijuana.

Washington State regulators suspended the license of a marijuana producer for "numerous and substantial violations including full rooms of untagged plants, clones and finished product."

Nearly half of Florida medical cannabis businesses could be suspended for missing a little-noticed deadline requiring food safety inspections. Meanwhile, regulators are issuing more licenses.

The Associated Press looks at how leaders in conservative states are undermining medical cannabis implementation.

/ LOCAL

A analysis found that marijuana arrests are sharply down in Chicago, Illinois over the past several years but that racial disparities persist.

Advocates in Lansing, Michigan dropped their lawsuit against the city's medical cannabis ordinance.

Powell, Wyoming officials believe pranksters planted marijuana seeds in city-owned flower pots.

/ INTERNATIONAL

The Canadian government warned marijuana producers that they could lose their licenses if they sponsor events like music festivals or engage in other promotional activities.

Philippines lawmakers are expected to approve medical cannabis legislation this month.

UK officials granted a special medical cannabis license to a  seven-year-old girl who suffers with a rare genetic condition. Separately, marijuana arrests in England and Wales have dropped sharply in recent years, data shows.

Trinidad and Tobago's prime minister said decriminalizing marijuana is not a priority.

/ ADVOCACY

Kevin Sabet of prohibitionist organization Smart Approaches to Marijuana teased on Twitter that he has recently "experienced something that has been one of the coolest opportunities of my life and will help us in our work immensely." Separately, the organization bashed the endorsement of legalization by New York's health department.

The Federalist Freedom Fund,  political action committee that gave all of its donations to Republicans, was entirely funded by donors from the marijuana industry.

/ OPINION & ANALYSIS

A poll found that British adults support legalizing marijuana, 51%-35%.

/ BUSINESS

Banks are forcing marijuana businesses to sign nondisclosure agreements and putting them on long waiting lists in order to open accounts.

The New York Times examines how mainstream investors are joining the marijuana industry.

Reuters looks at how Canadian health insurers are wary of covering medical cannabis.

The Los Angeles Times profiles former mainstream tech industry workers who are now in the marijuana industry.

The CEO of Eaze thinks Amazon will sell marijuana one day.

/ CULTURE

Musician David Crosby launched a marijuana brand.
Make sure to subscribe to get Marijuana Moment's daily dispatch in your inbox.
Photo courtesy of Chris Wallis // Side Pocket Images.
Dems attack GOP congressman for cannabis advocacy (Newsletter: July 13, 2018)
NY allows medical marijuana for opioid conditions; Lawmakers debate legalization & driving; OK lawmakers vow to fix medical cannabis regulations
Subscribe to receive Marijuana Moment's newsletter in your inbox every weekday morning. It's the best way to make sure you know which cannabis stories are shaping the day.
Your support makes Marijuana Moment possible…

This issue of Marijuana Moment, and our original reporting that is featured in it, is made possible by the generous support of 302 Patreon sponsors. Cannabis industry professionals receive valuable rewards for pledges of $25 and up.
Dave Daily of Grav.com: "As a cannabis brand, we rely on the most relevant and timely cannabis reporting. Marijuana Moment has replaced all the other feeds we follow. It's nice to have a single source of confident journalism."
Check out the perks of being a sponsor on our Patreon page.
https://www.patreon.com/marijuanamoment

/ TOP THINGS TO KNOW

In a Los Angeles Times op-ed, I called out the Democratic Congressional Campaign Committee for launching a bizarre anti-marijuana attack against Congressman Dana Rohrabacher (R-CA) on Twitter. Congressman Earl Blumenauer (D-OR) told me in a statement that political organization's tweet, which was deleted following the publication of my piece, was "stupid."

New York regulators enacted emergency rules allowing medical cannabis for any condition that would normally be prescribed opioids.

The U.S. House Energy and Commerce Committee debated the alleged link between marijuana legalization and impaired driving during a hearing.

/ FEDERAL

U.S. Sen. Johnny Isakson (R-GA) said cannabis oil "has proven…to have a positive effect" but that he is concerned about broader medical marijuana being a "back door" to recreational legalization.

Congressman Ro Khanna (D-CA) tweeted, "How can we solve the problem of U.S. citizens getting arrested or fined for carrying marijuana bought legally from Canada? Simple, by legalizing marijuana in our nation."

The U.S. House bill to deschedule marijuana got one new cosponsor, got a total of 38.

The U.S. House resolution calling for equity in the marijuana industry got one new cosponsor, for a total of 16.

Arizona Democratic congressional candidates spoke about marijuana reform at a forum.

/ STATES

Oklahoma lawmakers formed a bipartisan working group to focus on seeing that medical cannabis is implemented in a way that "conforms to the will of the voters." House Democrats are calling for a special legislative session to address the issue.
Supporters of a pending recreational marijuana legalization ballot initiative say they are seeing an

uptick in signatures

, driven by frustration with restrictions in new medical cannabis regulations.



Hawaii Gov. David Ige (D), after vetoing legislation to allow medical cannabis for opioid conditions, announced he signed amendments adding reciprocity for out-of-state patients, making certifications last for up to three years and enacting other expansions to the program.

New Jersey's health commissioner is considering adding opioid addiction as a medical cannabis qualifying condition.

Georgia Republican gubernatorial candidates both said at a debate that they favor medical cannabis expansion but oppose recreational marijuana legalization.

Connecticut Democratic gubernatorial candidate Ned Lamont said the "time has come" for marijuana legalization.

Wisconsin Democratic gubernatorial candidate Matt Flynn said he would do everything in his power to legalize marijuana and would pardon nonviolent cannabis offenders.

Oregon regulators issued a report saying the state's medical cannabis program has "shortcomings that enabled growers, dispensaries and laboratories to operate without effective oversight."

Michigan regulators awarded the state's first four medical cannabis operating licenses. Meanwhile, the Detroit free press looks at the differences between the state's marijuana legalization proposal and Colorado's law.

New Mexico regulators sent a letter warning medical cannabis licensees to stop selling CBD and hemp products that were produced outside of the state.

Massachusetts regulators issued another marijuana cultivation license, but it is unlikely that legal sales will begin until August.

Alaska's lieutenant governor certified regulations concerning marijuana business affiliates, inspection fees, odor control and trade shows.

Arkansas regulators voted to keep medical cannabis cultivation license applications open for 24 months in case any current awardees surrender or lose their licenses. They also approved a rule that would allow hiring an outside consultant to help review and score applications.

Ohio regulators approved more doctors to recommend medical cannabis.

/ LOCAL

The Dane County, Wisconsin Board voted to place a marijuana legalization advisory question on the November ballot. Several other counties have already done the same thing or are considering doing so.

U.S. cities considering opening safe consumption facilities for illegal drugs are wary of federal intervention.

A Denver, Colorado police captain said that a CNN live report on New Year's Eve about marijuana tourism buses led to a crackdown on those services.

A San Francisco, California Board of Supervisors committee amended a marijuana tax measure that voters could potentially see on the November ballot.

/ INTERNATIONAL

The Canadian government launched a public consultation on how to recover costs associated with implementing marijuana legalization.

/ ADVOCACY

NORML launched a congressional letter writing campaign.

Republican pollster Frank Luntz picked up on the story about Democrats criticizing a GOP congressman for supporting marijuana reform.

/ SCIENCE & HEALTH

A study concluded that "consumption of medical cannabis flower is associated with significant improvements in perceived insomnia."

Here's a look at how Colorado is handling youth marijuana education under legalization.

/ BUSINESS

Bloomberg looks at how big investors are starting to get involved in the marijuana industry.

Uber reserves the right to delete the accounts of riders who possess — or even just smell like — marijuana during trips.

/ CULTURE

Filmmaker Kevin Smith is piloting a new series starring himself as a marijuana dispensary worker.

Three Massachusetts men are facing animal cruelty charges after a video emerged of them appearing to blow marijuana smoke into a goat's face.
Make sure to subscribe to get Marijuana Moment's daily dispatch in your inbox.
Photo courtesy of Chris Wallis // Side Pocket Images.
James Cole speaks about Sessions undoing his cannabis memo (Newsletter: July 12, 2018)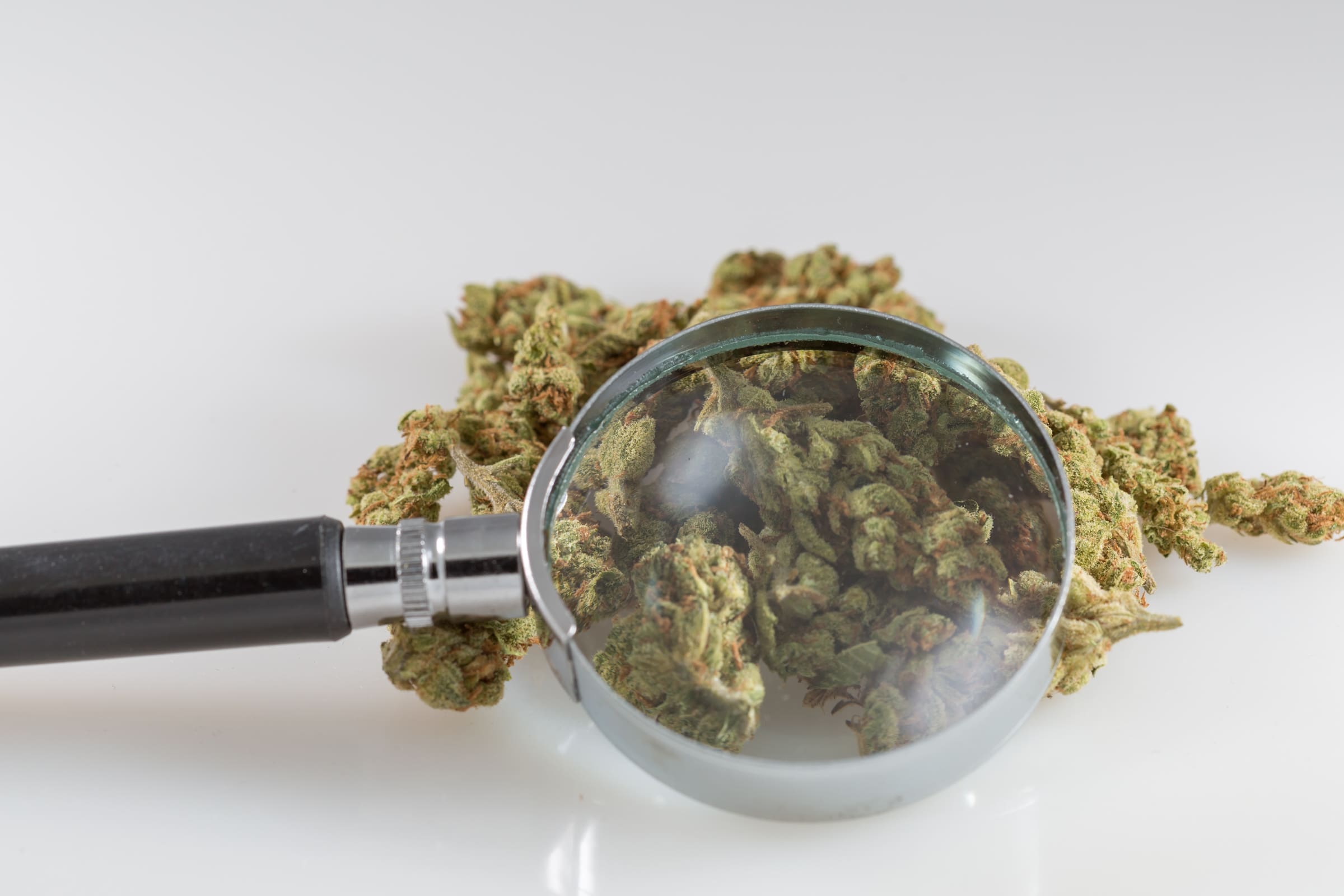 New marijuana amendments in Congress; Study: medical cannabis laws lower opioid prescriptions; OK regs signed into law
Subscribe to receive Marijuana Moment's newsletter in your inbox every weekday morning. It's the best way to make sure you know which cannabis stories are shaping the day.
Your support makes Marijuana Moment possible…

This issue of Marijuana Moment, and our original reporting that is featured in it, is made possible by the generous support of 299 Patreon sponsors. Cannabis industry professionals receive valuable rewards for pledges of $25 and up.

Check out the perks of being a sponsor on our Patreon page.
https://www.patreon.com/marijuanamoment

/ TOP THINGS TO KNOW

Marijuana Moment talked cannabis with former top U.S. Department of Justice  official James Cole. He told us:
Good people smoke marijuana, contrary to Jeff Sessions's claim

Federal legalization is inevitable

He spoke to President Obama while drafting the Cole Memo
He also said a key reason why there haven't actually been marijuana enforcement actions since Sessions rescinded the Cole Memo is that many U.S. attorneys are politically ambitious, and cracking down on cannabis is a political loser in many states.

The U.S. House Rules Committee will decide next week whether to allow floor votes on new measures to let marijuana businesses access banks and give Washington, D.C. the ability to spend its own money legalizing and regulating cannabis sales.

Another study found that state medical cannabis laws are associated with significant reductions in opioid prescriptions. "[I]f all the states had legalized medical cannabis by 2014, Medicaid annual spending on opioid prescriptions would be reduced by 17.8 million dollars," the researchers projected.

/ FEDERAL

A U.S. Drug Enforcement Administration spokesperson said that Oklahoma medical cannabis regulations requiring that dispensaries have pharmacists on staff could put those workers at risk of losing their prescribing licenses. The agency is slated to meet with federal prosecutors to determine how to respond to the new state law.

The U.S. Senate's hemp legalization language in the Farm Bill would bar people with felony drug convictions from participating in the newly legal industry.

The U.S. Senate Judiciary Committee held a confirmation hearing for James Carroll's nomination to be director of the White House Office of National Drug Control Policy.

The U.S. Department of Justice finalized rules that will allow the Drug Enforcement Administration to take into consideration the extent to which a drug is diverted for illegal use when it sets annual opioid production limits.

The U.S. Department of Agriculture published a blog post on how science is being used to detect illegal marijuana grow operations.

Congresswoman Tulsi Gabbard (D-HI) slammed Hawaii Gov. David Ige (D) for vetoing a medical cannabis expansion bill, saying that she supports Congresswoman Colleen Hanabusa's (D) primary challenge against him.

Congressman Morgan Griffith (R-VA), who supports medical cannabis, said that he opposes marijuana decriminalization but thinks it's going to happen anyway. Democratic challenger Anthony Flaccavento supports it.

Congresswoman Jacky Rosen (D-NV), a U.S. Senate candidate, tweeted that her opponent, U.S. Sen. Dean Heller (R-NV), "stood on the sidelines while Attorney General Jeff Sessions attacked Nevada's legal marijuana industry. I'll work with both parties to defend the will of the voters and keep these businesses free from federal interference."

Congressman Matt Gaetz (R-FL), who supports legalization, dismissed a question about U.S. Supreme Court nominee Brett Kavanaugh's position on marijuana.

Florida Democratic congressional candidates Lauren Baer and Pam Keith support decriminalizing marijuana.

The U.S. House bill to respect state marijuana laws got two new cosponsors, for a total of 23.

/ STATES

Oklahoma Gov. Mary Fallin (R) signed medical cannabis regulations into law. Democratic gubernatorial nominee Drew Edmondson said the new rules, which ban the sale of smokable forms of marijuana, "represent yet another failure of government." Advocates are considering a lawsuit.

A woman whose daughter suffers from a seizure disorder filed a lawsuit seeking to overturn Washington State restrictions on marijuana advertising because those policies allegedly block patients from receiving information about treatments.

Wisconsin Democratic gubernatorial candidate Matt Flynn said that countywide marijuana legalization advisory ballot questions will boost voter turnout.

Kansas Democratic gubernatorial candidates voiced support for medical cannabis.

Minnesota Republican gubernatorial candidate Jeff Johnson said he supports medical cannabis but not marijuana legalization.

Here's a look at workplace issues related to New York's medical cannabis law.

/ LOCAL

A La Crosse County, Wisconsin Board committee advanced a marijuana legalization advisory measure for the November ballot.

The Walworth County, Wisconsin Board killed a marijuana legalization advisory measure proposed for November's ballot.

At least two Vermont municipalities have preemptively enacted local prohibitions on marijuana sales in anticipation of potential future broad statewide legalization.

Here's a look at how the lure of marijuana tax revenue affects Oregon municipalities' decision on local cannabis commerce bans.

/ INTERNATIONAL

Canada's public safety minister says he has discussed the U.S.'s policy of applying lifetime bans on foreigners who have used marijuana  in "virtually every conversation with American counterparts, including the previous and current Secretary of Homeland Security."

The parents of an epileptic girl who has been hospitalized are asking UK regulators to issue a special license allowing medical cannabis use.

/ ADVOCACY

The Oklahoma Democratic Party criticized regulators' decision to ban the sale of smokable medical cannabis.

The NAACP's annual convention will feature programming on "the Fight for Racial Justice on the Cannabis Frontier."

The Missouri Medical Cannabis Trade Association formed in anticipation of at least one medical marijuana ballot measure being approved this November.

NORML is questioning police tactics that led to the death of a Pennsylvania man being pursued for suspected low-level marijuana cultivation.

/ SCIENCE & HEALTH

A survey found that 50% of Canadian pediatricians have encountered patients who had used medical cannabis.

A survey found that a majority of Australian general practitioners support medical cannabis access.

The journal Nature looks at genetically modified marijuana.

/ OPINION & ANALYSIS

A New England Journal of Medicine op-ed endorses modernizing federal marijuana laws in light of state legalization.

/ BUSINESS

Marijuana dispensaries that sold TreatWell products until the company's then-CEO Alison Ettell called the police on an eight-year-old girl for selling water without a permit are now holding a fundraiser for the young entrepreneur.

Maryland medical cannabis dispensaries sold $36,654,926 worth of product in the program's first six months.

The creator of the marijuana-focused podcast High, Good People was chosen as one of ten people to participate in a Spotify workshop for women of color—out of 18,000 applicants.

Canadian newspaper The Globe and Mail is hiring three marijuana reporters.

/ CULTURE

The executive director of the National Hockey League Players Association said that the union is considering whether league drug policy changes are needed in light of Canada's legalization of marijuana.
Make sure to subscribe to get Marijuana Moment's daily dispatch in your inbox.