Senators Are Angry That Marijuana Sentences Are Longer Than Paul Manafort's
Repeatedly defraud financial institutions and the government? Get 47 months in prison.
Illegally possess marijuana in a prohibition state? That's a 12-year sentence, pal.
A lot of people, including U.S. senators, are picking up on this ludicrous sentencing disparity on full display in a case involving Donald Trump's former campaign chairman, Paul Manafort. The former lobbyist was convicted of over a dozen financial fraud charges. While prosecutors recommended that he serve roughly 20 years, a judge decided on Thursday that was too harsh a sentence.
The decision immediately inspired a slew of tweets, with many giving examples of cases where non-violent cannabis offenses have put people in prison for much longer. One post, about the aforementioned 12-year sentence for simple possession, already has more than 10,000 retweets.
Two weeks ago a black Mississippi man was given 12 years in prison for possessing marijuana that he bought legally in Oregon https://t.co/0BTwjUsPYChttps://t.co/P9656sTM5f

— Rob Flaherty (@Rob_Flaherty) March 8, 2019
But it's not just activists who are taking note of the criminal justice imbalance. Sens. Brian Schatz (D-HI), Elizabeth Warren (D-MA), Kamala Harris (D-CA) and Angus King (I-ME) have also raised the issue.
People are sometimes sent to prison for longer than 47 months for non violent marijuana offenses.

— Brian Schatz (@brianschatz) March 8, 2019
Warren tweeted about Fate Winslow, who is facing a life sentence for distributing $20 worth of marijuana.
Trump's campaign manager, Paul Manafort, commits bank and tax fraud and gets 47 months. A homeless man, Fate Winslow, helped sell $20 of pot and got life in prison. The words above the Supreme Court say "Equal Justice Under Law"—when will we start acting like it?

— Elizabeth Warren (@ewarren) March 8, 2019
Harris, who, like Warren, is currently seeking the 2020 Democratic presidential nomination, compared Manafort's prison term to marijuana sentencing in a campaign stop in South Carolina.
.@KamalaHarris tears into the Manafort sentence, talking about the inequity of a man being sentence to 12 years for marijuana crime vs Manafort's white collar sentence. HUGE applause in this South Carolina BBQ spot. "Everyone should be treated equally under the law," says Harris

— Kyung Lah (@KyungLahCNN) March 8, 2019
"We're going to be flooded with stories in the next 24 hours about people with relatively minor offenses, selling an ounce of marijuana or stealing quarters from a laundry room with equivalent or greater sentences," King told CNN on Friday.
.@SenAngusKing calls the Manafort sentence "astonishing."

"We're going to be flooded with stories of people selling … an ounce of marijuana or stealing quarters from a laundry room with an equivalent or greater sentence." https://t.co/7ugXYVqHOL pic.twitter.com/amHyw1uIEm

— New Day (@NewDay) March 8, 2019
Rep. Barbara Lee (D-CA) also chimed in.
Paul Manafort:
-$55 million in bank and tax fraud.
-given 47 months.
Fate Vincent Winslow:
-sold $20 of marijuana.
-given LIFE IN PRISON.
Marijuana charges regularly net longer sentences than Manafort—we need #MarijuanaJustice to fix our broken system. https://t.co/q64uRKTWSP

— Rep. Barbara Lee (@RepBarbaraLee) March 8, 2019
So did Rep. Hakeem Jeffries (D-NY).
The failed war on drugs has devastated communities of color.

So-called law and order policies have unnecessarily wrecked millions of lives.

But a degenerate criminal like Paul Manafort gets a judicial slap on the wrist?

OUTRAGEOUS.

— Hakeem Jeffries (@RepJeffries) March 9, 2019
Elsewhere on Twitter, there was no shortage of outrage over the apparent judicial disconnect between sentences for white collar crimes and cannabis. Comedian and director Zack Bornstein joked that even his 4-year-old recognized the injustice.
OMG my 4-year-old just put down her Legos and said, "There are people serving longer sentences for marijuana possession than Manafort for helping dictators set up torture programs and committing high treason against the United States"

— Zack Bornstein (@ZackBornstein) March 8, 2019
Here are some more examples, in case the message hasn't sunk in yet.
Paul Manafort committed fraud and got 47 months of prison.

Fate Vincent Winslow sold $20 of marijuana to a stranger and received a life sentence.

Our legal system is fucked up

— David Leavitt (@David_Leavitt) March 8, 2019
Oh I see, Manafort can commit massive tax fraud, launder Ukrainian oligarch money, violate a plea deal & give polling data to the Russians for cash, and do 47 months. But if I sold a few ounces of marijuana in Florida I get 5 years. Got it. #equaljustice #nojustice #Whitecollar

— Randi Rhodes (@RandiRhodes) March 8, 2019
Patrick Beadle, a father & traveling musician, is spending 8 years in a Mississippi prison for possessing medical marijuana he legally got in Oregon.

Judge Ellis gave Paul Manafort—tried for 18 crimes including money laundering, tax fraud & bank fraud—just 4 years. pic.twitter.com/DPuMhA0BGG

— Ashton Pittman (@ashtonpittman) March 8, 2019
Lucky thing Manafort wasn't found with a marijuana cigarette, been born black, or didn't live "a blameless life" of representing dictators and the worst dregs of society. Otherwise he would have died in prison rather than taking a few years off in minimum security.

— Kurt Eichenwald (@kurteichenwald) March 8, 2019
Paul Manafort gets 4 years in prison for conspiracy to defraud the United States, witness tampering, bank fraud, tax fraud, and basically being a traitor to our country.

Corvain Cooper gets life in prison at age 34 for a non-violent marijuana conviction.

🖕White privilege. pic.twitter.com/an5DzCe9cU

— Eugene Gu, MD (@eugenegu) March 8, 2019
As Manafort is sentenced to just 4 years in prison, a reminder that a black man in Mississippi was sentenced to 8 years in prison for possession of marijuana purchased legally in another state. https://t.co/2YwkQG5mki via @aclu

— Miranda Yaver (@mirandayaver) March 8, 2019
TWO JUSTICE SYSTEMS IN AMERICA:

Black men go to prison for 20 years for marijuana.

Manafort, convicted of 8 felonies, stole MILLIONS from America and only gets 47 months in prison.

— Red™️ (@Redpainter1) March 8, 2019
So a woman who mistakenly voted when she shouldn't have will do more time than Paul Manafort. And there are people doing much more time for being in possession of drugs. Have a blessed night.

— Joy Reid (@JoyAnnReid) March 8, 2019
Just a reminder.. Bernard Noble got 13 years in prison for simple possession of marijuana. #Manafort #ManafortSentencing

— Tim Hitt (@lavitaminguy) March 8, 2019
Weed smokers are doing longer time than Manafort, for crimes directly against the very democracy of the United States.

— Kevin Baron (@DefenseBaron) March 8, 2019
I got grounded for 47 months for talking-back to my mom once. + I got a chancla thrown at me, which I dodged, so it grazed my ear. My mom's tougher than that lame Judge Ellis.
Man, if Manafort was black or brown and was caught selling an ounce of pot, he'd be in jail for life.🤷🏻‍♀️

— Ana Navarro-Cárdenas (@ananavarro) March 8, 2019
Paul Manafort is a traitor who went on a white-collar crime spree but only got 47 months prison time in a country that hands out life sentences to people for a few dime bags of weed.

— Adam Best (@adamcbest) March 8, 2019
Manafort committed fraud and got 47 months.

In 2015, The Daily Beast highlighted a man named Fate Vincent Winslow sold $20 of weed to a stranger and got life. https://t.co/Wu70gUHOHk

— Kyle Griffin (@kylegriffin1) March 8, 2019
You probably get the idea by now, but you can sift through dozens more here.
Watch Cory Booker Discuss His Latest Bill To End Federal Marijuana Prohibition
Photo courtesy of Disney.
Americans Want CBD Available Over-The-Counter, Poll Finds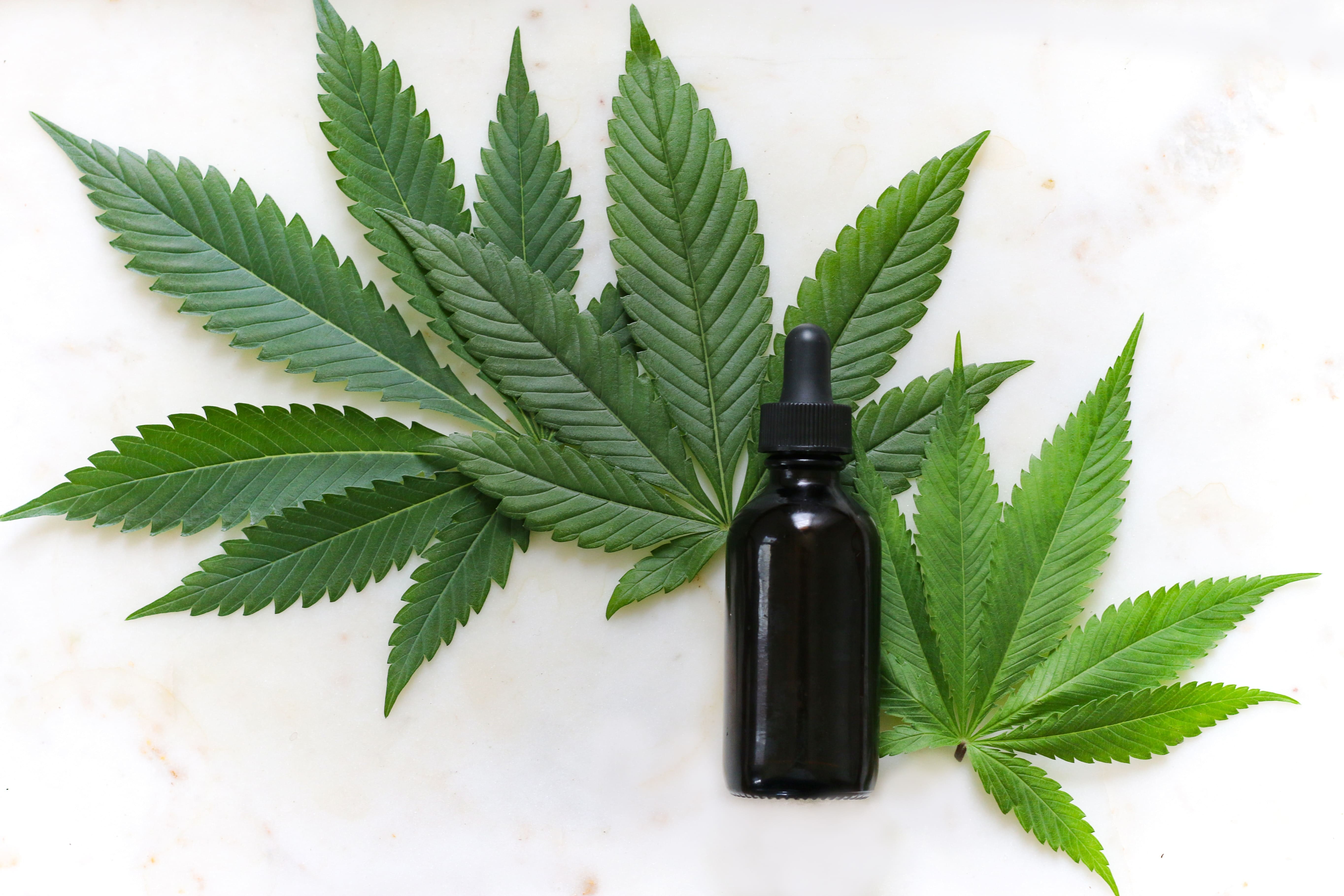 A majority of Americans familiar with cannabidiol (CBD) say it should be available as an over-the-counter drug and that the compound has multiple health benefits, according to a Gallup survey released on Friday.
The CBD craze emerged from the marijuana reform movement and escalated following the passage of the 2018 farm bill, which federally legalized hemp and its derivatives including CBD. The survey, which involved 1,017 phone interviews conducted from May 15-30, offers some insight into the substance's widespread appeal.
Thirty-nine percent of Americans overall said that people should be able to access CBD as an over-the-counter drug, with 21 percent saying a prescription should be required. Thirty-six percent of respondents said they weren't familiar with the non-intoxicating compound.
But when Gallup asked people who said they were familiar with CBD the same question, 61 percent said that CBD should be over-the counter and 33 percent said it should be available for those with a prescription.
Participants were also asked to rate their familiarity with CBD. Fourteen percent said they were "very familiar," 33 percent said they were "somewhat familiar," 17 percent said they were "not too familiar" and 36 percent said they were "not familiar at all."
Again zeroing in on those who said they were familiar with CBD, Gallup asked what they thought about its therapeutic value.
Nine-out-of-ten respondents agreed that CBD does have health benefits. Breaking that down, 33 percent said it has "a lot of benefits," 45 percent said it has "some benefits" and 14 percent said it has "only a few benefits." Only four percent said it has "no benefits" and three percent didn't have an opinion.
"The CBD-oil arena is extremely active right now, including medical research into its benefits, state legislation governing its sale, federal legislation encouraging its production and corporate investment growing in the business," Gallup wrote. "Although medical research has a long way to go to investigate all of the claims made about CBD, half of Americans already believe it has at least some medical value, and that percentage is likely to grow as more become familiar with the product."
The commercial interest in CBD is explosive, with lawmakers and industry stakeholders putting pressure on federal agencies like the Food and Drug Administration (FDA) to streamline the regulatory process to provide for the compound's lawful marketing in the food supply and as health supplements.
But even as the government develops those regulations, companies are wasting no time, flouting the FDA and putting CBD in everything from pricey lattes to Carl's Jr. burgers. At the same time, CBD's medical value has been strongly established; the FDA approved a CBD drug last year for the treatment of certain forms of epilepsy.
Gallup also released a separate survey on Thursday that explored the various reasons Americans support or opposed broader marijuana legalization.
Poll Reveals Top Reasons People Support Or Oppose Marijuana Legalization
Photo courtesy of Kimzy Nanney/Unsplash.
Oakland Marijuana Shop Flooded With Questions About Psilocybin Mushrooms After Decriminalization Vote
A vote to decriminalize psilocybin mushrooms and other psychedelics in Oakland has left some residents confused about whether the substances have become commercially available.
Debby Goldsberry, CEO of Magnolia Wellness, told Marijuana Moment that her licensed marijuana shop has been "receiving calls from our members and interested community members, wondering if the dispensary was or would carry these products."
While the City Council voted unanimously last week in favor of a resolution that bars the use of "any city funds or resources to assist in the enforcement of laws imposing criminal penalties" against adults who using and possessing the plants and fungi, the measure specifically does not allow for their legal sale.
"Selling mushrooms would violate both our local and state licenses, and it would put us squarely in the crossfire of federal laws that treat these plant medicines as felonies," Goldsberry said. "Magnolia Wellness, while appreciating their medicinal value, would never put our company, our member base or those in the community who depend on us for support at risk in order to provide medicinal mushrooms."
Further, the shop's staff doesn't "have the experience of expertise to advise people on the use of psychedelic plant medicines," she said.
Confusion over the distinction between decriminalization and commercial legalization isn't confined to Oakland, or psychedelics laws for that matter.
A separate successful campaign to decriminalize psilocybin mushrooms in Denver last month was complicated by voters conflating the policy change with broader legalization. Kevin Matthews, campaign director of Decriminalize Denver, made education about the difference between the two policy reforms a cornerstone of the group's outreach efforts.
"We spent a lot of time talking to people on the ground and letting them know that in terms of decriminalization, this is the kind of thing that's simply going to keep people out of jail for using substances," Matthews told Marijuana Moment. "I think it's one thing we did a decent thing of was really letting people that you can't go buy this at a dispensary."
But whereas Decriminalize Denver spent months educating the public about their proposal as they collected signatures to place the measure on the ballot, the Oakland resolution was introduced and voted on in relatively short order.
That, Matthews said, likely contributed to misunderstandings about the policy implications. Another factor may be that the resolution's sponsor in Oakland indicated just before the vote that legalization and regulated sales could follow.
"Now we have to agree on what's being regulated and identify a pathway for distribution and sales," Councilmember Noel Gallo told Marijuana Moment on the day his measure was approved. "Like with marijuana, we have to establish a process."
But that plan may run up against resistance, including from reform-minded allies.
"I think that in terms of Oakland, it's up to them to make it very clear that people can't go buy this right now," Matthews said. "And I don't think anyone should be able to in a recreational setting like that."
"I think it's important for people to keep in mind that this is a people-powered movement, not a profit-powered movement. We have some time before we should even start considering any kind of recreational sales," he said. "That could derail the whole damn movement."
Decriminalize Nature, the campaign behind Oakland's decriminalization victory, told Marijuana Moment that it does not support commercializing the plant-and fungi-based substances.
As an amendment attached to the resolution itself states, the measure "does not authorize or enable any of the following activities: commercial sale or manufacturing of these plants and fungi."
AOC Pushes To Make It Easier To Study Shrooms And Other Psychedelic Drugs
Photo courtesy of Wikimedia/Mädi.
Spray Marijuana Mist On North Korea And Iran To Solve Nuclear Crisis, C-SPAN Caller Says
Katherine from New Hampshire has a novel idea to stave off nuclear war: fly over sites where the weapons are being developed and release a marijuana mist so that the workers will "chill out" and lose interest in creating the missiles.
During an open phone segment of C-SPAN's Washington Journal on Wednesday, the viewer laid out her vision for world peace to a visibly amused Pedro Echevarria, host of the program.
"I have a comment, and I don't know how it could be done, but I was thinking we could spray a marijuana-Prozac or peace-happy-friendly chemical mist over sites in Iran and North Korea, where they're working to produce nuclear weapons," she said. "And the mist would cause the workers at these sites in Iran and North Korea to chill out and become less interested in making nuclear missiles."
"The world needs to relax and take deep breaths and be into good days instead of destruction and death, and that's what they should be talking about," she said.
Echevarria declined to comment on the proposal and turned to the next caller, who did not follow up about the cannabis chemtrail idea and instead chatted about socialism.
Presidential Candidate Jokes About Why Denver Decriminalized Psychedelic Mushrooms
Photo courtesy of Wikimedia.