Senate Committee Slams Marijuana's Federal Classification, Saying Schedule I Blocks Research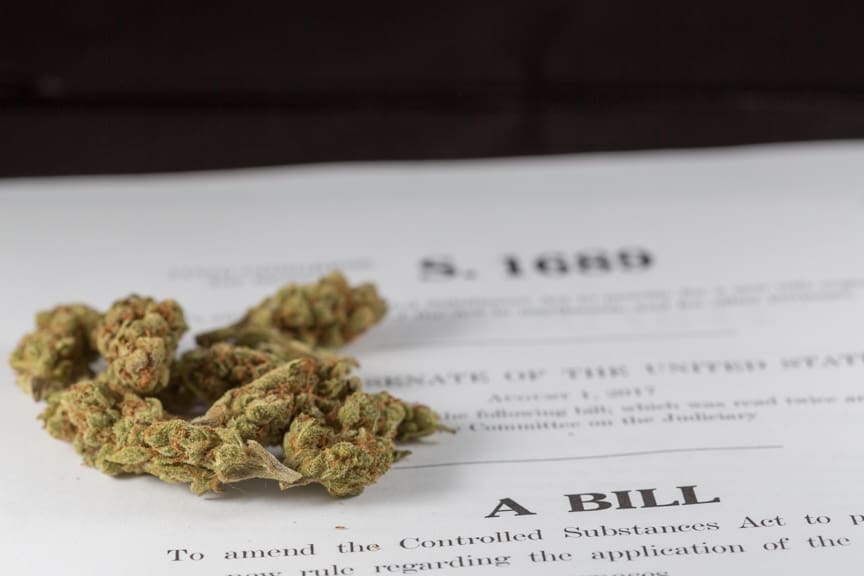 A key U.S. Senate committee says that marijuana's current federal classification blocks scientific research on its effects—something that legalization advocates have long argued.
"The Committee is concerned that restrictions associated with Schedule 1 of the Controlled Substance Act effectively limit the amount and type of research that can be conducted on certain Schedule 1 drugs, especially marijuana or its component chemicals and certain synthetic drugs," the Senate Appropriations Committee wrote in a new report under the headline, "Barriers to Research."
"At a time when we need as much information as possible about these drugs, we should be lowering regulatory and other barriers to conducting this research."
Schedule I is the most restrictive category under federal law, and is supposed to be reserved for drugs with a high potential for abuse and no medical value. Researchers wishing to study substances classified there must overcome procedural hurdles that don't exist for other drugs.
The Senate panel is directing the National Institute on Drug Abuse to "provide a short report on the barriers to research that result from the classification of drugs and compounds as Schedule 1 substances."
The directive is part of a report attached to a bill to fund the Departments of Labor and Health and Human Services for Fiscal Year 2019, approved by the committee last week.
This isn't the first time the panel highlighted the problems federal law poses for cannabis researchers. The senators included similar language in last year's version of the annual report for the health agency funding bill.
Curiously, the language slamming Schedule I's research roadblocks has been consistently requested by a group whose membership list contains some of the nation's leading anti-legalization advocates.
But while the Senate committee has approved a number of marijuana reform amendments over time — including measures last month to protect state medical cannabis laws from Justice Department interference and to increase military veterans' access to medical marijuana — it also recently blocked a proposal to protect banks that work with marijuana businesses from advancing.
And, it also included questionable comments about cannabis and driving, the involvement of Indian tribes in the marijuana industry and cultivation of cannabis on public lands in recent reports attached to other funding bills.
In the new report attached to the health agency bill, the committee also seemed to express concerns about the growing number of states that are legalizing marijuana and the increasing availability of higher potency cannabis products.
"The Committee is concerned with the rapidly changing landscape regarding the recreational use of marijuana–the effects that the drug can have on brain development; addiction; the long-term health effects in both youth and older individuals," the senators wrote. "The Committee directs NIH to coordinate a multi-Institute approach to increase research related to the effect of increasing delta-9-tetrahydrocannabinol levels on the human body as well as the effect of various delta-tetrahydrocannabinol levels on cognitive abilities that are required to, for example, operate motor vehicles."
And, they want federal researchers to resume tests on cannabis seized by law enforcement.
"Without dedicated funding for this activity, the number of analyzed seized samples has plummeted, meaning that available data is no longer current or robust," the report says. "The Committee believes that such research, along with analysis of marijuana and marijuana-derived products sold commercially in dispensaries or online, is essential for informing substance misuse and addiction prevention efforts, public health policy, and law enforcement tactics across the Federal Government."
"The Committee continues to direct NIDA to coordinate efforts with the DEA and other law enforcement agencies to monitor Schedule I marijuana and marijuana-derived products."
But despite the seeming concern about the effect of state legalization, the panel's criticism of Schedule I's roadblocks to marijuana research provides more momentum to the effort to reclassify cannabis under federal law.
This piece was first published by Forbes.
Hemp Legalization Is Officially Headed to President Trump's Desk For Signature
The 2018 Farm Bill, which would legalize industrial hemp, is officially headed to President Donald Trump's desk. The House passed the legislation on Wednesday, one day after the Senate approved it.
It's been decades since the ban on hemp was imposed—a byproduct of the federal government's war on marijuana and other drugs. The ban, it seems, will be lifted in a matter of days.
The House passed the bill, 369-47.
The votes come after months of debate over other aspects of the wide-ranging agriculture bill. But the hemp legalization provision, shepherded by Senate Majority Leader Mitch McConnell (R-KY), has received bipartisan support at every step of the legislative process.
Hemp legalization made it through a conference committee where the Senate and House Agriculture Committees reconciled their respective versions of the bill. McConnell marked the occasion this week by signing the conference report with a hemp pen, which he said on Wednesday that the president was free to use to sign the bill into law.
The hemp provision would allow U.S. farmers to grow, process and sell the crop. The Justice Department would no longer have jurisdiction over hemp under the legislation; rather, the U.S. Department of Agriculture would lightly regulate it.
One element of the hemp language created tension between lawmakers and advocates. The original Senate-passed bill prohibited people with felony drug convictions from participating in the hemp industry, but a compromise was reached last week that limited that ban in the final version to 10 years after the last offense.
House Democrats in the Agriculture Committee listed hemp legalization as one of several reasons they were calling for a "yes" vote on the legislation.
The farm bill conference report legalizes industrial hemp. pic.twitter.com/2u5xxtKwaS

— House Agriculture Committee Democrats (@HouseAgDems) December 12, 2018
According to VoteHemp, if the president signs the bill before the year's end, it will take effect on January 1, 2019.
Mitch McConnell Says Trump Can Borrow His Hemp Pen To Sign Farm Bill Into Law
Marijuana Industry Border Issues Would Be Solved Under New Congressional Bill
Marijuana can really mess up border and immigration issues for people who partake in consumption or participate in the industry, but that would change if a new bill being introduced in Congress this week is enacted.
Under current U.S. laws, people who admit to past cannabis use or who work for or invest in marijuana businesses can be barred from visiting the country under certain circumstances. And marijuana consumption, even if it is legal under state law, can lead to an immigrant being deported.
The new legislation, the Maintaining Appropriate Protections For Legal Entry Act, would provide exceptions for conduct that "was lawful in the State, Indian Tribe, or foreign country in which the conduct occurred" or that was "subsequently made lawful under the law or regulation of such jurisdiction," according to a draft obtained by Marijuana Moment.
The bill, known as the MAPLE Act for short—surely a nod to the leaf on Canada's flag—is being filed on Wednesday by Rep. Earl Blumenauer (D-OR).
U.S. border policies on entry by marijuana industry participants were slightly loosened just ahead of the launch of Canada's legal marijuana market in October to clarify that people working for cannabis businesses are generally admissible to the U.S., with the caveat that "if a traveler is found to be coming to the U.S. for reason related to the marijuana industry, they may be deemed inadmissible."
And that's a key exception. Several Canadians traveling to a cannabis industry conference in Las Vegas last month were detained for hours, with one investor being given a lifetime ban from visiting the U.S.
While there is almost certainly not enough time for Blumenauer's proposal to be considered and voted on by the end of the year, its language could easily be adopted into new legislation after the 116th Congress is seated in January.
In October, the congressman laid out a plan for a step-by-step approach to federally legalizing marijuana in 2019 in a memo to fellow House Democrats.
Marijuana Moment supporters on Patreon can read the full text of the new MAPLE Act below:
Chicago Mayor Wants Legal Marijuana Revenue To Fund Pensions
Tax revenue from legal marijuana sales should be earmarked to fund pension programs, the mayor of Chicago said on Wednesday.
"Illinois legislators will be taking a serious look next year at legalizing recreational marijuana," Mayor Rahm Emanuel (D) said in a speech to the City Council. "Should they follow that course, a portion of that revenue could go toward strengthening our pension funds and securing the retirement of the workers who depend on them."
Please visit Forbes to read the rest of this piece.
(Marijuana Moment's editor provides some content to Forbes via a temporary exclusive publishing license arrangement.)
Photo courtesy of Daniel X. O'Neil.