SCOTUS nominee pressed on cannabis (Newsletter: October 16, 2020)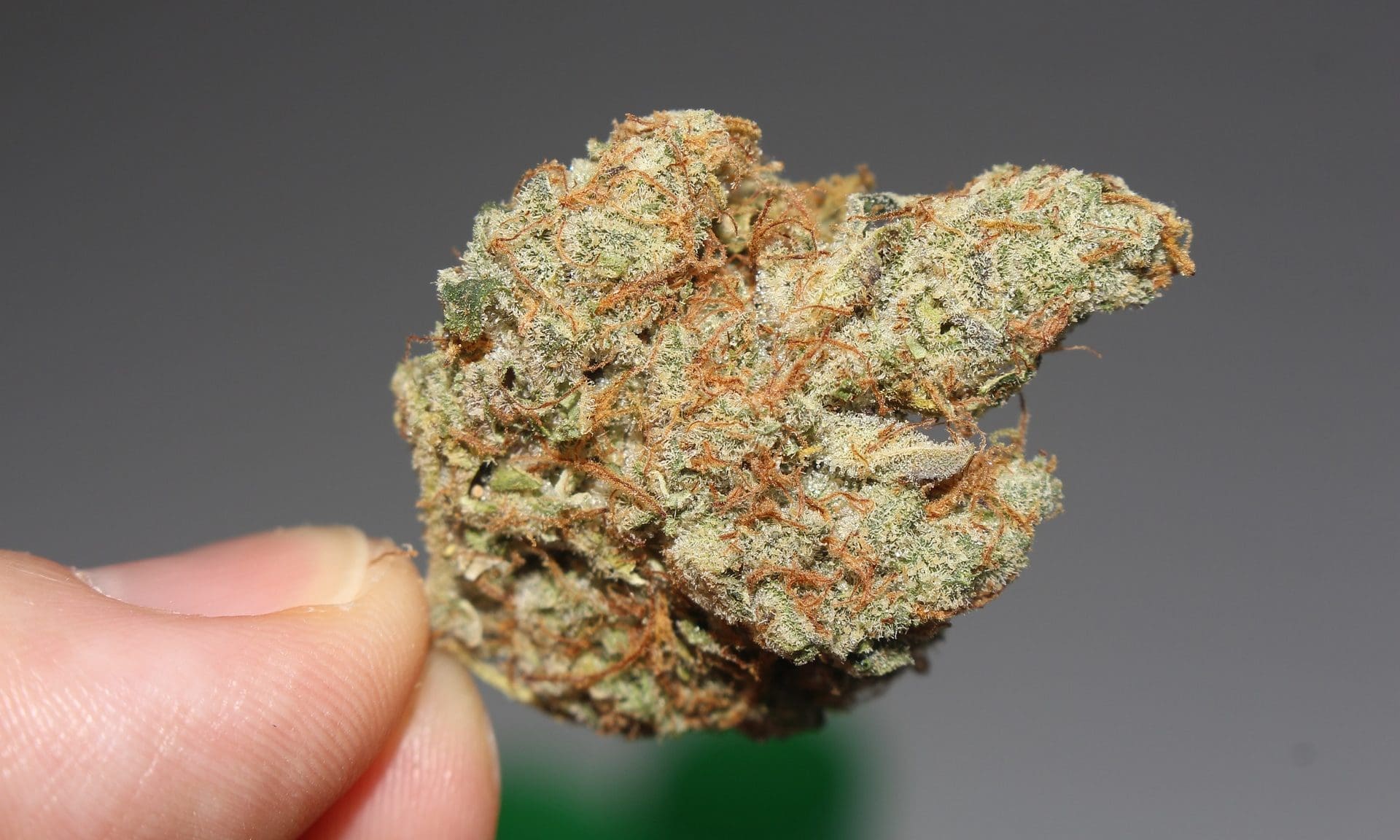 Polls: AZ legal marijuana leads; CO official touts psychedelic benefits; USDA to survey 18k hemp biz; NZ legal cannabis referendum on Sat.
Subscribe to receive Marijuana Moment's newsletter in your inbox every weekday morning. It's the best way to make sure you know which cannabis stories are shaping the day.
Your support makes Marijuana Moment possible…
Wait a sec! I could use your help. We need more subscribers to ensure the best possible cannabis news coverage between now and the 2020 election. If you can kick in a few dollars a month, we'd have funding to increase our reporting capacity in these critical final months.
Ryan McCloskey: "I wanted to contribute something because I've been loving your newsletter for so long! You're such a badass reporter who is doing a groundbreaking public service amid a massive shift in public opinion—and the associated democratic movement(s) to reform our antiquated drug laws."
Subscribe to us on Patreon and gain access to our Bill Tracker, exclusive audio from our interviews and more: https://www.patreon.com/marijuanamoment

/ TOP THINGS TO KNOW

Sen. Cory Booker (D-NJ) pressed Supreme Court nominee Amy Coney Barrett on marijuana criminalization and racial disparities in the war on drugs during her confirmation hearing.
"Because of that felony conviction for doing things that two of the last three presidents admitted to doing, they now can't vote, they now can't get jobs, they now can't get business licenses. This is such a deeply affecting system that is disproportionately harming one class of citizens based upon race."
The U.S. Department of Agriculture is proposing to survey 18,000 hemp businesses about how they grow and sell the newly legal crop, including questions on issues such as acreage, seeds, fertilizer, marketing, labor costs and storage.

Two new polls show Arizona's marijuana legalization ballot initiative with a solid lead, and increased support from when the same two firms conducted surveys last month.

New Zealand voters will decide on a first-in-the-world national marijuana legalization referendum on Saturday—but don't expect results to be announced for a few weeks.
"We won't count referendum votes on election night," the Electoral Commission says.
The Colorado Springs, Colorado City Council president shared an anecdote about how his sister-in-law benefited from using psilocybin mushrooms following a cancer diagnosis. The comments came as activists presented a proposal to locally decriminalize psychedelics in the military-heavy community.

/ FEDERAL

Sens. Chris Van Hollen (D-MD) and Ben Cardin (D-MD) and Rep. Congressman David Trone (D-MD) announced $50,000 in federal funding to support a feasibility study on the hemp processing industry.

Rep. Alan Lowenthal (D-CA) tweeted, "I am disappointed that SCOTUS decided not to hear a case challenging the constitutionality of federal marijuana prohibition. I joined an amicus brief to this case supporting overturning the DEA's classification of marijuana."

Rep. Joe Morelle (D-NY) and Republican challenger George Mitris said during a debate that they support marijuana legalization.

Rep. John Rutherford (R-FL) and Democratic challenger Donna Deegan briefly debated marijuana policy.

Former Rep. Keith Rothfus (R-PA) tweeted, "You can decriminalize #marijuana w/o legalization. Legalization creates an industry where benefits fall to corporate interests & negative impacts fall disproportionately on minorities."

Libertarian presidential candidate Jo Jorgensen tweeted, "We would do well to follow Portugal's decriminalization policy where 'the drug-induced death rate has plummeted to 5x lower than the E.U. average and stands at 1/50th of the US.'"

/ STATES

Michigan Gov. Gretchen Whitmer (D) signed bills extending the court-ordered receivership process to marijuana businesses.

Delaware Gov. John Carney (D) and Republican challenger Julianne Murray debated marijuana legalization.

Pennsylvania's lieutenant governor tweeted, "Illinois just banked $100M in revenue. Let me be clear: Pennsylvania, with a $4B budget deficit, is quite literally rejecting 100's of millions of *free money* every year with cannabis Prohibition. Billions of dollars to build up PA, not the drug cartels. Legal Weed for PA."

Colorado's attorney general delivered the keynote address for George Mason University's Symposium on the Economics and Law of Cannabis Markets.

Illinois regulators are facing a lawsuit that seeks to force them to issue overdue craft marijuana cultivation and infuser licenses.

New York regulators extended the state's hemp pilot program.

Wisconsin regulators are extending the state's hemp pilot program.

Advocates for and against Arizona's marijuana legalization ballot measure held a debate.

Missouri regulators said they will need to spend another $200,000 in legal fees to handle lawsuits challenging their medical cannabis licensing decisions.

Florida's Hemp Advisory Committee will meet on Wednesday, and the Medical Cannabis Advisory Committee will convene on Thursday.

—
Marijuana Moment is already tracking more than 1,500 cannabis bills in state legislatures and Congress this year. Patreon supporters pledging at least $25/month get access to our interactive maps, charts and hearing calendar so they don't miss any developments.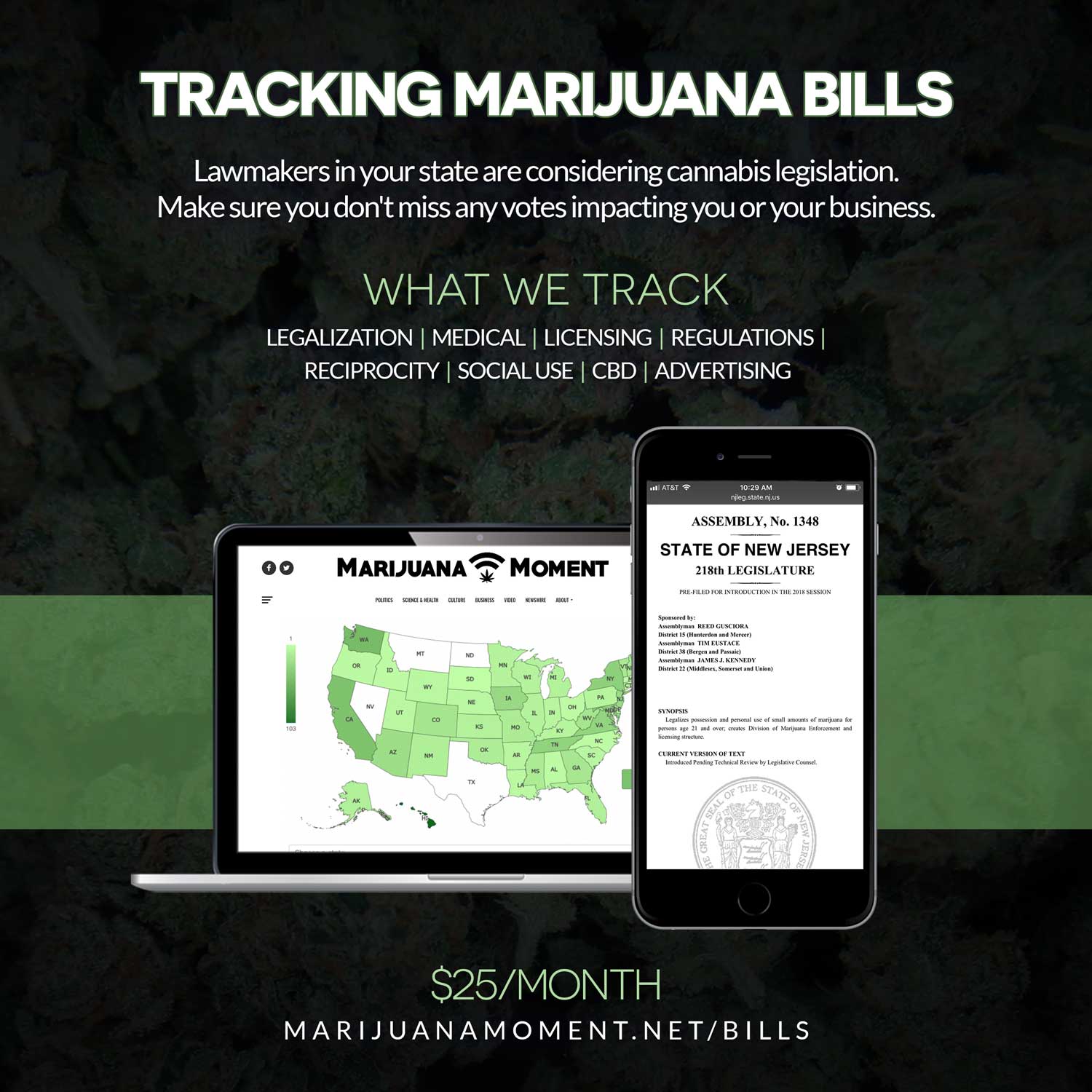 Learn more about our marijuana bill tracker and become a supporter on Patreon to get access.
—
/ LOCAL

The Delaware County, Pennsylvania Council held a hearing on a marijuana decriminalization proposal.

The Gilbert, Arizona Town Council approved a ban on recreational marijuana businesses.

A Cook County, Illinois commissioner admitted that she has an ownership stake in a marijuana business license applicant after having previously served as one of the state's top cannabis regulators.

/ INTERNATIONAL

Colombian legislation to legalize marijuana is in jeopardy.

Victoria, Australia's state government is supporting a bill to protect driving rights for medical cannabis patients.

/ SCIENCE & HEALTH

A study found that "inhaled cannabis appears to have short-term beneficial effects on symptoms of" obsessive-compulsive disorder and that "patients reported a 60% reduction in compulsions, a 49% reduction in intrusions, and a 52% reduction in anxiety from before to after inhaling cannabis."

A study on psychedelics found that "the perceived benefits associated with microdosing greatly outweigh the challenges" and that "microdosing may have utility for a variety of uses while having minimal side effects."

/ ADVOCACY, OPINION & ANALYSIS

Montana's Catholic bishops are opposing the state's marijuana legalization ballot measures.

The Massachusetts Municipal Association expressed concerns about proposed rules to allow marijuana delivery services.

The Marijuana Policy Project published a Pennsylvania voter guide.

/ BUSINESS

MedMen Enterprises Inc. reported quarterly net revenue of $27.4 million and an adjusted loss of $116.1 million.

Aphria Inc. reported quarterly net revenue of $145.7 million and a net loss of $5.1 million.

Nabis raised $5 million in Series A funding.

Harborside Inc. launched new products and an initiative to highlight diversity, sustainability and wellness in the cannabis industry.

Vireo Health International, Inc. launched a new product in New York's medical cannabis market.

Total Arkansas medical cannabis sales crossed the 25,000-pound threshold.

/ CULTURE

Family Feud had a question on where parents go to smoke marijuana.
Make sure to subscribe to get Marijuana Moment's daily dispatch in your inbox.