Postal Service Unveils 'Drug Free USA Forever' Stamp Commemorating 1980s Anti-Drug Program
The U.S. Postal Service (USPS) is rolling out a new stamp design that pays tribute to 1980s-era drug prevention programs and promotes a "drug-free USA."
The stamps, which will go on sale starting in October 2020, were announced at the conclusion of this year's Red Ribbon Week last month, an annual occurrence first launched under the Reagan administration.
"This Drug Free USA Forever stamp will help further raise awareness about the dangers of drug abuse, and the toll it is taking on families and communities around our country," Robert Duncan, chairman of the USPS Board of Governors, said in a press release. "The Postal Service is glad to do its part in marking Red Ribbon Week, and renewing our commitment to helping these efforts to educate youth about the dangers of illegal drugs."
USPS explained that Red Ribbon Week originated after a Drug Enforcement Administration (DEA) agent was tortured and killed in Mexico while investigating drug traffickers in 1985.
"I am very pleased that the U.S. Postal Service will issue a stamp affirming our commitment to a drug-free America," DEA Acting Administrator Uttam Dhillon said. "This stamp will help raise awareness of the fight against drug addiction and honor those who have dedicated their lives to that cause."
A description of the design states that the stamp "features a white star with lines of red, light blue and blue radiating from one side of each of the star's five points, suggesting the unity necessary at all levels to effectively address drug abuse."
USPS isn't applying anti-drug messaging to the cannabis component CBD anymore, however. In September, the agency clarified that hemp-derived CBD products can be mailed under certain circumstances since the crop and its derivatives were federally legalized under the 2018 Farm Bill.
For those with mailing needs who aren't interested in supporting the notion of a "Drug Free USA," USPS does have another stamp that recognizes the 50-year anniversary of the drug-fueled 1969 counterculture music festival Woodstock.
The stamp "features an image of a dove along with the words '3 DAYS OF PEACE AND MUSIC,' evoking the original promotional poster for the festival," USPS says.
Another option is a John Lennon Forever stamp, celebrating the iconic Beatles member and marijuana enthusiast who famously got "high with a little help" from his friends.
"Still beloved around the world, Lennon's music remains an anchor of pop radio and continues to speak for truth and peace," USPS wrote.
Top CDC Official Suggests Legal Marijuana Regulations Can Mitigate Vaping Injuries
Photo courtesy of Wikicommons.
MLB Officially Removes Marijuana From Banned Substances List For Baseball Players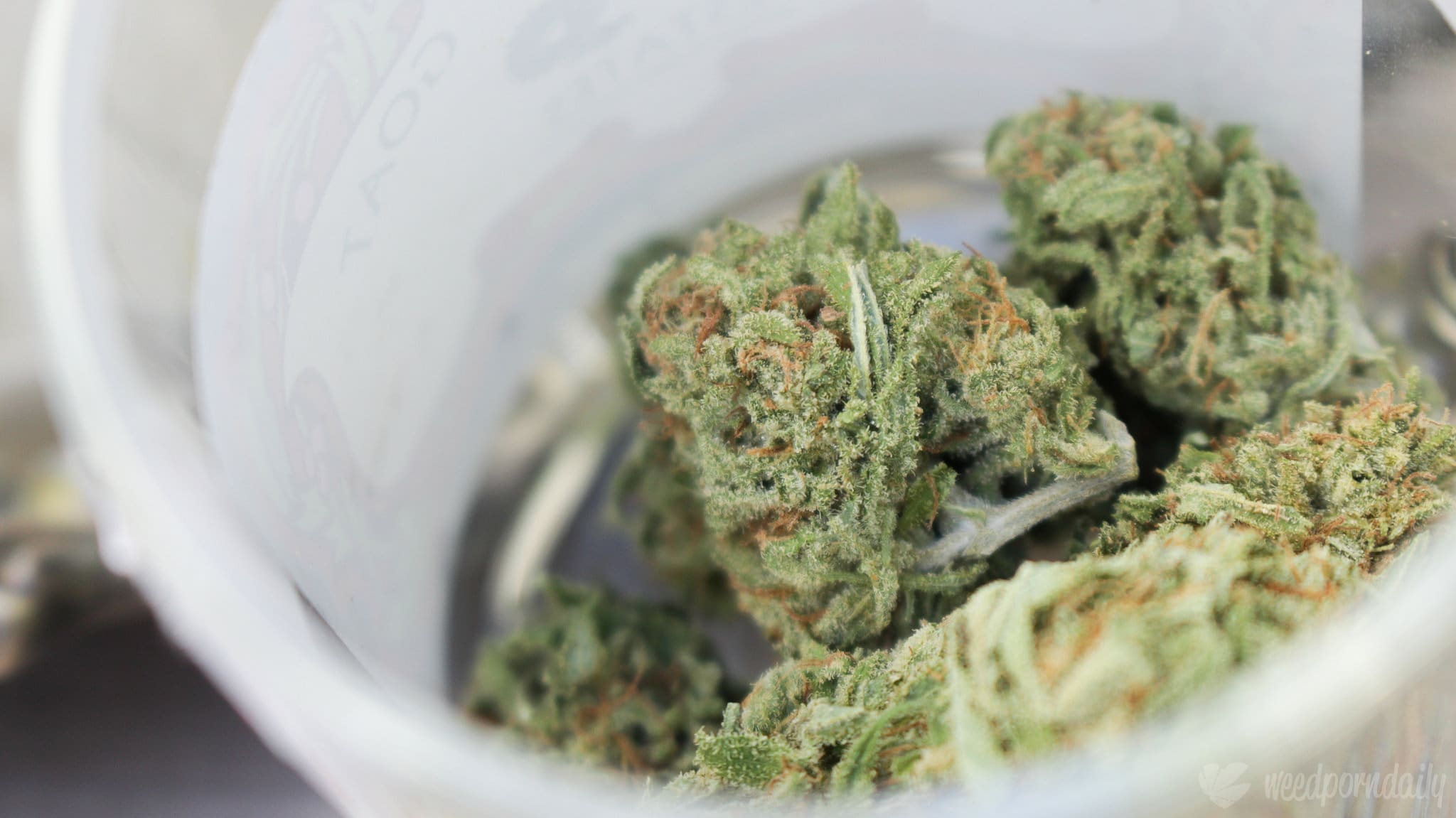 Major League Baseball (MLB) and the MLB players union announced on Thursday that they have reached an agreement to remove marijuana from the list of banned substances and will begin to treat its consumption by players in the same way that  alcohol use is handled.
The agreement is the product of negotiations on the league's drug policy, with both parties agreeing that steps must be taken to handle drug misuse through a treatment-focused model, rather than by simply imposing penalties.
With that, MLB will also start to test for opioids and cocaine, and players who test positive will be referred to treatment. Only those who refuse the treatment program will be penalized.
Today, @MLB and the @MLB_PLAYERS jointly announced significant changes to the Drug of Abuse provisions of the Joint Drug Prevention and Treatment Program. pic.twitter.com/jIie1JDVAg

— MLB Communications (@MLB_PR) December 12, 2019
The cannabis change reflects an attempt to modernize the league's drug policy as more states move to enact legalization.
"Going forward, marijuana-related conduct will be treated the same as alcohol-related conduct under the Parties' Joint Treatment Program for Alcohol-Related and Off-Field Violent Conduct, which provides for mandatory evaluation, voluntary treatment and the possibility of discipline by a Player's Club or the Commissioner's Office in response to certain conduct involving Natural Cannabinoids," MLB said in a press release.
In other words, players will only face discipline for violations related to unsanctioned conduct while under the influence, rather than simply for testing positive for THC. Previously, a positive test resulted in mandatory treatment, and failure to comply was punishable by a fine of up to $35,000.
At the same time, MLB is adding several substances to its list of drugs that will be tested: synthetic cannabinoids, cocaine and opioids including fentanyl.
Additionally, players will be required to participate in educational programs on "the dangers of opioid pain medications and practical approaches to marijuana." The programs will focus on "evidence-based and health-first approaches based on reputable science and sound principles of public health and safety."
The changes will take effect beginning with 2020 Spring Training.
"In agreeing to these modifications to the Program, MLB and the MLBPA continue to favor a treatment-based approach to Drugs of Abuse, with a particular emphasis on protecting Players from lethal and addictive substances, and providing effective and confidential care and support to Players who need it," MLB said.
The drug policy shift comes after 27-year-old Anaheim Angels player Tyler Skaggs died of an opioid overdose, prompting a reevaluation of how the league can respond to the opioid crisis.
"The opioid epidemic in our country is an issue of significant concern to Major League Baseball," MLB Deputy Commissioner Dan Halem said. "It is our hope that this agreement—which is based on principles of prevention, treatment, awareness and education—will help protect the health and safety of our Players."
"It is our collective hope that this agreement will help raise public awareness on the risks and dangers of opioid medications and contribute positively to a national conversation about this important topic," he said.
White House Drug Czar Jim Carroll said "[w]e applaud the efforts of both Major League Baseball and the Major League Baseball Players Association to prioritize treatment over punishment" and that this "historic agreement is an example of how we can all work toward a common goal and save more of our friends, family members, and neighbors from dying of a drug overdose."
"By coming together, the parties are implementing positive change that has the potential to save lives," he said.
While MLB has developed a reputation as being progressive in its drug policy decisions, other sports leagues have declined to take responsive action.
Earlier this year, the PGA announced that its golfers cannot use CBD, regardless of the federal legalization of hemp and its derivatives under the 2018 Farm Bill. The NFL reduced its marijuana penalty in 2014, but has made no changes to its cannabis policy since.
The World Anti Doping Agency, on the other hand, said in 2017 that athletes can use CBD.
Killer Mike Credits Bernie Sanders For Inspiring Marijuana Legalization Movement
Photo courtesy of WeedPornDaily.
MLB Plans To Remove Marijuana From Banned Substances List For Minor Leaguers
Major League Baseball (MLB) is making a bold move to address opioids and remove marijuana from its banned substances list for minor league players.
MLB and the MLB players' union are negotiating the new drug agreement, which has not yet been finalized.
The Athletic's Ken Rosenthal first tweeted the news.
As part of a new agreement on opioids being negotiated between Major League Baseball and the players' union, MLB will remove marijuana from the list of banned substances for minor leaguers, sources tell The Athletic. Major leaguers have not been subject to testing for marijuana.

— Ken Rosenthal (@Ken_Rosenthal) December 10, 2019
This new agreement would be for minor leaguers who aren't on the 40-man roster of players who are eligible to be added to the active roster.
So far in 2019, there have been 13 players suspended for "drugs of abuse," a blanket term that includes marijuana. The current penalties for a positive test are strict. Players are suspended 25 games for their first positive drug test, 50 games for a second, 100 games for a third and are banned for life for a fourth.
Players on the Major League 40-man roster have not been regularly tested for cannabis since 2002, when the league's focus shifted to performance-enhancing drugs. Major leaguers are only tested if there is "probable cause." A positive THC test is 50 nanograms of THC per milliliter of urine, and it results in a $35,000 fine and a treatment plan—but no suspension.
Drugs of abuse on the current banned substances list include natural cannabinoids, THC, synthetic THC and cannabimimetics (e.g., K2 and Spice), cocaine, LSD, opiates (e.g., oxycodone, heroin, codeine, and morphine), MDMA, GHB and PCP.
This is the full list of "drugs of abuse" previously banned under the Minor League Drug Prevention and Treatment Program: pic.twitter.com/z34q60wUGg

— Sam Dykstra (@SamDykstraMiLB) December 10, 2019
Tony Clark, MLB players' union chief, is optimistic an agreement could be reached before the year's end. The deal also includes opioid testing and a recovery plan. Minor league players who test positive for opioids would be "put into a treatment program rather than suspended," CBS Sports reported.
The Los Angeles Times first reported in October that changes may be coming to MLB at the behest of the players' union. Testing for opioids and easing marijuana penalties is one way the league is responding to its opioid crisis following the overdose death of 27-year-old Angels pitcher Tyler Skaggs earlier this year. Oxycodone, fentanyl and alcohol were found in Skaggs' system at the time of his death.
While MLB is known for being progressive when it comes to cannabis use, many other major league sports in the U.S. have been slow to reform their stances on marijuana and CBD.
Just this year, the PGA stated that its golfers cannot use CBD, despite the federal legalization of hemp and its derivatives under the 2018 Farm Bill. The NFL reduced its marijuana penalty in 2014, but has made no changes to its cannabis policy since.
Meanwhile, the World Anti Doping Agency cleared CBD use by athletes' use in 2017.
Pilot Study Shows Marijuana Can Help Chronic Pain Patients Stop Taking Opioids
Photo by Lindsey Bartlett.
Willie Nelson Will 'Never Stop Enjoying' Marijuana Despite Quitting Smoking, Son Says
Marijuana enthusiasts around the world have been shocked by the news that Willie Nelson no longer smokes cannabis. Cue the "Has hell frozen over?" jokes.
But the Grammy award-winning musician's son, Lukas Nelson, has taken to social media to clear the air and provide a little cannabis clarity.
While the Country Music Hall of Famer recently told a local television station that he doesn't smoke marijuana anymore for health reasons, his son clarified that he does still consume cannabis. Just not by smoking it.
On Tuesday, Lukas Nelson tweeted: "There is a lot of articles going around saying my father is no longer smoking weed. It's almost 2020, how people ingest cannabis has changed."
There is a lot of articles going around saying my father is no longer smoking weed. It's almost 2020, how people ingest cannabis has changed. Between vaping, edibles, gummies, drops, etc. I think it's safe to say Willie will never stop enjoying Mary Jane!

— Lukas Nelson & Promise Of The Real (@lukasnelson) December 4, 2019
"Between vaping, edibles, gummies, drops, etc. I think it's safe to say Willie will never stop enjoying Mary Jane!" he said.
The comment behind the cannabis controversy happened late last month, when the elder Nelson told local San Antonio news station KSAT that breathing "is a little more difficult these days and I have to be careful" and that "I've abused my lungs quite a bit in the past" so he was putting down the joint.
Nelson has more at stake than just his famed stoner reputation.
His namesake cannabis brand, Willie's Reserve, has been on shelves in legal cannabis markets since 2015. Today, the company's products—including marijuana flower, chocolate edibles, fruit chew edibles and a line of vaporizers—are available in six states: California, Colorado, Maryland, Nevada, Oregon and Washington.
The brand was compelled to send a tweet to clarify Nelson's cannabis consumption on Wednesday, stating, "Willie's still getting high!!"
No pigs in the sky, Willie's still getting high!!

AT 86, Willie Nelson demonstrates there's more than one way to get high. pic.twitter.com/l5JKvNuOs0

— Willie's Reserve (@WilliesReserve) December 4, 2019
Nelson also sells a CBD-centric line of products in all 50 states called Willie's Remedy, launched in 2019. Those offerings include infused whole bean coffee, tea and tinctures.
His spokeswoman, Elaine Shock, confirmed to The Associated Press that the musician has not, in fact, given up cannabis. She explained the different modes of consumption available today that don't involve combustion.
"Willie does what he wants, when he wants, when it comes to smoking," she said.
The musician's reputation as a cannabis icon has long been an area of interest and frequently comes up in media interviews.
Two years ago, actor Woody Harrelson told Jimmy Kimmel he was afraid to admit to his longtime friend Nelson that he had quit smoking cannabis.
Nelson also told Stephen Colbert on his tour bus in 2018 he would be happy to smoke marijuana with Donald Trump, Melania Trump and Barack Obama.
"He needs one bad," Nelson said of Trump. "That could be good for him."
Photo courtesy of CBS.