New Resolution Demands Congress Apologize For Failed Drug War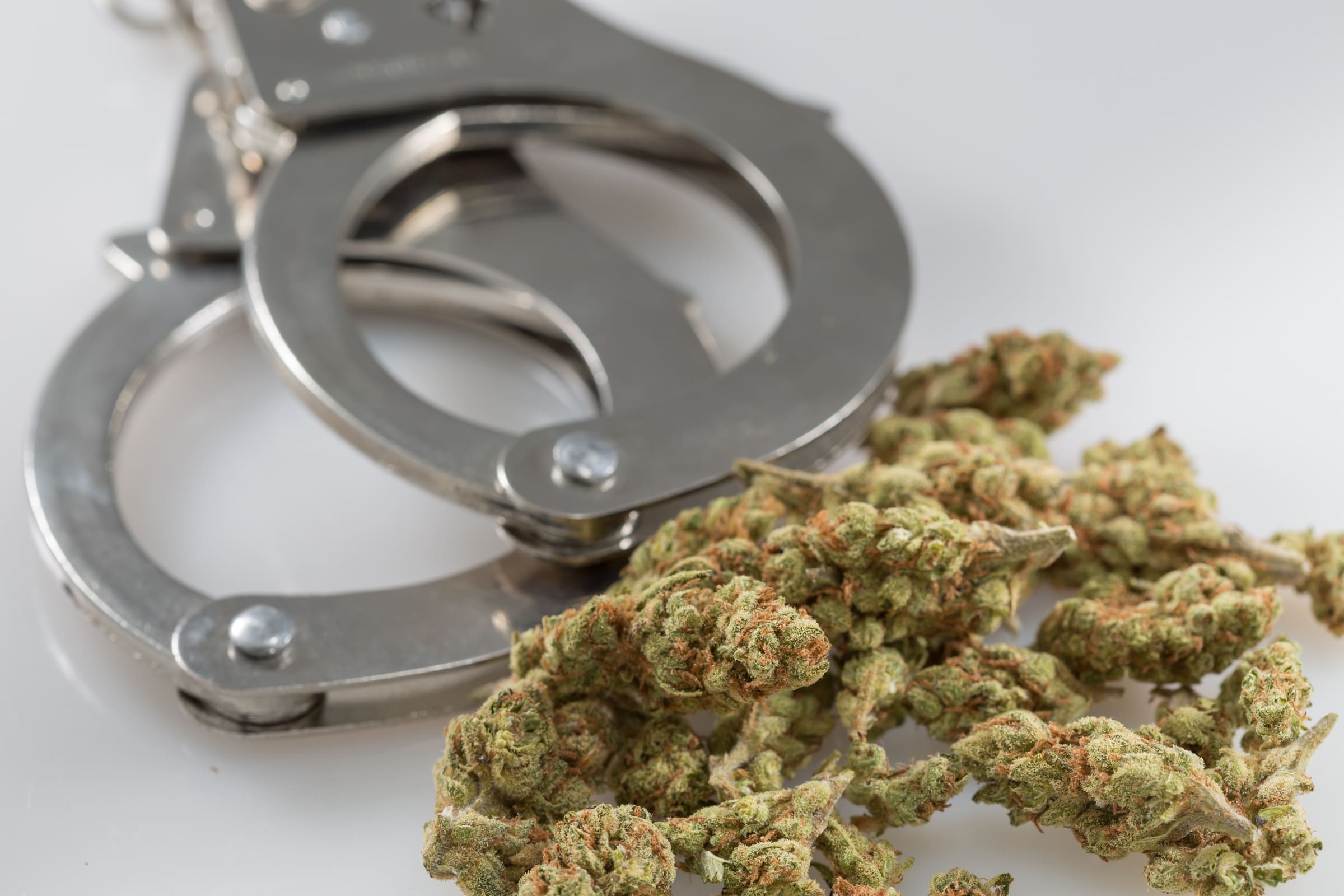 Congress must recognize the failures of the war on drugs and apologize to the individuals and communities that have been harmed in its wake, a new House resolution implores.
The measure was introduced by Rep. Bonnie Watson Coleman (D-NJ), a member of the Congressional Black Caucus (CBC) and co-chair of the Congressional Caucus on Black Women and Girls (CBWG), on Tuesday. It calls on the House of Representatives to acknowledge the racist underpinnings of the drug war, the excess spending on drug enforcement efforts and the need to treat drug addiction as a public health, rather than criminal justice, issue.
According to the @DrugPolicyOrg, in 2016 the US made over 1.5 million arrests for drug law violations with 84 percent of those for possession only. This policy is not sustainable; it needs to change.

— Rep. Bonnie Watson Coleman (@RepBonnie) June 13, 2018
We need to acknowledge that the War on Drugs didn't just fail; it was a failure to stay true to the values of equality and fairness that we hold dear. All drug use, opioid, cocaine, and otherwise, should be treated as an addiction, not criminal behavior.

— Rep. Bonnie Watson Coleman (@RepBonnie) June 13, 2018
To that effect, I've introduced a resolution that formally expresses an apology from the US House, while also demanding that anyone suffering from the disease of addiction, receive humane treatment focused on their disease rather than punishment. https://t.co/dNKKfJ7bhh

— Rep. Bonnie Watson Coleman (@RepBonnie) June 13, 2018
"The War on Drugs didn't just fail to stem the damage of addiction, its very declaration failed to meet the values of equality and justice our nation was founded on," Coleman said in a press release. "Congress has rightly decided to tackle the opioid epidemic with evidence-based policies that seek to solve the issue of addiction. But for years, we criminalized addiction in ways that caused irreparable harm not just to users, but their families, neighborhoods, and communities."
The resolution largely focuses on the racial disparities in how drug addiction has been characterized and addressed over past decades. As the drug war heated up and substances such as crack cocaine were targeted, consumers were often treated as "criminals," whereas individuals suffering from opioid addiction are commonly described as "victims," the text of the resolution states.
"As we offer up funding and resources to address the disease of addiction among overwhelmingly White users, we must acknowledge our failures to do the same with victims of color."
The resolution reflects a growing movement in Congress to reform federal cannabis laws, with groups like the CBC emphasizing the racially disproportionate nature of drug enforcement efforts. For example, the CBC introduced a 1,300-page omnibus bill last month that called for the descheduling of marijuana and the establishment of a "reinvestment fund for communities negatively impacted by the War on Drugs."
The CBC also released a position statement last week reiterating its stance that marijuana should be decriminalized and calling for "automatic expungement for those convicted of misdemeanors for marijuana-related offenses, and an easy path to expungement for those previously convicted of felonies for marijuana-related offenses."
Congressional Black Caucus Calls For Major Marijuana Reforms
This isn't the first time House members have floated the idea of issuing a formal apology for the failed drug war.
Last year, Rep. Bobby Rush (D-IL) filed a bill that would have established a commission to study the impact of mass incarceration and forced prison labor on black Americans. It also sought answers from the commission as to whether the federal government should "offer a formal apology on behalf of the people of the United States to the African-American victims of the 'War on Drugs' and their descendants" and whether "any form of compensation to the victims of the 'War on Drugs' and their descendants is warranted."
Coleman's new resolution is supported by 27 cosponsors and a number of civil rights and drug policy organizations, including the Drug Policy Alliance, NAACP and the Sentencing Project.
Thank you @RepBonnie for introducing H.Res. 933, a resolution that apologizes for the drug war, calls out the unfair treatment of people of color under drug law enforcement & demands all future drug policies be grounded in evidence-based health solutions. #CongressionalApology pic.twitter.com/HardXdqf6R

— Drug Policy Alliance (@DrugPolicyOrg) June 13, 2018
See below the full text of the resolution: 
To acknowledge that the War on Drugs has been a failed policy in achieving the goal of reducing drug use, and for the House of Representatives to apologize to the individuals and communities that were victimized by this policy.
Whereas, until the early 1900s, most of today's illegal substances were not regulated by the Federal Government, and there was no "War on Drugs";
Whereas, in the 1930s, the first Commissioner of the Federal Bureau of Narcotics, Harry J. Anslinger, who was a strong opponent to marijuana, pushed a heavy propaganda campaign to demonize marijuana use, stating that it caused people to be violent and criminals;
Whereas much of this propaganda was racially charged against the Mexican-American community, for example as Commissioner Anslinger testified to the 75th Congress in 1937 that, "I wish I could show you what a small marijuana cigarette can do to one of our degenerate Spanish speaking residents. That's why our problem is so great; the greatest percentage of our population is composed of Spanish-speaking persons, most of who are low mentally, because of social and racial conditions";
Whereas, in 1937, the 75th Congress passed the Marijuana Tax Act which criminalized marijuana, and laws passed during the following years were introduced to institute mandatory minimum sentences for those who bought, sold, and used the drug;
Whereas over the course of the next few decades, studies conducted by scientists did not find any connection between the use of marijuana and violent behaviors, and in 1973 the Shafer Commission Report on Marijuana and Drugs concluded that, "The Commission believes that the contemporary American drug problem has emerged in part from our institutional response to drug use. … We have failed to weave policy into the fabric of social institutions.";
Whereas despite mounting evidence, the Federal Government's approach to the abuse of drugs continued to be one of criminalizing drug abuse instead of treatment;
Whereas, on June 18, 1971, President Richard Nixon declared the War on Drugs, stating that drug abuse is "public enemy number one";
Whereas the Federal Government's attitude toward drug use as a criminal problem only intensified with stricter drug laws, and the Government put little to no focus on treating those impacted;
Whereas the War on Drugs was admitted to be a move by the Nixon administration to attack his political opponents, and in 1994, President Richard Nixon's aide John Ehrlichman admitted in an interview that the War on Drugs was a tool to arrest and manipulate Blacks and liberals stating, "We knew we couldn't make it illegal to be either against the war or black, but by getting the public to associate the hippies with marijuana and blacks with heroin, and then criminalizing both heavily, we could disrupt those communities. We could arrest their leaders, raid their homes, break up their meetings, and vilify them night after night on the evening news. Did we know we were lying about the drugs? Of course we did.";
Whereas in 1986, the 99th Congress passed the Anti-Drug Abuse Act establishing, for the first time, mandatory minimum sentences for those convicted of having specific amounts of cocaine;
Whereas, in 1989, drug czar William Bennett announced a $7,900,000,000 plan to combat the drug epidemic, but 70 percent of that amount went to hiring more law enforcement personnel and building prisons;
Whereas that money could have been better used to help provide treatment to the victims of those on heroin, cocaine, and other drugs;
Whereas, in 1986, the 99th Congress increased the sentences for dealing and possessing crack cocaine, and in a few years, enhanced law enforcement presence loomed over and aggressively policed communities of color;
Whereas to this day, these laws greatly target communities of color, dramatically increasing the incarceration rate of these communities and imposing a stigma that people of color are the main users of drugs, despite White Americans using at a similar if not greater rate;
Whereas Professor of Sociology at the University of California Santa Cruz, Craig Reinarman, and Professor of Sociology at Queens College, Harry G. Levine, studied the use of crack cocaine in the United States and later published in their book, entitled "Crack in America", which stated that, "In the spring of 1986, American politicians and news media began an extraordinary anti-drug frenzy that ran until 1992. Newspapers, magazines and television networks regularly carried lurid stories about a new 'epidemic' or 'plague' of drug use, especially of crack cocaine. They said this 'epidemic' was spreading rapidly from cities to the suburbs and was destroying American society. It is certainly true that the United States has real health and social problems that result from illegal and legal drug use. But it is certainly also true that the period from 1986 through 1992 was characterized by anti-drug extremism.";
Whereas the use of opiates such as oxycodone, hydrocodone, methadone, heroin, and fentanyl has skyrocketed since the late 1990s and the amount of prescription opioids legally sold nearly quadrupled from 1999 to 2010, despite no change in the amount of pain that Americans reported;
Whereas the National Center for Health Statistics suggested that there were more than 64,000 drug overdose deaths in 2016, and that a majority of these deaths come from synthetic opioids like fentanyl;
Whereas these drug overdoses have become the leading cause of accidental death, surpassing car accidents;
Whereas, on March 29, 2017, President Donald Trump signed an Executive order to establish the President's Commission on Combating Drug Addiction and the Opioid Crisis, and in a preliminary report the Commission has recommended that the opioid crisis, among other things, should be "declared a national emergency under either the Public Health Service Act or the Stafford Act";
Whereas many scholars, journalists, and civic leaders have addressed the strong contrast to the urgency of helping those impacted by opioids compared to those who were impacted by crack cocaine and other substances during the War on Drugs;
Whereas the terminology used to describe those impacted by the opioid epidemic is "victims", and the terminology used to describe those impacted by the War on Drugs is "criminals";
Whereas if the concept of equity was considered, meaning that individuals fairly receive what they need in order to create a level playing field, the same funds and support going to help those impacted by opioids will also go to help those impacted by heroin, cocaine, and the other drugs classified in the War on Drugs;
Whereas as stated by Georgetown University Professor Michael Eric Dyson, "White brothers and sisters have been medicalized in terms of their trauma and addiction. Black and brown people have been criminalized for their trauma and addiction.";
Whereas, on October 26, 2017, President Donald Trump declared the opioid epidemic a public health emergency, which allows access to the Public Health Emergency Fund at the Department of Health and Human Services, which has only tens of thousands of dollars; and
Whereas there has been no formal action by the United States Government to treat the epidemic of drug abuse and the War on Drugs as a health issue: Now, therefore, be it
Resolved, That it is the sense of the House of Representatives that—
(1) the War on Drugs has failed to achieve its goal of reducing drug use;
(2) the War on Drugs has created conditions in the United States that has allowed the opioid epidemic to be as deadly as it is;
(3) the War on Drugs is a racially charged policy that has led to the mass incarceration of millions of Americans, disproportionately affecting communities of color, stigmatized these communities as the cause of the drug problem, and has economically, politically, and socially crippled these communities for decades;
(4) in order to help those impacted, drug use has to be seen as a health issue and not a criminal issue;
(5) the House of Representatives should seek to hereby reconsider all laws associated and consistent with the War on Drugs, and prioritizes effective, evidence-based health policy solutions for individuals and communities suffering from addiction;
(6) the House of Representatives should enact civil remedies and restorative justice for any individual who has been incarcerated or otherwise punished through the Federal criminal justice system due to laws associated and consistent with the War on Drugs;
(7) Congress affirms that all individuals suffering from the disease of addiction be treated humanely, with equity and respect as all people struggling with any other health matter; and
(8) the House of Representatives hereby apologizes to the individuals and communities harmed through the War on Drugs and acknowledges that actions by this body have demonized and crim­i­nal­ized addiction for more than 80 years instead of accurately treating it as a health concern.
Mexican Government Officials Visit Canada To Learn About Marijuana Legalization
The office of Mexican President-elect Andrés Manuel López Obrador announced on Friday that key members of his incoming cabinet will discuss marijuana legalization with Canadian government officials on a visit to the country next week.
As part of the trip by seven secretaries-designate, officials from the two nations will meet about issues such as human rights, inclusive governance and "regulation of cannabis use," a press release from López Obrador's transition team said.
Among those taking the trip north will be Olga Sánchez Cordero, the likely next interior secretary of Mexico, who has previously said she would encourage the new president to legalize marijuana and pursue broader drug policy reforms.
Canada's marijuana legalization law went into effect this week.
López Obrador will be sworn in as president on December 1.
Canadian Lawmaker Vapes Marijuana And Doesn't Care What Anyone Thinks
A Canadian member of Parliament openly consumes marijuana, something he says will be completely normal and not at all noteworthy soon in light of the country's new legalization law that went into effect this week.
"Just as someone might have a glass of wine or a scotch on a Friday night, I would turn to my vaporizer," MP Nathaniel Erskine-Smith said in an interview with CBC news.
But it's not all about getting high for fun and relaxation for the member of Liberal Prime Minister Justin Trudeau's party. He also consumes cannabis medicinally.
"I have Crohn's, so sometimes I turn to it for that reason as well," he said.
Within a matter of years, though, no one will care whether lawmakers toke up, Erskine-Smith believes.
"Five years from now, no one will be interested in this question because we'll all recognize we're responsible adults, and this is far less harmful than alcohol, far less harmful than tobacco," he said. "And we should use it responsibly, yes, because there are potential harms."
"Certainly Canadians are capable of doing this because we've been doing it for decades."
On that point, Erskine-Smith acknowledged that he too has been consuming cannabis before prohibition officially lifted on Wednesday.
"It would be sort of silly for me to stop now, wouldn't it?" he asked.
Trudeau himself previously admitted that he illegally smoked marijuana while serving in Parliament, but said this week that he has no intention of consuming cannabis now that it is legal.
MP Nathaniel Erskine-Smith says he enjoys cannabis, and that five years from now, no one will care to ask him about it. pic.twitter.com/L7U3N46EwW

— CBC News: The National (@CBCTheNational) October 18, 2018
Canada's Liquor Stores Will Heavily Outnumber Marijuana Stores On Legalization's Launch
Photo courtesy of Cannabis Culture.
Missouri Campaign Finance Records Show Medical Marijuana Ballot Battle Heating Up
New quarterly campaign finance documents from Missouri medical marijuana ballot committees, covering activity from July 1 to September 30, show some coalescing of support for one of three measures on the ballot, while a recently created committee that opposes all of the medical cannabis options has yet to report any financial support.
Here's what the fundraising and expenditures for the key committees behind each of the three proposed measures look like:
(Note: only those committees with major activity in Q3 are displayed)
Missouri has one of the most confusing sets of marijuana ballot options to ever go before voters in any state, with two proposed constitutional amendments and one proposed statutory measure to choose from. Each option was sponsored by a separate committee that actively attacked the others in the months leading up to qualifying this summer to get on the ballot, with hostile campaign tactics continuing since then—including lawsuits and opposition research into the personal finances of advocates.
In the last few months, two additional organizations entered the fray. One is the only ballot committee that opposes both of the amendments and the proposition. Citizens for SAFE Medicine registered on September 20, and did not report any financial contributions or expenditures on its October 15 report. Judy Brooks, listed as Treasurer of the organization, is also a founder of Jefferson City's Council For Drug Free Youth.
The other is "Patients Against Bradshaw Amendment Formally Known As Find The Cures Political Action Committee." The committee, which registered August 27, opposes Amendment 3 and supports Amendment 2. It raised $1,441 cash from five donors, and has spent $447 of that on campaigning.
Its verbose name is a reference to Dr. Brad Bradshaw, the main financial contributor to Find the Cures, a committee that registered in September 2015 to support the measure now designated as Amendment 3. Between October 2017 and June 2018, he provided loans to Find the Cures to the tune of $1.2 million. The committee spent over $800,000 of that to hire a signature collection firm to get on the ballot.
Bradshaw's measure would, among other things, create a research center that many suspect he intends to run himself. It had already come under fire from Missouri NORML, which backs New Approach Missouri and its preferred proposal, Amendment 2. Find the Cures had already raised $1,556,705 in the first half of 2018 (much of that in the loans from Bradshaw), but started the most recent quarter with just $79 in the bank. From July through September, the committee took in another $209,111, with $186,121 of that in the form of additional loans from Bradshaw. It spent $164,739 on advertising and campaign staff, leaving $44,451 cash on hand for the remaining weeks before the election.
Under Amendment 2, doctors would be allowed to recommend medical cannabis for any condition they feel it is needed. Registered patients and caregivers would be permitted to grow up to six marijuana plants and purchase up to four ounces from dispensaries per month. Medical cannabis sales at dispensaries would be taxed at four percent. As previously reported by Marijuana Moment, the St. Louis chapter of the NAACP, Freedom Incorporated and the St. Louis American newspaper support Amendment 2. It also recently garnered an endorsement from the St. Louis Post-Dispatch.
New Approach Missouri was the most active committee in terms of continuing to raise and spend funds in quarter three of 2018. The group, which had already raised $1,057,263 for the election, took in another $256,924 cash and $15,368 worth of in-kind contributions. They spent $229,122 in the quarter, for events, legal fees, database management, media creation and public affairs in support of Amendment 2. One employee has been paid a total of $116,180 over the course of the campaign. They had $39,878 in the bank at the end of September.
Long-time political action committee Show-Me Cannabis Regulation, which has been around for seven years, had little activity last quarter, bringing in $350 and spending $72, leaving $2,250 on hand. It has however seemingly thrown its support behind New Approach Missouri, providing $5,000 in in-kind support to the committee.
Here's a chart using a logarithmic scale that includes more of the committees, even those with relatively paltry finances:
(Note: scale is logarithmic in order to depict smaller committees)
Missourians for Patient Care, which supports Proposition C, had little money activity in the most recent reporting period, suggesting that it is perhaps stepping back from active campaigning at this point. The group had raised a whopping $1,393,360 in 2018, but had only $31,077 left on hand at the beginning of July. In the last three months, it brought in $115 and reported no expenses.
One additional committee that formed, "Missouri Medical Marijuana," that supported "medical marijuana measure," has terminated its operations.
On Election Day, we will see whether the millions of dollars spent result in Missouri voters enacting one of more of the cannabis ballot proposals.
North Dakota's Marijuana Legalization Supporters Outraised By Opponents, Filings Show