Neil deGrasse Tyson Has Questions About Animals Eating Psychedelic Mushrooms And People Tripping On Infected Cicadas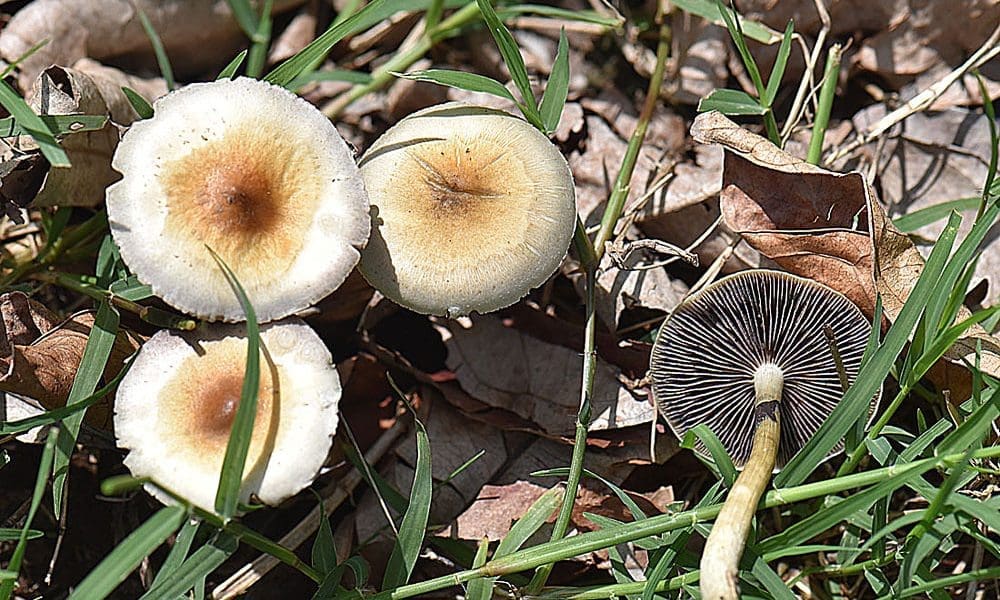 Neil deGrasse Tyson has a lot of questions about psychedelic mushrooms—including whether non-human animals willingly partake in the experience and whether eating enough cicadas infected by hallucinogenic fungi would create a psychoactive effect.
The astrophysicist had a wide-ranging conversation on mushrooms and psychedelics during an episode of his podcast StarTalk that was posted last week. Merlin Sheldrake, a biologist who specializes in fungi, joined the discussion and fielded a number of trippy questions from Tyson and viewers.
"Do you think mushrooms would have been a part of early animal diets?" Tyson asked Sheldrake.
"Yeah, for sure," he said. "I mean, I don't see why animals would neglect these nutritious, delicious organisms growing up within easy reach."
Tyson followed up to ask, "Would an animal knowingly, an animal not human, knowingly eat a mushroom that has psychedelic properties?"
The science isn't settled on that topic, but Sheldrake said there have been accounts of dogs watching their human partners pick psychedelic mushrooms and then eating them. They would then "appear to be under the influence," he said.
Reports of cats indulging are less common, though the expert said there has been at least one story of a feline "that repeatedly ate its owner's psychedelic mushrooms."
"See, I think cats are always eating mushrooms based on behavior patterns that I've seen," Tyson said.
Later, the conversation turned to cicadas, which the scientist pointed out have infiltrated parts of the U.S. this year. While Tyson said he committed previously to eating three cicadas, Sheldrake cautioned against overindulging because the bugs, when infected by certain fungi, can produce psilocybin or an amphetamine.
"If you eat enough of them, then you might start feeling stranger than you realize," he said.
"That's a good heads up there, thank you," Tyson said.
Sheldrake caveated that "you'd probably need to eat quite a few before you notice anything." But Tyson assured there was "no risk" in that because he's not eating any more than he previously promised to.
The conversation got deeper later in the program, with Sheldrake fielding a question about a theory from psychedelic advocate Terence McKenna that prehistoric ingestion of psilocybin mushrooms may have "expanded the human mind, introducing complex language and culture to early humans through psychedelic experience."
Sheldrake said there are principally two schools of thought on that subject. Some believe that the chemical components of psychedelics may have directly produced physiological changes in the early human brain, creating new neural connections and causing it to increase in size. Others argue that psychedelic experiences may have expanded psychological and cultural horizons and led to innovative thinking—perhaps inspiring the discovery of fire and cooking with fire, for example—that ultimately contributed to increased brain mass.
Sheldrake said he's more inclined to accept the latter theory, but it's a question "without a clear answer."
Tyson seemed skeptical, and he asked Sheldrake if he's personally "had a deep thought that you're pretty sure you wouldn't have had had you not exposed yourself to psychedelic mushrooms."
"Yes, in a word," the guest said.
"So you'd recommend everyone do it then?" Tyson asked.
"No, I wouldn't do that," Sheldrake said.
"Why—if it made you smarter or more insightful and your own work—why not have an over the counter at the pharmacy?" Tyson pressed.
Sheldrake responded that the psychedelic experience "can be somewhat unruly," and individuals may require certain settings and mindsets to reap the benefits of the substances. Further, for some people, psychedelics might not be an effective choice at all.
Can mushrooms take over your mind? On this episode, @neiltyson and comic co-host @mattkirshen explore the weird world of fungi with fun-guy fungus expert and ecologist, @MerlinSheldrake. Listen now! https://t.co/ADIL0CTQnE

— StarTalk (@StarTalkRadio) July 27, 2021
While Tyson's primary academic focus is space, rather than drugs, he has been known to dip into the issue and its intersection with the sciences from time to time. For example, in 2018, he told TMZ that he doesn't think people should smoke marijuana in space.
"Well, the problem is, in space now, many things will kill you," he said. "So if you do anything to alter your understanding of what is reality, that's not in the interest of your health."
"So if you want to get high in space, like lock yourself in your cabin and don't come out because you could break stuff inadvertently. OK? That's how that goes," he said.
The popular scientific figure endorsed cannabis legalization in 2017 in response to a question submitted by Marijuana Moment's editor, arguing that "relative to other things that are legal, there's no reason for [cannabis] to ever have been made illegal in the system of laws."
However, Tyson has also said that he doesn't partake in recreational use himself.
Federal Agency Loosens Marijuana-Related Grant Funding Restrictions For Mental Health Treatment
Photo courtesy of Dick Culbert.