Missouri Lawmaker Wants Voters To Repeal Medical Marijuana In Next Election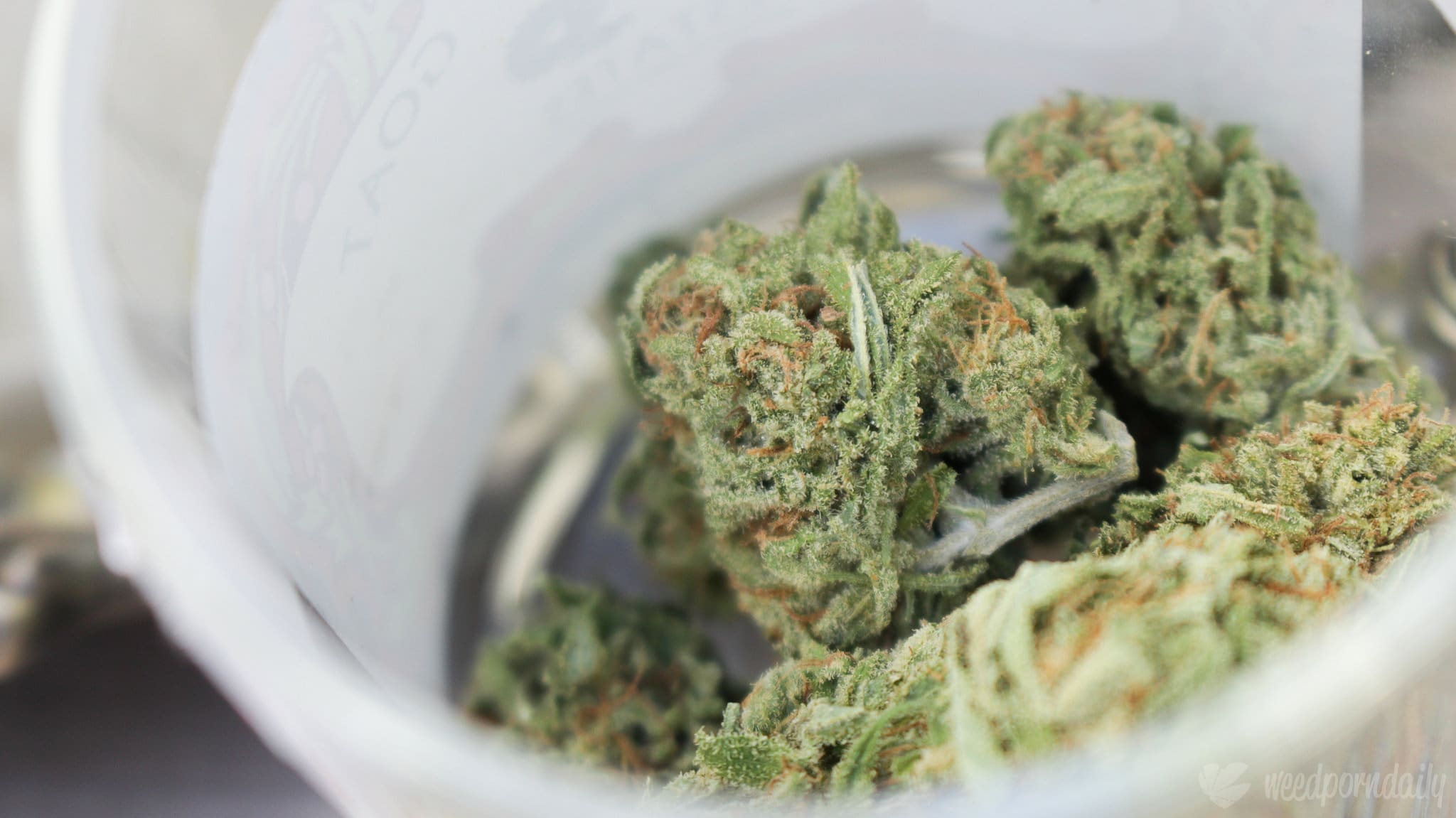 A Missouri lawmaker is pushing to repeal the state's voter-approved medical marijuana legalization measure, and his bill to that end would require the same voters who passed the ballot initiative to change their minds and undo it.
As the state regulators work to meet deadlines for the implementation of the medical cannabis program, Rep. Jeff Pogue (R) is hoping to put a stop to those efforts and do away with the law altogether.
His legislation, filed last week, seeks to put a constitutional amendment repealing medical marijuana legalization before voters during the next general election in 2020 or a special election declared by the governor.
Of course, 66 percent of voters—or roughly 1.6 million residents—supported legalizing cannabis for medical purposes in November's midterm election. So that'd mean flipping a sizable portion of the electorate if the bill advances.
What's more, the medical cannabis program would still be in its nascent stage by the time of the 2020 election. The state just recently started accepting pre-application fees for patients, cultivators and dispensaries, and it's not expected to begin approving applications for dispensaries until December.
At the same time that Pogue is trying to reverse the clock, other lawmakers are moving ahead with additional reform legislation.
A bill to expunge the records of some individuals with prior misdemeanor cannabis convictions was approved in a House committee last month. And in December, legislation to legalize marijuana for adult use was pre-filed.
Missouri Lawmakers Approve Marijuana Expungement Bill For Medical Cannabis Patients
Photo courtesy of WeedPornDaily.
Thailand Prime Minister Uses Medical Marijuana At Event With Ganja Mascot
Top officials in Thailand are getting the word out about medical marijuana—in part by distributing cartoon cannabis dolls and publicly using marijuana oils.
Prime Minister Prayut Chan-o-cha announced the launch of the government's medical cannabis education site on Wednesday and appeared at an event alongside a person wearing a spectacled marijuana leaf costume called Dr. Ganja. Children were also present, carrying their own Dr. Ganja dolls.
The Thai government officially launches its medical cannabis "educational" website today.https://t.co/zhzZU61q3c

The Prime Minister gets a ganja doll, kids get a ganja doll, everybody gets a ganja doll!

Photo credit: Bhumjaithai Party pic.twitter.com/lVf1WTguqQ

— Prim Chuwiruch (@prim_chuwiruch) December 11, 2019
Prayut argued in favor of the therapeutic use of cannabis, stating that it represents a potential treatment option for low-income people in particular. According to The Nation Thailand, he also demonstrated marijuana products, inhaling an oil and applying some to the back of his ears. The prime minister also said he plans to purchase some oils himself.
The government's education site features information about where to find cannabis clinics, what kinds of products are available and infographics laying out basic research into marijuana.
Thai lawmakers have made clear their excitement about medical cannabis, with several filmed participating in a ritual dance in August to celebrate the first batch of marijuana oil.
Funcionarios tailandeses bailan antes del lanzamiento del primer lote de aceite de cannabis tras la aprobación de la #marihuana medicinal en el país pic.twitter.com/ygrpiwveB6

— Reuters Latam (@ReutersLatam) August 8, 2019
Months after Thailand opted to legalize medical marijuana, the ruling party unveiled draft legislation in September that allows individuals to cultivate up to six cannabis plants for personal use.
GOP Senator Shares Photo Of His Dad Harvesting Hemp Decades Ago
Photo courtesy of Bhumjaithai Party.
GOP Senator Shares Photo Of His Dad Harvesting Hemp Decades Ago
A U.S. senator appears to be taking a hit at the governor of his home state over a disagreement on hemp legalization, and he's using a decades-old picture of his own father growing the crop to do it.
Sen. Mike Rounds (R-SD) shared a photo on Facebook last month showing his dad harvesting the crop in South Dakota about 80 years ago. While it might seem benign, some political observers believe the post was a subtle dig at Gov. Kristi Noem (R), who vetoed legislation earlier this year to re-legalize industrial hemp in the state.
The senator referenced the picture during a telephone town hall event, where he was asked about the potential of hemp in the textile industry. Rounds said the plant was used to make ropes for the Navy during World War II.
"It's of my dad (Grandpa Don, left) as a young boy working in a South Dakota hemp field," he wrote of the photo. "We believe it was taken sometime in the late 1930s/early 1940s."
The implication seems to be that the crop has a long history in South Dakota and that generations have relied on it prior for its federal prohibition. But even after hemp and its derivatives were federally legalized under the 2018 Farm Bill, Noem has maintained that it should remain criminalized under state law.
The Argus Leader first connected the Facebook post with Noem's hemp opposition.
Marijuana Moment reached out to Rounds's office for comment, but a representative was not immediately available.
In March, the governor rejected legislation that arrived on her desk to legalize industrial hemp, arguing that the reform move would pave the path toward legalization of adult-use marijuana. The Senate didn't have enough support to override the veto.
Lawmakers have said they plan to introduce similar legislation next year, but Noem pledged in September to veto it again.
As far as Rounds is concerned, South Dakota should be allowed to experiment with industrial hemp. He told the Sioux City Journal last month that "I personally don't see a problem with at least trying it" and he voted in favor of the Farm Bill last year.
Despite Noem's opposition to the non-intoxicating form of cannabis, activists in the state are moving ahead with efforts to more broadly legalize marijuana for medical and recreational purposes. Signatures on two reform initiatives were submitted to the secretary of state last month and, once verified, the issues are expected to be decided by voters during next year's election.
Both measures are being backed by national advocacy groups, and the adult-use legalization proposal is being sponsored by a former federal prosecutor.
Vermont Should Legalize Marijuana Sales, Top Health Department Official Says
Killer Mike Credits Bernie Sanders For Inspiring Marijuana Legalization Movement
Rapper Killer Mike says that the national push to reform marijuana laws in recent years can be largely attributed to Sen. Bernie Sanders (I-VT).
Sanders, who became the first major presidential candidate to call for cannabis legalization during his 2016 run, has continued to raise the issue as he campaigns for the 2020 Democratic nomination. In the years since he first proposed the policy change, numerous states have pursued reform and pro-legalization stances are increasingly commonplace, especially among Democratic lawmakers.
"Marijuana decriminalization was something I never thought I'd see in my lifetime," Killer Mike said in an interview on MSNBC on Sunday. "Yet within four years, I've seen a nationwide push for it, in big part to his campaign."
Watch Killer Mike's marijuana comments, starting around 1:25 into the video below: 
"How does that affect me as the father of a 17-year-old boy? If my son gets caught with marijuana, it could ruin his life for the rest of his life," he said. "Now we have an environment where he literally will get scolded as a child and get a chance to be a fruitful adult without a felony on his record. I think that that resonates in our community."
The rapper, who serves as a surrogate on Sanders's campaign, also talked about the economic potential of legalization and the importance of social equity policies during a town hall event with the candidate in North Carolina in September.
"We have an opportunity this time to take the people that are exiting jail, have expunged records and creating a pathway as wide as this aisle directly to legal marijuana and creating economic sustainability in the same communities that were robbed of that opportunity," he said at the time.
It's not just Sanders who deserves credit for contributing to the cannabis reform movement, Killer Mike said at a panel on free speech in June. Rap artists have also played a key role, featuring the plant in music stretching back decades.
"We know that with national decriminalization of marijuana now, a lot of people are going to get credit for it—a lot of activists, a lot of workers," he said. "But I can show you a line that leads straight back to Cyprus Hill, that leads straight back to Snoop Dogg, that leads straight back to people like Rick James."
Some of the most impactful work that rappers have produced are songs inspired by social issues like the drug war, he and several other artists argued in a brief submitted to the Supreme Court earlier this year in defense of a rapper who was convicted for threatening Pittsburgh police officers in a song.
AOC Says She'll Introduce More Psychedelics Legislation In Congress
Photo courtesy of MSNBC.