Michigan Marijuana Tax Revenue Grew By 49% Over The Past Year, Surpassing Alcohol Earnings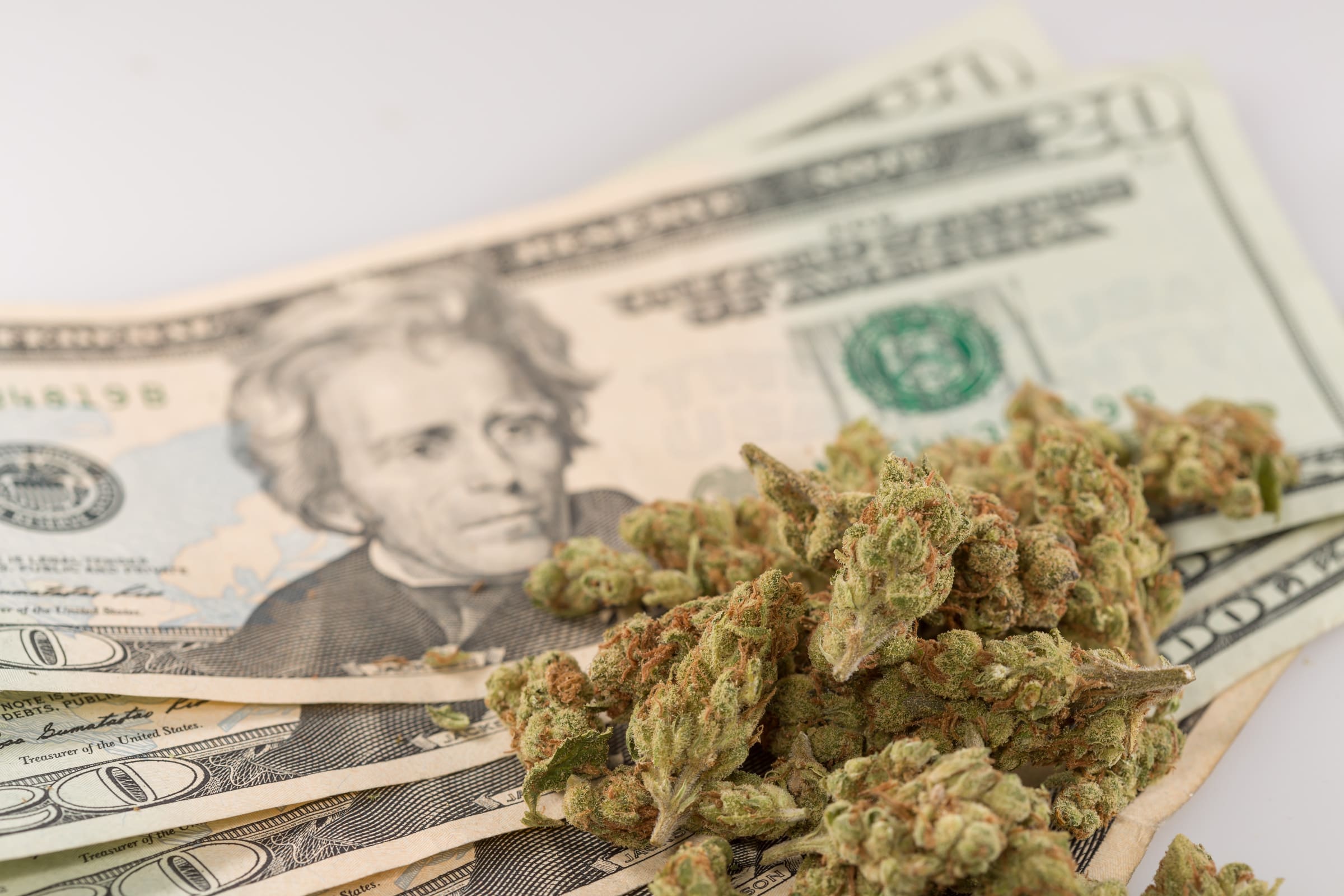 Sales of legal marijuana in Michigan contributed $266.2 million in tax revenue to the government during the most recent fiscal year, according to a new report from the legislature's nonpartisan House Fiscal Agency. That's more than the state made from the sale of beer, wine and liquor combined.
Tax from sales of adult-use cannabis were up 49.1 percent in fiscal year 2022–23, which ended in October, compared to $178.6 million collected the year before. That amounted to an additional $87.6 million in state revenue from cannabis sales compared to the prior 12 months.
Of all the major tax revenues itemized in the House Fiscal Agency report published last week, none grew at a faster rate than cannabis revenue.
Adult-use marijuana products are subject to a 10 percent state excise tax, which accounts for the $266.2 million. Products also incur the state's standard 6 percent sales tax.
Looking at the cannabis excise tax alone, marijuana was responsible for nearly 0.8 percent of total state revenue recorded in the annual report.
The marijuana excise tax brought in more money for the state last fiscal year than alcohol taxes, which contributed about $192.6 million total—$46.6 million from beer and wine and $146 million from liquor That's a shift from fiscal 2021–22, when combined alcohol taxes brought in roughly $12.9 million more revenue than cannabis.
By contrast, marijuana revenue amounted to less than half of the $722.2 million Michigan made from tobacco taxes in the most recent fiscal year.
In October 2023 alone, the marijuana excise tax produced $52.4 million in tax revenue—more than any other single source aside from sales and use taxes, income taxes, insurance taxes and tobacco taxes.
Michigan voters approved adult-use marijuana legalization in 2018, with legal sales beginning the next year.
The state has set sales records even as the average cost of marijuana has remained at record lows, with the price of an ounce for adult-use cannabis now hovering around $98 just a few months ago. In December 2021, by contrast, the cost of an ounce was about $180.
Last month, Michigan Gov. Gretchen Whitmer (D) signed a pair of bills into law to allow state-licensed marijuana businesses to conduct trade with tribal cannabis entities. Both took effect immediately.
"The bills are intended to allow for the sale of product between the two types of businesses while maintaining a level playing field by requiring tribal businesses to pay the same tax rate as other businesses," according to an analysis prepared by House staff.
Michigan is one of several states where cannabis tax has earned more revenue than taxes on alcohol.
During the most recent fiscal year in Illinois, for example, legal cannabis brought in $451.9 million—about $135.6 million more than alcohol.
Colorado last year state generated more income from marijuana than alcohol or cigarettes—and nearly as much as alcohol and tobacco combined.
Similar milestones have been seen in Arizona and Washington State.
Meanwhile, elsewhere in Michigan's legal cannabis landscape, a change approved in July by the state Civil Service Commission took effect last month to end pre-employment marijuana testing for most government employees. The shift also gives people who've already been penalized over positive THC tests an opportunity to have the sanction retroactively rescinded.
A bill recently introduced in the legislature would legalize psychedelic plants and fungi so long as activities like cultivating and distributing the substances are done "without receiving money or other valuable consideration."
In September, Michigan lawmakers called on the U.S. Congress, Department of Defense and Department of Veterans Affairs (VA) to prioritize research and investment in "non-technology treatment options"—including psychedelics—to treat psychological trauma from military service.
An earlier version of this story included a cannabis sales tax amount that was calculated incorrectly because it did not reflect the cumulative nature of Michigan taxes. The figure has been removed. 
Top Federal Health Official Touts Science-Based Drug Scheduling Process Amid Marijuana Review