Meet Massachusetts's Pro-Legalization Marijuana Regulator
A panel of just five officials is now in charge of implementing Massachusetts's voter-approved marijuana legalization law.
Advocates expressed concern amid news that four members of the new Cannabis Control Commission voted against last November's marijuana initiative — opposite the 54% of voters who approved the measure. (A new poll released on Thursday found that 63% of Bay State voters now support legalization.)
Legal marijuana supporters took heart, however, in the appointment to the panel of Shaleen Title, a longtime anti-prohibition advocate and industry insider who actually helped to write the ballot measure.
Her new role marks the first time an activist who helped to craft a marijuana legalization law has been put in charge of implementing it.
Title first got involved in the fight to legalize marijuana in college as a member of NORML and Students for Sensible Drug Policy. After a stint working as a tax law consultant for Deloitte, she returned to activism as key staffer for Law Enforcement Against Prohibition, an organization of police professionals who speak out for drug policy reform.
In 2014, she co-founded THC Staffing Group, a recruitment firm that helps connect cannabis businesses with employees for the jobs they are looking to fill. Title chose to give up her ownership of the company in order to take on her new role as a public official regulating the marijuana industry.
(Full disclosure: Title has been a friend of mine for a decade, and serves with me on the board of directors for the nonprofit Marijuana Majority.)
Title was named to the new state cannabis regulatory commission this month in a joint appointment by Massachusetts Gov. Charlie Baker, Attorney General Maura Healey and Treasurer Deb Goldberg. She and her four new colleagues will craft regulations and licensing processes with the goal of rolling out legal cannabis in the Bay State early next year.
In this, the first interview she has granted since being named to the regulatory body, Title outlines her thinking as she takes on the most important role of her career and transitions from activist to public official.
In broad terms can you help us understand your main duties in your new role as a member of the Cannabis Control Commission?
The CCC is a brand new agency tasked with implementing Massachusetts' new marijuana law. This entails setting up regulations for the new industry and a licensing process for cultivation, manufacturing, retail and testing, as well as policy development around things like edibles, packaging and advertising. Our deadline under the law is to begin accepting applications by April 1, 2018.
How meaningful do you think it is to have someone who helped draft the legalization measure be one of a small handful of people who are now in charge of implementing it? And how do you think your background working in the legalization movement and helping companies in the cannabis industry hire staff will inform your work as a public official?
I think it's essential to have at least one person on the commission who has a historical understanding of the legal and cultural context around marijuana. To my mind, that holistic approach is crucial in order to fairly implement the law.
In terms of my legal and business background, having an existing knowledge of the complex cannabis laws and regulations is helping me to hit the ground running, but all of that can be learned from books. It's the time I've spent organizing on the ground over the past fifteen years that leads me to honor different communities' complex feelings toward cannabis, prohibition and regulation, particularly Black and Latino communities that have bore the brunt of prohibition.
Being of Indian descent, I also come from a culture myself in which cannabis has been used since the beginning of recorded history, so there's a level of respect that comes with that.
Should voters who supported legalization be concerned that the four other members of the commission now charged with implementing the measure opposed it last November?
I don't think so. None of them are knee-jerk prohibitionists. In my mind, voting yes on the initiative and having used marijuana before are not strict requirements to be able to do this job. While they may be relevant factors, there is a very long list of far more relevant requirements when you are creating a team of people to build a government agency from scratch.
I have been very vocal about my belief that working with people who are different from you yields better results, and that universal principle applies here as much as anywhere. You need people from different backgrounds and perspectives to criticize and challenge each other's work. The more I get to know my new colleagues, the more impressed I am at the thoughtfulness that went into appointing a team with the diverse set of backgrounds needed to be able to tackle this difficult task.
What are some of the main challenges you and your fellow commissioners will face in getting Massachusetts's new law up and running?
The primary challenge is meeting a tight deadline while being underfunded. The state treasurer estimated that our agency would need $10 million in the first fiscal year; as of now, we have about $2 million. Starting from scratch is also a major challenge. We currently have no staff and are operating out of temporary office space.
Most challenging for me personally has been the built-in inefficiencies for the sake of transparency. Because of the open meetings law, we can't do regular check-ins or collaborate via Google Docs or Slack. We can't even reply-all to emails.
But, anyone who has been involved in marijuana legalization knows that if you have the will, you can do what many people consider impossible, and often with very small groups working under the scrappiest of circumstances. I'm optimistic.
Finally, on a personal note, was it hard for you to give up your business to take on this new role? And do you still consider yourself an activist at the same time you're a public official? How do you approach that balance?
All of my nonprofit, business and political projects have had the same goal: replacing prohibition with sensible policies that are fair and inclusive and promote health and safety. I will miss THC Staffing Group, but I'll be working toward that same goal.
There have been a few turning points in my life where I was compelled to follow my gut instinct and immediately say yes, before I had a chance to think about it rationally. The first time was when I quit my job consulting in tax law to work on legalization full-time, and the second time was when I moved to Colorado by myself to work on Amendment 64. The third time was when the Treasurer's office called me with the offer to appoint me as Commissioner.
While I'm admittedly going through a bit of a culture shock, being given a chance to help Massachusetts set a good example for other states in creating a newly legal market is a once-in-a-lifetime opportunity. Particularly as it relates to being able to implement the sections of the law that champions equity for communities that have been targeted by past criminalization policies — there's nothing else I'd rather be working on.
Cory Booker Bill Would Let Students With Drug Convictions Keep Financial Aid
Every year, about 1,000 students lose some or all of their federal financial aid because they admit to having a conviction for a marijuana or other drug offense. But a Senate bill filed on Friday would change that.
One provision of the bill—which aims to "streamline the financial aid application process" overall—would eliminate a question on the Free Application for Federal Student Aid (FAFSA) regarding drug convictions. Currently, applicants must answer this question:
"Have you been convicted for the possession or sale of illegal drugs for an offense that occurred while you were receiving federal student aid (such as grants, work-study, or loans)?"
In some cases, a "yes" response could mean the difference between going on to graduate or dropping out. Low-income students, who might not be able to afford tuition without federal aid, are particularly impacted.
That's why a growing number of civil rights, drug reform and higher education groups have called for the question to be removed from the FAFSA. Sen. Cory Booker (D-NJ) and a coalition of six other senators hope their new bill will achieve that goal.
"We know that when a student completes the federal financial aid form, he or she is more likely to receive aid, attend college, and graduate from college," Booker said in a press release. "But sadly, less than half of today's high school students complete the form, and students from underserved backgrounds complete the form at even lower rates than their peers."
"Our bill would simplify the complicated process in order to reduce barriers to higher learning for students from marginalized populations."
A similar House bill introduced by Rep. Lisa Blunt Rochester (D-DE) last year also called for the elimination of the drug conviction eligibility question on the FAFSA.
The "Simplifying Financial Aid for Students Act" would do more than just remove that one question. It would also take steps to simplify the process of determining financial aid eligibility and make the FAFSA available to the young immigrants known as DREAMers, for example.
But the drug conviction question is an important one that's penalized tens of thousands of students since Congress first enacted the aid ban in 1998. There have been efforts to revise the question so that students don't automatically lose all of their aid if they self-report a drug conviction, but even a partial loss can derail students on the path to higher education.
"The drug conviction question, which remains on the FAFSA, serves solely as a deterrent to higher education from the students who might benefit from it most: particularly, students of color whose communities have been overpoliced and marginalized by the drug war," Betty Aldworth, executive director of Students for Sensible Drug Policy, told Marijuana Moment.
"We champion any effort to assure students equitable access to education, and look forward to the day when young people who are unlucky enough to be caught using drugs are not punished for the same behavior that half of their peers get away with."
Initial cosponsors of Booker's financial aid reform bill are Sens. Richard Blumenthal (D-CT), Kirsten Gillibrand (D-NY), Jeff Merkley (D-OR), Doug Jones (D-AL), Kamala Harris (D-CA) and Catherine Cortez Masto (D-NV).
New Congressional Bill Would Automatically Seal Marijuana Records
Photo courtesy of Pixabay.
Marijuana 'Farmers Markets' Won't Happen In California Yet After Bill's Failure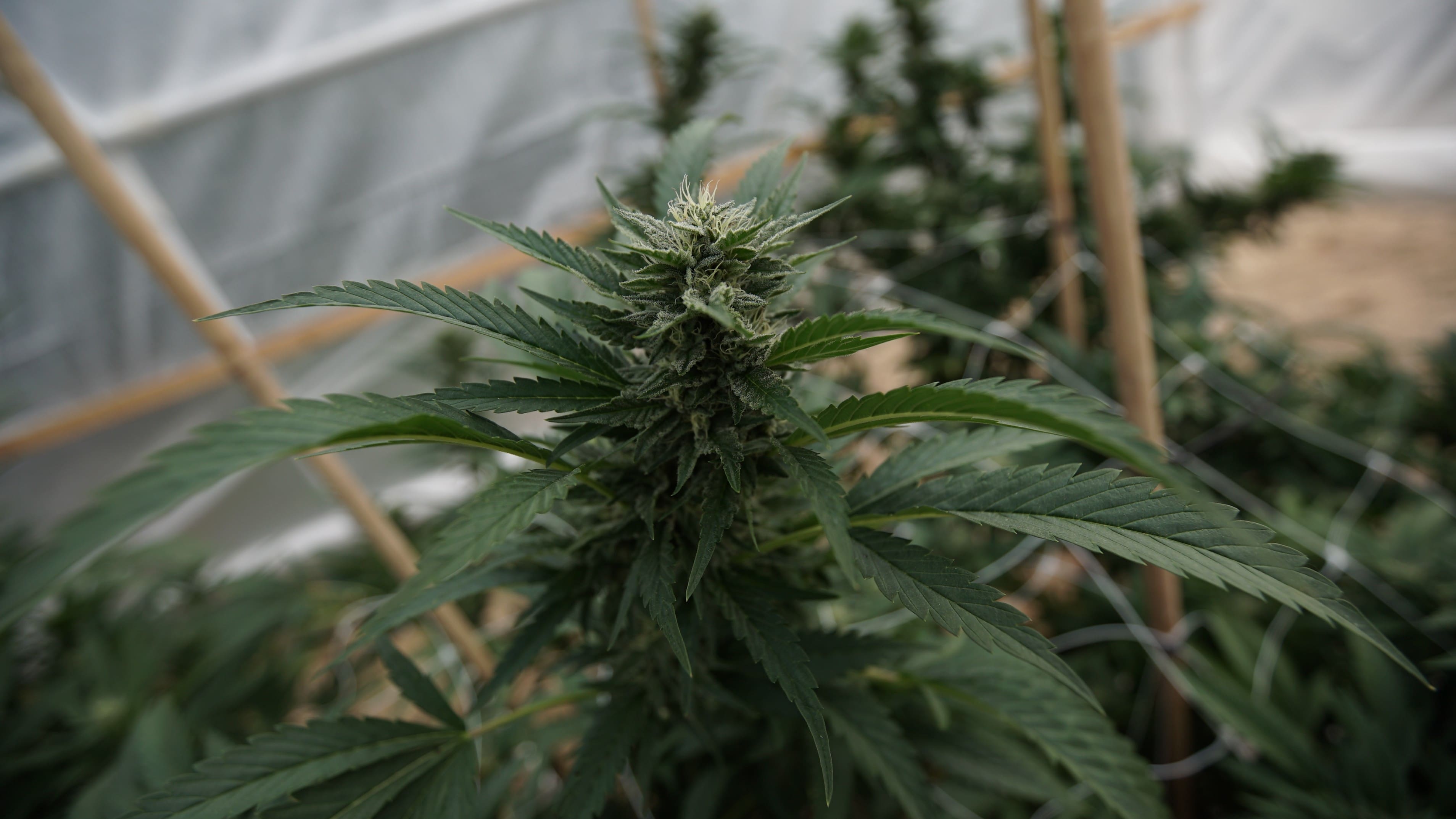 Popular marijuana events in California like the Emerald Cup will take on a different flavor than hoped for this year, after a bill that would have allowed licensed growers to sell directly to consumers at temporary events was defeated in the state Legislature.
Cannabis producers like the small and medium growers in the northern California counties that make up the Emerald Triangle have for years sold directly to consumers at "marijuana farmer's markets" and events like the Emerald Cup, a long-running end-of-the-harvest celebration.
But under current state law following the passage of Prop. 64, which legalized recreational marijuana in 2016, direct sales are no longer allowed unless a grower also has a retail sales permit—for which a small operation may not qualify, even if they can afford it—or if they conduct sales in tandem with a licensed retailer.
Assembly Bill 2641, introduced by Assemblyman Jim Wood (D-Santa Rosa) would have allowed the state Bureau of Cannabis Control to issue temporary licenses for "on-site sales and consumption of cannabis" at temporary events.
The bill died for the year after it was held in committee this week.
According to a committee analysis, it was opposed by major California cannabis brands like Canndescent, a large-scale cultivator, and by the United Cannabis Business Association, which represents Los Angeles and Orange County-area retail dispensaries.
Supporters included county governments in Mendocino and Humboldt counties, where the economy relies heavily on small-scale marijuana growers, and the California Cannabis Industry Association.
With its failure, small and medium growers without sales permits may be shut out from end-of-year sales events. Coming in a year of falling prices and restricted access to retail, some small growers are expected to go out of business, industry advocates say.
"I'm really hopeful we'll still have awesome events, but they're not going to be the same behind the scenes," Hezekiah Allen, executive director of the California Growers' Association, which sponsored the bill, told Marijuana Moment on Friday.
Of 900 licensed growers in California that would have been able to sell at events like the Emerald Cup, Allen said he expects 400 to go out of business this year regardless. Of the rest, the livelihoods of about half rely on temporary sales events, he said.
"For years, these types of events have been lifelines for small growers," he said. "For the smallest licensed growers, these are life or death."
"There's a few hundred members who won't be here next year because we lost that bill."
Other marijuana-related bills did pass the committee process before a legislative deadline this week and will go for votes on the floors of the state Assembly and Senate. A bill must pass both chambers before it can go to Gov. Jerry Brown (D) for signature.
Bills that advanced include:
*SB 1294, which would create a statewide equity program to encourage and assist people of color and other small operators to enter the marijuana industry
*SB 829, which would create a new license to allow for medical cannabis products to be given away free of charge (a "compassion care license")
*SB 1409, which would allow for state agriculture authorities to create an industrial-hemp farming program
*AB 1863, which would allow marijuana businesses to make certain tax deductions
*SB 311, which clarifies the commercial marijuana distribution process
Also this week, legislation which would have created state-chartered banks to serve the cannabis industry was held for review, effectively killing it for the year.
"This is a serious public safety issue that deserves swift resolution," Sen. Bob Hetrzberg (D), that bill's sponsor, said in a press release. "We've got barrels of cash buried all over the state, businesses being ransacked, and it's clear that the federal government won't act. It's a shock to me that the state government may not act this year either – especially after this bill passed through nearly every step with bipartisan support and little to no opposition."
Photo courtesy of Chris Wallis // Side Pocket Images.
Baker Who Denied Same-Sex Couple Now Complaining About Marijuana-Themed Cake Requests
Remember the Colorado "cake artist" who refused to make a custom wedding cake for a same-sex couple in 2012? Well, after taking his case all the way to the U.S. Supreme Court and winning a procedural victory this year, he's still having issues, according to a new lawsuit filed on Tuesday.
Part of the problem is that people keep requesting that he make marijuana and Satan-themed baked goods, Masterpiece Cakeshop owner Jack Phillips said. And he's blaming Colorado officials for allegedly targeting him and creating a hostile environment for his family and business. Phillip's lawsuit names several members of the Colorado Civil Rights Division, the state attorney general and Colorado Governor John Hickenlooper as culpable.
Phillips has made it patently clear that he won't design cakes that conflict with his religious views—namely his belief that being gay or transgender is at odds with Christian values—but that also apparently extends to "controlled substances like marijuana and alcohol," according to the complaint.
In the year after the Supreme Court announced it'd take Phillips's case, he "received other requests for cakes celebrating Satan, featuring Satanic symbols, depicting sexually explicit materials, and promoting marijuana use."
The complaint cites a specific example of someone calling his shop for an admittedly esoteric occasion:
"The caller asked Phillips to create a 'birthday' cake for Satan. The caller requested that the cake feature a red and black theme and an image of Satan smoking marijuana. Phillips declined to create that cake because it included designs that would have expressed messages in violation of his religious beliefs."
The complaint doesn't specify which tenet of Christianity explicitly prohibits the depiction of cannabis. But in any case, this is far from the first time that marijuana policy and religious rights have tangoed.
In fact, a campaign opposing a medical marijuana initiative in Utah cited the Supreme Court baker case ruling in a lawsuit also filed this week, which alleges that one provision of the measure would infringe upon religious liberties.
Mormon's new lawsuit: Utah medical marijuana measure violates his religion. Citing Supreme Court Colorado gay wedding cake case:

"right not to consort with, be around, or do business with people engaging in activities which their religion finds repugnant"https://t.co/vFv4rM0R4J pic.twitter.com/2h6FBuJlnd

— Tom Angell 🌳📰 (@tomangell) August 16, 2018
Because the Utah measure includes language that prevents landlords from discriminating against medical cannabis cardholders, the group said Mormons would encounter situations where they'd be forced to rent to people who engage in activities against their religion.
"In the United States of America, members of all religions, including the Church of Jesus Christ of Latter Day Saints have a constitutional right to exercise their religious beliefs," the complaint states, according to The Salt Lake Tribune. "This includes the right not to consort with, be around, or do business with people engaging in activities which their religion finds repugnant."
"The State of Utah is attempting to compel the speech of Utah landowners by suppressing their ability to speak out against cannabis use and consumption by only renting to tenants who do not possess or consume cannabis and who support their viewpoints in opposition against cannabis possession and consumption."
Activists are skeptical that argument will hold up in court.
Feds Call Out Religious Discrimination Against Marijuana Consumers
Photo courtesy of Wikimedia, Jeffrey Beall.