Maryland Senate Will Vote On Marijuana Sales Bill Next Week, As Lawmakers Consider Hemp Industry Input And New Studies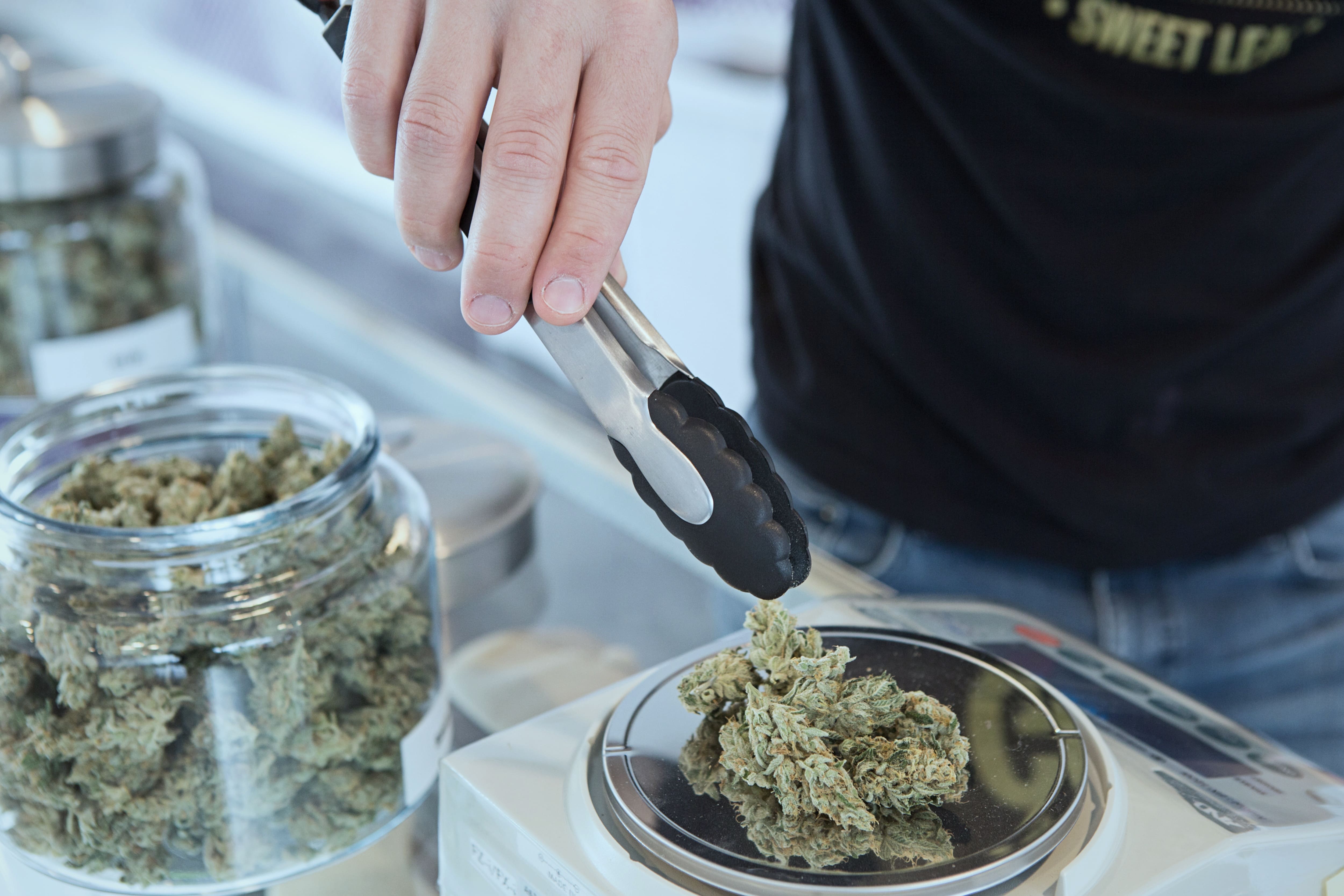 Maryland's Senate president says the body will vote next week on a bill to create regulations for an adult-use marijuana market, getting the state prepared for a voter-approved legalization law that takes effect this summer.
Senators have a number of factors to take into account as they prepare to enact the reform, including feedback from hemp industry stakeholders who've raised concerns about possible ramifications of the legislation and newly released reports from regulators on consumer trends.
Senate President Bill Ferguson (D) said during a press briefing on Friday that the chamber's version of a cannabis regulations bill is "nearing completion," and the plan is to "have it on the Senate floor early next week."
The House already approved its companion version this month. The bills were identical when introduced, but the House bill has been amended throughout the legislative process.
Ferguson suggested that his chamber's legislation, which was discussed in the Senate Finance Committee earlier this month, will also be revised, especially in light of issues identified by hemp businesses who feel the measure as drafted could inadvertently upend their businesses.
The Senate president said that "a lot of legislators are struggling with it right now," describing it as a "tough issue" that will be addressed as the bill advances.
The existing market for hemp-derived cannabinoids like delta-8 THC exists because of a "loophole" in the federal statute that legalized the crop, he said. "This product was never anticipated to be on sale with no regulation."
Lawmakers are exploring a possible "off ramp" for hemp businesses that have been operating in the cannabinoid market that may be impacted by the marijuana regulations legislation, Ferguson said.
Another possible consideration for the Senate is a pair of reports released by the Maryland Medical Cannabis Commission on Wednesday. One study focused on medical cannabis patients and the other looked broadly at marijuana use and perceptions in the unregulated market.
"These studies are the result of collaborative efforts of many state agencies, organizations, and Maryland residents", Dawn Berkowitz, deputy executive director of the commission, said in a press release. "The rich information provided allows the State to plan data-driven initiatives to guide health, safety, and regulatory efforts."
The medical-focused survey found that patients "largely plan to remain in the medical cannabis program, even with an expanded legal adult-use market in the State," according to the press release.
The separate Cannabis Use Baseline Study concluded that about one in ten Maryland adults report that they're current marijuana consumers. The study is also being made available to a new Cannabis Public Health Advisory Council that's responsible for promoting public education about legalization and youth prevention.
"I think one of the important aspects of all of this cannabis legalization—and I think one of the driving factors for me individually—is public health," Ferguson said on Friday.
Prior to the House vote on its version of the regulations bill this month, the Senate president said that he expects that bicameral lawmakers will work to "resolve" differences between the two versions, "potentially" in a conference committee, "sooner than later."
"We want to get this moving. There's a lot of pieces to this," he said. "And I think, you know, there's no such thing as perfect in legislation. It's doing the best you can to mitigate any of the potential unintended consequences that we can imagine today."
Here's what the Senate bill as currently drafted would accomplish: 
Cannabis would be taxed at six percent for the first fiscal year starting this summer. It would increase by one percent each year until 2028, maxing out at 10 percent. Medical marijuana patients would be exempt from the tax.
Thirty percent of marijuana tax revenue would go toward a community reinvestment fund for at least the next 10 years. The bill further calls for 1.5 percent of revenue to go to localities, 1.5 percent to counties and 1.5 percent each for a Cannabis Public Health Fund and the Cannabis Business Assistance Fund.
The Marijuana Alcohol and Tobacco Commission would be renamed as the Maryland Alcohol, Tobacco and Cannabis Commission, which would be responsible for regulating the program. Under the commission, there would be a Division of Cannabis Regulation and Enforcement that would be tasked with reviewing and issuing marijuana business licenses.
Existing medical cannabis dispensaries would be converted into dual licensees at the same time that legalization takes effect on July 1 if they've paid a fee. Regulators would need to start approving additional marijuana business licenses by July 1, 2024.
Social equity applicants would need to have 65 percent ownership by people who have lived in disproportionately impacted areas for at least five of the past 10 years, attended public school in such an area for at least five years or meet other criterial based on a disparity study.
A Capital Access Program would be created under the state Department of Commerce to promote industry opportunities for social equity applicants and provide low-interest loans.
The bill stipulates that $5 million would be appropriated annually for grants to existing medical cannabis dispensaries that form "meaningful partnerships" with social equity applicants that involves mentorship, training and/or shared business space.
Localities could not impose additional taxes, nor could they prohibit existing medical cannabis businesses that convert to dual licenses from operating in their area.
Medical cannabis patients would be able to grow up to four plants for personal use, rather than two under the current law. They would not have to pay taxes on medical marijuana products.
—
Marijuana Moment is tracking more than 1,000 cannabis, psychedelics and drug policy bills in state legislatures and Congress this year. Patreon supporters pledging at least $25/month get access to our interactive maps, charts and hearing calendar so they don't miss any developments.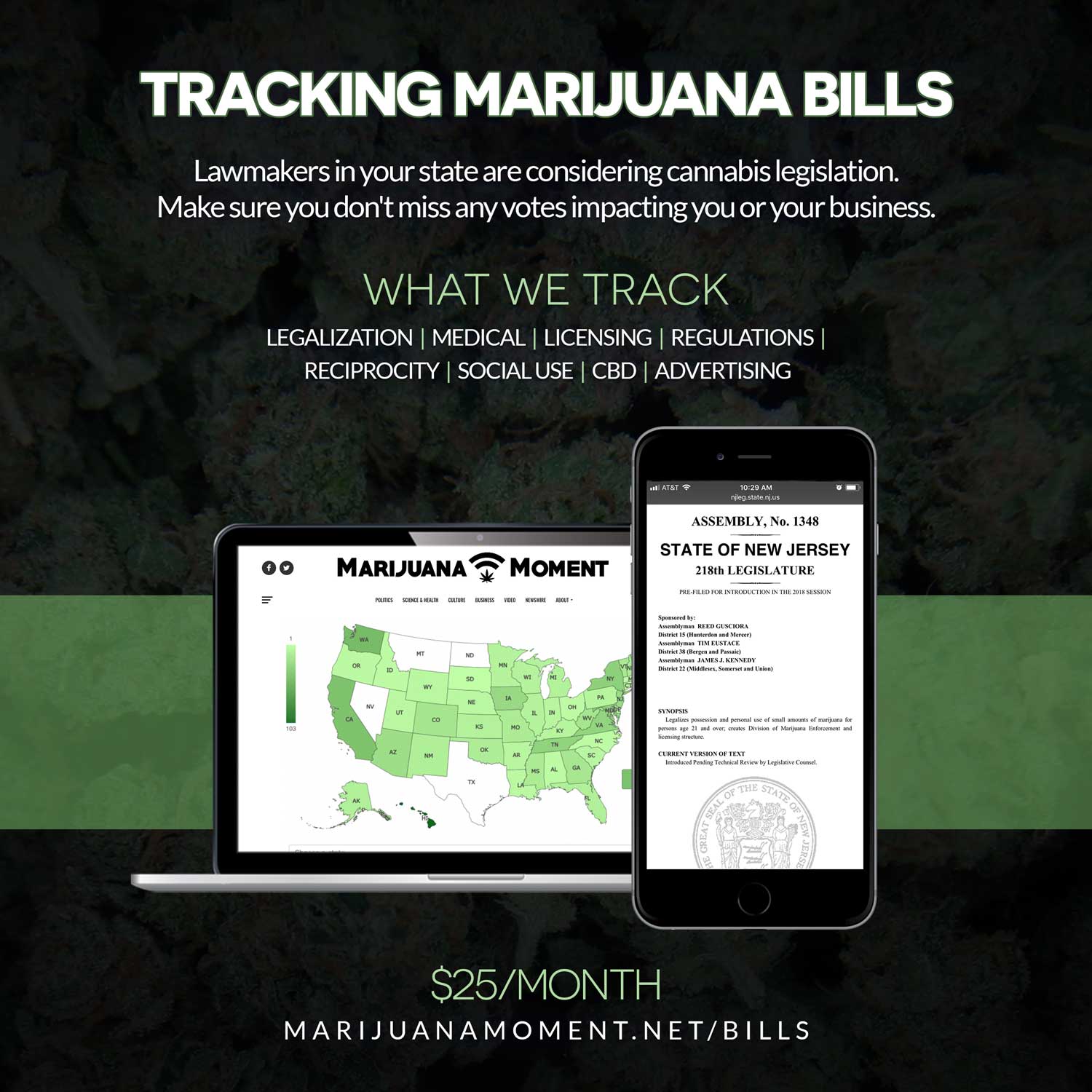 Learn more about our marijuana bill tracker and become a supporter on Patreon to get access.
—
The House version was amended in several ways before being approved on the floor. For example, it was revised to allocate 1.5 percent of cannabis tax revenue to counties and a requirement was removed stipulating that the head of the regulatory commission needed to be a member of law enforcement.
Also, the House panel adopted an amendment that eliminates a 200 license cap for delivery services, with members determining that the category would be covered under the separate micro-dispensary licenses.
Members also revised the legislation's definition of a social equity applicant, clarifying that a disproportionately impacted area is one that has experienced more than 150 percent the state's average cannabis possession charge rate over the past 10 years. Also, social equity applicant eligibility was changed to include those who attended for at least two years either an HBCU or one of certain other institutions of higher learning in the state.
The measure was further amended to prohibit localities from imposing licensing, operating or other fees or requirements that are greater or more burdensome than businesses "with a similar impact on the area."
The House bill was also revised to include language allowing both adults and medical patients to purchase plants and other cultivation supplies through the licensed market.
Finally, the chamber's version now says that existing medical marijuana businesses have the option to either convert to a dual-market retailer, selling products to both adults and medical patients, or sell their license to another operator.
It remains to be seen which, if any, of those amendments the Senate might take up ahead of floor consideration next week. If they're not made identical, the outstanding differences could be resolved in a conference committee.
Because the bills are considered emergency legislation that would take effect immediately, they must be approved with three-fifths of the vote in both chambers to be enacted. The legalization of possession of up to 1.5 ounces of cannabis takes effect on July 1, putting pressure on lawmakers to get regulations in place for commerce.
A spokesperson for Gov. Wes Moore (D) told The Baltimore Banner that the governor considers the proposal  "a well-crafted piece of legislation and is looking forward to future collaboration with the legislature."
The bill is partly a product of extensive work from bipartisan and bicameral lawmakers who were part of House Cannabis Referendum and Legalization Workgroup, which was formed in 2021 by Speaker Adrienne Jones (D).
Members have held numerous meetings to inform future regulations following Maryland voters' approval of a legalization referendum during last year's election, which triggered the implementation of complementary legislation covering rules for basic policies like possession and low-level home cultivation.
In addition to legalizing the purchase and possession of up to 1.5 ounces of cannabis for adults starting this summer, the legislation will also remove criminal penalties for possession of up to 2.5 ounces. Adults 21 and older will be allowed to grow up to two plants for personal use and gift cannabis without remuneration.
Past convictions for conduct made legal under the proposed law will be automatically expunged, and people currently serving time for such offenses will be eligible for resentencing. The legislation makes it so people with convictions for possession with intent to distribute can petition the courts for expungement three years after serving out their time.
Parts of the referendum took effect at the beginning of the year. Possession of up to 1.5 ounces of cannabis became a civil offense, punishable by a $100 fine, with a $250 fine in place for more than 1.5 ounces and up to 2.5 ounces.
Adult-use legalization began to advance through Maryland's legislature in the 2021 session, but no votes were ultimately held. The Senate Finance Committee held a hearing that year on a legalization bill, which followed a House Judiciary Committee hearing on a separate cannabis proposal.
Maryland legalized medical cannabis through an act of the legislature in 2012. Two years later, a decriminalization law took effect that replaced criminal penalties for possession of less than 10 grams of marijuana with a civil fine of $100 to $500.
Nevada Senators Discuss Psilocybin Legalization Bill In Committee, Including Amendment To Increase Possession Limit