Marijuana Use Tied To Lower Rates Of Depression And Suicidal Ideation Among PTSD Patients
People suffering from post-traumatic stress disorder (PTSD) who consume marijuana experience significantly fewer depressive episodes and lower rates of suicidal ideation compared to non-users, according to a new study.
The research, published in the Journal of Psychopharmacology on Tuesday, analyzed nationally representative health data from Statistics Canada's 2012 Community Health Survey and found that people with PTSD who have not reported past-year marijuana use are much more likely to have suicidal thoughts and go through depressive phases.
"This study provides preliminary epidemiological evidence that cannabis use may contribute to reducing the association between post-traumatic stress disorder and severe depressive and suicidal states."
Among the more than 24,000 people who were eligible for the study, with was conducted by researchers at the the British Columbia Centre on Substance Use and University of British Columbia, 420 were clinically diagnosed with PTSD. Of those, 106 individuals with PTSD (28.2 percent) said they used cannabis in the past year. That's markedly higher than the average of those who don't have PTSD (11.2 percent).
"We know that with limited treatment options for PTSD, many patients have taken to medicating with cannabis to alleviate their symptoms," Stephanie Lake, lead author of the study, said in a press release. "However, this is the first time that results from a nationally representative survey have shown the potential benefits of treating the disorder with cannabis."
Those suffering from PTSD who didn't report past-year cannabis use were about seven times as likely to have experienced a recent major depressive episode, the study found. They were also 4.3 times as likely to have contemplated suicide.
"Among cannabis-using respondents, PTSD was not associated with a recent depressive episode or suicide ideation."
While the study only looked at Canadian respondents, the findings are relevant to U.S. patients as well, as members of the military stateside also experience higher rates of PTSD compared to the general population.
A former secretary of the U.S. Department of Veterans Affairs (VA), David Shulkin, has said recently that he's in favor of having the department conduct clinical research into the therapeutic benefits of marijuana for veterans with PTSD, stating that the suicide rate among the population demonstrates that ignoring the treatment option comes at the "peril" of service members.
While VA declined to support research initiatives into cannabis for medical conditions that commonly afflict veterans under his leadership, Shulkin said this week that the department "should be involved and should be open to research for anything that will help veterans improve their lives, including medical cannabis."
"We're only just beginning to understand what the therapeutic potential of cannabis may be for a variety of health conditions," M-J Milloy, senior author of the new study, said. "These findings are promising, and merit further study in order to fully understand the benefits of cannabis for people living with PTSD."
Former VA Secretary Again Calls For Marijuana Research That His Department Resisted
Photo by davide ragusa on Unsplash.
Young People Who Use Marijuana Have Better Orgasms and Sexual Function, Study Says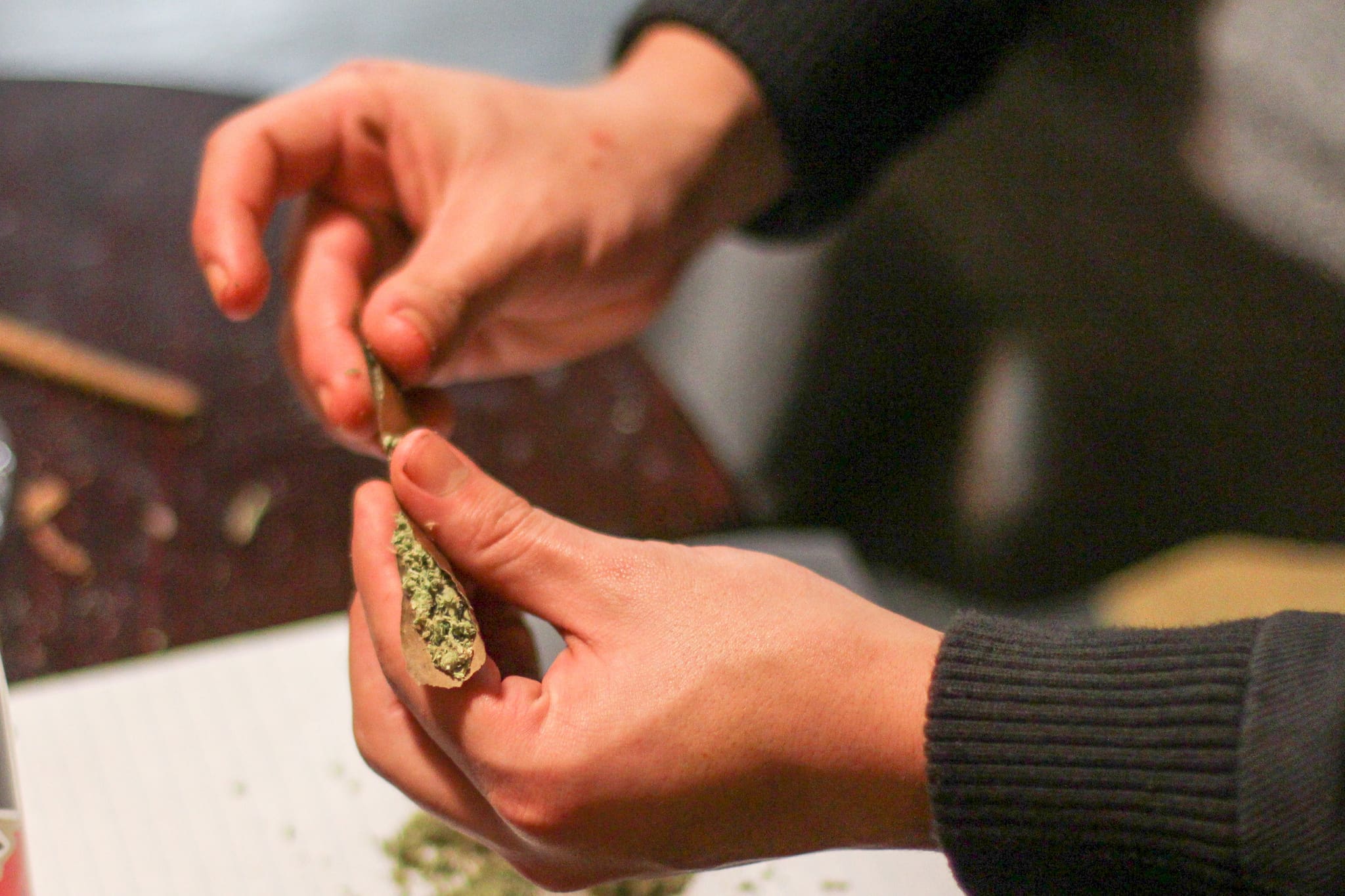 Young people who smoke marijuana and drink alcohol have better orgasms and overall sexual function than their peers who abstain or use less, a study in Spain recently concluded.
Because the existing scientific literature on the impact of drinking and drug use on sexual functioning is contradictory—finding both benefits and harms—a team of researchers from the University of Almeria designed the new observational study to analyze their affect with three commonly used surveys to detect potential risky drinking and cannabis use, as well as changes to one's sexual functioning.
"Sexual function in young people who use cannabis and alcohol more frequently was shown to be better than in those who do not use either."
From January to June 2020, researchers assessed 185 females and 89 males between the ages of 18 and 30 who were either regular cannabis or alcohol users or non-users, excluding those who used other substances like opiates or MDMA, as well as screening out those with pre-existing conditions like depression and diabetes, which could have a negative impact on their sexual performance.
"Sexual function is improved in young people who are high-risk cannabis consumers with a moderate risk of alcohol use, resulting in increased desire, arousal, and orgasm," the study, published at the end of last month in the Journal Healthcare, found. "This improvement is usually associated with a reduction in anxiety and shame, which facilitates sexual relationships."
The cannabis users scored higher than non-users on both the overall sexual functioning scale and the subscales of arousal and orgasm. And those who used cannabis the most were found to report higher sexual functioning and arousal scores than the moderate users. No differences were found on the desire and orgasm subscales between moderate and heavy users and no differences were detected amongst men and women respondents to the survey.
"Our findings indicate that young people who use cannabis frequently, regardless of gender, have better overall sexual function."
When it comes to alcohol use, no significant differences in either overall sexual function or in any of the subscales measured, were found between drinking and non-drinking participants. However, there were statistically significant differences based on levels of alcohol consumption, potentially suggesting some dose dependent outcomes.
Those who reported heavy drinking scored higher on the total sexual function questionnaire and the arousal subscale than those who did not drink at all, the study found. And the high consumption participants had significantly higher total questionnaire and orgasm subscale scores than the moderate consumption participants. But those participants who reported an existing alcohol dependence had significantly lower scores than their peers whose drinking was evaluated to be merely at a higher risk for dependency.
These marijuana results are consistent with previous studies that found cannabis use enhances sex and masturbation, increases sexual desire and leads to better orgasms, as well as those that have found cannabis consumers have more sex than cannabis abstainers, and a higher score on sexual health inventories and serum testosterone levels.
"The findings of this study revealed a higher score in sexual function, as well as arousal and orgasm, in subjects at risk of having cannabis-related problems and risk of addiction associated with alcohol consumption."
Older studies that previously found some evidence of erectile dysfunction among heavier alcohol consumers may have been influenced by the older ages of the respondents, according to the research team behind the new paper, which focused on individuals in their late teens and 20s, "where erectile dysfunction is less common."
Questions remain about the different types of sexual relationships (long-term vs sporadic vs unstable) that frequent consumers engage in or if there is any correlation between use and relationship type.
The research team also cautioned that this study did not capture any potential medium range and longer-term consequences of heavier drinking and cannabis use, including any potential proclivity to engage in less safe sex practices due to inebriation.
Since the increased desire, arousal, and orgasms in young people who are high-risk cannabis consumers with a moderate risk of alcohol use, is usually associated with a reduction in anxiety and shame, which facilitates sexual relationships, the study called for future sex education practices to focus on strategies that reduce shame and anxiety, to prevent young people from developing potential drug and alcohol dependency issues later on in their lives.
Photo courtesy of Martin Alonso.
Federal And State Officials Collaborate On Marijuana Standardization Proposals At National Conference
One-Third Of Programmers Use Marijuana While Working, With Many Touting Creative Benefits, Study Finds
More than one-third of software programmers say they've used marijuana while working, with many finding that it helps promote creativity and get them into the "programming zone," according to a new study.
Researchers at the University of Michigan said that anecdotal evidence suggested that those in programming were more likely to use cannabis on the job, so they set out to conduct the "first large-scale survey" on the topic, asking 803 developers to detail how marijuana comes into play in their work.
A main motivation for the study was the fact that drug testing policies remain common in the programming sector, which may be contributing to "hiring shortages for certain jobs."
That's even the case at the federal level, the study authors note, citing comments by former FBI Director James Comey, who said in 2014 that he was interested in loosening employment policies around cannabis because some prospective agents "want to smoke weed on the way to the interview."
2) The main motivations for using cannabis while programming are related to enjoyment or perceived programming enhancement. Wellness-related motivations (e.g., mental health or chronic pain) are less common. (3/6)

— Madeline Endres (@cellocorgi) December 2, 2021
"This prohibition of cannabis use in software engineering has contributed to a widely-reported hiring shortage for certain US government programming jobs," the study says.
All told, 35 percent of survey participants said that they've "tried cannabis while programming or completing another software engineering-related task." Seventy-three percent of that group said they've consumed marijuana while working in the past year.
The study—titled "Hashing It Out: A Survey of Programmers' Cannabis Usage, Perception, and Motivation" and published this month in Cornell University's arXiv—also looked at frequency of use among those who said they've used marijuana while engineering.
Fifty-three percent said they've consumed cannabis while programming at least 12 times, 27 percent said they used it at least twice a week and four percent said they use it while working on a nearly daily basis.
The study authors wanted to get a better understanding of why programmers chose to consume marijuana, too. And they found that the most common tasks that people used marijuana for were brainstorming, prototyping, coding and testing.
"Overall, we found that programmers were more likely to report enjoyment or programming enhancement motivations than wellness motivations: the most common reasons were 'to make programming-related tasks more enjoyable' (61%) and 'to think of more creative programming solutions' (53%)," the study found. "In fact, all programming enhancement reasons were selected by at least 30% of respondents. On the other hand, general wellness related reasons (such as mitigating pain and anxiety) were all cited by less than 30% of respondents. Thus, while wellness does motivate some cannabis use while programming, it is not the most common motivation."
4) Software managers disapprove of cannabis use less than employees think they do 🙂 (5/6)

— Madeline Endres (@cellocorgi) December 2, 2021
While there's a notable prevalence of cannabis consumption among programmers, even most of those who don't use marijuana are supportive of reform, the study found.
"Ninety-one percent of our participants say that marijuana use should be legal for both recreational and medicinal use compared to 60 percent of the general United States population in 2021," the authors wrote.
The study also found that "cannabis use while programming occurs at similar rates for programming employees, managers and students despite differences in cannabis perceptions and visibility."
"Our results have implications for programming job drug policies and motivate future research into cannabis use while programming," the study states.
Drug testing policies have become a hot topic as more states enact legalization.
After New York opted to end prohibition this year, for example, the state Department of Labor announced that most employers are no longer allowed to drug test most workers for cannabis.
Amazon recently said that its earlier decision to end drug testing for cannabis will also be retroactive, meaning former workers and applicants who were punished for testing positive for THC will have their employment eligibility restored.
Lawmakers in the Senate and House have both included language in recent appropriations reports urging a review of employment policies for federal agencies with respect to personal use of cannabis. The House version passed in July, while the Senate Democrats' report was released in October.
The Office of Personnel Management (OPM) issued a memo to federal agencies this year that says admitting to past marijuana use should not automatically disqualify people from being employed in the federal government.
Meanwhile, the Biden administration came under criticism after it was reported that it had fired or otherwise punished dozens of staffers who admitted to prior marijuana use. That came after the White House instituted a policy of granting waivers to some staff who've used cannabis.
Press Secretary Jen Psaki subsequently said that nobody in the White House was fired for "marijuana usage from years ago," nor has anyone been terminated "due to casual or infrequent use during the prior 12 months." However, she's consistently declined to speak to the extent to which staff have been suspended or placed in a remote work program because they were honest about their history with marijuana on a federal form that's part of the background check process.
Researcher Uses Reddit To Learn What Kinds Of Marijuana Posts Influenced Legalization Attitudes
Researcher Uses Reddit To Learn What Kinds Of Marijuana Posts Influenced Legalization Attitudes
Social media is a powerful tool in shaping political discourse, and a recent study that examined Reddit posts spanning over a decade sheds light on exactly what kinds of conversations may have influenced the public's shift in support of marijuana legalization.
A Brown University researcher used machine learning to analyze more than three million Reddit comments from 2009 to 2019—a key timeframe in the state-level legalization movement—to better understand the online conversations that have driven people to back reform.
A dissertation from Ph.D. candidate Babak Hemmatian—titled, "Taking the High Road: A Big Data Investigation of Natural Discourse in the Emerging U.S. Consensus about Marijuana Legalization"—revealed some surprising trends. Specifically, it seems that while sharing personal anecdotes has historically been a major factor in changing hearts and minds, people posting more generalized, character judgment-based arguments was a more clear harbinger for state-level cannabis reform.
"Marijuana legalization is a highly unusual topic in how a bipartisan consensus was reached in a matter of years while the American society was otherwise becoming more polarized," Hemmatian told Marijuana Moment. "I wanted to know if the way the public discusses marijuana facilitated this unusual shift, and how the societal change in attitudes in turn affected how we talk about cannabis."
Character judgements—or, "highly moralistic assertions about people's timeless attributes" like whether being a prohibitionist makes someone a bad person—more commonly preceded state legalization efforts, particularly around 2012 as the first states moved to end prohibition, the study found.
"Anecdotes were less often used to persuade people, meaning their persuasive potential was somewhat wasted," Hemmatian said. "Still, people did often briefly mention them to buttress more general claims like the mentioned character judgments."
There were some other interesting themes identified in the study. For example, discussions of the health impacts of cannabis "only picked up after legalization was all but over, and only in casual conversations." Legal implications of reform, meanwhile, "were not prominently discussed even after legalization had succeeded in most states."
"Both topics are highly relevant to whether and how the substance should be de-regulated, but were ignored in decision-making and at best attended to once the societal decision was already made," the study author said.
"While not the most persuasive approach according to previous research, character judgments may have still pushed people who were on the fence but not diametrically opposed to legalization over to the pro-legalization camp," he continued. "This is because they highly simplify decision-making: One no longer needs to know the complicated effects of cannabis on health, the economy and the society to make up their mind; they just need to think through their personal moral principles. This may have been comforting during a transition period when the uncertainty surrounding marijuana's status would have been anxiety-inducing for many folks."
The study concludes that "early legalization victories depended on Character judgments while the final nails were hammered into prohibition's coffin with Plot-focused strategies revolving around politics and crime."
"The shift happened entirely within the generalized portion of discourse, meaning that a non-compositional approach to frame classification would have missed it," the paper states.
Hemmatian and his research team at Brown aren't the only ones interested in exploring the intersection of drug policy and social media.
In fact, the Food and Drug Administration (FDA) recently announced that it plans to use Reddit and other "novel" data sources to gain a better understanding of public health issues surrounding use of CBD and other "emerging" marijuana derivatives like delta-8 THC.
The agency also wants to develop a system of finding "safety signals and usage patterns associated with emerging CDPs in real-time." That includes delta-8 THC, a cannabinoid that the agency recently warned consumers about, as it has not yet evaluated its safety or efficacy.
Reddit users subscribed to the popular marijuana forum r/trees have previously helped researchers identify trends and patterns in cannabis consumption.
A peer-reviewed study published in the journal Drug and Alcohol Dependence in 2018 analyzed more than two million posts found on the site's largest marijuana-related subreddit from 2010 to 2016. The research team made a series of discoveries, including a few that might seem obvious to regular consumers (e.g. dabbing is gaining in popularity, but users still largely favor smoking cannabis flower).
DEA Wants To Help Parents Decode The Emojis Young People Use To Discuss Marijuana And Other 'Bomb Ass' Drugs