Marijuana Use Before Sex Leads To More Satisfying Orgasms, Study Finds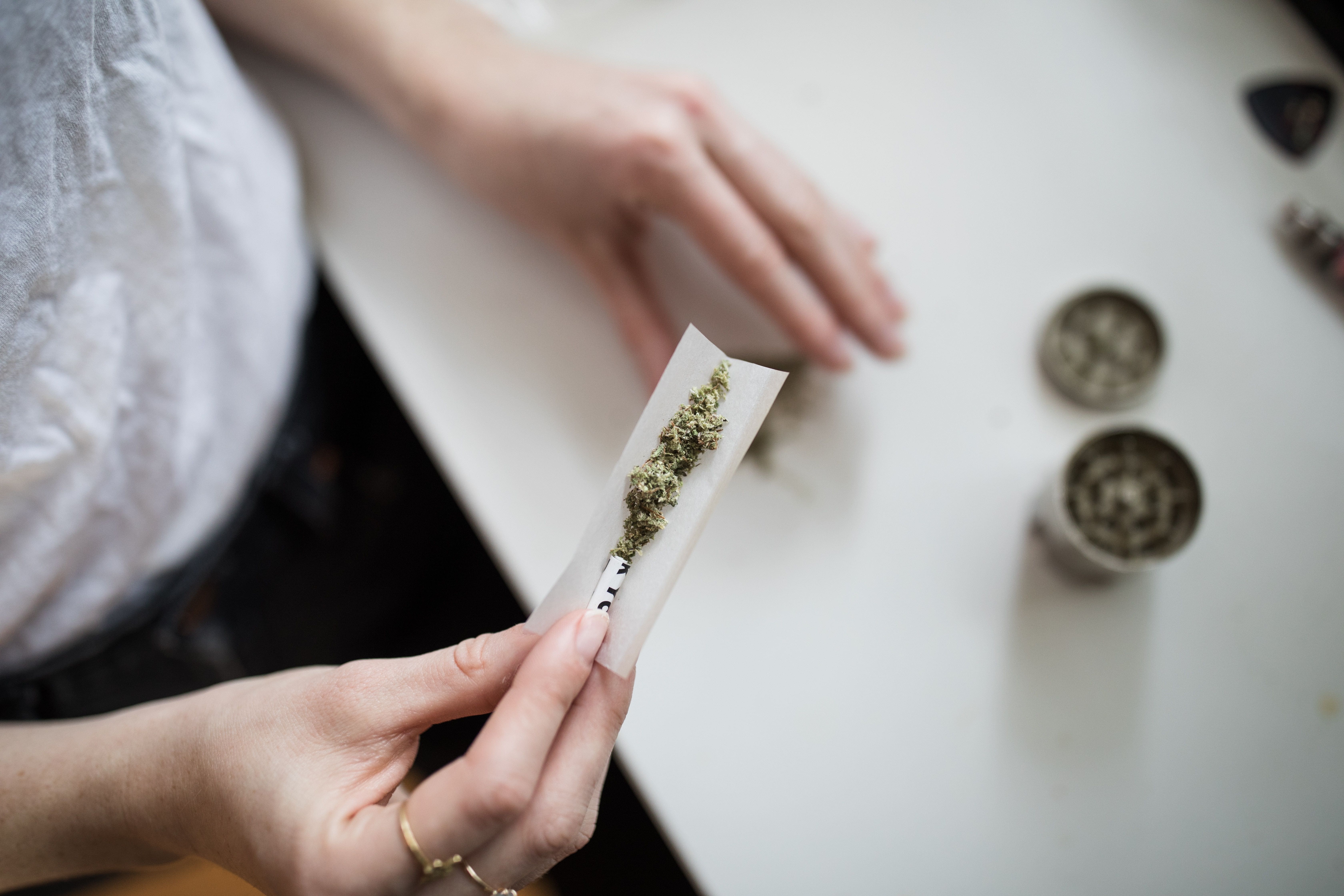 Want a more satisfying time in the bedroom? A quick toke or two may do the trick, according to a new study in the journal Sexual Medicine.
While scientific evidence about the effects of marijuana use on sexual functioning is limited, there's plenty of anecdotal claims online about cannabis improving libido, arousal and orgasm. So researchers decided to investigate, publishing one of the largest studies on the issue to date.
For their analysis, the authors used the anonymous survey responses of 373 participants (the majority of whom were straight, white women) who all sought care at a specific OB/GYN practice between March 2016 and February 2017. The survey included questions about overall sexual activity—including how satisfied they were with their current sex life, drive, orgasms and lubrication. The survey also asked whether or not they used marijuana, if they used prior to having sex and how frequently they partook.
"Marijuana appears to improve satisfaction with orgasm."
Of the sample, 176 women said they use cannabis. "Among those who reported using marijuana before sex, 68.5 percent stated that the overall sexual experience was more pleasurable, 60.6 percent noted an increase in sex drive, and 52.8 percent reported an increase in satisfying orgasms," the study's authors wrote.
"The majority reported no change in lubrication," however.
After they adjusted for race, the authors found that women who said they used marijuana before their bedroom activities had 2.13 higher odds of reporting satisfactory orgasms during sexual activity than those who reported no marijuana use before sex.
Becky Lynn, an associate professor of obstetrics and gynecology at Saint Louis University in Missouri, is the lead author of the study. In a recent interview, she said that she became interested in better understanding the impact of cannabis on sexual functioning when she found a number of her patients reporting use to help with their sexual problems.
"I have seen it used in women with chronic pain disorders that lead to painful sex, women who experience difficulty with orgasm or an inability to orgasm, and women who use it to improve their libido, which may not match their partner's libido," she told Weedmaps.
#Marijuana and SEX. Excited to see my published paper in Sexual Medicine! Thanks to all involved! #cannabis #weed #pot #stoned @mocanntrade @DrRachnaPatel @LisaLarkinMD @SherylKingsberg @MKrychman @mocanntrade @NishaMcKenziePA @DrCorriel @DrKrisFerguson1 @bitnermd pic.twitter.com/xDYVeDkwlW

— Becky Lynn, M.D. (@beckyklynn) March 4, 2019
It's still unclear, however, exactly why marijuana use appears to improve sex for women. Some experts believe it may be because cannabis helps to lower stress and anxiety, thus increasing a person's confidence and willingness to experiment in the bedroom. It may also have something to do with the way marijuana interacts with the body's cannabinoid receptors, some of which are located in parts of the brain responsible for regulating hormones that play a role in sex.
The current study adds to a growing body of research that shows marijuana positively affects women's sexual experiences in a number of ways, and could potentially lead to life-changing treatments for female sexual dysfunction. And considering that women are less likely to support marijuana legalization than men, according to many polls, studies like this one are imperative to showing just how beneficial cannabis might be for them.
Why Women Support Legal Marijuana Less Than Men, According To A New Study
Don't Feed Marijuana Buds To Donkeys, New Study Warns
Feeding donkeys fresh marijuana buds is inadvisable, according to a new study that looked at novel cases of cannabis toxicosis in two equine.
The study, published in the Journal of Veterinary Diagnostic Investigation, investigated what happened after a jack and jenny (the terms for male and female donkeys, respectively) were fed a few grams of cannabis that was being legally grown for human consumption.
The donkeys' symptoms sound a lot like what happens when a person takes an edible that's too strong. They presented as lethargic and their hearts were beating faster than normal, for example. But while it took longer to come down from the high for the donkeys compared to humans, with symptoms lasting 44 hours in the younger jenny before she was taken to the hospital, the study says both "recovered uneventfully within 24 hours of peak effects."
"Marijuana toxicosis is typically seen by companion animal veterinarians. However, with increased marijuana availability, there is a greater potential for toxicosis in other species," the study authors wrote. To the scientists' knowledge, this is the first study documenting cases of cannabis consumption in donkeys.
A positive outcome from the donkey highs was that scientists had a chance to experiment with testing procedures to confirm that the symptoms were due to exposure to cannabinoids. They used a "screening assay in collaboration with a veterinary diagnostic laboratory," which the study authors said "may be useful when an equine practitioner suspects marijuana toxicosis in a patient."
While they were able to determine those cannabinoid concentrations in the donkeys' plasma, the researchers noted that more data is needed to figure out what dose of cannabis causes toxicosis in the species.
In terms of treating donkeys who ate too much marijuana, the study says practitioners could potentially use gastric lavage, administer activated charcoal or use laxatives.
"These adjunctive therapies are targeted at decreasing gastric absorption and facilitating excretion to limit the adverse clinical effects of cannabis," they wrote. "There is no scientific evidence to support the benefit of these therapies for marijuana toxicosis in equine patients. However, activated charcoal and gastric lavage are effective means of supportive treatment for marijuana toxicosis in canine patients."
The study doesn't directly comment on the ethics of feeding cannabis to donkeys, but as a general rule, people are discouraged from intentionally intoxicating animals and should take precautions to avoid accidental ingestion.
Another study released last year found that, apparently, some canines are even getting intoxicated off marijuana by eating the feces of people who've consumed cannabis.
Separately, there is interest within the scientific community about the effects of non-intoxicating CBD in animals like dogs and horses.
Dogs with epilepsy experience considerably fewer seizures when treated with CBD oil, a study published in the journal Pet Behaviour Science in 2019 found.
The prior year, a separate study determined that CBD can alleviate the symptoms of osteoarthritis in dogs.
The Food and Drug Administration (FDA), for its part, has repeatedly warned pet owners about using CBD to treat firework-related anxiety in pets around the July 4 holiday.
Oregon Lawmakers File Psilocybin Equity Bill As State Implements Legal Use Program
Photo courtesy of Flickr/Klearchos Kapoutsis.
Banking Activity Increases In States That Legalize Marijuana, Study Finds
While marijuana businesses often struggle to find banks that are willing to take them on as clients due to risks caused by the ongoing federal prohibition of cannabis, a new study found that banking activity actually increases in states that legalize marijuana.
The research doesn't make a direct connection between state-level marijuana reform and the increased activity, but it does strongly imply that there's a relationship—even if the factors behind the trend aren't exactly clear.
Researchers set out to investigate banking trends in states that have legalized cannabis, looking at bank regulatory filings with the Federal Deposit Insurance Corporation (FDIC) from 2011 to 2016. They found evidence that "banking activity (deposits and subsequent loans) increase considerably in legalizing states relative to non-legalizing states."
That's in spite of the fact that banks and credit unions run the risk of being penalized by federal regulators for working with businesses that deal with a federally controlled substance.
"While uncertainty can result in overly cautious behavior and hinder economic activity, we do not find evidence of this with cannabis laws and the banking industry," the authors wrote in the new paper—titled, "THC and the FDIC: Implications of Cannabis Legalization for the Banking System."
The study analyzed data from "150,566 bank-quarter observations from 6,932 unique banks located in 46 different states." It found that deposits increased by an average range of 3.14-4.33 percent—and bank lending increased by 6.54-8.62 percent—post-legalization.
"Our results indicate that deposits and loans increased for banks after recreational cannabis legalization."
Of course, it makes sense that legal states would see increased financial activity in the banking sector after opening a new market, even if only some banks choose to take the risk of working directly with cannabis businesses. The emerging marijuana industry also supports an array of ancillary firms and traditional companies that provide services to dispensaries and grow operations.
As of June 30, there were 706 financial institutions that had filed requisite reports saying they were actively serving cannabis clients. Thats up from 689 in the previous quarter but still down from a peak of 747 in late 2019.
But the question remains: why are some banks deciding to take on marijuana clients while others remain wary of federal repercussions?
The study authors—from the University of Arizona, Drexel University, San Diego State University and Scripps College—put forward two possibilities about why "the risk from regulatory uncertainty did not decrease banks' willingness to accept deposits or make loans."
The increase "may suggest that banks were either unconcerned about the potential risk associated with accepting cannabis related deposits or optimistic about the chances that regulations will adapt to the needs of legalizing states," the paper reasons.
Confidence about working with a federally illegal industry may well have been bolstered in 2014 when the Financial Crimes Enforcement Network (FinCEN) under the Obama administration issued guidance to financial institutions on reporting requirements for cannabis-related businesses.
The second option, optimism about federal reform, also seems possible. It was around the time that the bipartisan Secure and Fair Enforcement (SAFE) Banking Act was first introduced that there was a notable spike in financial institutions reporting that they have marijuana business clients.
In the years since, that legislation has been approved in some form five times in the U.S. House of Representatives, but it's continued to stall in the Senate. In general, banks reporting marijuana accounts has remained relatively stable since 2019.
"Although many have speculated about the increased legal risks to banks, there is a lack of evidence for instances where banks are criminally prosecuted or lose their federally insured status," the study states. "If these negative repercussions rarely happen, it makes sense that banks would not respond to the legislative uncertainty."
"As more state regulators issue statements in support of banks and credit unions serving the cannabis industry, the financial institutions can become more optimistic about the chances that regulations will adapt in their favor with time," the authors wrote.
Despite optimism for future reform that certain lawmakers have expressed, it doesn't necessarily take the sting out of the latest failed attempt to secure protections for banks that choose to work with state-legal cannabis businesses as part of a large-scale defense bill.
A pro-reform Republican senator recently slammed Democrats for failing to advance marijuana banking reform despite having a congressional majority and control of the presidency.
For what it's worth, the secretary of the U.S. Treasury Department recently said that freeing up banks to work with state-legal marijuana businesses would "of course" make the Internal Revenue Service's (IRS) job of collecting taxes easier.
With respect to the SAFE Banking Act, a bipartisan coalition of two dozen governors recently implored congressional leaders to finally enact marijuana banking reform through the large-scale defense legislation.
A group of small marijuana business owners also recently made the case that the incremental banking policy change could actually help support social equity efforts.
Rodney Hood, a board member of the National Credit Union Administration, wrote in a recent Marijuana Moment op-ed that legalization is an inevitability—and it makes the most sense for government agencies to get ahead of the policy change to resolve banking complications now.
Rhode Island Governor Includes Marijuana Legalization And Expungements In Budget Request
Young People Who Use Marijuana Have Better Orgasms and Sexual Function, Study Says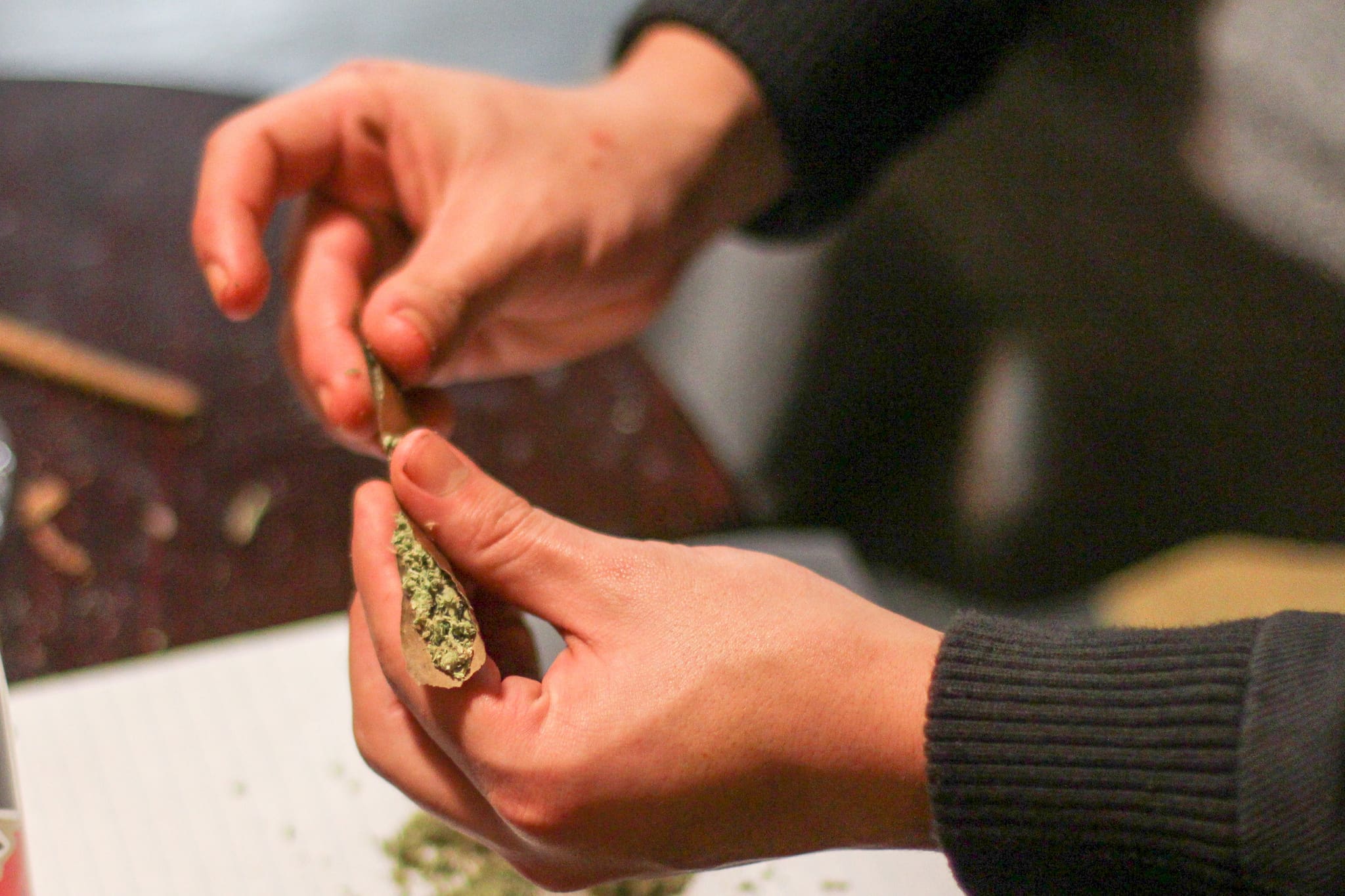 Young people who smoke marijuana and drink alcohol have better orgasms and overall sexual function than their peers who abstain or use less, a study in Spain recently concluded.
Because the existing scientific literature on the impact of drinking and drug use on sexual functioning is contradictory—finding both benefits and harms—a team of researchers from the University of Almeria designed the new observational study to analyze their affect with three commonly used surveys to detect potential risky drinking and cannabis use, as well as changes to one's sexual functioning.
"Sexual function in young people who use cannabis and alcohol more frequently was shown to be better than in those who do not use either."
From January to June 2020, researchers assessed 185 females and 89 males between the ages of 18 and 30 who were either regular cannabis or alcohol users or non-users, excluding those who used other substances like opiates or MDMA, as well as screening out those with pre-existing conditions like depression and diabetes, which could have a negative impact on their sexual performance.
"Sexual function is improved in young people who are high-risk cannabis consumers with a moderate risk of alcohol use, resulting in increased desire, arousal, and orgasm," the study, published at the end of last month in the Journal Healthcare, found. "This improvement is usually associated with a reduction in anxiety and shame, which facilitates sexual relationships."
The cannabis users scored higher than non-users on both the overall sexual functioning scale and the subscales of arousal and orgasm. And those who used cannabis the most were found to report higher sexual functioning and arousal scores than the moderate users. No differences were found on the desire and orgasm subscales between moderate and heavy users and no differences were detected amongst men and women respondents to the survey.
"Our findings indicate that young people who use cannabis frequently, regardless of gender, have better overall sexual function."
When it comes to alcohol use, no significant differences in either overall sexual function or in any of the subscales measured, were found between drinking and non-drinking participants. However, there were statistically significant differences based on levels of alcohol consumption, potentially suggesting some dose dependent outcomes.
Those who reported heavy drinking scored higher on the total sexual function questionnaire and the arousal subscale than those who did not drink at all, the study found. And the high consumption participants had significantly higher total questionnaire and orgasm subscale scores than the moderate consumption participants. But those participants who reported an existing alcohol dependence had significantly lower scores than their peers whose drinking was evaluated to be merely at a higher risk for dependency.
These marijuana results are consistent with previous studies that found cannabis use enhances sex and masturbation, increases sexual desire and leads to better orgasms, as well as those that have found cannabis consumers have more sex than cannabis abstainers, and a higher score on sexual health inventories and serum testosterone levels.
"The findings of this study revealed a higher score in sexual function, as well as arousal and orgasm, in subjects at risk of having cannabis-related problems and risk of addiction associated with alcohol consumption."
Older studies that previously found some evidence of erectile dysfunction among heavier alcohol consumers may have been influenced by the older ages of the respondents, according to the research team behind the new paper, which focused on individuals in their late teens and 20s, "where erectile dysfunction is less common."
Questions remain about the different types of sexual relationships (long-term vs sporadic vs unstable) that frequent consumers engage in or if there is any correlation between use and relationship type.
The research team also cautioned that this study did not capture any potential medium range and longer-term consequences of heavier drinking and cannabis use, including any potential proclivity to engage in less safe sex practices due to inebriation.
Since the increased desire, arousal, and orgasms in young people who are high-risk cannabis consumers with a moderate risk of alcohol use, is usually associated with a reduction in anxiety and shame, which facilitates sexual relationships, the study called for future sex education practices to focus on strategies that reduce shame and anxiety, to prevent young people from developing potential drug and alcohol dependency issues later on in their lives.
Photo courtesy of Martin Alonso.
Federal And State Officials Collaborate On Marijuana Standardization Proposals At National Conference