Legal Marijuana Sales Don't Increase Use, But Allowing Possession Does, Study Finds
When penalties for marijuana possession are lifted, usage rates seem to increase—but that's not the case when retail sales of cannabis are permitted. Those are the findings of a new study that seems to run contrary to a key talking point of groups that oppose legalization.
To learn how different reform policies impact consumption trends, researchers at Colorado Mesa University analyzed survey data from more than 1,400 people over the course of 17 months in Colorado, Washington and Australia. Their findings were recently published in the journal Substance Abuse: Research and Treatment.
While some prohibitionist groups have proposed simply removing penalties for possession as a preferred alternative to full commercial marijuana legalization—which they believe will create an industry incentivized to increase heavy cannabis consumption—the new study appears to undermine that position.
After Washington State instituted voter-approved legalization of cannabis consumption and possession, but before retail sales were allowed, there was a 12-22 percent spike in use among college undergraduates in the state.
However, the researchers "found no evidence" that the subsequent implementation of legal sales of recreational cannabis "influenced the number of marijuana users in Washington."
A similar trend was observed when they looked at data from Australia. The country doesn't allow legal cannabis sales, but after decriminalizing the plant, there was a 16 percent increase in consumption.
Because the researchers started collecting data from Colorado just three months before retail cannabis sales started, they didn't reach a conclusion about how removing penalties for possession alone influenced consumption patterns. But the data did show that, in the year after retail sales launched, "rates of marijuana use did not significantly increase."
The researchers said that the seemingly counterintuitive finding could interpreted a couple ways.
First, it's possible that "the social and legal implications of legalizing recreational marijuana are stronger than accessibility and price," they wrote. In other words, ending criminal penalties for cannabis and normalizing its consumption in a social context might lead to an increase in usage "even before it is sold to the public through legal means."
"It is important to note, however, that it is reasonable to assume that people would be more truthful and more likely to report marijuana use after its legalization," they wrote, referring to common study methodology that relies on consumers' own self reports to track usage levels. "Thus, some of the increase in rates of marijuana use may be an artifact of a greater willingness to report such use, since social and legal barriers were removed by legalization."
The other inference that can be drawn from the study is that "marijuana is easily accessed even when it is not sold in stores recreationally." It may be easy to access prior to removal of penalties for possession, too, but legal and social barriers associated with prohibition could suppress its use—or at least lead people not to report about their consumption truthfully when asked in a survey.
All that said, the study authors emphasized that "the conclusions drawn in this commentary are based on observable patterns from correlational research, limiting conclusions of cause and effect."
States With Legal Medical Marijuana Have Lower Teen Use Rates, Large-Scale Study Finds
Photo courtesy of Chris Wallis // Side Pocket Images.
Federal Health Agency Blames Schedule I For 'Slow' Marijuana Research And Commits To Fund Studies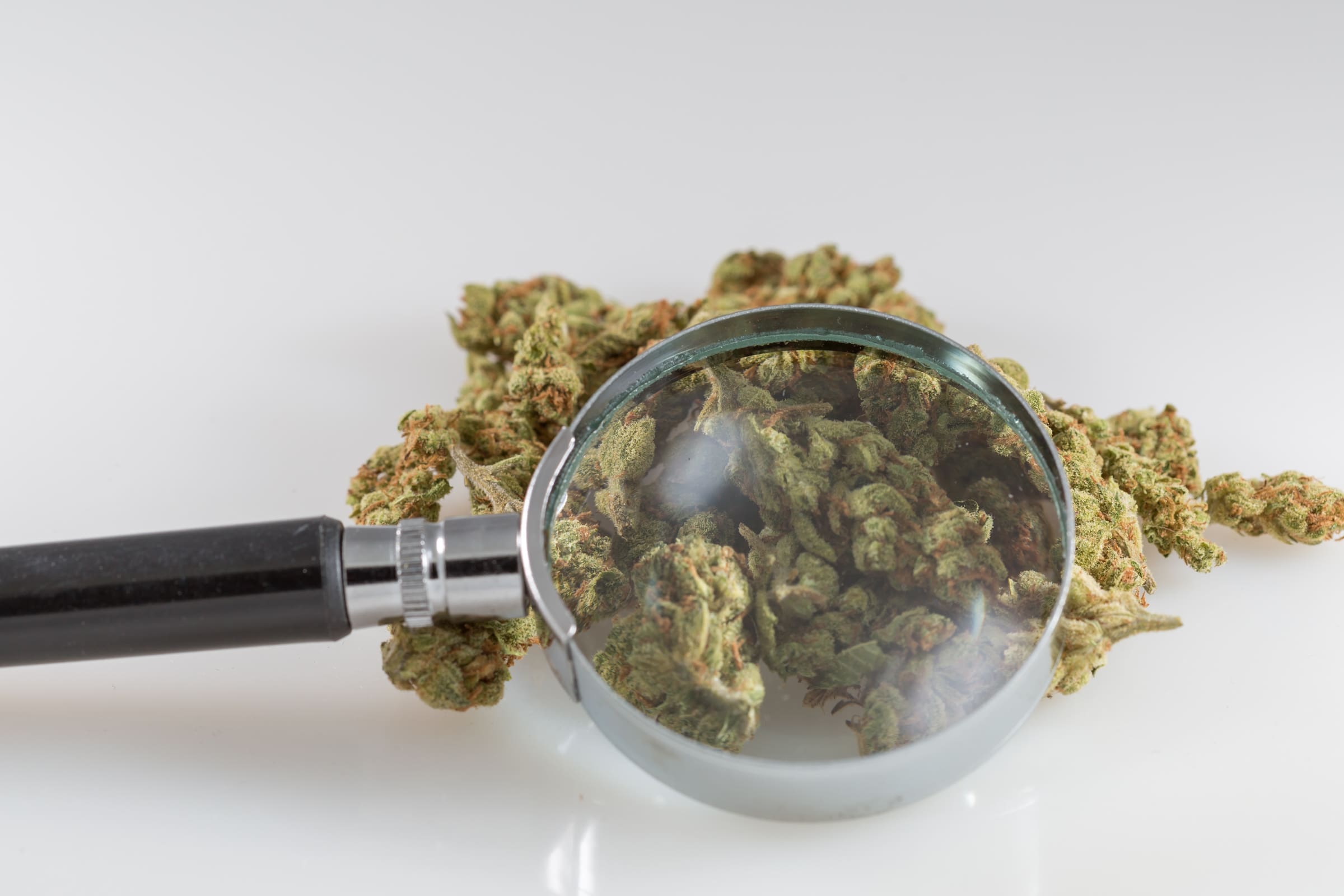 A federal health agency is blaming "slow" marijuana research progress on the drug's restrictive Schedule I status but says it is committed to funding studies into how cannabis can help people manage pain in spite of budget cuts recently proposed by President Donald Trump.
"A growing body of literature suggests that the cannabis plant has pain-relieving properties; however, as a schedule I substance with known psychoactive effects, research on the potential pain-relieving properties of cannabis has been slow," the National Center for Complementary and Integrative Health (NCCIH) said in a budget justification document published on Wednesday.
NCCIH supports studies into non-conventional medicines and therapies that can be used as an alternative or supplement to traditional treatments for a variety of conditions, but the president's Fiscal Year 2020 budget would cut its funding by about $20 million, the agency said in the new overview.
"The FY 2020 President's Budget reflects the Administration's fiscal policy goals for the Federal Government," it wrote. "Within that framework, NCCIH will pursue its highest research priorities through strategic investments and careful stewardship of appropriated funds."
Cannabis research apparently meets that standard as a high research priority, though, with the agency saying it will be announcing a funding opportunity for scientists interested in exploring medical marijuana as a natural product in the treatment of pain.
"NCCIH plans to expand efforts around natural products for pain management," the agency wrote. "Natural products have historically been a source of novel pain-relieving compounds developed into pharmaceuticals (e.g., willow bark into aspirin)."
The funding opportunity it plans to announce will "support research on the diverse components of cannabis to explore if the pain-relieving properties can be separated from the psychoactive properties and to further characterize those components that may reduce pain."
This is by no means the first time NCCIH has expressed interest in marijuana. It has previously posted notices for several funding opportunities for cannabis research, including a call for studies on the effects of "minor cannabinioids and terpenes" on pain. NCCIH also hosted a workshop last year that was specifically designed to address barriers to marijuana research under federal prohibition.
Dr. Emmeline Edwards, the director of the division of extramural research for NCCIH, explained in a presentation at the workshop that marijuana's Schedule I status under federal law significantly complicates research efforts, and she also complained about the lack of diversity in the types of cannabis available to researchers from the country's only federally authorized source.
This latest budget justification reflect's the agency's commitment to hone the therapeutic value of cannabinoids to address pain—a condition for which 40 percent of NCCIH's research funding is dedicated.
A separate federal health agency is also pitching in. Earlier this week, the Agency for Healthcare Research and Quality published three notices soliciting public input on studies and information about marijuana as a potential alternative or supplement to opioid painkillers.
Trump Budget Proposes Loosening DC Marijuana Legalization Restrictions
Marijuana Consumers Gain Less Weight Than Non-Users, Study Confirms
Popular cult classics like The Big Lebowski would have you believe that people who use marijuana not only always have the munchies, but they're also too lazy to engage in a lot of physical activity.
With those kinds of stereotypes pervading movies and TV shows, it makes sense that many people would assume marijuana use is positively associated with weight gain.
But a new study published last week in the International Journal of Epidemiology appears to undermine that belief. It's the latest research to show that marijuana users are actually less likely to be obese compared to non-users.
For their work, Michigan State University researchers drew on data from the National Epidemiologic Survey on Alcohol and Related Conditions (NESARC), a cross-sectional, nationally representative study sample of U.S. citizens aged 18 and older. In total, they looked at the reported responses of more than 33,000 people.
In the first wave of interviews completed in 2001-2002, participants were asked if they used cannabis and, if so, how recently and how frequently. When they returned for their follow-up interview in 2004-2005, researchers asked participants if they used cannabis since that first interview.
Between the two interview periods, researchers tracked an increase in body mass index (BMI) in all categories of respondents—those who'd never consumed, people who had discontinued past use, "initiates" or newbies and persistent users.
Once they excluded participants who were older than 65 (because research shows BMI declines in older people are often due to loss of muscle mass), they discovered "an attenuated BMI gain for cannabis-use subgroups when compared with never-users."
In other words, those who reported using marijuana gained weight, but at a reduced rate compared to those who have never consumed cannabis.
"In NESARC, persistent cannabis users and the initiates were under-represented in stably obese subgroups," the study states. "In addition, these same actively cannabis-using subgroups were under-represented among newly incident cases of obesity observed at W2."
The study offers a couple of theories to explain why marijuana users experience lower weight gain. One, for example, has to do with how the density of a specific cannabinoid receptor (CB1R) decreases with chronic cannabis use. It's a theory that was first introduced last year by a separate team of researchers at Indiana University South Bend.
"For many patients," they wrote in the meta-analysis they published in December, "Cannabis may be a better option for weight loss than surgery or pharmaceuticals."
Why Marijuana Consumers Have Smaller Waistlines Than Non-Users
Another possibility to explain the relationship between marijuana use and BMI has to do with the anti-inflammatory properties of another cannabinoid receptor, CB2R. "The association of inflammation and obesity is widely established in pre-clinical and clinical studies," the study's authors write.
These findings are important for future biomedical research regarding cannabinoids—especially since medical marijuana is often toted as a potential treatment for preventing weight loss in HIV and cancer patients, the study states.
The average cannabis consumer concerned about their waistline might also find a little bit of comfort in these results, too—especially since other research has indicated that states with legal marijuana saw an increase in junk food purchases.
Scientists Actually Did A Study To Confirm That Marijuana Causes The Munchies
Photo courtesy of Philip Steffan.
Denver's Teen Marijuana Education Campaign Seems To Be Working, Survey Finds
A year after Denver launched a marijuana-focused educational campaign targeting local youth, a new survey released Tuesday reports that the majority of teens familiar with the city's efforts said they decided against underage cannabis consumption.
The research, conducted by Insights Lab, was commissioned to measure the effectiveness of Denver's High Costs campaign, which was launched in 2017 and is funded by the city's tax revenue on retail cannabis. Among the myriad ways the city is working to get teens talking about marijuana and its associated risks for underage users are social media campaigns, billboards, school bus signage, an online game show called "Weeded Out" and a Weeded Out trivia card game.
More than 500 teens who live in the city and county of Denver participated in the survey, which was available online November 21 through December 18, 2018. Sixty-four percent said they were aware of the High Costs campaign, most having seen online ads on Facebook and YouTube. A majority recognized that the campaign's intended message was to provide facts about underage marijuana use, though 53 percent also said the program "provides biased information" to discourage use.
Many teens also said they thought High Costs was trustworthy (75 percent) and likable (73 percent), while about half indicated the tone was "preachy or judgmental."
In terms of effectiveness, the survey found that 75 percent of the participants who were aware of High Costs said the campaign made them either not want to use, less likely to use or think twice about using marijuana.
"Teens want facts and they want to be able to make their own decisions," Denver Mayor Michael Hancock (D), who called the city's legal cannabis system a "success" last year, said in a statement. "When we give teens the facts and equip them with knowledge, they make smarter choices about using marijuana."
In order to build on the first year's success, the survey report's authors suggest the city continue growing its online presence and consider more nontraditional marketing methods, including giveaways.
The report also points out that 18 percent of teens said they currently use marijuana. According to the survey's findings, they appeared skeptical of the campaign and less likely to share its information with friends.
"This audience is going to be difficult to reach, as they've already decided to use and naturally are going to reject information that contradicts their decision," the report states. "For now, focus on the core audience of non-users and past-users, and evaluate the opportunity to target this segment again in a year."
Last week, Denver officials released an interactive map that tracks how the city spends cannabis tax revenue on educational efforts.
Denver Launches Interactive Map To Track How Marijuana Tax Revenue Funds Education
Photo by Element5 Digital on Unsplash.