Marijuana Legalization Causes 'Significant Decline' In Opioid Overdoses, New Research Finds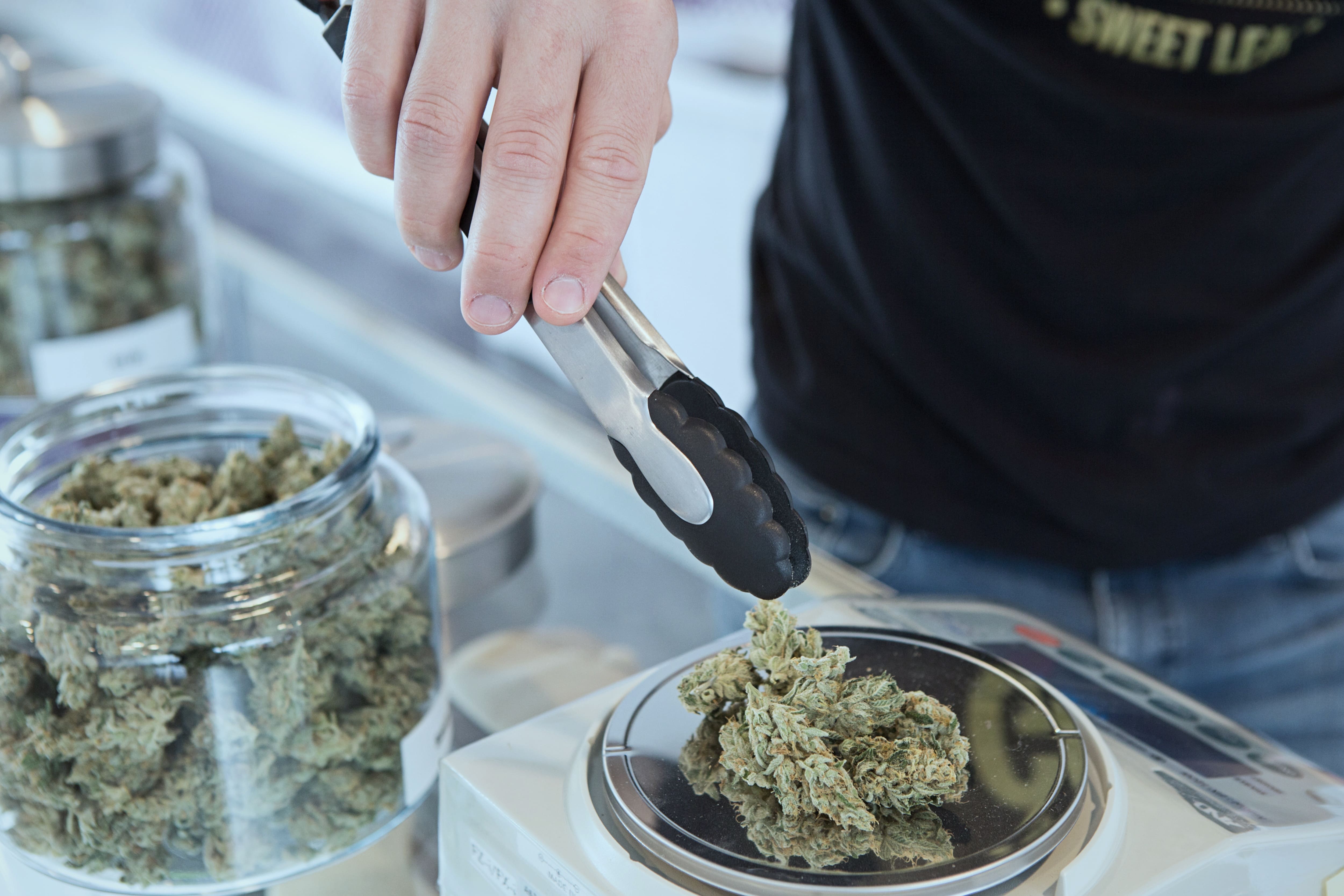 Two new studies find that opioid-related deaths decline when states legalize access to marijuana. In fact, when adult-use cannabis laws are in place, the rate of opioid overdoses declines by at least 20 percent.
Both papers, published in the journal Economic Inquiry, not only show the impact of passing such laws, but also how dispensaries play a role in helping to quell these deaths.
The first study, helmed by researchers in Massachusetts and Colorado, claims to be the first to show the causal effects of access to recreational cannabis on opioid mortality.
"We find that marijuana legalization causes a significant decline in opioid mortality— especially deaths from synthetic opioids—with particularly pronounced benefits in states that have legalized recreational usage," the study's authors write. "Yet it is not legalization, per se, that produces these gains; rather, states that have legal access via dispensaries see the largest reductions in mortality."
"We estimate that [recreational marijuana laws] reduce annual opioid mortality in the range of 20%–35%, with particularly pronounced effects for synthetic opioids."
The study used three main sources of data: death rates involving all opiates, prescription opioids and synthetic opioids from January 1999 through the end of 2017; the history of marijuana legalization in each state (including when legislation was passed and when dispensaries opened for business) and state-level demographic information. During the study period, 29 states had approved medical cannabis, while recreational marijuana was legalized in eight states plus the District of Columbia. According to the Centers for Disease Control and Prevention, the number of opioid-related deaths has increased six times over between 1999 and 2017. Additionally, 36 percent of the 47,600 opioid overdoes in 2017 involved prescription opioids.
After running several statistical and mathematical models that included checks to ensure their results were consistent, the study's authors found that broader adult-use laws reduce a state's opioid death rate between 20 percent (for all opiates and prescription opioids) to 35 percent (for synthetic opioids).
"Recreational marijuana laws affect a much larger population than medical marijuana laws, yet we know relatively little about their effects," study co-author Nathan W. Chan, PhD said in a press release. "Focusing on the recent wave of recreational marijuana laws in the U.S., we find that opioid mortality rates drop when recreational marijuana becomes widely available via dispensaries."
"Our estimates are sizable," the study itself states. "For reference, the average never-legalizer state has 4.82 fatalities per 100,000 people from All Opiates (Synthetic Opioids) annually, while for the average [medical marijuana law] state, these are 6.067 and 0.856 per 100,000 people. Thus, our estimates imply annual reductions in All Opioid mortality between 1.01 and 1.27 deaths per 100,000 people for non-[recreational marijuana law] states, on average. For a state with a population of 5 million (near the nationwide median), this would save on the order of 50 lives per year, or roughly 10 averted deaths from Synthetic Opioids alone."
Those are conservative estimates, the authors add.
Additionally, models showed that white people and women saw the highest reductions in synthetic opioid deaths in states that legalized recreational cannabis: Whites experienced a 32 percent decrease, while the statistical effect for women was larger and "highly statistically significant" compared to what they found for men.
The authors did not identify what mechanism is responsible for this reduction in mortality rates, though past research suggests people who can legally access marijuana may substitute it for opioids. A recent study, for example, found the majority of people who shopped at cannabis retail shops reported using marijuana to help with pain and sleep.
The new study's authors do stress, however, that the causal effect they identified is "highly robust."
"Our bedrock findings remain unmoved by variations in modeling assumptions and selections of control variables, and our findings are further corroborated through placebo tests," they write. "Our results show that there are substantial ancillary benefits to marijuana legalization, especially [recreational marijuana laws], and they offer important food for thought as many states continue to contemplate expansions to both medical and recreational marijuana access."
Their findings support a growing body of research that has linked the availability of medical marijuana dispensaries with a drop in the rate of local opioid-related deaths.
In fact, that was the focus of the second cannabis-related study published recently in Economic Inquiry. According to its findings, after a medical cannabis dispensary opened in a county, prescription opioid deaths fell locally by approximately 11 percent. These results, the author writes, suggest "a substitutability between marijuana and opioids."
"Furthermore," the study concludes, "the unintended beneficial effects of allowing for marijuana dispensary operations should be considered by policymakers as they aim to curtail narcotic abuse and limit the impact of the opioid epidemic."
New Analysis Explores Relationship Between Medical Marijuana And Opioid Overdoses