Marijuana Industry Sees Record Jobs Gains In 2020 Despite Pandemic, New Report Shows
The marijuana industry added more than 77,000 jobs over the past year—a 32 percent increase that makes the sector the fastest in job creation compared to any other American industry, according to a new report from the cannabis company Leafly.
In total, there are now approximately 321,000 full-time jobs in the marijuana sector across 37 states that have legalized the plant in some form. The data bolsters one of the common, bipartisan arguments in favor of reform: legalizing and regulating cannabis is an economic plus.
But Leafly's report—which is based on an independent analysis by journalists, data experts and labor economists at Whitney Economics—is all the more striking considering that it shows significant job growth amid the coronavirus pandemic. At a time when unemployment rates have risen and businesses have been shuttered across the U.S., the marijuana industry has proven resilient.
"We're proud of the cannabis industry as a bright spot for so many after a difficult 2020 for everyone," Leafly CEO Yoko Miyashita said in a press release. "The essential cannabis industry is our nation's unseen and unrecognized economic engine, creating good, full-time jobs that have helped to keep people and local economies afloat."
"It's time that our federal policies reflect this reality, and we legalize cannabis while ensuring equity and participation for those disproportionately affected by the War on Drugs, so everyone can benefit from this rapidly growing industry," she said.
In the past four years, the number of full-time jobs in the marijuana industry has jumped by about 161 percent. While California's cannabis market has the lion's share of jobs in the sector (about 58,000), that spike is also largely attributable the state-level legalization movement, which has opened up industries from Massachusetts to Illinois in that time.
Illinois, which has consistently seen record-breaking marijuana sales since retail sales launched last year, added more than 8,000 full-time cannabis sector jobs alone.
There are now more cannabis workers in the U.S. than dentists (127,200), EMTs (260,600) or electrical engineers (314,400), the report found.
In one of the more notable findings, while marijuana sales increased demonstrably—increasing 71 percent from 2019 to 2020—the pandemic did take a hit on staffing.
"The pandemic ultimately drove increased sales industry-wide. But social distancing, occupancy limits, and shelter-in-place orders limited the ability of staff members to occupy a public retail space and work closely together," the report says.
LEAFLY 2021 #CANNABISJOBS REPORT: The legal cannabis industry added 77,300 full-time jobs in the past year. Our industry now supports 321,000 full-time American jobs. That is an astonishing 32% year-over-year in growth. https://t.co/6bg4Tzp5bi

— Leafly (@Leafly) February 16, 2021
"In some cases, a reverse dynamic came into play," it continues. "Some booming businesses reported staffing shortages as employees themselves fought off the virus, quarantined due to contact tracing, showed signs of possible infection, or were forced to stay at home due to underlying medical conditions."
Even as the industry has seen significant gains in consumer purchases, however, Leafly identified a major area of concern among advocates: racial and gender disparities have persisted in the marijuana market.
While there's limited data at the state level on these demographic trends, an independent database maintained by Cannaclusive found that while black Americans represent about 13 percent of the national population, fewer than two percent of the population own existing cannabis companies.
"The cannabis industry must show true commitment to equity as it expands, so the wealth generated by this new opportunity will uplift minority communities," the report says. "If it cannot, we will continue to see these communities struggle in the shadow of white supremacy without a fair shot."
New York Governor To Send Amended Marijuana Legalization Plan To Lawmakers Amid Criticism
Amazon Endorses GOP-Led Bill To Federally Legalize Marijuana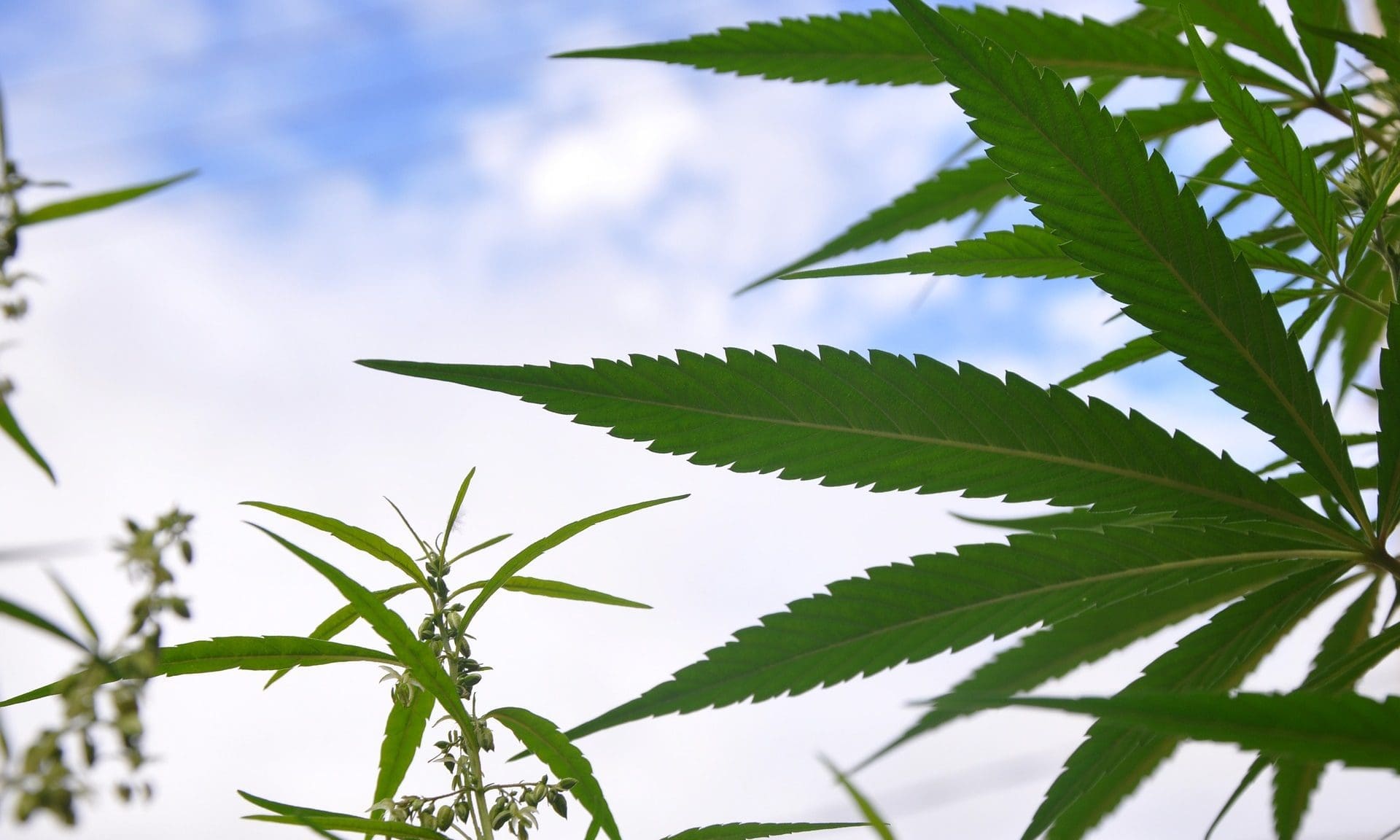 Amazon, the second largest private employer in the U.S., is backing a Republican-led bill to federally legalize, tax and regulate marijuana.
The company's public policy division said on Tuesday that it is "pleased to endorse" the legislation from Rep. Nancy Mace (R-SC), who filed the States Reform Act in November as a middle-ground alternative to more scaled back GOP proposals and wide-ranging legalization bills that are being championed by Democrats.
We're pleased to endorse @RepNancyMace's States Reform Act. Like so many in this country, we believe it's time to reform the nation's cannabis policy and Amazon is committed to helping lead the effort. https://t.co/g04Dn5KZq5

— Amazon Public Policy (@amazon_policy) January 25, 2022
"Like so many in this country, we believe it's time to reform the nation's cannabis policy and Amazon is committed to helping lead the effort," the company, which previously expressed support for a separate, Democratic-led legalization bill, said.
Amazon has worked to adapt to changing marijuana policies internally as it's backed congressional reform, enacting an employment policy change last year to end drug testing for cannabis for most workers, for example.
Months after making that change—and following the introduction of the States Reform Act—Mace met with Amazon and received the company's endorsement, Forbes reported.
"They don't want to sell it," the freshman congresswoman said, adding that Amazon is primarily interested in backing the reform for hiring purposes instead of as a way to eventually sell cannabis. "It opens up the hiring pool by about 10 percent."
@amazon has endorsed my States Reform Act, a bill that would end the federal government's 85-year prohibition on marijuana. https://t.co/XJdY2URQtC pic.twitter.com/MDRM8EVjnG

— Rep. Nancy Mace (@RepNancyMace) January 25, 2022
Brian Huseman, Amazon's vice president of public policy, said the bill "offers comprehensive reform that speaks to the emergence of a bipartisan consensus to end the federal prohibition of cannabis."
Amazon's drug testing decision was widely celebrated by reform advocates and industry stakeholders. Initially, the company only talked about ending the policy going forward. But it later disclosed that the policy change would also be retroactive, meaning former workers and applicants who were punished for testing positive for THC will have their employment eligibility restored.
The reason for the move away from marijuana testing was multifaceted, Amazon said at the time. The growing state-level legalization movement has made it "difficult to implement an equitable, consistent, and national pre-employment marijuana testing program," data shows that drug testing "disproportionately impacts people of color and acts as a barrier to employment" and ending the requirement will widen the company's applicant pool.
The GOP congresswoman's bill already has the support of the influential, Koch-backed conservative group Americans for Prosperity.
The measure would end federal cannabis prohibition while taking specific steps to ensure that businesses in existing state markets can continue to operate unencumbered by changing federal rules.
Mace's legislation has been characterized as an attempt to bridge a partisan divide on federal cannabis policy. It does that by incorporating certain equity provisions such as expungements for people with non-violent cannabis convictions and imposing an excise tax, revenue from which would support community reinvestment, law enforcement and Small Business Administration (SBA) activities.
Marijuana Moment first reported on an earlier draft version of the bill in November, and it quickly became apparent that industry stakeholders see an opportunity in the Republican-led effort.
The reason for that response largely comes down to the fact that there's skepticism that Democratic-led legalization bills—including the Marijuana Opportunity, Reinvestment and Expungement (MORE) Act that Amazon has also endorsed—will be able to pass without GOP buy-in. While Democrats hold majorities in both chambers, in addition to controlling the White House, the margins for passage are slim.
The MORE Act did clear the House Judiciary Committee in September, and a previous version passed the full House during the last Congress. Senate leadership is preparing to file a separate legalization proposal after unveiling a draft version in July.
Virginia House Committee Pushes Back Psychedelics Decriminalization Bill Until 2023, But Senate Proposal Still Pending
Photo courtesy of Max Pixel.
Massachusetts Marijuana Tax Revenue Now Exceeds Alcohol By Millions
Massachusetts is officially collecting more tax revenue from marijuana than alcohol, state data shows.
As of December 2021, the state took in $51.3 million from alcohol taxes and $74.2 million from cannabis at the halfway point of the fiscal year.
Overall, Massachusetts has seen $2.54 billion in adult-use marijuana purchases since the market came online in November 2018. Regulators first reported that the state achieved the $2 billion sales milestone in September.
The news about cannabis overtaking alcohol in terms of tax revenue, which WCVB-TV first reported, is a welcome development for advocates who have been arguing that the plant is less harmful than liquor and could be used as a substitute.
Illinois also saw cannabis taxes beat out booze for the first time last year, with the state collecting about $100 million more from adult-use marijuana than alcohol during 2021.
States that have legalized marijuana have collectively garnered more than $10 billion in cannabis tax revenue since the first licensed sales started in 2014, according to a report released by the Marijuana Policy Project (MPP) earlier this month.
And in those adult-use states, regulators are doing what they can to ensure that the tax dollars are effectively invested.
For example, Illinois is dedicating portions of tax revenue to mental health services, as well as local organizations "developing programs that benefit disadvantaged communities." In July, state officials put $3.5 million in cannabis-generated funds toward efforts to reduce violence through street intervention programs.
California officials announced in June that they were awarding about $29 million in grants funded by marijuana tax revenue to 58 nonprofit organizations, with the intent of righting the wrongs of the war on drugs. The state collected about $817 million in adult-use marijuana tax revenue during the 2020-2021 fiscal year, state officials estimated last summer. That's 55 percent more cannabis earnings for state coffers than was generated in the prior fiscal year.
Nearly $500 million of cannabis tax revenue in Colorado has supported the state's public school system. That state brought in a record $423 million in marijuana tax dollars last year.
Governors Across The U.S. Tout Marijuana Reform Progress In State Of The State Speeches And Budgets
Banking Activity Increases In States That Legalize Marijuana, Study Finds
While marijuana businesses often struggle to find banks that are willing to take them on as clients due to risks caused by the ongoing federal prohibition of cannabis, a new study found that banking activity actually increases in states that legalize marijuana.
The research doesn't make a direct connection between state-level marijuana reform and the increased activity, but it does strongly imply that there's a relationship—even if the factors behind the trend aren't exactly clear.
Researchers set out to investigate banking trends in states that have legalized cannabis, looking at bank regulatory filings with the Federal Deposit Insurance Corporation (FDIC) from 2011 to 2016. They found evidence that "banking activity (deposits and subsequent loans) increase considerably in legalizing states relative to non-legalizing states."
That's in spite of the fact that banks and credit unions run the risk of being penalized by federal regulators for working with businesses that deal with a federally controlled substance.
"While uncertainty can result in overly cautious behavior and hinder economic activity, we do not find evidence of this with cannabis laws and the banking industry," the authors wrote in the new paper—titled, "THC and the FDIC: Implications of Cannabis Legalization for the Banking System."
The study analyzed data from "150,566 bank-quarter observations from 6,932 unique banks located in 46 different states." It found that deposits increased by an average range of 3.14-4.33 percent—and bank lending increased by 6.54-8.62 percent—post-legalization.
"Our results indicate that deposits and loans increased for banks after recreational cannabis legalization."
Of course, it makes sense that legal states would see increased financial activity in the banking sector after opening a new market, even if only some banks choose to take the risk of working directly with cannabis businesses. The emerging marijuana industry also supports an array of ancillary firms and traditional companies that provide services to dispensaries and grow operations.
As of June 30, there were 706 financial institutions that had filed requisite reports saying they were actively serving cannabis clients. Thats up from 689 in the previous quarter but still down from a peak of 747 in late 2019.
But the question remains: why are some banks deciding to take on marijuana clients while others remain wary of federal repercussions?
The study authors—from the University of Arizona, Drexel University, San Diego State University and Scripps College—put forward two possibilities about why "the risk from regulatory uncertainty did not decrease banks' willingness to accept deposits or make loans."
The increase "may suggest that banks were either unconcerned about the potential risk associated with accepting cannabis related deposits or optimistic about the chances that regulations will adapt to the needs of legalizing states," the paper reasons.
Confidence about working with a federally illegal industry may well have been bolstered in 2014 when the Financial Crimes Enforcement Network (FinCEN) under the Obama administration issued guidance to financial institutions on reporting requirements for cannabis-related businesses.
The second option, optimism about federal reform, also seems possible. It was around the time that the bipartisan Secure and Fair Enforcement (SAFE) Banking Act was first introduced that there was a notable spike in financial institutions reporting that they have marijuana business clients.
In the years since, that legislation has been approved in some form five times in the U.S. House of Representatives, but it's continued to stall in the Senate. In general, banks reporting marijuana accounts has remained relatively stable since 2019.
"Although many have speculated about the increased legal risks to banks, there is a lack of evidence for instances where banks are criminally prosecuted or lose their federally insured status," the study states. "If these negative repercussions rarely happen, it makes sense that banks would not respond to the legislative uncertainty."
"As more state regulators issue statements in support of banks and credit unions serving the cannabis industry, the financial institutions can become more optimistic about the chances that regulations will adapt in their favor with time," the authors wrote.
Despite optimism for future reform that certain lawmakers have expressed, it doesn't necessarily take the sting out of the latest failed attempt to secure protections for banks that choose to work with state-legal cannabis businesses as part of a large-scale defense bill.
A pro-reform Republican senator recently slammed Democrats for failing to advance marijuana banking reform despite having a congressional majority and control of the presidency.
For what it's worth, the secretary of the U.S. Treasury Department recently said that freeing up banks to work with state-legal marijuana businesses would "of course" make the Internal Revenue Service's (IRS) job of collecting taxes easier.
With respect to the SAFE Banking Act, a bipartisan coalition of two dozen governors recently implored congressional leaders to finally enact marijuana banking reform through the large-scale defense legislation.
A group of small marijuana business owners also recently made the case that the incremental banking policy change could actually help support social equity efforts.
Rodney Hood, a board member of the National Credit Union Administration, wrote in a recent Marijuana Moment op-ed that legalization is an inevitability—and it makes the most sense for government agencies to get ahead of the policy change to resolve banking complications now.
Rhode Island Governor Includes Marijuana Legalization And Expungements In Budget Request