Marijuana Companies Urged Governor To Ban Cannabis Home Cultivation, Document Shows
New York Gov. Andrew Cuomo (D) took marijuana reform supporters by pleasant surprise when he endorsed legalization last year after previously calling cannabis a "gateway drug" that should remain prohibited. But for advocates, there was at least one major disappointment in store when he got around to revealing the details of his plan: the proposal, unveiled as part of his budget last month, would ultimately include a ban on home cultivation of recreational marijuana.
Home growing—seen by many as a commonsense policy that ensures access to cannabis for individuals who can't afford retail prices, live too far from a dispensary or just want to flex their green thumbs—has been a feature of almost all legal adult-use marijuana systems operating in the U.S., with the exception of Washington State's. So what's behind the New York governor's opposition to letting adults cultivate their own crops?
It could be that Cuomo took a page from the commercial cannabis industry. Literally.
Roughly a month before the governor announced the details of his legalization proposal, a New York-based marijuana business association—led by the executives of the state's major licensed medical cannabis providers—sent a policy statement to Cuomo's office in the interest of offering "some thoughts on various issues associated with a transition from medical to adult-use."
One of those thoughts centered on the businesses' desire to prevent consumers from growing their own marijuana.
Politico first reported the existence of the document, created by New York Medical Cannabis Industry Association (NYMCIA), in December. This month, Marijuana Moment obtained the full 29-page memo through a state freedom of information law request.
There are some broad recommendations that most legalization supporters would take no issue with, such as encouraging individuals from communities disproportionately impacted by prohibition to participate in the legal industry and leveraging partnerships to expand research into medical cannabis.
But a chapter titled "The Fallacy of Home Grow" makes very specific—and, in the eyes of advocates, misleading—arguments against allowing marijuana cultivation for personal use.
The group recognized that people want home cultivation because of "currently high prices of medical marijuana" or because they see it as an "individual civil liberty." But according to NYMCIA, home cultivation "creates a significant public safety and black market risk."
The industry organization listed five claims to support that argument:
1. Home grow will make it impossible for the state to eliminate the black market.
2. Home grow will make it impossible for law enforcement to distinguish between legal and illegal products, thus frustrating enforcement efforts.
3. Home grow will undermine the state's harm reduction goal of ensuring that cannabis sold in New York State is grown without noxious pesticides or other contaminants.
4. Home grow will undermine the state's public health interest in ensuring that cannabis sold in New York State is tested, packaged, and and labeled correctly.
5. Home grow will cost the state tax revenue, thus hindering the state's ability to fund priorities such as drug abuse treatment and community investment.
Per that last point, it's entirely reasonable to assume that New York state would miss out on some sales tax revenue if residents decided to grow their own plants. But the other side of that dilemma is that it'd likely mean missed profits for cannabis businesses, including those affiliated with NYMCIA.
"From our perspective, it's really hard to see any real reason—other than individual and corporate greed—to be against home cultivation at this point," Erik Altieri, executive director of NORML, told Marijuana Moment in a phone interview. "There's not a lot of rational concerns when it comes to allowing a limited amount of plants for an individual to grow at home."
Melissa Moore, New York deputy state director of the Drug Policy Alliance, also pushed back against NYMCIA's claim that a home grow option would make eliminating the illicit market "impossible."
It's the "fallacy of 'The Fallacy of Home Grow,'" as she put it. It would make more sense to attribute difficulties reducing illicit market sales to state tax rates on retail cannabis, she said in a phone interview.
"It's really disingenuous to try to say that it would not be possible to eliminate the illicit market if we allow for home grow. That certainly hasn't been the experience of other states that allow home grow."
Moreover, NYMCIA's position is not consistent with that of other marijuana industry groups such as the National Cannabis Industry Association (NCIA), which argues that allowing home growing can actually benefit businesses.
"NCIA does not oppose limited home cultivation," Morgan Fox, media relations director at the group, said in an email. "In fact, it can act as an incubator for people to develop skills which can be used in the legal cannabis industry, which benefits businesses as well as individuals looking to enter the market. Much like home brewing has helped spur interest the craft beer market, limited home cannabis cultivation can do the same in legal states."
Who is involved in NYMCIA and why do they want to ban home cultivation?
Marijuana companies Columbia Care, Etain, PharmaCann, The Botanist and Acreage NY, Vireo Health and MedMen were all listed as members of NYMCIA in the memo to Cuomo's office. (MedMen later acquired PharmaCann, and more recently, NYMCIA urged MedMen to leave the association amid a controversy over racist remarks allegedly made by the company's executives).
(A separate controversy previously enveloped Columbia Care, which owns dispensaries and grow facilities in multiple states, after its Massachusetts-based subsidiary, Patriot Care, was discovered to be advocating against letting certain people with past drug convictions work in the legal cannabis industry).
Acreage Holdings, a cannabis firm that Republican former U.S. House Speaker John Boehner joined as a board member, declined to comment for this story through a public relations firm that represents the company.
A MedMen spokesperson said in a statement to Marijuana Moment that it "respects the right of those who choose to cultivate cannabis for their personal use," but did not respond to specific questions about the company's involvement in drafting the policy statement that urged New York officials to continue prohibiting such activity.
Jeremy Unruh, director of public and regulatory affairs at PharmaCann, told Marijuana Moment that the document "was our industry association's first go at formulating some broad policy positions" prior to meeting with the governor's office and that the company's "position on home grow is far more nuanced than a simple approve/oppose."
"Those policy points you have are sound, but our positions have evolved (and will continue to do so) as we've had a chance to socialize these concepts" with other stakeholders, Unruh said. He argued that New York has superior quality control standards in place for medical cannabis and that while the company recognizes "the nature and value of civil liberty" of home cultivation, allowing it would pose public health risks.
But ultimately, "Our position is this: We support the governor's homegrow proposal," he wrote in an email.
While recommending that lawmakers ban personal cultivation of recreational marijuana, Cuomo did include a home grow option for medical cannabis patients in his budget plan.
(Full disclosure: Several members of the companies involved in NYMCIA support Marijuana Moment through monthly Patreon pledges, or have in the past.)
Cannabis reform advocates aren't buying NYMCIA's claims.
It is quite obvious that NYMCIA's affiliates have a financial stake in the shape of whatever marijuana law eventually emerges from the New York legislature. And their opposition to a home grow option is a point of concern for advocacy groups.
"[T]o advocate against home cultivation given all we know about how it works in practice from the industry side really just is kind of despicable and illustrates their greed, that they're willing to sacrifice individual freedoms for the slightest increase in their profits," NORML's Altieri said.
The association's recommendation also runs counter to what Marijuana Moment was previously told by the vice president of corporate communications for Vireo Health, Albe Zakes.
Asked about the memo following the initial Politico report that only vaguely described the document, Zakes wrote in an email that "our CEO and COO assured me that we've never lobbied against home grow and in fact support home grow as part of larger legislation, as long as it is regulated and controlled in a responsible manner, the same way medical or recreational markets would be, in order to protect consumers."
(Vireo CEO Aaron Hoffnung signed an Internal Revenue Service financial disclosure form for NYMCIA last year as one of the association's directors.)
Marijuana Moment sent a follow-up request for comment after obtaining the policy statement through the public records request, but Zakes said the he was unable to reach the company's executives and so Vireo would have to decline the opportunity for further comment.
Advocates question whether NYMCIA leveraged its influence for the right reasons.
Is the worry really that a home cultivation policy would sustain an illicit market or complicate law enforcement activities in New York? Are concerns about the public health impact genuine? Or is it that cannabis businesses want the entire market to themselves?
"We need to make sure that we have a check on the potential greed of the industry that we can already see in these early stages based on this advocacy document," Altieri said. "We need to make sure that the market in New York not only begins to address all the harms caused by the war on cannabis but also is oriented toward the consumer and not large industry interests."
"Banning home cultivation benefits no one but corporations and large industry groups."
Despite Cuomo including the home grow ban in his proposal, it seems that advocates may get more time to voice their concerns about the policy. Some leading lawmakers such as Senate President Andrea Stewart-Cousins (D) are increasingly doubtful that marijuana reform will make it into the final state budget, meaning that negotiations on separate legalization legislation could end up resulting in a law that allows consumers to grow their own cannabis.
Marijuana Moment reached out to NYMCIA itself, Cuomo's office, Etain and Columbia Care for comment, but representatives did not respond to multiple inquiries by the time of publication.
Read the full NYMCIA policy statement, including the section on home cultivation, below: 
New York Medical Cannabis I… by on Scribd
New York City Council Members File A Dozen Marijuana Proposals In One Day
Illinois Gets More Tax Revenue From Marijuana Than Alcohol, State Says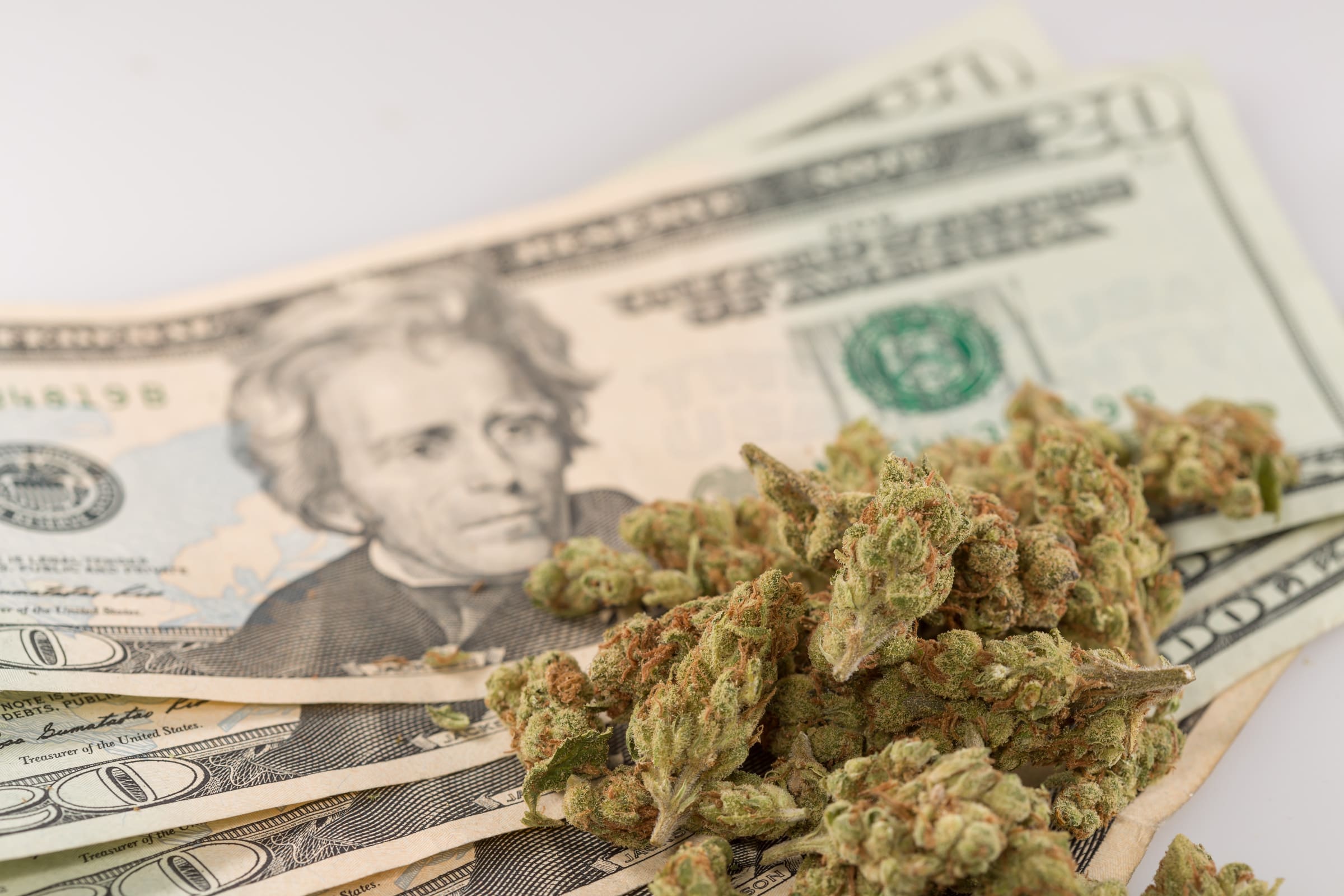 Illinois took in more tax dollars from marijuana than alcohol for the first time last quarter, according to the state Department of Revenue.
From January to March, Illinois generated about $86,537,000 in adult-use marijuana tax revenue, compared to $72,281,000 from liquor sales.
Those following the cannabis market in Illinois might not be entirely surprised, as the state has consistently been reporting record-breaking sales, even amid the pandemic. In March alone, adults spent $109,149,355 on recreational cannabis products—the largest single month of sales since retailers opened shop.
It was in February that monthly cannabis revenues first overtook those from alcohol, a trend that continued into March.
If the trend keeps up, Illinois could see more than $1 billion in adult-use marijuana sales in 2021. Last year, the state sold about $670 million in cannabis and took in $205.4 million in tax revenue.
Officials have emphasized that the tax dollars from all of these sales are being put to good use. For example, the state announced in January that it is distributing $31.5 million in grants funded by marijuana tax dollars to communities that have been disproportionately impacted by the war on drugs.
The funds are part of the state's Restore, Reinvest, and Renew (R3) program, which was established under Illinois's adult-use cannabis legalization law. It requires 25 percent of marijuana tax dollars to be put in that fund and used to provide disadvantaged people with services such as legal aid, youth development, community reentry and financial support.
Awarding the new grant money is not all that Illinois is doing to promote social equity and repair the harms of cannabis criminalization. Gov. J.B. Pritzker (D) announced in December that his office had processed more than 500,000 expungements and pardons for people with low-level cannabis convictions on their records.
Relatedly, a state-funded initiative was recently established to help residents with marijuana convictions get legal aid and other services to have their records expunged.
But promoting social equity in the state's cannabis industry hasn't been smooth sailing. The state has faced criticism from advocates and lawsuits from marijuana business applicants who feel officials haven't done enough to ensure diversity among business owners in the industry.
New Mexico Governor Signs Marijuana Legalization Bill, Making State Third To Enact Reform Within Days
Colorado Marijuana Sales Reached $167 Million In February
Colorado's overall cannabis sales for the first two months of 2021 are $78 million higher than those for January and February of 2020.
By Robert Davis, The Center Square
Total marijuana sales in Colorado reached $167 million in February, the state's revenue department announced on Friday.
The total represents a $20 million decline in sales from the previous month. However, Colorado's overall sales for the first two months of 2021 remain $78 million above the pace set between January and February of 2020.
Marijuana sales are calculated by adding the total sales for both medical and recreational marijuana sales in Colorado's 64 counties.
Denver County led all others in total recreational sales with over $38 million. Arapahoe and Adams counties followed suit with $13 million and $11 million in recreational sales, respectively.
Denver also led the way in medical marijuana sales, bringing in a total of $14 million. El Paso County was a close second, reaping over $10 million in medical sales.
Sales are not automatically accounted for in the state's accounting system. This means the Department of Revenue (CDOR) relies on each county to report their sales before reporting the total. In effect, marijuana sales are reported one month behind tax and fee revenue totals.
Meanwhile, Colorado collected over $33 million in tax revenue in March. This total represents both taxes levied from medical and recreational marijuana sales, as well as license and application fees.
Between February and March, state tax revenue from marijuana sales declined 4 percent, according to CDOR data.
Tax revenue comes from a 2.9 percent state sales tax on marijuana sold in stores, a 15 percent state retail marijuana sales tax, and a 15 percent state retail marijuana excise tax on wholesale sales or transfers of retail marijuana.
This piece was first published by The Center Square.
Colorado Is Auctioning Marijuana-Themed License Plates To Raise Money For People With Disabilities
Uber Will 'Absolutely' Explore Marijuana Deliveries When Federal Prohibition Ends, CEO Says
The CEO of Uber said on Monday that the ride share company will "absolutely" explore adding marijuana deliveries to its services when federal prohibition ends.
Dara Khosrowshahi was asked about the prospect of expanding his business to include cannabis deliveries during an interview with CNBC. He said while the company remains focused on grocery and alcohol deliveries, in addition to its core ridesharing service, that's certainly in the cards if marijuana is federally legalized.
Uber is interested in "the types of deliveries that a high percentage of consumers are going to want delivered fast into their home and are quite frequent," he said. "We think, obviously, food, grocery, pharmacy and alcohol are part of that category," but cannabis also holds potential.
"When the road is clear for cannabis when federal laws come into play, we're absolutely going to take a look at it," Khosrowshahi said. "But right now with grocery, with food, with alcohol, et cetera, we see so much opportunity out there and we're going to focus on the opportunity at hand."
Could you get your weed delivered through Uber? CEO Dara Khosrowshahi discusses the potential business strategy: "When the road is clear for cannabis and federal laws come into play, we're absolutely going to look at it." (via @CNBCTechCheck) https://t.co/6VM454ugka pic.twitter.com/bRjpv7vvhU

— CNBC (@CNBC) April 12, 2021
The tech executive was specially asked about the possible expansion into the cannabis market in light of legalization recently being enacted in New York. And if polling from that state is any indication, Uber would see the demand for deliveries that it's looking for, as 53 percent of New Yorkers said in a survey that they would favor having that option available to consumers.
But for now, the CEO said the business is keeping its eyes on current expansions, which includes its recent acquisition of the alcohol delivery service Drizly. That company did launch an ancillary cannabis delivery service called Lantern—but following the Uber deal, it announced that the two entities would be separated, with Lantern operating independently as a private company.
Of course, as a national corporation, Uber is also making a risk assessment given the ongoing ban on cannabis at the federal level. But a policy change to that end could come sooner than later.
Senate Majority Leader Chuck Schumer (D-NY) has said that a bill to legalize marijuana that he's been working on with Senate Finance Chairman Ron Wyden (D-OR) and Sen. Cory Booker (D-NJ) will be released "shortly."
On the House side, Judiciary Chairman Jerrold Nadler (D-NY) has similarly signaled that his cannabis descheduling bill—the Marijuana Opportunity, Reinvestment and Expungement (MORE) Act—will be reintroduced this session. That proposal passed the House last year but did not advance in the Senate.
With Democrats in control of both chambers and the White House this session, there's renewed hope among advocates that the days of prohibition are soon to be over. Still, questions remain about President Joe Biden's role in the reform, as he opposes adult-use legalization and his press secretary said last month that his position "has not changed" to that end.
In any case, Uber's apparent interest in participating in the market once those federal barriers are lifted is another sign of the industry's potential. That said, many advocates have expressed that small businesses—particularly those operated by people most impacted by cannabis criminalization—should be prioritized in any legalization legislation over large companies.
Four More States Could Still Legalize Marijuana This Year After New Mexico, New York And Virginia