Marijuana Activists Protest John Boehner's SXSW Speech
Advocates for social equity in the increasingly legal marijuana economy are protesting keynote speeches by former Republican House Speaker John Boehner and MedMen CEO Adam Bierman at South by Southwest (SXSW).
The Equity First Alliance, a group that promotes racial and social justice in the cannabis industry, said that Boehner and Bierman's scheduled Friday appearances at the festival are a reflection of an ongoing trend where mostly white men are profiting off a market while people of color continue to disproportionately face criminalization for marijuana offenses.
Boehner has been the subject of ongoing criticism from marijuana advocates, who point out that he failed to act on cannabis reform, and opposed certain criminal justice reform legislation, during his 24 years in Congress. While he never introduced, cosponsored or voted in favor of marijuana bills in that time, he joined one of the largest cannabis firms, Acreage Holdings, as a board member last year.
In fact, Boehner consistently voted against an amendment to protect medical cannabis states from federal interference.
Bierman has been accused in a lawsuit filed by a former employee of making racist and homophobic remarks. His company, which was valued at $1.6 billion last year, was also a member of a New York-based medical marijuana industry association that advocated against allowing home cultivation in a memo submitted to Gov. Andrew Cuomo. (The company told Marijuana Moment that it supports the right to home cultivation, but did not answer questions about its involvement in drafting the document. It was later asked to leave the group over Bierman's alleged remarks.) Acreage remains a member of the same association.
"Our protest at SXSW sends a bold message in support of cannabis equity, justice, and repair," the Equity First Alliance's Felicia Carbajal said in a press release. "We stand together, recognizing that by defending the most marginalized among us, we defend all of us. We support the advocacy and resistance movements that reflect our multiple and intersecting identities, and we call on all defenders of human rights to join us."
Activists held protest signs over a nearby highway and at a hotel where Boehner's speech—which covers "the likely paths to national legalization and the challenges and opportunities America's fastest growing industry face today"—will take place on Friday. The signs condemn "big marijuana" and call for social equity policies such as community reinvestment.
#SXSWeed holding a banner in the lobby of the Hilton, where many cannabis panels will take place today including a speech by John Boehner. #WarOnDrugs pic.twitter.com/xAXHWMb6XU

— Ministry of Hemp (@MinistryofHemp) March 15, 2019
"It's clear this market is going to expand," Boehner told CNBC in an interview ahead of the event. "And as it does, lawmakers in Washington have to look up and realize that the federal government is way out of step. It's time for the federal government to get out of the way."
In the press release, Equity First Alliance listed additional reasons they're protesting as well as policies they support.
"In protest of:
—Those profiting off of cannabis without an intentional plan to repair and make whole individuals, families, and communities that have been devastated by the War on Drugs;
—Those profiting off of cannabis who once participated in prohibition;
—And those who would profit before freeing all cannabis prisoners and vacating all cannabis convictions
And calling for:
—10% of companies' annual revenue to be reinvested in communities disproportionately harmed by the
War on Drugs;
—A new paradigm of social responsibility in the cannabis industry;
—And public policies that create an equitable, just, and reparative industry."
"It's hypocritical for an Austin based company like SXSW, a company imbedded in a city that preaches diversity and inclusion, to neglect the work of committing to create an inclusive space, and instead give a keynote platform to John Boehner," Chas Moore, executive director of the Austin Justice Coalition, said. "This is disgusting."
.@SpeakerBoehner and Murphy joined Squawk on the Street for an exclusive interview live from @sxsw – watch the full video on @CNBC here. #acreageholdings #sxsw #sxsw2019 https://t.co/aNQHQSQHMA

— AcreageHoldings (@AcreageCannabis) March 15, 2019
Marijuana Moment reached out to Acreage for comment, but a representative did not respond by the time of publication.
Marijuana Companies Urged Governor To Ban Cannabis Home Cultivation, Document Shows
Photo courtesy of Gage Skidmore.
Marijuana Legalization Increases Home Property Values, New Study Finds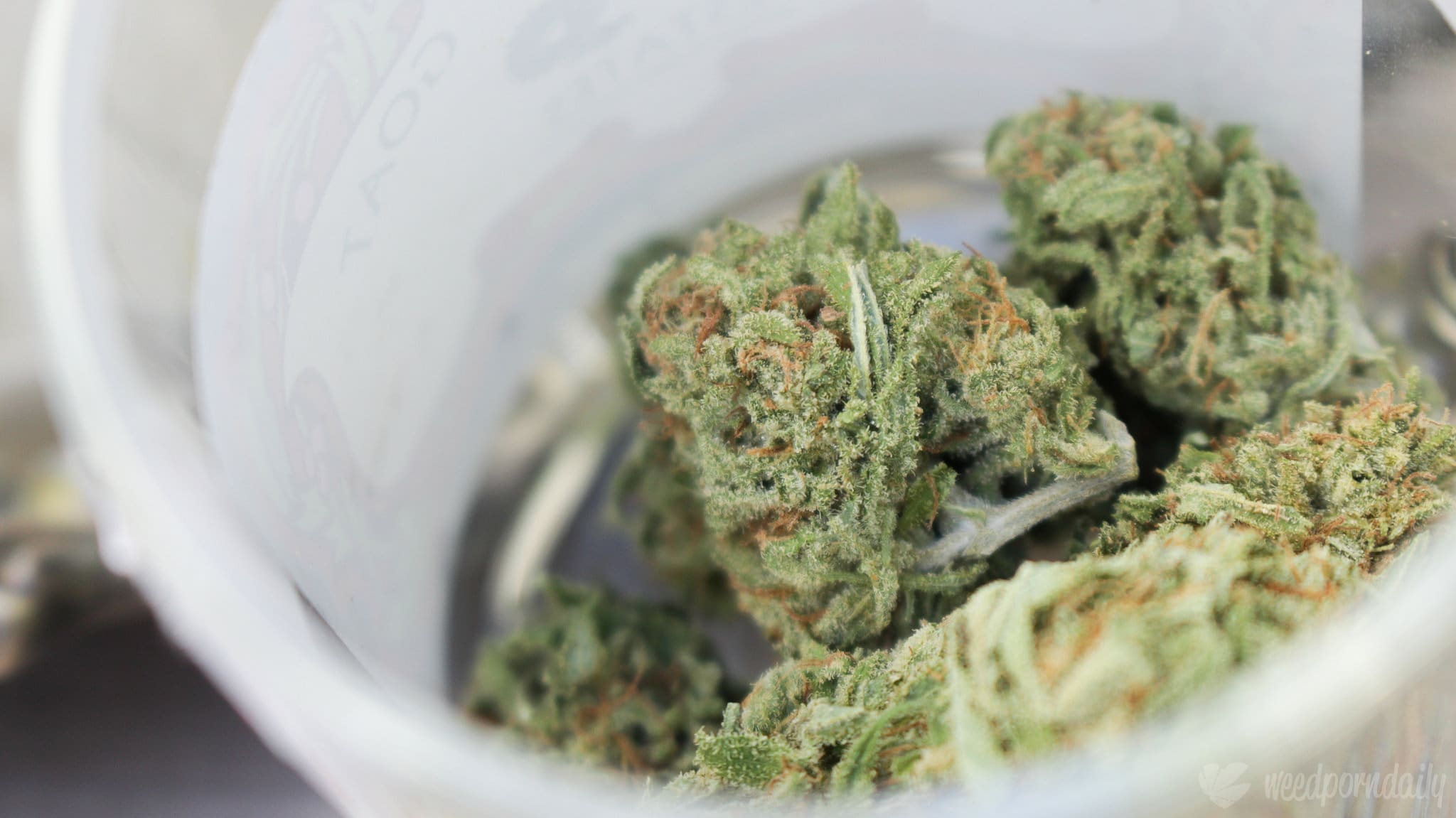 There are plenty of marijuana NIMBYs out there, but a new study found that cannabis legalization and the presence of dispensaries actually increases home property values.
The research from Clever Real Estate draws on data from Zillow, the U.S. Census and other sources. A main takeaway is that from 2017 to 2019, "home values increased $6,338 more in states where marijuana is legal in some form, compared to states that haven't legalized marijuana."
Part of the reason for the increased value is that legalizing and regulating cannabis means tax revenue for states. And that revenue translates into "new investment in things such as public services and infrastructure," the company found, driving up property value.
For every $1 million in additional tax revenue from marijuana sales, home values increase by $470, according to the study.
Take Illinois as a case in point. Last year, the state sold about $670 million in cannabis and took in $205.4 million in tax revenue. And that revenue has gone towards a wide range of causes such as supporting organizations that work to decrease street violence. If successful, reducing violence in a given community would be one simple way to increase property value.
The Clever Real Estate study also found that states that legalize for adult use see the greatest gains in home value.
"Between April 2017 and April 2021, property values rose $17,113 more in states where recreational marijuana is legal, compared to states where marijuana is illegal or limited to medicinal use," it said. And for the states that have enacted legalization but where sales have yet to start, "home values are predicted to increase by an average of $61,343."
The presence of cannabis dispensaries nearby also seems to be correlated with an increase in home value.
"Home values increased $22,090 more in cities with recreational dispensaries, compared to home values in cities where recreational marijuana is legal but dispensaries are not available," the study says. "With each new dispensary a city adds, property values increase by $519."
"When we controlled for other factors, we found that home values in areas that have legalized recreational marijuana leapt by $17,113 more than places where marijuana is illegal or only allowed for medicinal use. Even when we limited the comparison to recreational versus medicinal legalization, this disparity persisted. Places that legalize recreational marijuana saw home values increase by $15,129 more than those that only legalized medicinal use."
Last year, a separate analysis from economists at the University of Oklahoma similarly found that states that legalize marijuana actually see a boost in housing prices, with the effect most pronounced once nearby retail outlets open for business.
"This demonstrates that [it is] not simply the benefits of increased tax revenue, but also the existence of the dispensaries themselves, that is driving the price increases," the researchers found. "The dispensaries act as commercial amenities that the public puts a premium on being nearby."
Missouri Marijuana Activists File Legalization Initiatives For 2022 As Other Groups Prepare Separate Measures
Photo courtesy of WeedPornDaily.
Missouri Governor Vetoes Medical Marijuana Tax Deduction Bill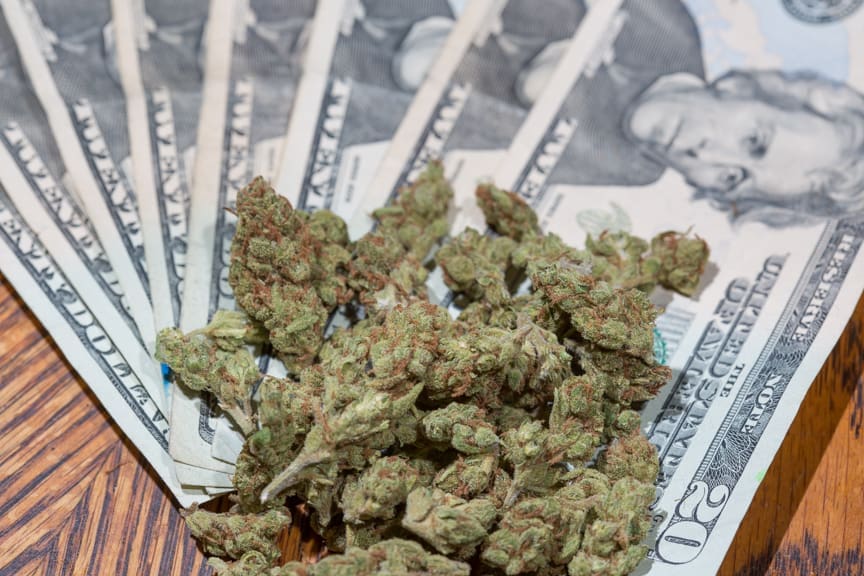 The measure, if enacted, would not have changed the federal 280E provision that remains in effect against cannabis businesses.
By Jason Hancock, Missouri Independent
Missouri Gov. Mike Parson (R) vetoed legislation Friday that would have lifted a prohibition on licensed medical marijuana companies deducting business expenses on their taxes.
In his letter vetoing the measure, Parson didn't mention the medical marijuana provisions. He said his decision to reject the bill came down to a section lawmakers included that would have provided tax relief for businesses impacted by city-wide or county-wide public health restrictions.
Parson said those provisions would have created "significant unintended consequences that could greatly harm localities."
In vetoing the bill, however, the medical marijuana provision was also struck down.
Missourians voted to legalize medical marijuana in 2018. But under federal law, growing, transporting or selling marijuana remains a crime.
Because of this dynamic, marijuana companies differ from every other legal business in the state because they can't deduct ordinary and necessary business expenses on their tax returns.
While federal law remains unchanged, the legislation approved nearly unanimously in both the House and Senate would have changed that for state taxes.
David Smith, a certified public accountant from St. Louis County who works with numerous medical marijuana companies, said during a Senate hearing earlier this year that Missouri's existing law could mean an effective tax rate for those businesses of 70 percent or higher.
"Some companies may even be subject to income taxes while operating at a loss," Smith said.
Andrew Mullins, executive director of MoCannTrade, said it was "both common sense and smart public policy to put medical cannabis businesses on a level playing field with all others that pay state business taxes."
"While disappointed in the veto, we remain encouraged by the overwhelming bipartisan support for a measure of basic tax fairness that received near-unanimous votes in both the state House and Senate," Mullins said in a statement to The Independent. "As our state's newest industry continues to create thousands of new jobs and generate tens of millions in new spending each month, we look forward to again passing this policy change and seeing it signed into law."
Another casualty of the veto was a provision providing sales tax exemptions for certain cancer treatment devices. Parson wrote in his veto letter that he supports this tax deduction and hopes lawmakers will pass it again next year.
This story was first published by Missouri Independent.
Congressional Lawmakers Request Marijuana Policy Change Following Sha'Carri Richardson Suspension
First Full-Service Marijuana Delivery App Launches On Apple Store Following Policy Change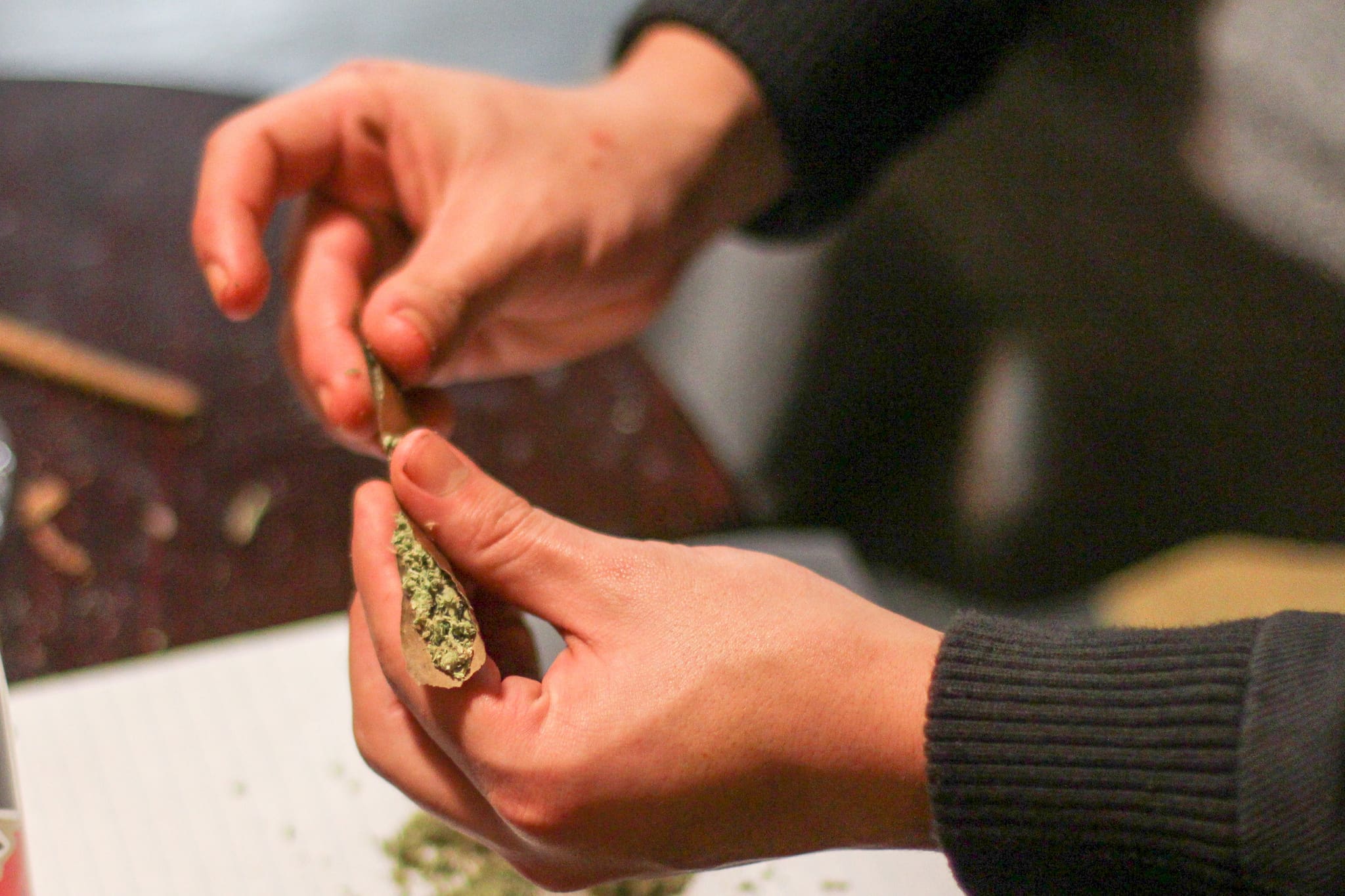 Apple has long restricted marijuana companies from conducting business on its app store. But following a recent policy change, the cannabis delivery service Eaze on Thursday announced that consumers can now shop and pay for marijuana products on its iPhone app for the first time.
This marks a "major milestone for the legal cannabis market and consumers," Eaze said in a press release. "The Eaze app allows customers to complete all aspects of delivery seamlessly: registration, ID verification, product selection, payment, and receipt to the doorstep."
Previously, people buying marijuana through the nation's largest cannabis delivery service had to leave the prior version of the app and submit orders through a less-convenient mobile version of the company's web page. The Apple policy change means the service is streamlined, and it represents a significant development in the evolving relationship between Big Tech and the marijuana industry.
"Eaze has always been about using the latest developments in technology to make shopping for legal cannabis more accessible," CEO Rogelio Choy said. "It's hard to overstate how important this is to our company and the industry. It's deeply gratifying to launch the Apple Store's first fully-functional cannabis delivery app, making it even easier for our two million registered customers to legally consume."
In contrast to Apple, Google's Android app hub updated its policy in 2019 to explicitly prohibit programs that connect users with cannabis, no matter whether it is legal in the jurisdiction where the user lives.
"We don't allow apps that facilitate the sale of marijuana or marijuana products, regardless of legality," it says, adding that some examples of violations would be "allowing users to order marijuana through an in-app shopping cart feature" or "assisting users in arranging delivery or pick up of marijuana."
It also says that "facilitating the sale of products containing THC (Tetrahydrocannabinol), including products such as CBD oils containing THC" is against its policies.
Eaze Distinguished Engineer CJ Silverio said that the "flexibility and depth of our technical team allowed us to respond immediately to the changes in Apple's policy, and create an app that offers our customers the ideal experience for cannabis delivery."
Chris Vaughn, CEO of the California delivery service Emjay, previously told WeedWeek that he believes Apple's decision was informed by the continuing legalization movement in states like New York, as well as Amazon's recent announcement that it will no longer be drug testing workers for cannabis in addition to lobbying for a federal legalization bill. He added that he thinks Google will "follow quickly" to update its own policies.
The tech industry has had a strained relationship with the marijuana industry, even as a growing number of states have decided to legalize and regulate the sale of cannabis.
Facebook, which in 2019 showed off its artificial intelligence technology that's capable of identifying images of marijuana, continues to prohibit the commercial advertising of cannabis products, regardless of the legality of the business under state law.
Noncommercial cannabis news sites such as Marijuana Moment and state regulatory bodies like the Massachusetts Cannabis Control Commission have also been caught up in the anti-marijuana policy despite the fact that they do not promote or sell cannabis products. In some cases, it appears these organizations have been hidden from appearing in search results—a practice known as "shadowbanning."
Despite marijuana firms being banned from Google's app market, some of the company's top officials seem pretty bullish about loosening cannabis laws. Google co-founder Sergey Brin joked about supplying employees with joints at a post-election meeting in 2016.
"I was asking if we could serve joints outside on the patio, but apparently these things take a little while to take effect," Brin said, referring to the implementation of California's cannabis legalization measure. "It was a huge, huge disappointment. I've been bemoaning that all week, I'll be honest with you."
Congressional Black Caucus Members Ask Biden To Reverse Marijuana Deportation Cases
Photo courtesy of Martin Alonso.