Major Alcohol Association Endorses States' Rights To Legalize Marijuana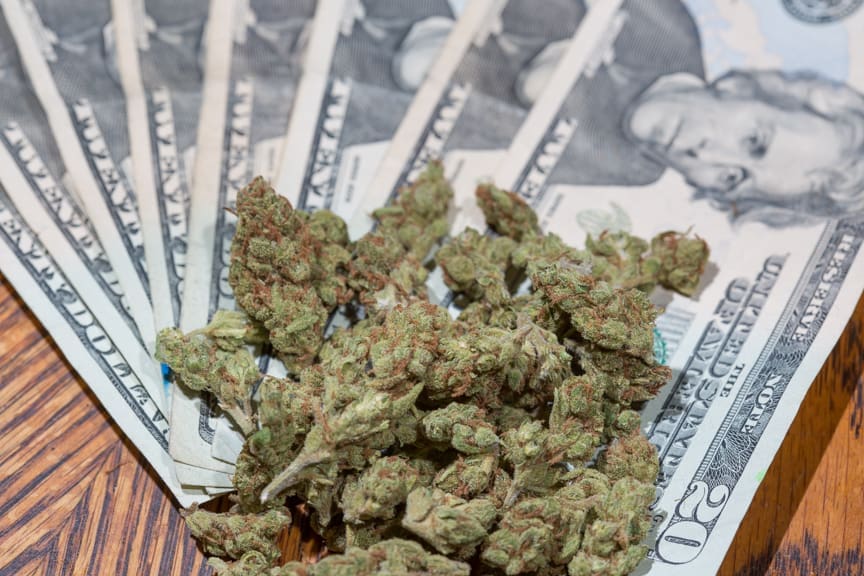 For the first time ever, a major alcohol association has come out in support of ending federal marijuana prohibition so that states can legalize cannabis without interference.
The Wine & Spirits Wholesalers of America (WSWA) announced "an official policy position in favor of a state's right to establish a legal, well-regulated, adult-use cannabis marketplace," in a press release on Thursday.
Today, we became the first and only beverage alcohol association to announce our position in favor of a state's right to establish a legal, well-regulated, adult-use #cannabis marketplace. Read our full statement: https://t.co/0rHHN3aEzU

— WSWA (@WSWAMedia) July 13, 2018
The announcement represented a significant departure from the association's past statements on marijuana reform. Just two years ago, WSWA said in a sponsored advertisement that it was "neutral on the issue of legalization," going on to caution congressional officials about the "dangers associated with the abuse and misuse of marijuana," including drug-impaired driving.
Now the alcohol trade group is singing a different tune.
"The legal cannabis market continues to expand in the United States, generating $7.2 billion in economic activity in 2016," Thursday's press release reads. "WSWA believes that, similar to alcohol, the federal government should give states the power to legalize cannabis, but should ensure they meet an appropriate regulatory threshold."
"Eight decades ago, Americans acknowledged that the Prohibition of alcohol was a failed policy. The state-based system of regulation, adopted after Prohibition, created a U.S. beverage alcohol market that is the safest, most competitive and best regulated in the world." — WSWA Acting Executive Vice President for External Affairs Dawson Hobbs
WSWA went on to outline 13 policies it recommended for states that legalize recreational marijuana.
A minimum age of 21 for purchase, possession and use, along with penalties for providing cannabis to minors;
Establishment of Driving Under the Influence impaired driving standards;
Licensing of producers, processors, distributors and retailers; Policies to prevent vertical monopoly/integration;
Hours and days of sale parity with beverage alcohol;
Tax collection and enforcement; Measures to prevent diversion of cannabis to other states;
Restrictions on sale/common carrier delivery;
Labeling requirements that include potency and health requirements;
Testing of formulas to ensure product purity and consistency;
Advertising restrictions designed to discourage underage access and promote responsible consumption;
Restrictions on health claims on packaging;
Establishment of a designated agency overseeing cannabis industry regulation in each state;
Penalties for licensee violations on par with the state's alcohol regulations;
and Regulations that ensure all products in market can be tracked/traced to source processor/producer.
So what changed from two years ago?
While the group's sudden embrace of local cannabis legalization efforts might strike some as odd given the intrinsic, competitive dynamic that's developed between alcohol and marijuana interests, one aspect of the press release reveals how the broader booze industry could stand to profit:
"Legalization should include regulations that set age restrictions on buyers, as well as license and regulate the supply chain of cannabis, including growers, distributors, retailers and testing laboratories." [Emphasis added.]
In other words, marijuana legalization might take a bite out of alcohol sales—as recent studies have shown—but the cannabis industry has diverse roles for various players to fill. Ancillary operators such as distributors now working under the current three-tier model for alcohol could be used in states with legal, regulated marijuana markets.
Hobbs denied that the association was trying to help the alcohol industry cash in on legal cannabis during an interview with Fox Business on Thursday.
"No, what we're talking about is just creating a pathway for states to have federal recognition of legalization by enacting appropriate regulation that creates a safe and reliable marketplace," Hobbs argued. He also said that the association wouldn't be lobbying Attorney General Jeff Sessions to take action on federal marijuana policy, but rather the group's focus would be on Congress.
Marijuana Moment reached out to WSWA for comment, but a representative was not immediately available.
What remains to be seen is whether other alcohol associations will follow suit. After all, a handful of alcohol interests, including the Arizona Wine and Spirits Wholesale Association and the Boston Beer Company donated to campaigns opposing legalization efforts during the 2016 election.
With this latest development from a major alcohol association, it seems the industry is conceding: If you can't beat 'em, join 'em.
Another encouraging signal of cannabis becoming ever more established and mainstream. https://t.co/uJtNBiTd9k

— Earl Blumenauer (@repblumenauer) July 14, 2018
Cuomo Administration Report Backs Marijuana Legalization In New York