Legalizing Marijuana Increases Housing Prices, Study Finds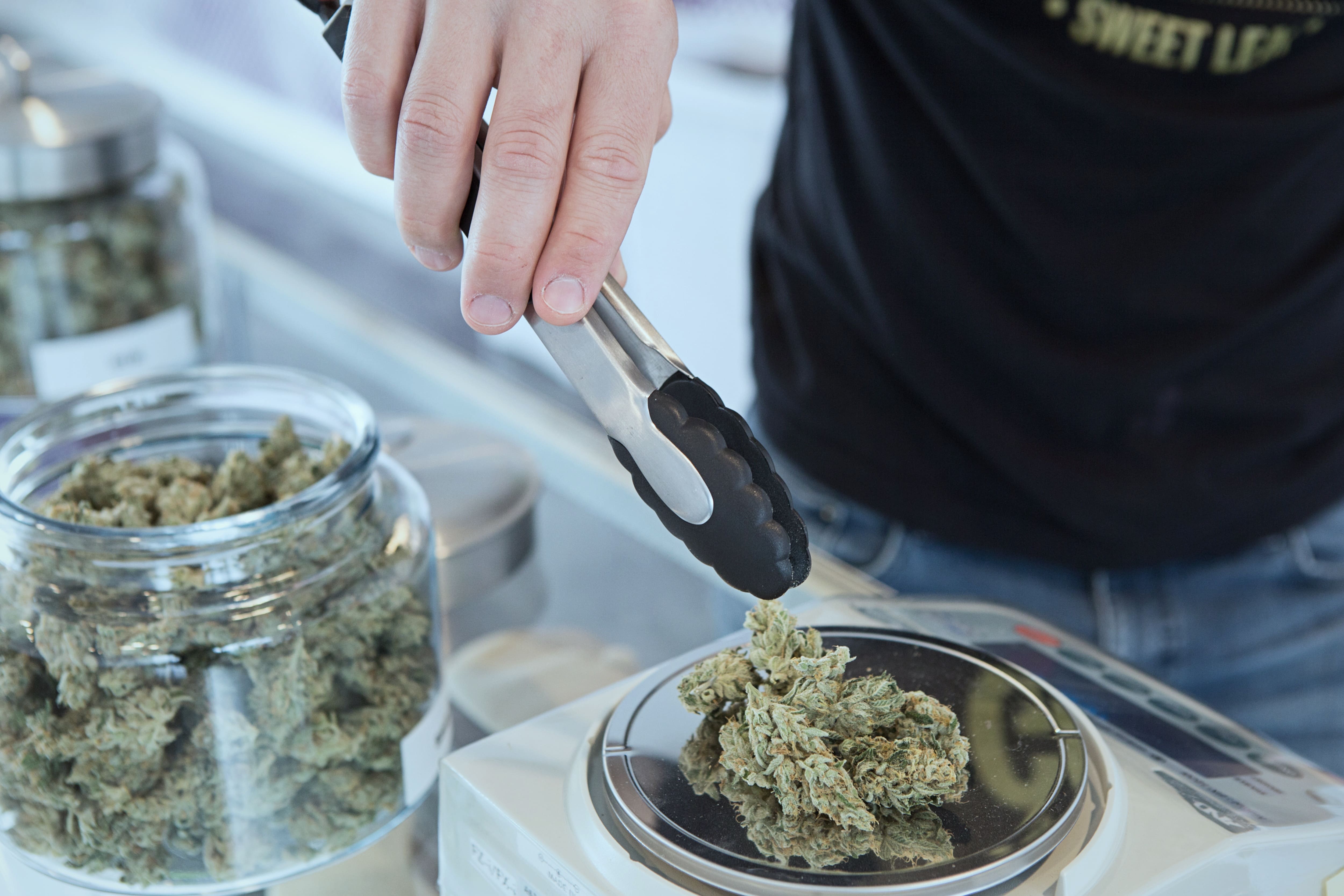 So much for "there goes the neighborhood." A new analysis suggests that states that legalize marijuana actually see a boost in housing prices, with the effect most pronounced once nearby retail outlets open for business.
Economists at the University of Oklahoma attempted to tease out the impact of adult-use cannabis legalization by examining listings on Zillow.com and tracking them against legalization in Colorado and Washington State. Their findings suggest legalization "has beneficial spillover effects at both the state and local levels," casting doubt on the parade of horribles sometimes warned of by law enforcement and other critics.
"Concerns about the potential effect on crime rates and the difficulty in policing impaired driving have been cited as reasons to slow-walk the path to full recreational legalization," the study's authors write. "This research contributes to the discussion, providing evidence that recreational marijuana legalization (RML) has large positive spillover effects on the local housing market."
Specifically, neighborhoods in Colorado and Washington saw a 7 percent price increase as marijuana retailers there opened shop, the study, which was published online this week by SSRN, found. "Considered together, this research suggests that there are second order benefits associated with marijuana legalization that policy makers and voters should be aware of when deciding the drug's legal status."
"Once recreational marijuana becomes available to buy easily at a dispensary and tax revenue is generated, there is significant home price appreciation."
It's not the first time researchers have looked into the effects of legalization on nearby home values. In 2018, researchers at Colorado State University found that home prices within a half mile of a retail cannabis store went up by 7.7 percent. A 2017 study, "Contact High: The External Effects of Retail Marijuana Establishments on House Prices," found an 8 percent increase in the value single family residences that were "close to a retail conversion," or store opening, compared to homes that were farther away. A 2016 analysis had similar findings, concluding that "legalization leads to an average 6% increase in housing values, indicating that the capitalized benefits outweigh the costs."
The new study takes the past findings and pulls them into sharper focus. It concludes that legalization tends to impact the values of more-expensive homes differently than less-expensive ones, though homes of all price levels saw increases. The study also identifies variables that may work to lift residential property values in states that legalize, such as increased tax revenue to fund schools.
"Marijuana's liberalization provides a novel source of tax revenue which states have used to fund capital expenditures, especially in education and it acts as an amenity via the dispensaries that distribute it," the paper says. "The creation of a new legal market has direct implications for the local economy, as it establishes new dispensary jobs and reduces arrest rates. All of these factors have well-established impacts on housing markets."
One of the analyses performed by the researchers found that prices among more expensive homes increased immediately following a successful ballot drive to legalize marijuana. Meanwhile, homes in less-expensive areas didn't see much of a price increase until cannabis stores actually began to open.
As they describe it, the economists found "positive effects in the top of the distribution following the success of the ballot measure legalizing recreational marijuana, but no effect in the lower half."
"The greatest impact occurs once it becomes legal to sell marijuana, with large positive effects across the price distribution, especially in the middle three deciles," they write. "Heterogeneous responses to a policy shock have not been well-researched in the housing literature, making the findings here one of our major contributions."
Legalization itself led to "positive effects upwards of ten percent in the top half of the price distribution," the study says, "and between five and fifteen percent across the distribution after the state enacts the ballot initiative and the first legal sales take place."
Why the lopsided effect? The economists say a number of mechanisms could be at work, with a big one being access to liquidity among the rich: "The wealthiest households can more rapidly move to (legal) states if they believe there to be some positive spillovers from legalization."
The researchers attempted to address some confounding variables in their analysis, such as by assessing house prices by square foot rather than taking each property as a whole. "Geographic heterogeneity in our sample suggests that simply using house price as the dependent variable could bias the results since treatment homes are in high-price states," the authors write. "By using house price per square foot as the dependent variable, we can ensure that this potential source of bias is accounted for."
They also took particular note of when stores actually opened. "If the primary mechanism in our cross-state models is the economic development effect," the study says, "then it is possible that the impact is only felt once the first dispensaries open and a large volume of marijuana sales take place, thereby generating tax revenue."
"[W]hen a dispensary opens nearby, homes closest to it appreciate in price the most. This is consistent with our interpretation that new dispensaries act as amenities in the local housing market."
One big question the researchers still can't answer: Will it last? "Without the benefit of foresight," they write, "our research is not able to determine whether the positive effect will persist."
Other big unknowns remain, such as whether the effect was due to more people immigrating to the state after legalization, which would mean states that legalize later could see a diminished effect.
But for now, the effect is robust. And from what the researchers can tell, people don't just seem to want the benefits of legal marijuana. They also want marijuana stores themselves to be near their homes. When the economists modeled home prices by distance to the nearest outlet, the data "show price appreciations for homes as the distance to the nearest dispensary decreases."
"This demonstrates that [it is] not simply the benefits of increased tax revenue, but also the existence of the dispensaries themselves, that is driving the price increases," the researchers found. "The dispensaries act as commercial amenities that the public puts a premium on being nearby."
Illinois Sold Almost $35 Million Of Marijuana In Second Month Of Legal Sales
Congressional Researchers Analyze 280E Marijuana Tax Penalty And Legislative Solutions
In a new report published this month, Congressional researchers examine tax policies and restrictions for the marijuana industry—and how those could change if any number of federal reform bills are enacted.
The Congressional Research Service (CRS) analysis focuses on a section of Internal Revenue Services (IRS) code known as 280E, which precludes cannabis companies from taking certain federal tax deductions or credits that are available to other businesses, regardless of their state legality. But they are still obligated to pay taxes on their federally illegal income.
"The Schedule I status of marijuana means that marijuana businesses are treated differently from many other businesses for tax purposes," CRS said. However, "Congress has broad authority to alter the tax treatment of marijuana businesses."
"The legislative history of Section 280E indicates that Congress enacted the provision to codify a sharply defined public policy against drug dealing," the report states.
The provision was enacted in 1982 as a way to prevent drug traffickers from writing expenses off their taxes, but it is widely applied today on state-licensed marijuana growers, processors and dispensaries, greatly increasing their effective tax rates as compared to businesses in other industries.
280E applies to substances in Schedules I and II of the Controlled Substances Act (CSA).
"Recent legislative proposals aim to relax federal restrictions on marijuana or to mitigate the disparity between federal and state marijuana regulation," the new CRS report states. "Many of these proposals would alter the tax treatment of marijuana businesses by re-scheduling or descheduling marijuana under the CSA or by making marijuana-specific exceptions."
"Under these proposals, Section 280E would no longer prohibit marijuana businesses from taking deductions and credits," it says.
While several bills were introduced last session to federally legalize cannabis—including the House-passed Marijuana Opportunity, Reinvestment and Expungement (MORE) Act—they have not been refiled so far this year.
Senate Majority Leader Chuck Schumer (D-NY), Senate Finance Chairman Ron Wyden (D-OR) and Sen. Cory Booker (D-NJ) are in the process of developing legislation to end cannabis criminalization and promote social equity, and they've met with advocates about how best to draft that proposal.
Meanwhile, House Judiciary Chairman Jerrold Nadler (D-NY) recently said he will soon be reintroducing the MORE Act.
A number of standalone bills to remove the 280E penalty's application on marijuana businesses have also been filed over the years in Congress, but none has ever been given a hearing or a vote.
But for the time being, the marijuana industry continues to face tax policy challenges under the umbrella of prohibition. And CRS noted that IRS "has offered little tax guidance about the application of Section 280E."
It did provide some guidance in an update last year, explaining that while cannabis businesses can't take standard deductions, 280E does not "prohibit a participant in the marijuana industry from reducing its gross receipts by its properly calculated cost of goods sold to determine its gross income."
The IRS update seemed to be responsive to a Treasury Department internal watchdog report that was released last year. The department's inspector general for tax administration had criticized IRS for failing to adequately advise taxpayers in the marijuana industry about compliance with federal tax laws. And it directed the agency to "develop and publicize guidance specific to the marijuana industry."
One note that IRS especially wants to make clear to cannabis firms is that they still have to pay income tax. And CRS articulated that in its report as well.
"Like non-marijuana businesses, marijuana businesses are subject to tax on all of their income," it said. "Under federal law, all income is taxable, including income from unlawful activities. In contrast, not all expenses are deductible from a taxpayer's gross income."
But paying those taxes has proved onerous—both for cannabis businesses and the IRS itself. The head of the agency told Congress last month that it would "prefer" for state-legal marijuana firms to be able to pay taxes electronically, as the current largely cash-based system is complex and inefficient.
Former Treasury Secretary Steven Mnuchin said in 2019 that he'd like to see Congress approve legislation resolving the cannabis banking issue and he pointed to the fact that IRS has had to build "cash rooms" to deposit taxes from those businesses as an example of the problem.
CRS also discussed legislation that's "attempted to increase marijuana businesses' access to banking and financial service" like the Secure and Fair Enforcement (SAFE) Act, which passed the House in 2019 and also as part of two COVID-19 relief packages. "Many financial institutions are unwilling to provide state-sanctioned marijuana businesses with common banking products and financial services due to federal laws that impose civil and criminal liability on financial institutions handling money tied to marijuana."
While there may be that reluctance, federal data released earlier this month shows that the number of banks and credit unions that report servicing marijuana businesses seems to be stabilizing.
For three quarters in a row, those numbers were consistently declining—due partly to revised reporting requirements from the Financial Crimes Enforcement Network (FinCEN) and also because of the coronavirus pandemic. But the latest report signals that the trend is lifting.
Lawmakers in the Senate and House filed new bills to address the marijuana banking issue in recent days.
GOP Congressman Condemns Marijuana-Related White House Firings In Letter To Biden
Colorado Sold More Than $187 Million In Legal Marijuana In January
The state has now surpassed $10 billion in total sales since legal cannabis commerce began in 2014.
By Robert Davis | The Center Square
Marijuana sales in Colorado reached $187,603,697 in January, the state's revenue department said this week.
The state has now surpassed $10 billion in total marijuana sales since legalizing the drug in 2014. In return, the state has collected over $1.6 billion in marijuana taxes and fee revenues since then.
January's sales were slightly more than the $186 million in sales in December 2020.
Marijuana taxes and fees are assessed against both recreational and medical marijuana. The tax and fee revenue is distributed to local governments and educational institutions.
Three-quarters of marijuana tax and fee revenue is appropriated to the state's marijuana tax cash fund, which provides funding to the governor's office, education department, and the attorney general's office, among others.
Another 15.56 percent is apportioned to the state's general fund, with the remaining 12 percent going to the state public school fund, according to the nonpartisan Legislative Council Staff.
Tax revenue is collected through a 2.9 percent state sales tax on marijuana sold in stores, a 15 percent tax on retail marijuana sold in stores and a 15 percent retail marijuana excise tax on wholesale sales or transfers of retail marijuana. Fee revenue comes from marijuana license and application fees.
In February, Colorado collected $34,747,575 in marijuana tax and fee revenue. The Colorado Department of Revenue will release the total sales for that month in April.
Colorado has collected a total of $69,728,521 in marijuana tax and fee revenue so far this year.
Legal Marijuana States See Reduced Workers' Compensation Claims, New Study Finds
Legalizing marijuana for adult use is associated with an increase in workforce productivity and decrease in workplace injuries, according to a new study partly funded by the federal government.
In a working paper published by the National Bureau of Economic Research, researchers looked at the impact of recreational cannabis legalization on workers' compensation claims among older adults. They found declines in such filings "both in terms of the propensity to receive benefits and benefit amount" in states that have enacted the policy change.
Further, they identified "complementary declines in non-traumatic workplace injury rates and the incidence of work-limiting disabilities" in legal states.
These findings run counter to arguments commonly made by prohibitionists, who have claimed that legalizing marijuana would lead to lower productivity and more occupational hazards and associated costs to businesses. In fact, the study indicates that regulating cannabis sales for adults is a workplace benefit by enabling older employees (40-62 years old) to access an alternative treatment option.
"We offer evidence that the primary driver of these reductions [in workers' compensation] is an improvement in work capacity, likely due to access to an additional form of pain management therapy," the study, which received funding from the National Institute on Drug Abuse, states.
The implementation of adult-use legalization seems to "improve access to an additional channel for managing pain and other health conditions, suggesting potential benefits on populations at risk of workplace injuries," it continues.
The study is based on an analysis of data on workers' compensation benefit receipt and workers' compensation income from
2010 to 2018 as reported in the Annual Social and Economic Supplement of the Current Population Survey.
"Our results show a decline in workers' compensation benefit propensity of 0.18 percentage points, which corresponds to a 20 percent reduction in any workers' compensation income, after states legalize marijuana for recreational use. Similarly, we find that annual income received from workers' compensation declines by $21.98 (or 20.5%) post-[recreational marijuana legalization]. These results are not driven by pre-existing trends, and falsification exercises suggest that observing estimates of this magnitude is statistically rare."
Researchers said that they've found evidence that cannabis use increases post-legalization among the age cohort they studied, but no such spike in misuse. Further, they found a decline in post-legalization prescriptions for medications used to treat chronic pain, indicating that some people are using marijuana as a substitute for traditional painkillers.
"We hypothesize that access to marijuana through [recreational marijuana laws] increases its medical use and, in turn, allows better management of symptoms that impede work capacity—e.g., chronic pain, insomnia, mental health problems, nausea, and so forth," the study says. "Chronic pain management is likely to be particularly important in our context as this is the health condition most commonly reported among medical marijuana users."
Beyond decreasing workers' compensation claims and costs, legalization also is a boon to the economy by adding jobs in legal states.
The cannabis industry added more than 77,000 jobs over the past year—a 32 percent increase that makes the sector the fastest in job creation compared to any other American industry, according to a report released by the cannabis company Leafly last week.
Starting A Business? Study Finds Marijuana May Help—And Hinder