As Legalization Spreads, NORML Evolves Under New Leadership
The National Organization for the Reform of Marijuana Laws, better known as NORML, is the nation's oldest and most well-known cannabis legalization group.
Even as organizations like the Marijuana Policy Project and the Drug Policy Alliance are better funded and have arguably played a more direct role in shaping the growing number of changing state laws, NORML, founded in 1970, enjoys household-name status and is able to wield a large, national grassroots network of activists while other outfits mostly rely on paid staff located in a handful of major cities.
The group recently underwent a major transition, hiring a new, young executive director to fill the shoes of longtime leaders who ran NORML for decades.
Erik Altieri, 29, is that new cannabis crusader-in-chief. A former NORML staffer who left for two years to focus on broader political work, he returned to take over the organization's helm on November 9 of last year — the day after activists succeeded in convincing voters in eight states to approve marijuana reform ballot measures and Donald Trump's election as president stoked fear in the hearts of cannabis consumers and business investors.
Altieri took time to chat with Marijuana Moment about where NORML stands today, 45 years after its founding, at a time of both growing momentum for cannabis reform and looming uncertainty on the federal level.
You were with NORML as a staffer for over seven years before taking a two-year hiatus from marijuana work to focus on issues relating to the influence of big money in our political system. Why did you decide to come back now? And how are things different in the world of marijuana policy now compared to your last stint at NORML headquarters?
I initially took a hiatus from NORML after a long tenure there as communications director and PAC manager to take the skills I learned and apply them in other areas of advocacy I cared about. However, my heart still remained with my first passion, the marijuana legalization movement and NORML in particular. When I heard that Allen St. Pierre was resigning from the position of executive director, I felt I was uniquely positioned as someone with long-term institutional knowledge of the organization and the necessary technical, political and management skills required to rejuvenate and strengthen NORML at what has clearly become a pivotal phase for the efforts to end marijuana prohibition and a time when the power of grassroots movements, always NORML's bread and butter, was seeing a resurgence in its popularity and effectiveness.
My first official day back was the day after the 2016 election. Not only did it feel like the political landscape fundamentally changed that day, but we began to see a developing existential threat to all the progress our nation has made at reforming our marijuana laws. While on one hand we had chalked up some amazing victories for legalization in states, on the other we began to hear rumblings of where this administration's marijuana position might land as then-Senator Jefferson "Marijuana Smokers Aren't Good People" Sessions was being floated as the next attorney general. I decided that NORML should take a outspoken and strong stance against his appointment immediately. If we were to persevere we had to come together as a movement and show that any attempts to roll back our progress would be not just bad policy, but bad politics. With 60 percent of Americans supporting legalization and over 90 percent supporting medical marijuana access, we had to make clear that the people of this country wouldn't stand for attempts to take us back to the dark ages of 'Just Say No.'
But Sessions got confirmed anyway, despite vigorous protestations from NORML, the Drug Policy Alliance and others. Do you think this early opposition was worthwhile given sessions was confirmed anyway?
Our push back did not go unnoticed, despite Sessions being approved by the Senate to become the top law enforcement officer in the land. In a speech he gave not long after assuming the position, Sessions said that marijuana came up so much in the public discourse surrounding his appointment that "you would have thought [it was the] biggest issue in America."
At the time I told our supporters that NORML doesn't encourage panic or worry, but vigilance — and I still hold to that. The statements coming out of Sessions and other administration officials in the last year could really in no way be described as positive and, while the shoe hasn't fully dropped, it is easy to see where the threat lies — especially given that the Rohrabacher-Blumenauer amendment is continuing to face opposition to its renewal and that states that have legalized adult use marijuana have no formal protection from federal incursion at all. Activists, citizens and the marijuana industry cannot be caught whistling past the graveyard on this one. We need to be proactive in defending our gains and be organized and prepared for any formal opposition that may be coming down the road.
Things definitely seem uncertain on the federal level. What's your read on where the fight stands in the states?
Policy fights at the state level have evolved greatly since I last worked on the issue as well. We now face what I call a two-pronged war.
On one side we have states who have legalized the adult use of marijuana and in those states we very much take on the role of a direct consumer advocate. Just because possession and use of marijuana no longer is cause for an arrest doesn't mean all the problems have been solved. We still have to continue to apply pressure to regulators and state officials to ensure that not only these initiatives are implemented in a responsible way, but also take on ancillary issues that continue to exist such as workplace drug testing, expungement for those who still are carrying criminal charges on their record from before legalization, ensuring an individual's right to home cultivation, access to marijuana social clubs, fair tax rates, proper testing procedures for marijuana products and many others.
The other prong of this war is the majority of states where marijuana has not been legalized and individuals still face the burdens of prohibition. In those states we need to continue to fight for patients' access to medical cannabis, the ending of all criminal penalties for responsible marijuana use and the development of a consumer-friendly legalized market.
NORML was the first real organized push for legalization when it was founded in 1970. How do you see the organization's role in the movement today, and how has it evolved over time?
While our technology, tactics and some of the nuance of the fight has changed in the last several decades, in many ways I don't believe NORML's core role has. While I firmly believe there is a lot of great work coming out of the National D.C. office and we have a staff doing phenomenal work on federal issues and organizing, that has in many ways always been secondary to NORML's central purpose.
NORML isn't me sitting at my desk in Washington, NORML is the people. We are a banner under which average citizens can come together and fight against unjust laws. The National arm provides information, resources, guidance and so forth to our 150+ chapters across the globe, but it is the volunteer activists on the ground that never cease to impress me with their skill, commitment and passion.
The typical thought of the legislative process is that lobbyists get everything done. However, I believe there is a more powerful force in politics. Constituent-to-elected-official contact — particularly when done in a intelligent, concerted and persistent way — can achieve true change in ways nothing else can. To that end, NORML and our affiliates held over 24 state level lobby days just this year (an all time high for the organization) as well our National Conference and Lobby Day in Washington, D.C. which drew citizen activists from about half of the states in the country to advocate federal reform.
Earlier this year, our Kansas City chapter drafted and collected enough signatures to place citywide decriminalization on the ballot. This was an entirely volunteer effort done the old fashioned way: burning shoe leather, knocking on doors, talking to their neighbors and taking an active and vocal role in their community. On the sheer power of your average citizens getting engaged, the initiative passed with an astounding 74% of the vote.
There has always been, an admittedly semi-goofy saying around NORML that we put the grass in grassroots. I think that mentality was baked into the organization from the day Keith Stroup founded it in 1970 and holds truer than ever to this day.
What are some of the biggest challenges in taking over an institution like NORML from veterans like Keith Stroup and Allen St. Pierre who ran it for decades, including during the dark ages when legalization was largely considered a pipe dream by most political observers?
I think the challenges are similar to the ones any organization that has lasted as long as we have face. When you have been doing anything long enough, you tend to fall into routine. Sometimes things continue being done one way, just because that is how they have always been done. Organizations after a certain period of existence can have a tendency to fall victim to a sense of inertia. This can become particularly problematic in the evolving world of advocacy where you need to keep up with the ever changing state of not just politics, but social change, technology, competing efforts and so on. I don't think this is a unique problem to NORML, but one that presents itself at a certain point in any organization's lifespan should they live long enough.
While there are challenges, I do think the longevity of NORML provides a lot of opportunities. This longevity has created a massive pool of institutional knowledge, a large group of well seasoned and experienced activists, a respect for how long the arc of progress really is, how we achieved that progress over the long term and how astounding the victories of the past decade have been. NORML also has the benefit of being a strong brand that is trusted by the public on this issue, across many generational groups, thanks to the simple fact we have been going at this diligently for over four decades.
I'm greatly appreciative that founder Keith Stroup, our talented staff and our Board of Directors have been incredibly supportive and motivated along with me to harness our existing strengths and improve any weaknesses to ensure NORML can continue to be an active, powerful force in ending marijuana prohibition and implementing responsible and consumer friendly legalization regulations.
Do you think you have an advantage over those earlier leaders in running NORML today as a young person who grew up with the Internet as an organizing tool and in an era when marijuana became much more mainstream?
I believe I do, but I also don't think that advantage is necessarily unique to me personally, but of the generation I come from and the time we find ourselves in. In addition to being a tech nerd and former web developer myself, I, like everyone else of my general age group, had access to computers and the Internet for a good portion of our lives. Though I also believe I'm fortunate enough to have spent the earlier parts of my childhood without the overwhelming prevalence of computers and cellphones, and because of that I think I still have a nostalgia and belief in face-to-face tactics and direct engagement.
But, I also spent most of my life assuming these technologies were part and parcel of the modern world and was quick to adopt them into my daily existence. Utilizing the power of modern communication has been crucial to the progress of the marijuana reform issue. The Internet removed information gatekeepers and allowed organizations to get relevant and accurate data and other information directly to the people and citizens were more empowered to do their own research and draw their own conclusions instead of relying on the talking points of a few media companies. Social media and smartphones have given our grassroots activist indispensable, and often free, tools that allow them to easily and quickly communicate with supporters, host events and organize on the ground.
At this point in time, we also benefit from substantial public support for our cause, something that can't be said of decades prior. With this broader acceptance also comes a reduced stigma for speaking out against these unjust laws, as people feel less threatened and more empowered to do so.
How do you see NORML's focus changing over time as legalization goes into effect in more and more places?
While I think it is extremely important to point out that millions upon millions of Americans still live in localities where they are made criminals for choosing to consume marijuana, it is also true that our fight is evolving as more and more states adopt legalization and regulation laws.
At the core, NORML is the marijuana consumers lobby and in a post-legalization world there will still be plenty of important work to do in that arena. As I mentioned previously, in states that have legalized many individuals still face potentially losing their employment over consuming a substance that is no longer criminal — which is entirely unacceptable. No one should have to worry about losing their job for electing to consume a substance that is not only legal, but objectively safer than other substance such as alcohol and tobacco.
In these states there are still individuals being saddled with the consequences of a criminal record for an offense that is now legalized and even some still serving jail time — this is why we need strong expungement efforts. In places like Washington State, adults still cannot elect to grow their cannabis at home, which is important not just for the individual freedom component, but also because it is a force to use against the industry should it attempt to provide low quality product or charge unreasonable prices.
The second half of NORML's mission statement reads that we exist "to serve as an advocate for consumers to assure they have access to high quality marijuana that is safe, convenient and affordable" — issues that don't go away and in fact only become more important after legalization is initially approved.
We also, as a movement, have the unique opportunity to create a brand new, multi-billion dollar industry out of where there was once only a criminal black market. It is important we build one that is not just an example for more states to follow as they implement their laws, but for nations around the globe. We, as activists and consumers, are tasked with creating a model industry that allows for ease of access for average citizens into the market and promotes small business owners and diversity over monopolistic corporate greed.
With legalization moving from hypothetical discussion to reality, it has become harder to keep the varying interests in the fight on the same page. I do firmly believe though, that if we stick together as we largely have since this effort all began and adhere to our core values of social and racial justice and personal freedom, we will ultimately prevail.
We've come so far and accomplished so much. We need to not just continue, but redouble our efforts to cross the finish line and ensure the sustainability of marijuana legalization nationwide. The fight will be hard and we have a ways to go yet, but as I often like to remind our supporters: the marijuana revolution will continue and we will win.
This interview has been edited for length and clarity.
New York Doctors Can Now Recommend Medical Marijuana To Patients For Any Condition They See Fit
As New York prepares the launch of its adult-use marijuana market, the state Office of Cannabis Management (OCM) announced on Monday a significant expansion of the existing medical cannabis program.
Now doctors will be able to issue medical marijuana recommendations to people for any condition that they feel could be treated by cannabis, rather than rely on a list of specific eligible maladies. Physicians were granted that discretion through the state's recreational marijuana law that was enacted last year.
The expansion is being made possible as part of OCM's new Medical Cannabis Program certification and registration system.
"It is terrific to see the Medical Cannabis Program expand so vastly with the launch of the new certification and registration program and the ability of practitioners to determine qualifying conditions as included in the MRTA," Cannabis Control Board (CCB) Chair Tremaine Wright said in a press release.
"The new cannabis industry is taking shape as we continue to implement the MRTA and provide greater access for New Yorkers to a medicine that we're learning more about every day," Wright said. "We're continuing to move forward swiftly and today's system launch follows our achievements that already include adding whole flower medical product sales, permanently waiving $50 patient fees, and advancing home cultivation regulations, among others."
Medical practitioners can now certify a patient for any condition that the practitioner believes can be treated with medical cannabis, as intended by the MRTA.

— NYS Office of Cannabis Management (@nys_cannabis) January 24, 2022
Lat last year, CCB voted unanimously to advance a policy change to allow medical cannabis patients in the state to grow plants for personal use, another change made possible by the broad legalization law that was enacted.
In November, regulators also approved rules for the state's cannabinoid hemp program, notably clarifying that flower from the crop can be sold but delta-8 THC products are currently prohibited from being marketed.
"Launching the new patient certification and registration system and expanding eligibility for the Medical Cannabis Program are significant steps forward for our program," OCM Executive Director Chris Alexander said. "We will continue to implement the MRTA and ensure that all New Yorkers who can benefit from medical cannabis have the access they need to do so."
"It's important for New Yorkers to know that even as we shift the medical program to the OCM, your access will not be disrupted and the program will continue to expand," he stressed.
While marijuana retailers have yet to launch in New York, the legalization law signed by former Gov. Andrew Cuomo (D) already permits adults 21 and older to possess and publicly consume cannabis. Meanwhile, lawmakers in the state have been working to build upon the reform.
For example, a New York senator filed a bill last month to make it so that gay, lesbian and bisexual people can qualify as social equity applicants under the state's marijuana law.
Sen. Jeremy Cooney (D) introduced the legislation, shortly after filing a separate bill to include transgender and non-binary people in the cannabis social equity program. He's also behind other recent marijuana reform proposals related to cannabis business tax benefits and licensing.
—
Marijuana Moment is already tracking more than 1,000 cannabis, psychedelics and drug policy bills in state legislatures and Congress this year. Patreon supporters pledging at least $25/month get access to our interactive maps, charts and hearing calendar so they don't miss any developments.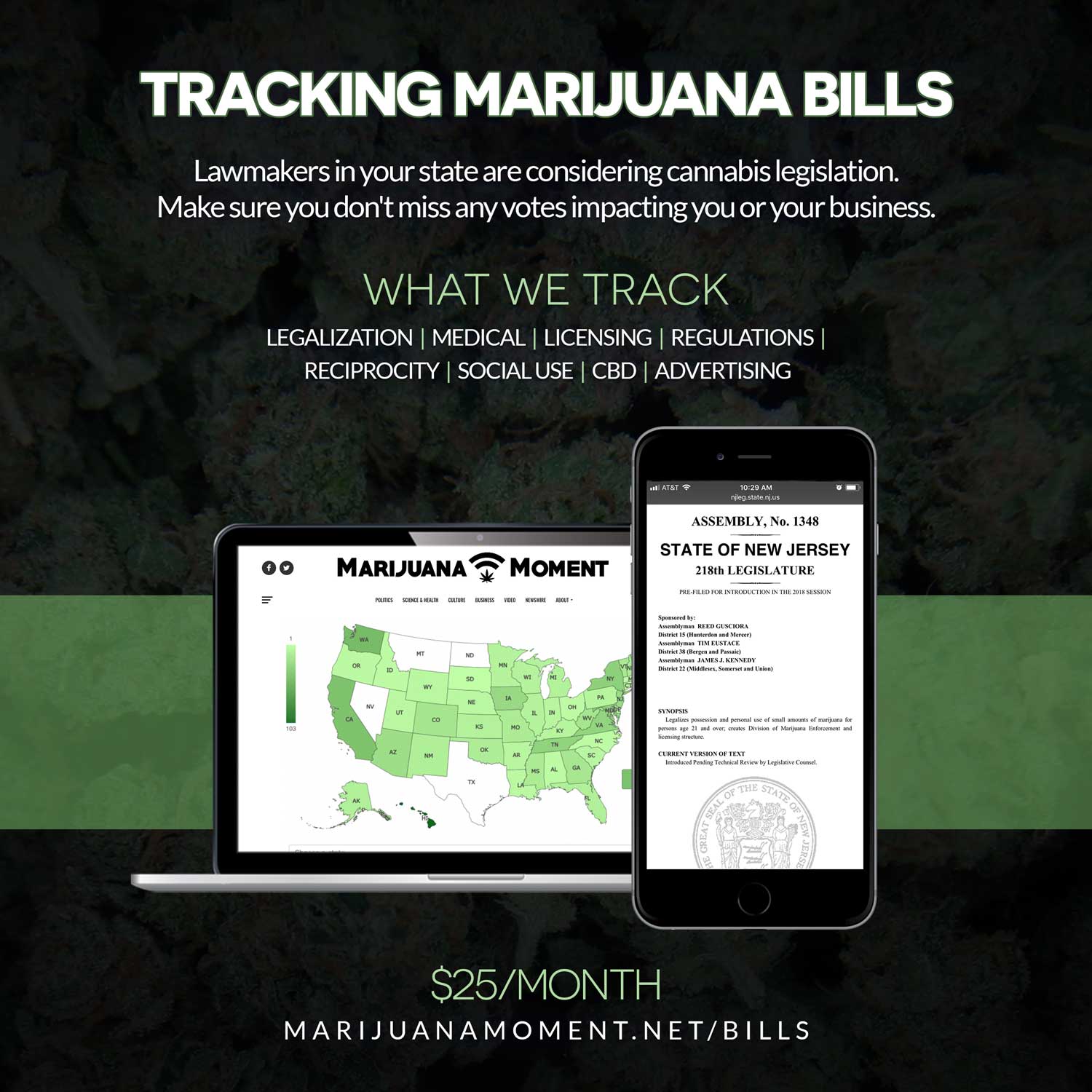 Learn more about our marijuana bill tracker and become a supporter on Patreon to get access.
—
In July, Cooney filed a bill to create a provisional marijuana licensing category so that farmers could begin cultivating and selling cannabis ahead of the formal rollout of the adult-use program.
Cooney is also sponsoring a newly filed bill to allow licensed cannabis companies to deduct certain business expenses on their state tax returns.
Gov. Kathy Hochul (D), who replaced Cuomo after he resigned amid a sexual harassment scandal, has repeatedly emphasized her interest in efficiently implementing the legalization law.
Hochul released a State of the State book earlier this month that called for the creation of a $200 million public-private fund to specifically help promote social equity in the state's burgeoning marijuana market.
The governor said that while cannabis business licenses have yet to be approved since legalization was signed into law last year, the market stands to generate billions of dollars, and it's important to "create opportunities for all New Yorkers, particularly those from historically marginalized communities."
That proposal was also cited in Hochul's executive budget, which was released last week. The budget also estimated that New York stands to generate more than $1.25 billion in marijuana tax revenue over the next six years.
The state Department of Labor separately announced in recent guidance that New York employers are no longer allowed to drug test most workers for marijuana.
Meanwhile, a New York lawmaker introduced a bill in June that would require the state to establish an institute to research the therapeutic potential of psychedelics.
Another state legislator filed legislation last month to legalize psilocybin mushrooms for medical purposes and establish facilities where the psychedelic could be grown and administered to patients.
Colorado Meets Marijuana Industry Diversity Goal Ahead Of Schedule
Colorado Meets Marijuana Industry Diversity Goal Ahead Of Schedule
Colorado officials announced on Monday that the state has achieved a "wildly important goal" of increasing diversity in the legal marijuana industry—but the data shows there's still a way to go before cannabis business ownership is on par with the state's population demographics.
Nearly 17 percent of the state's cannabis businesses are now minority-owned as of January 1, the Marijuana Enforcement Division (MED) reported. Colorado had set a goal of at least 16.8 percent minority ownership in the cannabis sector by June 30, 2022, and that's already been narrowly exceeded by the beginning of the year.
When data on licensee demographics started to be collected in July 2021, there was 15.2 percent minority ownership in the marijuana market. Now it's up to 16.8 percent.
As of January 1, the state has also approved 50 social equity licenses for communities disproportionately impacted by prohibition.
As one of the first states to legalize marijuana for adult use, there's been significant pressure on Colorado to ensure that the industry is equitable, benefitting those who have been most impacted under criminalization.
"Colorado is demonstrating that intentionally revising state marijuana laws to be more equitable gets results," Shaleen Title, a former Massachusetts cannabis regulator and current CEO of the Parabola Center, told Marijuana Moment.
"If one of the most mature markets can make clear progress, it's not too late for any market. And although there's always more to go—we should all be aiming for proportional representation in ownership at the very least—Colorado is setting and reaching reasonable goals," she said. "It's good for transparency and it's good for morale, and having more data on what's working at the state level is valuable to inform federal policy."
(Disclosure: Title supports Marijuana Moment's work via a monthly pledge on Patreon.)
As part of Colorado's commitment to equity, diversity, and inclusion, Social Equity Licenses are one of the many ways our Marijuana Enforcement Division is supporting diversity initiatives in the cannabis industry. To learn more, visit https://t.co/ye7c6WQJOZ @ColoradoEcoDevo pic.twitter.com/NljRlGtcuU

— CO Dept. of Revenue (@CO_Revenue) January 21, 2022
A demographic breakdown of the new data shows that while there's been an increase in minority ownership, the percentage of black people who own a majority stake in a cannabis business (2.9 percent) is still lower than the percentage of black people who live in the state (4.6 percent).
There's also a significant disparity when it comes to gender and marijuana licensing. MED's report says that there are 1,535 men who own a marijuana business, compared to just 350 women.
And with respect to license type, white people have a notably more expansive portfolio compared to other races.
Colorado Gov. Jared Polis (D) is also working to right the wrongs of prohibition outside of licensing. For example, last month he granted 1,351 pardons for convictions of possession of two ounces or less of marijuana.
That move focused on people who were made eligible for relief under a new law that increased the legal cannabis possession limit for adults in the state, which Polis signed in May. At the time, he directed state law enforcement to identify people with prior convictions for amounts under the new, two-ounce limit.
Polis signed an executive order in 2020 that granted clemency to almost 3,000 people convicted of possessing one ounce or less of marijuana. And while earlier legislation that enabled him to do that in an expedited way applied to possession cases involving up to two ounces, his office declined to pardon those with more than one ounce on their records because that amount violated the existing state law.
As the state works to increase diversity in the marijuana industry, it's also collecting significant tax revenue from cannabis sales.
Last year alone, Colorado generated $423 million in tax revenue from cannabis, the state's Department of Revenue reported last week.
Nearly $500 million of cannabis tax revenue in Colorado has supported the state's public school system so far, according to a report from the Marijuana Policy Project.
Massachusetts Marijuana Tax Revenue Now Exceeds Alcohol By Millions
Governors Across The U.S. Tout Marijuana Reform Progress In State Of The State Speeches And Budgets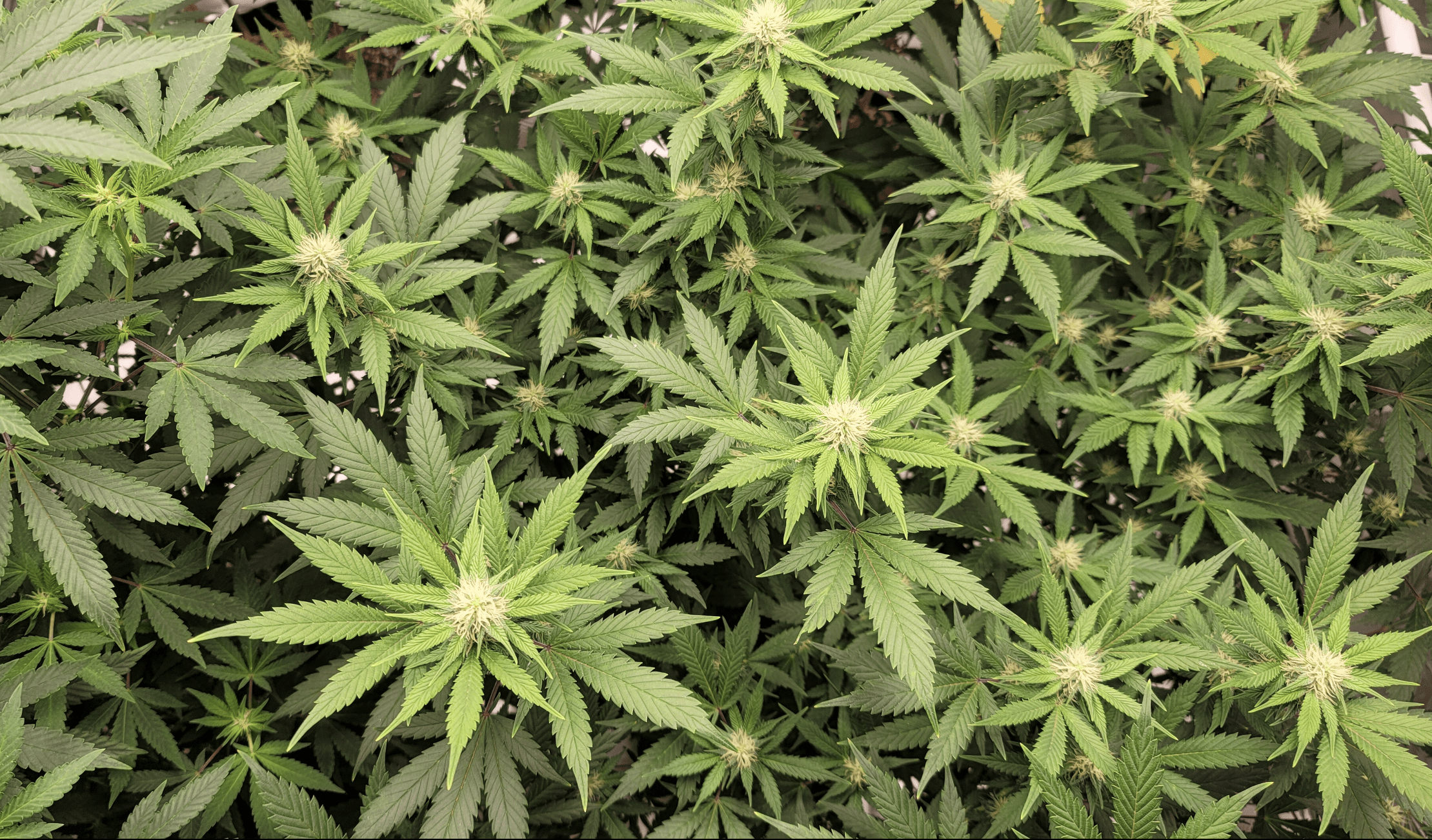 Governors across the U.S. have been taking the opportunity to tout marijuana reform accomplishments as part of their annual State of the State speeches and budget requests this month.
From New York to South Dakota, the comments and proposals from state executives demonstrate how cannabis has become more mainstream and is being talked about in high profile venues alongside more traditional fare such as taxes, education and infrastructure.
It's also part of a growing theme, as governors have increasingly brought up marijuana policy in State of the State addresses each year to kick off the new year as the legalization movement spreads.
Here's a look at what governors are saying about marijuana policy in 2022: 
New Jersey
While adult-use marijuana retail sales have yet to launch in New Jersey after voters approved a 2020 legalization referendum, the state's top executive said in his State of the State address that he's expecting an economic boon.
"Many jobs await in the cannabis industry ready to take off," Gov. Phil Murphy (R) said.
The governor also said separately in his second inaugural address this month that "businesses in the new cannabis industry that we are setting up in the name of social justice" are part of efforts to "continue growing the innovation economy that will power our future and make us a model for the nation and the world."
Businesses on the cutting edge of new technologies that will revolutionize our grasp of the possible.

Businesses in the new cannabis industry that we are setting up in the name of social justice.

In online gaming and sports betting, which we now dominate.

— Governor Phil Murphy (@GovMurphy) January 18, 2022
As the state prepares to implement legal cannabis sales, Murphy said late last year that he's open to giving adults the right to cultivate marijuana for personal use even though it's not currently written into the law.
New Mexico
New Mexico Gov. Michelle Lujan Grisham (D) talked in here State of the State speech about the economic potential of the marijuana industry under the legalization law she signed last year.
"We're expanding our economic footprint into every single community," the governor said in her State of the State address. "Legal cannabis is going to create thousands of jobs and serious tax revenue for local governments to support local services in every corner of our state."
Legal cannabis is going to create thousands of jobs & serious tax revenue to support local services.

Clean hydrogen will support thousands of jobs, especially in rural New Mexico, while helping us sprint toward our net-zero carbon deadlines and decarbonize transportation.

— Michelle Lujan Grisham (@GovMLG) January 18, 2022
New York
New York Gov. Kathy Hochul (D) released a State of the State book earlier this month that called for the creation of a $200 million public-private fund to specifically help promote social equity in the state's burgeoning marijuana market.
The governor said that while cannabis business licenses have yet to be approved since legalization was signed into law last year, the market stands to generate billions of dollars, and it's important to "create opportunities for all New Yorkers, particularly those from historically marginalized communities."
That proposal was also cited in Hochul's executive budget, which was released last week. The budget also estimated that New York stands to generate more than $1.25 billion in marijuana tax revenue over the next six years.
The briefing book for the executive budget touts how Gov. Kathy Hochul (D) has "prioritized getting New York's cannabis industry up and running" since marijuana was legalized under her predecessor last year. That includes appointing key regulators who've been "creating and implementing a comprehensive regulatory framework."
Rhode Island
The governor of Rhode Island included a proposal to legalize marijuana as part of his annual budget plan—the second time he's done so. And time around, he also added new language to provide for automatic cannabis expungements in the state.
Gov. Dan McKee (D) released his request for the 2023 fiscal year on Thursday, calling for adult-use legalization as lawmakers say they're separately nearing a deal on enacting the reform. It appears that an outstanding disagreement between the governor and legislators concerning what body should regulate the program remains unresolved based on the new budget proposal, however.
In general, McKee's plan would allow adults 21 and older to purchase and possess up to one ounce of cannabis, though it would not provide a home grow option. Adults could also store up to five ounces of marijuana in secured storage in their primary residence.
"The governor recommends creating a strictly regulated legal market for adult-use cannabis in the state," an executive summary states. "This proposal would create a weight-based excise tax on marijuana cultivation, an additional retail excise tax of 10 percent, and also apply sales tax to cannabis transactions."
South Dakota
South Dakota Gov. Kristi Noem (R) isn't a fan of adult-use legalization, going so far as to fund a lawsuit against a voter-approved 2020 reform initiative that ultimately led to a court ruling voiding the law. Her office has even suggested that activists behind the successful legalization campaign should front the legal bills for the case.
However, she seems to recognize the popularity of the issue and has recently attempted to associate herself with the implementation of the separate medical cannabis legalization law that voters also approved, as she did in her State of the State address this month.
"I take our citizens' health seriously. I don't make these decisions lightly. And when we create new policy, we're going to do everything we can to get it right from day one," Noem said. "Our state's medical cannabis program is one example."
"It was launched on schedule according to the timeline passed by South Dakota voters," she said. "I know there will be some debate about that program this session. My focus is on making sure South Dakota has the safest, most responsible, and well-run medical cannabis program in the country."
Noem tried to get the legislature to approve a bill to delay implementation of the medical cannabis program for an additional year, but while it cleared the House, negotiators were unable to reach an agreement with the Senate in conference, delivering a defeat to the governor.
In response, her office started exploring a compromise last year, with one proposal that came out of her administration to decriminalize possession of up to one ounce of cannabis, limit the number of plants that patients could cultivate to three and prohibit people under 21 from qualifying for medical marijuana.
Advocates weren't enthused with the proposal, and now they're taking a two-track approach to enacting broader legalization legislatively and through the ballot.
Virginia
In his final State of the Commonwealth address this month, now former-Gov. Ralph Northam (D) talked about the criminal justice implications of his state's move to legalize marijuana last year.
"We also worked closely with you to make sure our criminal justice system reflects the Virginia that we are today. Too often, our modern-day punishments and practices have their roots in a more discriminatory and unfair past," he said. "That's why we've made marijuana use legal."
Too often, our modern-day punishments and practices have their roots in a more discriminatory and unfair past.

That's why we've made marijuana use legal. That's also why we have ended use of the death penalty in Virginia—the first southern state to do so. #VASOTC

— Governor Ralph Northam (@VAGovernor73) January 13, 2022
He also thanked the legislators who championed the reform "for their work on this policy, which is complicated, but important."
Meanwhile, the new governor of Virginia, Glenn Youngkin, said recently that while he's not interested in re-criminalizing marijuana possession, which became legal in the state last summer, but he feels there's "still work to be done" before he gets behind creating a market for commercial sales and production.
Bipartisan Pennsylvania Senators File Bill To Let Medical Marijuana Patients Grow Their Own Plants
Photo courtesy of Mike Latimer.