Legal Marijuana Is A 'Positive Amenity' For New Colorado Residents, Study Finds
Many people consider a number of factors before deciding to move to a new state, including the availability of jobs, the quality of schools and the cost of living, among other things. In recent years, another amenity that may attract new residents to a state, according to a recent study, is access to legal marijuana.
Specifically, researchers focused on the number of people who migrated to Colorado before and after legalization as compared with a model of what the state would look like under continued prohibition.
"We find strong evidence," the paper states, "that potential migrants view legalized marijuana as a positive amenity with in-migration significantly higher in Colorado compared with synthetic-Colorado after the writing of the [Department of Justice] memo in October 2009 that effectively allowed state laws already in place to be activated, and additionally after marijuana was legalized in 2013 for recreational use."
The findings, which were published in the journal Economic Inquiry last month, are "consistent with most previous research that has in general found positive effects of legalization, such as reductions in youth suicide, traffic accidents and crime."
Researchers in Spain and Italy used data from the American Community Survey to track how many people moved within the United States, including where they lived originally and where they migrated. To understand how local laws may help entice newcomers to an area, they focused primarily on Colorado, which legalized medical cannabis in 2000 and adult-use marijuana in 2012. For comparison purposes, they created a "synthetic Colorado" using data from 20 states where marijuana was still illegal in 2017 with a goal of creating a synthetic model of a Colorado that had not legalized marijuana.
Because legal access to medical cannabis was not widely available until after 2009—the year the Obama Department of Justice issued guidelines that made enforcement of federal law a low priority for individuals operating in compliance with state medical cannabis laws—the study's authors focused on the years 2010–2015 as the treatment period in their analysis. They compared migration numbers for 2005–2009 as the pretreatment period.
"From 2005 to 2009, on average, 187,600 people migrated to Colorado in each year," the study states. "Between 2010 and 2013, in-migration increased by 21,372 people per year (a 11.4% increase) in Colorado compared with synthetic-Colorado. After full legalization in 2013, in-migration further increased by 14,087 people per year (an additional 7.5% increase)."
"When we employ permutation methods to assess the statistical likelihood of our results given our sample, we find that Colorado is a clear and significant outlier," the researchers wrote. "We find no evidence for significant changes in out-migration from Colorado relative to synthetic-Colorado suggesting that marijuana legalization did not change the equilibrium for individuals already living in the state."
Overall, the authors write, 156,406 more people moved to Colorado after 2009 than what was predicted using their synthetic-Colorado analysis. "Given that we find no impact on outmigration, this implies that marijuana legalization increased Colorado's population by 3.2% as of 2015."
Their findings support the results of a related paper published in 2018. That analysis found that legalization in Colorado lead to a 6 percent increase in housing values, which were driven by an increase in demand.
"Taken together," the current study states, "this suggests that, at least initially, easier access as opposed to the generation of new jobs and local tax revenues, was the main driver of migration inflows to Colorado."
Colorado Has Generated Over $1 Billion In Marijuana Revenue, State Announces
President Influences Public Opinion On Marijuana Legalization, Study Finds
When it comes to how Americans view marijuana legalization, the person sitting in the Oval Office makes a difference, a new study reports.
"Findings indicate that confidence in the executive branch, fear of crime, and presidential drug rhetoric predict attitudes toward legalization despite controls for other factors such as estimated levels of marijuana use and arrests," the paper states. The findings were published last month in the journal Deviant Behavior.
It's probably not news to anyone that the president of the United States has the power to sway public opinion—they are, after all, the most powerful person in the country and a great deal of attention is paid to messaging coming out of the White House. Like the mainstream media, POTUS can therefore help shape attitudes about marijuana and other drugs.
Researchers at Kennesaw State University and Old Dominion University, however, were interested to know just how much influence a president may have, especially when it comes to how the general public views cannabis policy.
For their analysis, the study's authors used data from the General Social Survey spanning 1972–2016 to gauge Americans' opinions on legalizing cannabis. They also reviewed reports on estimated marijuana use as well as related arrests. To get a sense of how often presidents talked about cannabis and illicit drugs during the study period, they looked at public presidential documents, including State of the Union (SOTU) addresses and other speeches, messages and executive orders.
The study's authors worked with several variables and control measures, and chose to conduct a multi-level model analysis in order to consider changing contexts over time. Here's some of what they found:
The year 2014 was a turning point for how Americans viewed marijuana legalization. For the first time since 1975, more people that year supported ending prohibition than those who didn't.
How much the president talks about marijuana and other drugs matters. The study found that "each annual percent increase in SOTU words about drugs predicts a decreased odds of favoring legalization of about 6%." Also, an increase in drug-related presidential documents led to a small decrease in favor of legalization, though the number of cannabis-related documents were not as influential.
When more people expressed having confidence in the executive branch, the odds of their supporting legalization fell about 29 percent compared to people who said they had "hardly any confidence" in the White House.
The crack-cocaine drug panic of the late 1980s—which other researchers say was created by President Ronald Reagan's anti-drug rhetoric—impacted how people felt about marijuana legalization: The odds of the public favoring legalization decreased by about 27 percent then compared to the other time periods.
As more people reported consuming cannabis, the odds of supporting legalization also increased. "For every percent increase in aggregate marijuana use, the models predict a five percent increased odds of favoring marijuana legalization," the study states.
Political party matters. "Specifically, the model illustrates that when a Republican president is in office, each increase in confidence leads to decreased odds of favoring legalization of approximately 36%. However, when a Democratic president is in office the decreased odds of favoring legalization is reduced to 24%."
Researchers also found that fear of crime was found to be positively associated with legalization. As they explain it, if two persons with the same individual level fear of crime are located in two different states, the respondent in the state with higher mean fear of crime will have a 52% increased odds of favoring legalization per unit increase in the mean fear of crime compared to the individual in the state with lower mean fear of crime."
It's possible, they added, that people have begun to question some of the fear-mongering associated with marijuana.
"While attitudes toward legalization of marijuana have varied greatly over time, so has presidential rhetoric about marijuana and drugs," the study's authors wrote. "The lowest support for legalization is consistently found during President Reagan's Just Say No era. However, beginning around the election of President Clinton, a steady increase in attitudes favoring legalization…is observed. This project supports the hypothesis that presidential drug rhetoric is related to public opinion about drugs, and more specifically, about marijuana."
As for the current occupant in the White House, President Trump has maintained that his administration will leave marijuana policy for states to decide.
What's Really Behind Americans' Increased Support for Marijuana Legalization? Study Sheds Light
Photo courtesy of Rick Proctor.
Harmful Stereotypes About Marijuana Consumers Persist In The Media, Study Finds
When mainstream news outlets—particularly those that lean conservative—publish stories about marijuana, they still tend to perpetuate stereotypes about cannabis with depictions of lazy stoner culture and criminal activity, a new study found.
"This study starkly demonstrated the heavily politicalized nature of marijuana legalization," the paper states. "Conservative news outlets depicted stereotypes more frequently than liberal or neutral outlets, and this pattern held true in both visuals and their accompanying headlines."
Researchers also found that "the legalization of marijuana did little to decrease these stereotypes."
The study, which was published in the journal Visual Communication last month, focuses on how visual framing in mass media impacts the social reality of controversial issues such as marijuana legalization, which is still widely stigmatized in parts of the United States. Many people continue to  believe marijuana users are dangerous criminals, lazy stoners or rebellious outcasts.
For their analysis, the study's authors searched select American online news sites for cannabis-related articles published from June 1, 2013 to July 1, 2014 (that is, the six months before and the six months after legal marijuana sales began in Colorado). They ultimately gathered 458 visuals from 10 different media outlets: four sites they categorized as conservative (Dallas Morning News, New York Daily News, New York Post, Houston Chronicle), four liberal sites (Los Angeles Times, New York Times, Washington Post, Chicago Tribune), and two they deemed neutral sites (USA Today and Wall Street Journal). A majority of the images (268) were taken from stories published after Colorado legalized adult-use.
Researchers then took the visuals and divided them into broad categories based on cultural, racial and criminal stereotypes. They also assessed how headlines were used to frame the images.
According to their findings, there were more images that did not contain stereotypes than ones that did. However, 21 percent of photos featured pot culture stereotypes. For example, the New York Post published a photo featuring an Asian man presumably in his 20s smoking from a bong, his face obscured by smoke. Other images included close-ups of rolled joints and festivals featuring young people hanging out amidst clouds of smoke.
Additionally, 15 percent of images associated criminal behavior with marijuana, and often featured a person of color getting arrested or in court. "Overall," the study's authors write, "more racial minorities are depicted as criminals (21.5%) than are non-racial minorities (13.4%). Further, significantly more racial minorities are associated with headlines with a topic about crime (42.5%) than are non-racial minorities (23.1%)"
As for political ideology, conservative news sites depicted racial minorities, criminal stereotypes and pot culture stereotypes more frequently than liberal or neutral publications.
Importantly, the study also assessed how often news organizations used images that normalize marijuana: These include photos of the cannabis plant as opposed to a joint, images of bud in a laboratory setting, or pictures of families or couples. "Politically neutral news sites visually depict normification in images significantly more frequently (9.0%) than liberal (8.6%) news outlets," the study's authors write. "Conservative news outlets were significantly less likely to depict marijuana use as normal than either of the two other ideologies (1.9%)."
Interestingly, after Colorado approved adult-use, the prevalence of these types of photos did not increase significantly.
"Broadly," the authors wrote, "this study suggests that 'ready-made' images of what marijuana users are supposed to look like are indeed being used and reinforced by the media. As more states begin to acknowledge the false propaganda and exaggerations associated with marijuana's history in the U.S. through legalization efforts, the media will play a leading role in either reinforcing or debunking these myths through the representations they choose to visually illustrate the issue."
"The heavy reliance on stereotypes of marijuana users is an ethical issue, as media representations will influence how audiences draw conclusions about marijuana use, judge the character of its users, and continue to either stigmatize users or open up new spaces within commercial media culture for alternate, more mainstreamed marijuana use," the study concluded.
It's clear we've got a ways to go. Last month, popular online news site Vox published an explainer on the current state of marijuana legalization in the U.S. Sharing that story on Twitter, the news site's account tweeted: "9 questions about marijuana legalization you were too stoned to ask."
9 questions about marijuana legalization you were too stoned to ask https://t.co/jeuKrlvLFO

— Vox (@voxdotcom) August 30, 2019
Study Finds Marijuana Motivates People To Exercise, Smashing Lazy Stoner Stereotype
Photo courtesy of Aphiwat chuangchoem.
Overregulation Drives Illegal Marijuana Market In Legal States, Study Suggests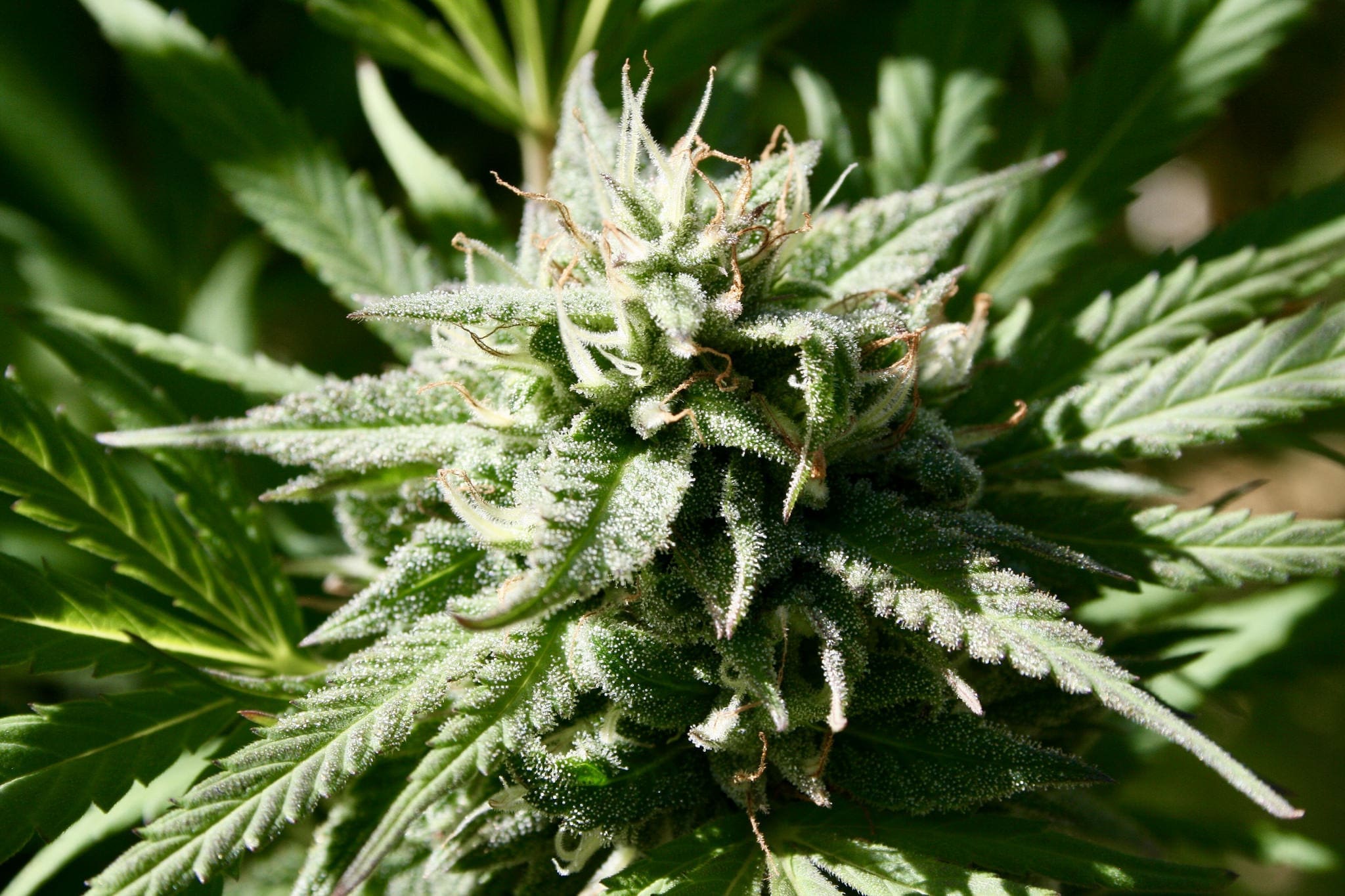 Excessive state regulations may be the reason illegal marijuana markets continue to exist after legalization, a new exploratory study found after looking at data from the first two U.S. states to end cannabis prohibition.
"The qualitative analysis of news reports reveals that regulation is one of the main reasons that people stay in the illicit market," the paper states. "The comparison of marijuana crime trends in Colorado and Washington shows mixed findings. While marijuana offense rates in Colorado largely remained steady over the years, those in Washington increased dramatically after the implementation of more intensive regulations."
Published in July, the research is the master's thesis of Sikang Song, a graduate student of the criminology and criminal justice department at Portland State University.
Song writes that he was interested in understanding why the unregulated marijuana market persists in states where cannabis is legal. Since growers, sellers and consumers have "legitimate channels" to produce, trade and obtain cannabis, these illegal avenues should presumably diminish.
Yet research shows they haven't disappeared altogether: Last year, one report found that 18 percent of cannabis consumers in California said they purchased marijuana products from an unlicensed seller.
For his analysis, Song investigated whether there's an association between how intense state cannabis-related regulations are and the extent of the remaining illegal market. First, he reviewed news articles published between late 2013 to April 2019 featuring interviews with cultivators, sellers and consumers who shared the various reasons why they remain in the unregulated market. He then looked into whether marijuana arrest rates changed in the first two legal states after new sets of regulations were installed.
In Washington, he used June 2016 as the intervention point, and in Colorado, he used November 2015 and January 2017 as intervention points. (In 2017, for example, Colorado state lawmakers passed new rules regarding labeling and packaging of all containers holding marijuana flower and trim, concentrates and other products.)
According to the study, the reasons most people said they grew or sold marijuana illegally were "strict regulations and the high cost associated with the compliance."
"Over two thirds of recording units (68%; n = 115) contain interviews and quotations from black market participants stating this reason," the paper states. "Terms such as 'overregulation,' 'cost of compliance,' 'high taxes' are frequently used in the headlines and texts to describe 'barriers' for 'small producers' to enter the legal market or 'drive' them to the black market."
Other reasons for staying in the illegal marijuana market included high taxes, market fluctuations and organized crime.
Using an interrupted-time series analysis, Song also found that Washington's crime rate increased after the state introduced more regulations. "In 2014 and 2015, the marijuana crime rates per 100,000 residents were both at around 26," he writes. "This number was increased to more than 28 incidents per 100,000 residents in 2016. In 2017, a total of 2,628 marijuana crimes were reported by law enforcement agencies in Washington, making the annual crime rates 35.96 per capita."
Colorado, on the other hand, did not see any significant short- or long-term changes to its cannabis-related crime rates after the state implemented new marijuana regulations.
"Although the findings are not conclusive, the results of Washington data show that regulation intensity may be one of the main factors that influences or explains the persistence of illegal cannabis transactions after the legalization," the study states. "The fact that Washington's marijuana black market kept growing after the implementation of more complex and sophisticated regulations at least indicates a correlation between regulation intensity and the increase of the black market in the case of Washington."
The fact that similar findings were not reported in Colorado, the study continues, suggests "the magnitude of illicit marijuana activities may be affected by regulation intensity in some states."
Ultimately, the author points out, these results raise questions about "the possible adverse effect of intensive regulations to researchers and policy makers."
If one of the goals in marijuana legalization is to eliminate the unregulated market, Song writes, it's important for lawmakers to consider the implications of unnecessarily strict state rules. Instead, they should focus on creating an "equitable and accessible market that allows the coexistence of both large and small businesses."
"The cost of compliance to regulations should be reduced to remove the barriers of establishing a legal marijuana business," Song concludes, adding that "future policies should also pay more attention to cracking down [on] persistent illegal growers and sellers and organized crime groups who are unwilling to participate the legal market."
Legalizing Marijuana Leads To Fewer Illegal Grow Sites In National Forests, Study Finds
Photo courtesy of Brian Shamblen.