Key GOP Chairman Supports New Marijuana Research Bill
New legislation being filed this week by a bipartisan coalition of Republicans and Democrats — including the chair of the powerful House Judiciary Committee — would remove several key federal roadblocks to research on marijuana.
"Not later than 1 year after the date of enactment of the Medical Cannabis Research Act of 2018…the Attorney General shall register…at least 2 applicants to manufacture cannabis for legitimate research purposes," reads the text of a bill obtained by Marijuana Moment that is slated to be introduced on Thursday with the support of Judiciary Chairman Bob Goodlatte (R-VA).
In subsequent years, the attorney general would be required to license at least three additional cannabis manufacturers annually.
For decades, all cannabis used for studies in the U.S. has been grown at a single farm at the University of Mississippi. Researchers have long argued that it is difficult to access cannabis from the facility, and that the product is often of low quality.
In 2016, the Drug Enforcement Administration enacted a new policy intended to license more research cultivators, and he agency has reportedly since received at least 25 applications to participate in the new program. But it has not yet acted on any of them and, according to the Washington Post, that is because top Justice Department officials have stepped in to prevent DEA from approving any proposals.
The new legislation would force the attorney general's hand.
A fact sheet circulated by the office of Congressman Matt Gaetz (R-FL), the lead sponsor of the bill, says that the existing cannabis research supply is "extremely subpar."
"It is weak and often moldy, which can cause illness. In addition to being subpar, federally-grown cannabis is scarce; there is not enough product," the document says.
The new bill would also create a "safe harbor" from federal law for universities and other research institutions that want to study marijuana. And it would clarify that doctors with the U.S. Department of Veterans Affairs are allowed to refer military veterans to studies on cannabis's medical benefits.
Bloomberg first reported that Goodlatte was supporting the bill.
On Tuesday night, Gaetz and other lawmakers took to the House floor to voice support for marijuana law reform.
"Even though VA doctors/staff are not prohibited from sharing information about federally-approved cannabis clinical trials with patients, many VA offices believe mentioning these trials is illegal," Gaetz's fact sheet says. "This legislation codifies that healthcare providers at the VA are authorized to provide information about federally-approved cannabis clinical trials, and they are also allowed to fill out forms for veterans to participate in these trials."
Besides Goodlatte, other initial cosponsors include Steve Cohen (D-TN), Alcee Hastings (D-FL), Darren Soto (D-FL), Dana Rohrabacher (R-FL), Karen Handel (R-GA), Earl Blumenauer (D-OR), Scott Taylor (R-VA), Carlos Curbelo (R-FL), Dina Titus(D-NV), Tom McClintock (R-CA), Ileana Ros-Lehtinen (R-FL), Darrell Issa (R-CA) and Barbara Lee (D-CA).
See below for the full section-by-section bill analysis circulated by Gaetz's office:
Section 1: Title
Section 2: INCREASING THE NUMBER OF FEDERALLY-REGISTERED MANUFACTURERS OF CANNABIS FOR LEGITIMATE RESEARCH PURPOSES
PROBLEM: Currently, all federally-approved studies of medical cannabis get their product from one source, and it is extremely subpar. It is weak and often moldy, which can cause illness.
SOLUTION: this section requires there to be at least three federally-approved manufacturers of cannabis for legitimate research purposes.
The license to be a federally-approved manufacturer would be one year, with the (rare) exception of producers who wish to initiate a multi-year study or clinical trial.
Manufacturers would have to pass stringent background checks and meet a strict set of criteria, including growing at least ten different strains, and being able to test for at least 12 different cannabinoids. We must ensure that federally-approved growers are safe, will not run out of product, and are prepared to meet the needs of current and future researchers.
The strict standards set forth for medical cannabis manufacturers are not applied to other, non-research-based cannabis businesses. Keeping "research cannabis" separate means this legislation does not interfere with federal laws, state laws, or law enforcement. This bill makes no changes to the legal status of cannabis.
By ending the current monopoly on research-grade medical cannabis, and by improving choice among growers, research will be easier and better.
In addition to being subpar, federally-grown cannabis is scarce; there is not enough product. This section requires the Attorney General to annually assess whether there is an adequate and uninterrupted supply of research-grade cannabis.
Even though the DOJ is required to process new applicants for growing cannabis, they have dragged their feet, and a huge backlog of applications has built up. This section requires DOJ/DEA to act on any application to manufacture cannabis within one calendar year.
Some institutions (like universities) want to research cannabis, but cannot do so because cannabis research threatens their federal funding. This section includes "safe harbor" for researchers and institutions studying cannabis, and for patients in federally-approved medical cannabis clinical trials.
Section 3: PROVISION BY DEPARTMENT OF VETERANS AFFAIRS HEALTH CARE PROVIDERS OF INFORMATION REGARDING VETERAN PARTICIPATION IN FEDERALLY-APPROVED CANNABIS CLINICAL TRIALS
PROBLEM: even though VA doctors/staff are not prohibited from sharing information about federally-approved cannabis clinical trials with patients, many VA offices believe mentioning these trials is illegal.
SOLUTION: this section codifies that healthcare providers at the VA are authorized to provide information about federally-approved cannabis clinical trials, and they are also allowed to fill out forms for veterans to participate in these trials.
This section also clarifies that VA employees are allowed to receive information about cannabis clinical trials from researchers.
Finally, this section says that VA researchers (who are eligible to research Schedule 1 substances) may do research on cannabis.
This section provides clarity to VA employees, and allows VA researchers to study cannabis.
­­­
This bill is not a pathway to legalization, nor does it change the legal status of cannabis. It simply makes it easier to conduct federally-approved research. Many people say that we can't change cannabis laws without doing more research. Fair enough. This legislation simply makes cannabis research safer, better, and more accessible.
Senate Schedules Second Cannabis Hearing For Next Week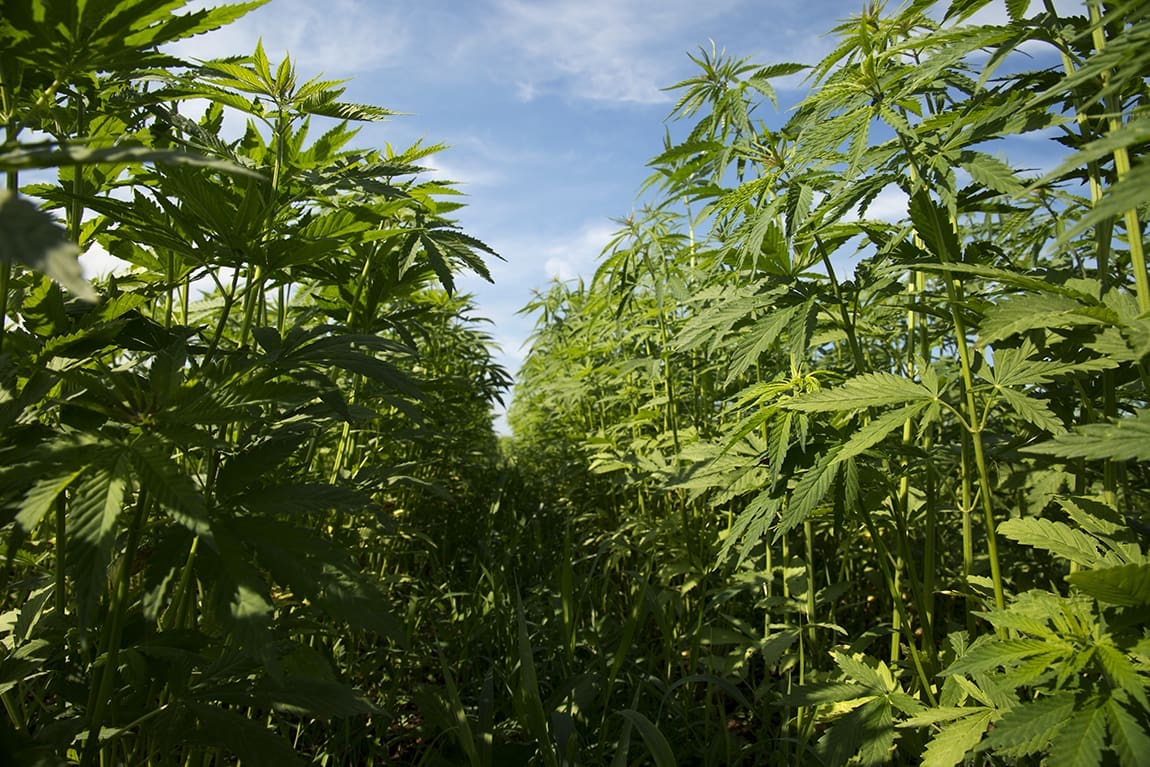 A key Senate committee will hold a hearing next week to discuss hemp production, featuring witnesses from the U.S. Department of Agriculture (USDA), the Food and Drug Administration (FDA) and the Environmental Protection Agency (EPA).
In the months since hemp and its derivatives were federally legalized under the 2018 Farm Bill, there's been strong interest in developing USDA and FDA regulations for the crop and its compounds such as CBD, and lawmakers have repeatedly pressed the agencies to speed up the rulemaking process to unlock the industry's potential.
While the hearing notice doesn't go into detail about what will be discussed, the meeting's title—"Hemp Production and the 2018 Farm Bill"—and list of witnesses indicate that the conversation will revolve around the development of federal guidelines for hemp businesses.
.@SenateAgGOP +@SenateAgDems Announce 7/25 #Hemp Production Hearing https://t.co/b28TC831Sa #FarmBill pic.twitter.com/HZBfgx0TjG

— Sen. Ag Republicans (@SenateAgGOP) July 17, 2019
USDA Marketing and Regulatory Programs Under Secretary Greg Ibach, USDA General Counsel Stephen Vaden, FDA Principal Deputy Commissioner Amy Abernethy and EPA Assistant Administrator of Chemical Safety and Pollution Prevention Alexandra Dunn will appear before the Senate Committee on Agriculture, Nutrition, and Forestry on July 25.
I am honored to be called by the Senate Committee on Agriculture, Nutrition, & Forestry to testify next week (7/25) on "Hemp Production and the 2018 Farm Bill." As FDA, we recognize how important the topics of hemp and cannabidiol (CBD) are to Americans. https://t.co/bHMBGth1bL

— Dr. Amy Abernethy (@DrAbernethyFDA) July 18, 2019
Other invited witnesses include Kentucky farmer Brian Furnish, National Hemp Association Executive Director Erica Stark and Red Lake Band of Chippewa Indians Tribal Chairman Darrell Seki.
The Senate Agriculture Committee meeting will mark the chamber's second cannabis-related hearing of the week. The Committee on Banking, Housing and Urban Affairs announced on Tuesday that it will meet to discuss marijuana banking issues on July 23.
FDA and USDA have both recently signaled that they were cognizant of widespread interest in creating regulatory pathways for hemp and its derivatives, with USDA stating that it planned to release an interim final rule on the products in August and FDA's Abernethy writing that the agency is "expediting" its rulemaking process. FDA added that it hoped to release a report on its progress by early fall.
That said, heads of the departments have also tried to temper expectations. Agriculture Secretary Sonny Perdue said that USDA wouldn't be expediting regulatory developments but that he expected them to be issued ahead of the 2020 planting seasons.
Former FDA Commissioner Scott Gottlieb, meanwhile, cited policy complications that would make it difficult for the agency to create an alternative regulatory pathway for hemp-derived CBD products to be lawfully marketed as food items or dietary supplements. He said that without congressional action, it may take FDA years to establish those rules.
Separately, officials from both FDA and USDA will participate in hemp conferences in August, where they're also expected to update stakeholders on their progress.
Senate Schedules Hearing On Marijuana Business Banking Access
Photo courtesy of Brendan Cleak.
As More States Legalize, DEA Chops Down Fewer Marijuana Plants, Federal Data Shows
The Drug Enforcement Administration (DEA) seized far fewer marijuana plants in 2018 compared to the previous year but made significantly more cannabis-related arrests, according to federal data released this month.
More than 2.8 million indoor and outdoor marijuana plants were seized last year as part of the DEA's Domestic Cannabis Eradication/Suppression Program. That marks a 17 percent decline from 2017 levels.
NORML first noted the DEA report, which also shows that marijuana-related arrests the agency was involved with increased by about 20 percent in a year. And while the overall number of plants that were seized dropped, DEA said that the value of the assets totaled about $52 million—more than twice as much as it reported the previous year.
State-level legalization efforts appear to have played a role in the declining number of plant seizures, particularly those cultivated outdoors. In the same year that retail cannabis sales started in California, DEA confiscated almost 40 percent fewer outdoor plants in the state compared to 2017.
That data point is consistent with recent research showing that legalization is associated with a decrease in the number of illicit cannabis grows in national forests, which are often targets for DEA enforcement action.
It's not clear why there was a significant uptick in marijuana-related arrests, but those increases generally did not occur in states where legal cannabis systems were recently implemented.
For example, arrests in Kansas, where marijuana is strictly prohibited, increased by more than 3,500 percent—from 15 to 544—from 2017 to 2018. Louisiana likewise experienced a 168 percent increase in cannabis arrests.
The data covers federal law enforcement actions and does not include those of local police agencies that did not partner with the agency.
Year-over-year decreases in cannabis seizures through DEA's eradication program have been viewed by advocates as evidence that state-level legalization systems effectively displace the illicit market, removing the incentive to illegally cultivate cannabis.
Similarly, a separate recent report from the U.S. Sentencing Commission showed that federal prosecutions for marijuana trafficking dropped precipitously in 2018—another sign demonstrating that state-level legalization is disrupting the illicit market, advocates argue.
NORML Deputy Director Paul Armentano told Marijuana Moment that "federal eradication programs are a holdover from a bygone era."
"At a time when roughly one-quarter of the country resides in a jurisdiction where adult marijuana use is legal, and when members of Congress are openly discussing removing cannabis from the federal Controlled Substances Act, it is time for these federal anti-marijuana efforts to be put out to pasture and for federal agencies to take positions that more closely comport with cannabis' rapidly changing cultural status in America," he said.
DEA has also faced criticism of its cannabis eradication efforts from a non-partisan federal watchdog agency last year for failing to adequately collect documentation from state and local law enforcement partners funded through the program.
The Government Accountability Office said in a report that DEA "has not clearly documented all of its program goals or developed performance measures to assess progress toward those goals."
At the same time that DEA is seizing fewer plants grown illicitly, it's also setting higher goals for federally authorized cannabis cultivation for research purposes. In 2019, the agency said it hoped to grow approximately 5,400 pounds of marijuana to meet research demand, which is more than double its quota for 2018.
Legalizing Marijuana Leads To Fewer Illegal Grow Sites In National Forests, Study Finds
Senate Schedules Hearing On Marijuana Business Banking Access